The pandemic appears to be over, and people are excited to return to their old spending habits, but the fashion eCommerce industry continues to thrive. Despite difficulties, fashion eCommerce revenue has been steadily increasing, while many other industries have seen significant fluctuations.
Changes in consumer behavior, as well as the rise of globalization and digital innovation, have put the fashion eCommerce industry in a state of transition. The fashion industry is more unpredictable than ever due to skyrocketing inflation and increased pressure on the supply chain. Because of this, fashion is always changing, and so are the ways that different eCommerce fashion retailers do business.
---
Top Fashion eCommerce Stats, Facts, and Trends Every Retailer Should Be Aware Of in 2023:
---
Key Fashion eCommerce Facts and Stats to Keep in Mind
Below are facts and figures that will shape the eCommerce fashion market in 2023. With these statistics and strategies, you can get an up-to-date view of where the industry is now and where it's headed.
Fashion eCommerce is the world's leading eCommerce industry.
Fashion is cyclical in nature and fashion eCommerce companies must be versatile to keep up with all the changes. It's a dense, dynamic, and demanding sector, with new entrants emerging on a regular basis. That's hardly surprising given that the fashion industry (which includes apparel, accessories, and footwear) is valued at $820 billion in 2023. With a predicted rise of more than $1.2 trillion by 2027, it is the world's top eCommerce industry.
The two key variables driving this growth are penetration rates (defined as the percentage of active, paying customers) and online retail share. Analysts expect that eCommerce prevalence will rise from 47% this year to 60% by 2024.
---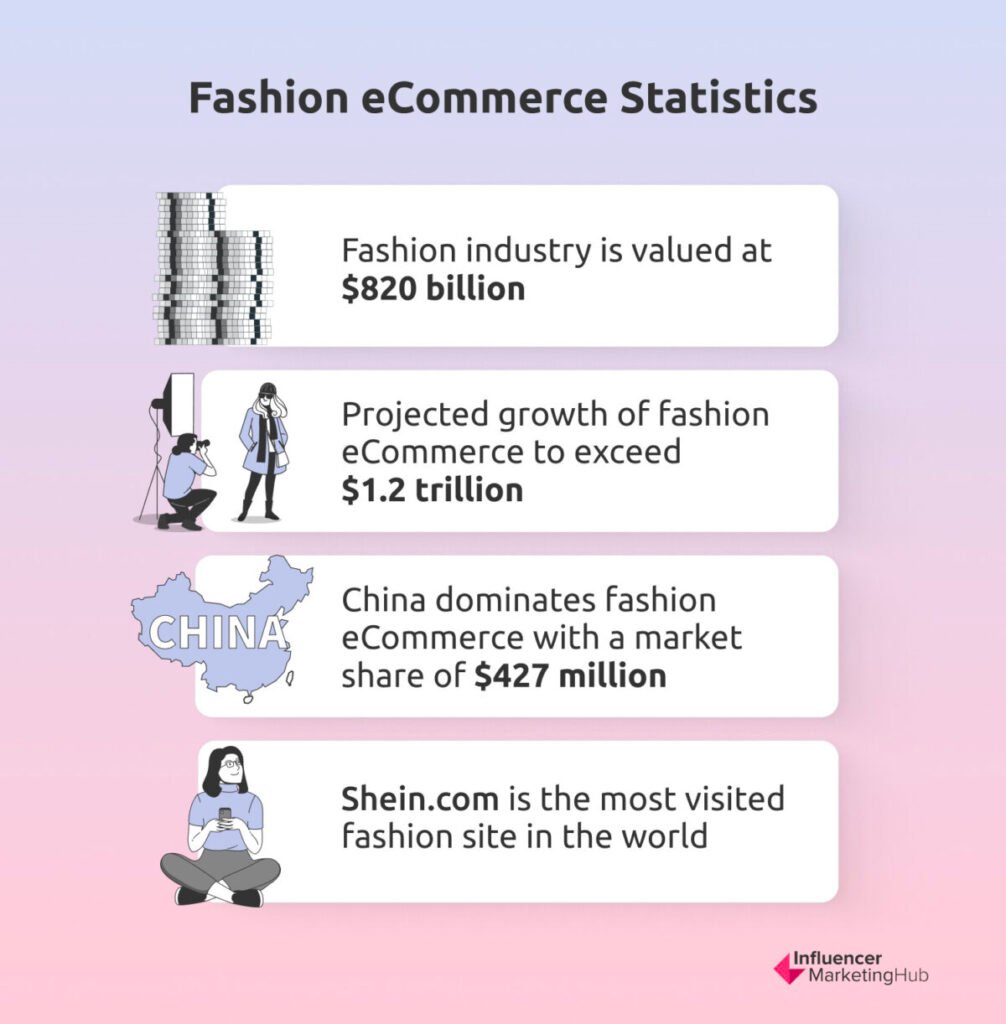 Vertical growth is seen in all major fashion eCommerce subcategories.
The compound annual growth rates (CAGR) for fashion, as well as each subcategory, are on the upswing.
Apparel (women's, men's, children's)
Reduced digital entry barriers for all clothing retailers enable them to promote, sell, and deliver goods seamlessly in any part of the world. As a result, both global revenue and revenue per user are expected to grow. The apparel market in the US is predicted to bring in $416.4 billion by 2025, up from $385.3 billion in 2022. By 2025, it is predicted that each buyer in Europe will spend $999 on fashion-related items over the course of a year.
Shoes (sneakers, athletic, leather, textile, and others)
As a part of ecommerce fashion, the shoe sector also saw a rise in market value. From $365.5 billion in 2022 to $530.3 billion in 2027, the global size of the footwear industry will flourish immensely. In 2023, athletic shoes are also expected to bring in $63.5 billion.
The segment of bags and accessories will also see double-digit growth, but at a faster rate. The fashion accessory market will expand at a CAGR of 12.3% between 2016 and 2026, with Asia-Pacific being the fastest-growing region. Even with the lowest actual figures, these predictions make bags and accessories one of the most robust ecommerce fashion segments.
Luxury items (jewelry and watches)
The global jewelry sector is expected to reach $307 billion by 2025, with eCommerce sites driving 20.8% of luxury goods purchases this year. By that year, people will spend $9.3 billion on luxury watches, which is a big chunk of overall sales.
---
Asia has the biggest market share for online fashion shopping.
Geographically, China holds the largest market share in fashion eCommerce, with a $427 million market share. The United States closely follows with $364 of market dominance. Rounding out the top five are the United Kingdom with $70 million, Germany with $69 million, and Japan with $65 million in market shares, respectively.
By 2025, the estimated total sales for online fashion in Asia are expected to reach approximately $600 billion, almost double that of fashion eCommerce in North America. eCommerce transactions account for about 21% of total fashion retail sales globally. In other regions, like Europe, Oceania, or the Americas as a whole, online outlets account for about 30% of overall fashion retail sales.
---
Zalando has the highest market cap among e-commerce fashion companies worldwide.
Zalando, headquartered in Berlin, is currently the leading fashion eCommerce company in the world, with a market cap of about $6.7 billion. VIP Shop from China ranks second, with a share value of around $6.4 billion. The RealReal from the United States came in third with $1.8 billion in revenue.
The following companies round out the top ten:
The Hut Group (UK): $1.2 billion

About You (Germany): $1.1 billion

ASOS (UK): $1 billion

boohoo.com (UK): $825 million

Stitch Fix (US): $534 million

Global Fashion Group (Luxembourg): $333 million

Revolve (US): $235 million
---
As of May 2022, SHEIN.com is the world's leading fashion and apparel site.
Shein.com is the most visited fashion and apparel site in the world. Based on visit views, 3.8% of all desktop traffic goes to Shein. It's a direct-to-consumer business and has more customers in the west than any other Chinese company. Its biggest market is America, which accounts for 35 to 40% of the company's gross merchandise value.
Shein's success has relied primarily on social media. The brand has over 28 million Facebook fans and 29.4 million Instagram followers. It is the second-most popular shopping site for teens in the United States, right after Amazon. Shein Haul, in which influencers unpack their Shein parcels, try on outfits, and describe how they feel on camera, has become a viral hit, with a collective 4.5 billion views on TikTok.
---
By 2023, livestream shopping could generate $25 billion in the US.
Livestream shopping combines eCommerce sites' enormous traffic with retail visits' greater conversion rates. As a result, it has grown exponentially since the pandemic. This growth shows no signs of slowing down, with an industry estimated to be worth $600 billion in China and is expected to surpass $31B in the US in 2023.
Taobao, the Chinese platform owned by eCommerce giant Alibaba, is the unrivaled market leader in live shopping. As livestream shopping gets global traction, other social platforms like Facebook, Instagram, and TikTok, as well as eCommerce giants like Amazon, have begun to adopt it.
Livestream shopping is a sector that is fast expanding among Gen-Z and millennial shoppers. The top product category in livestream shopping is apparel and fashion, with 36% of the market. Gen Z shoppers are also champions of social commerce. A report by The Influencer Marketing Factory noted that in a survey of livestream purchasing transactions by age group, Gen Z took the lead, with 47% of buyers in both the US and the UK having made a livestream purchase.
---
The Top eCommerce Fashion Trends to Watch in 2023
Despite skyrocketing inflation and supply chain difficulties in retail eCommerce, the facts and figures presented above illustrate a myriad of growth opportunities for fashion eCommerce brands. Here are some current and upcoming trends that retailers should include in their long-term sales strategy.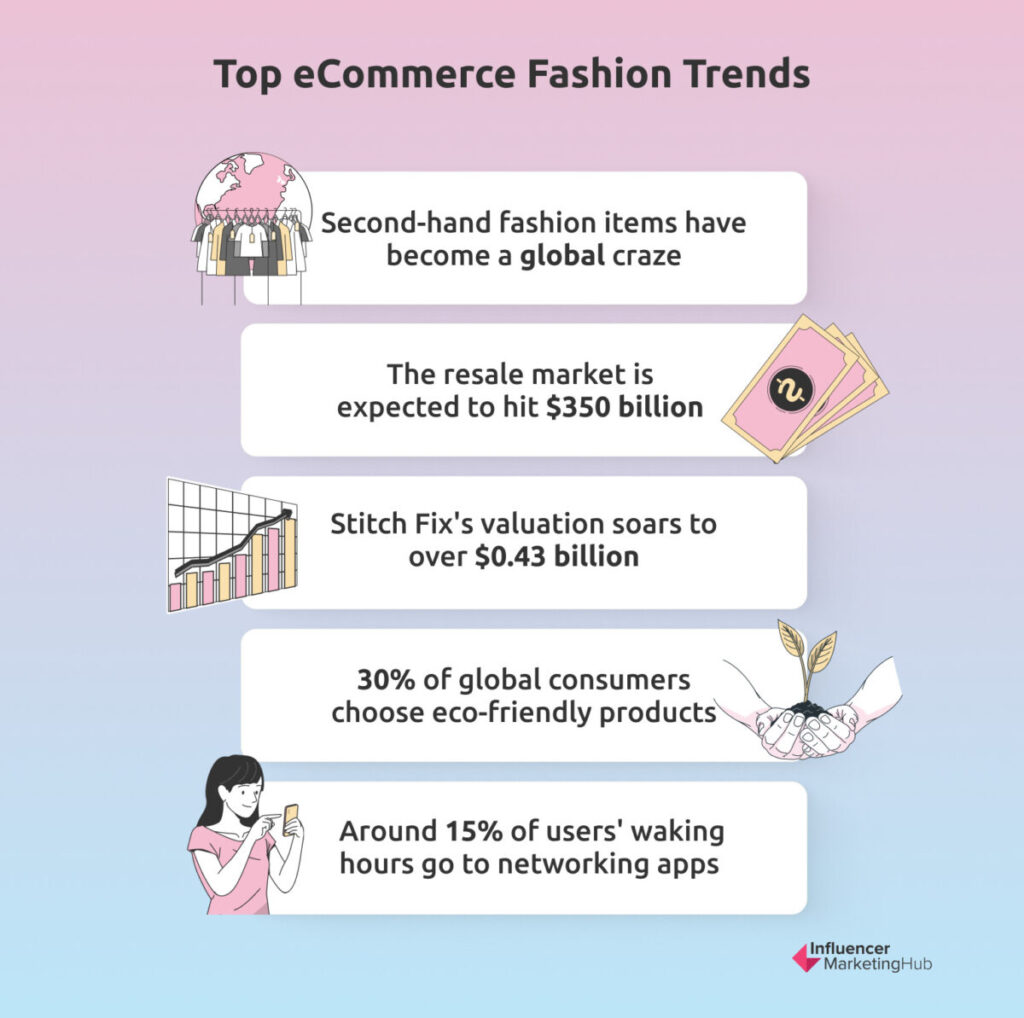 Discounted Rates and Flash Sales
With around 37% of product catalogs offered at reduced pricing, the fashion industry is at the forefront of discount implementation. In the first half of 2022, 36.98% of the advertised fashion categories were on sale. It is 40% more than the average for the eCommerce industry.
Shoes had the highest average proportion of discounted items in the apparel and accessories sector, with 42.81% of advertised products reduced. Apart from shoes, clothes (31.77%) and handbags and wallet accessories (24.08%) were often put on sale by online fashion retailers.
On the other hand, flash sales, when paired with discounted merchandise, are no longer seen as a lowbrow way of disposing of out-of-season items. Instead, they're regarded as eCommerce fashion high perk, particularly when paired with exclusivity and loyalty rewards. Clothes, accessories, and shoes are the most lucrative flash sales during Black Friday and Cyber Monday.
---
The Time for Resale and Re-commerce
Second-hand or "pre-loved" fashion items have become a global craze. In 2022, the resale market grew by 28%, and by 2027, it is expected to be worth $350 billion. The secondhand apparel industry has grown eight times faster than the entire apparel sector, predominantly driven by North American shoppers.
ThredUp predicts the US secondhand market will double to $70 billion by 2027. According to Retail Dive, re-commerce businesses will account for 18% of the apparel market by 2031, and over 75% of retail executives either currently offer or are willing to sell secondhand items.
Dôen, a luxury fashion brand in California, launched a resale business called Hand Me Dôen. Customers will be able to bring in pre-owned Dôen items to trade for store credit. Once the resold product becomes available, Dôen will have flash sales throughout the year.
As for re-commerce, 65% of consumers have recently used resale and re-commerce services. ThredUp, Poshmark, and eBay were among the first to pioneer the re-commerce trend, but it is no longer limited to third-party retailers. Major brands such as Patagonia and Levi's are embracing re-commerce initiatives.
---
Hyper-personalization Is the New Standard
Making things easy for customers is a tactic that never fails. The capacity to avoid or minimize service disruptions and make touchpoints seamless are parts of continuing to satisfy consumers wherever they are in their buying journey. Retailers must ensure that their tech platforms are able to meet current needs while also being scalable for future demands.
Today, it's all about hyper-personalization, in which the brand evaluates the customer's preferences, activities, and past purchases to decide how to provide them with the most value in the future.
A great example of this trend is Stitch Fix, which debuted in 2016 and uses artificial intelligence and machine learning to figure out which exact products to send to each of its subscribers. The direct-to-consumer brand's valuation has soared to over $0.43 billion as of Q3 2023.
---
Sustainability Is the Future
The fashion industry is often criticized, particularly for the practices it employs to manufacture, produce, and discard inventories. Considering these widespread criticisms, as well as consumers' increasing commitment to fighting climate change, a study shows that 30% of global customers opt to buy eco-friendly and sustainable items.
While green consumerism had already been on the rise before the pandemic, the last couple of years have further accelerated the trend. The pandemic heightened awareness about environmental and social accountability, and a growing number of customers and investors are now demanding transparency. As a result, thrifting and secondhand commerce have become more popular. Rather than acquiring brand new items, shoppers can save both money and the environment by leasing, trading, and recycling fashion items.
---
Social Commerce Investment
Various online fashion brands integrate social media into their eCommerce marketing strategies. This is expected considering approximately 15% of the average social media user's waking hours are now spent on online networking apps.
But social media platforms are becoming more than just places to see what's new in fashion; they are also growing to include shopping in-app. This makes it easier for retail retailers to reach customers who are ready to buy.
Sales of social commerce are expected to roughly triple by 2026, but brands must invest in their social commerce strategy to make an impact. Consumers are no longer satisfied with traditional, static fashion ads. About 46% of consumers want to see product videos before buying. Because shoppers can visualize the item on a real person, platforms like TikTok and Instagram are credited with driving sales for major fashion brands. It's even better if the recommendation comes from a social media influencer they already know and trust.
Beyond social commerce, multichannel ecommerce incorporates off-site native selling to create direct buying routes in areas where the brand's target market spends their time. Think of Facebook Shops, Product Pins on Pinterest, or Instagram Shopping. More and more social platforms are launching and developing their own commerce features.
---
Omnichannel retail is revolutionizing the fashion eCommerce industry
The concept of omnichannel retail is revolutionizing the fashion eCommerce landscape. Unlike multichannel retail, which primarily focuses on unifying digital experiences, omnichannel retail seamlessly integrates the online and offline worlds. This is achieved by maintaining a unified view of customer data across three primary points of purchase: proprietary retail locations, eCommerce stores, and wholesale partnerships or marketplaces.
Several eCommerce fashion brands, including Happy Socks, Untuckit, and Rhone, have already demonstrated their prowess in managing their own retail spaces.
An omnichannel strategy does more than just design a unified customer journey. It empowers fashion eCommerce brands to deliver an exceptional customer experience. This approach provides answers to critical business questions such as: What products do customers currently own and love? What items do their friends or family own and talk about? How can in-person and in-store interactions be enhanced?
---
Artificial Intelligence in Fashion
In 2023, artificial intelligence (AI) is a game-changer for fashion brands, particularly in e-commerce and marketing. AI's ability to personalize product recommendations through customer behavior analysis boosts sales and enhances customer experience.
AI-powered search engines, understanding natural language queries, provide precise search results, making shopping easier for customers. Tools like Dressipi use AI to offer tailored clothing recommendations based on customer preferences, reducing returns and increasing satisfaction.
Moreover, AI-developed virtual assistants are transforming customer service by answering product queries and offering personalized advice. Brands like Zara, Nike, and Nordstrom have already embraced AI, demonstrating its potential to create a more engaging, personalized customer experience.
---
The Metaverse's Promise
Metaverse was the buzzword in 2022, and many fashion brands are using Roblox to create immersive experiences for their clients and attract Gen Z audiences. Non-fungible tokens (NFTs) are a type of commodity that can be used both in and out of the metaverse. They are unique digital tokens that can only be owned by one person and are typically paid for with virtual money like crypto.
Under Armour has already tested NFTs in the retail sector. When Stephen Curry became the NBA's leading three-point shooter, the fitness brand collaborated with him to recreate the star athlete's sneakers. In addition to the real shoes, the company released digital NFTs. Users who own the NFT shoes can virtually stroll through Decentraland, The Sandbox, and Gala Games wearing the Curry sneakers.
And while Facebook's Meta is devoting 20% of funds on metaverse, it's likely that 2023 will not be the year that the Metaverse gains mainstream traction, but fashion retailers should have a greater understanding of whether this will be a reality soon or not so they can adjust their interests and investments accordingly.
---
The Final Word
Fashion ecommerce is flourishing and diversifying at an astonishing rate, and as technology progresses, this speed will only intensify. This is exciting news for the industry since traditional fashion shops can now extend their reach outside of brick-and-mortar shops to eCommerce sites to reach customers all over the world. Fashion influencer and PR agencies are likewise prevalent. Using the above facts and figures and keeping an eye on new trends, fashion retailers can put themselves in the best position to be successful in 2023.