Advertising Disclosure
Advertising disclosure:
Our partners compensate us. This may influence which products or services we review (also where and how those products appear on the site), this in no way affects our recommendations or the advice we offer. Our reviews are based on years of experience and countless hours of research. Our partners cannot pay us to guarantee favorable reviews of their products or services.
The wellness industry is growing bigger by the year. Nowadays, the fiercely competitive wellness marketplace forces businesses to offer more than a quality product or service. Instead, fitness businesses are supposed to be expert marketers in hopes of attracting customers and forging relationships at the same time.
One way to ensure brands not only survive but thrive in such environments is through strategic marketing. Enter Fitness Marketing Agencies, the indispensable allies in the quest for brand visibility, customer loyalty, and revenue growth.
These specialist marketing agencies are masters in leveraging the power of digital channels to craft and deploy effective marketing campaigns tailored to health and fitness businesses. By combining deep industry insights with proficiency in a wide range of digital marketing tools, they help businesses forge compelling narratives that resonate with their target demographic, foster engagement, and catalyze sales conversions.
As we explore the top 11 Fitness Marketing Agencies in this article, we hope to empower you with the knowledge to select a partner that aligns with your vision and business objectives.
---
Top Fitness Marketing Agency
Top
fitness marketing agencies
2024

Average Hourly Rate: $50-$99
Average Project Cost: Starting at $1,000+
Located in Atlanta, GA, United States, LYFE Marketing is a fitness marketing powerhouse going beyond traditional marketing to deliver unprecedented results. Their comprehensive marketing strategies are tailor-made to draw in new members and strengthen your fitness brand.
Their Social Media Growth service is designed to maximize your online presence and attract dedicated clientele using interactive and visually stimulating content across various platforms. LYFE Marketing's team are experts in leveraging social advertising, like Facebook, to promote client success stories and your unique offerings, thereby driving more leads and memberships.
LYFE Marketing also excels in Search Engine Marketing & Google Ads management. Utilizing the most powerful search engine today, they use their prowess in PPC ads to target the audience you are looking for and highlight your facility's best features. Their innovative approach includes retargeting strategies to ensure your brand is at the top of mind for potential members.
---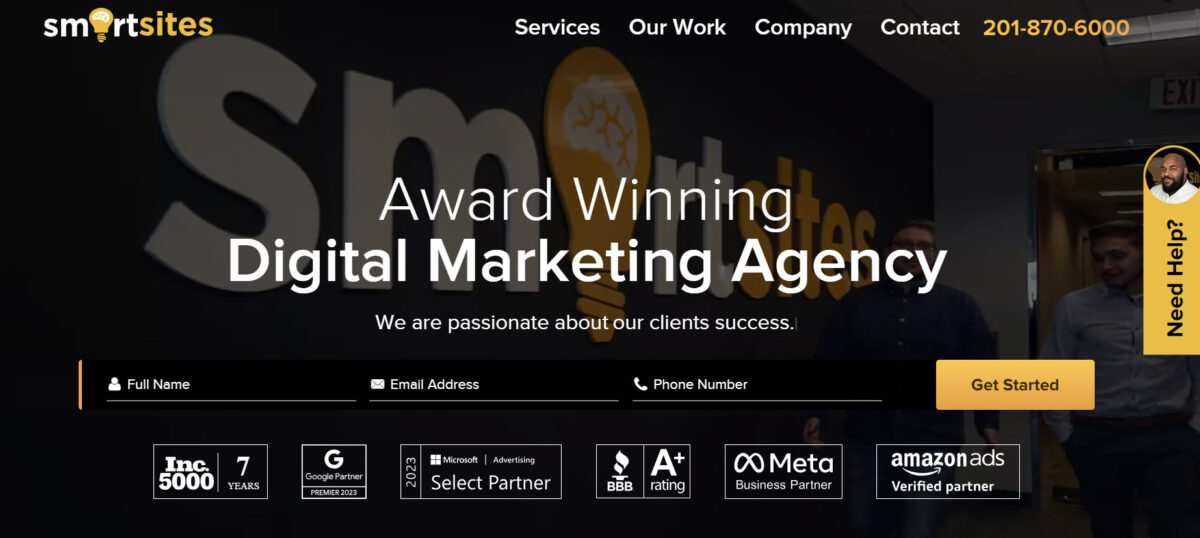 Average Hourly Rate: $100-$149
Average Project Cost: Starting at $1,000+
SmartSites, based in Paramus, NJ, United States, is another industry leader. They are renowned for their strategies that ensure fitness businesses and personal trainers rise above the competition in the digital space. Their approach to digital marketing is multi-faceted. With Website Design services tailored to attract new clients, they place significant emphasis on online visibility. 
Along with their Search Engine Optimization service, SmartSites enables you to achieve long-term success for your business. They can identify top keywords to attract hopeful prospects and optimize your local SEO to gain organic and lasting rankings on SERPs.
SmartSites also offers pay-per-click marketing for swift client acquisition. With a strong focus on attracting valuable leads, they offer full control over your budget, enabling you to customize your fitness PPC campaign to suit your needs perfectly.
---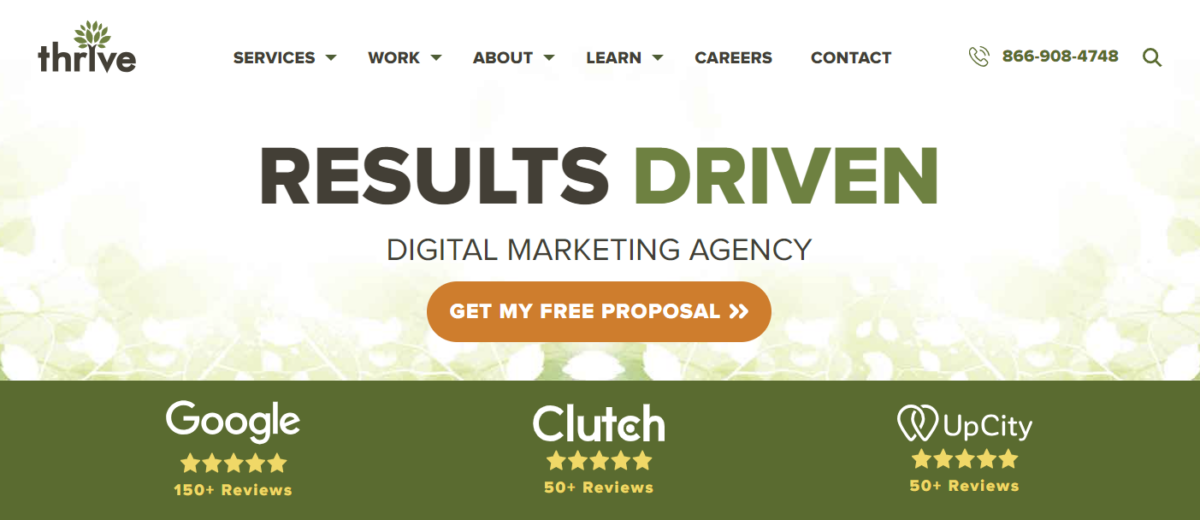 Average Hourly Rate: $100-$149
Average Project Cost: Starting at $1,000+
Based in Dallas, TX, United States, Thrive is a leading player in the Fitness and Sports Marketing industry. With a strong emphasis on providing robust digital marketing solutions designed specifically for gyms and wellness businesses, they understand the sector's unique challenges and nuances to deliver impeccable results.
The heavy use of data is at the forefront of their marketing approach. Their past case study with fitness celebrity Nancy Anderson Fit showcased a growth of over 6,129 new Facebook followers and 8,000 new Instagram followers. They achieved this growth through a blend of organic content development and strategic paid advertising, driving site traffic and bolstering conversions.
Thrive's commitment to excellence extends to building strong online reputations, creating user-friendly websites, and developing actionable marketing frameworks for your business. Their team of experts and industry specialists are dedicated to ensuring all their online marketing solutions adhere to Google standards and web guidelines. As such, they pride themselves in crafting comprehensive marketing solutions, including SEO services, web design and development, Amazon marketing, and eCommerce optimization.
---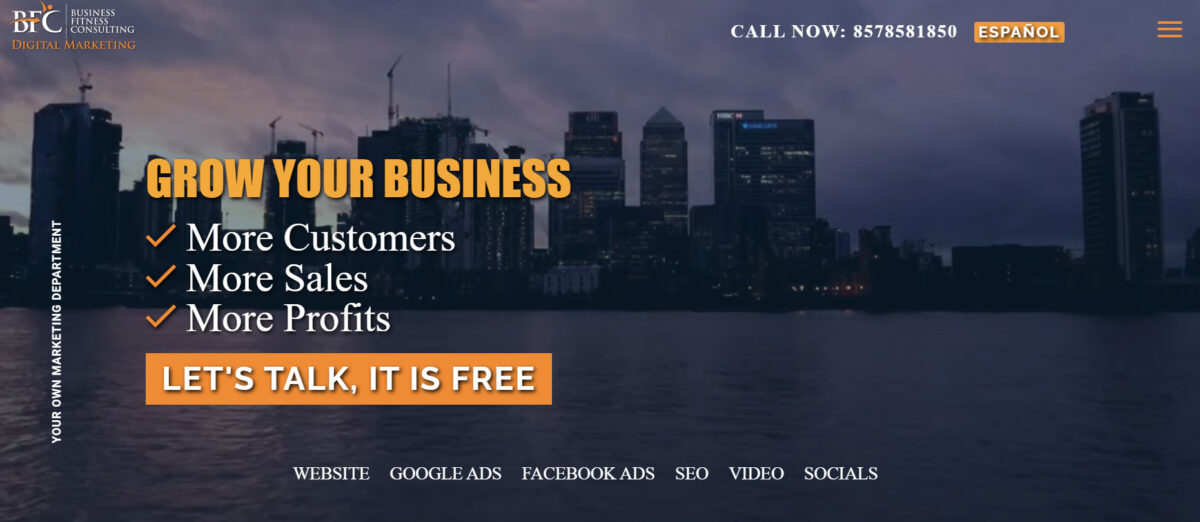 Average Hourly Rate: $100-$149
Average Project Cost: Starting at $5,000+
Located in Revere, Massachusetts, Business Fitness Consulting is a renowned marketing agency specializing in growth for the fitness industry. They offer a suite of services ranging from SEO and PPC to web design, video, and social media management. Their commitment to maximizing your return on investment stands out as they aim to translate online visibility into tangible business outcomes.
Their comprehensive approach ensures you gain visibility and see real results in more calls, visits, leads, sales, and revenue. Through their online advertising services, including Google Ads, Facebook Ads, Bing Ads, and LinkedIn Ads, they aim to help you dominate your local markets.
Business Fitness Consulting also provides email and MSM marketing services, leveraging these channels to ensure a significant return on marketing investment. Their satisfied clients praise them for the quality traffic driven to their websites, the conversions from these visits, and the professional service provided.
---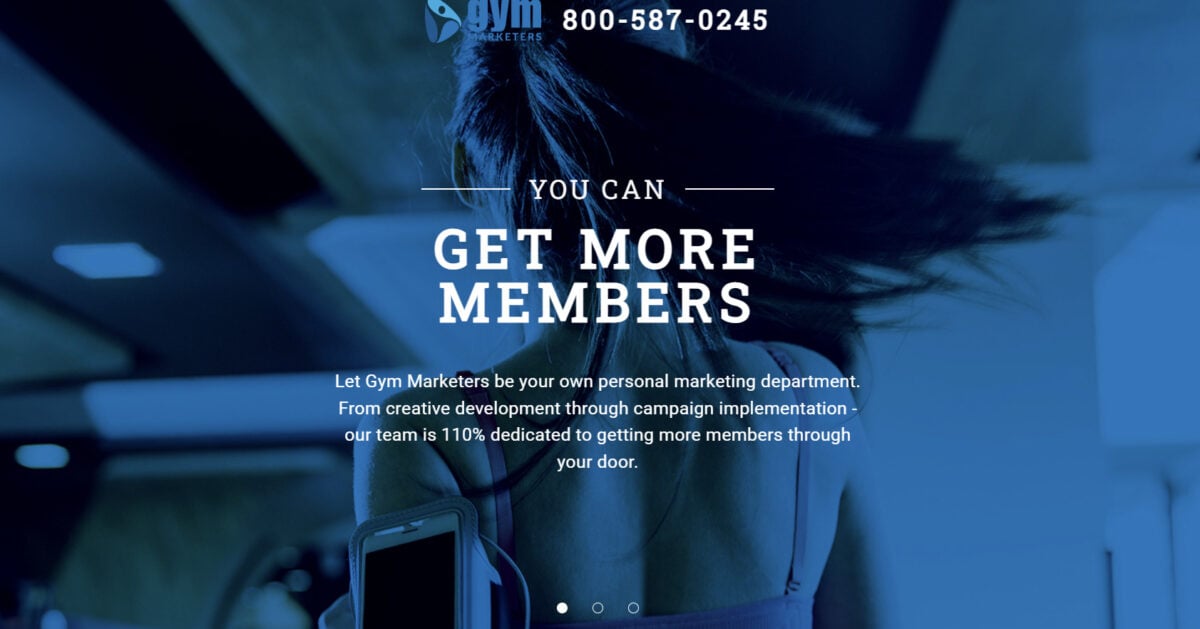 Average Hourly Rate: $50-$99
Average Project Cost: Starting at $1,000+
Gym Marketers is a unique digital marketing agency with a deep understanding of the wellness industry. They specialize in creating customized marketing strategies tailored to each fitness business's specific needs and addressing challenges to deliver impeccable results.
Gym Marketers' services include creating company campaigns, optimizing websites and social media presence, generating leads, and providing comprehensive analytics and reporting. In addition, they offer SEO and media buying services for promotional events and planning.
Their signature More Members Media Mix™ is designed to convert website visitors into long-term members. They understand your need for quality services that will contribute to the growth of your business through word of mouth. As such, Gym Marketers is on a mission to get more people to come through your door using digital and traditional channels.
---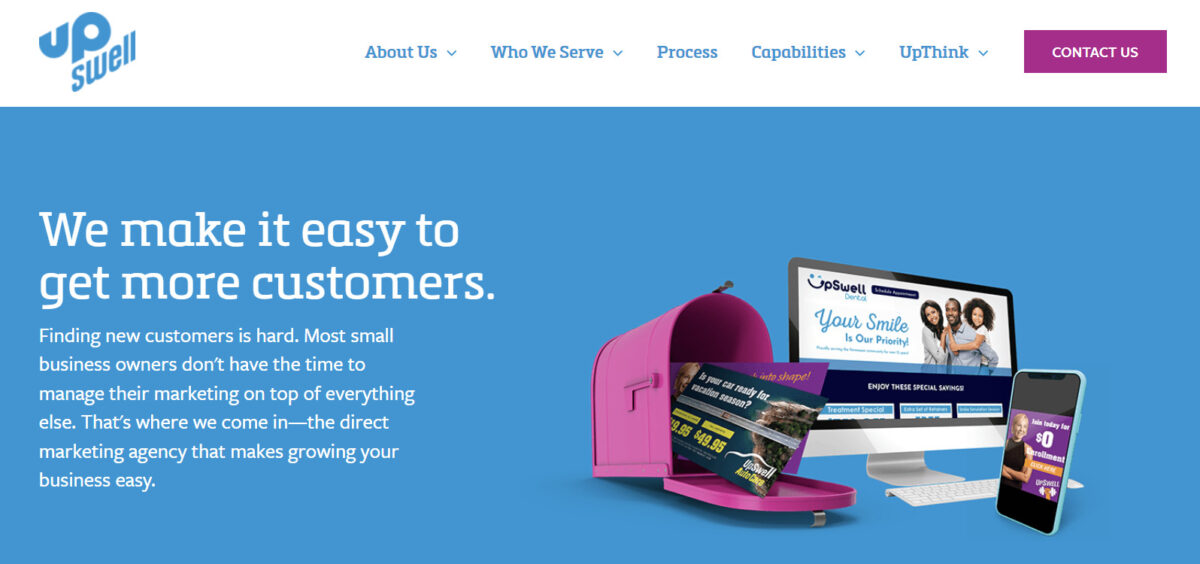 Average Hourly Rate: $100-$149
Average Project Cost: Starting at $1,000+
UpSwell is an innovative digital marketing agency based in Alpharetta, Georgia, known for their creative custom solutions. UpSwell offers a diverse range of services tailored to their client's needs. With a team of experienced professionals and cutting-edge technology, UpSwell delivers personalized and effective marketing strategies to help you excel in the online domain.
As a fitness marketing agency, UpSwell understands the unique challenges businesses face. They specialize in direct marketing, social media marketing, digital strategy, and email marketing to drive more members to your wellness club and studio by creating targeted marketing campaigns that resonate with the local community.
UpSwell's gym direct mail services offer comprehensive direct mail advertisements, including consultation, marketing lists, design, printing, postage, and tracking. So whether you have a big or small budget, UpSwell can help promote your fitness business with the power of traditional marketing.
---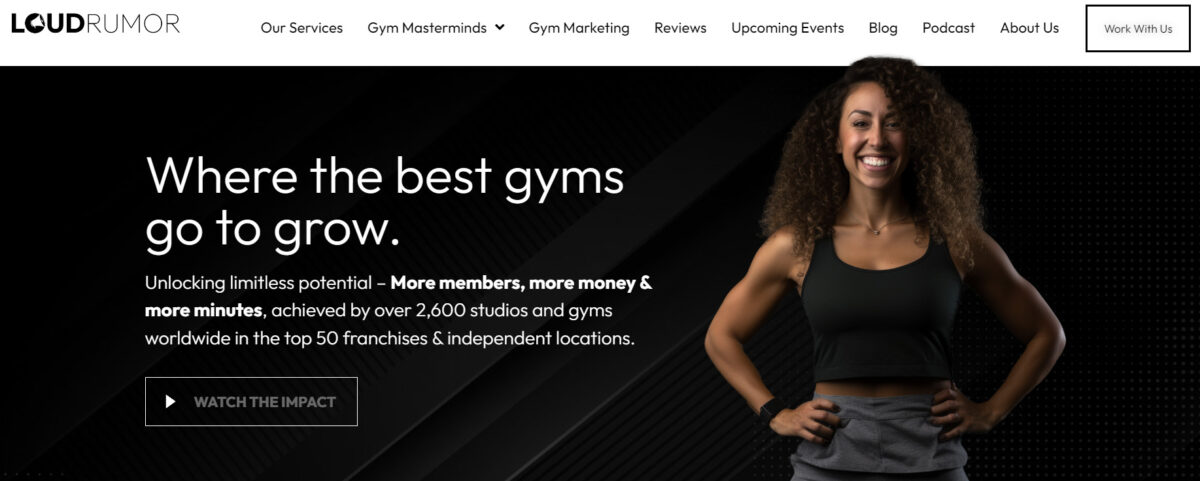 Average Hourly Rate: $100-$149
Average Project Cost: Starting at $5,000+
Loud Rumor is an experienced digital marketing agency located in Scottsdale, Arizona, specializing in customized solutions for your fitness businesses. They offer a comprehensive range of services, including advertising, branding, digital strategy, search engine optimization (SEO), and web design. Their team of experts and their tailored approach make them stand out in the fitness marketing industry.
Loud Rumor has a proven track record of helping studios and gyms grow their membership base and increase revenue through various programs and services. GSD Ads is their advertising program, running on all platforms and focused on generating leads and growing membership. GSD 360 provides resources, expert networks, and virtual portals to help gym owners optimize their business operations and achieve an average growth of 86% in the first year. Lastly, GSD 360+ combines the best of both worlds.
This unparalleled focus on generating leads and expanding membership sets them apart. They understand that the average gym needs more than just leads; they need a comprehensive marketing strategy.
---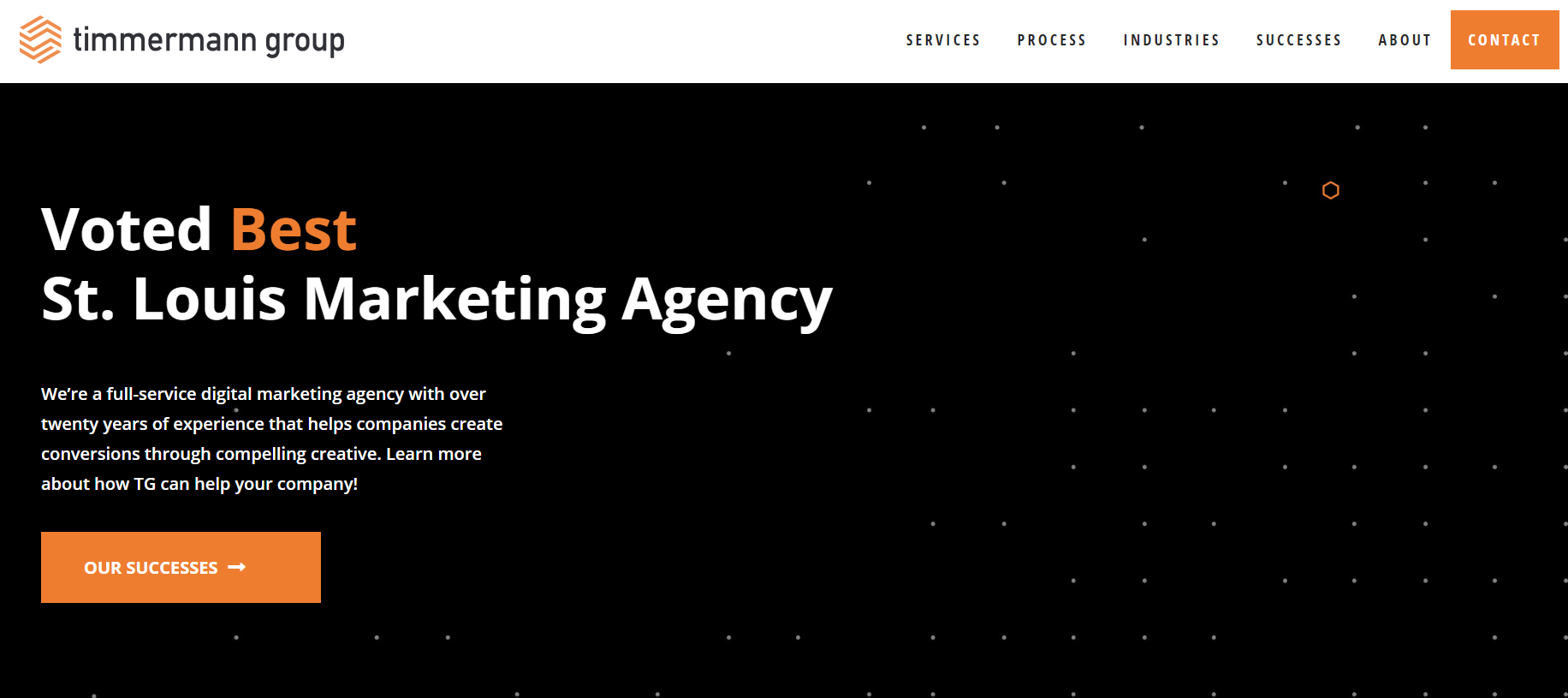 Average Hourly Rate: $100-$149
Average Project Cost: Starting at $1,000+
Located in St Louis, Missouri, Timmermann Group is a premium fitness marketing agency renowned for blending passion and precision in every project. They cater to a wide range of clients within the wellness industry, helping you transform from contender to industry leader through unique, targeted marketing strategies.
With a deep understanding of the landscape, Timmermann Group offers holistic marketing solutions integrating data-driven techniques, innovative solutions, and engaging storytelling. They have a proven track record of achieving unprecedented success for brands, driven by their commitment to innovation, quality, and result-driven strategies.
Their top-tier services include powerful SEO strategies, PPC campaigns designed for immediate results, compelling social media marketing, and cutting-edge website design and support services. Each service is tailored to help your fitness brand gain maximum visibility, engage with the audience, and drive conversions.
---

Average Hourly Rate: $100-$149
Average Project Cost: Starting at $1,000+
Straight North is a leading digital marketing company offering a comprehensive range of marketing solutions catered specifically to both B2B and B2C organizations in the fitness industry. Their blend of wellness services helps you improve your visibility by driving results through their marketing efforts and effectively achieving your business goals.
Specializing in campaign execution, Straight North is known for its excellence in SEO, crafting strategies that propel your brand to the forefront of search results. Their paid advertising campaigns are meticulously optimized to deliver cost-effective results, while their website design and development services focus on creating visually engaging websites that drive conversions. Their creative team members produce marketing materials that look great while effectively promoting your brand, products, and services.
Apart from these, Straight North also offers expert assistance in professional branding, responsiveness design, internet marketing, email marketing, and content marketing.
---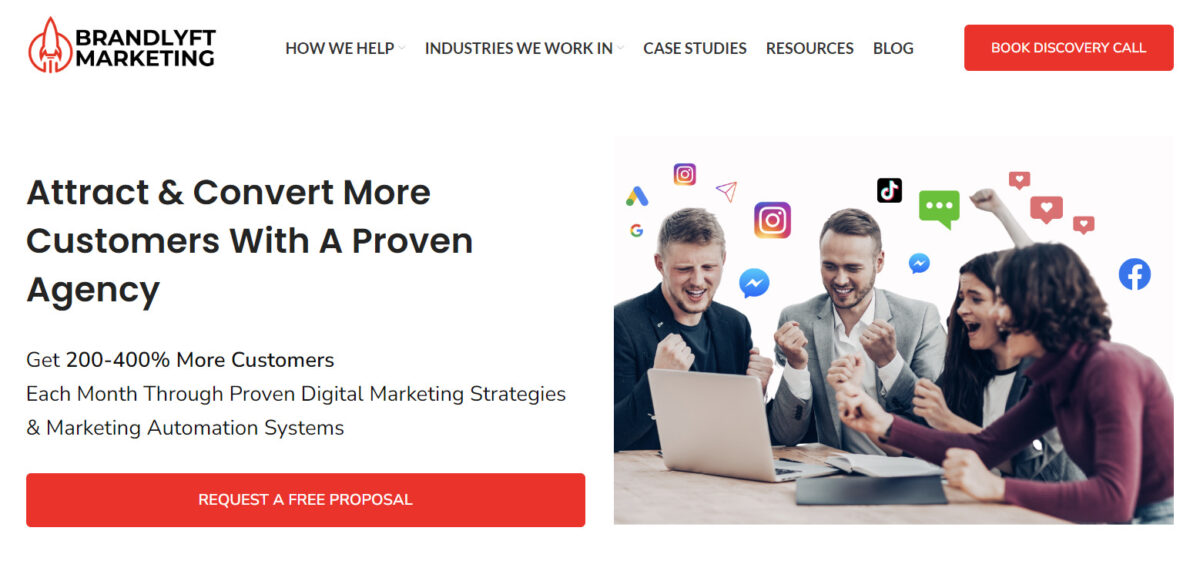 Average Hourly Rate: $50-$99
Average Project Cost: Starting at $1,000+
With headquarters in Cartersville, Georgia, BrandLyft has positioned itself as a trusted name in fitness marketing, offering services that drive membership growth for gym businesses. They understand the nuances of the fitness industry, allowing them to craft tailored marketing strategies to improve visibility, conversion rates, and overall business growth.
BrandLyft's marketing approach is multifaceted and result-oriented, as they consider both paid and organic advertising methods. They specialize in enhancing your Google Presence, believing that Google is the platform where potential clients seek out service providers. They provide a comprehensive roadmap and strategic plan for dominance and growth to make you stand out from the crowd.
In addition to boosting your visibility, they also excel at lead generation and conversion. Their expert team and custom tools ensure meaningful conversations with leads, nurturing them toward conversion at a significantly higher rate than other agencies.
---
Average Hourly Rate: $100-$149
Average Project Cost: Starting at $5,000+
TAG Digital Marketing is a premier marketing agency with over 20 years of experience. Their specialty lies in creating and executing digital campaigns for big-box fitness centers on platforms like Google, Facebook, and Instagram. Their expertise has made them the go-to agency for top regional gym brands and franchise owners.
Understanding the competitive landscape of the fitness industry, TAG leverages its extensive data insights to develop innovative and highly effective marketing solutions for your brand. They aim to increase your visibility and drive sales while ensuring your gym retains its loyal customer base.
TAG's digital marketing strategy maximizes ad budgets and converts digital leads into physical gym members. In essence, they are pioneers in replacing traditional marketing strategies like direct mail with more effective, cost-efficient digital sources.
---
How to choose the right fitness marketing agency for your brand?
Selecting the right agency to represent your brand is a critical decision. With an abundance of agencies at your fingertips, understanding what distinguishes one from another is essential to making an informed choice. Here are some critical aspects to consider:
1. Expertise in the Health and Fitness Sector
An agency with a demonstrated track record in the health and fitness industry will have an inherent understanding of your target demographic's needs, preferences, and motivations. They will know the market trends, key influencers, and how to effectively position your brand in the competitive landscape.
2. Multichannel Marketing Capabilities
Nowadays, a multichannel approach is key to reaching your desired target audience scattered across numerous platforms. Seek an agency that can deliver across social media, email marketing, SEO, content marketing, influencer collaborations, and more.
3. Creativity and Innovation
The health and fitness market is continually evolving, and so too should your marketing strategies. Look for an agency that prides itself on innovative, out-of-the-box thinking and can leverage the latest digital marketing tools and trends.
4. Results-driven Approach
Ultimately, the effectiveness of a marketing campaign is judged by its results. The best agencies will use data analytics to measure the success of their campaigns, continually optimizing strategies to maximize ROI.
---
Conclusion
Navigating the complex and fast-paced world of fitness marketing is a formidable task, but you don't have to tackle it alone. With the right Fitness Marketing Agency by your side, you can unlock new growth opportunities, connect meaningfully with your audience, and propel your health and fitness brand to unprecedented heights. This listicle serves as a guide to discovering the players that run the fitness marketing game.
Frequently Asked Questions
Can fitness marketing agencies help with social media management?
Absolutely. Many fitness marketing agencies offer social media management as part of their services. This can involve creating and curating content, managing posts and interactions, developing social media campaigns, and tracking analytics to measure engagement and performance.
Will the agency provide me with reports and analytics?
Typically, yes. Reputable fitness marketing agencies prioritize transparency and will provide you with regular reports detailing the performance of your marketing campaigns. These reports will include key metrics like website traffic, lead generation, conversion rates, and more.
How can a fitness marketing agency help me differentiate my brand in a competitive market?
Fitness marketing agencies can help you identify and communicate your unique selling proposition (USP) to differentiate your brand from competitors. They can also assist with creating a distinctive brand identity, developing targeted marketing campaigns, and establishing a strong online presence.
Are the services of a fitness marketing agency affordable for small businesses or startups?
Many fitness marketing agencies offer scalable services that can be tailored to fit your budget. They can help you determine where your marketing dollars will be most effective and provide strategies that offer the best ROI for your specific situation.