Advertising Disclosure
Advertising disclosure:
Our partners compensate us. This may influence which products or services we review (also where and how those products appear on the site), this in no way affects our recommendations or the advice we offer. Our reviews are based on years of experience and countless hours of research. Our partners cannot pay us to guarantee favorable reviews of their products or services.
Marketing strategies are pivotal in bridging the gap between service providers and patients. With an influx of information and options, healthcare consumers are now more empowered and selective than ever. In such a scenario, delivering the right message to the right audience at the right time isn't just an art; it's anchored in strategic, data-driven decisions that only a competent healthcare marketing services agency can offer.
Choosing the right agency is a nuanced process that demands meticulous consideration. It involves evaluating an agency's expertise in not just paid search and SEO but extends to their competence in paid social, programmatic, and reputation management. The ability to tailor strategies that align with a healthcare provider's unique needs and objectives while navigating the regulatory and ethical landscapes is indicative of an agency's efficacy.
Adept agencies harness advanced tools and analytics to monitor and analyze conversations about a brand in real-time. They translate data into actionable insights, facilitating informed decisions that propel brand growth, enhance patient satisfaction, and mitigate reputational risks. These comprehensive capabilities are not just desirable but essential to remain competitive and relevant in a healthcare market characterized by informed choices and elevated expectations.
As we venture further into this compendium, each recommendation is geared towards illuminating the integral facets of healthcare marketing, providing business owners with a comprehensive lens to evaluate and select an agency that stands as a beacon of innovation, expertise, and results. With that said, enjoy our article detailing the top 9 Healthcare Marketing Services Providers.
---
Top Healthcare Marketing Service Providers
Top
healthcare marketing services
2024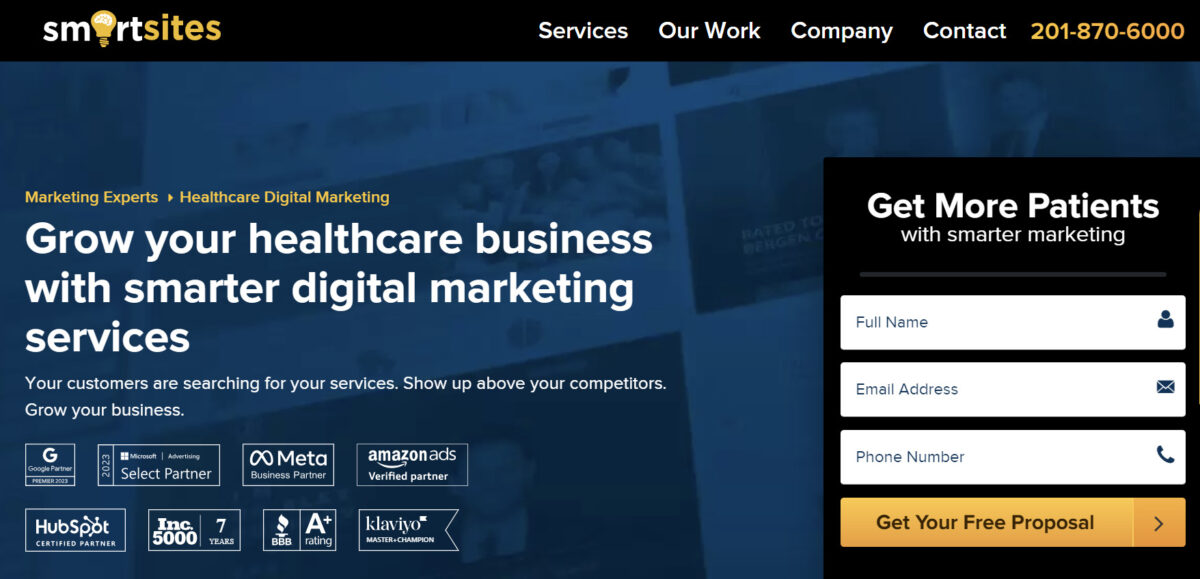 ​​SmartSites is America's top-rated digital marketing agency, whose expertise extends to healthcare digital marketing, making them a premier choice for healthcare providers seeking to outsmart the competition. One standout feature is their impressive track record, including seven consecutive appearances on the Inc5000 list of fastest-growing companies (2017-2023). As a Google Premier Partner and Facebook Marketing Partner, SmartSites has earned recognition and trust from industry giants.
As a healthcare digital marketing, their services are designed to help healthcare providers stand out in the digital landscape. They understand the importance of visibility, as 77% of patients perform online searches before booking appointments. Their services encompass the full spectrum of digital marketing needs for healthcare professionals. From website development to SEO, social media marketing, and online reputation management, SmartSites offers comprehensive solutions. Their expertise in PPC strategies ensures healthcare providers can target the most qualified prospects, making it a valuable asset for medical attire or dental services providers.
SmartSites also places a strong emphasis on SEO, recognizing that 15% of daily Google searches are new. They tailor SEO strategies to capture the unique selling points of each healthcare company, driving organic traffic and business growth. Case studies highlight SmartSites' results-driven approach. For instance, one client experienced a 58% decrease in CPL and a 343% increase in conversions, showcasing their ability to deliver tangible outcomes.
---

Thrive places a strong emphasis on establishing authoritative online profiles for healthcare providers. Leveraging their profound expertise in web design and development, Thrive crafts websites that not only exude professionalism but also align seamlessly with the distinctive requirements of healthcare organizations. They harness this hard influence by orchestrating a blend of organic and precision-targeted advertising campaigns across prominent platforms like Facebook, Instagram, Twitter, and LinkedIn.
Beyond these core services, Thrive offers comprehensive digital marketing solutions, including data-driven SEO campaigns, well-managed PPC services, online reputation management, local SEO, video production, content writing, and conversion rate optimization. Case studies underscore their results-driven approach, with clients experiencing substantial boosts in leads, website users, and conversions. For example, one client saw a 557% increase in monthly leads and a 61.4% rise in website users.
With a 15-year track record, Thrive differentiates itself through a focus on Relationships and Results. They provide custom online marketing packages, transparent reporting, and dedicated communication, ensuring healthcare professionals receive tailored solutions for success in the digital age.
---
Colormatics excels in healthcare video marketing, providing innovative strategies to boost brand awareness, grow contact lists, and acquire more patients. They seamlessly integrate video production, paid social, paid search, and search engine optimization for effective communication with the audience. Their healthcare video marketing strategy revolves around understanding the community and target market, designing a cohesive brand experience, and positioning healthcare providers as industry leaders.
Video ads, presented on work phones, laptops, and tablets, offer a non-disruptive way to engage viewers. With an impressive conversion rate, they effectively drive engagement in the healthcare information and technology space. Colormatics also employs Animatics to explain complex medical procedures, making technical information vivid and comprehensible. Patient testimonial videos build trust by allowing potential patients to hear from peers facing similar diagnoses or treatments.
Finally, educational healthcare marketing videos captivate audiences, making patient engagement more effective than reading clinical papers. Their educational videos resonate emotionally, increasing lead conversion to patients. A case study featuring Providence Medical Group showcases their sensitivity in healthcare storytelling.
---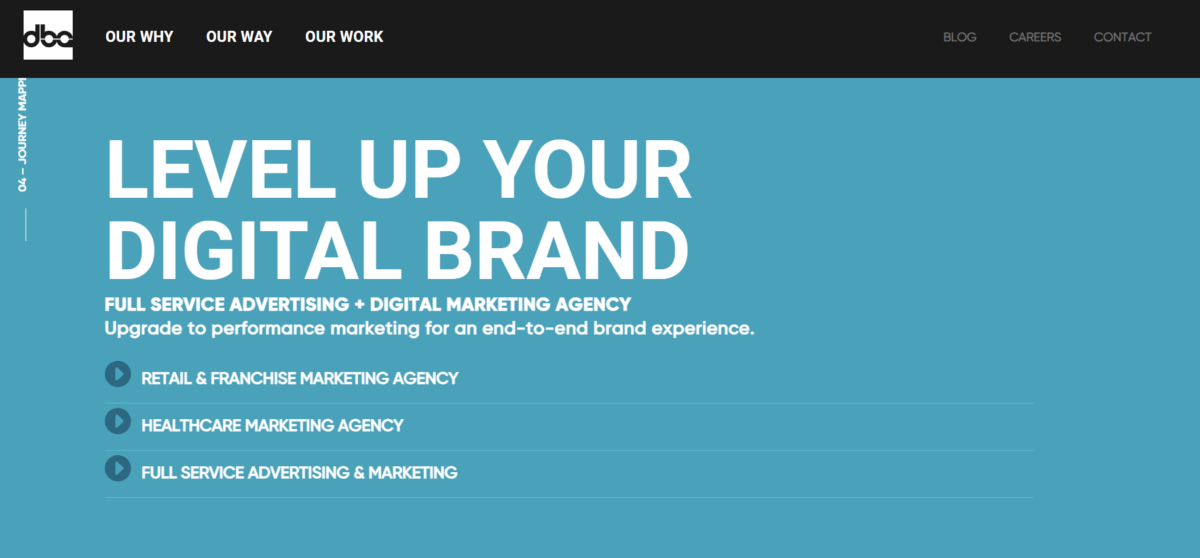 Daniel Brian Advertising (DBA) is a leading Healthcare Advertising Agency with a 27-year track record of excellence. With offices in Dallas, Detroit, Nashville, LA, and New York, DBA has partnered with national healthcare leaders, such as the University of Michigan, the Siteman Cancer Center, and Cincinnati Children's Hospital.
DBA's approach is patient-centered and collaborative, aligning with the values of the health systems they serve. They specialize in Patient Experience, Retailization, and Digital Analytics, recognizing that patients expect healthcare experiences comparable to those in exclusive hotels or restaurants. DBA's cross-functional expertise in retail marketing translates into award-winning mobile apps and patient engagement programs. These offerings provide "one-click" access and support same-day appointments.
DBA also emphasizes Digital Analytics, facilitating the integration of IT and marketing departments to deliver targeted media strategies across digital channels. With an extensive portfolio that includes collaborations with prestigious brands like Henry Ford Health System and U of M Health, DBA is also a leader in brand performance marketing.
---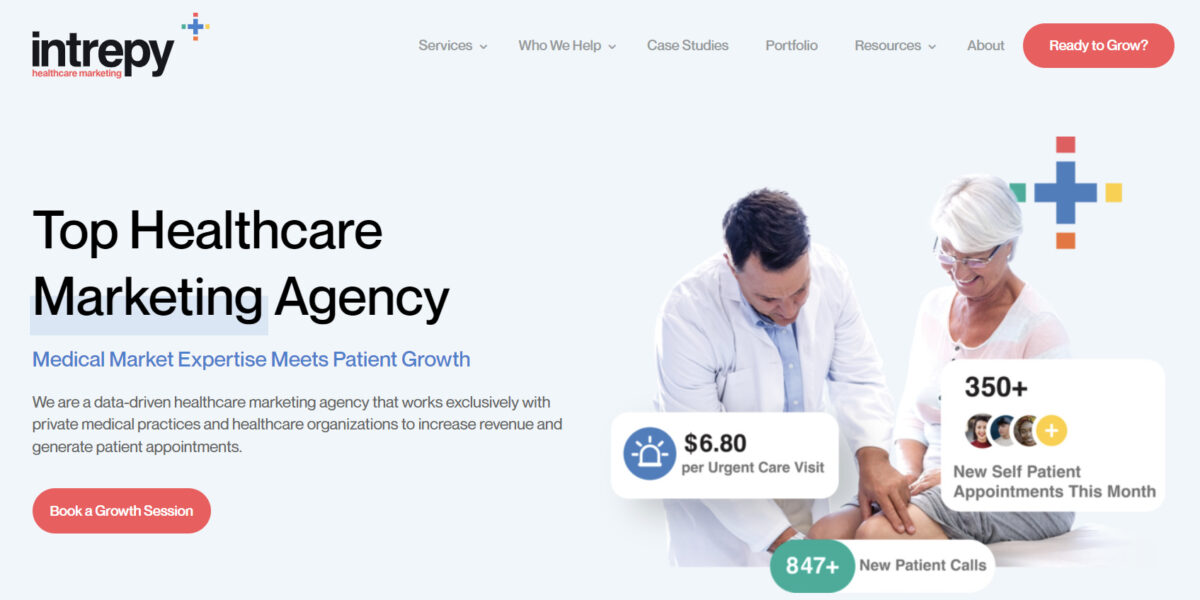 Intrepy Healthcare Marketing is a standout healthcare marketing service provider, distinguished by its exclusive focus on private medical practices and healthcare organizations. Since 2014, they've honed their expertise within the healthcare sector, setting them apart as specialists. Their services are laser-focused on driving patient growth and revenue. Medical SEO is at the core of their strategy, eschewing jargon for expertly crafted medical content, rigorous SEO practices, and backlink building, ensuring top rankings for key treatments.
Intrepy also excels in Healthcare Social Media, providing a white-glove approach to amplify your presence effectively. They leverage the power of paid advertising, offering Google ads, programmatic display, social ads, and remarketing to yield a high ROI for patient appointments. Their commitment to data shines through in Reporting Dashboards, with a proprietary analytics tracking tool that links marketing leads to Electronic Health Record (EHR) patients.
Recognizing the importance of a compelling online presence, Intrepy offers Custom Website Design and development, crafting engaging digital front doors that drive patient bookings. Their expertise extends across key medical specialties, including orthopedics, med spas, home health, solo providers, and private equity, ensuring in-depth industry knowledge.
---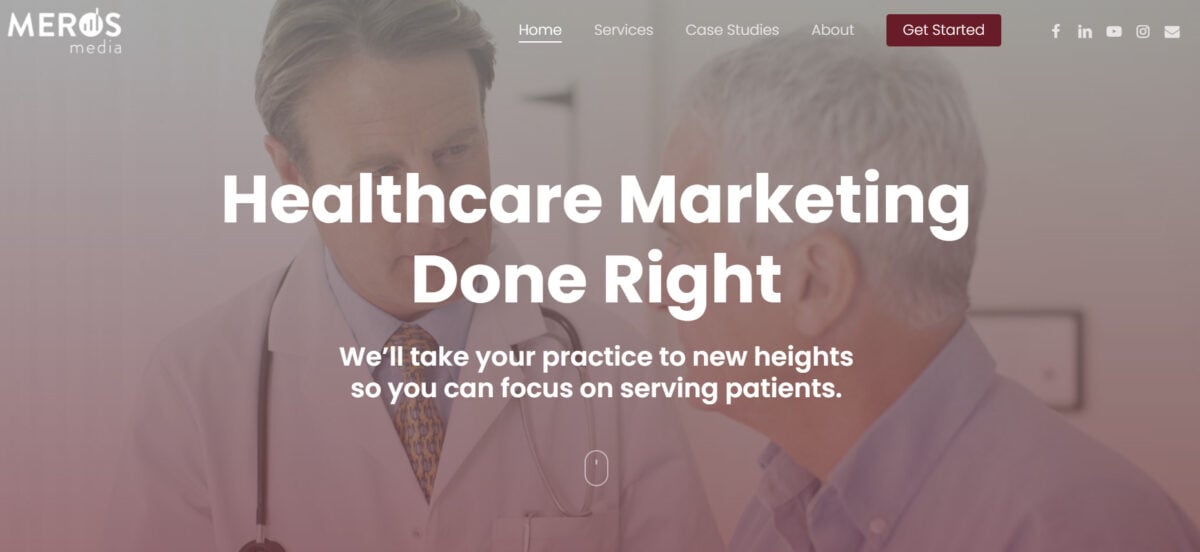 Meros Media stands out as a healthcare marketing agency committed to propelling medical practices to new heights. They excel in online advertising, crafting patient acquisition plans, and leveraging data analytics for a positive return on ad spending. Their content production team produces top-quality, engaging content, from videos to ad copy and landing pages, with each piece meticulously designed to captivate the audience effectively.
Recognizing the critical role of SEO, they focus on optimizing content for maximum organic traffic growth, ensuring practitioners reach the top of search engine results. Meros Media's branding expertise extends to website aesthetics, promotional materials, and brand messaging. Their branding not only captivates visually but also conveys a healthcare practitioner's unique persona.
A case study highlights their achievements, as they transformed Cellaxys in Las Vegas, achieving a 241% increase in patient volume while reducing marketing costs.
---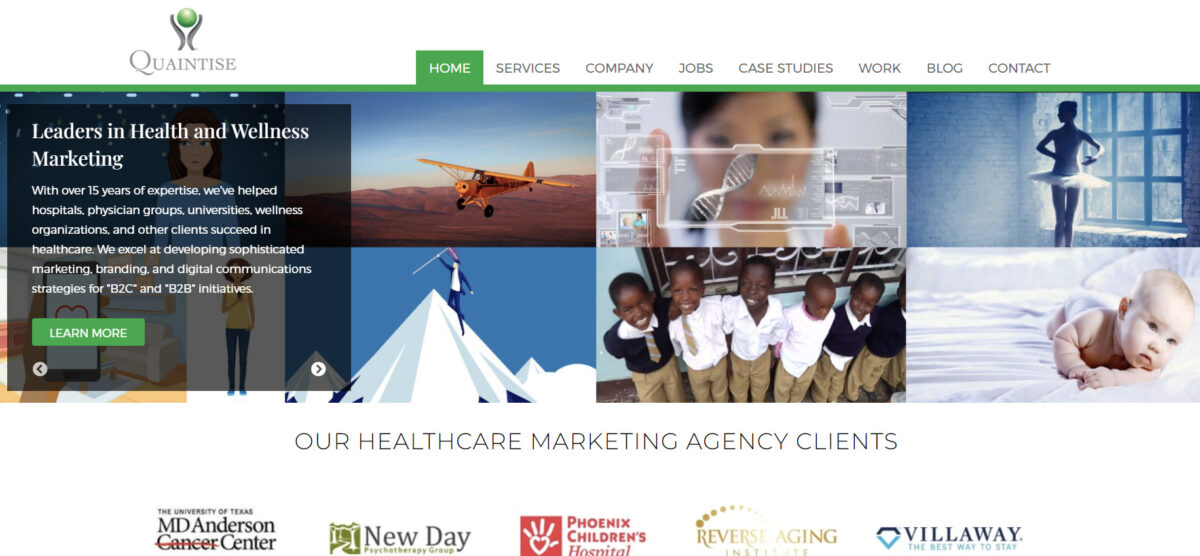 Quaintise is a healthcare marketing service provider that excels in tailoring strategies for the evolving healthcare landscape. They specialize in attracting new patients through targeted digital approaches, fostering loyalty with personalized engagement, and building brand awareness via online reviews, user-friendly websites, and social media.
Quaintise stands out with expertise in SEO, ensuring clients rank prominently in search results and reputation management, leveraging feedback to boost Google rankings. They also offer customizable social media strategies, adapting to platforms like Instagram, Twitter, and TikTok for effective audience engagement.
Their impressive track record includes partnerships with pharmaceutical companies, dental practices, and more. Quaintise offers specialized teams for consistent and impactful brand messaging. Their experience, talent, and specialized healthcare knowledge are evident in their case studies, making them a strategic choice in the ever-changing healthcare industry. Whether it's healthcare PR, branding, or comprehensive marketing, Quaintise possesses the expertise to exceed expectations.
---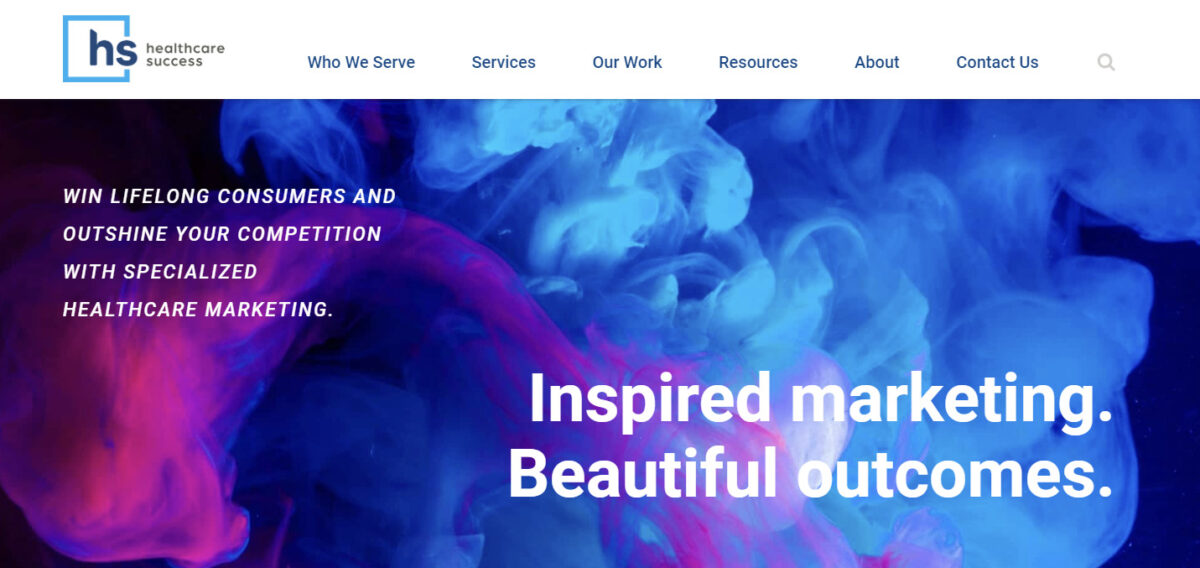 Healthcare Success is a distinguished healthcare marketing agency known for its exceptional results and specialized services. They empower healthcare consumers and professionals through both online and offline targeted marketing strategies. With a multidisciplinary team of experts, they offer comprehensive services in healthcare marketing strategy, branding, digital marketing (including SEO, paid search, and social media), traditional advertising, and analytics.
Healthcare Success is unique with its deep understanding of the healthcare industry, gained through years of serving various organizations, from health systems to addiction treatment centers. Their expertise enables them to simplify and effectively market complex medical specialties. They adopt an omnichannel approach, recognizing the intricacies of the healthcare buyer's journey, and excel in communicating with healthcare professionals and consumers alike.
Healthcare Success places data-driven marketing at the forefront, providing a 24-hour analytics dashboard and a HIPAA-protected call-tracking platform to optimize campaigns continuously.
---

ParkerWhite Brand Interactive is a healthcare, medtech, and lifestyle-focused branding and digital marketing agency based in San Diego. What sets them apart is their unwavering commitment to enhancing people's lives by partnering with companies that share their values. With over 25 years in the business, they have honed their expertise in several key areas.
At the core of their services is Brand Strategy. They thoroughly analyze each client's unique business landscape, addressing challenges, identifying opportunities, and defining clear measures of success. This comprehensive understanding forms the foundation for a strategic plan to achieve their goals. Their creative approach puts people first as they believe that successful marketing touches hearts, engages minds, and influences behaviors.
Whether it's crafting compelling narratives or designing visually captivating content, their focus remains on creating meaningful connections between brands and their audiences. In the digital realm, their services encompass website design and development tailored to deliver conversion-based results. They cater to healthcare startups and enterprises alike, ensuring that websites not only inform but also drive action.
---
Evaluating ROI and Measurable Outcomes With Healthcare Marketing
In the complex yet critical sphere of healthcare marketing, the measurement of outcomes and return on investment (ROI) stands as a linchpin ensuring the effectiveness and efficiency of marketing strategies. The healthcare sector, characterized by its stringent regulations and diverse audience, necessitates a meticulous approach to gauge the impact of marketing initiatives.
The multifaceted nature of healthcare marketing ROI isn't limited to financial gains. Instead, it extends to enhanced brand perception, patient engagement, and trust – elements intrinsic to the growth and sustainability of healthcare providers. In an era where digital platforms are paramount, analyzing metrics such as website traffic, social media engagement, and online reviews becomes indispensable.
To quantify success, healthcare marketing strategies are often underscored by key performance indicators (KPIs). These KPIs, ranging from patient acquisition costs to conversion rates, offer insights into the efficacy of marketing campaigns. They help identify strengths to be leveraged and weaknesses to be addressed, facilitating a data-driven approach to optimize marketing initiatives.
Advanced analytics tools play a pivotal role in this evaluative process. They not only capture and analyze data but transform it into actionable insights. With real-time analytics, healthcare providers can gauge the pulse of their audience, adapting their strategies to align with evolving preferences and expectations. Patient feedback, online reviews, and social media interactions become invaluable assets, offering glimpses into patient sentiments and perceptions.
---
5 Essential Considerations for Selecting a Healthcare Marketing Provider
Navigating the intricate waters of healthcare marketing demands a partner equipped with the expertise, innovation, and adaptability to overcome challenges and seize opportunities. Selecting a healthcare marketing provider is a pivotal decision that can significantly impact a healthcare brand's trajectory. Here are five crucial aspects to consider in this selection process.
1. Expertise and Experience
A provider's track record can be a reliable indicator of their capability. Evaluate their experience, successes, and challenges in previous campaigns, particularly within the healthcare sector. An agency well-versed in healthcare's regulatory and ethical landscape is invaluable.
2. Customized Solutions
Every healthcare entity is distinct. A one-size-fits-all approach is obsolete. Seek a provider that offers tailored strategies aligning with your specific goals, audience, and challenges, ensuring relevance and effectiveness.
3. Technology and Innovation
In the digital age, leveraging cutting-edge technology is non-negotiable. Providers should demonstrate competence in utilizing advanced tools for analytics, automation, and audience engagement to ensure strategies are innovative and results-driven.
4. Measurable Outcomes
Accountability is key. A competent service will assure results and provide mechanisms to measure and analyze outcomes, offering transparency and insights to optimize strategies continuously.
5. Patient-Centric Approach
The end goal of healthcare marketing is enhanced patient engagement and satisfaction. Therefore, the right provider should focus on creating strategies that resonate with patients, fostering trust and loyalty.
---
Conclusion
Mastering the intricacies of healthcare marketing is a crucial aspect of fostering brand growth and patient engagement in today's competitive landscape. By quantifying success through evaluative mechanisms like ROI and key performance indicators, organizations ensure that their marketing strategies are effective and efficient.
Moreover, the careful selection of a marketing service provider based on key criteria plays an instrumental role in bolstering the brand's presence and credibility. Navigating these elements with precision and strategic foresight enables healthcare providers to rise above the noise, offering tailored, impactful, and patient-oriented services that not only meet but exceed the evolving expectations of the modern healthcare consumer.
As such, our detailed article outlining Top 9 Healthcare Marketing Services provides immense value to medical practitioners, clinics, and healthcare providers to elevate their visibility, engage potential patients, and drive consistent growth in a competitive landscape.
Frequently Asked Questions
Why is healthcare marketing important for my business?
Healthcare marketing is vital because it helps you reach and engage with your target audience effectively. In today's digital age, patients search online for healthcare information and providers. Marketing ensures your brand is visible, credible, and trustworthy, leading to increased patient acquisition and loyalty.
What specific services can a healthcare marketing agency provide?
Healthcare marketing agencies offer a wide range of services, including brand strategy, website development, digital marketing (paid search, paid social, SEO, programmatic advertising, reputation management), creative design, copywriting, and programming. They tailor these services to meet your unique needs and goals.
How do I measure the success of my healthcare marketing efforts?
Success can be measured through various key performance indicators (KPIs) such as website traffic, conversion rates, patient acquisition costs, and return on investment (ROI). A reputable agency will provide you with transparent, measurable outcomes to assess the effectiveness of your campaigns.
Why should I choose a healthcare marketing agency with industry expertise?
Healthcare marketing is highly regulated and demands a deep understanding of the industry's nuances. An agency with industry expertise is well-versed in compliance, ethics, and patient-centric approaches, ensuring your marketing strategies align with healthcare standards and patient expectations.