With billions of players around the world and with Metaverse gaining momentum, it feels like everyone is getting into the gaming industry.
In early 2022, Microsoft announced its acquisition of Activision Blizzard, the company that developed Call of Duty, Word of Warcraft, Overwatch and many other games. In the middle of 2022, TikTok was rumored to launch in-app mini-games in Vietnam.
In other words, it's getting harder to stay on top of the competition in the gaming industry. That's why major brands are investing millions of dollars into influencer marketing.
The question is: How can you make sure that your influencer marketing campaign is effective?
In this article, we'll look into 8 steps that can help video game developers launch a successful influencer marketing campaign.
---
How to implement a successful influencer marketing campaign in gaming:
---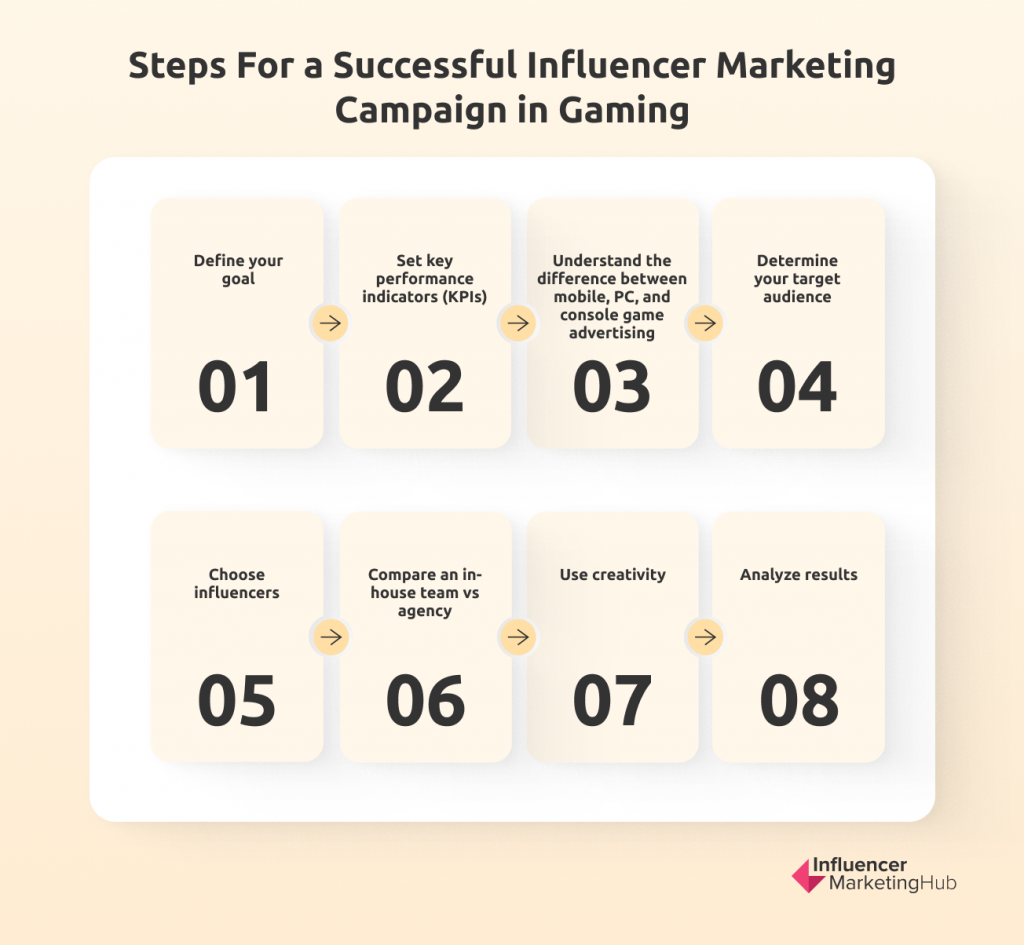 Step 1: Define your goal
When it comes to influencer marketing, game development companies usually have two major goals:
Increase brand awareness.

Increase the number of installs (and, consequently, sales).
These two goals are not mutually exclusive. You can combine them or focus first on one goal and then, once you get comfortable with influencer marketing, focus on another one.
But it's important to understand the difference between them and decide which one is more important for you at the moment.
Difference between brand vs performance campaigns
In brand campaigns, game dev companies are mostly interested in driving the overall reach, the number of views and engagement metrics. The main goal of such campaigns is to boost brand awareness and brand reputation.
In performance campaigns, companies mostly focus on driving sales, growing the number of installs and reaching a specific return on investment (ROI). Here, marketers and advertisers keep a close eye on ROAS, CPI, LTV, and other cost- and revenue-related metrics.
Once you define the overarching goal of your campaign, you can decide on objectives. While your goal can be rather general, objectives should be specific and measurable.
That's why you need to set key performance indicators (KPIs).
---
Step 2: Set key performance indicators (KPIs)
There are a lot of different key performance indicators—CPV, CPM, CPA, CPC, and many other combinations of Latin letters.
The good news is that you don't need to focus on all of them at the same time.
Your main KPI should be tied to your goal. If you want to increase brand awareness, you might be interested in cost per view (CPV) or the overall reach. If you want to increase the number of installs without exceeding your budget, you might need to focus on cost per install (CPI). And so on.
There are at least five ways how you can measure your campaign's performance.
Understand what a specific KPI means for your campaign
KPIs can also help you make strategic decisions about your campaign. You can choose platforms and ad formats based on your main KPI and supporting performance metrics.
For example, sometimes companies might be certain that creating a long-form video review of their game is the best approach. But after looking at their forecasted KPIs, they see that it is more effective to launch 60-second integration videos instead.
Make sure that your KPIs are reasonable
When setting a KPI, make sure that it is reasonable.
For example, if the market benchmark CPI is $15 and you set a KPI of $3, it is rather unrealistic and, as the result, you won't reach your target.
It's easy to set KPIs when you already had an influencer marketing campaign in the past. In this case, you can choose KPIs based on the data that you have.
If you're new to influencer marketing, you can use benchmarks across the gaming industry, do some analysis and research or reach out to an influencer marketing agency.
Agencies usually work with companies across different industries. If you can find an agency that launched campaigns for different types of games and genres, it's even better. This means that they have enough experience to set correct KPIs.
Agree on your KPIs in advance
Whether you decide to work with an influencer marketing agency or manage a campaign internally, it's important to agree on your main KPI in advance. All teams involved in your campaign should be aligned.
Otherwise, you might find yourself in a situation where different teams evaluate the results of the campaign differently.
For example, depending on which KPI they consider the most important one, marketing might deem a campaign extremely successful while sales will regard it as a failure.
---
Step 3: Understand the difference between mobile, PC, and console game advertising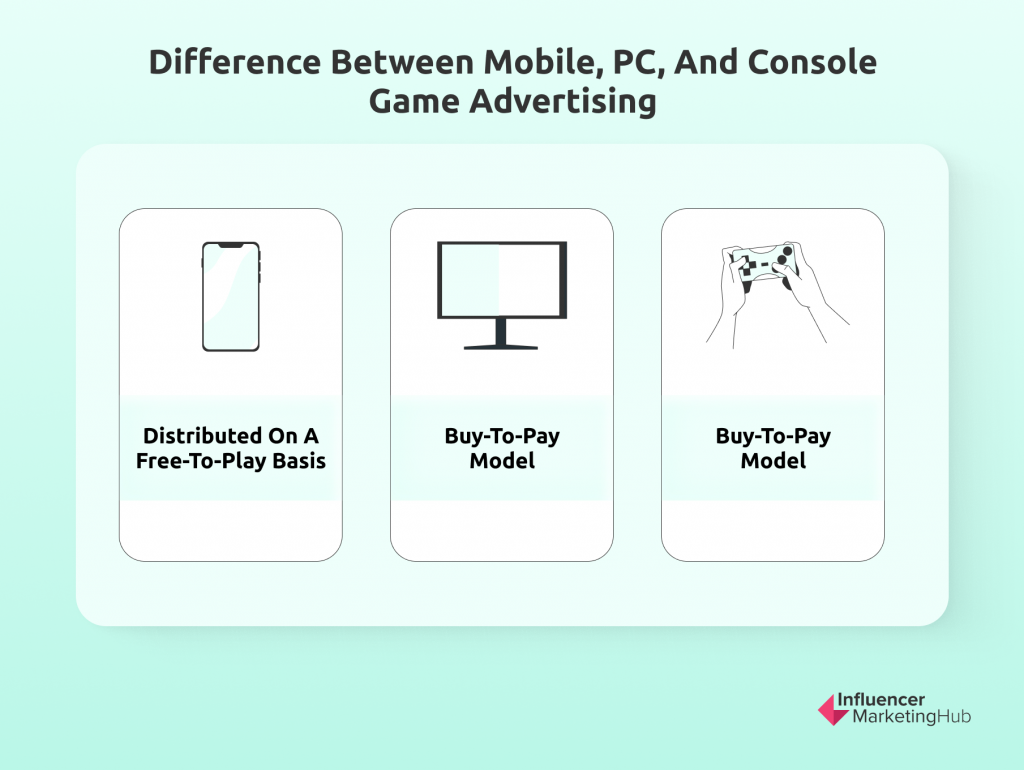 Before launching a campaign, set some time aside to understand how advertising works for different games.
Your campaign will change depending on whether you want to promote a mobile, PC, or console game.
For example, most mobile games are distributed on a free-to-play basis. In other words, users don't need to pay for them. On the contrary, for PC and console games, the most common model is buy-to-pay.
This difference has a significant impact on the conversion rates, cost of acquisition, and other performance metrics. For buy-to-pay games, it's rather difficult to create an effective performance campaign. That's why PC and console game developers usually partner with influencers on brand campaigns.
Depending on the type of your game, you will also need different social media platforms. For example, on YouTube the majority of traffic is mobile. So it's reasonable to promote mobile games there.
On the other hand, on Twitch, mobile traffic is much lower which makes the platform more suitable for long streams. That's why it's not so popular among mobile game developers.
But this is not set in stone.
Every game and every campaign are unique. There are ways to increase conversion rates on Twitch for mobile games too. For example, HypeFactory, a global influencer marketing agency, is using QR-codes and animated widgets to drive traffic from Twitch to mobile games.
So it's up to you how you want to plan your campaign and what ad formats you want to use.
---
Step 4: Determine your target audience
Defining a goal and setting objectives with relevant KPIs is only the first step.
You also need to determine your target audience.
But your target audience is not just people who live in a specific country or fall into a specific age group. These are people who have similar interests. And if you understand what makes your gaming community tick, you'll be able to find your potential players.
That's why you need to dig deeper into your player profile. For example, you can schedule interviews with existing users and ask them pointed questions.
Once you determine your target audience, you can also start looking into which social media platform they use and where they spend most of their time. In other words, knowing your audience will also help you with the next step—choosing the right influencer.
---
Step 5: Choose influencers
Choosing an influencer is not just about creating a list of social media profiles.
Your choice of influencers should depend on your company-wide marketing goal and strategy.
Influencer marketing is there to complement your overall brand communication. It can't replace or overthrow all other marketing activities.
Keep in mind the 4 C's Influencer Marketing framework
When looking for the right influencer, pay attention to the following four factors: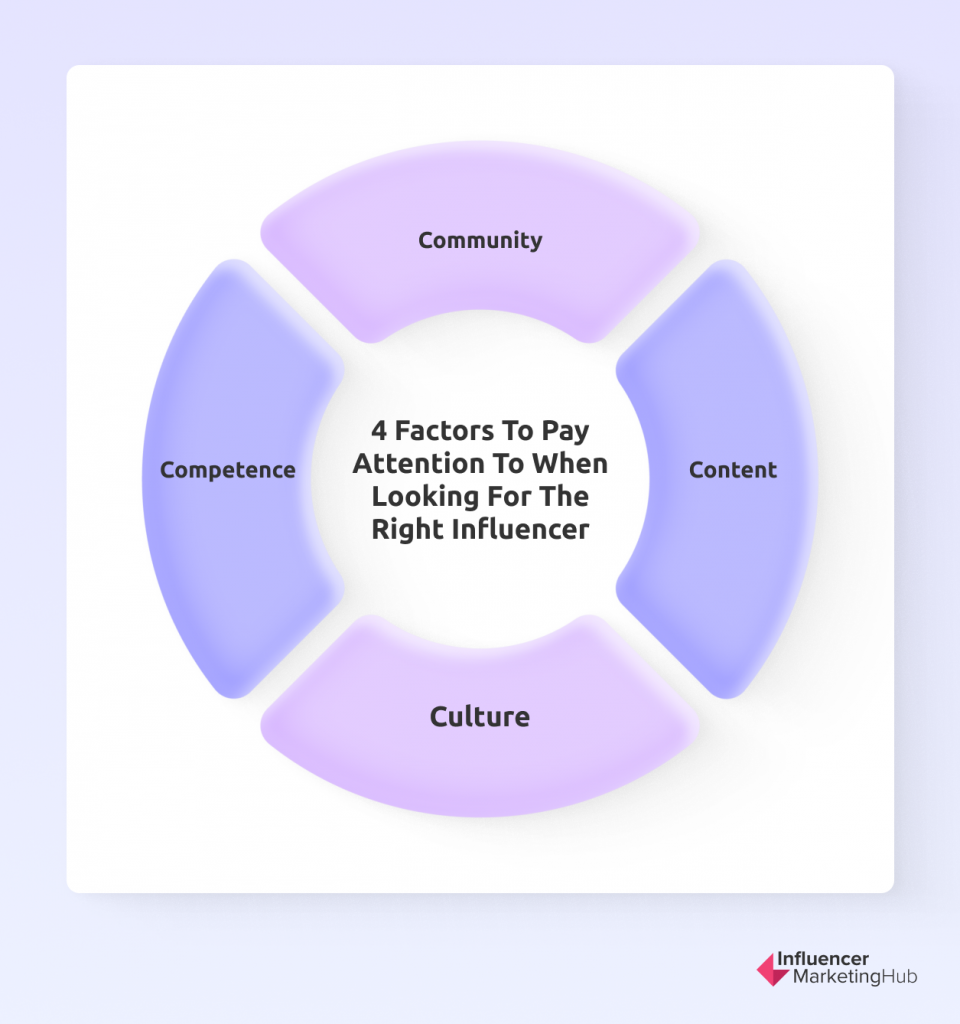 Community

: Analyze the followership of potential influencers and evaluate their engagement rates. You don't want to be spending thousands of dollars on fake followers or followers that are not your target audience.

Content

: Decide on which content format works best for your campaign and showcases your game's advantages. Do you need long- or short-form videos? Depending on your answer, you'll need to find influencers who have an established presence on TikTok, Twitch, or YouTube.

Culture

: Every influencer is unique. They have their own style and tone of voice. Does this style match your brand? Do you feel comfortable with this influencer promoting your game?

Competence

: A high number of followers doesn't tell the whole story. Make sure that people engage with the influencer's content and appreciate it. If the content quality is not good enough, your campaign performance will suffer. Also, have a look at how this influencer treats and approaches sponsored content.
These four factors are referred to as the 4 C's of Influencer Marketing, a framework developed by HypeFactory.
Explore opportunities for scaling
Scaling is an important part of influencer marketing.
Just think about the famous Raid: Shadow Legends campaign which involved more than 2,000 content creators around the world. It is believed to be the largest social media campaign of 2021 in terms of reach and scale.
But scaling doesn't happen by accident. You need to plan for it:

When looking for influencers, make sure to test different content categories instead of specific profiles. If you know what category works best for you, you can find several influencers to partner with in this category.

Don't limit yourself to game influencers only. You can find the so-called shoulder niches (niches that are only partly relevant to your industry) and launch a campaign there. That's why it's so important to know what interests your target audience has.

Build long-term relationships with influencers. One-off campaigns can be effective but if you want influencer marketing to be part of your overall marketing strategy, you need to play the long game.

Combine macro- and micro-influencers

. Both tiers have unique benefits and by combining them you can leverage the results of your campaign and reach more people.
Keep your communication friendly but professional
Influencer marketing is a two-way street:
Be transparent about your expectations and brand guidelines.

Agree on payment terms in advance.

Be prepared for ghosting (yes, it happens all the time). You won't get replies to most of your outreach emails, and this is completely fine.

Set aside some time for edits to regularly revise and improve your outreach emails.

Pay attention to cultural differences if your influencer is based in another country.

Keep track of all your communication with every influencer. This will help you personalize your approach.

Keep black and white lists. These can be handy in the future.
---
Step 6: Compare an in-house team vs agency
There are still hot debates about whether companies should do influencer marketing in-house or outsource it to an agency.
| | |
| --- | --- |
| In-house | Agency |
| Lower cost (no commission, only your team's time) | Scaling opportunities (agencies have access to thousands of influencers and their performance data) |
| Product-specific knowledge (your team knows the game better than any external agency) | Expertise (influencer marketing agencies have dozens or even hundreds of employees working full-time on influencer marketing) |
| Data security (all data stays within the company) | Efficiency and speed (agencies have tried and tested their methods on hundreds of influencer marketing campaigns) |
| Direct access to influencers (no intermediary) | Risk management (full-cycle agencies take responsibility for planning, creating and managing your campaign) |
The truth is: The best influencer marketing agencies don't work in isolation. They involve your marketing team throughout all stages of the campaign: from planning and execution to analysis.
Although it might look like a good idea to have an in-house team working on an influencer marketing campaign, you need to weigh the pros and cons. For example, influencer marketing has many nuances. And to launch a successful campaign, your team will need to account for all these nuances. Do they have enough time and resources for this?
---
Step 7: Use creativity
In influencer marketing, a creative project is a campaign that approaches advertising from a unique and unusual angle. These are subtle promotions that stand out and grab your audience's attention.
Contrary to usual performance-based advertising, creative projects are more complicated and expensive.
Companies launch creative projects when their go-to performance channels have reached their capacity or when competition is rather fierce making it difficult to get noticed.
Below are just a few examples of creative projects planned and executed by HypeFactory for different game developers:
DIY and craftsmanship: for example, a tattoo with one of the game characters (

Steve-O video integration

).

In-game celebrity endorsement: for example, Ninja, a game influencer, was recreated in the Raid: Shadow Legends game which led to a large acquisition of new players from the Ninja's audience.

Massive challenges: for example, TikTok dance challenges with branded hashtags.

Music videos dedicated to a specific game.
And many more! In creative projects, you can come up with other ideas—there's no limit to what you can do.
---
Step 8: Analyze results
Post-campaign analysis can help you determine whether your campaign was effective and what you need to do for better results in the future.
It usually consists of three steps:
Detailed analysis of campaign performance:

How did this campaign perform?

A predictive model based on the analysis:

What can we learn from this campaign?

Strategic planning:

How does this influence our future marketing activities?
The main indicator of whether the campaign was successful or not is whether it was profitable. For this, you need to set performance metrics, such as ROI or CPI (this goes back to Step 2).
In campaign reporting, it's also possible to account for the so-called delayed effect. Beside clicks and installs that can be tracked during the campaign, there are a few things that you'll notice after a while. For example, YouTube videos can bring traffic for 6 months after the campaign's end.
Moreover, you can see the growth in organic traffic, brand awareness, conversion rates. You can also notice a CPI decrease, higher user retention, etc. These all can be attributed to an influencer marketing campaign.
Influencer marketing campaigns can also encourage users to create their own content on social media and share reviews about your game.
Overall, influencer marketing can build long-term brand awareness. And this is not easy to measure. But ideally, you'll need to account for all these effects to have a correct analysis of your performance.
This is why many companies prefer to work with influencer marketing agencies and outsource this time-consuming task to them.
---
Influencer marketing is a powerful tool in the gaming industry
Hopefully, these eight steps will help you better navigate influencer marketing waters.
Let's summarize everything in a few sentences:
Define your goal before starting influencer marketing activities.

Set key performance indicators that are relevant to your goal and make sure that everyone is aligned.

Take time to evaluate the specifics of your game advertising.

Determine your target audience.

Choose influencers based on their forecasted performance (CPM, CPI, etc.) rather than on their price or number of views.

Test influencers across categories and compare categories' performance instead of looking only at individual performance.

Carefully evaluate whether you have enough resources to launch an influencer marketing campaign in-house.

Use reporting to create benchmarks and build a strategic plan for your future marketing campaigns.