As we reported in our recent The State of Influencer Marketing 2021: Benchmark Report, there were 1320 platforms and agencies in 2020, 240 more than the previous year. Although these numbers don't differentiate platforms from agencies, it is clear that many agencies rely on influencer marketing platforms to find suitable influencers for their clients.
Sure, some of the larger platforms also offer agency services, and a few agencies operate customized platforms. However, in many cases, agencies use platforms like firms that internally operate their influencer campaigns.
In this post, we analyze six influencer marketing platforms for agencies. Each of these platforms is just as happy to have agencies as clients as they are brands. Indeed, agencies are often likely to be amongst their largest customers, as they act on behalf of multiple brands.
---
Top Influencer Marketing Platforms for Agencies:
---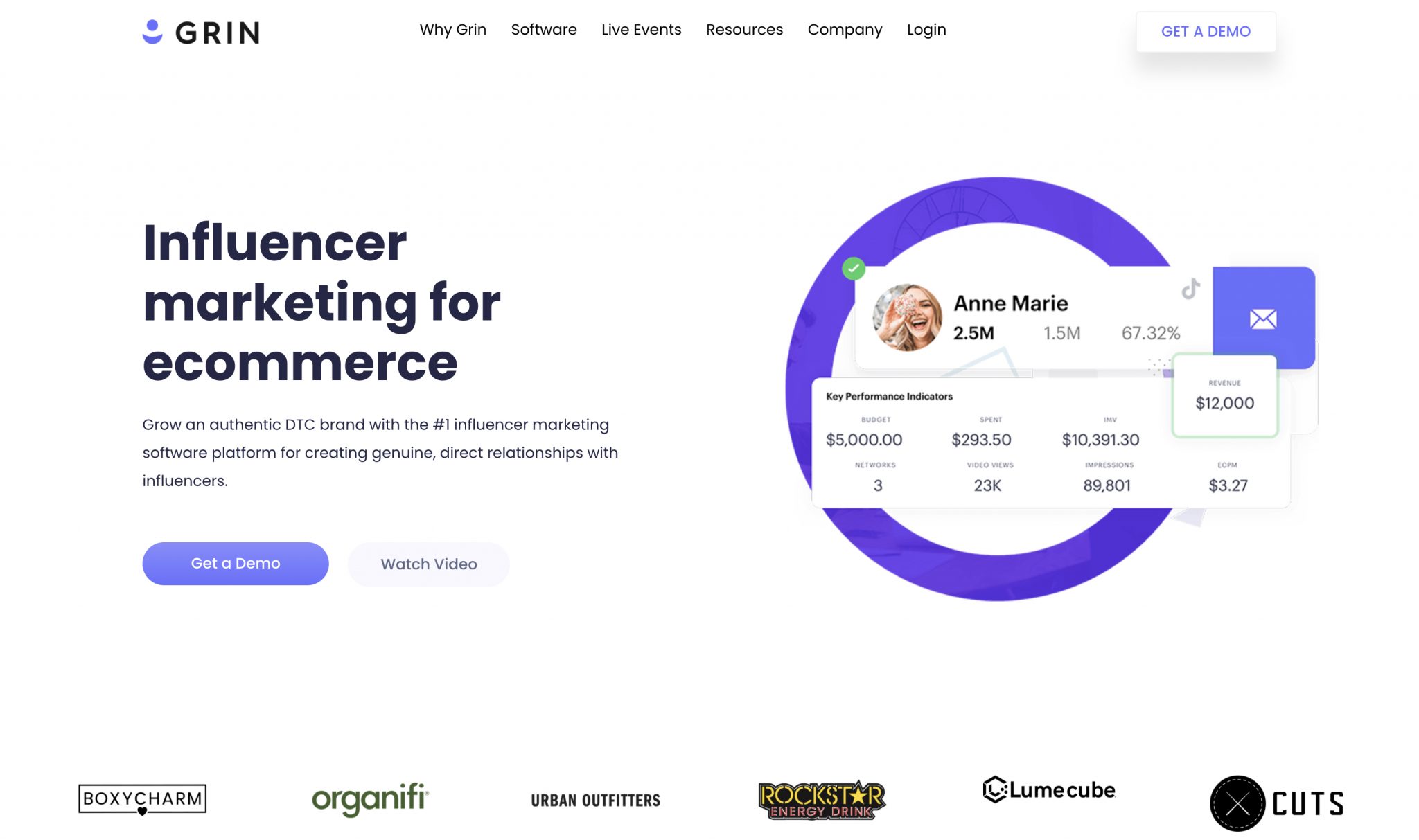 Grin specializes in influencer marketing for eCommerce. This makes them an ideal influencer marketing platform for agencies to find relevant influencers for their eCommerce clients.
Although Grin offers all-in-one influencer marketing software, including discovery, outreach, CRM, product fulfillment, analytics, and ROI tracking, agencies are most likely to use it for influencer discovery (and possibly analytics). However, they can use Grin for any part of the influencer marketing process they don't want to do themselves.
Grin gives agencies the tools to search its network of 32 million social media users to find the best influencers for their client brands. Grin covers all the major social networks, including Facebook, Instagram, TikTok, Twitter, Twitch, and YouTube.
With its focus on eCommerce, it should be no surprise that Grin integrates seamlessly with software like Shopify, WooCommerce, and Magento. Brands can manage and ship products to their influencers, create sales tracking links to pay commissions, create exclusive discount codes, and more. It also integrates with email systems like Gmail and Outlook, as well as real-time communications like SMS and Slack.
Grin includes the usual discovery features with searches for influencers based on the criteria you set. However, Grin also pulls in all the registered users from your eCommerce site, then goes out and finds their social profiles. This provides potential influencers and their relevant statistics, all of whom have already purchased and enjoyed your products.
---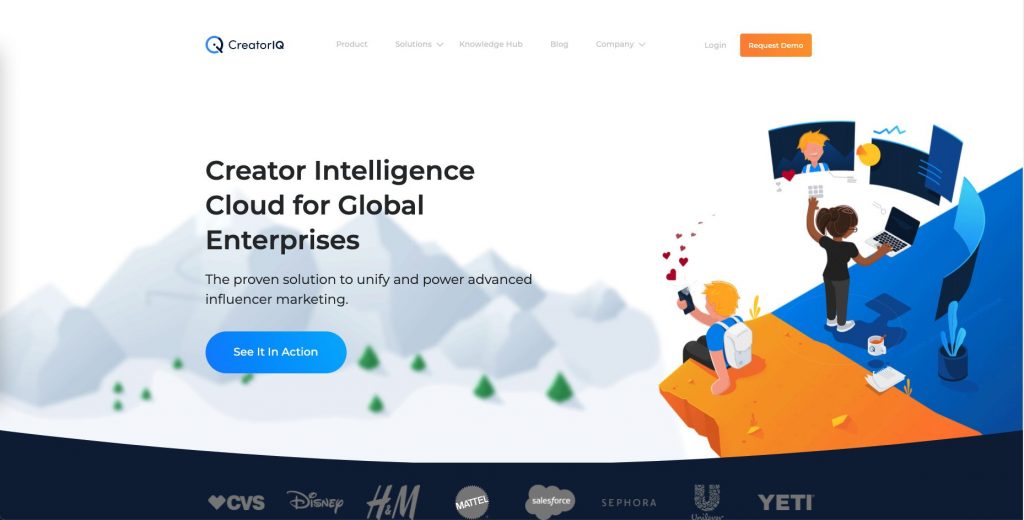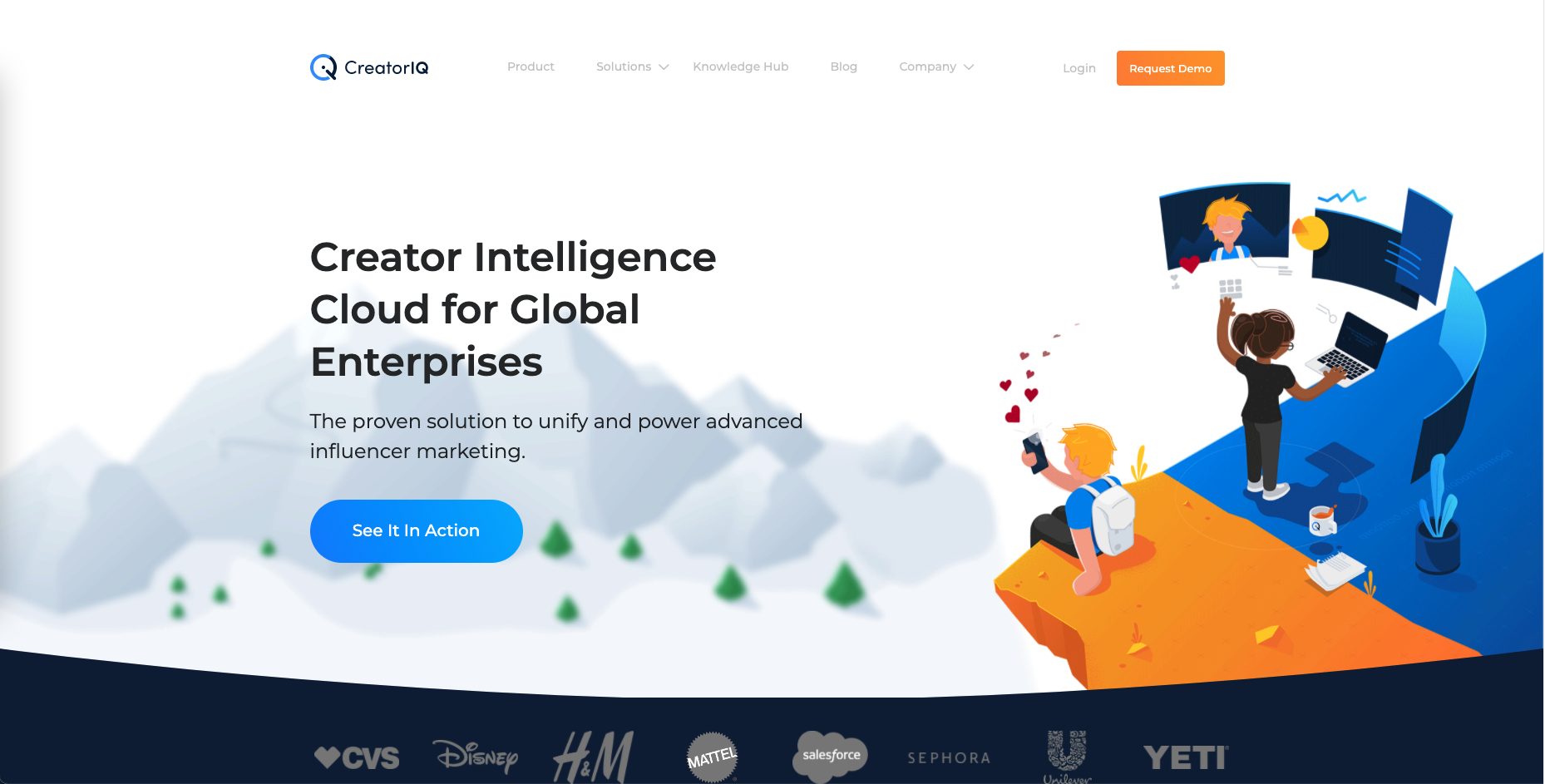 CreatorIQ focuses on large companies, so presumably, the agencies who use CreatorIQ as a tool also cater to larger clients. CreatorIQ makes this extremely clear on their homepage by highlighting that they provide the Creator Intelligence Cloud for Global Enterprises.
Their product is truly end-to-end, with an interface that's polished and efficient. It integrates directly with social platform APIs. Its AI-powered algorithm analyses over 1 billion public social accounts and their content. Indeed, CreatorIQ claims to have the industry's most complete database with access to every creator profile in the world. This even includes Google AI image recognition for enriched creator data, including interest and brand affinities. They currently consider around 15 million creator accounts worthy of being indexed on their system.
Their AI looks at all the discrete parts of any given piece of content, including images, location, mentions, and even emojis. It makes logical inferences. For example, if a caption mentions a musician, the AI knows that music is an interest. If emojis show game controllers, the AI adds gaming as an interest. It goes into this level of detail for every post of every creator in CreatorIQ's database.
The AI also undertakes thorough vetting to ensure authenticity. It assigns each influencer an "Integrity Quotient" to help you discern just how authentic an audience is.
Once a brand or agency identifies the influencers they want to work with, they can invite them via email to join their network. They do this through a white-labeled, fully customizable portal to register and go through an onboarding process. At this point, potential influencers connect their social accounts and authorize CreatorIQ to ingest all the data that the public APIs can't show.
---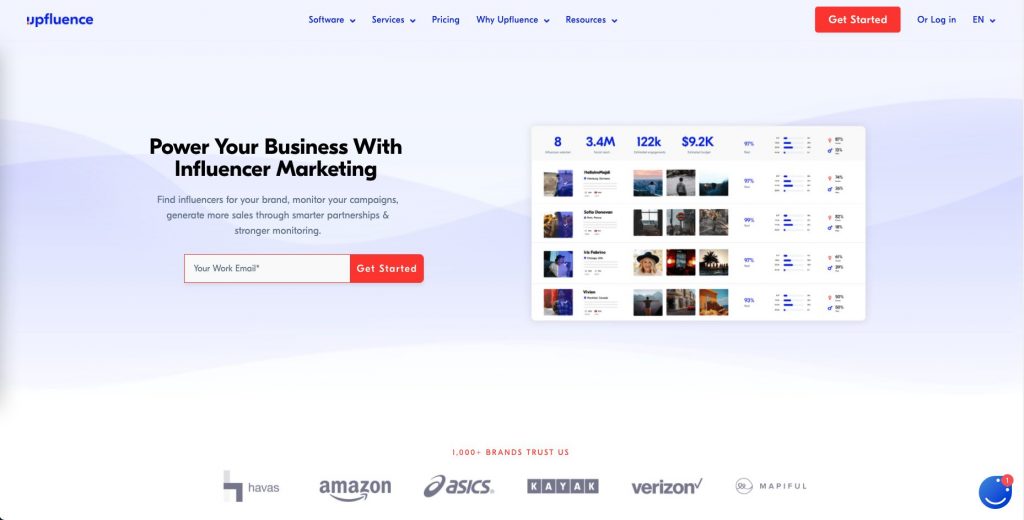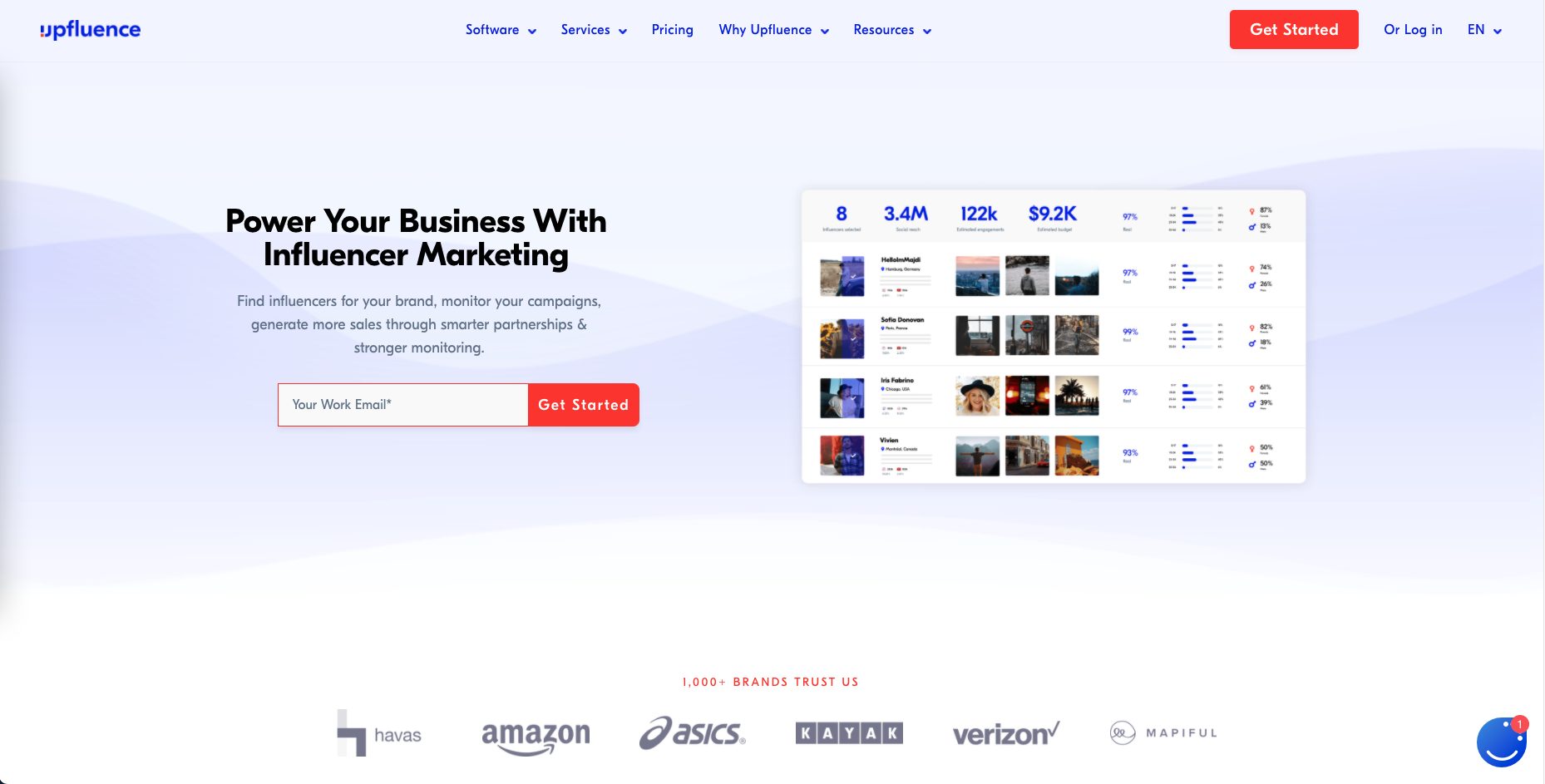 Upfluence works with influencers on YouTube, Instagram, TikTok, Twitch, Facebook, Twitter, Pinterest, and blogs. In total, it provides access to more than 4 million influencers.
The platform offers three plans: Starter (which focuses on finding relevant influencers), Growth (which adds in personalized analytics reports, integrations, and a campaign workflow), and Scale (which adds team collaboration tools, API access, and a dedicated account manager.) Most agencies using Upfluence's tools are likely to opt for the Scale plan.
Upfluence's proprietary algorithms index and update all their influencers' profiles in real-time, analyzing every piece of content for reach and engagement. Live Capture is a new tool that analyzes the social accounts of a brand's existing customers to see if they would make good brand ambassadors.
Agencies can search through Upfluence to find influencers using as many keywords as necessary. By drilling down with keywords, you start to narrow the pool. You can place a relative weight on each keyword, making some "worth" more than others.
Upfluence's interface is intuitive, with results showing up in near real-time. You type search terms on the left side of the screen, and the right side displays the number of results based on your search. It categorizes them into groups based on follower size.
---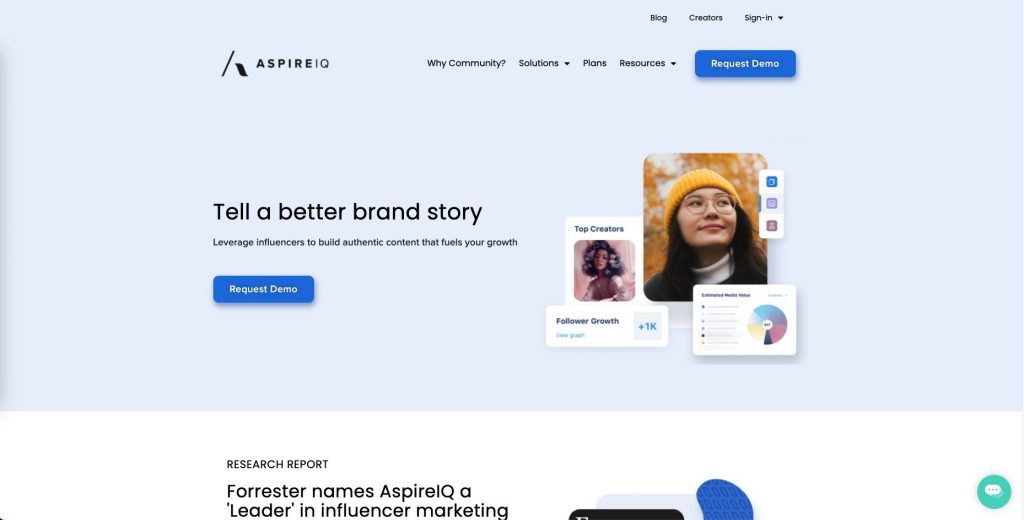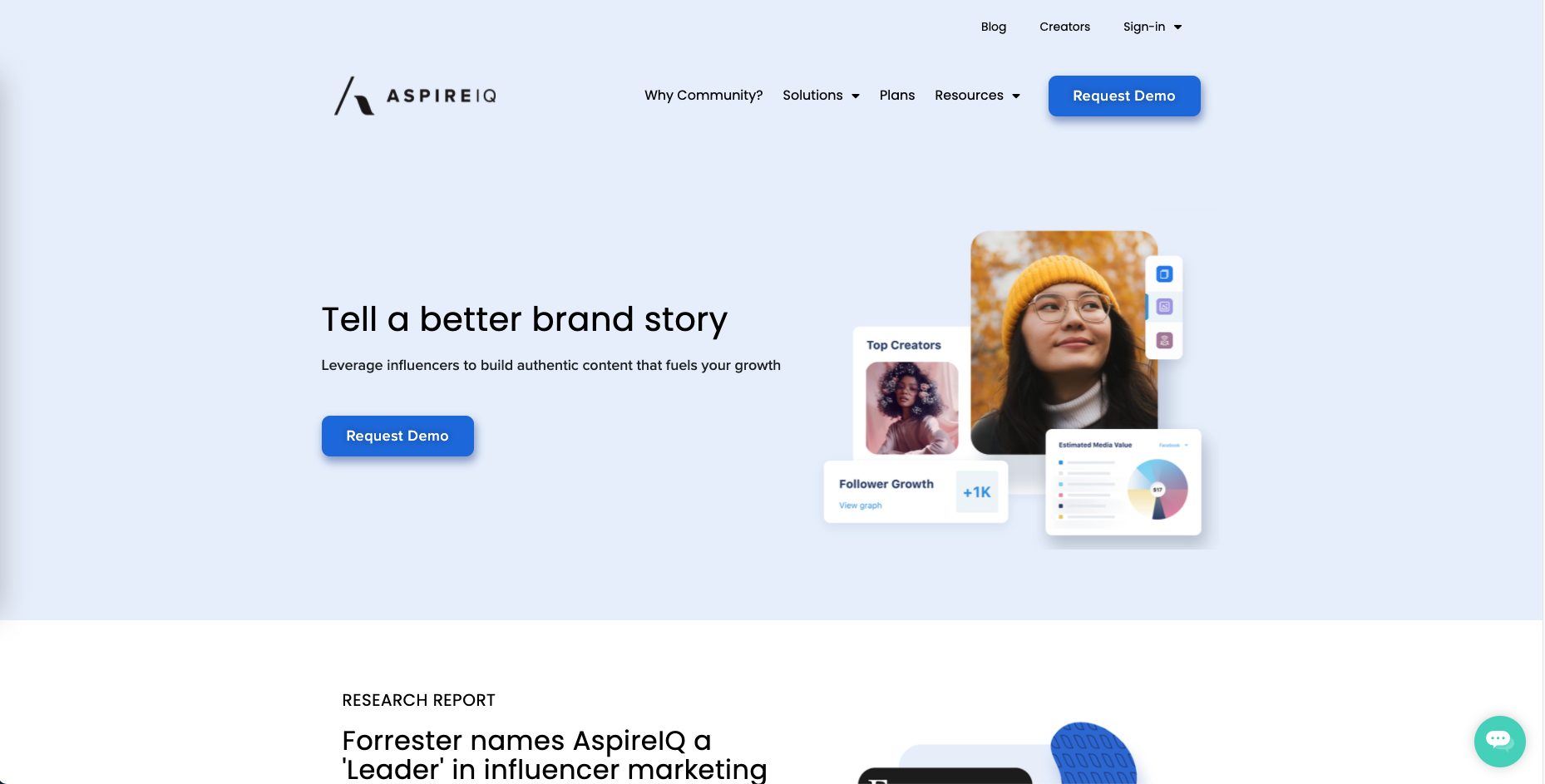 AspireIQ has more than 6 million creators worldwide in their database. Their pricing is customizable, tailored to each client's needs. They don't take any fees on creator relationships but charge only for the use of the software.
When AspireIQ first started (calling themselves Revfluence), marketers could discover and begin working with influencers on content for campaigns. Their campaign management tools were a step ahead of what anyone else was doing. This was fine for brands but less suitable for agencies because the discovery engine was merely serviceable. Since then, however, the search function has improved dramatically, and AspireIQ has added additional tools.
It includes a recommendation engine that points out similar influencers to the ones you've worked with. Although an influencer needs to have an account on the platform to participate in campaigns, the database of influencers isn't restricted to those who opt-in.
You can use the search engine to search for keywords, hashtags, topics, etc., and then filter the results down by specifying follower counts, average likes per post, and other demographic info. You can also use the "Quickmatch" feature, which presents you with influencers based on your preferences, showing their key details. You can also search for influencers by matching their content to an image of your choice.
---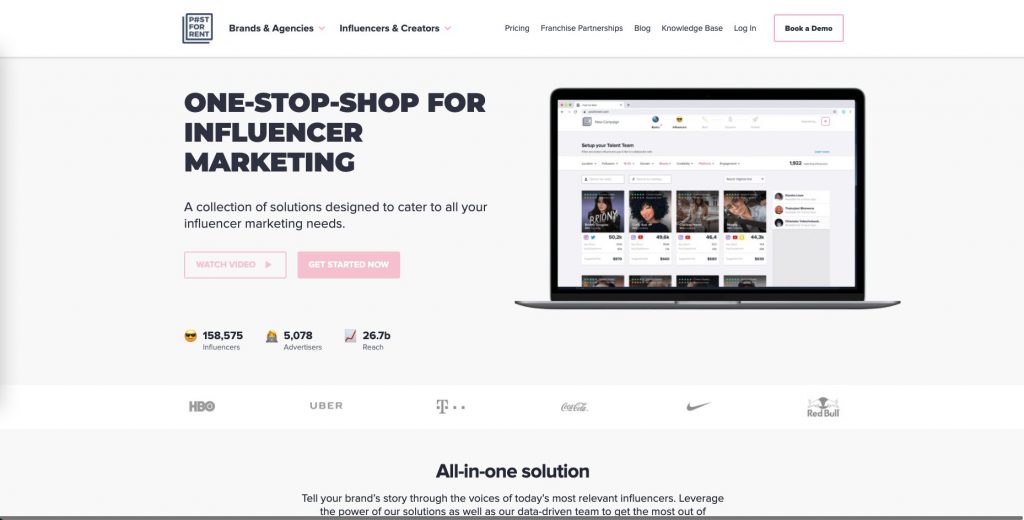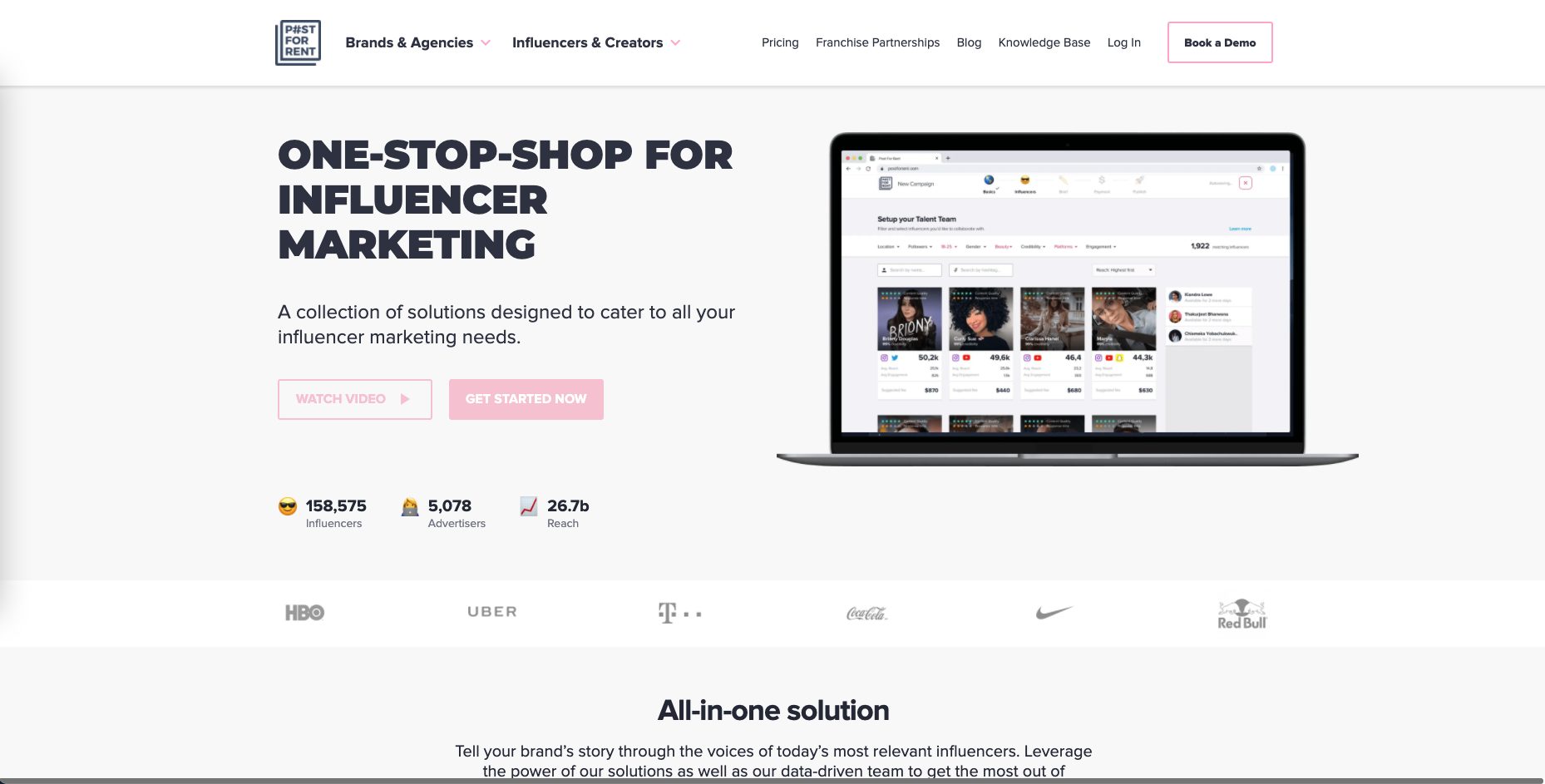 Although Post for Rent offers a range of services to both brands and agencies, influencer search is probably the most common feature of the platform that agencies use. Post for Rent can also act as a Campaign Manager, where brands create and manage campaigns, or a fully managed service where it does everything for you (acting much as an agency itself).
Post for Rent features an interface that is almost fun to use. The platform effectively maintains a balance between cold business efficiency and authentic influencer campaigns. It appears to serve all sizes of brands but has also made plenty of room for agencies and talent managers. The depth and breadth of tools and data available are astounding.
The Influencer Search base plan allows you to analyze and compare any social media account for $5/influencer profile scan with no monthly fee. In reality, most agencies will add the Discover tool for an additional $99/month, which is an advanced search engine for you to find the right influencers.
The base Campaign Manager Plan allows public campaigns for a 20% service fee and lets you choose to pick the Discover tool, direct campaign manager, product payment, reporting, and sub-accounts for additional costs.
The Discovery tool is quick and responsive, allowing you to filter your way down to people who meet your criteria. The influencer analysis for each profile is comprehensive.
The Reporting add-on gives a statistical deep-dive into influencer marketing trends that happen on Post for Rent's platform.
---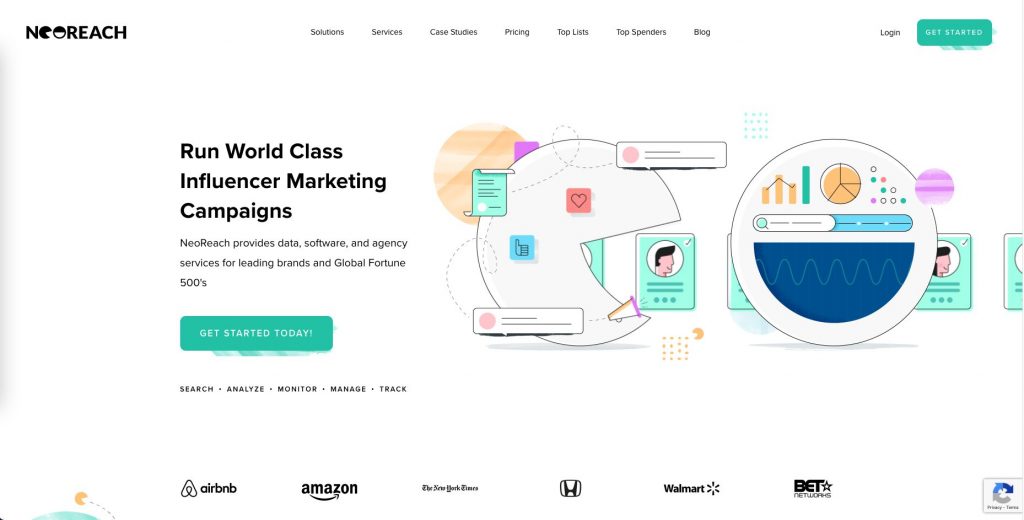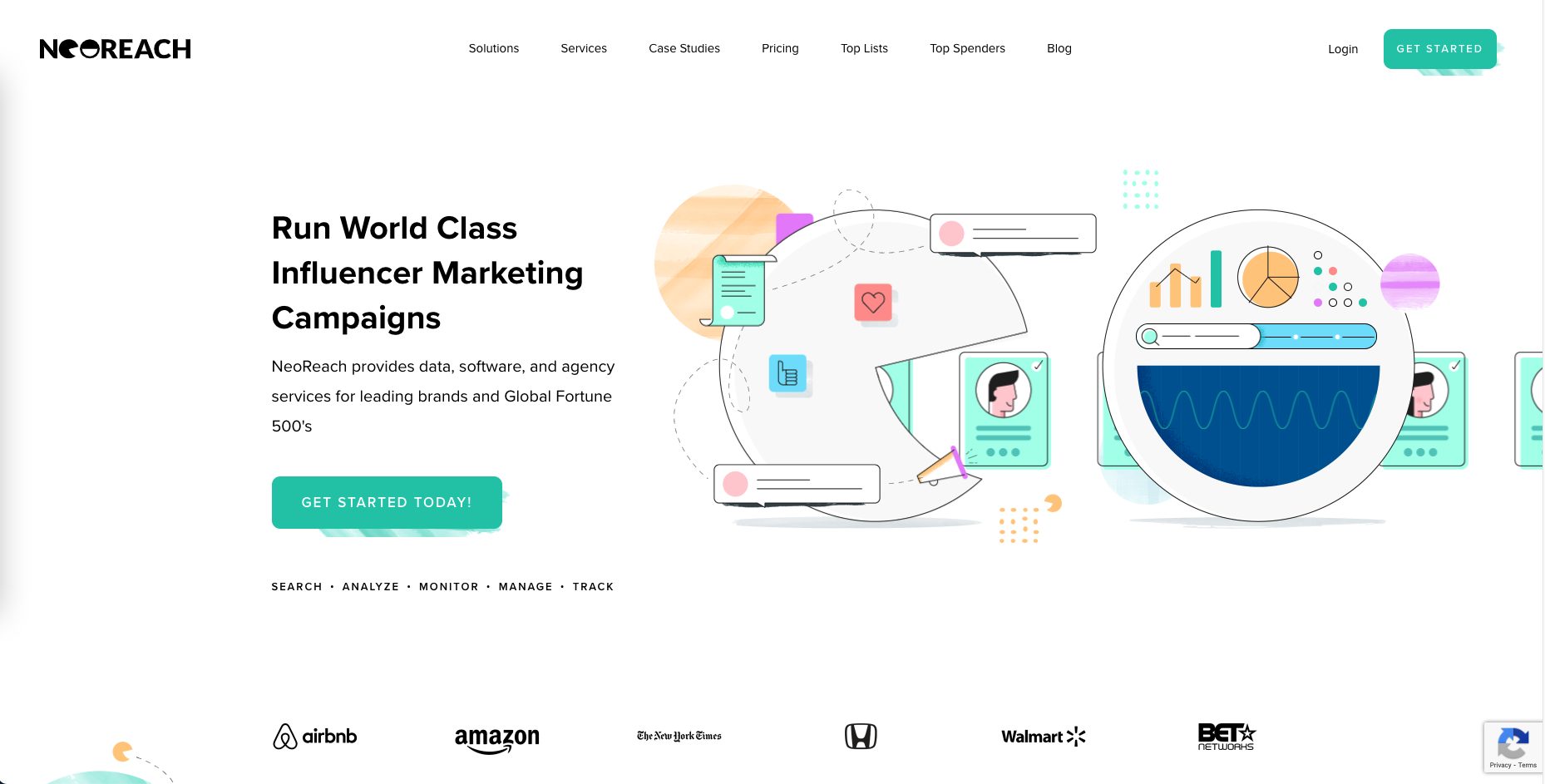 NeoReach provides data, software, and agency services for leading brands and Global Fortune 500's. They also offer influencer data to agencies searching for suitable influencers for their clients.
Using the NeoReach platform requires the purchase of an annual subscription. Most agencies will opt for their Enterprise & API plan that offers unlimited searches, lists, "in network" influencers, campaigns, post tracking links, and many other features. As that plan's name suggests, it also gives access to NeoReach's API.
NeoReach's influencer database contains over 3 million people, with a mind-boggling array of information for each of them. You can start an influencer search using any keyword, and NeoReach will search through all its influencers and their posts to find a match. You can refine your features by many demographic and psychographic factors, as well as by conversation topic, social channel, and social metrics per channel.
Users also receive recommendations from the platform, powered by AI that uses performance data coupled with a brand affinity search.
NeoReach also provides much detail in their reporting. They drill down into the demographics of your reach and calculate ROI. The number of reports you can run within NeoReach is limited only by the considerable quantity of data you can get out of the platform.