Advertising Disclosure
Advertising disclosure:
Our partners compensate us. This may influence which products or services we review (also where and how those products appear on the site), this in no way affects our recommendations or the advice we offer. Our reviews are based on years of experience and countless hours of research. Our partners cannot pay us to guarantee favorable reviews of their products or services.
There's a reason why the role of social media manager had to be added to the list of job titles. It involves so much work that even if your business had a full-time social media manager, you'll still find the need for a support team.
Here's the thing: social media marketing starts long before you publish a post and still continues long after your image or video was successfully published. From hashtag research to analytics, there are many tasks involved in growing and maintaining a healthy online presence.
However, small and medium-sized businesses don't always have the means to appoint a full-time social media manager or outsource it to an agency. In this case, owners might try to add social media management to their responsibility list too.
If you have to go this route - at the very least - you'll need to invest in a social media management software solution. In short, this type of tool can help to streamline your workflow by seeing to it that your posts reach the right people at the optimal time.
Some social media tools are aimed at small businesses, while others cater more towards enterprise clients. For example, enterprise clients typically need more comprehensive features like employee advocacy (after all, they have bigger teams) and advanced analytics tools.
Needless to say, pricing is also a decisive factor. Small businesses have to stretch their budgets. Every dollar needs to count (and be accounted for).
For this reason, when compiling this list, we looked at pricing first. Most of these tools offer a free plan. If not, their paid plans are competitively priced. Whatever your budget, one of these 11 tools will work for your small business.
---
Top Social Media Management Software Solutions for Growing Small Businesses:
---
Top Tools That Small Businesses Can Use for Social Media Management:
Top
social media management software
2024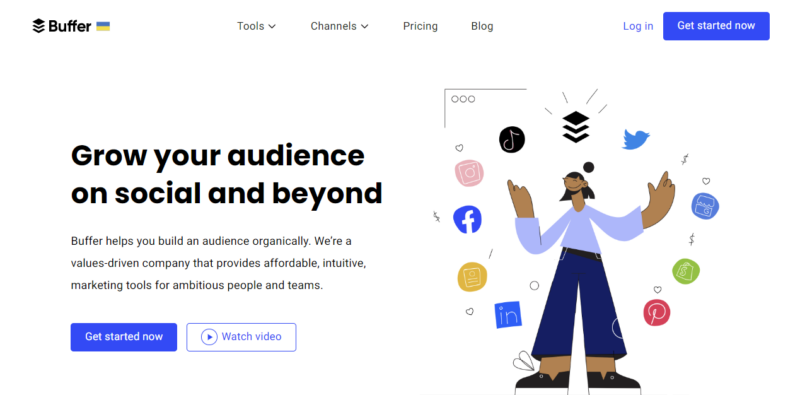 Buffer is one of the top digital marketing tools for small businesses and is trusted by 140,000 users. Its flexible pricing is one of the main features that make it such an attractive option for small businesses specifically. Instead of charging you a fixed monthly fee, your monthly fee is based on how many channels you need.
This brings us to our next point — integrations. Buffer offers an impressive list of integrations. The social media channels it currently supports are:
Instagram
TikTok
Facebook (pages and groups)
Twitter
LinkedIn (profiles and pages)
Pinterest
Google Business Profile
Support for YouTube and Mastodon are also in the pipeline.
Pricing: It offers a free plan aimed at businesses (and individuals) getting started with social media. If you need to set it up for more than three channels or need to be able to store more than 10 posts per channel in your queue, you can sign up for its Essentials plan. After a 14-day free trial, pricing for this plan starts at $6 per month per channel and if you opt to be billed yearly you can get two months free.
---

Hootsuite is one of the popular alternatives to Buffer and is a great tool for post scheduling and communication. Just like Buffer, it offers an impressive list of integrations. You can use it to manage your social media presence on:
Instagram
Facebook
Twitter
YouTube
LinkedIn
Pinterest
TikTok
The winner of their Social Media Makeover for Small Businesses, Apricotton, managed to generate an increase in sales of over 100% in only two weeks. What's more, with the help of Hootsuite Analytics, they also managed to save eight hours per week.
Included in its entry-level plan that will fit small businesses' budgets better are features to help with publishing, scheduling, content curation, and social media monitoring. You'll, for example, get access to a publishing calendar and social inbox. Then, to optimize the performance of your posts, it also shares recommended times for publishing and a detailed breakdown of your best times to publish. This info is especially useful for small businesses that need to make every social media post count.
Pricing: Hootsuite offers a free plan and a generous 30-day free trial. With the free plan, you can manage two social media accounts (you can choose from Facebook, Instagram, Twitter, LinkedIn, YouTube, or Pinterest). Paid plans start at $99 per month, making it slightly pricier than most other tools on this list.
---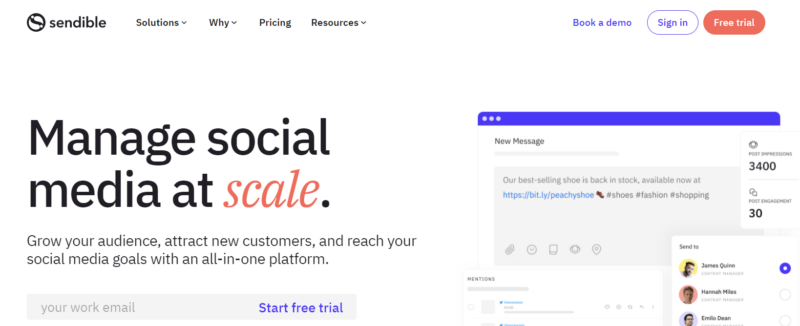 Sendible streamlines social media management for growing businesses. It offers powerful functionality to help you spend less time on planning your social media posts. In addition to its scheduling features, it also includes content suggestions. This way, you can repurpose content, like a new review or blog post, that will engage your customers to free up time.
Another way that it helps growing businesses is with lead generation. You can set up keyword monitor searches so that you never miss a brand mention.
One area, though, where you might feel it lacks is when it comes to integrations. If you mostly target Gen Z, you'll miss TikTok. The social media networks currently supported are:
Facebook
Instagram
Twitter
LinkedIn
Google Business Profile
YouTube
Still, Capterra has listed Sendible as one of the noteworthy social media management software solutions in 2022. So, take note of Sendible and perhaps sign up for its free trial.
Pricing: After a free 14-day trial, pricing starts at $29 per month.
---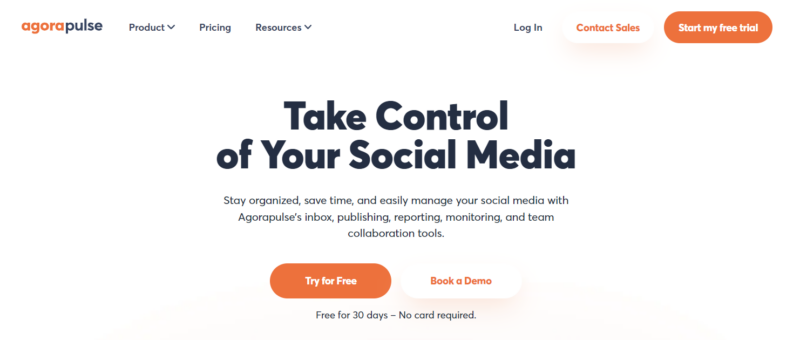 Agorapulse makes light work of scheduling posts, monitoring, social listening, and analysis. Its biggest market segment is small businesses, though it's powerful enough to be used by agencies too.
If your business has a global audience, the instant translations feature will come in useful. This way, you can instantly translate messages and comments. Another feature that can help small businesses optimize their marketing budgets is its social media ROI calculator. It gives you access to simplified Google Analytics reports that highlight which marketing campaigns and networks are contributing to your ROI.
Which brings us to supported networks. Their list includes all the usuals like:
Facebook
Instagram
LinkedIn
Twitter
YouTube
Google Business Profile
TikTok
All in all, it's one of the best social media scheduling tools. While it caters to agencies too, you'll find that its free plan is pretty decent making it an ideal candidate for smaller brands.
Pricing: It offers a free plan and a number of subscription plans. Pricing starts at $59 per user per month.
---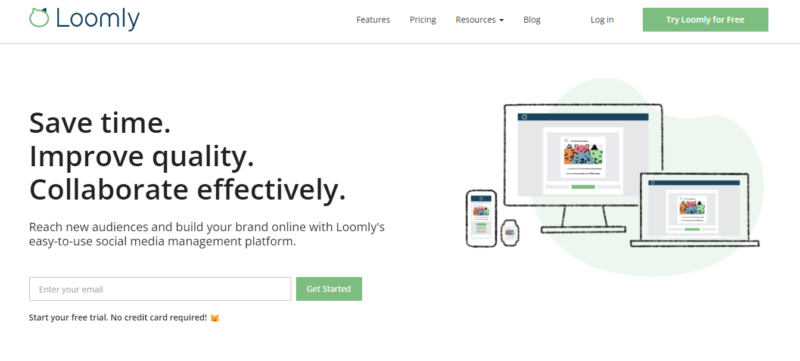 In terms of customer satisfaction among small businesses, G2 rates Loomly as the top social media management tool. Much of this satisfaction can be attributed to its ease of use, with users voting it as one of the most intuitive tools, ahead of other crowd favorites like SocialPilot.
From freelancers to agencies to local businesses and remote teams, Loomly can fit various needs. It currently supports automated publishing for:
Facebook
Twitter
Instagram
Pinterest
LinkedIn
Google Business Profile
While TikTok isn't included in this list, it will send you reminders for manual publishing. This also applies to Snapchat.
In terms of features, nice-to-have features that are included in its entry-level plan are hashtag suggestions and a media studio for easier editing. Basic post analytics that include essential metrics like shares, clicks, and views are also included in all the plans.
Pricing: After a 15-day free trial, pricing starts at $35 per month.
---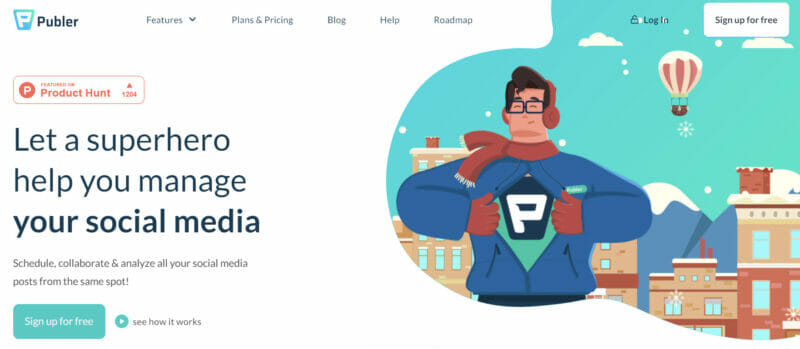 Publer (short for publisher) describes their software as a "social media superhero" — something that all small businesses need. In short, it makes it easy to schedule, collaborate on, and analyze your social media posts via the same place.
Just how easy? It was ranked as the easiest social media management software by G2 in 2022.
In addition to ease of use, another reason why it's such an attractive option for small business owners is its pricing. Its most expensive plan starts at only $21 per month (many social media management tools' cheapest plan isn't even available for less than $30 per month).
And, it doesn't hold back in the integrations department. It supports all major social platforms including:
TikTok
Google Business Profile
YouTube
WordPress
Telegram
What's more, you'll also be able to use it for special types of posts like Instagram Reels and YouTube Shorts.
Pricing: It offers a free plan and two paid plans. Pricing starts at only $12 per month.
---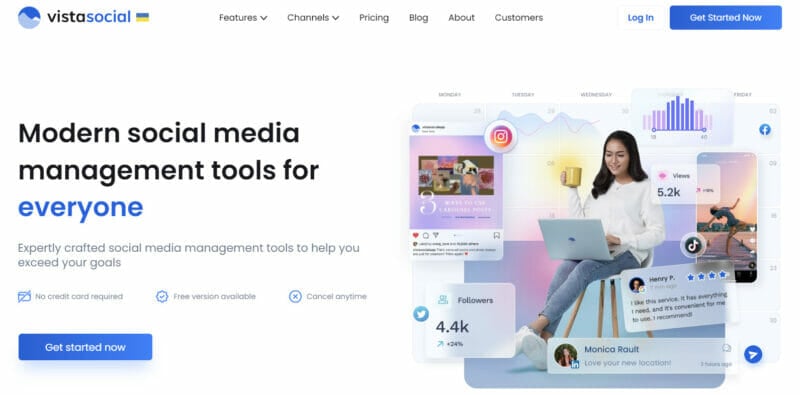 Vista Social's mission is to be a modern social media management platform for everyone. They want to offer solutions for social media as it exists currently.
According to G2 reviews, it ranks in the top 5 in terms of ease of use. When it comes to integrations, they're also right up there. In addition to the mainstream platforms (Twitter, Instagram, Facebook, LinkedIn, YouTube), they also integrate with platforms that aren't as commonly supported like:
Pinterest
TikTok
Google Business Profile
Reddit
Yelp
Trustpilot
TripAdvisor
OpenTable
As you'll see from that list, there's a big focus on reviews. It offers powerful review management features, making it a great choice for small business owners. You can monitor reviews across several review sites (refer to the list above) and access detailed review analytics helping you to identify important ones and make sense of trends.
Another feature that makes it an attractive option for smaller brands is its flexible pricing. Basically, you end up paying only for what you need. Instead of being forced to pay a set fee per month, you pay per social profile. Sure, if you plan on connecting 10+ social accounts, it won't really make a difference. However, if you plan on starting with only a few channels, this pricing structure can work in your favor.
Pricing: It offers a free plan and two paid plans. Pricing starts at only $3 per month per social profile and if you choose to pay annually you can save up to 33%.
---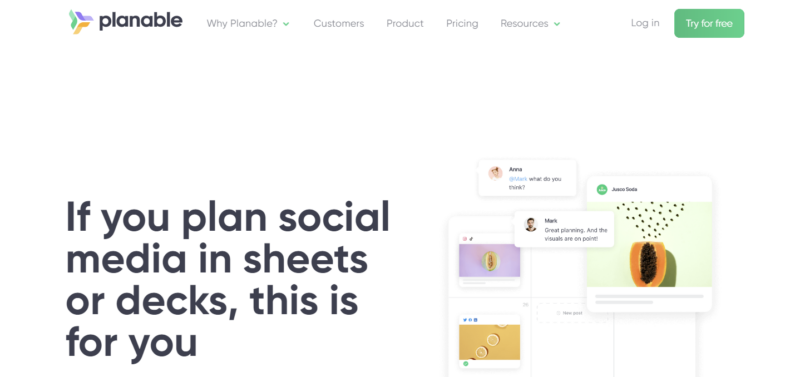 Planable is relatively new on the social media software scene. They might not be as established as tools like Buffer, but more than 1 million posts have already been published via the platform.
What's more, their software has also attracted the attention of review sites like G2. On G2, it has over 500 reviews and is one of the highest rated tools in the Best Social Media Management Software for Small Businesses category.
All in all, it's a great tool for creating relevant content. In fact, according to their website, they can help small businesses to create content six times faster. Other noteworthy features include flexible scheduling and pixel-perfect previews.
One area, though, where it lacks is analytics. Instead, they focus on creating the best collaboration tool that will help you to streamline your workflow. That's their sole goal.
In terms of integrations, the selection is pretty decent and includes support for:
Facebook
Instagram
LinkedIn
Twitter
YouTube
Google My Business
TikTok
Pricing: It offers a free plan and three paid plans. There's a Basic plan for businesses getting started with social media that costs about $13 per user per month.
---

G2 has listed SocialBee as one of the leading social media tools for small businesses. Solopreneurs, startups, and SMEs have praised it for its simplicity and ease of use.
One feature that deserves special mention is its Concierge Services. This unique feature gives you access to your own dedicated specialist that can take care of content creation. That said, while nice to have if you don't have a big team, this add-on feature starts at about $130 per month. It's still much cheaper than having to employ a social media specialist. However, if you're hoping to spend less than $50 per month on a platform, you'll probably take a pass.
Which brings us to its plans and pricing. It doesn't include a free plan, but all its subscription plans are competitively priced and SocialBee has a plan specifically aimed at small businesses and startups.
SocialBee is also very generous when it comes to supported networks. With it, you can post on:
Twitter
Facebook
LinkedIn
Instagram
Pinterest
Google My Business
TikTok
Pricing: After a 14-day free trial, pricing starts at $39 per month.
---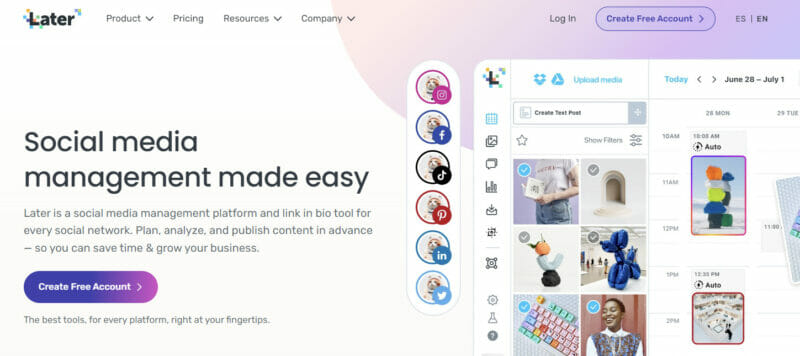 Later is a great social media management software for businesses of all sizes. It originally started out as an Instagram scheduler but has since expanded its scope. In addition to Instagram, it also supports:
Facebook
TikTok
LinkedIn
Pinterest
Twitter
What sets Later apart from many other tools in this niche is its strong focus on visuals. In fact, they've created their platform in such a way that you can plan and schedule your content visually. If you prefer to take advantage of user-generated content (UGC), you can use it to search for the best UGC for your business and its audience.
On top of helping you to plan, publish, and analyze, it can also be used as a link-in-bio tool for every social network.
Pricing: After a 14-day free trial, pricing starts at $18 per month.
---

Responding to reviews is key if you're trying to grow a business. SocialPilot makes that easy as reviews that you've received via your Google My Business or Facebook page will also show up in your social inbox, making it easier to reply promptly.
In addition to Facebook and Google My Business, it also also supports:
Twitter
LinkedIn
Instagram
YouTube
Pinterest
TikTok
If you're searching for a cost-effective way to consolidate your social media publishing and management, this can be just what you need. SocialPilot doesn't offer a free plan, but their pricing is very affordable. There are two plans available for less than $50 per month. Plus, the plan at the lowest tier isn't too basic. It includes useful features, like the ability to set various levels of access, that many other tools in this category leave for their pricier plans.
SocialPilot has also been voted the best social media management software solution for small teams by Investopedia, while G2 has listed it as one of the high performers in the small business category.
Pricing: After a 14-day free trial, pricing starts at $30 per month, but you can save 15% if you opt to be billed yearly instead.
---
Wrapping Things Up
You'll be forgiven for feeling as if the list of social channels are growing by the day. As a small business owner, it can be difficult to stay up to speed with the changes in the social media landscape. Then, you still need to find the actual time to create something to post.
That doesn't have to be the case. There are several great tools available (like this list shows). Instead of making it your goal to be active on all social media sites, rather get a tool and concentrate your efforts on the major platforms where your target market is active.
As mentioned, we've used price as one of the main factors when writing this list. If pricing is your most important factor, keep in mind that many of these tools offer a discount if you opt to be billed yearly. We haven't mentioned the yearly pricing in all cases, but you can save anything from two months (about 15%) to double that.