Advertising Disclosure
Advertising disclosure:
Our partners compensate us. This may influence which products or services we review (also where and how those products appear on the site), this in no way affects our recommendations or the advice we offer. Our reviews are based on years of experience and countless hours of research. Our partners cannot pay us to guarantee favorable reviews of their products or services.
With 4.8 billion people worldwide using social media, ensuring a strong digital footprint is no longer optional – it's essential. As business owners strive to craft content that resonates with their audience, navigating the multifaceted world of social media can seem daunting.
There are myriad factors to consider when choosing a social media marketing agency. Affordability, proven track records, real-world results, and client ratings are just some of the key criteria. The market is saturated with agencies making grand promises, but discernment is crucial. From the most budget-friendly options to all-in-one solutions, from platforms specialized in LinkedIn to those dedicated to the restaurant industry, the spectrum of available services is vast.
To simplify this task for small business owners, we've thoroughly evaluated multiple agencies, emphasizing their strengths, offerings, and pricing structures. Our research has led us to compile a list that covers the gamut of social media marketing needs, ensuring businesses can make an informed choice that bolsters their online presence.
---
Top Social Media Marketing Services for Small Businesses
Top
social media marketing services small businesses
2024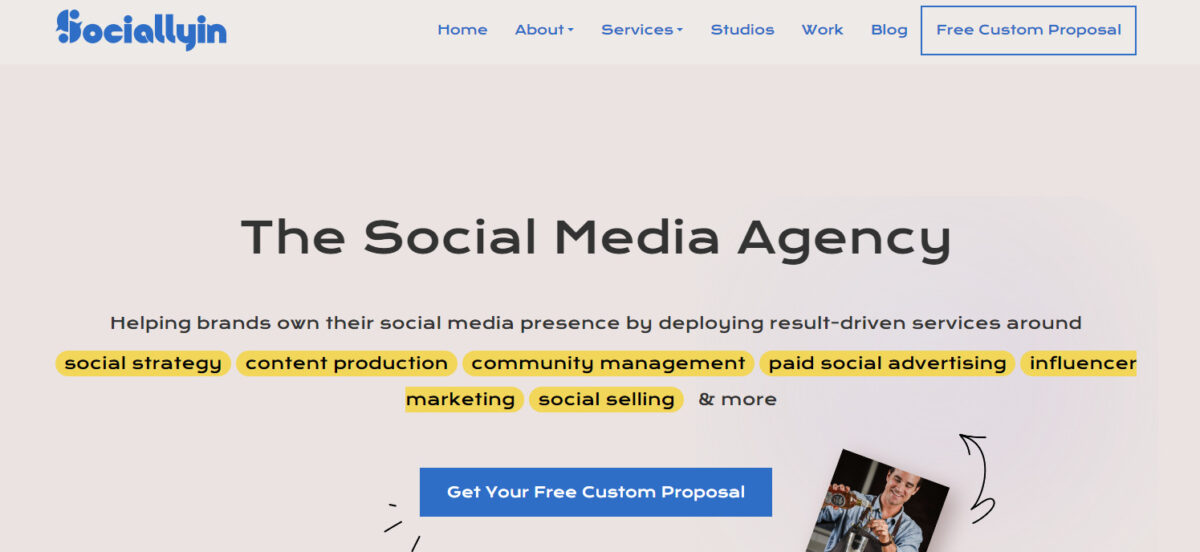 Social Media Marketing Services Offered: Strategy, Content Production, Management, Social Listening, Paid Social Advertising, Data Analysis, Social Media Consulting
Sociallyin is a premier social media marketing agency designed to elevate a brand's online presence. Their approach is anchored on research-based strategies, ensuring brands remain on trend with thumb-stopping content that engages and resonates with the target audience. With their clear and concise reporting mechanisms, they're always in the loop, monitoring campaign progress in real-time. The agency emphasizes data-driven strategies, ensuring informed decision-making. This is combined with their deep understanding that over half of consumers utilize social media to discover new brands, positioning Sociallyin as the bridge between small businesses and potential customers.
Sociallyin prides itself on offering bespoke social media services. They highlight five key elements of their approach: creating a tailored strategy, distributing engaging content, monitoring brand conversations, engaging with the brand community, and tracking performance metrics. Their process initiates with a Strategy Kickoff Call, deep diving into understanding a business' goals. This evolves into a brand audit and strategy creation and culminates in a comprehensive strategic plan presentation, ensuring alignment with a brand's vision at every phase.
Sociallyin's efficacy can be encapsulated in one of their case studies involving LinkedIn. The task was to propel sales representatives to be in the top 1% of their respective networks in the social selling index. Prior to Sociallyin's intervention, opportunities on Linkedin remained untapped, with connection potential unutilized. Post engagement with Sociallyin, a staggering 1,846 connection requests were dispatched, 179 posts were shared, and they garnered 6,213 likes. Connections were not just passive figures but actively engaged.
---
Social Media Marketing Services Offered: Strategy, Management, Social Optimization, Brand Awareness, Influence Expansion, Expertise Showcase
SmartSites Digital Marketing Agency has proven its mettle by crafting distinct, compelling social media strategies tailored specifically for small businesses. Their acclaim doesn't merely come from a loyal clientele but is echoed by prestigious industry certifications and accolades. As a recognized Google Premier Partner of 2023 and a Microsoft Advertising Select Partner for the same year, their position at the forefront of the social media marketing domain is well established.
Their vast array of services encapsulates everything from initiating optimized profiles on diverse platforms to curating monthly content calendars replete with custom graphics. But SmartSites doesn't stop there. Their commitment to individual brands shines through their bespoke strategies. Here, a brand doesn't just receive a one-size-fits-all package; they're given a tailored strategy developed in collaboration with a dedicated social media specialist. This meticulous approach ensures every piece of content, every visual, and even the choice of hashtags harmonizes with the brand's unique voice and identity.
SmartSites focuses on brand identity amplification and organic reach, setting brands on a pedestal poised to outshine competitors.
---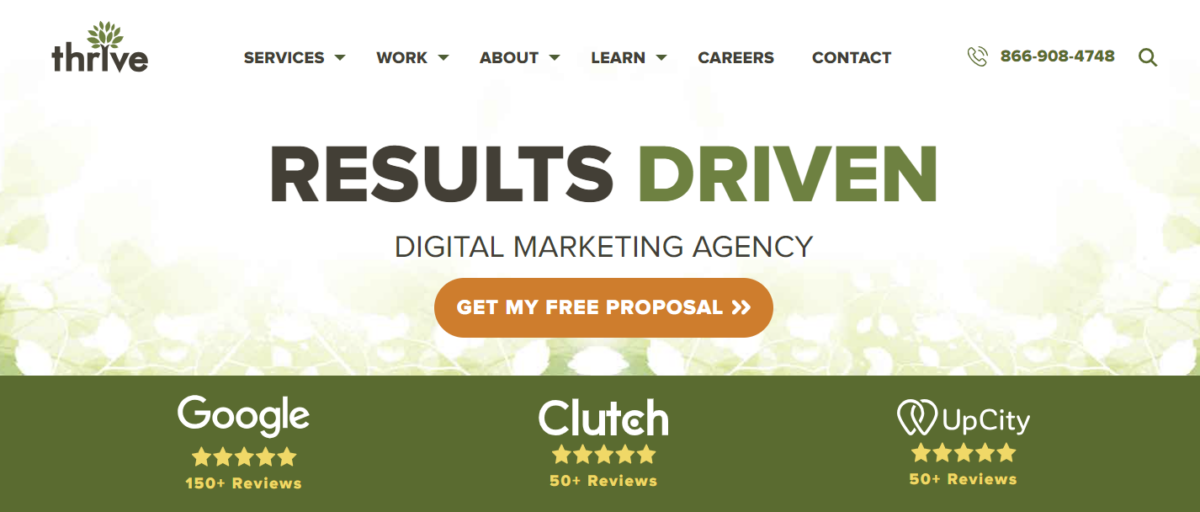 Social Media Marketing Services Offered: Strategy, Reputation & SM Management, Advertising, Brand Growth
Thrive, a specialized social media agency, caters adeptly to small businesses seeking a robust digital presence. They are experts at integrating various services with social media, allowing brands to grow online. One such integrative service is SEO. Thanks to their team of search engine optimization experts, they seamlessly blend proven practices with social campaigns, ensuring social content is not only engaging but also easily discoverable.
The agency also champions brand consistency through its website design services, embedding social elements, and incorporating social media reviews for added credibility. With the rising demand for online video content, Thrive produces compelling videos, from in-depth interviews to actionable tutorials, helping businesses engage effectively with their audience.
Thrive's commitment to growing a brand's social profiles results in better online exposure, specific audience targeting, and enhanced customer trust. Moreover, Thrive gives brands full control over their branding and budget. They work together to develop tailored strategies based on a brand's specific needs. With the added benefit of multi-platform specialization, Thrive increases online exposure and profitability. To showcase their expertise, Thrive partnered with a gaming platform and achieved over 773,674 impressions and elevated post engagements by 118,177 in just four months, underlining their expertise in social media marketing.
---
Social Media Marketing Services Offered: Strategy, Optimization, Platform Selection, Community Building, Storytelling, Content Creation, Reputation Management Reporting & Analytics
Ninja emerges as a standout social media marketing agency led by senior-level strategists, creatives, and producers. Its approach is far from traditional; it acknowledges that marketing today is a dynamic, multi-dimensional dialogue with an active audience, not a one-way message. Their prowess in organic social media marketing encompasses a wide range of services specifically designed to elevate small businesses' online presence. They know how to craft compelling narratives and engage audiences.
Ninja delves into creative development, audience targeting, A/B testing, and budgeting. They are adept at reaching the right audience and optimizing ROI. Ninja's work is substantiated by impressive case studies. For instance, they increased CEEK VR's organic social media followers by a staggering 300,000, tripling engagement rates in two months.
Their success stems from dedication and dynamic execution. Moreover, their approach is inherently data-driven, supported by the latest tools and technology to ensure they hit targets. Their team of seasoned social media experts combines this data with passion, creating tailor-made solutions that deliver real results.
---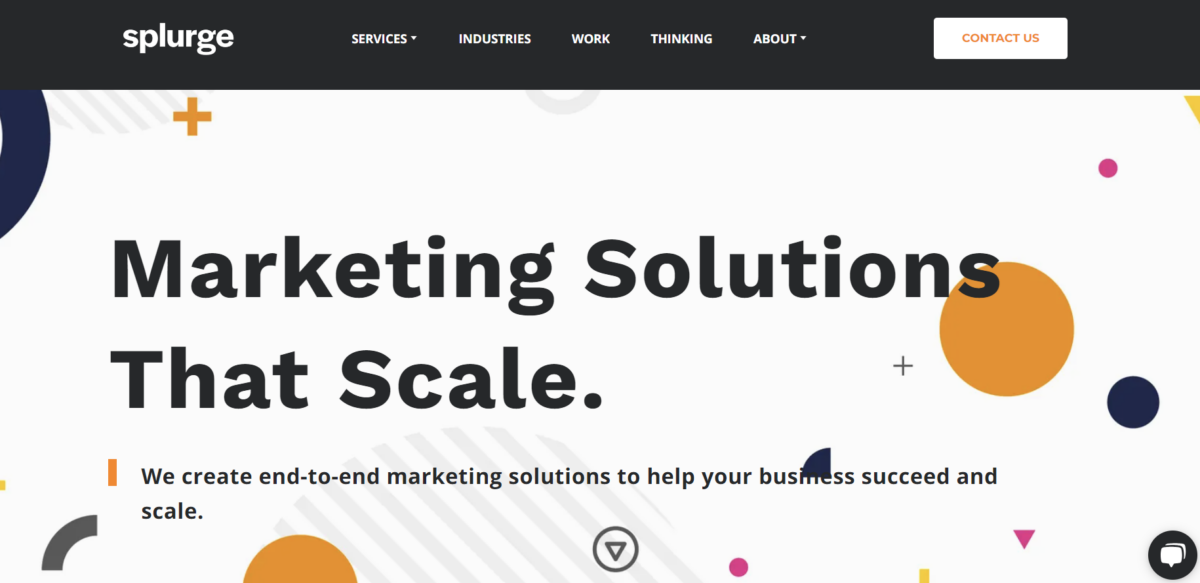 Social Media Marketing Services Offered: Strategy, Management, Content, Advertising, SEO Campaigns
Splurge Media offers a comprehensive suite of social media and digital marketing services tailored to small businesses. They specialize in strategic social media planning and management, ensuring a brand's visibility and engagement with its target audience. From social media content creation to advertising campaigns, Splurge Media has the expertise to create memorable brand experiences.
Research shows that social media marketing is one of the most effective ways for small businesses to build brand awareness. Splurge Media takes this to heart, implementing email marketing, paid media marketing, and search engine marketing campaigns alongside social media efforts. Their strategic planning and consistent execution help small businesses stand out in a crowded market, attracting new clients and customers and ultimately boosting revenue.
Splurge Media is a passionate partner dedicated to taking businesses to the next level through superior service, industry expertise, and world-class experience. They have earned recognition and badges from GoodFirms and Agency Vista, solidifying their reputation as a top digital agency.
---

Social Media Marketing Services Offered: Strategy, Management, Paid Social, Analytics, Audience Targeting, Lead Generation
WebFX excels in providing bespoke social media marketing services designed to boost engagement, customer retention, and sales. Their tailored solutions encompass social media management and full-funnel ROI tracking, ensuring every aspect of a brand's social strategy is fine-tuned for success. WebFX's expertise extends to various platforms, including Instagram, Facebook, Twitter, LinkedIn, and TikTok.
WebFX offers a comprehensive package that ensures brands thrive across the digital world. They recognize that one-size-fits-all solutions don't work in social media marketing. So, they craft customized solutions that align with each business, industry, and goals. Their approach includes dedicated account managers, cutting-edge technology, and in-depth competitor analysis.
WebFX's success is reflected in their impressive metrics, including a retention rate of 91% (far exceeding the industry average of 50%) and a client satisfaction score of 93% (well above the industry average of 72%).
---

Social Media Marketing Services Offered: Strategy, Content, Advertising
Kexino positions itself as a social media marketing leader finely tuned to meet the specific needs of startups and small businesses. One of Kexino's strengths lies in its ability to develop effective inbound and outbound social marketing content. By creating compelling marketing materials, they boost lead generation and customer satisfaction for social channels, ultimately leading to increased sales and revenue.
But Kexino's services extend beyond the social realm and into branding, website design, SEO, and video production. This ensures businesses have a comprehensive suite of services covering the entire spectrum of marketing needs. Moreover, Kexino excels at working hand-in-hand with a brand's existing personnel to develop strategies and campaigns to boost social engagement and conversions.
Kexino's impact is not just theoretical; it's backed by real-world success stories. Blue Ocean Benefits and Consulting collaborated with Kexino, where the agency was hired to develop stunning visual imagery for their social profiles. Thanks to Kexino's efforts, they experienced increased traffic, more inbound leads, and improved brand recognition.
---
Tips for Small Businesses to Choose the Right Social Media Marketing Agency
Navigating the complex world of social media marketing can be a daunting task. In today's digital age, where about 3.96 billion people are using social media globally, a study reveals that 89.3% of marketers deem social media as an integral component of their marketing strategy. That's where a social media marketing agency comes into play. These experts can help craft a winning strategy and execute it effectively. But with so many agencies out there, how do you choose the right one? Here are key factors to consider:
Hands-on Experience
Look for an agency with a proven track record in helping small businesses succeed in the social media landscape. They should have experience in your industry and a deep understanding of the latest trends and algorithms. For instance, top-performing agencies often showcase case studies or have testimonials from satisfied clients.
Custom-made Services
Each business is unique, and your social media strategy should reflect that. Bill Gates once said, "Content is King,"

and in the context of social media, this means delivering tailored content that resonates with your audience. So, e

nsure the agency offers customized solutions that align with specific goals and target audiences.
Budget
Despite being budget-friendly, social media marketing should provide a positive return on investment. A 2023 study revealed that the return on investment for social media campaigns stands at 250%. Discuss your budget openly with the agency and make sure they can work within your financial constraints.
Communication
Effective communication is key to success. A study indicates that 20% of business losses can be attributed to poor communication. Therefore, the right agency should provide regular updates on your campaigns and be open to your input and feedback.
Analytics and Reporting
A good agency will provide detailed analytics and reports, allowing you to measure the impact of your social media efforts and make informed decisions. Therefore, when choosing an agency, ensure they use top-tier tools like Google Analytics, HubSpot, or Hootsuite and that they can showcase awards or certifications they've received for their expertise in analytics and reporting.
---
Choosing the Right Social Media Platforms for Your Small Business
Social media platforms have become essential tools for small businesses to reach their target audiences, build brand awareness, and drive growth. However, not all social media platforms are created equal, and choosing the ones that align with your business goals is crucial. Here's how to make the right selection:
Know Your Audience
Understanding your target audience is the first step. Different platforms attract different demographics. For instance, if you're targeting younger audiences, platforms like Instagram and TikTok may be more effective as opposed to more business-oriented platforms like LinkedIn.
Define Your Goals
Determine what you want to achieve with your social media presence. Whether you aim to boost website traffic, gather leads, or enhance brand visibility, your objectives will dictate your choice of platform. According to Hootsuite, 77% of people discover products through social media, highlighting its potency as a sales medium. On the branding front, 94% of business leaders agree social media marketing enables them to build brand reputation and loyalty, says Sprout Social.
Research Your Competitors
Look at your competitors' social media strategies. Where are they most active, and where do they engage with their audience? Analyzing their approach can provide valuable insights.
Platform Features
Each social media platform offers unique features. Facebook is great for building communities, Instagram is image-focused, LinkedIn is ideal for B2B networking, and Twitter is optimal for real-time news and customer service interactions. For instance, visual industries such as fashion or food might find better success on platforms like Pinterest or Instagram. Choose platforms that align with your content and objectives.
Time and Resources
Consider the time and resources you can allocate to managing your social media presence, as different platforms require varying levels of commitment. A survey by Social Media Examiner noted that for many small businesses, spending just 6 hours a week on social media could increase their lead generation by over 66%.

Test and Adapt
Don't be afraid to experiment. Start with a couple of platforms, measure results, and adapt the strategy accordingly. Given that the digital landscape is ever-evolving, keeping up with the latest trends and being adaptable can be a game-changer. Over time, you'll find the perfect mix for your business.
---
Conclusion
The world of social media marketing is rich with opportunities for small businesses, and selecting the right agency is a pivotal step toward success. With the right partner, small businesses can harness the power of social media to engage customers, boost brand awareness, and drive growth. Remember that social media is not just a trend; it's a fundamental aspect of modern marketing.
Frequently Asked Questions
How Can Social Media Marketing Benefit My Small Business?
Social media marketing can benefit your small business by increasing brand awareness, driving website traffic, generating leads, enhancing customer engagement, and ultimately boosting revenue. It provides a cost-effective way to connect with your audience on a personal level and stay competitive in the digital landscape.
What Makes Each Social Media Marketing Agency Unique?
Each agency has its unique strengths and offerings. Some may excel in content creation, while others focus on analytics or specific platforms. It's essential to assess your business's needs and align them with the agency that best complements your goals. Case studies and client testimonials can provide insights into an agency's effectiveness.
How Do Social Media Marketing Agencies Measure Success?
Social media marketing agencies measure success through various key performance indicators (KPIs) such as engagement rates, website traffic, lead generation, conversion rates, and return on investment (ROI). Success metrics vary based on your business objectives, and the agency should tailor their approach to achieve those goals.
Can I Afford Social Media Marketing Services for My Small Business?
Yes, social media marketing services are available for small businesses with a range of budgets. Many agencies offer customized packages to suit your financial constraints. Discuss your budget openly with the agency to find a solution that aligns with your goals and resources.
How Long Does It Take to See Results from Social Media Marketing?
The timeline for seeing results varies depending on factors like your goals, industry, and strategy. Some businesses may experience immediate benefits, while others may take a few months to see substantial results. It's essential to maintain consistency and patience in your social media efforts.