Advertising Disclosure
Advertising disclosure:
Our partners compensate us. This may influence which products or services we review (also where and how those products appear on the site), this in no way affects our recommendations or the advice we offer. Our reviews are based on years of experience and countless hours of research. Our partners cannot pay us to guarantee favorable reviews of their products or services.
ChatGPT's launch in late 2022 came when a growing number of sectors declared that voice recognition and text-to-speech technology would determine the future of business. Much like having a written version of Alexa or Siri, ChatGPT is an AI-powered chatbot that understands and produces text-based content according to a user's input, which can be a query or instruction.
The online tool uses GPT-3, or the third version of the Generative Pre-training Transformer (GPT) language model launched in 2020. The popular text-to-image generator DALL·E runs on GPT-3. ChatGPT can handle long-form and complex questions and dish out readable and conversational text on demand. The bot is an improved iteration of its sibling, InstructGPT, which can follow instructions or perform tasks based on given English language text prompts.
---
Top ChatGPT Extensions for Chrome to Raise Your Digital Marketing Edge:
---
Best ChatGPT Add-Ons and Chrome Extensions
OpenAI announced in mid-January 2023 that it would offer a subscription-based ChatGPT called ChatGPT Professional, which will give users an unlimited number of messages with the bot and no blackout windows.
For now, however, the public can install free versions of ChatGPT on their devices to suit their purposes. You can use it like a chatbot to get an instant answer to any query without launching a separate website or window. You can give the bot specific search instructions, ask it to highlight text within a website, and so on. Here are some tools you can try:
---
---
---
---
---
---
---
---
---
---
---
---
---
---
---
ChatGPT: What Can It Do?
ChatGPT surpassed the 1-million download mark five days after its creator, OpenAI, released it for testing in November 2022. Results of a January 2023 Fishbowl survey showed that 27% of professionals working for Amazon, JP Morgan, Nike, Twitter, and others have begun using it for job-related tasks.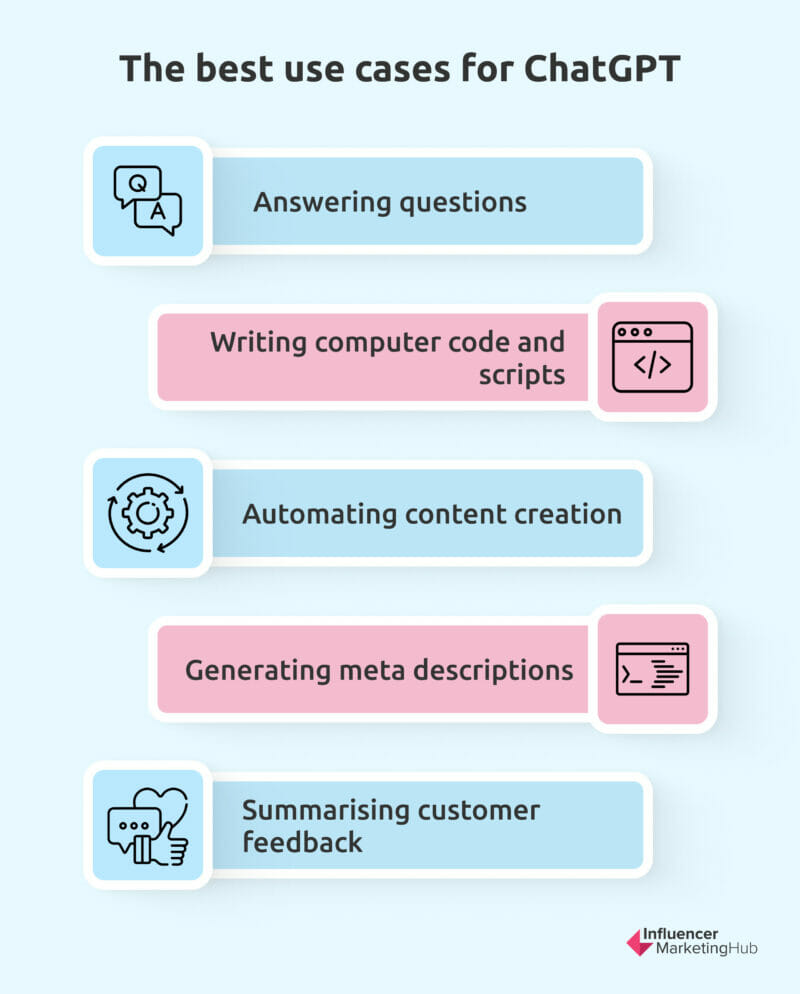 Open AI "trained" this AI tool to interact with humans using massive amounts of internet data, including Reddit discussions. ChatGPT also underwent Reinforcement Learning with Human Feedback (RLHF) to learn what people expect when they ask a question. Unlike simple chatbots, ChatGPT also received "training" to understand the intent and offer helpful and harmless answers.
Some of its practical applications include:
Answering questions in place of Google search

Writing computer code and scripts

Automating content creation and proofreading for essays, web articles, social media posts, and product descriptions

Generating meta descriptions and suggesting synonyms for

SEO

keywords

Translating reports and marketing materials from one language to another

Classifying and summarizing customer feedback from various platforms
---
Will ChatGPT Become the New Google Search?
Google reportedly declared a "code red" following ChatGPT's instant shot to fame in 2022. If the AI bot can supply the answers that Internet users would typically find through Google Search, then the search giant will lose out on ads and e-commerce found on its search results pages.
Amid this threat, reports added that Google has tasked various teams to fast-track its AI-related prototypes and products until May 2023, when Google holds its annual I/O developer conference.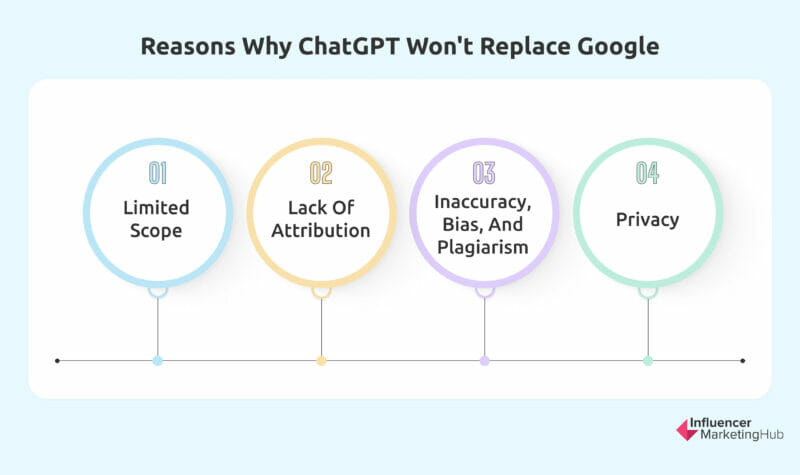 But can ChatGPT replace Google Search? Not yet—for now—due to the following reasons:
1. Limited scope
Unless you use our first two recommended extensions above, ChatGPT's output would have limited knowledge of events after 2021 since the bot learned from data sets with this end date. Meanwhile, Google offers results based on an ever-growing wealth of web content published near real time. So you can get the latest weather information, news updates, product prices, store hours, and others.
2. Lack of attribution
Although ChatGPT offers a human-like conversational experience, it doesn't always credit the source of its information. Extensions like WebChatGPT have footnote-like notations for attribution. You'll need similar types of AI tools to credit your references.
3. Inaccuracy, bias, and plagiarism
The answers you get from ChatGPT aren't always 100% error-free. Fact-checking will still be necessary when using this AI bot, which is prone to take on the political or racial biases of its references. It's also advisable to run generated content through a plagiarism checker.
4. Privacy
Developers of a ChatGPT tool can capture and use the queries and instructions you key in the AI tool to improve their bot.
---
How Is ChatGPT Impacting Industries?
ChatGPT drew mixed reactions from the public due to its widespread accessibility. Here are the sentiments of various fields about its usage:
As our suggested tools show, ChatGPT can serve as a great virtual assistant for all sorts of content marketing—from social media to even technical sales content (such as product user guides).
The industry that's already familiar with chatbot operations sees ChatGPT as a tool that can fine-tune the customer service team's workflow. Although regular bots gave consumers a headache over the 2022 holidays, the AI tool is welcome among customer agents, who see its necessity for answering repetitive customer inquiries at scale. Auto-generated summaries will help customer care agents understand concerns quickly. Meanwhile, automated translations will enable businesses to reach more customers without hiring translators or native speakers.
Programmers and engineers can use ChatGPT to write, document, and review code.
While some teachers see ChatGPT's potential as a teaching aid, others—such as the New York City's Department of Education—have restricted its use to classes discussing artificial intelligence to prevent cheating.
Academic publishers such as Springer Nature have said they'll permit the use of AI to assist scientists in their writing. However, they will not list ChatGPT as a research paper author.
Artists and photographers fear that GPT and ChatGPT's capabilities will take away their livelihood because companies will use software instead of hiring them. ChatGPT can also devalue the artistic process because of the way it can produce so many artwork pieces in seconds.
---
Harness ChatGPT—It's Here to Stay
Amid the possibility of ChatGPT replacing many roles or even entire jobs, there's no turning back. Microsoft has announced making a "multi-year, multi-billion dollar investment" in OpenAI. Knowing the tool's limitations, we can act responsibly as marketers, influencers, and entrepreneurs by ensuring our readers and consumers get factual content that's sensitive to their needs.
Discover the value of AI for your business in 2023 by reading our articles. Here's a suggestion: How Artificial Intelligence (AI) Is Changing Influencer Marketing.