Advertising Disclosure
Advertising disclosure:
Our partners compensate us. This may influence which products or services we review (also where and how those products appear on the site), this in no way affects our recommendations or the advice we offer. Our reviews are based on years of experience and countless hours of research. Our partners cannot pay us to guarantee favorable reviews of their products or services.
In a world where content is king, finding the right creator agency is crucial for businesses aiming to stand out amidst the clutter. But with so many agencies claiming unmatched services, how do you determine which ones are truly the cream of the crop? 
Our comprehensive review of the top 10 creator agency powerhouses is designed to guide you through this selection, offering insights into their performance, creativity, and client satisfaction. Dive in to unveil the leaders shaping the content creation landscape!
---
Top 10 Creator Agency Picks
Top
creator agencies
2024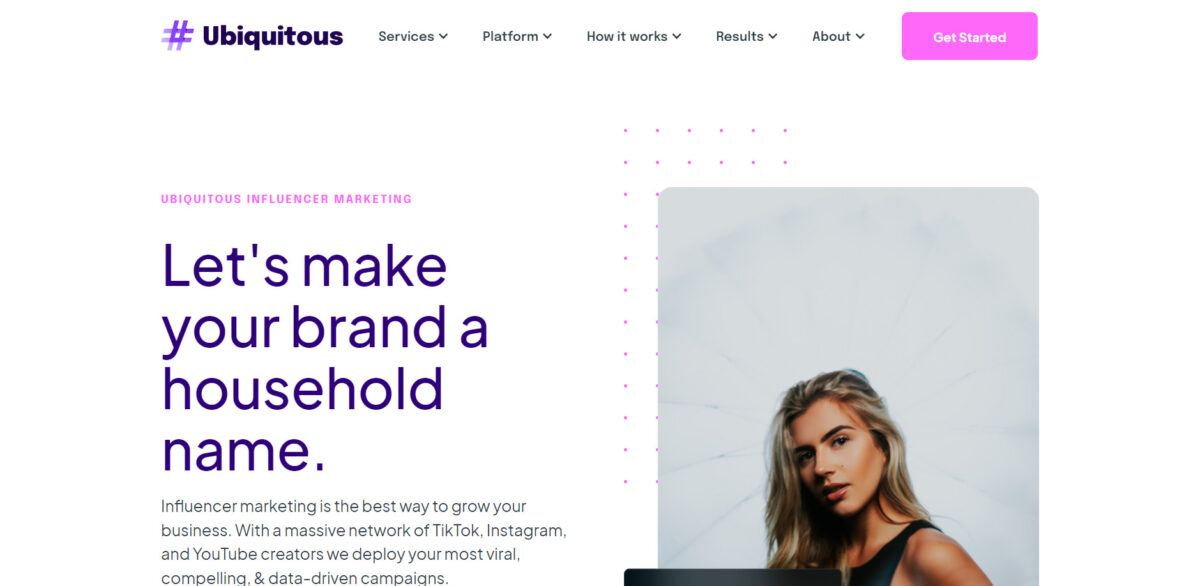 Founded: 2021
Location: Los Angeles, California 
Min Project Size: $20,000
Ubiquitous Influencer Marketing distinguishes itself as a pivotal conduit between brands aspiring for elevated visibility and the dynamic world of social media influencers. The agency's proficiencies are underscored by its expansive network encompassing TikTok, Instagram, and YouTube creators, orchestrating campaigns that are not only viral but are anchored in compelling narratives and data-driven insights. Ubiquitous transcends conventional influencer marketing paradigms, ensuring each campaign is meticulously crafted to resonate with targeted audiences, yielding visibility, engagement, and conversions.
The credibility of Ubiquitous is further accentuated by its esteemed clientele, consisting of diverse firms unified by their demand for result-oriented strategies. Ubiquitous's approach is characterized by a synthesis of creativity and analytics, ensuring each campaign transcends flashy metrics and translates into tangible results. The agency's proficiency in managing every touchpoint of influencer marketing, from content creation to influencer partnerships and ad spend deployment, underscores its comprehensive service suite.
In addition, Ubiquitous extends beyond traditional agency offerings by providing a self-service influencer marketing platform. This innovative provision empowers brands to identify suitable creators, conduct competitive analyses, and monitor campaign performances, instilling a degree of autonomy and flexibility. 
A notable case study involves the notable Wienerschnitzel campaign. Through their collaboration with Ubiquitous, they managed to amass over 42 million impressions for their campaign, bearing testimony to the agency's ability to blend creativity, strategy, and analytics, embodying a holistic approach to influencer marketing that is as engaging as it is effective.
Service Focus:
Full-Service Campaign Design

Content Creation for Social Media
---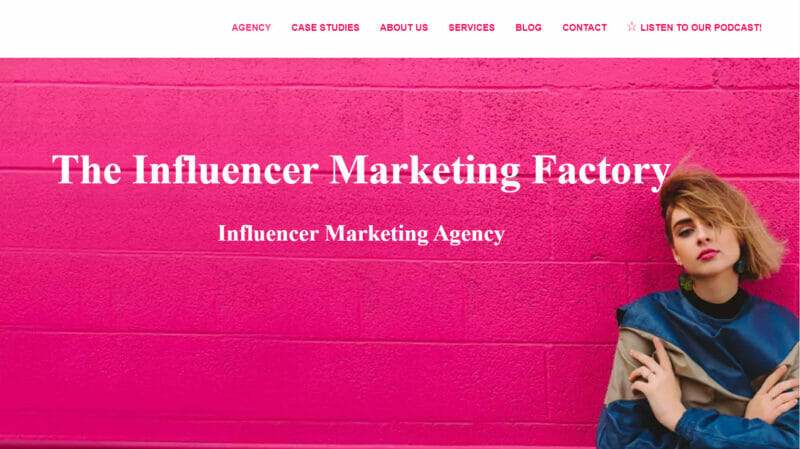 Founded: 2018
Location: New York, New York | Miami, Florida
Min Project Size: $20,000
The Influencer Marketing Factory has carved out a niche as a comprehensive solution provider for brands navigating the intricate terrains of influencer marketing. Specializing in campaigns across TikTok, Instagram, and YouTube, the agency prides itself on offering an A-Z service, embodying the conceptualization, execution, and analysis phases of influencer marketing. Their global outreach ensures campaigns are not just widespread but are intricately tailored, resonating with diverse audiences and aligning with the nuanced objectives and KPIs outlined by their clients.
Central to The Influencer Marketing Factory's operational ethos is a meticulous approach to influencer identification and content creation. The agency matches brands with influencers whose audience demographics align with the brand's target market, ensuring optimal engagement and interaction. Furthermore, the agency places a significant emphasis on content quality, aiding brands in crafting narratives and visual content.
The agency's commitment to transparency and quantifiable results sets it apart. With the incorporation of advanced tracking tools and pixels, clients are afforded extensive reporting, offering insights into the campaign's reach, engagement, and conversion metrics. Recognized by notable platforms, including Forbes and BBC, for their innovative approach, The Influencer Marketing Factory transcends generic influencer marketing, offering a synergy of authenticity, scalability, and a robust influencer ROI, ensuring each campaign is not a fleeting interaction but a sustained dialogue that fosters brand loyalty and affinity.
Service Focus:
Social Media Marketing

Social Media Management

Digital Marketing
---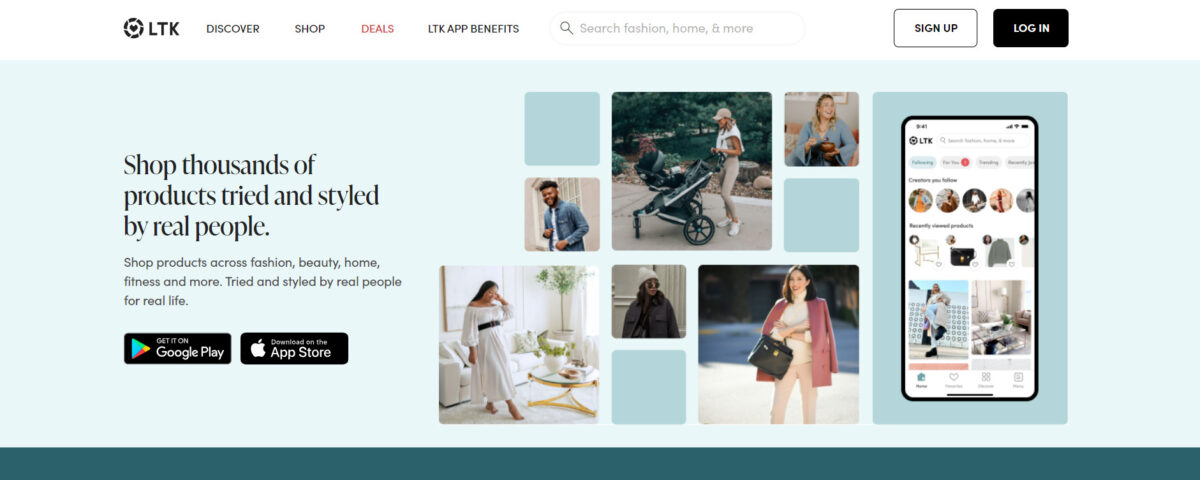 Founded: 2011
Location: Dallas, Texas
Min Project Size: $50,000+
LTK, a harmonious amalgamation of rewardStyle and LIKEtoKNOW.it, has markedly established its foothold as a leader in the creator agency domain. The brand epitomizes innovation and efficacy, driving an astounding $4.1 billion in annual brand sales. This is achieved through a meticulous strategy that converges Brands, Creators, and Shoppers within the dynamic ecosystem of distributed original content. The agency's prowess lies in its capacity to weave compelling narratives that resonate globally, underscoring its reputation as a powerhouse in the industry.
The core of LTK's services are meticulously engineered to serve a trifecta of stakeholders: brands seeking visibility, creators aiming for innovation, and shoppers inclined towards bespoke experiences. The agency's multilingual and multicultural approach exemplifies its global outreach. Every campaign is a bespoke concoction of innovation, strategy, and authenticity, curated to resonate across diverse demographics and geographies. In a landscape marked by transient trends, LTK's content is both enduring and engaging.
The agency's expansive team of experts, including stalwarts like Jeff Dawson (CFO & COO, International) and Kristi O'Brien (GM of Brand Platform), is a testament to its commitment to amalgamating expertise and innovation. In a world where content is prolific, LTK distinguishes itself through content that's not just viewed but valued, campaigns that don't just reach audiences but resonate with them. 
Service Focus:
Creator Content

Social Media Marketing

Full-Service Creator Campaign Execution

Talent Management

Campaign Reporting

Brand Consulting

Influence Benchmark
---

Founded: 2010
Location: London, UK
Min Project Size: $20,000
House of Marketers emerges as a distinct entity in the expansive world of creator agencies, specifically tailored for brands aiming to exploit the untapped potentials of TikTok. The agency boasts a commendable track record of leveraging a network of over 50,000 TikTok influencers to catapult brands into new echelons of visibility and engagement. Their refined approach, anchored by ROI-focused strategies, has rendered them a preferred partner for illustrious brands, including Apple Music, Redbull, and Hilton.
The agency's forte extends beyond influencer campaigns to encompass TikTok Ads Management and Business Profile Content creation. Every campaign is a meticulously crafted blend of creativity and strategy aimed at echoing the brand's ethos while engaging TikTok's dynamic user base. Inigo Rivero, the Managing Director and an ex-TikTok employee, underscores the platform's undervalued potential, reaffirming the agency's commitment to transcending conventional marketing paradigms and exploring innovative frontiers.
What sets House of Marketers apart is its adaptability and strategic prowess. Each service offering is tailored to align with the brand's KPIs and objectives. The agency transcends generic influencer marketing, emphasizing strategic and creative influencer trends that drive measurable results from inception. With a commitment to aligning innovation with efficacy, House of Marketers stands as a beacon in the ever-evolving landscape of TikTok marketing.
Service Focus:
Influencer Marketing Campaign and Strategy

Paid Media Advertising

Social Media Community Growth and Engagement
---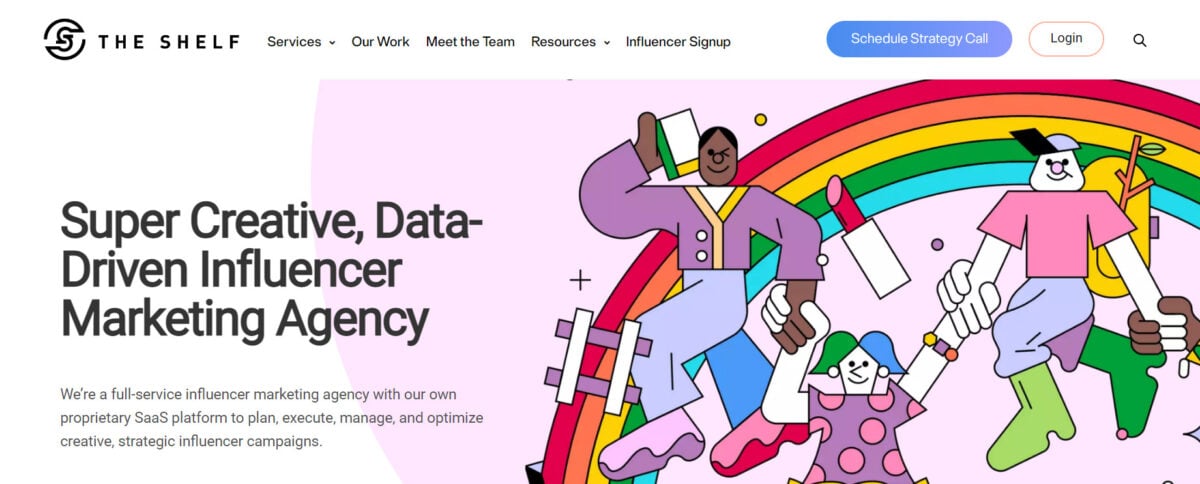 Founded: 2013
Location: New York, New York
Min Project Size: $100,000
The Shelf is a prominent influencer marketing agency that seamlessly blends creativity and data-driven approaches to offer bespoke marketing solutions. Known for utilizing their proprietary SaaS platform, The Shelf executes, manages, and optimizes influencer campaigns that are not only strategic but also creatively captivating. With a footprint in every vertical, they boast a rich database from over 1 billion collected posts, offering insightful data analytics that underpins the planning and execution of customized influencer campaigns for optimum reach and engagement.
Delving into their core competencies, The Shelf stands out for its aptitude in engaging the most apt creators across platforms like Instagram, TikTok, Facebook, Pinterest, and YouTube. Their approach is meticulous, relying on data to identify influencers who can effectively elevate brand awareness and drive specified goals. With a proven track record of over-delivering on KPIs, they have curated influencer marketing campaigns for notable brands, achieving exceptional engagement and ROI. Each campaign is tailored to resonate with the target audience, ensuring authenticity and meaningful connections.
Recognized as a 2021 Inc 5000 honoree and featured on platforms like Business Insider and Social Media Today, The Shelf is celebrated for their innovative and results-driven campaigns. The agency has showcased its expertise in case studies where they achieved remarkable engagement rates and organic video views, underscoring their ability to create resonant content. With a commitment to crafting stories and experiences that connect brands with their audience, The Shelf stands as a pioneer in orchestrating influencer campaigns that not only build brand authority but also engender trust globally.
Service Focus:
Social Media Marketing

Marketing Strategy

Branding
---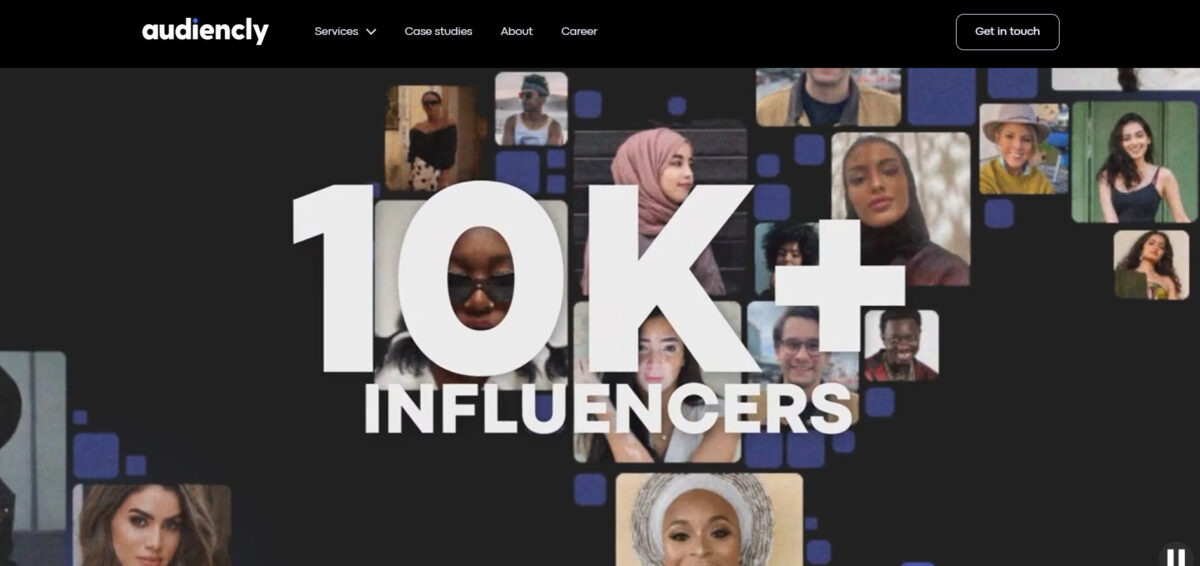 Founded: 2018
Location: Düsseldorf, Germany
Min Project Size:  $50,000
Audiencly stands as a beacon in the influencer marketing landscape, offering an expansive suite of services dedicated to connecting companies with renowned influencers and content creators globally. Their Influencer Marketing service is tailored to orchestrate effective product placements across popular platforms such as YouTube, Instagram, and TikTok. Every campaign is meticulously crafted to align with brand ethos and objectives, ensuring amplified visibility and engagement. 
The Creators Program further underscores Audiencly's commitment to fostering authentic content activations, presenting brands with a streamlined avenue to collaborate with creators, driving both exposure and engagement. Balancing creativity and strategy is at the core of Audiencly's operational mantra. The agency thrives in conceptualizing impactful campaigns that resonate profoundly with target audiences, echoing a narrative that aligns with brand identity and goals. Specializing in TikTok marketing, Audiencly curates dynamic campaigns that not only captivate audiences but also foster a profound connection between brands and their target demographics, epitomizing a synergy of strategy and creativity.
With a global footprint marked by over 2,500 campaigns and a community of more than 10,000 influencers, Audiencly has etched its mark as one of the top influencer agencies worldwide. Their extensive reach has culminated in collaborations with over 200 clients, generating more than 1.5 billion impressions. The agency's prowess is validated by its recognition as a leading Gaming Marketing Agency, underscoring its capacity to weave data-driven strategies into its influencer marketing campaigns, ensuring each brand's narrative is not only heard but also resonates, driving tangible results.
Service Focus:
Talent Management

Creative and Strategy

Social Media Marketing
---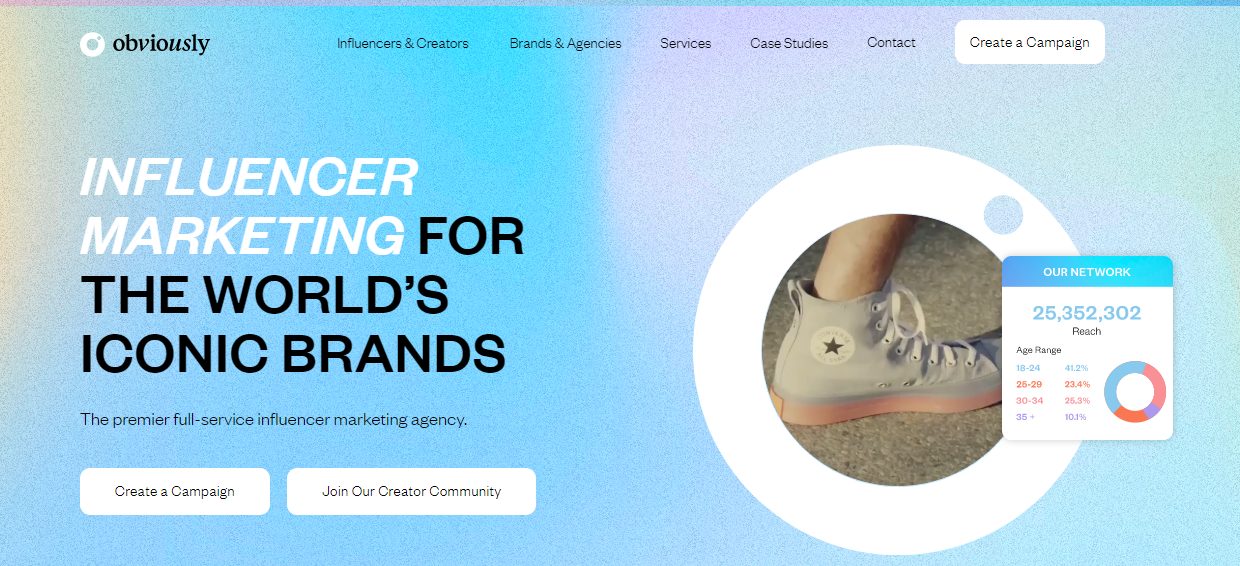 Founded: 2013
Location: New York, New York
Min Project Size: $100,000
Obvious offers a holistic suite of services that are tailor-made to elevate brands' digital presence. Boasting a community of 67,386 influencers, the agency specializes in curating compelling media that not only captivates audiences but also embodies the essence of each brand's identity. This efficiency is complemented by the agency's prowess in deploying content infused with social tactics that augment engagement across diverse channels.
The agency's commitment to visual storytelling is evident in its bespoke content creation services. Brands are empowered to narrate their stories through intentionally produced content, a blend of aesthetic allure and strategic messaging. Each piece, whether a high-quality photo or an engaging GIF, is crafted to resonate with target audiences, establishing a brand's identity and fortifying audience connections. The versatile content fulfills a spectrum of marketing needs, from organic social presence to impactful email marketing campaigns.
Obvious's creative capabilities extend beyond conventional boundaries, offering content compatible with varied platform formats. From long-form videos adept for YouTube and TV advertisements to short-form content optimized for Instagram and TikTok, each piece is a testament to the agency's versatility. The procurement of usage rights is seamless, granting brands the liberty to utilize assets as deemed fit. As part of the VMLY&R conglomerate, Obvious aligns innovation, creativity, and strategic insight, fostering an environment where brands, influencers, and compelling content converge to create a harmonious digital symphony.
Service Focus:
Creative Strategy

Influencer Management

Shipping & Fulfillment

Content Creation

Paid Amplification

Analytics and Reporting
---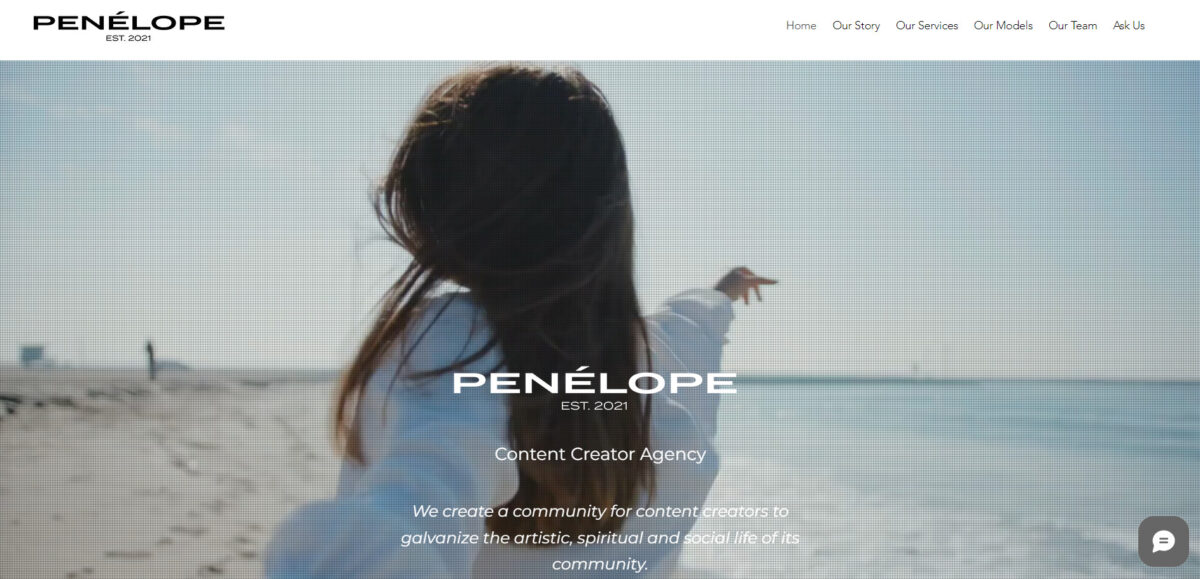 Founded: 2021
Location: Berlin, Germany
Min Project Size: Undisclosed
The Penelope Agency serves as a shelter for content creators, with a core mission of fusing artistry, spirituality, and social connectivity. The agency has swiftly carved a niche and is renowned for orchestrating content-creation trips that synergize the talents of international models and professional photographers. Through the alchemy of diverse, artistic minds and exquisite locations, Penelope crafts viral marketing campaigns characterized by authenticity and a distinctive touch of the creators' individual styles, ensuring each campaign is not only visually compelling but also resonates deeply with the target audience.
Amplifying the allure of their services is the agency's unyielding commitment to logistic excellence, promising an environment where creators focus solely on their artistry. In contrast, the agency manages planning and accommodation. This multifaceted approach ensures content is not just produced but is crafted to breathe life into the brands' narratives, fostering an emotional connection with the audience and solidifying brand identity.
Within the dynamic sphere of content creation, Penelope stands as a beacon of innovation and creativity. Its community is steeped in values of authenticity, diversity, passion, and respect. The agency is not just a content creator collective but a movement that unites artists under the banner of creative freedom and collaborative synergy. In a world inundated with content, Penelope Agency's creations are not just seen but are experienced, marking an indelible imprint of artistic ingenuity and strategic brilliance.
Service Focus:
Influencer Models Management

Exclusive Fashion

World-Class Content Production
---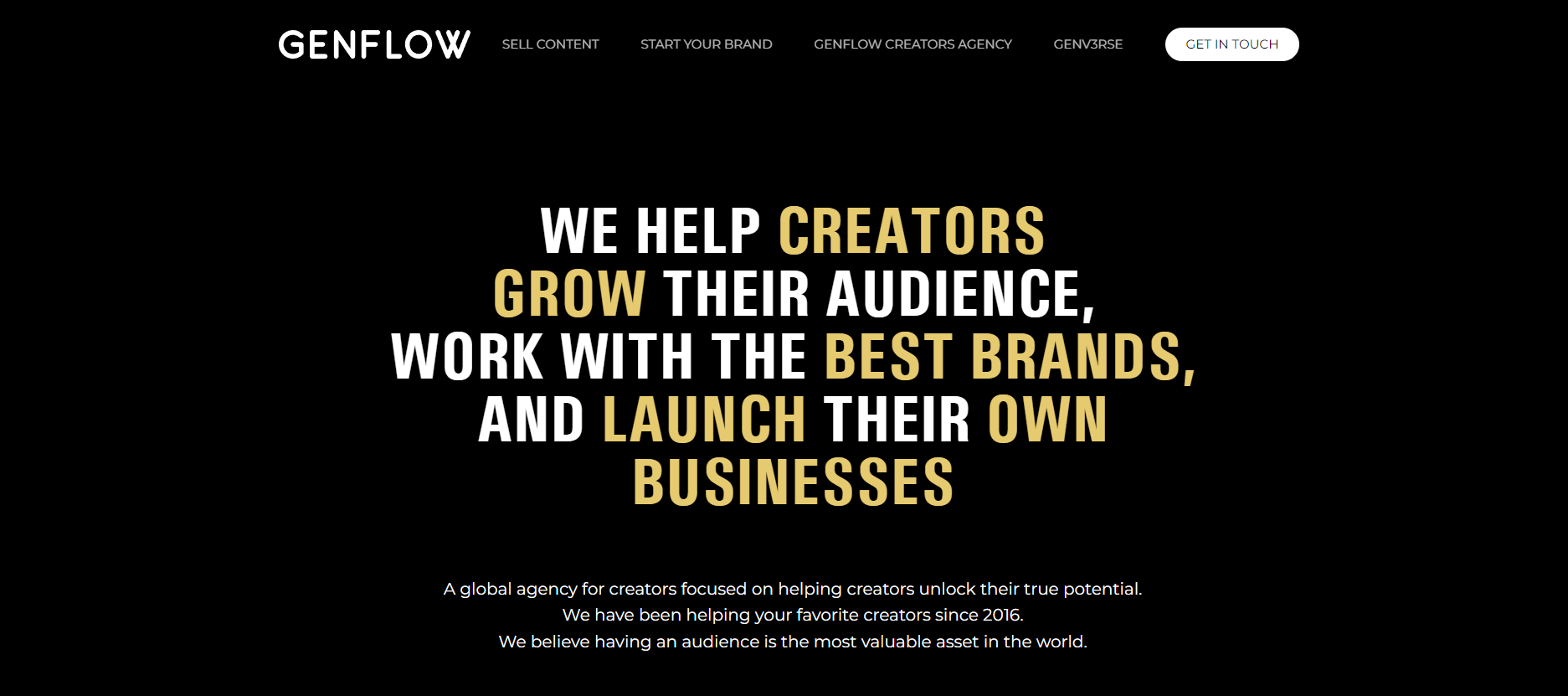 Founded: 2016
Location: London, UK
Min Project Size: Undisclosed
Genflow is a designated creator agency offering a spectrum of innovative and tailored services to meet contemporary content creators' multifaceted needs. The agency's pivotal offering is full-service creator management, a bespoke service designed to nurture and elevate creators' careers. A synergy of brand partnerships and business infrastructure underpins this approach. This blend not only augments the creators' visibility but also facilitates the metamorphosis of these creators into global brands.
The agency's robust roster of creators is a testament to its adeptness in elevating various content forms. Genflow's partnerships with illustrious brands such as Revolve, Spotify, and Dior accentuate its propensity to amalgamate creativity with commercial viability. Each collaboration is meticulously curated, ensuring both the creator and the brand symbiotically enhance each other's narrative and reach. This strategy is not incidental but is a meticulously crafted approach, ensuring each piece resonates with the audience while achieving predefined commercial objectives.
Genflow distinguishes itself by offering an ecosystem that is as nurturing as it is commercially viable. Creators are not just managed; they are meticulously nurtured. The agency's ethos is centered around a holistic approach to content creation, where commercial success is intricately woven with creative authenticity. 
Service Focus:
Brand Launching

Content Platform Creation

Product Creation
---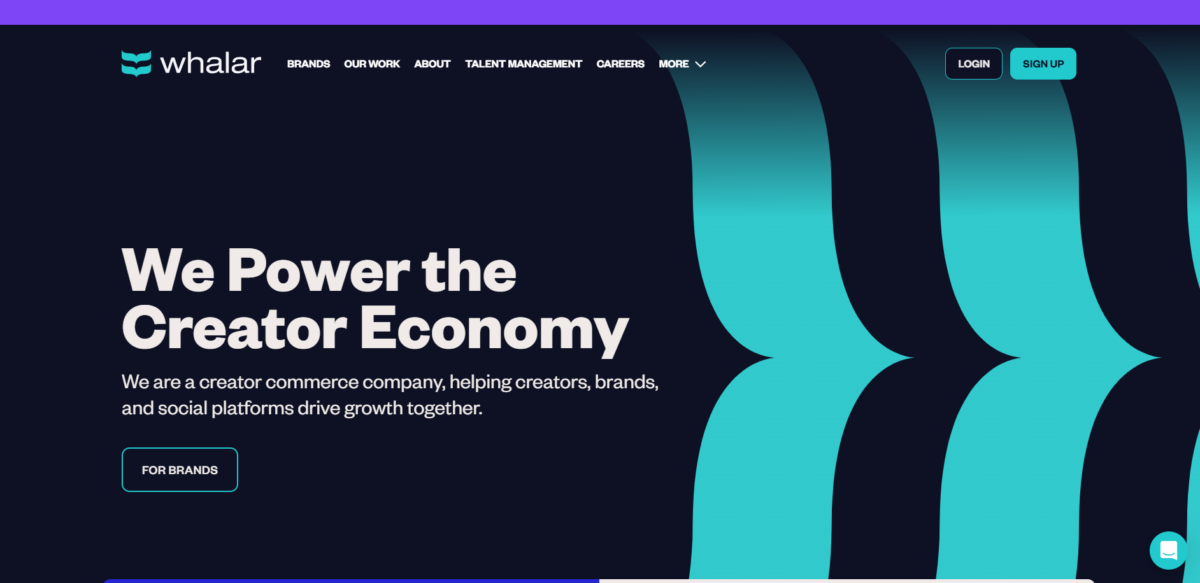 Founded: 2016
Location: New York City, New York
Min Project Size: Undisclosed
Whalar is strategically positioned in the creator economy as a commerce company, underpinning the evolution and amplification of creators, brands, and social platforms. The company stands out for its tailored approach to creator management, characterized by synergistic brand partnerships and a robust business infrastructure that is as flexible as it is scalable. Collaborating with high-profile brands like Pfizer, H&M, and BMW, Whalar has demonstrated a consistent track record of curating content that resonates and engages, leveraging its proprietary platforms, including Echo, which is instrumental in powering award-winning campaigns.
The agency's innovative strides are visible through its focus on WEB3 Innovation Hub – a testament to its commitment to staying informed, inspired, and involved with contemporary culture. Whalar's services are comprehensive yet bespoke,  ensuring each campaign is not only visible but has a measurable impact. Its technology is instrumental in uniting client service teams, creators, and brand partners to facilitate seamless, impactful campaigns that resonate on a global scale.
Recognition by Fast Company as one of the Most Innovative Companies attests to Whalar's relentless innovation and strategic approach to content creation and marketing. The agency has adeptly adapted to the dynamic digital landscape, offering solutions that transcend traditional advertising. Measurement is integral, with Whalar evolving its solutions to assess business impact meticulously and align with bespoke brand objectives. Each collaboration is characterized by strategic precision, creative ingenuity, and measurable impact, underscoring Whalar's position as a pioneering force in the creator economy.
Service Focus:
Talent Management

Brand Partnerships
---
---
How do Creator Agencies Create Content?
The art of content creation is often veiled in mystery, as audiences witness only the polished, final product without a glimpse into the intricate processes that unfold behind the scenes. Yet, the journey from concept to completion is where the true magic lies, a testament to the adept skills and innovative approaches employed by the industry's leading creator agencies.
Crafting compelling narratives, viral campaigns, and visually arresting pieces, these agencies are adept at weaving storytelling and aesthetics with strategic objectives. A behind-the-scenes look unveils a meticulous process grounded in extensive research, creativity, and technology. Every piece of content, be it a social media post, an advertisement, or a comprehensive marketing campaign, is birthed from a cauldron of collaborative brainstorming sessions, innovative ideation, and iterative refinements.
The agencies' creative process is often eclectic, drawing inspiration from diverse sources and amalgamating art with science. With the utilization of cutting-edge tools and technology like AI, AR, and data analytics, ideas are not just conceived but tested, refined, and optimized for maximum engagement and impact. Creatives and strategists collaborate seamlessly, ensuring that aesthetics and objectives are not just met but harmoniously integrated.
Industry leaders are recognized for their commitment to pushing boundaries, and their relentless pursuit of excellence ensures every campaign is not just seen but remembered. The creator agencies in focus have perfected the art of combining data-driven insights with creative prowess. Their ability to resonate with audiences, trigger emotions, and drive engagements is underpinned by a well-oiled machinery of talent, technology, and tactical excellence.
---
The Measurable Impact of Influencer Marketing
These agencies have become a linchpin for brands aiming to amplify their online presence and engagement. A significant facet of this evolution is the burgeoning realm of influencer marketing. Here are a few statistics that tell the story of the meaningful and measurable impact influencer marketing has in modern marketing:
Through strategic influencer partnerships and adept platform utilization, creator agencies are not only navigating the brands through the dynamic influencer marketing terrain but are also measurably contributing to their bottom line.
---
Conclusion
In this ever-evolving digital era, creator agencies have emerged as game-changers, driving content innovation and bridging the gap between brands and audiences. Our review of the top 10 creator agency powerhouses showcases their unparalleled expertise, diverse talent portfolios, and commitment to pushing creative boundaries. 
These agencies stand as industry pillars, playing a pivotal role in shaping the future of content creation. For brands looking to make impactful collaborations and for creators seeking to elevate their potential, these agencies undoubtedly lead the charge.
Frequently Asked Questions
How Do Creator Agencies Measure the Success of Content Campaigns?
Agencies typically rely on a combination of key performance indicators (KPIs), including engagement rates, audience reach, conversion rates, and ROI. Analytical tools and data-driven approaches are employed to measure the effectiveness and impact of content campaigns, ensuring they align with the clients' objectives and deliver optimal results.
What is the Role of Technology in Content Creation?
Technology plays a pivotal role, enabling agencies to enhance creativity, efficiency, and effectiveness. It aids in everything from idea generation to content distribution, utilizing platforms and tools like AI, VR, and analytics to create compelling, tailored, and impactful content that resonates with targeted audiences.
How Do Agencies Ensure Content Authenticity and Originality?
Agencies focus on crafting unique and customized content that reflects the brand's identity, values, and objectives. They leverage creative storytelling, innovative formats, and strategic insights to create content that is not only engaging and visually appealing but also authentic and resonant.
How Do These Agencies Tailor Content for International Audiences?
Agencies employ multicultural and multilingual teams of experts who are adept at cultural adaptation and localization. They conduct extensive research and utilize insights to tailor content that resonates with diverse international audiences, ensuring cultural relevancy, appeal, and effectiveness across various markets.