Advertising Disclosure
Advertising disclosure:
Our partners compensate us. This may influence which products or services we review (also where and how those products appear on the site), this in no way affects our recommendations or the advice we offer. Our reviews are based on years of experience and countless hours of research. Our partners cannot pay us to guarantee favorable reviews of their products or services.
With the digital marketing landscape evolving rapidly, choosing the right creator marketing agency can be a game-changer. Our in-depth review of the top 10 agencies offers insights and comparisons to help you make an informed decision, ensuring your brand doesn't just participate but excels in the competitive influencer marketing arena. Dive into an analysis of services, strategies, and the measurable impact these agencies are making in real-time.
---
Top 10 Creator Marketing Agency Options
Top
creator marketing agencies
2024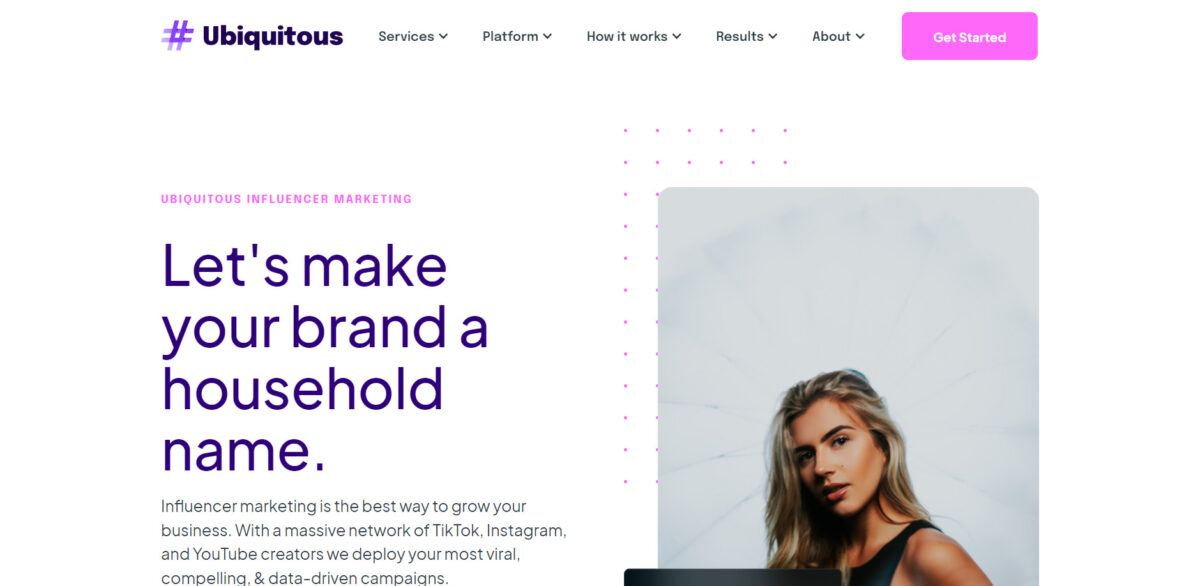 Industries Served: Serves a variety of industries as they possess diverse expertise not confined to specific sectors​.
Ubiquitous Influencer Marketing stands as a testament to comprehensive and tailored influencer marketing strategies. Specializing in crafting data-driven campaigns with an extensive network of TikTok, Instagram, and YouTube creators, Ubiquitous is committed to turning brands into household names. They go beyond surface-level metrics, delivering measurable results validated by a diverse clientele, ranging from fledgling start-ups to established enterprises across various verticals. The agency's multifaceted approach, blending strategic acumen with creative flair, ensures brands don't just get visibility but achieve measurable results in engagement and conversions.
What Sets Ubiquitous Apart?
Their self-service influencer marketing platform stands out, offering brands the autonomy to identify suitable creators, conduct in-depth competitive research, and meticulously track campaign performances. One notable case study that underscores Ubiquitous' expertise and efficacy is its collaboration with Wienerschnitzel. Through a meticulously crafted influencer marketing campaign, Wienerschnitzel not only garnered over 42 million impressions but also experienced a complete sell-out of their specials. This outcome was made possible by Ubiquitous' strategic approach, which integrates organic content creation, influencer partnerships, and ad spend management to maximize campaign reach and impact. 
---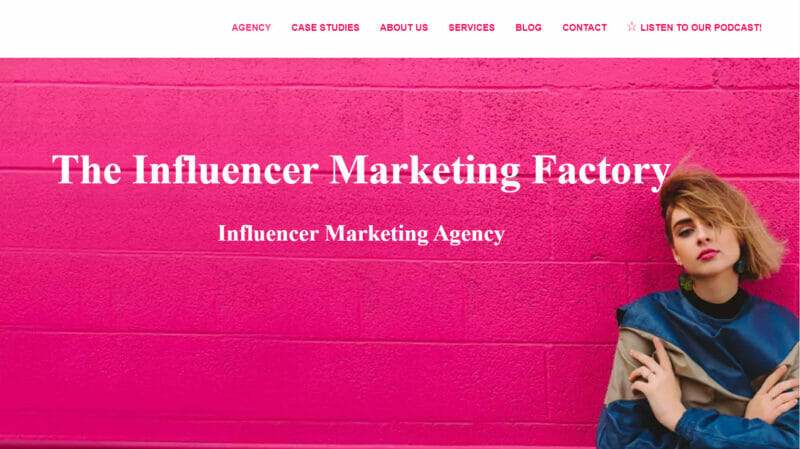 Industries Served: Operates across several industries, including retail, eCommerce, consumer products, hospitality, and leisure, among others​.
The Influencer Marketing Factory (IMF) distinguishes itself as a global full-service agency adept in crafting authentic, scalable, and ROI-centric influencer marketing campaigns. With a specialized focus on TikTok, Instagram, and YouTube, IMF underscores its commitment to tailor-made solutions that align with clients' unique KPIs and target audiences. Each campaign is characterized by bespoke narratives that resonate with defined audience personas, ensuring engagement and impact.
What Sets The Influencer Marketing Factory Apart?
A testament to IMF's effectiveness is its demonstrable ROI and in-depth analytics, ensuring transparency and measurable outcomes for clients. One distinguishing feature is the agency's adeptness at influencer identification and content creation that engenders audience interaction. Extensive reporting, featuring tracking pixels and tools, offers tangible metrics, allowing brands to visualize the funnel from reach and engagement to lead conversion and sales. This data-driven approach ensures brands are not just visible but are achieving quantifiable results in conversions, validating IMF's standing in the influencer marketing space.
---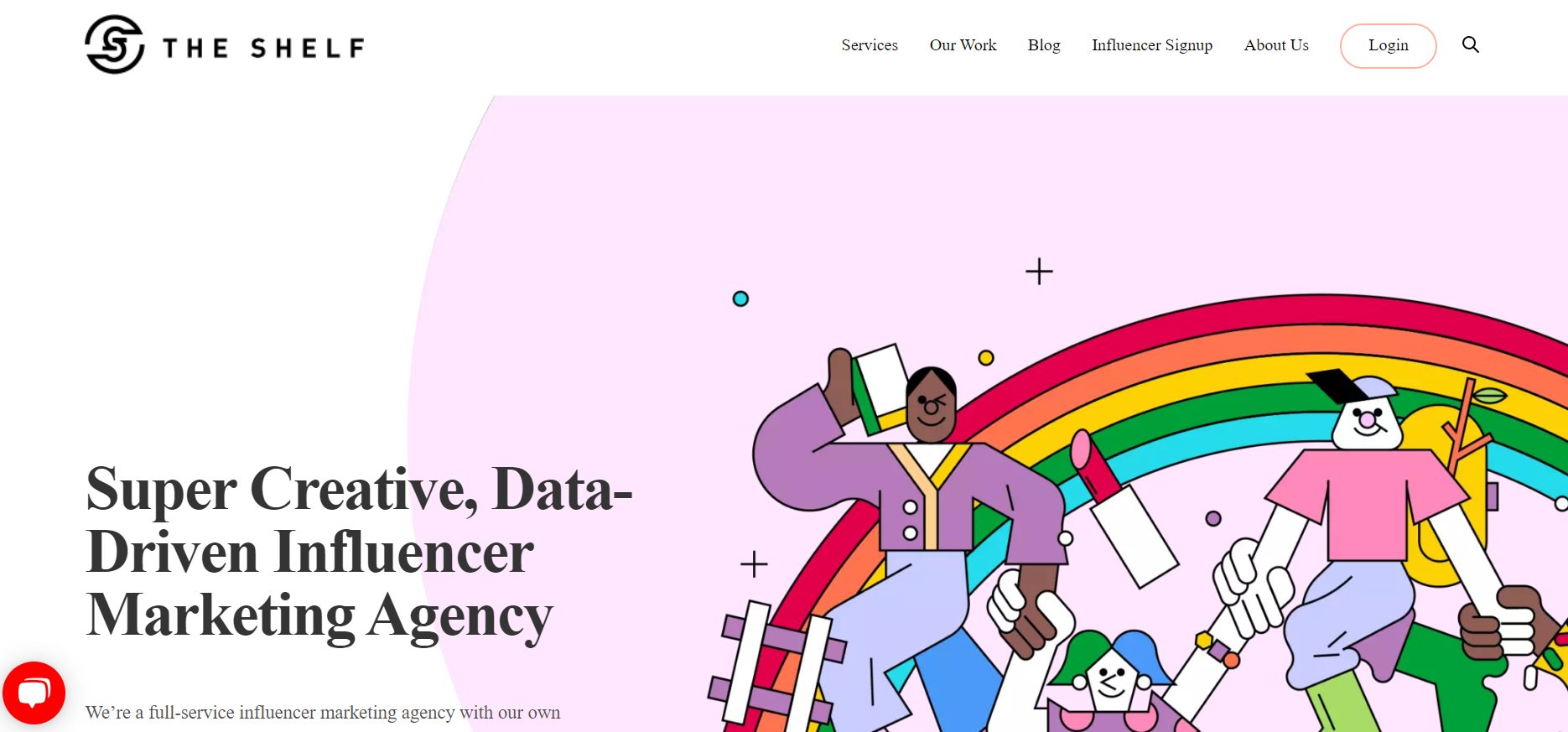 Industries Served: Caters to brands in the beauty, fashion, food, home decor, and outdoor industries.
The Shelf emerges as a super creative, data-driven influencer marketing agency with a robust proprietary SaaS platform, boasting a track record of executing innovative and strategic influencer campaigns. This agency stands out for its meticulous approach to marrying data with creativity, ensuring each campaign is aesthetically appealing and anchored in analytics and insights. They specialize in harnessing the power of influencers across platforms like Instagram, TikTok, Facebook, Pinterest, and YouTube to craft narratives that build brand awareness, promote products, and enhance brand trust and authority globally.
What Sets The Shelf Apart?
In the sea of case studies showcasing their expertise, one striking example is their campaign for Lenox dinnerware. The Shelf played a pivotal role in Lenox's significant rebranding initiative, orchestrating a campaign that soared beyond expectations with an over-delivery of engagement by 378% and a staggering 62.9% engagement rate on whitelisted content. Such achievements underline The Shelf's capability to transcend traditional influencer marketing, offering brands not just visibility but deeply engaging narratives that resonate, captivate, and convert audiences worldwide. This blend of creative flair and data acuity propels them into a league of their own in the competitive landscape of creator marketing agencies.
---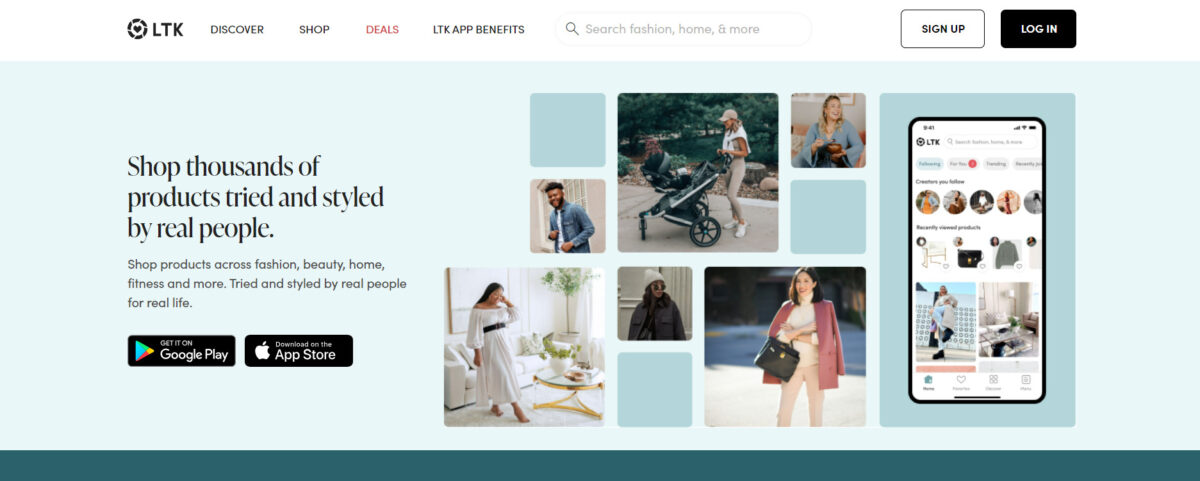 Industries Served: Caters to Fortune 10 companies and DTC brands operating in health and wellness, fashion, food, exercise, and the beauty industry. 
LTK, having incorporated rewardStyle and LIKEtoKNOW.it, is positioned as a pivotal entity in the creator marketing landscape, driving over $4.1 billion in annual brand sales. Its innovative approach focuses on unifying brands, creators, and shoppers through the power of distributed original content. The global brand, communicating in multiple languages, is adept at creating a synergistic environment where content is not only created but also effectively monetized, reaching diverse audiences worldwide. Their multifaceted platform is a haven where innovation, creativity, and commerce converge.
What Sets LTK Apart?
LTK's uniqueness lies in its ability to seamlessly blend content creation and commerce. The staggering $4.1 billion in brand sales underscores the tangible impact of their campaigns. With LTK, creators find a platform that's not only supportive but that amplifies their reach, ensuring that their content resonates globally. For brands, it's a gateway to an ecosystem of innovation, authenticity, and measurable results.
---

Industries Served: Serves a variety of industries, from food and hospitality to sports and technology. 
House of Marketers is a game-changer in the creator marketing space, carving its niche as a TikTok-centric agency that amalgamates innovation with proven strategies to deliver ROI-focused marketing campaigns. Their core services, including TikTok Influencer Campaigns and TikTok Ads Management, are tailored to leverage the platform's expansive and engaged audience. A network of over 50,000 TikTok influencers underscores the agency's extensive reach and capability to match brands with relevant content creators. Esteemed brands like Red Bull, Apple Music, and Groupon have entrusted their TikTok marketing needs to House of Marketers, a testament to the agency's efficacy and reputation.
What Sets House of Marketers Apart?
The agency's systematic approach encompasses an intricate blend of organic and paid strategies to ensure brands resonate profoundly within the TikTok community. House of Marketers prides itself on developing creative influencer strategies that yield results from inception. Each campaign is curated with precision, aligning with the brand's identity and objectives while capitalizing on the virality and engagement intrinsic to the TikTok platform. The incorporation of ROI-focused strategies, coupled with the agility to adapt to emerging trends, amplifies the agency's position as a pivotal player in the TikTok marketing landscape.
---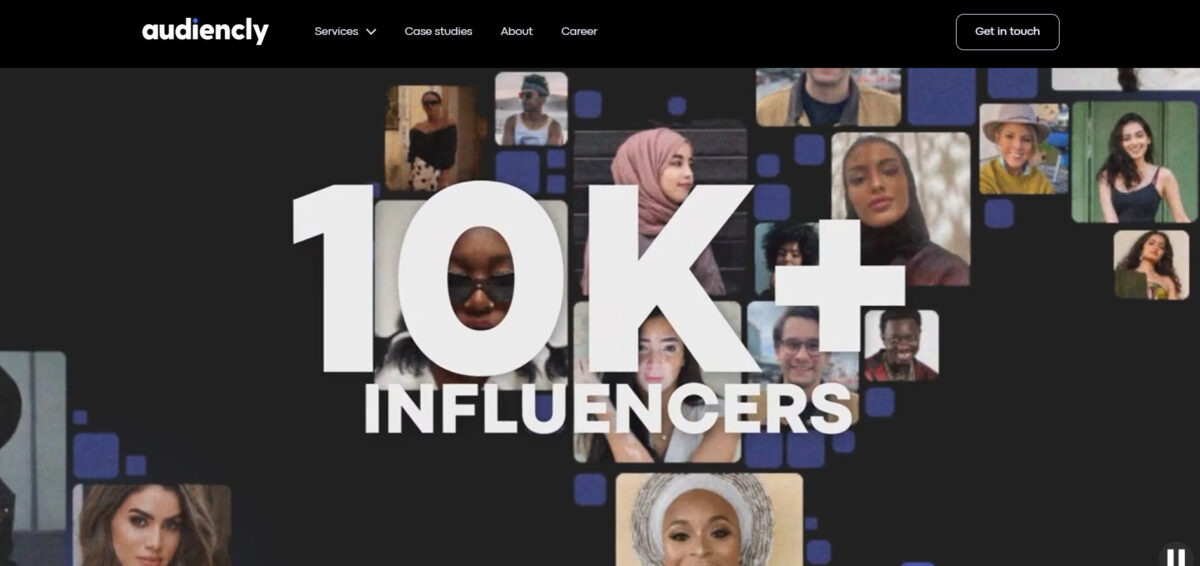 Industries Served: Operates in the technology, gaming, and entertainment industry. 
Audiencly is a prominent entity in the creator marketing landscape, renowned for its adeptness in bridging the gap between a diverse range of companies and globally dispersed influencers and content creators. The agency is celebrated for its adeptness in the orchestration of compelling influencer marketing campaigns characterized by strategic product placements across YouTube, Instagram, and TikTok. Audiencly's Creators Program is another testament to its innovation, offering a streamlined pathway for brands to engage with creators, fostering the generation of authentic and engaging sponsored content that enhances brand visibility and engagement.
What Sets Audiencly Apart?
With a global footprint marked by over 2,500 successfully executed campaigns and collaborations with more than 200 brands, Audiencly commands an extensive network exceeding 10,000 influencers. This has resulted in the generation of over 1.5 billion impressions, underscoring the agency's efficacy. Moreover, Audiencly's prowess in TikTok marketing deserves a special mention. Specializing in the deployment of dynamic campaigns, the agency has mastered the art of melding creativity and strategy to captivate audiences and ensure resonation with targeted demographics on this burgeoning platform. The amalgamation of global reach, strategic acumen, and creative brilliance positions Audiencly as a tour de force in the creator marketing domain.
---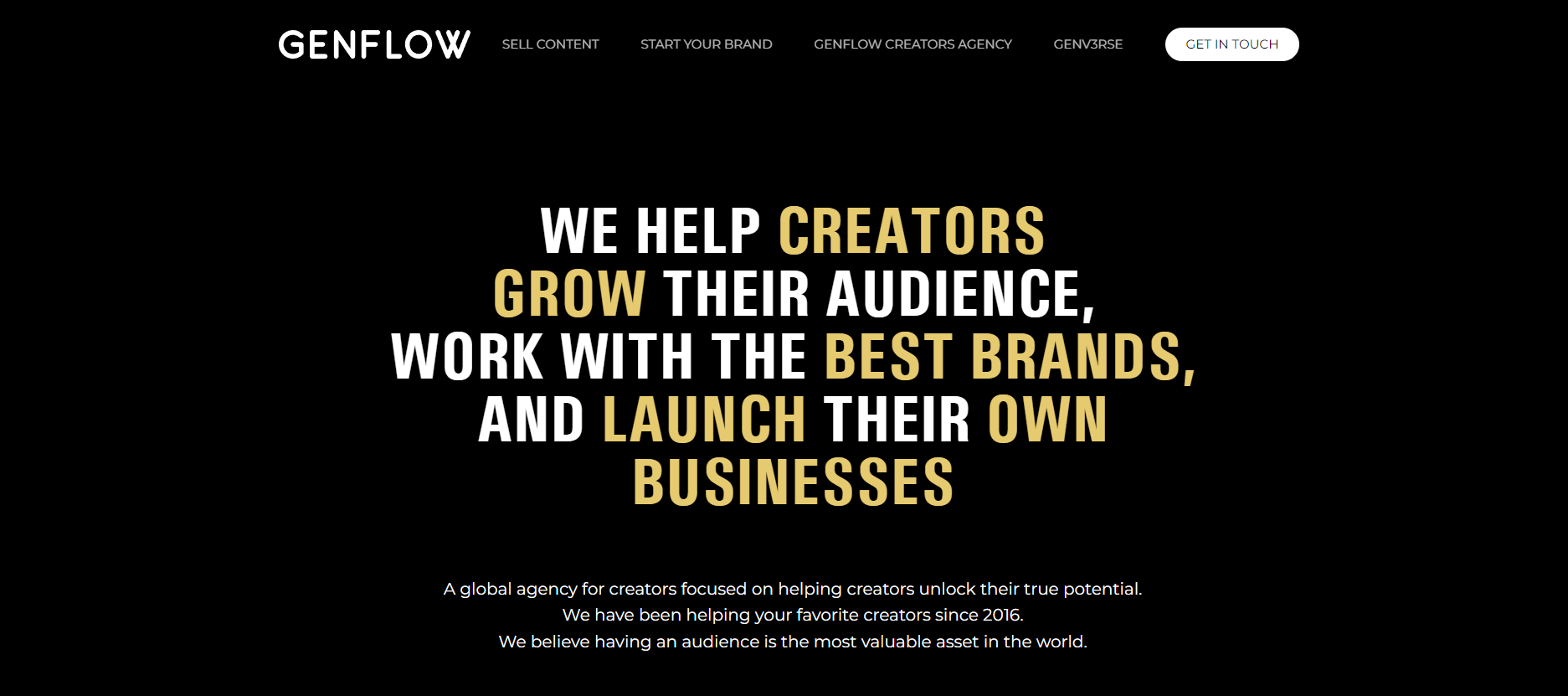 Industries Served: Serves the fitness, fashion, lifestyle, gaming, online education, nutrition, and beauty industries. 
Genflow, known for its comprehensive creator management platform, caters to globally renowned content creators with a meticulous approach that balances brand partnerships and independent brand establishment. The agency's offerings transcend traditional management; they are intricately designed to furnish creators with multi-vertical business infrastructures. This ecosystem is sculpted to not only amplify the reach and influence of creators but also to propel them into entrepreneurial realms, granting them the wherewithal to launch and scale their own global brands.
What Sets Genflow Apart?
The agency's esteemed roster of creators has seen measurable growth and engagement, owing to Genflow's adeptness in cultivating strategic partnerships with iconic brands. Creators under Genflow's wing have been spotlighted in illustrious collaborations, such as engagements with Tom Ford, Mac, and Puma. These collaborations underscore Genflow's commitment to fostering relationships that are as lucrative as they are synergistic, ensuring creators are not just seen and heard but are also positioned for exponential growth and unprecedented career trajectories. The agency's holistic approach to creator management underscores a future-forward vision, where creators are not just influencers but formidable brands in their own right.
---
Industries Served: Serves brands in the beauty, fashion, sportswear, nutrition, and health industries. 
Obvious is determined as a content creation dynamo, blending meticulous craftsmanship with strategic deployment to amplify brand narratives across digital landscapes. With a community of 67,386 influencers and a portfolio boasting 227,365 pieces of curated content, the agency marries artistic prowess with strategic acumen. Every piece of content is a synthesis of aesthetic elegance and brand ethos, ensuring client narratives are not just conveyed but are resonantly amplified. With services that transcend mere content creation, Obvious reduces creative production costs by 50%, a testament to its efficiency and strategic content optimization.
What Sets Obviously Apart?
In a demonstration of Obvious's proficiency, the agency's utility extends beyond content creation to encompass strategic deployment, ensuring content resonates and engages across all digital channels. A myriad of creative capabilities, including video, GIFs, photography, and illustration, are tailored to fit diverse platform formats, enhancing versatility and reach. Additionally, the agency's scrupulous approach to negotiating usage rights amplifies its client-centric ethos, granting brands unrestricted latitude to deploy assets as deemed fit. In every facet, Obvious embodies a harmonious blend of creativity, strategy, and adaptability, attesting to its stature as a paragon in the creator marketing domain.
---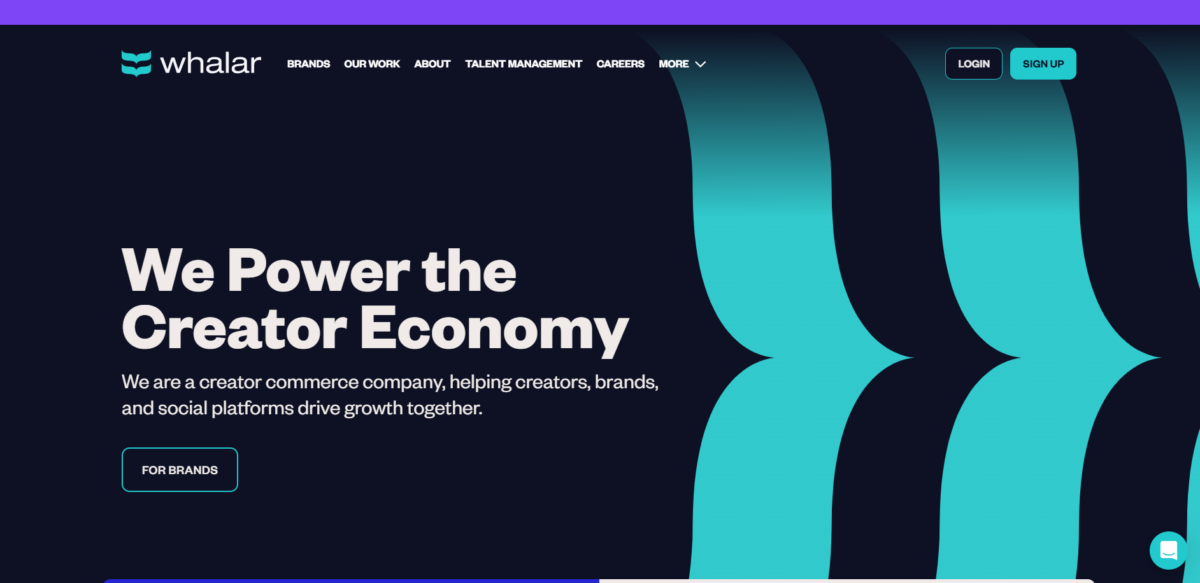 Industries Served: Operates in the entertainment, beauty, FMCG, tech, and consumer electronics industries
Whalar inputs innovation in the creator marketing landscape, offering a blend of creative and strategic solutions engineered to drive growth for creators, brands, and social platforms alike. With its accolade of being among Fast Company's Most Innovative Companies, Whalar carves a niche in delivering highly engaging, multi-faceted campaigns. Their proprietary platform, Echo, powers brand partnerships, serving as the nexus where creativity and strategy unite for exceptional campaign execution. Whalar is acclaimed for transforming brand narratives into visually compelling content that resonates, engages, and converts.
What Sets Whalar Apart?
The efficacy of Whalar's approach is exemplified in award-winning campaigns, such as the Clé de Peau Beauté x Martha Stewart "Thirst Trap" campaign, which earned recognition for creative excellence. Their ability to foster meaningful collaborations between brands and creators is underscored by a rich portfolio of partnerships with global entities, including Pfizer, LVMH, and Google. Every campaign is marked by Whalar's commitment to impactful storytelling, strategic content placement, and measurable results, affirming its position as a trailblazer in the dynamic world of creator marketing.
---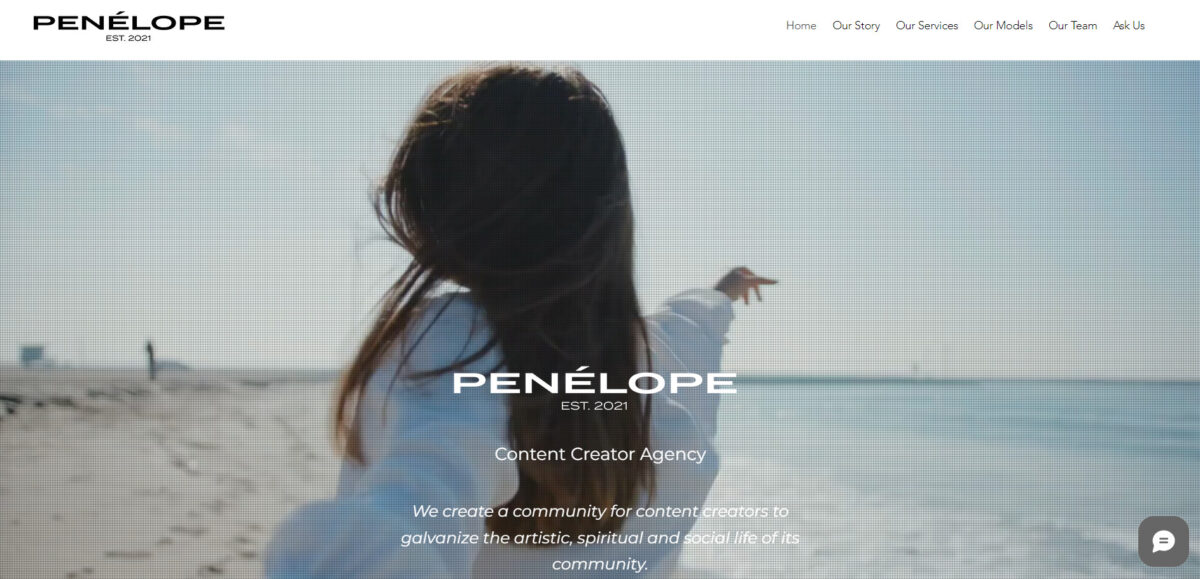 Industries Served: Penelope Agency serves the luxury, sports, health, and travel industry, among others.
Penelope Agency elevates the creator marketing domain, establishing itself as a haven for content creators, fostering an environment that burgeons creativity, spirituality, and social connectivity. Since its inception in 2021, the agency has been synonymous with the orchestration of content creation trips, marrying world-class aesthetics with the idyllic beauty of unique locations around the globe. This harmonious blend facilitates viral marketing campaigns that echo with authenticity and resonate with millions. Every element, from logistics and planning to accommodation, is meticulously catered to, allowing creators to immerse in the artistry of content creation unfettered.
What Sets Penelope Agency Apart?
A testament to the agency's prowess lies in their collaboration with Titanic Luxury Collection Bodrum. This partnership illuminated the luxury of the Turkish Riviera, a narrative woven seamlessly through social media content, engendering an immersive experience for the audience. Penelope's forte extends to influencer and artist management, exclusive fashion collaborations, and an unwavering commitment to preserving the authenticity and individuality of each creator. Each campaign is a narrative, a story told through the lens of creativity, positioning Penelope Agency as the linchpin of innovative, impactful, and resonant content creation in the digital space.
---
---
Tailored Strategies Offered by Top Creator Marketing Agencies
The most notable creator marketing agencies have transcended generic, one-size-fits-all strategies, immersing themselves in personalized approaches intricately designed to fit the unique needs and objectives of each creator and brand. Such bespoke strategies are not a luxury but a necessity in the fiercely competitive digital landscape.
In the era of hyper-personalization, top creator marketing agencies employ a combination of data analytics, creative ingenuity, and industry insight to devise campaigns that resonate on a deeper level with the target audience. Every creator possesses a unique voice, style, and audience. Recognizing this diversity, agencies are committed to unveiling and amplifying this uniqueness.
It begins with an exhaustive analysis of the creator's niche, audience demographics, and content style. With these insights, agencies sculpt marketing strategies that aren't just aligned with but are an extension of the creator's identity. Every piece of content and every campaign is a harmonious blend of the creator's essence and the brand's message, ensuring authenticity and engagement.
Integration of advanced technologies like AI and machine learning has further propelled the customization. These technologies offer actionable insights, predictive analytics, and personalized content recommendations, facilitating campaigns that are not only reactive but proactive, anticipating the audience's needs and preferences.
Creators are no longer recipients of generic marketing plans. They are collaborators in a process that recognizes and celebrates their uniqueness, ensuring that their voice is not just heard but echoed, amplified, and celebrated. In these agencies, customization isn't just a strategy; it is the very ethos of their existence.
---
How Creator Marketing Agencies Are Changing the Game
The intersection where creativity meets strategy is where the most impactful creator marketing campaigns are born. In the intricate dance of content creation and promotion, strategy and innovation serve as the choreographers, ensuring every move and every step is executed with precision, grace, and impact.
Top creator marketing agencies aren't just staying abreast of the latest trends and technologies; they are the trendsetters, the pioneers charting unknown territories, unearthing novel ways to connect, engage, and captivate audiences. The incorporation of innovative technologies and methodologies is a testament to their unwavering commitment to pushing boundaries.
AI and machine learning, virtual and augmented reality, blockchain, and other emerging technologies are not buzzwords but integral components of their marketing arsenal. They are wielded with expertise to carve niches, foster engagement, and drive conversions.
Strategy, in these leading agencies, is fluid. It is adaptable, resilient, and responsive. In the ever-evolving digital ecosystem, being static is synonymous with being obsolete. Hence, these agencies are in perpetual motion, evolving, adapting, and transforming to not just keep pace with but to stay ahead of the dynamic trends.
Innovation is woven into the very fabric of their operational ethos. Every campaign is a unique amalgamation of creative content and strategic promotion, ensuring that the creator's voice doesn't just reach the audience but resonates, lingers, and compels action.
These agencies are not just players; they are the game-changers, elevating creators, amplifying brands, and redefining the very paradigms of content marketing. Through strategic innovation, they are not just witnessing the future of creator marketing; they are sculpting it, one groundbreaking campaign at a time.
---
Conclusion
This detailed analysis underscores the quintessential role that adept selection of a creator marketing agency plays in amplifying brand narratives. These agencies, each distinguished by their unique strategies and innovative approaches, are instrumental in bridging the gap between brands and their target audiences. Their bespoke services, characterized by personalized strategies, data-driven insights, and creative ingenuity, are tailored to navigate the dynamic digital landscape with precision and impact. 
Each case study presented elucidates a narrative of strategic innovation, creative excellence, and measurable results. For brands and creators alike, the pivotal decision lies not just in selecting an agency but in aligning with a partner adept at transforming visions into tangible, resonant, and engaging narratives that not only reach but captivate, engage, and convert diverse audiences in a saturated digital ecosystem.
Frequently Asked Questions
What is the Average Cost of Hiring a Creator Marketing Agency?
The cost can vary greatly depending on the agency's reputation, the scope of your project, and specific marketing needs. It's crucial to discuss budget and expectations upfront to find a suitable agency.
How Do Creator Marketing Agencies Measure Campaign Success?
Agencies often consider metrics like engagement rate, reach, conversions, and ROI to measure campaign performance, tailored to specific campaign goals and objectives.
What are the Legal and Ethical Considerations in Creator Marketing?
Yes, agencies adhere to regulations like disclosure requirements, copyright laws, and privacy policies to ensure campaigns are transparent, ethical, and legal.
How Do Agencies Ensure Brand-Creator Alignment?
Agencies evaluate creators based on their audience demographics, content style, and values to ensure alignment with your brand's goals, ensuring synergy and authenticity in campaigns.
Can Small Businesses Benefit from Creator Marketing Agencies?
Creator marketing is versatile, catering to both large corporations and small businesses. Agencies often customize their strategies to fit varied budgets and business scales, maximizing ROI for all sizes of companies.