The steady rise of online shopping in recent years has made eCommerce a lucrative market. Online shopping is convenient for many consumers who prefer to purchase their essentials and other small luxuries from the comfort of their own homes. Online shopping trends for 2023 indicate a growing industry, with many of the trends directed toward improving eCommerce stores for optimal customer experience.
With the increasing demand for online shopping, starting an online business may seem easier than building a brick-and-mortar store. But there are several critical aspects of eCommerce that business owners must pay attention to. One of these is the business' fulfillment strategy.
---
eCommerce Fulfillment: How to Fulfill Orders Efficiently:
---
What is eCommerce Fulfillment?
eCommerce fulfillment is the process of completing a customer's order by delivering their items to them securely and on time. Fulfillment involves more than just shipping, it also includes receiving and managing inventory, stocking products, and processing returns. Customer service is also a crucial part of fulfillment, as businesses must communicate with customers to ensure the fast and secure shipment of their orders.
Fulfillment plays a huge role in customer satisfaction, contributing to increased sales, customer loyalty, and the overall success of your online business. In fact, 56% of online shoppers abandon their carts if they are not satisfied with a store's fulfillment options. With the global eCommerce market set to breach the $2 trillion mark this year, it's time to take your fulfillment strategy to the next level and capture a decent share of this huge market.
---
Fulfillment Process
The fulfillment process involves several steps. To run a successful online business, it's important to know how to manage and execute each step carefully. Optimizing each phase of the process can also help ensure a smooth transaction for both you and your customer.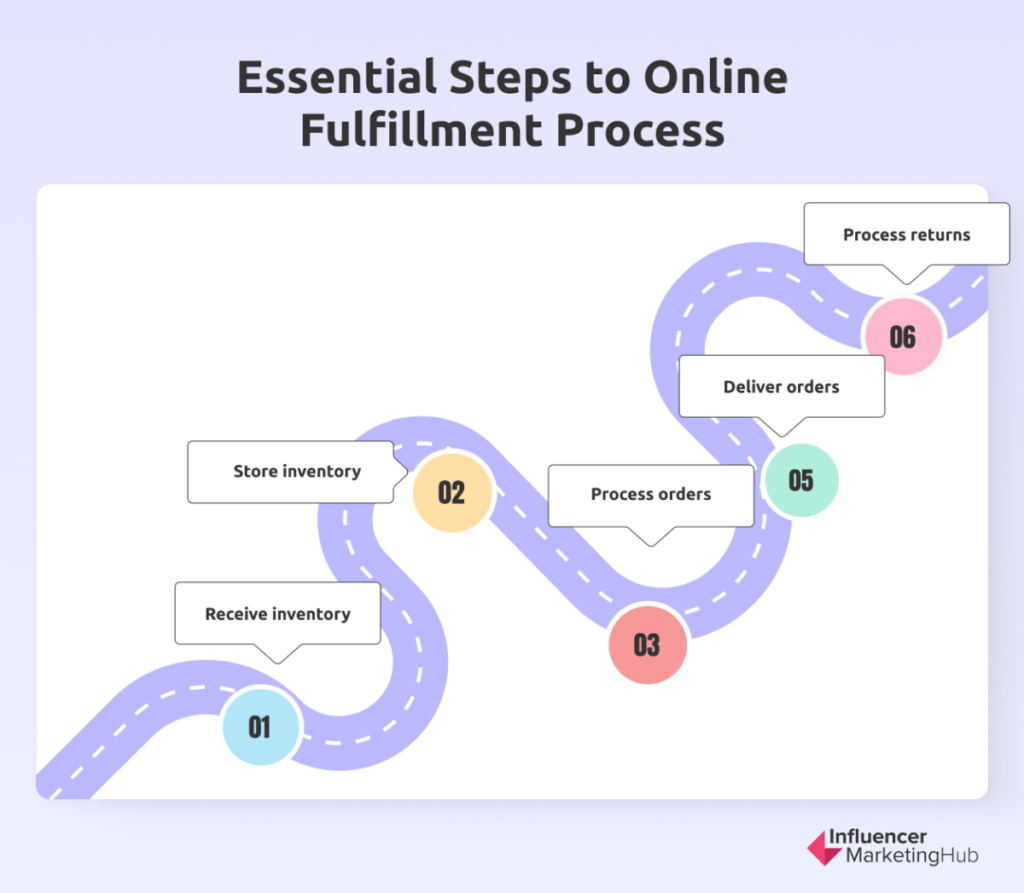 1. Receive inventory
The first step is to bring supplies of the products you intend to sell to a warehouse or distribution center. Small startup businesses sometimes use their homes for this purpose, while others may have a separate location to receive inventory. Bigger businesses may rent a warehouse or other distribution locations.
Some businesses hire third-party services for this step. If you choose to do so, make sure that your inventory is properly packed and labeled to make it easier for the fulfillment center to identify which products are yours.
---
2. Store Inventory
After receiving the inventory, you'll need a place to organize your goods properly. This may or may not be the same place where you receive inventory. Even businesses that deal with fast-moving consumer goods need to store orders securely. Warehouses are ideal for big businesses with a lot of stock keeping units (SKUs), while small home businesses may simply use a spare room, a garage, or a small office space.
Monitor your inventory regularly to ensure that you have an ample supply of products at any given time. Keep track of peak seasons, like holidays or eCommerce sales events, when orders can spike. During these times, you'll need to stock more products than usual to keep up with demand. Inadequate supplies delay fulfillment, leading to customer dissatisfaction and loss of revenue.
To improve the efficiency of your inventory management, assign a unique SKU code to each product. This will help you better organize your warehouse or storage room.
---
3. Process orders
Once a customer has placed an order on your website, you'll need to process their order. This involves several steps:
Order placement. When a customer has completed a purchase, the business needs information to fulfill the order, such as the customer's name, shipping address, and payment mode. The company is then responsible for informing the customer of the stock availability and the expected delivery time.
Selecting the items. The business then selects the appropriate items for shipment according to the order. SKUs help ensure that the specific product type, size, color, quantity, or other attributes that the customer has chosen is accurate for each order.
Sorting orders. Some companies may handle multiple orders from different customers at any given time. This process may be prone to errors, especially if the company processes a high volume of orders daily. Therefore, it's important to make sure that each item is sorted according to the correct order number, and that each order includes all purchased items.
Packing. Ensure that orders are packed in appropriate packaging materials that can best prevent damage. Various product types require different types of packaging. For example, fragile items may need additional bubble wrap or foam to protect them from damage during transit, along with stickers indicating that they are "fragile." Smaller, more durable items may only require a waterproof mailer. Bigger products or an order with multiple items can also be packed in boxes.
Preparing orders for shipment. Here, orders are prepared for shipment by printing out labels and waybills. It is important to double-check customer details, such as their name and shipping address, to ensure proper delivery. Each package should also be labeled with the correct order number so orders aren't accidentally switched.
---
4. Deliver orders
Finally, it's time to ship the orders. At this step of the fulfillment process, businesses that don't use a fulfillment service usually rely on a third-party carrier, even if they do the previous steps in-house. This carrier could be the local post office, UPS, or other door-to-door shipping services. The carrier must be able to deliver the packages to the right address within the promised timeframe. Be sure to provide the customer with the tracking number from the carrier so they can monitor their shipment and know when to expect it to arrive.
---
5. Process returns
Not every order will go through without a hitch. Returns and refunds are part of eCommerce and the fulfillment process. The National Retail Federation estimated that the average online return rate for 2022 was 16.5% or approximately $816 billion worth of merchandise.
If a customer is not satisfied with their order, they can request a return according to the terms and conditions of the sale. A return policy is essential for every eCommerce business, and customers should have access to this information at the time of their purchase. Return policies advise customers of the circumstances and products that are eligible for returns, exchanges, and refunds. They also provide information on how they can ship the products back to the company.
An order is only considered fulfilled once a customer receives their items and is satisfied. Thus, returns require another step for the company, as you may want to inspect items that are returned to confirm reported defects and check if the items are still intact and unused.
If your return policy allows exchanges, your fulfillment process will need to repeat the order processing steps to select the new product to be shipped out in exchange for the returned item. Of course, it is at the company's discretion which items they can offer for exchange. This may add to the logistical tasks of the company, so some businesses simply offer a refund and encourage the customer to order a different item under a new order number.
---
Types of Fulfillment Models
There are four main types of fulfillment models. Choosing the best one for your eCommerce business will depend on a variety of factors.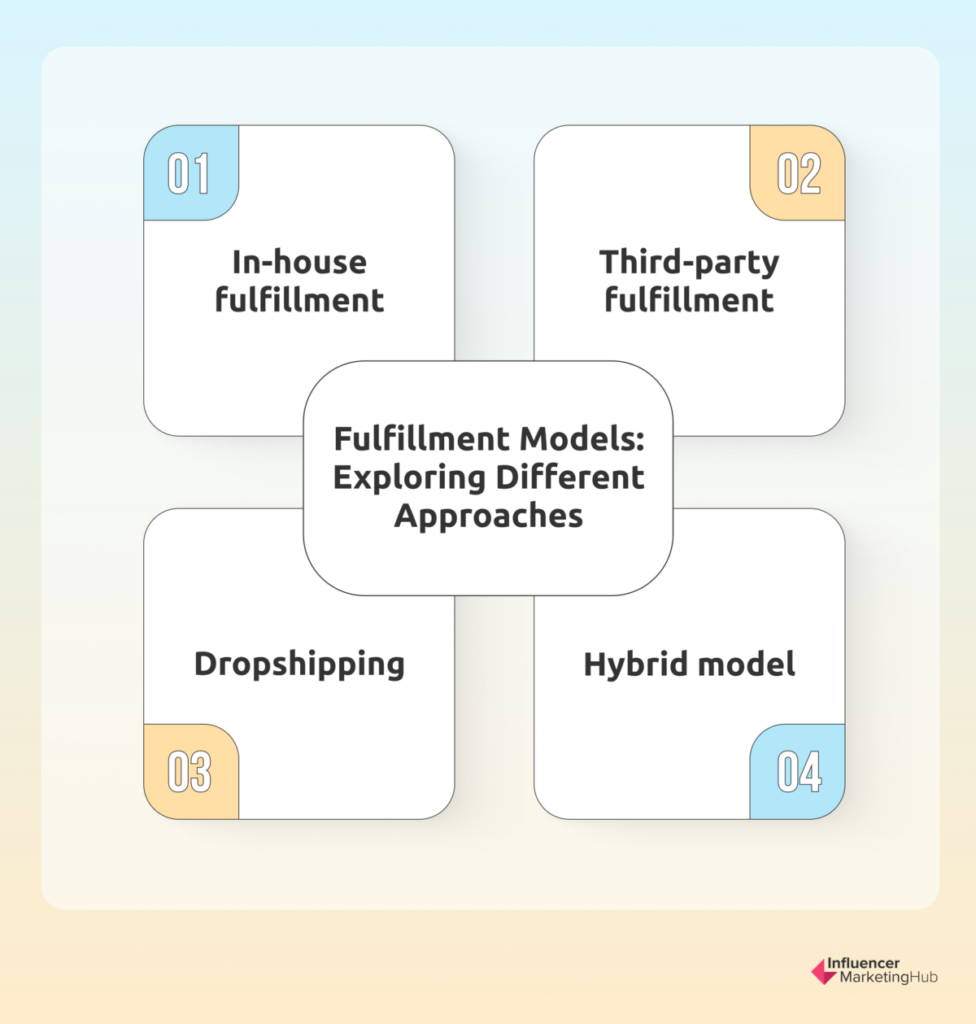 1. In-house fulfillment
In-house fulfillment means that the business fulfills orders by itself, without using external services. This might be doable for small home businesses that do not process a lot of orders or have fewer SKUs. Using this model, businesses also have complete control over the order fulfillment process so this may also be a suitable option if your products require complicated packing or shipping.
---
2. Third-party fulfillment or third-party logistics (3PL)
Outsourcing the fulfillment process is a common strategy that can save a business time, space, and money. This allows businesses to focus on generating more sales and improving their in-house operations. A popular third-party fulfillment service is Amazon's FBA, which they offer to Amazon sellers.
---
3. Dropshipping
Dropshipping is a kind of third-party fulfillment service where products are not stored by the seller or the vendor. Instead, the manufacturer produces, receives, stores, and manages the goods and sends them out directly to the customer. When a business receives an order online, they then forward it to their partner who then processes, sorts, packs, and delivers the order.
It is estimated that more than a quarter of online retailers use the dropship model to fulfill their orders. This type of fulfillment model reduces a huge amount of overhead, including inventory costs. However, it also has disadvantages, such as a low-profit margin and less control over the inventory.
---
4. Hybrid model
Of course, you're not obligated to stick to one type of eCommerce fulfillment model. You can choose to use FBA for your Amazon store while using 3PL for your website. Another option is to use in-house fulfillment for products with complex packaging and use 3PL for the rest of your SKUs.
---
Tips for Efficient Fulfillment
The fulfillment process involves several steps that require attention to detail, leaving plenty of room for common fulfillment errors such as delays, mislabeled packages, or incorrect orders. Here are some tips to achieve a more efficient fulfillment workflow: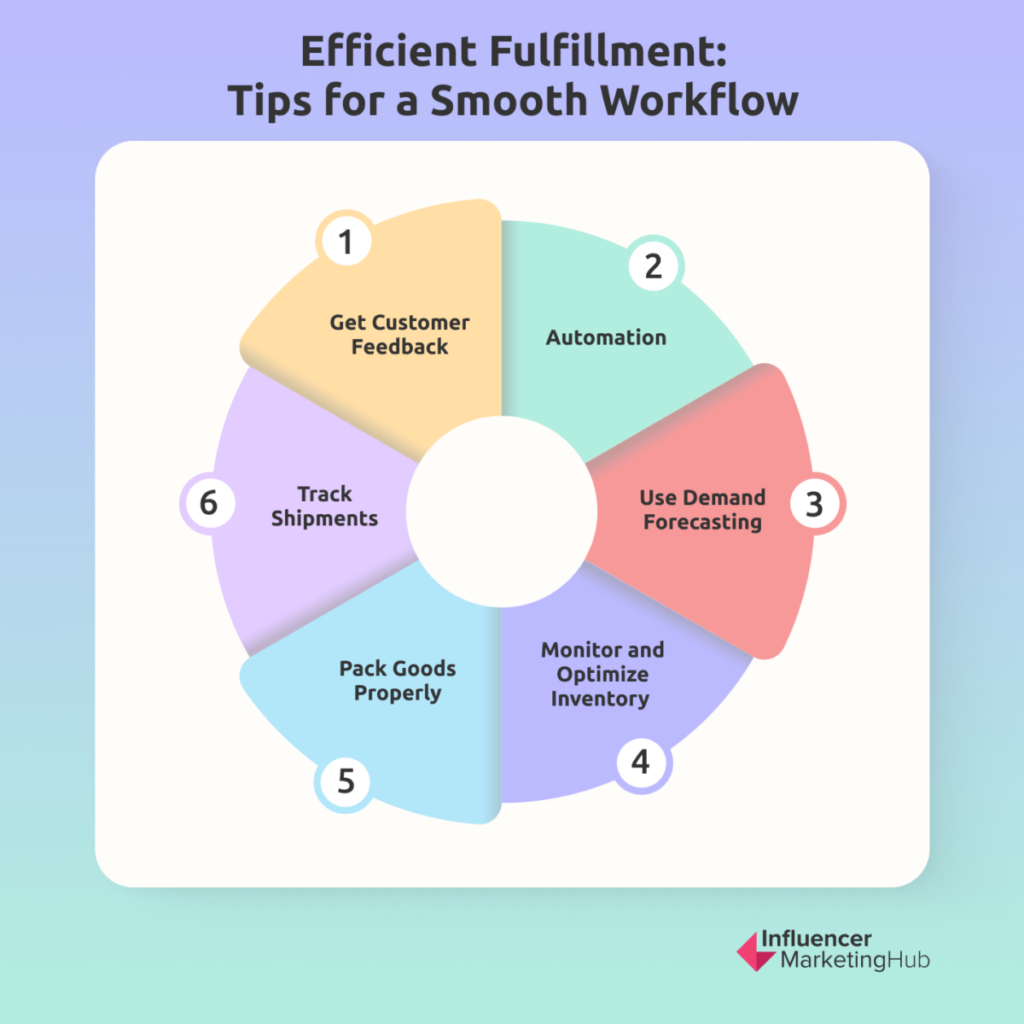 Get Customer Feedback
Understanding your customer is vital not only for marketing but also for fulfillment. By having a clear idea of who your customers are, where they live, and what they often buy from your store, you can develop a fulfillment strategy that maximizes limited resources.
Customer feedback also helps you identify both strengths and pain points in your fulfillment process, such as delivery time or packaging.
---
Automation
The AI industry is flourishing. Take advantage of AI products that can help streamline some of the more tedious administrative processes of eCommerce fulfillment.
You don't need to be a big business to benefit from eCommerce automation. There are products in the market now that cater to smaller businesses that only need to automate a few tasks, such as order forms, emails, and chatbots.
---
Use Demand Forecasting
AI can also be used in eCommerce fulfillment for demand forecasting which uses predictive analytics of your previous data to determine future customer demand. For example, if your data indicates that you sell 1,000 units of product X during the holidays, then demand forecasting will presume that approximate amount every year.
Demand forecasting can help you prepare for peak seasons so you can stock up on high-demand goods at the right time. It also allows you to plan and manage your inventory more efficiently. For example, slow-moving SKUs can be allotted a smaller space in the warehouse, while fast-moving SKUs can be placed in an area that is easier for workers to access, minimizing delays.
---
Monitor and Optimize Inventory
Proper inventory management is crucial to minimizing costs and operating efficiently. Apply techniques that can help you optimize your inventory. One of which is to adopt a just-in-time inventory approach that enables you to keep enough stocks of goods to fulfill demand, but not too much as to require unnecessary and costly warehouse space.
---
Pack Goods Properly
Improperly packed orders can cause delays in fulfillment and damages to orders. This includes deformed boxes, packages with barcodes and stickers that do not correspond to the order or shipment or those without any labels at all, packages that are not securely sealed, and items that are too heavy for their packaging. You can avoid these errors by ensuring that each order is packaged correctly, taped securely, and labeled with one readable barcode and waybill that corresponds to the correct customer order.
---
Track Shipments
It's not just the customer's responsibility to track their shipment. Sellers also need to ensure that orders are delivered promptly and without damage to the packages. If you find that returns due to shipping damage, mishandling, or delivery delays are occurring too frequently, you can switch to another carrier for future orders.
Frequently Asked Questions
How do I choose the right eCommerce fulfillment model?
The model you should choose depends on the nature of your business and products. Consider the resources you currently have, the products you sell, and the volume of orders you expect to fulfill. Each eCommerce fulfillment model has pros and cons, such as the amount of control you have over management, operations, and costs.
Startups can do well with in-house fulfillment until they expand their products or customer base, while larger companies may opt to use third parties or adopt a hybrid model.
It is also important to consider the types of products you sell and the time and effort that goes into packing and shipping them. It may not be feasible for you to pack and ship heavy and bulky items by yourself, even if sales volumes are low. You may also sell food items that are perishable and would require same-day or next-day delivery. There might also be restrictions and limitations for shipping certain products, so it's best to do research first before adopting a fulfillment model.
What is the difference between third-party fulfillment and dropshipping?
In 3PL, the sellers have control over their inventory. They might use 3PL just for packing and shipping, or for warehousing until shipping. The seller sends their products to a fulfillment center, where the 3PL manages their stock and completes the order fulfillment. On the other hand, in dropshipping, the business does not handle any inventory. They send orders to the manufacturer or supplier, who then prepares the package and sends the order directly to the customer.
How much does it cost to use an eCommerce fulfillment service?
It all depends on the scope of your agreement with your 3PL or dropshipping partner, the volume of your orders, the products you sell and need to ship, and inventory or warehousing costs. To have an idea of the range of fulfillment costs, ask for quotes from reputable 3PL providers.