If your target market is young, largely based in the United States, and primarily urban, influencer marketing on Triller might be for you. With influencer marketing, you have the ability to reach your target audience through influencers who already have taken the time to develop and cultivate the important relationships necessary to make your marketing efforts successful.
Like TikTok, Triller's focus is on short-form video content. And, since Triller added a social element to its platform in 2018, any Triller influencer marketing campaign can include influencers creating and sharing videos to promote your brand and products with their followers, throwing their own authority behind your brand and inspiring trust in your brand through the trust they have with their followers.
Triller has experienced slow but steady growth since coming onto the scene in 2015, but its popularity has surged since TikTok has run into trouble, being banned in India and facing a potential ban in the United States. Now is the time to jump on board if you're an influencer who wants to establish yourself on Triller before the competition gets too steep. If you're a brand looking for influencers on the platform, this is the best time to start developing relationships and looking for that perfect influencer, or group of influencers, to represent you on the platform. If you've never considered influencer marketing on Triller, or aren't even all that sure what Triller is, this guide will tell you everything you need to know.
---
Influencer Marketing on Triller: The Ultimate Guide:
---
What Is Triller?
Triller is a short-form video content app that has historically focused on music videos. Triller influencers and celebrity users can choose a song snippet and record video set to that song snippet. Triller offers AI-driven video editing which means that users can create high-quality videos without much manual editing—a good thing since Triller doesn't offer a whole lot in terms of manually editing options.
In 2018, Triller added a social aspect to its platform so creators could create and share short-form video content directly on the app, a la TikTok. These days, you can choose to create a music video or social video on the app and many Triller influencers use the social video option to create vlogs and other content that isn't just a music video.
---
How Does Triller Work?
If you've used TikTok, Triller isn't going to be a problem for you since the basic functionality and user interface are similar for the platforms. As with TikTok, you can follow other Triller creators, comment on and like videos, search for content, and record and share your own video content.
There are a few key areas you'll want to know about to enjoy a great experience on Triller:
Home Screen
As soon as you open Triller, you land on the Triller Home screen, similar to TikTok's For You page. The Home page is broken into three tabs: Following, Music, and Social. You can use the Music and Social tabs to find trending videos from other users. All videos on Triller display vertically and in full screen and to move through the videos, just swipe up or down. There isn't a way to get back to the Home screen easily once you're scrolling through videos. To get back home, you need to close pages.
Discover Page
Tapping the music note symbol on the navigation bar at the bottom of the screen will take you to Triller's Discover page where you can search for music to use in your videos. Just find a song you want to use. You'll be able to play it, use it in your own video, or find other top videos that use the song.
Search Functionality
The magnifying glass symbol in the navigation bar will take you to Triller's search feature. On the Search page, you'll get a standard search bar at the top of the screen as well as a leaderboard, featured videos, top videos, and recommended videos.
Upload/Record
Tapping the plus symbol in the navigation bar will let you record, upload, and share your own Triller videos. You'll be able to create a music video or a social video from this page. Choose the social video option if you want to just start recording a video. For a music video, you'll have to start by choosing a song to use. No matter which option you choose, you can add filters, change the video speed, set a timer, record different takes, and more.
Activity Page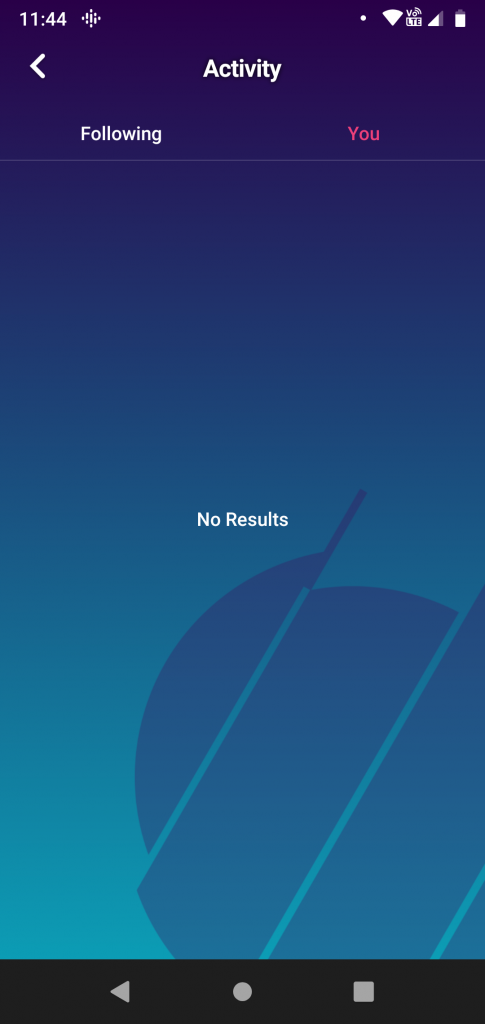 Tapping the bell symbol from the navigation bar will take you to the Activity screen. There are two sections here, You and Following. In the You section, you'll find reactions to your videos as well as comments. The Following section shows activity from people you follow.
Profile Page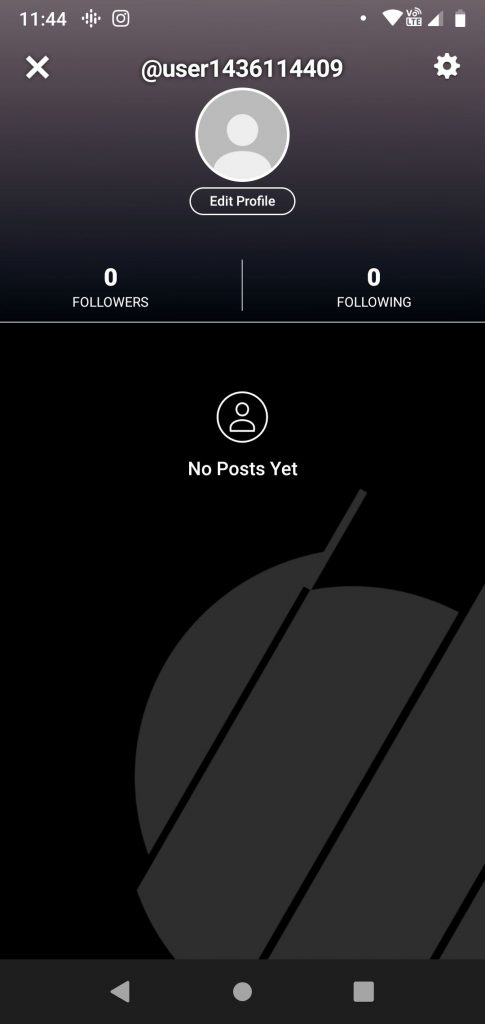 The person symbol on the navigation bar represents your Profile. This screen shows your profile, who you follow, and who is following you. Here you can edit your profile, change your profile photo or username, update your name, and more. You'll also see your video drafts.
Triller Settings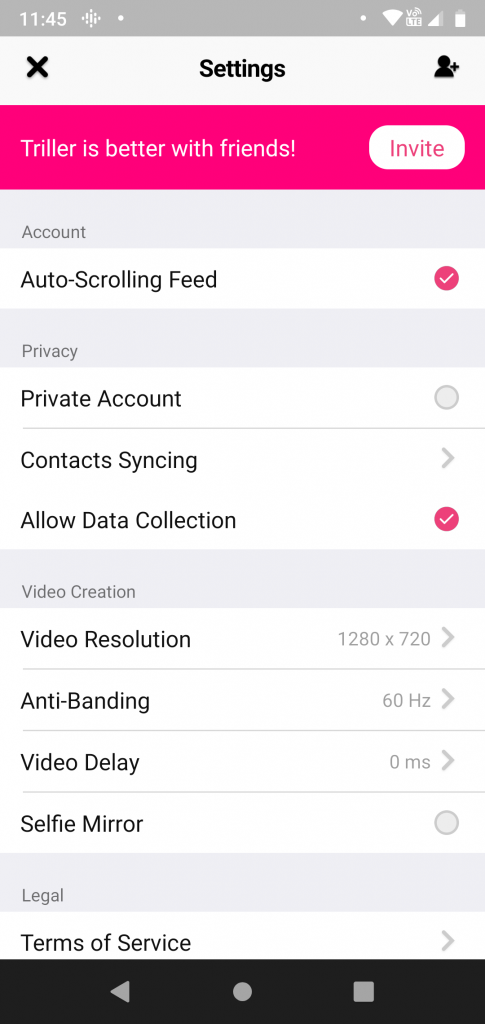 Your Triller settings are accessible from your Profile. Once on your profile, tap the Settings icon in the top right corner of the page. From here you can change your account and privacy settings as well as set video preferences like resolution and more.
---
Who Are the Main Triller Users?
Like TikTok, Triller is youth-oriented. While Triller's leadership wants users to think of the app as a more mature version of the Gen Z-dominated TikTok, the user base still skews young; according to Proxima Media, the majority owner of Triller, the app's largest demographic is aged 16–27.
On Triller, though, you're likely to find many more celebrities than are on TikTok. Triller has several big names as investors in the app, like Snoop Dogg, Lil Wayne, The Weeknd, Kenrick Lamar, and Young Thug, to name a few. With investors like these, it's no surprise that the app's leaderboard skews towards rap and hip-hop artists. Giuseppe Zappala, rapper Lil Tecca's manager, credits the rapper's Triller usage (along with Instagram) as a key tool in the building anticipation for Lil Tecca's hit "Ransom." Rapper Calboy's release "Envy Me" also had success on Triller thanks to the #envyme challenge.
In addition to hip-hop artists, Triller is a big hit with the hip-hop dance world. The platform is fast-becoming the favorite place to introduce new dance trends like The Woah.
In addition to the celebrities on Triller, some of the most popular TikTok influencers have moved over to Triller, largely citing concerns with TikTok's security. TikTok influencers like Noah Beck, Josh Richards, and Griffin Johnson (who have a combined following of 47 million on TikTok) have not only started creating content on Triller, but they've joined Triller's leadership team. Josh Richards, at the tender age of 18, is now a Triller investor and its Chief Strategy Officer. Griffin Johnson and Noah Beck are equity shareholders and advisors for the app.
In an interview with PEOPLE, Richards said, "The opportunity to work with the amazing people at Triller is something I am deeply committed to. We are going to take the world by storm! Get ready, everyone." Richards went further in a Los Angeles Times interview, telling them that TikTok's security was a prime catalyst for the switch to Triller. "After seeing the US and other countries' governments' concerns over TikTok—and given my responsibility to protect and lead my followers and other influencers—I followed my instincts as an entrepreneur and made it my mission to find a solution."
---
What Types of Content Do Well on Triller?
Videos are the only content that you can share on Triller but there are different types of video content that perform well. Obviously, if you want to do well on the platform, you'll need to create videos that are entertaining and resonate with the audience you're targeting. The videos should also be on the shorter side and filmed vertically.
Thanks to Triller's start as a music video editing app, it should come as no surprise that music and dance content does well on the platform. In fact, Proxima Media founder and Triller owner Ryan Kavanaugh says that he sees the app as "the answer to music discovery" which Kavanaugh sees as the "biggest challenge facing the music industry today."
---
Why Should You Use Triller for Influencer Marketing?
Triller is capitalizing on TikTok's shaky standing in India, the United States, and other countries and is emerging as one of TikTok's strongest competitors. A large part of Triller's success is the partnerships it's built with high-profile music industry leaders like Spotify, Columbia Records, Universal Music Group, Sony Music Nashville, Def Jam Recordings, and Warner Bros Records. Additionally, creators on the app get to be part of the conversation alongside top musical artists like Justin Bieber, Kevin Hart, Chance the Rapper, Rita Ora, and more.
Triller doesn't have a formal advertising system just yet, so influencer marketing can be a tremendous asset for brands who want to get their brand and products in front of users on the app.
For brands and influencers on the app, it's important to create the right kind of content for your marketing efforts. Since Triller's audience consists mostly of Gen Z users, you'll want to create content that works for that group. This means that your marketing should be as natural as possible and influencers should work with brands to create marketing content that aligns closely with the influencer's personality and the content they would normally share. Gen Z isn't particularly forgiving of traditional advertising and if they feel like they're being sold to they're out.
Influencer marketing on Triller is the best way for brands to get their message out. The people who follow influencers on the platform trust the judgment of and recommendations from those influencers. This gives brands access to their target audience without needing to build up their own following on a company account (which isn't the easiest thing to do).
---
How to Use Triller as a Marketing Tool
So, how can influencers and brands leverage the popularity of Triller and use it as a marketing tool? Here are four things you can do to get started:
1. Create an Account for Your Brand
You don't have to have an account to watch content on Triller. However, if you want to use Triller for influencer marketing, you'll want to create an account for your brand. Be sure to complete your profile on the app and let your personality shine through. Then, you can use your account to start supporting other users on the app. This could mean using songs in your own content from new artists or using songs from celebrities that you already have (or want to have) a relationship with.
2. Develop Partnerships
Influencers and brands on the platform can work directly with the Triller team to develop brand-influencer partnerships. This type of partnership works well for clothing, auto, beverage, and tech brands.
3. Promote Live Events
Promoting live events like festivals, concerts, and sporting events is a great way for brands to extend their influence on Triller. If you can provide exclusive content to your followers it goes a long way towards increasing affinity towards your brand.
4. Create High-Quality Content
Thanks to the licensing agreements Triller has in place, influencers are able to share their (watermarked) Triller content to other social media platforms like Instagram, YouTube, Twitter, Facebook, and more. To get the most from your content, though, it needs to be high-quality and engaging. Then, you can tag other influencers, brands, or artists in your content on each of these platforms to increase engagement.
---
How Do Brands Market on Triller?
Even though Triller doesn't currently offer advertising options, there are still ways brands use Triller to market their products and build brand awareness.
Music
Music and marketing go hand in hand and brands have been using music in their marketing strategies for years. Since Triller is built on music, it presents even smaller brands with a great opportunity to use music without having to pay licensing fees on their own. Done the right way, this can both increase ROI from influencer marketing efforts on Triller as well as give brands an "in" with artists.
Hashtag Challenges
Like TikTok, Triller users enjoy participating in challenges and there are generally several challenges going on at any given moment on the platform. Triller challenges typically involve artists creating a hashtag challenge for their newest Triller release. Triller users can then get involved with the challenge and get their own videos in front of a larger Triller audience by using the hashtag associated with the challenge. Here's an example of a recent Triller hashtag challenge, #callinchallenge, created by NBA Youngboy.
Influencer Marketing
Influencer marketing is going to be your best bet for marketing on Triller. Since Triller doesn't currently offer brands the chance to advertise on the platform, influencers can be a vital tool. Brands need to work with influencers on the platform to build a creative marketing strategy that will help those influencers present brands in an authentic and engaging way.
---
Get Started With Influencer Marketing on Triller
Triller has more than 26 million active monthly users who spend an hour each day on the app. Using AI-driven editing, Triller users can pick a song from the enormous Triller library and create a nearly professional-level video to share with the Triller community or use on other social media platforms. When influencers and brands come together on Triller, they can create content and build relationships with consumers to boost engagement and sales.