TikTok is a tale of two apps. The Chinese company, Bytedance, released a video-sharing social network app called Douyin in 2016. That app still exists separately in China. They named the international version of their app TikTok when they released it in 2017. Much of TikTok's Western audience initially followed Musical.ly, which Bytedance merged into TikTok in 2018. Although TikTok and Douyin feature similar user interfaces and features, they are not identical, being customized for their respective markets.
TikTok has become exceptionally popular in recent years, particularly with the younger Millennials and Generation Z. It hasn't grown without controversy, however. For example, then-President, Donald Trump, threatened to ban TikTok in the United States in 2020 unless Bytedance let an American company, like Microsoft, buy TikTok in that country. A proposed ban was, however, blocked by a federal judge. In addition, despite TikTok being very popular with India's youth, that country's government banned the app in June 2020 due to a border clash between India and China. Its ban became permanent in January the following year.
Neither TikTok nor its forerunner, Musical.ly, provide many statistics publicly. For example, it is much harder to find follower lists than for most other social networks. However, with such a convoluted history, it is not too challenging to discover quite a few TikTok statistics that others have independently collated.
TikTok has more than 1 billion monthly active users as of the last quarter of 2022. Let's look at some other mind-blowing stats below.
---
64 TikTok Statistics That Will Blow Your Mind:
---
1. On average, users spend more than 1.5 hours per day on TikTok
According to SensorTower's latest report, TikTok users worldwide spend an average of 95 minutes per day on the network. When it comes to time spent on social media sites, TikTok dominates the field. The average time spent by TikTok users was more than four times that of Snapchat, three times that of Twitter, and almost twice that of Facebook and Instagram.
---
2. In Q2 of 2022, TikTok surpassed 1 billion monthly active users
The company's self-service advertising features estimate that advertisers will be able to reach 1.023 billion users (18 years of age and older) on TikTok by the start of July 2022. TikTok's monthly active users are expected to reach between 1.2 and 1.5 billion by the third quarter of 2022.
---
3. 3.5 Billion Installations
TikTok has been installed on devices over 3.5 billion times worldwide. It passed the one billion-milestone in February 2019 and the two billion-figure in April 2020. It reached three billion in Mid-2021. TikTok became only the fifth non-gaming app to reach the 3-billion level and the first not owned by Facebook (now Meta). It topped the list for both downloads and revenue for non-game apps in the first half of 2022.
---
4. 167 Million TikTok Videos Watched in an Internet Minute
Statista collated online media usage for an "internet minute" worldwide. In that time, people consume hundreds of thousands of hours of content and send, scroll, and upload millions of messages, emails and texts. Amongst these statistics, Statista found that TikTok users watch 167 million hours of videos on the app in a sample minute.
---
5. Entertainment Most Popular Category on TikTok by Hashtag Views
The most viewed content category on the app was entertainment content. Presumably, this category includes all those lip-synching videos. It is also more comprehensive than other hashtags covering comedy, sketches, duets, special effects, and more. The most popular categories overall are:
Entertainment – 535 billion hashtag views

Dance – 181 billion

Pranks – 79 billion

Fitness/sports – 57 billion

Home reno/D.I.Y. – 39 billion

Beauty/skincare – 33 billion

Fashion – 27 billion

Recipes/cooking – 18 billion

Life hacks/advice – 13 billion

Pets – 10 billion

Outdoors – 2 billion
While entertainment and dance videos monopolize TikTok users' time and interest, it is clear that they are willing to spend time watching videos on a broader range of topics nowadays.
---
6. About 18 million people in the US have downloaded TikTok from the Apple App Store
According to Statista, TikTok was downloaded 17.67 million times by iOS users in the United States in the second quarter of 2022. Mexico comes in second with 1.41 million iOS users, followed by the United Kingdom with 1.37 million iOS users. Canada, France, Brazil, Russia, Germany, Turkey, and Italy are among the top 10 nations with the most TikTok downloads from the Apple App Store.
---
7. Second Most Popular iPhone App Downloaded in the U.S. in 2022
According to Statista, TikTok was the second most popular app in the US as of September 2022, with about 3.84 million downloads. Photo-sharing app BeReal topped the list.
---
8. Most Popular Overall App Downloaded Globally
Software Testing Help reported that TikTok has been downloaded more than 2 billion times globally. Currently, it is one of the most popular apps worldwide. The global lockdown caused by the pandemic substantially contributed to its growth. TikTok has become another source of income for many people.
---
9. 150+ Countries
TikTok app is currently available in 154 countries. It is in the top 10 overall in 124 of these countries and in the top 50 in 140 of them.
However, the official TikTok Creator Marketplace now claims that TikTok is available in over 150 markets and is one of the most downloaded apps in 40+ countries.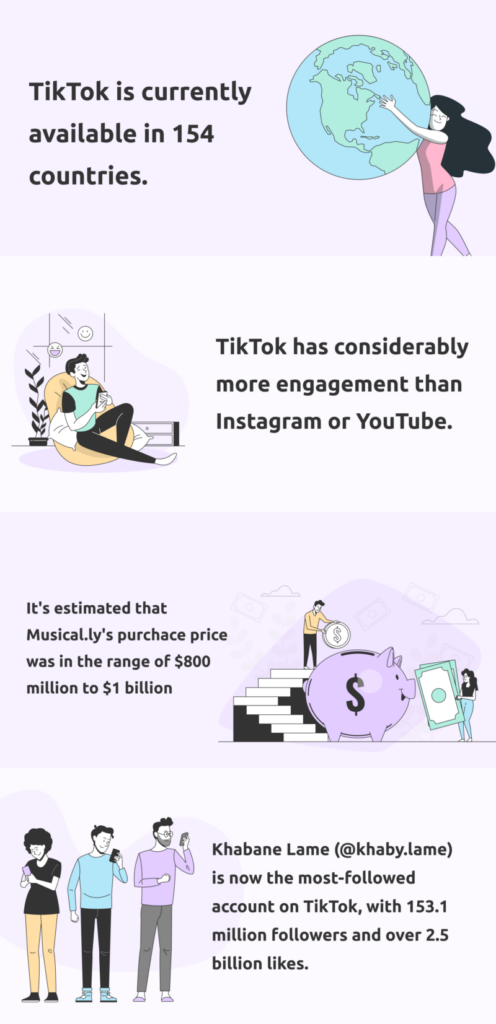 ---
10. 75 (or 39 or 35+) Languages
TikTok has truly entered the international stage and is arguably now available in 75 languages.
There have been discrepancies in reports of the number of languages that TikTok came in for some time. TikTok's support stated that "TikTok is currently available in 39 languages. You can change the language displayed in your TikTok app anytime." TikTok has since removed that statement.
The official TikTok Creator Marketplace now says that TikTok is available in 35+ languages. However, it is possible, with TikTok now being banned in India, that TikTok has removed support for some regional Indian dialects.
TikTok provides the writer of this article with a choice of 36 languages in the Settings section of his iOS app. While there are multiple conflicting reports on this statistic, we can agree that the app is now truly international.
---
11. Highest Social Media Engagement Rates Per Post
Recent Upfluence data shows better engagement rates across different follower levels for Instagram, YouTube, and TikTok. TikTok has considerably more engagement than either of the other two networks at all follower levels. For example, Upfluence found micro-influencers had engagement rates of 17.96% on TikTok, 3.86% on Instagram, and 1.63% on YouTube. At the other extreme, mega-influencers had engagement rates of 4.96% on TikTok, 1.21% on Instagram, and 0.37% on YouTube.
Furthermore, according to the Social Insider industry benchmarks for 2022, TikTok is now the most engaging social media platform with a median engagement rate of 5.96%. TikTok's engagement rates are not just significantly greater than those of Instagram, Facebook, and Twitter, and the gap is growing.
---
12. Over 200 Million TikTok Users in India When it Was Banned in 2020
India is another populous country whose youngsters were attracted to TikTok. The platform had amassed more than 200 million users in India by mid-2020 before the government chose to ban it for political reasons. Prior to the ban, every month between July 2019 and June 2020, TikTok was downloaded more in India than anywhere else.
---
13. Highly Popular in Many Asian Countries
TikTok's support has grown dramatically in most Asian countries. It is particularly beloved in Indonesia (106.9 million users), Vietnam (49.6 million), Philippines (42.7 million), and Thailand (39.5 million). TikTok has a total reach of 265.6 million in Southeastern Asia, 101.9 million in Western Asia, 30.0 million in Eastern Asia, 25.1 million in Southern Asia, and 8.6 million in Central Asia. These numbers only consider users aged 18 and above, and there are undoubtedly many TikTok users younger than that.
Many young users have used TikTok for political activism. For example, they used it in Indonesia to protest a controversial new labor law.
---
14. 600 Million Active Daily Users in China
Experts project that the number of Douyin users will likely surpass 835 million by 2025. Douyin has established itself as the largest knowledge, culture, and art platform in China.
---
15. TikTok's Highest Reach (for Adults) is in Saudi Arabia
Somewhat surprisingly, TikTok's has its highest reach (for those aged 18+) in the Arab world. TikTok is seeing phenomenal growth across the Gulf Cooperation Council (G.C.C.), with the app ranking among the top downloads in regional Apple and Google Play Stores.
Early in 2022, TikTok had 22.37 million users over the age of 18 in Saudi Arabia. TikTok's ad reach in Saudi Arabia was comparable to 64.2% of the overall local internet user demographic. In Saudi Arabia, 39.1% of people who saw TikTok ads were women, while 60.9% were men.
Of course, this ignores the vast number of younger TikTok users, but TikTok's ad tools only publish data for audiences 18+.
---
16. Between $800M and $1B Purchase Price
Although nobody has ever publicly disclosed the exact purchase price Bytedance paid for Musical.ly, most pundits estimate that it was in the range of $800 million to $1 billion.
---
17. 200 Days to Develop
It took 200 days for the Chinese development team to create the original version of Douyin / TikTok.
---
18. 1 Million Videos Views per Day in First Year
Within a year of TikTok's development, it had already reached the milestone of 1 million views per day.
---
19. 152 Million Fans –TikTok Record
Social media personality Khabane Lame (@khaby.lame) is now the most-followed account on TikTok, with 153.1 million followers and over 2.5 billion likes. He surpassed @charlidamelio (Charli D'Amelio), who now has 149.2 million followers and over 11.3 million likes. Rounding out the top three spots is singer @bellapoarch (Bella Poarch) with 92.5 million followers and 2.2 million likes.
---
20. 77 Million Fans – Douyin Record
Andy Lau, a Hong Kong-born actor and singer, is the most followed celebrity on Douyin as of September 2022. In China, his account has around 77 million followers. Will Liu, a Taiwanese singer and songwriter, ranked second with nearly 73 million followers.
As of June 2022, Yang Ge (Crazy Xiaoyangge) has 65 million followers, making him the most popular influencer on Douyin. With 51 million followers, Ares Cheng, along with his wife, were ranked second.
---
21. 2014 – Muscal.ly Launch Year
The first prototype of Musical.ly was released in April 2014, and the official version was launched in August of that year. After initially designing it as an online self-learning platform, Alex Zhu and Luyu Yang took about six months to build the product. Unfortunately, this did not gain traction, so Zhu and Yang shifted their focus to a platform that incorporates music and video in a social network.
---
22. 2016 – TikTok / Douyin Launch Year
The Chinese company, Bytedance launched Douyin in September 2016. They branded it TikTok when they entered the international market in September 2017, but they still keep the original name in their home country.
---
23. $914.4 Million Estimated Revenue
TikTok was the highest-grossing (non-gaming) app in the world in Q3 2022, with users spending $914.4 million on it. As per Sensor Tower, this brings the total lifetime consumer spend on TikTok to approximately $6.3 billion.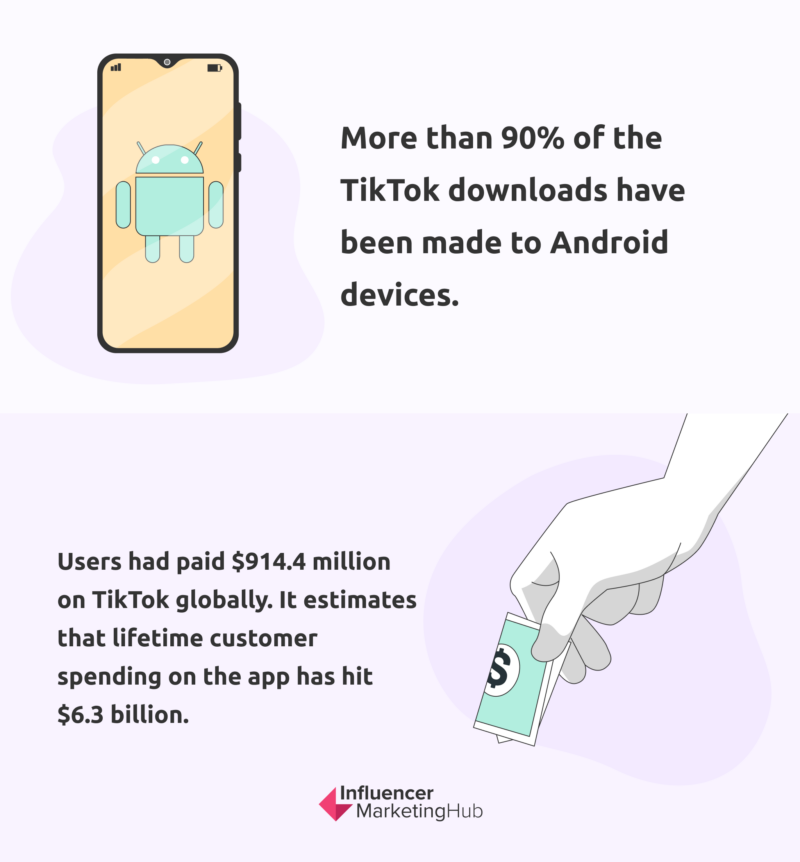 ---
24. Nearly 80% of Revenue Comes From China
Approximately 79 percent of TikTok's revenue was from Douyin in China, followed by 8 percent from the United States. This is a significant change from a few years ago, before the arrival of ads, where 42% of revenue came from the United States, but this excludes income from the app's Chinese Android version. From May to July 2020, Chinese revenue was as high as 89% of the app's total revenue.
---
25. $300 Billion Valuation
ByteDance has a projected market cap of $300 billion, or $170 per share, based on a share buyback program in 2022. Within the last year, its value has dropped by a quarter from its all-time high of $400 billion. In September 2022, the company announced that it would start a program to buy back up to $3 billion worth of shares from its investors.
---
26. $6.3 Billion in Lifetime Consumer Spending
As of September 2022, users had paid $914.4 million on TikTok globally, making it the highest-grossing non-gaming app in the world. It also estimates that lifetime customer spending on the app has hit $6.3 billion. TikTok is also the most profitable non-game app on the App Store. It is the second-most popular app on Google Play, behind Google One. In addition, for the fourth consecutive quarter, it generated the highest revenue of any mobile app, gaming or otherwise.
---
27. More Than 90% on Android Devices
Echoing Android's smartphone market dominance, more than 90% of the TikTok downloads have been made to Android devices. The sole exception comes in the U.S.A., where there are more iOS users.
The vast majority of India's TikTok fans used the Android version of the app.
---
28. Nine Out of Ten TikTok Users Use the App Multiple Times Daily
According to official TikTok statistics, its users are loyal and keep on returning to the app. Indeed, 90% of users use the app multiple times per day.
---
29. TikTok LIVE Boosts Sales
50% of TikTok users are more interested in sponsored LIVE content than non-TikTok users, according to a report by Ipsos. One in three people who watch TikTok LIVE go beyond their initial interest and say that the app is their go-to platform to interact with brands.The survey revealed that TikTok users are more social than non-users in every measurable way. They are 1.6 times more likely to watch branded LIVE to discover new brands, 1.7 times more likely to watch branded LIVE to buy a product, and 2 times more likely to claim LIVE is the most reliable medium to use while shopping.
---
30. CapCut is the 5th Ranked Video Player / Editor in the U.S.A.
As of this writing, CapCut, the official video editor/maker of music for TikTok, ranked third in the top free downloads in the App Store. It's #15 at Google Play.
---
31. 227.81 Million Users in Europe
In 2020, there were 181 million users in Europe. By mid-2022, the platform now has 227.81 million European users. It's projected that by 2027, the numbers will grow to over 281 million, indicating a steady but modest growth for TikTok.
---
32. Nearly 6% Engagement Rate
A July 2022 study revealed that TikTok had a higher engagement rate the rest of the platforms. The report stated that influencers had an average engagement rate of nearly 6% compared to Instagram's average engagement rate of 1.41%.
---
33. Roughly half of TikTok users in the US were between the ages of 18 and 34
As of April 2022, nearly half of TikTok users in the US were between the ages of 18 and 34, becoming the platform's largest demographic group. 17.7% of TikTok's American user base consisted of people aged 12 to 17, while 2.5% were 11 years old or younger.
---
34. 68% Watched Someone Else's Videos
68% of engaged TikTok users claim to have watched somebody else's video.
---
35. 63% Liked Someone Else's Video
63% of engaged TikTok users claim to have liked a video in the last month.
---
36. 63% Followed Someone in the Last Month
63% of engaged TikTok users claim to have followed someone in the last month.
---
37. 55% Uploaded a Video in the Last Month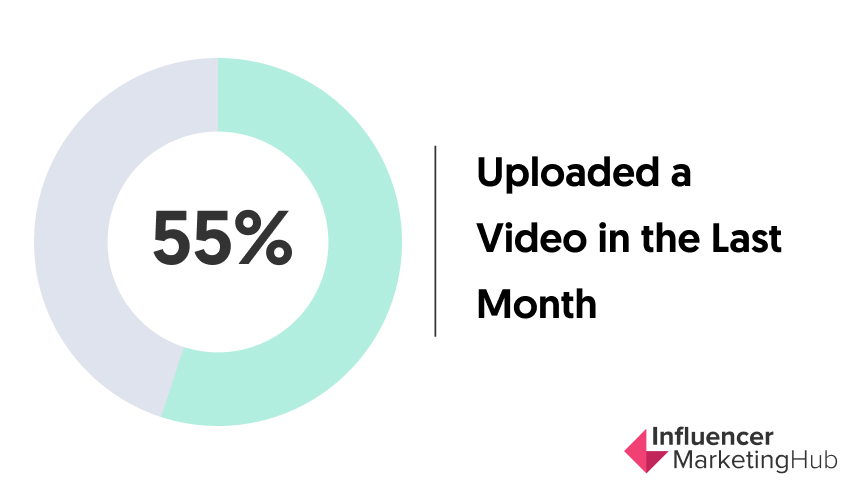 55% of engaged TikTok users claim to have uploaded a video in the last month
---
38. 54% Commented on a Video
54% of engaged TikTok users claim to have commented on somebody else's video in the last month.
---
39. 43% Uploaded a "Duet" Video
43% of engaged TikTok users have uploaded a "Duet" video.
---
40. TikTokers Like to be on Top of the Latest Trends, As Well as Create New Ones
G.W.I. asked TikTok users to describe themselves. G.W.I. measured their descriptions compared to the average internet user (who would have scored an IDX of 1.0). 22% of the survey respondents considered themselves a musician or audio creator. This is 19% more than the average internet user, i.e., an IDX of 1.19.
38% of the respondents considered it important for them to get music they care about as soon as it comes out. This was 17% higher than the average internet user, i.e., an IDX of 1.17.
---
41. The Top TikTok US Track "Sunroof" Was Used 8.9 Million Times
TikTok users made 8.9 million videos with the top US song "Sunroof" by Nicky Youre & dazy. The flex-heavy hit L$d by Luclover ranks second on TikTok's 2022 US Trending Tunes chart. Yung Lean's Ginseng Strip 2002 comes at third place (the song tops TikTok's 2022 Trending Tunes Around the World). Lizzo's About Damn Time and Pharrel William's Just A Cloud Away round out the top five.
---
42. Justin Bieber Attracted 4 Million Viewers to a TikTok Live Stream
Justin Bieber held a TikTok Valentine's Day livestream in February 2021. It drew more than 4 million unique viewers over two broadcasts on the Sunday and Monday. It was the first full-length single-artist live performance on TikTok.
---
43. 1.9 Billion Website Views
According to Similar Web, the global website rank of TitTok.com is 14, and it earned the 20th spot in the US. So far, the website has attracted 1.9 billion visits, with an average of 9.84 pages per visit. The bounce rate is 41.58%.
---
44. 59 Alexa Ranking
In early January 2022, TikTok's website had an Alexa ranking of 59 (i.e., Alexa estimates the site to be the 59th most viewed website globally in terms of internet engagement). This compares to an Alexa ranking of 74 in early July 2021, 102 in early March 2021, 412 in early March 2020, 3,225 in early January 2019, and 4,778 in mid-November 2018. This change clearly demonstrates the increased popularity of TikTok in recent times.
---
45. 2.7 Billion Views for #ThinBlueLine
TikTok's support base is widening – it is no longer just a site for short music videos and lip-synching. For example, the #ThinBlueLine hashtag, featuring law enforcement videos, has received 2.7 billion views. This is a sizable increase from the 2.3 billion views in the 2021 version of this post and a massive increase from the 530.1 million views in 2020 and 37 million views in 2019.
---
46. Lizzo, The Self-Proclaimed TikTok Queen, Leads #TheHitmakers2022
The TikTok year-end report states that in the US Lizzo tops the app's #ForYou feeds and charts. Along with the Queen of Tiktok, Bella Poarch, Bad Bunny, Charlie Puth, Doja Cat, Selena Gomez, Nessa Barrett, Yung Gravy, Billie Eilish, and Meghan Trainor have the most video views in the US.
---
47. 67% of U.S. Teenagers Are Regular TikTok Users
Among teens, TikTok is the second most popular social media platform, based on a recent survey by the Pew Research Center. 67% of teenagers use TikTok at least once a week, and 16% use it almost all the time. YouTube topped the list, with Instagram and Snapchat trailing behind TikTok.
---
48. ByteDance Valued at $300 Billion
On the secondary market for private equity, ByteDance was recently valued at over $300 billion, or nearly $170 per share. The figure slid down from last year's peak of approximately $400 billion.
---
49. TikTok Is (and Was) Banned in Several Countries
TikTok has grown tremendously since its launch. But despite its undeniable success, TikTok is fraught with controversy in many parts of the world . Some nations have temporarily or permanently banned TikTok.
India has permanently banned TikTok as it is perceived as a threat to national security, data privacy, and cybersecurity. Afghanistan banned TikTok in the start of 2022. The Taliban said that the restriction would prevent misinformation among the youth. The restriction has not yet taken effect as of May 2022, and it is unknown if it will be permanent.
Pakistan, Bangladesh, and Indonesia previously blocked TikTok but have recently restored access. TikTok censorship has been seen in Armenia, Azerbaijan, and Syria as well. Concerns over pornography, mitigating misleading information that could lead to violence, and anti-trafficking laws are among the reasons for the restriction in these countries.
In the United States, TikTok is being reexamined related to issues over the quantity of user data the app sends to China.
---
50. 20% of Those with Household Income of More Than $75,000 Have Used TikTok
According to Pew Research's survey on the use of online social platforms by U.S. adults, TikTok is used relatively evenly by people across the income spectrum. 22% of those who earn under $30K claim to have used TikTok, as do 29% of those making $30K-$49,999, 20% of those earning $50K-$74,999, and 20% of those earning $75K+.
According to older research quoted by MarketingCharts, 37% of TikTok's U.S. users come from households with $100,000 or more income.
---
51. Over 15% of US TikTok Users Make Less Than $25,000 Per Year
The Khoros 2022 Social Media Demographics Guide says that 15.4% of TikTok users in the US have an annual household income of less than $25,000. 11.2% of them earn between $25,000 and $40,000, while the average income of 12.4% of American TikTok users is between $40,000 and $60,000. The report also said that 7.2% of TikTok users in the US have an annual household income of $60,000 to $75,000, and 13.6% have an average net worth of $75,000 to $100,000. Lastly, 40.2% of TikTok users in the U.S. come from homes with an income of $100,000 or more.
However, it is also relatively popular with low-income families. 18% of its users claim to be from households earning less than $25,000 per annum. These statistics will be skewed by excluding those under 18 – a large proportion of TikTok's target audience. Also, many lower-income households could well be student flats, poor now, but potentially well-off once they graduate.
---
52. More Females Use TikTok Than Males in Most Markets
WeAreSocial looked at the gender balance of (adult) TikTok users worldwide. Overall, TikTok has more female followers (56.1%) than males (43.9%). This female dominance is particularly evident in Indonesia (66.0%) and the Philippines (65.9%).
According to TikTok's ad audience stats for July 2022, 56.2% of TikTok's global users are female and 43.8% are male.
---
53. Women Rule TikTok
As of January 2022, 57% of TikTok users are female. Similarly, most TikTok creators are women (53.79%). The largest age group of TikTok users is women (23.8%) between the ages of 18 and 24.
---
54. Saudi Arabia has the highest TikTok reach
According to a January 2022 report, 87.9% of Saudi Arabia's population aged 18 and up uses TikTok. The United Arab Emirates came in second with an approximate 81.3% share. Kuwait with 75.4%, Thailand with 63.3%, and Qatar with 62.1% round out the top five. TikTok was used by about half of the digital population, or 131 million people in the US.
---
55. By 2025, there will likely be 835 million Chinese users of Douyin
A large number of Chinese people use the social video app for a wide range of reasons. In China, there will be more than 693 million Douyin users in 2022, 747 million in 2023, 795 million in 2024, and more than 835 million in 2025.
---
56. In China, Douyin is the go-to app for sharing short videos
Douyin has become the most downloaded app in China as of July 2022. Bytedance's TikTok has 715 million monthly active users. Bytedance owned not only Douyin, but also the famous short video platforms Xigua and Huoshan.
---
57. TikTok's Users Are Aging with the App
The following are the percentages of TikTok users by age in the United States:
10 to 19 years old: 32.5%

20 to 29 years old: 29.5%

30 to 39 years old: 16.4%

40 to 49 years old: 13.9%

50 years old and above: 7.1%
TikTok will experience the most growth in the next few years since it has the most chance to grow among the oldest and youngest age groups. In 2022, the number of users older than 65 rose by 13.4%, while the number of users aged 0 to 11 grew by 12.9%. TikTok is presently used by more than half of the population in the US between the ages of 12 and 34.
---
58. Dior is the most talked-about luxury brand on Douyin for 2022
Dior is currently the most popular luxury brand on Douyin in 2022. Between August 7 and 13, 2022, more than 202 000 "Dior" searches were made on Douyin. Coach and Cartier finish in second and third place, respectively.
---
59. #Dog on Tiktok Amassed 244.8 Billion Views
The Golden Retriever is by far the most popular breed on TikTok in 2022, with an incredible 21.2 billion views using the hashtag #goldenretriever. The German Shepherd comes in second with 9.1 billion views. With 8 billion views, #Rotweiler takes third place. The pug and french bulldog are ranked fourth and fifth, with 6.7 billion and 5.4 billion views, respectively.
---
60. Fastest Growing Brand of 2022
Brand Finance reported that TikTok is the world's fastest-growing brand. The app's brand value went up by 215% this year. The brand is now worth $59.0 billion, up from $18.7 billion last year. It is the highest new entry to the Brand Finance Global 500 2022 list, placing it 18th among the world's top 500 most valuable brands.
---
61. Youngsters Watch TikTok over YouTube
TikTok is currently more popular among children and teenagers than YouTube. In June 2020, young people spent more time on TikTok than on YouTube for the first time. They spent 82 minutes a day on TikTok, while they spent 75 minutes a day on YouTube.
TikTok has maintained its dominance among younger users in the years thereafter. By the end of 2021, kids and teens were spending an average of 91 minutes per day on TikTok, compared to just 56 minutes per day on YouTube.
---
62. Users under the age of 16 have private TikTok accounts by default
In January of last year, TikTok changed its privacy settings so that accounts for users under 16 are private by default. This means that other users need to be approved before they have access to the child's content and interact with it.
---
63. TikTok was the Most Blocked Social Media App by Parents
Quastodio also observed that just as TikTok became the most used social media app for kids in 2020, it also rose to become the most blocked by parents globally and across all surveyed regions. TikTok was followed by Instagram, Snapchat, and then Facebook in that order for parental blocking.
---
64. Charli D'Amelio and Khaby Lame are TikTok Top-Earners
Charlie D'Amelio is still the highest-paid TikTok content creator. The 18-year-old dancer is earning $105,770 per post and has since partnered with some impressive brands, like Invisalign and Dunkin' Donuts. She, along with her family, has a Hulu series, The D'Amelio Show.
Khaby Lame has the most TikTok followers as of June 2022. The 22-year-old social media sensation earns $92,270 per post. He's landed high-profile collaborations with international footballers and brands such as Xbox and Hugo Boss.
---
Check out the leading TikTok Marketing Agencies Here
Frequently Asked Questions
How do you check TikTok stats?
To check your TikTok stats and analytics:
Go to your profile

Open Settings and Privacy

Under your account, choose the Creator Tools tab

Select Analytics
What are good TikTok statistics?
One of the most important TikTok statistics is that the platform has around 80 million monthly active users in the US. Of those users, 60% are female, 40% are male. 60% of the users are between the ages of 16-24 years old. 26% are between the ages of 25-44.
What are the social stats of TikTok?
These are key TikTok statistics:
1. On average, users spend more than 1.5 hours per day on TikTok
2. In Q2 of 2022, TikTok surpassed 1 billion monthly active users
3. 3.5 Billion Installations
4. 167 Million TikTok Videos Watched in an Internet Minute
5. About 18 million people in the US have downloaded TikTok from the Apple App Store
What age range is TikTok?
As of 2023, 21.5% of TikTok's global audience were women between the ages of 18 and 24 years old. Male users of the same age account for 17% of the platform's audience.