Advertising Disclosure
Advertising disclosure:
Our partners compensate us. This may influence which products or services we review (also where and how those products appear on the site), this in no way affects our recommendations or the advice we offer. Our reviews are based on years of experience and countless hours of research. Our partners cannot pay us to guarantee favorable reviews of their products or services.
In an intensely competitive landscape, capturing customer attention and retaining their interest is crucial for B2C businesses. To achieve this, they need to enhance engagement through better targeting approaches, hyper-personalized experiences, seamless transactions, and effective influencer management. Streamlining marketing efforts is a must, and B2C marketing automation offers a solution.
By leveraging automation tools, B2Cs can optimize their marketing processes, manage influencers and affiliates, nurture customer relationships, and achieve higher conversion rates.
---
Top B2C Marketing Automation Software and Tools for Business Growth:
---
What is marketing automation, and why is it essential for B2C success?
Marketing automation is the use of technologies to automate repetitive tasks and streamline workflows. In B2C marketing, automation focuses on the needs and preferences of individual customers. It involves the creation of relevant, timely, and engaging interactions.
B2C marketing automation is essential for several reasons. First, it allows businesses to effectively manage large customer databases and segment audiences based on several criteria, such as demographics, behavior, and preferences. This segmentation facilitates targeted messaging and personalization, which, in turn, boosts customer engagement and conversion rates.
B2C marketing automation also helps businesses automate routine tasks such as email marketing, social media posting, lead nurturing, influencer management, and customer onboarding. With repetitive tasks out of the way, marketers can focus on developing and implementing strategies for growth.
Lastly, marketing automation enables businesses to accurately measure and efficiently optimize their marketing initiative. Augmented by modern technology, automation can provide valuable insights and analytics that enable businesses to make smart decisions based on reliable data.
---
Top 10 B2C Marketing Automation Software and Tools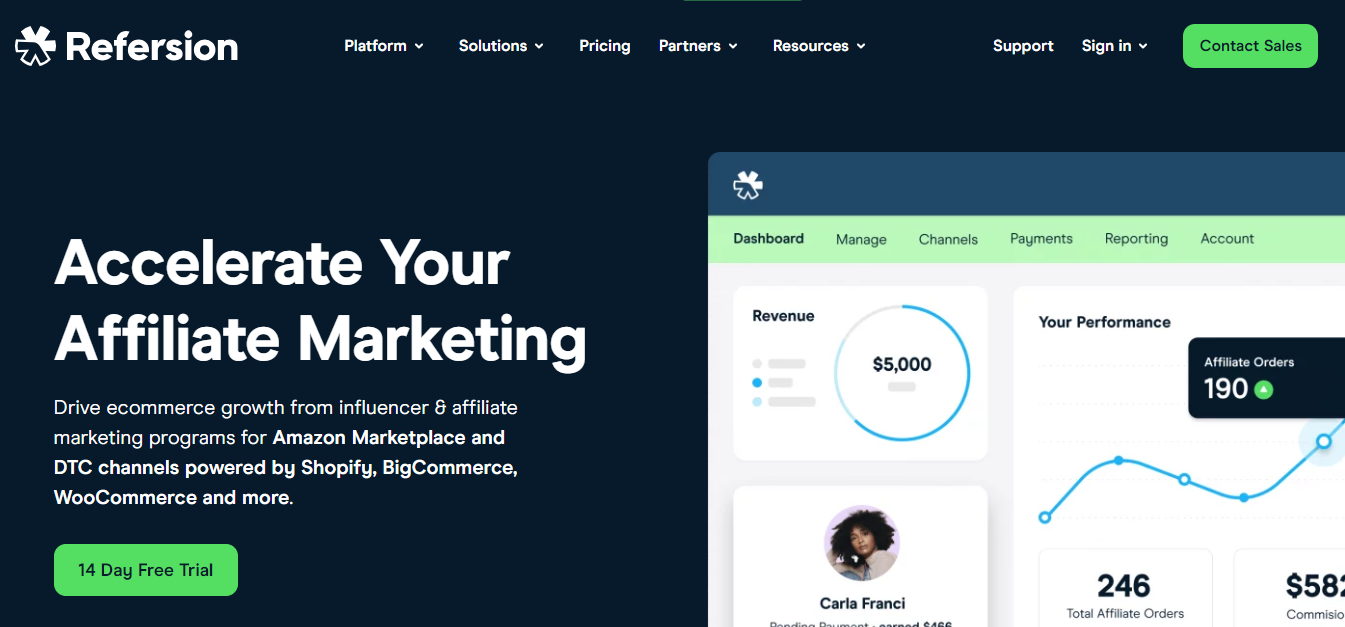 Refersion is an affiliate marketing platform that supports multiple channels, including Amazon, Shopify, BigCommerce, WooCommerce, and other direct-to-customer channels and marketplaces. It can manage, track, and optimize ambassador, influencer, and affiliate marketing programs. With Refersion, businesses can accelerate their affiliate marketing efforts and achieve up to 5X ROI. Its user-friendly interface and effective management tools have earned the trust of popular brands worldwide.
Refersion has robust automation features and integration capabilities that optimize marketing outcomes. You can onboard an unlimited number of affiliates, track their performance with detailed reporting, and ensure timely payments with custom commission structures. Since Refersion integrates seamlessly with other platforms and marketing apps, you can also manage all performance marketing relationships in one centralized platform.
Aside from letting you easily manage influencers and creators, Refersion also enables you to reward your loyal customers, friends, and fans for advocating your brand through word-of-mouth marketing. All these let you maximize the potential of your affiliate partnerships and customer relationships.
Pros:
No technical expertise required for setup and management

Efficient tracking of affiliate links and sales

Enhanced visibility through the Marketplace
Cons:
Price can be steep and prohibitive
---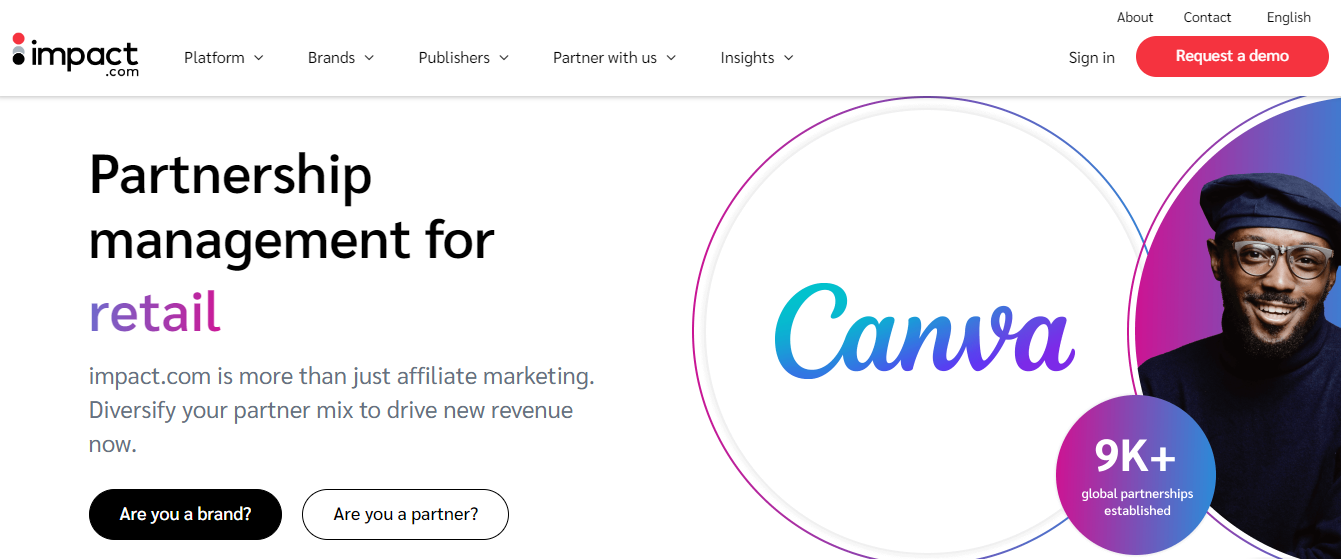 With a powerful suite of automation tools, Impact.com allows brands to simplify partnership management and scale every type of partnership. It offers streamlined workflows and customized tracking technology that helps businesses manage their unique partnerships with ease. By handling the intricacies of contracting, performance tracking, and data-sharing, Impact.com provides businesses with the flexibility to work with a wide variety of partners on a single platform. This eliminates the need for in-house custom solutions.
Its robust analytics make it easy to compare performances with accuracy. Armed with broad and deep insights, Impact.com lets you adjust your tactics in real-time, enhancing collaboration and improving ROI dynamically. These actionable insights uncover the true value of partner contributions to conversions throughout the customer journey.
Pros:
Superior reporting capabilities

Versatile tracking and attribution features

Customization at a granular level
Cons:
Rigid annual agreements with limited flexibility

Key Features: Influencer Content Amplification, Search/Discovery, Automated Recruiting, Influencer Relationship Management, Influencer Marketplace, Team Collaboration Tools, Content Review, Content Library, Campaign Management, Campaign Reporting, Influencer Analysis, E-commerce Tools, Product/Gifting Tools, Forms and Compliance, Payment Processing,
---
Brandbassador is an ambassador marketing software that empowers brands to optimize their marketing programs. However, it goes beyond simple ambassador management. With its streamlined platform, you can transform your customers into brand ambassadors who can enhance your reach and impact.
When it comes to marketing automation, Brandbassador has an impressive suite of advanced tools. It can automate tasks such as communications, rewards, analytics, ambassador segmentation, and other processes that nurture ambassador and customer relationships. It also has real-time reporting capabilities that can provide you with insights into which campaigns are working and which ones need optimization.
Brandbassador offers a comprehensive integration capability, seamlessly integrating with major eCommerce platforms such as Shopify, Magento, Wix.com, BigCommerce, Woo, and Salesforce. This ensures a smooth and efficient workflow, enabling you to leverage your existing eCommerce infrastructure while benefiting from Brandbassador's marketing automation prowess.
Pros:
Quick overview of vital marketing stats
Easy-to-navigate centralized dashboard
Capacity for creating multiple Missions
Cons:
Occasional glitches and technical difficulties

Key Features: Search/Discovery, Automated Recruiting, Content Library, Campaign Management, Campaign Reporting, E-commerce Tools, Product/Gifting Tools, Payment Processing,
---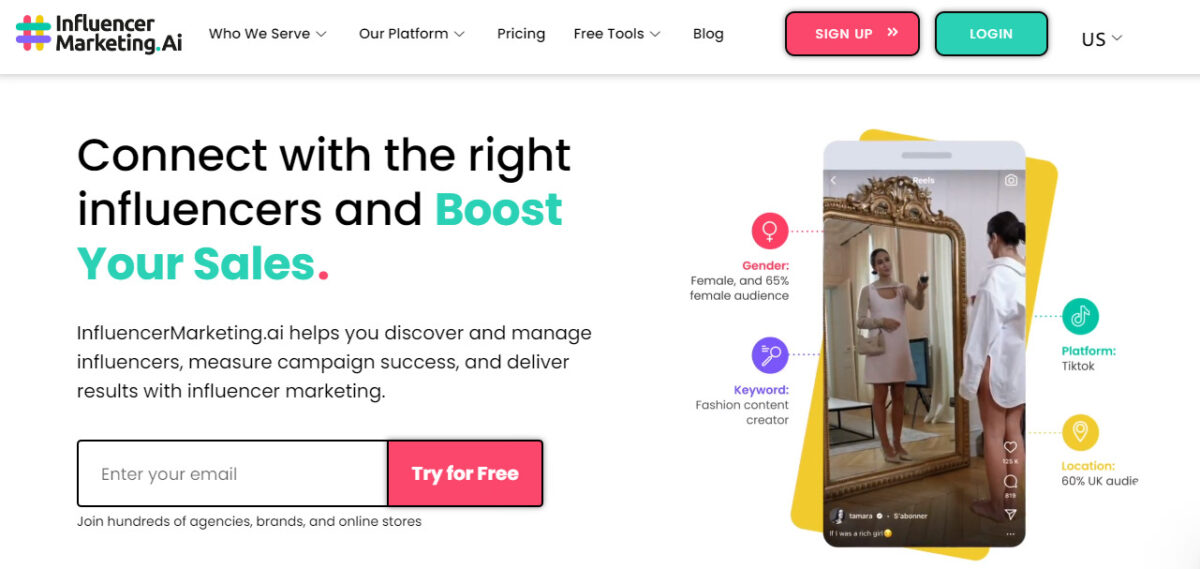 IMAI is an all-in-one influencer marketing platform that caters to the needs of brands, agencies, and online stores alike. Armed with powerful search filters for precise targeting, its dynamic AI system allows users to discover, analyze, and measure over 300 million influencers.
With white-labeling options and proprietary tools, IMAI allows businesses to personalize their experience and create a unique brand identity. Its full automation solution streamlines influencer search and analytics, while the influencer affiliation system simplifies the management of influencer relationships.
It has a dedicated client dashboard, which ensures transparency and facilitates seamless workflow management. Moreover, seamless communication channels, including email and WhatsApp, allow brands to effortlessly connect with influencers and forge impactful collaborations.
Other valuable tools IMAI offers are tracking solutions that provide real-time KPIs and a social listening tool that enhances competitor analysis. With user-friendly features and seamless integration with popular e-commerce platforms, IMAI can support you in the competitive world of influencer marketing.
Pros:
Intuitive interface

Robust audience search categories and filter functions

Transparent and versatile API
Cons:
Some instances of internal bugs and slow loading times

Key Features: Influencer Marketplace, Search/Discovery, Influencer Relationship Management, Team Collaboration Tools, Content Review, Campaign Management, Campaign Reporting, Influencer Analysis, Audience Analysis, White Label Reporting, Fake Follower/Fraud Detection, Payment Processing, Social Listening, Client Relationship Management,
Channels: Instagram, YouTube, TikTok, Twitch, Twitter
---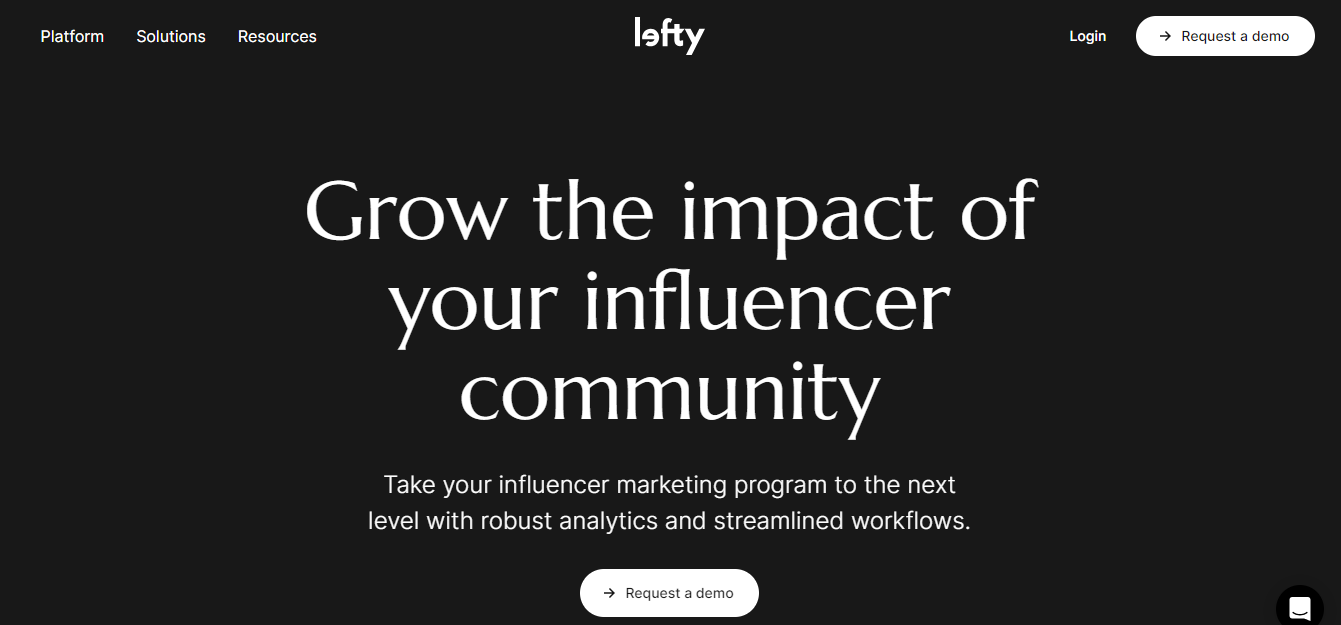 Lefty is a comprehensive influencer marketing platform designed for lifestyle brands targeting growth in Instagram and other social networks. It offers influencer program management, performance measurement, competitive benchmarking, and automated campaign reporting.
With advanced features and streamlined processes, Lefty powers B2C marketing automation. It utilizes smart filters, including historical statistics for targeted influencer discovery. Then, it simplifies influencer relationship management through a centralized dashboard that also includes real-time insights on other business data. Its advanced analytics offer a comprehensive understanding of performance across multiple business units. This allows decision-makers to identify growth opportunities and drive better marketing strategies.
Lefty also has an affiliation feature that integrates social commerce sites. You can connect your online store to the platform, send products to influencers on demand, and establish affiliate programs. You can also automate reporting on conversion rates, click rates, and overall sales to further streamline your business processes.
Pros:
Allows Instagram story monitoring

In-depth insights into collaborations

Full campaign visibility
Cons:
Some issues in loading and tracking data

Key Features: Search/Discovery, Influencer Marketplace, Team Collaboration Tools, Content Review, Campaign Management, Campaign Reporting, Influencer Analysis, Audience Analysis, Competitor Research,
Channels: Instagram, YouTube
---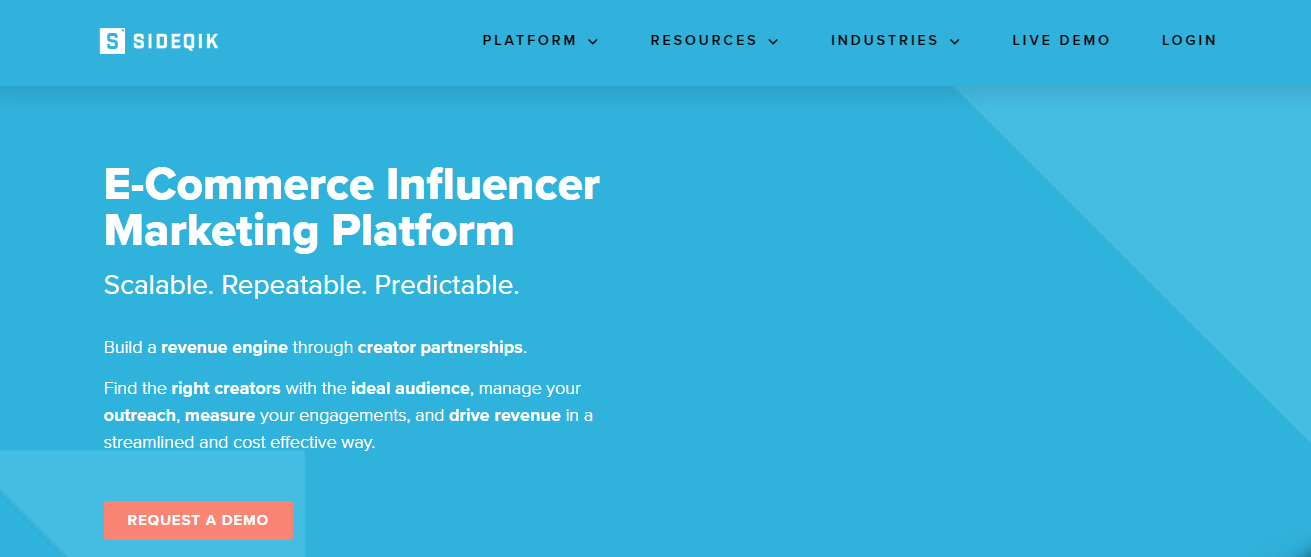 Sideqik is a data-driven automation platform for influencer marketing. With its full suite of tools, you can easily discover the right influencers who align with your brand, manage collaborations and campaigns, and quantify influencer ROI to drive revenue growth.
Smart Search lets you find influencers with optimal brand alignment while collaborative workflow tools streamline communication and campaign management. It has promotion widgets that enable easy participation measurement and audience growth. Its intuitive dashboard provides visibility into conversions, earned media value, revenue, and other metrics. It also allows for seamless integrations with your CMS, CRM, e-commerce platform, and other systems, making your marketing stack cohesive and efficient. All these features make Sideqik a valuable addition to your marketing automation arsenal.
Pros:
Simplified discovery process

Capabilities for social and digital activations

Versatile tracking for multiple campaigns and influencers
Cons:
Cluttered user interface in the admin portal

Key Features: Search/Discovery, Automated Recruiting, Team Collaboration Tools, Content Review, Content Library, Campaign Management, Campaign Reporting, Influencer Analysis, Audience Analysis, Influencer Content Amplification,
Channels: Facebook, Instagram, Pinterest, Twitch, Twitter, YouTube
---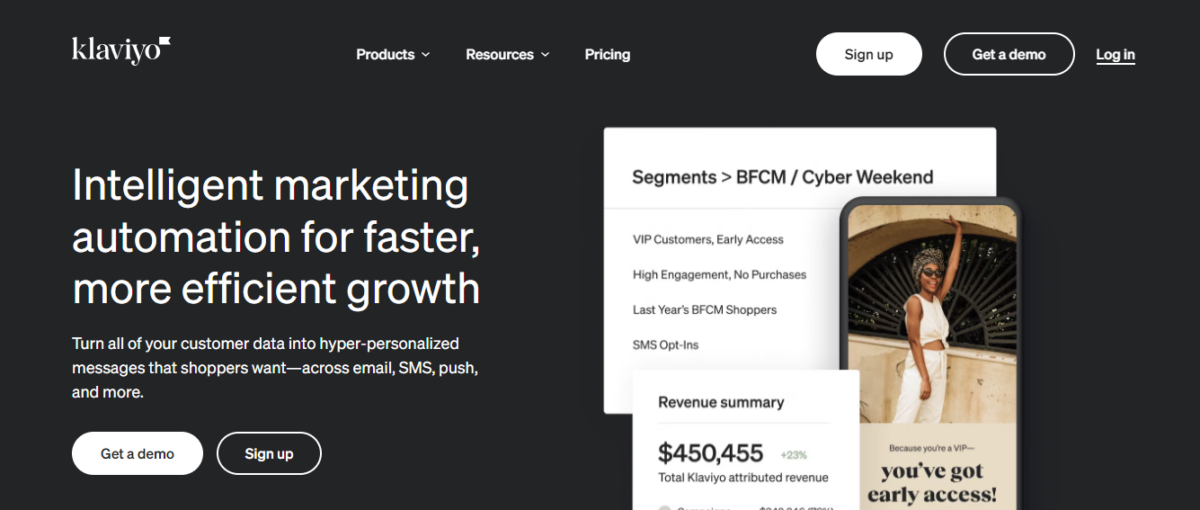 Klaviyo is an email marketing automation platform designed to power growth for e-commerce businesses. With its powerful segmentation capabilities and pre-built automation templates, Klaviyo enables businesses to create targeted, behavior-triggered email campaigns. Its deep integration with e-commerce platforms provides businesses with valuable insights into customer behavior, purchase history, and product recommendations.
With accurate and reliable customer data, you can create hyper-personalized messages across various channels, such as email, SMS, and push notifications. Its advanced segmentation capabilities let you target customers based on their profile information, behavior, location, predicted lifetime value, and other criteria. It has behavior-based automation that allows trigger-based messaging driven by engagement, event data, predictive analytics, and AI-driven optimization.
What's great about Klaviyo is its simple and easy-to-use interface. Any marketer can run complex marketing operations without the need for a team of engineers, developers, and IT experts. Its pre-built automation templates, easy-to-install integrations, and extensive learning resources equip you with the tools you need to deliver campaigns that drive business growth.
Pros:
Professional images and layout designs

Versatile customization for streamlined campaigns

Easy template building with universal blocks
Cons:
Support can be difficult to reach
---

When it comes to email marketing and automation, Mailchimp is probably the most recognizable brand worldwide. Over the years, it has evolved into a powerful marketing automation platform backed by a proprietary intelligence engine.
Mailchimp combines data science and artificial intelligence to automate tasks, including audience segmentation, customer journey mapping, and content personalization. Through predictive segmentation and smart targeting, you can identify the right audience to target, boost engagement, and increase conversions. Its automated customer journey maps allow you to deliver unique experiences that enhance customer retention and loyalty. It enables seamless integrations with other tools for data and analytics, letting you monitor performance and make data-driven marketing decisions.
Pros:
Drag and drop content creation editor

Accurate and timely email sequence

Very good delivery rate
Cons:
Steep learning curve for advanced features
---

ActiveCampaign merges personalization and automation within one centralized platform. It connects every tool and channel business use in every stage of the customer lifecycle. It is packed with over 500 pre-built automations for email marketing, CRM, and other aspects of marketing automation. Its extensive integration options further enhance its capabilities to propel business growth through better customer relationships.
With its robust automation capabilities, you can create complex, personalized workflows based on customer behavior and preferences. Using its advanced segmentation options, dynamic content personalization, and a visual automation builder, you can deliver highly tailored experiences and nurture lasting relationships with your customers.
Pros:
Powerful reporting capabilities with detailed analytics

Visually appealing and user-friendly design

Vast training and support documentation library
Cons:
Some user-reported issues with the API
---

Marketo Engage redefines marketing automation by enabling marketing and sales teams to orchestrate personalized and measurable customer engagement at every touchpoint. It brings together customer data, content creation tools, marketing automation, and advanced analytics in a centralized marketing hub.
With Marketo Engage, you do not have to deal with batch and blast campaigns and unqualified leads. You can attract, segment, and nurture your customers at every stage of their journey. You can easily track each touchpoint, generate valuable insights from accurate data, and effectively optimize your marketing campaigns.
Marketo Engage allows you to leverage AI to build predictive audiences and segments, nurture leads across all channels, and personalize experiences through active listening and triggered content. With rich behavioral data, built-in intelligence, and sophisticated journey flows, you can identify and engage your best customers.
Pros:
Dynamic content option

Contains all critical functionality required for full marketing automation

Constant updates and addition of new modules and integrations
Cons:
May not be ideal for beginners or small businesses
---
---
Best Practices in B2C Marketing Automation
Implementing B2C marketing automation requires careful planning and strategic execution. To make the most of marketing automation tools, businesses should follow best practices that maximize customer engagement, conversion rates, and overall success.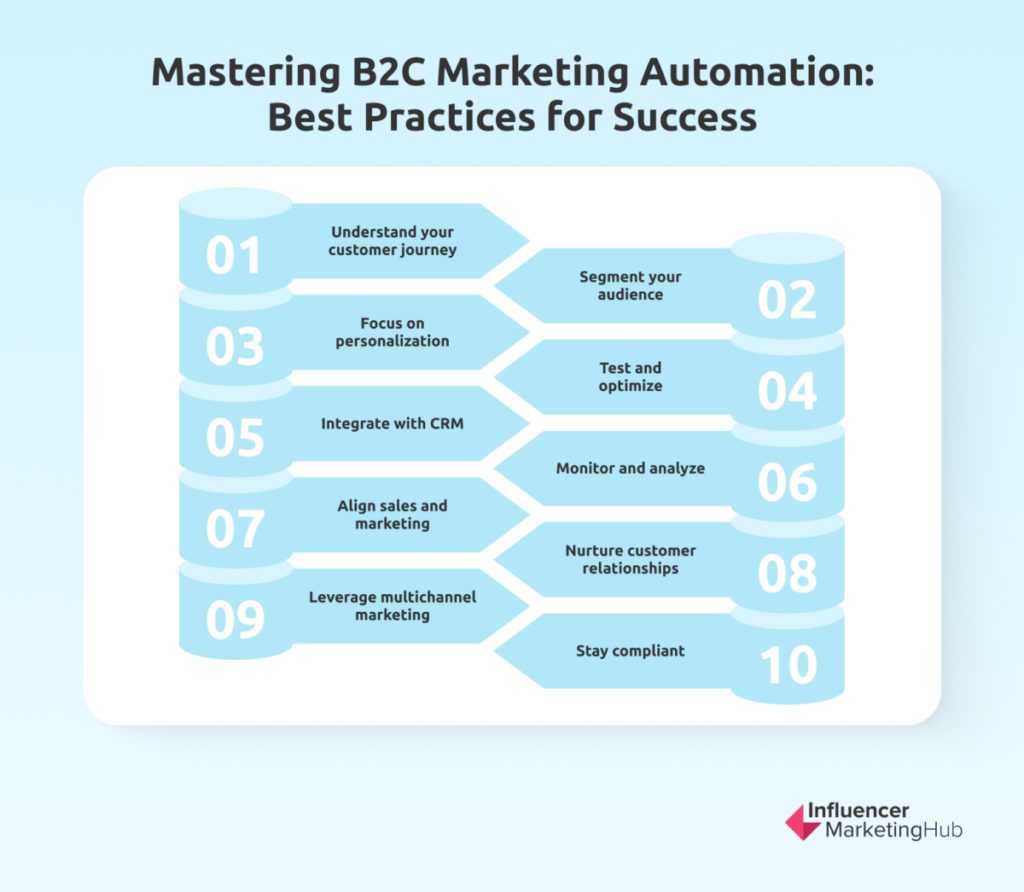 1. Understand your customer journey. Map out your customer's journey and identify key touchpoints where automation can enhance their experience.
2. Segment your audience. Divide your audience into meaningful segments based on demographics, behavior, and preferences to deliver personalized messaging.
3. Focus on personalization. Leverage automation tools to deliver tailored content and recommendations that resonate with each customer.
4. Test and optimize. Continuously test different automation strategies, messages, and channels to refine your campaigns and improve results. Strive to deliver immersive customer experiences that amplify engagement.
5. Integrate with CRM. Integrate your marketing automation software with your CRM system to ensure seamless data synchronization and a unified view of the customer.
6. Monitor and analyze. Regularly monitor campaign performance, customer behavior, and key metrics to gain insights and make data-driven decisions.
7. Align sales and marketing. Foster collaboration between your sales and marketing teams to ensure a seamless customer journey from lead generation to conversion.
8. Nurture customer relationships. Implement automated email campaigns, personalized recommendations, and loyalty programs to keep customers engaged and encourage repeat purchases.
9. Leverage multichannel marketing. Utilize automation tools to deliver consistent messaging and experiences across email, social media, mobile, website, and other relevant channels.
10. Stay compliant. Adhere to data protection regulations and obtain proper consent for storing and utilizing customer data.
---
Embrace the Power of Automation with B2C Marketing Software
B2C marketing automation software revolutionizes your marketing efforts, enabling you to streamline processes, create personalized customer experiences, and drive impressive conversion rates. By adopting the right tools and implementing best practices, you can effectively nurture customer relationships, optimize campaigns, and outperform competitors in the dynamic business landscape. Discover the potential of B2C marketing automation by harnessing the power of top-notch marketing automation tools and software.
Frequently Asked Questions
What advantages does B2C marketing automation offer?
B2C marketing automation offers numerous advantages, including enhanced customer engagement, elevated conversion rates, time savings through automation, heightened personalization, refined targeting, and segmentation, and informed decision-making driven by data analysis.
What are the main benefits of B2C marketing automation?
B2C marketing automation offers several benefits, including improved customer engagement, increased conversion rates, time savings through automation, enhanced personalization, better targeting and segmentation, and data-driven decision-making.
What are some popular B2C marketing automation metrics to track and analyze?
Key metrics to monitor in B2C marketing automation include conversion rates, click-through rates, email open rates, customer lifetime value, customer acquisition cost, lead scoring metrics, and engagement metrics across different channels.
Can B2C marketing automation work for small businesses?
Yes, B2C marketing automation can be highly beneficial for small businesses. Many automation tools offer scalable solutions suitable for businesses of all sizes. By automating repetitive tasks and personalizing customer interactions, small businesses can improve efficiency, reach their target audience effectively, and compete with larger competitors.
How can businesses ensure successful implementation and adoption of B2C marketing automation?
Successful implementation requires thorough planning, selecting the right automation software, training staff, aligning marketing and sales teams, continuously monitoring and optimizing campaigns, and staying updated with industry trends and best practices. It also requires a holistic approach where automation is implemented across all marketing channels, including influencer management.