If you're interested in selling products, becoming an Amazon influencer can be a good alternative. Without taking on any risk (you don't need to spend money on inventory or worry about running costs), you can still enjoy the rush of selling products, albeit not your own.
The Amazon Influencer Program has been around for a couple of years already. Unlike Amazon's affiliate program, it's more difficult to get accepted, though. That said, it's far from impossible.
The challenging part actually isn't to get your storefront up and running, but to get accepted. Once you've been allowed to join the program, it's pretty straightforward. Plus, as you already have a solid social media presence and the social media skills, you don't have to start from scratch.
Does applying to the Amazon Influencer Program sound like the next logical step for you? Here's how.
---
How to Become an Amazon Influencer a Step-by-Step Guide:
---
What's an Amazon Influencer?
Amazon influencers are content creators that promote products sold on Amazon via social media. Instead of creating traditional ads, they'll create and use social media content to market the product to their followers on TikTok, YouTube, Facebook, and/or Instagram and direct them to their Amazon storefront.
The content that they create and share typically takes the shape of product recommendations. Using the unique URL that they've received from Amazon, they can then redirect their social media audiences to their custom storefront.
From fitness influencers to beauty bloggers to fashion influencers, there are many different types of very successful influencers on Amazon. Plus, not only did they manage to grow their own personal brand by creating a passive income source, but they've also given Amazon sellers a more cost-efficient marketing strategy.
---
More About the Amazon Influencer Program
Launched in 2017, the Amazon Influencer Program (not to be confused with the Amazon Associates Program) helps influencers to create an extra revenue stream via a number of ways.
For example, influencers can:
Create their own storefront to market products

Share the URL of their Amazon storefront on social media platforms

Share affiliate links on social media platforms
To become an Amazon influencer, you don't have to be an affiliate, but you'll still need to apply and get approved (and the marketplace can be quite fussy about who may become an influencer). That said, there isn't a strict requirement list. To become one of their influencers, you need to:
Reside in the USA, Canada, UK, France, Italy, Germany, Spain, or India (or operate a business in one of these countries)

Have a profile on TikTok, or a Facebook business account, Instagram business account, or YouTube account along with a sizeable, engaged following (there's no minimum follower count as engagement is more important)

Have an Amazon account
As mentioned, it's not the same as the Amazon Associates Program. While they work similarly (with both you can earn a commission), anyone can basically join the Amazon Associates Program.
---
Earnings Potential of Amazon Influencers
Every time an Amazon influencer's recommendations convince one of their followers to buy a product on Amazon, they'll earn a commission or a bounty. Not only can they earn money, but depending on the Ts and Cs, they can also get free products or services as samples.
The amount of commission that you can earn will be based on the products. For example, for qualifying purchases of products within the Amazon Games product category, influencers can earn a fixed commission rate of 20%. This is the highest commission.
For other product categories, it ranges anything from 1% to 10%.
To give you an idea, here are some of the other commission rates: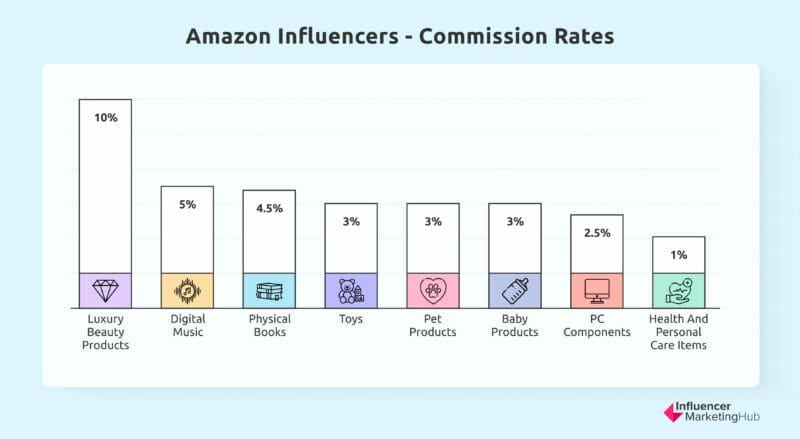 If you're interested in focusing on bounty events instead, here's what you can expect:
$2 for every successful registration for an Amazon Prime Free Trial

$3 for every successful creation of an Amazon Baby Registry with at least one product added to it

$5 for every successful sign-up for The Drop Text Alerts

$10 for every successful registration for an Audible Premium Plus Membership
You get the idea.
While these amounts might be small, they can add up. According to Small Biz Trends, this can add up to as much as $1,500 each month.
---
Steps to Becoming an Amazon Influencer
If you have a substantial social media following and you like the idea of earning commission, albeit a small percentage, here's how to become an Amazon influencer. It basically takes just three simple steps.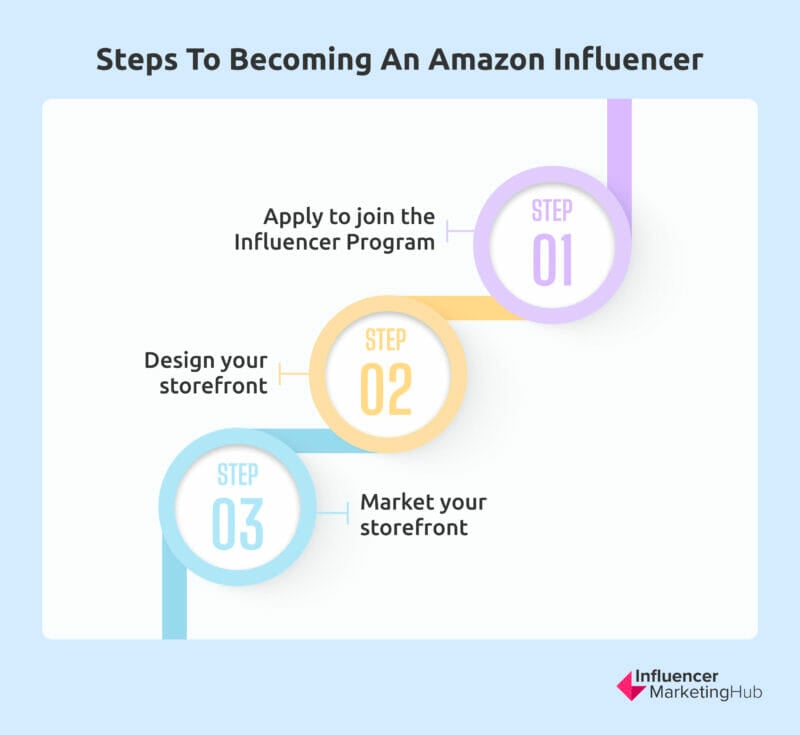 Step #1: Apply to join the Influencer Program
Go to the Amazon Influencer page and click on the "Sign Up" CTA in the image at the top. Next, you'll be asked to select the type of Amazon account.
You can either create a new account so that none of your previous purchases will be linked with your influencer account or use an existing customer account. If you'll be using an existing customer account, your shopping history, product reviews, and lists that you've created and shared on the platform will be linked with your influencer account. It's recommended that those already part of the Amazon Associates program should use their existing account.
If you'll be creating a new account, you'll need to provide your name and email address and create a password.
After sorting out the personal details, you'll be prompted to choose the social media account where you have the most followers, likes, and engagement to see if you're eligible. You can choose between YouTube, Facebook, Instagram, or TikTok. Twitter is currently not included on this list. Also, if you'll be using Facebook or Instagram, you'll need to have a business account (as mentioned earlier).
If your application to join the Influencer Program is unsuccessful the first time around, rest assured that you'll be able to apply again at a later stage. Wait for your followers to grow and engagement to improve and simply apply again.
---
Step #2: Design your storefront
Similarly to members of the Amazon Brand Registry, approved Amazon influencers will also be able to create a special Amazon storefront. That said, don't get too excited about the customization options. Unfortunately, you have limited design options. You're basically restricted to creating lists that showcase the products that you've chosen.
What you can do, though, is add a unique header image and profile photo. These two elements can help to set your storefront apart. So, use it to show your target audience what your brand is all about. For example, if you have your own business logo, you can also add it to your picture and header image.
When you're filling out your storefront, it's best to market products that you actually use yourself. Not only does this help to increase authenticity, but you'll also have an easier time with creating content as you'll be able to showcase yourself using the product and find the overall process more interesting and rewarding.
Sure, the 10% earnings potential of luxury beauty products is much higher than, let's say, toys. However, if you're essentially still just a kid at heart (or a parent), don't try to hide it. Amazon shoppers will be able to tell if you're being inauthentic. After all, why would a father of two market a luxury, vegan facial oil to reduce the appearance of fine lines and wrinkles?
Other factors that will most likely play a role in the types of products that you decide to market are your social networks, your overall personal brand, and the type of content that you typically like to create. For example, if you prefer videos over static images, products that require a demo can work well. On the other hand, if you regard yourself more of a photographer than a videographer, marketing apparel can work in your favor.
If you're feeling low on inspo, be sure to take some time and check out the storefronts that other established Amazon influencers have created.
---
Step #3: Market your storefront
Once your storefront is up and running and you've carefully selected relevant products, it's time to start marketing it.
As mentioned already, much of this marketing activity will involve content creation. From long-form blog posts to short-form videos to static images, there are various types of content that you can create. While you can make a specific product the subject of a review, the challenge, however, is to ensure that it isn't too promotional. In short, your main goal is still to create valuable content, whether that's a blog post, video, or photo.
Then, to maximize the impact of your content, share it on various platforms. While Amazon only asks you to add one social media platform, there's nothing preventing you from adding the content that you've created around an Amazon product on more than one platform. Sure, Twitter might not be supported, but you can always tweet about what you've discovered and include a relevant link.
This brings us to our next point — link-in-bio tools. The main social media channels let you create a short bio. To help you attract more foot traffic to your Amazon storefront, use a link-in-bio tool. This way, you can include multiple links in your Instagram or TikTok bio, one of which will take your followers directly to your Amazon storefront.
You can, for example, try out Koji or Linktree to help you optimize this critical element. Koji is an eCommerce platform that's been designed with social media sellers in mind. It has hundreds of templates that you can choose from and customize further to match your branding. What's more, it also includes powerful insights, which is especially helpful when you're new to Amazon influencer marketing.
Linktree is another great link-in-bio tool for your Amazon storefront. What makes it such a popular choice for this purpose is that as it has partnered with Amazon there's no need to update your bio link whenever you add a new product. Another useful feature is that you can include an email sign-up link in your Linktree allowing you to stay in touch with your target audience more effectively.
---
The Payment Process
One of the downsides to being an Amazon influencer is that the payments take some time to get processed and paid into your account. As per their payment schedule, you'll receive your commissions only 60 days after the month in which the products were bought has ended. This means that if a customer bought something in July using your unique URL, the payment will only be in your account at the end of September.
Just like with anything else in life, there are also a few Ts and Cs that you'll need to keep in mind. For example, if the customer cancels the order or it hasn't been shipped yet, you won't receive a payment.
So, keep this payment schedule and finer points in mind and plan around it.
---
Wrapping Things Up
Amazon needs no introduction. Whether you're a business owner or customer, you've probably bought something via the marketplace before. While they've come under fire for the working environment that they've created, they still have millions of customers across the world. And, if Prime Day 2022 is an indication of what's still in store, Amazon isn't going anywhere anytime soon.
Not only does Amazon give small- and medium-sized businesses another channel through which they can sell their products, but it also opens up a world of opportunities to social media influencers. Since it was launched five years ago, the program has enjoyed great growth.
Make no mistake, Amazon influencers are benefiting. However, perhaps not as much as the brands that are selling on the marketplace.
So, even if you don't have a social media presence that will get you accepted into the program or you have no desire to become an influencer, the Amazon Influencer Program might serve you in another way. If it's not to help you market your products, then perhaps it's to help you discover new products.