No matter what your age, you've probably live-streamed an event at one point. Most likely, you've live-streamed content multiple times—possibly even multiple times per day.
If TV killed the radio star, then live streaming is probably killing the traditional TV star. From sporting events to music concerts to video gaming to even shopping, various types of content and activities are "going live" on social media nowadays. It has become one of the most popular ways we consume content.
Much of its rapid growth and mass adoption can be attributed to the COVID-19 pandemic. During the past few years, it was the safer option. Now, for many, it's the most convenient option.
If you want to know more about live streaming and how you can use it to grow your business, here are over 70 statistics. Continue reading to discover how its future is shaping up and how you can turn it into a revenue stream.
---
Live Streaming Stats to Help You Create New Revenue Streams:
---
General Live Video Streaming Statistics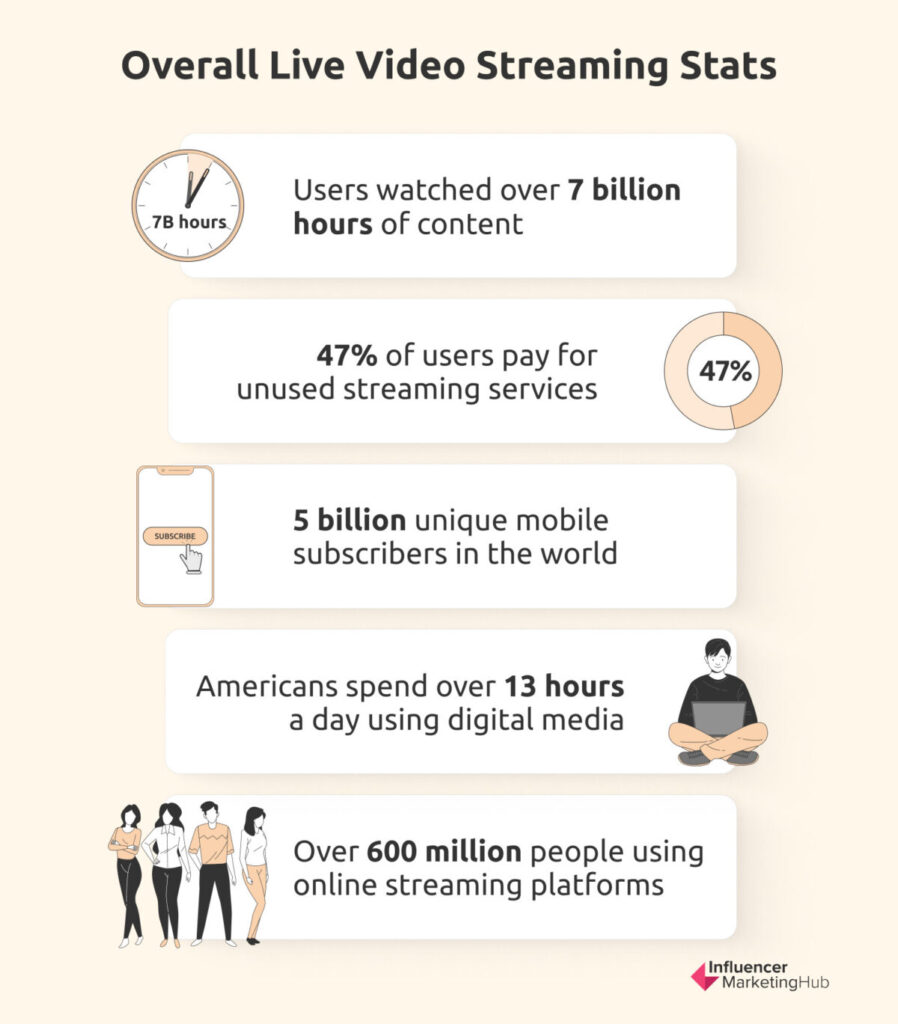 1. In 2023, the global live streaming market grew to $1.49 billion from 2022's $1.24 billion. It's estimated that by 2027, the market will grow to more than $3 billion, indicating a compound annual growth rate of 21.2% (Research and Markets). Furthermore, the global live streaming pay-per-view market is projected to reach $2.4 billion in 2027. One of the industry's main growth drivers is the increasing adoption of e-learning (The Business Research Company).
2. YouTube Gaming streams grew by 13% during Q1 2023, accounting for 17% of YouTube Live's total Hours Watched (Streams Charts).
3. During Q3 2022, users amassed more than 7 billion hours of content watched. Furthermore, over 52% of global users are interested in consuming live branded content (Statista).

4. Global streaming viewing time continues to grow, with Asia (90%) and LATAM (70%) showing the largest growth. In North America, viewing increased by 5% (Conviva's State of Streaming Q2 2022).
5. Cheaper Android devices are the preferred streaming devices for markets outside of North America. That said, iPhones still lead the global race (Conviva's State of Streaming Q2 2022).
6. Because they offer live television options, Hulu and YouTube TV have become more popular with sports enthusiasts (CordCutting).
7. According to a recent Forbes survey, 47% of users are paying for streaming services they don't use (Forbes Home).
8. In 2023, US live video viewers will grow to over 163 million, compared to 2022's 160 million, which indicates a 2.1% growth. As a result of this spike, social media platforms have stepped up their features in response to consumer demand for live streaming content (Insider Intelligence).
9. The average speed of cellular networks in the US shows annual improvement. From 2022's average of nearly 24 Mbps, it's projected to grow to over 27 Mbps in 2023 (Statista).
10. The world now has over 5 billion unique mobile subscribers, and mobile phone adoption has grown by 2.7%, which equates to nearly 150 million new users. Moreover, the number of people using the internet grew by 2.1% or over 5 billion users in July 2023 (DataReportal, GSMA Intelligence).
11. For American consumers, streaming and live TV are two of the most important subscription categories. Furthermore, on average, Americans spend over 13 hours a day using digital media (Forbes Home).
12. Compared to social media posts, product pages, and blog posts, people are twice as likely to share video content with their network (Wyzowl).
13. Live video is still an underrated marketing tool, as only 36% of marketers have used live video content like live streams on social media platforms (Wyzowl).
14. There are several metrics that video marketers use to measure their video content's ROI. These include the number of video views (63%), level of audience engagement (61%), leads and clicks (56%), brand awareness or PR (43%), customer engagement and retention (42%), and bottom-line sales figures (26%). Only 11% of video marketers don't track the ROI of their video content.
15. A study published in 2022 found that there are three key factors that affect viewers' social presence, which, in turn, influence their live streaming watching. These are: a sense of community, interactivity, and emotional support. The study also notes that the streamer's attractiveness also plays a significant moderating role between the viewers' social presence and their live streaming watching (Chen and Liao, 2022).
16. About a third of internet users have identified live video streams as the type of video content that they watch the most each week. Music videos were the most popular category, with over half of internet users revealing that they watch it online each week (Digital 2022 Global Overview Report).
17. Half of internet users aged 16 to 64 have stated that watching videos, TV shows, and movies is the main reason why they use the internet.
18. More than 93% of internet users aged 16 to 64 watch TV content via streaming services each month. It's more common practice among younger audiences, but surprisingly, more than 80% of those aged in their late 50s and early 60s also use this technology.
19. Some of the key players in the live streaming market include AfreecaTV Co. Ltd, Amazon, Facebook Inc., Google LLC, Instagram Inc., Microsoft Corporation, and Twitch Interactive Inc. (Research and Markets).
20. There are more than 600 million people who use online streaming platforms, and Spotify is still the world's most popular music streaming service, accounting for over 30% of all streaming subscribers (Statista).
21. In 2022, the live streaming segment had the largest revenue share, accounting for approximately 62.06% of the market share. This growth is mainly driven by the increased demand for digital media services and the enhanced accessibility of quicker internet services (Grand View Research).
---
Live Streaming Stats About Gaming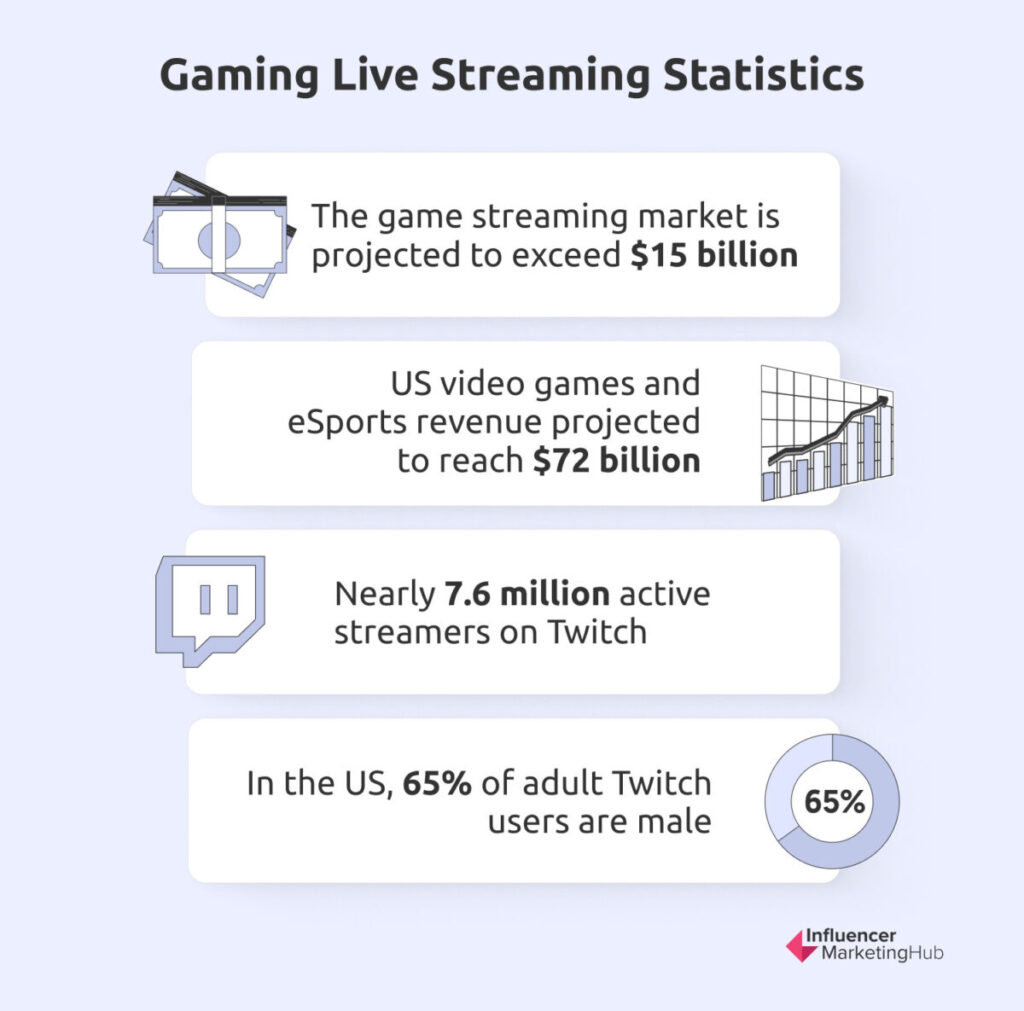 22. It's estimated that this year, the global gaming live streaming audience will reach the one billion mark. By 2025, it's projected that this number will grow to 1.4 billion, indicating a CAGR of 16.3% from 2020's more than 660 million people (Newzoo).
23. The game streaming market is currently valued at nearly $10 billion and is projected to reach over $15 billion by 2028, indicating a CAGR of 10.79%. Some of the main drivers of the industry's growth include the increased adoption of video streaming apps and on-demand video content (Mordor Intelligence).
24. Total video games and eSports revenue in the US alone is projected to reach $72 billion by 2027, which represents a CAGR of nearly 6%. Key growth drivers include omnichannel consumer experiences and packaging and bundling (PwC).
25. In the latest TwitchTracker rankings, Squeezie generated 7.11 million hours watched and had 1.34 million all-time peak viewers in the last 30 days. Squeezie is followed by Eliasn97, who generated 11.6 million hours watched and had 189,931 all-time peak viewers. Gaules is ranked number three for September 2023, with 11.2 million hours watched and 707,648 all-time peak viewers in the last 30 days (TwitchTracker).
26. In July 2023, Twitch had nearly 7.6 million active streamers worldwide, helping it retain its position as one of the world's most popular streaming platforms (Statista). Ninja is still the platform's most followed streamer, with over 18 million Twitch followers (TwitchMetrics).
27. The Asia Pacific region is expected to dominate the game streaming market in the coming years. Key growth drivers of the industry in the region include the popularity of eSports and government initiatives that support the gaming industry's growth.
28. Summer Game Fest 2023 had over 2 million concurrent viewers and garnered almost 4.4 million hours watched. Over 500 channels streamed the Summer Game Fest, which took place in June 2023 and had over 263,000 people who chatted on Twitch broadcasts, which amassed a total of 2.5 million messages. Some of the most discussed game titles during the event include Sonic Superstars, Mortal Kombat 1, and Spider-Man 2 (StreamsCharts).
29. The social and casual gaming category is the largest contributor to the US video games market's revenue, pulling in over $37 billion in 2022. This number represents nearly 69% of the total revenue for video games and eSports. It's projected that by 2027, this category will have a revenue of $53.2 billion (GamesBeat).
30. As the data indicated in March 2023, approximately 65% of the adult user base on Twitch in the United States was composed of males, suggesting a prominent gender skew towards men in the platform's demographic makeup (Statista).
---
Live Video Streaming Stats for Marketing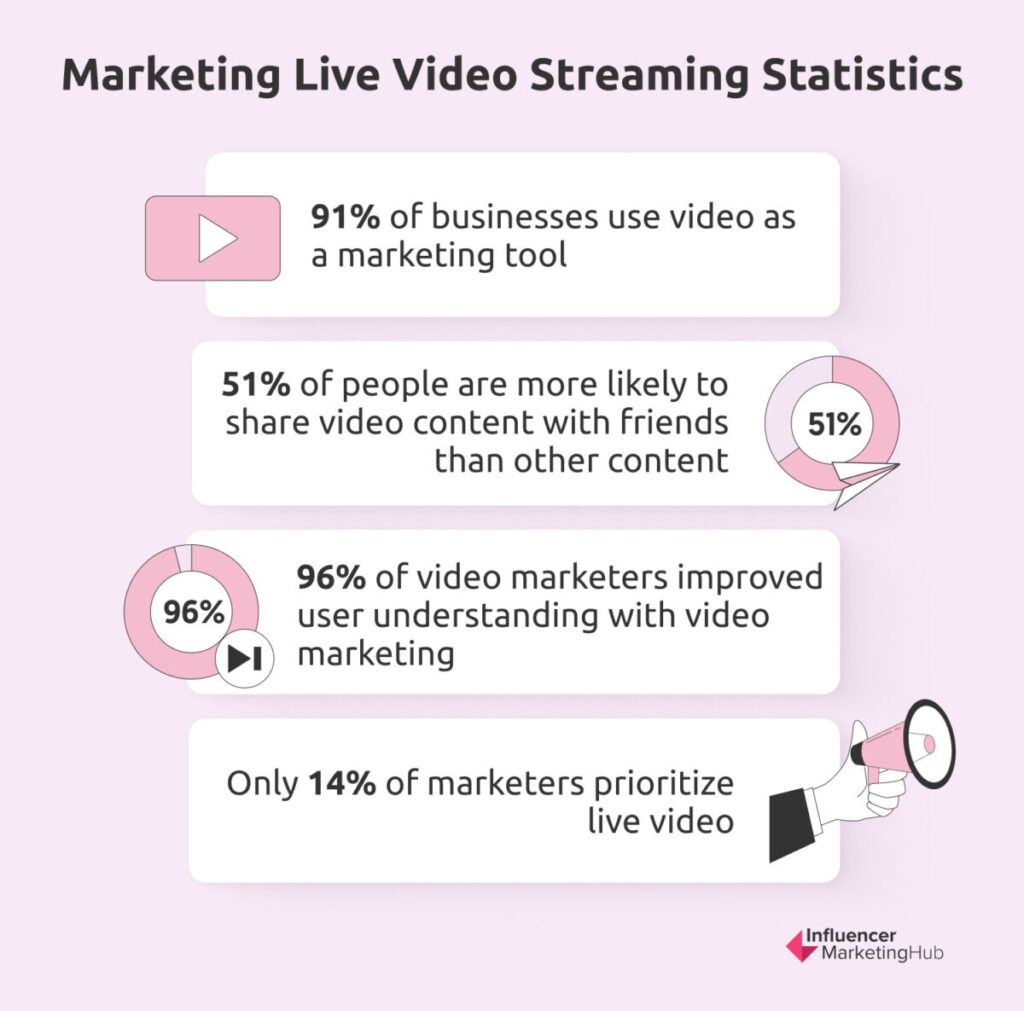 31. Over recent years, increasingly more businesses have started to use video for marketing purposes. In 2023, 91% of businesses use video as a marketing tool, which, according to Wyzowl, is an all-time high since they started tracking this particular data back in 2016. Furthermore, 96% of marketers see video as a crucial component in their marketing strategies.
32. While video marketing is becoming a significant aspect of marketing, there are still some businesses that don't use video as a marketing tool because of reasons such as not having time to create video content (30%), not knowing where to begin with creating video content (18%), and thinking that creating video content is an expensive endeavor (10%). The good news is that 70% of these so-called "non-video" marketers are considered to start online video marketing this year.
33. 51% of people are more likely to share video content with their friends compared to other content types like social media posts and blog posts.
34. While Twitch remains the most popular streaming platform for gaming, it's also becoming a way for brands to engage with Millennial and Gen Z audiences through non-gaming channels. In 2022, Sports and Music were the two top non-gaming categories, garnering a total of 30 million unique viewers. Moreover, the Sports category grew significantly in 2022, amassing 25% more hours watched compared to 2021 (Vindex).
35. Most video marketers (42%) spend between $0 and $500 on average to create video content. In contrast, only 4% spend more than $20,000 to create an average video. When asked if they thought that the costs associated with video marketing had changed in the last year, 39% shared that they feel video marketing is becoming more expensive, while only 26% shared that video marketing is becoming more affordable. The rest of the marketers surveyed remarked that they didn't notice any changes to the cost.
36. 2022 was the year of social media videos and explainer videos, with 71% and 70% of video marketers creating such types of videos, respectively. Furthermore, 66% of video marketers created live-action videos, while the rest preferred making screen-recorded videos and animated videos.
37. Video plays a big role in creating a huge impact on key marketing metrics. For instance, 96% of video marketers found that video marketing was able to increase user understanding of their different offerings. Moreover, for 95% of marketers, video marketing helped boost brand awareness. For 91% of marketers, video marketing helped increase traffic.
38. While video is increasingly being viewed as an important marketing tool, 43% of businesses in 2022 still didn't have a video-specific strategy (Wistia).
39. 2022 was a big year for live events. 60% of businesses surveyed by Wistia hosted webinars in 2022, while 30% hosted such live events at least once a month. Long-form videos, such as webinars and live events, were also the fastest-growing video segment in 2022. According to the businesses surveyed, these two types of long-form videos were also among the highest-performing videos.
40. Organic video marketing is making waves in 2023, with 68% of marketers planning to learn more about organic video marketing on YouTube and 66% of marketers planning to utilize YouTube videos more (Social Media Examiner).
41. Webinar is the most effective video channel, statistically speaking. Nine out of 10 marketers who hosted a webinar said that it was effective, making it the video marketing channel that received the biggest praise.
42. Only 14% of marketers feel that live video is their most important video format. Native video is by far the most popular.
43. Most marketers plan on using Instagram videos more in the future, followed by YouTube videos and Facebook videos. Instagram and YouTube were also the video platforms that marketers want to learn more about.
44. Unlike B2C marketers, the majority of B2B marketers want to find out more about LinkedIn videos.
45. Businesses are growing their efforts to make videos more accessible. 75% of businesses prioritize accessibility by implementing measures such as adding closed captions and audio descriptions, employing accessible players, and adding global subtitles.
46. Digital video ad spend reached $47.1 billion in 2022, indicating a 21% YoY increase. In 2023, it's projected to reach $55.2 billion. Moreover, digital video is projected to account for 47% of the TV/video market in 2023 (Interactive Advertising Bureau).
---
Live Streaming Platforms Stats
47. In Q2 2023, the Twitch app generated around 11.99 million downloads worldwide (Statista).
48. Twitch increased its market share (in terms of global daily active users) by 10% in a year. It increased from 63% at the beginning of 2020 to 74% at the beginning of 2021, which it managed to maintain in 2022 (Statista).
49. Twitch has the most unique streaming channels. As of Q3 2022, it had nearly 10 million unique channels. To put this massive accomplishment into perspective, YouTube Gaming has 443,000, while Facebook Gaming has only 238,000 (Statista).
50. Just Chatting remains one of the most watched categories on Twitch. In July 2023, the category accumulated nearly 281.6 million Hours Watched, which shows a 15% increase compared to June 2023. Other popular categories during the same period include Grand Theft Auto V, League of Legends, and Valorant (StreamsCharts).
51. 37% of US live stream viewers aged 18 to 34 used YouTube Live to watch live stream video content (Statista).
52. In 2022, the number of daily video views on Twitter grew by 13%. Furthermore, 61% of social media users flock to Twitter to watch video content because the platform offers variety (Twitter).
53. YouTube Gaming recorded just over 1.1 billion hours of content watched in Q3 2022. While this sounds like a lot, it shows a 4% decrease compared to the same period in 2021 was more than 13% lower than what it managed to generate for the same period in 2021 (Statista).
54. Not only are people watching less live streaming via YouTube, but gamers are also streaming less. Since the end of 2021, the number of hours streamed on YouTube Gaming Live has declined steadily to reach just over 8 million hours in Q3 2022. For the same period in 2020, it was a whopping 17.9 million hours (Statista).
55. Brands that use multiple video formats on YouTube, such as live streams and short-form videos, are likely to make more impact when it comes to ad recall and brand awareness. That's because 90% of people watch content from creators or artists across different video formats (Think with Google).
56. In Q3 2022, nearly 8 million hours of online games were streamed via Facebook Gaming (Statista).
57. Netflix is the most downloaded video streaming mobile app. In July 2022, it had about 18 million downloads (Statista). Disney+ was in second place with just over 15 million downloads.
58. During the final quarter of 2022, Bigo LIVE demonstrated the most significant increase in Watched Hours compared to other platforms, growing by 6%. However, the dynamic shifted in early 2023 when the platform experienced a decline of 18.5%. It's noteworthy that Bigo LIVE is primarily used for streaming mobile games like Free Fire, PUBG Mobile, and Mobile Legends. The platform enjoys substantial popularity among audiences in Arab nations.
---
Live Streaming Monetization Stats
59. Live streams are quickly becoming a viable income source for content creators. For instance, streamers make money from sponsored videos on TikToK, live shopping on Instagram, and brand deals on Amazon Live. Depending on the platform and viewership, some creators can earn between $20 and $300 per live video on TikTok, while others have amassed thousands of dollars by live streaming on YouTube (Business Insider).
60. While Twitch might have the market share, Bigo Live leads the way in consumer spending. As of the beginning of 2022, Bigo Live generated almost $82 million in consumer spending, making it the highest-grossing mobile live streaming app. Twitch managed to generate "only" $72.6 million, placing it in second spot (Statista).
61. Twitch streamers who have around 10 views per day can earn between $50 and $100 monthly. However, popular creators can potentially earn millions annually. That's on top of any additional income they earn from other contracts (Dot Esports).
62. There are many ways that Twitch streamers can earn money on the platform. These include brand deals or sponsorships, donations, subscriptions, and Twitch bits, which is the platform's virtual currency. In addition to these channels, Twitch streamers can also earn additional income through merchandise sales and ad revenue. However, when it comes to ad revenue, monetization is currently limited to affiliates and partners (Time).
63. Younger streamers are having an easier time making money from live streaming. About five in 10 live streamers aged between 18 and 34 have revealed that they generated money via live streams, compared to over 90% of older streamers (55+ years old) who weren't able to monetize their live content. Meanwhile, in general, 54% of live streamers weren't able to generate revenue (Statista).
64. Nearly a third of internet users aged 16 to 64 pay for movie or TV streaming services each month, making it the most common digital content purchase. Music streaming services were in second spot with about a quarter listing it as a monthly expense.
65. The global eSports market is projected to grow bigger in the coming years, growing as much as $1.87 billion by 2025, with China taking up almost one-fifth of the market share (Statista). In 2022, eSports and games streaming sales in China amassed nearly $320 million. By 2033, it's projected to reach a valuation of $500 million (Future Market Insights).
66. The Southeast Asian eSport industry's revenue is expected to exceed $64 million by 2027 (Statista).
67. Douyu, a Chinese game-centric live streaming platform, made more or less 6.8 billion yuan via its live streaming business in 2022. Its live streaming revenue, which included ad services and virtual gift sales, accounted for more than 90% of its annual revenue (Statista).
68. The music streaming market is projected to be valued at approximately $120 billion by 2032. Key growth drivers include the growing popularity of streaming apps, live entertainment trends, access to high-speed internet, and the increased consumption of live music video content (Market Research Future via GlobeNewswire).
---
Live Shopping Stats
69. By 2028, the live ecommerce market is expected to reach $2,564.87 billion. Key growth drivers include increased access to the internet and smartphones (Business Research Insights).
70. China is considered to have the most mature live commerce market. 57% of live commerce users have used this particular shopping format for more than three years, compared to 5-7% in regions like Europe and the US. The country also has the most live shopping attendees, clocking in at 87%. In the country, the most popular live commerce categories among live commerce users are groceries (54%), clothing (45%), footwear (33%), skincare (30%), and haircare (26%) (McKinsey).
71. The add-to-cart conversion rate for live shopping events is 34% (StageMe).
72. It's estimated that live streaming e-commerce will account for nearly 20% of China's retail e-commerce sales in 2023. According to an eMarketer forecast, total e-commerce sales in the country will jump to nearly $844 billion from $562.62 billion (eMarketer).
73. The live shopping market in China is already profitable, with projections indicating that approximately 45% of the country's digital shoppers, equating to 320 million individuals, are expected to make purchases through livestreams in 2023. Moreover, it's estimated that this year, China will have 373.7 million digital buyers who will make purchases through live stream video content.
74. In 2022, the fashion category topped the chart as the most frequently bought product type by live shoppers in the United States. A survey revealed that approximately one-fourth (26 percent) of users admitted to purchasing clothing and apparel while on a livestream. The personal and beauty care category came in close second, with it being the choice of purchase for 22 percent of the respondents (Statista).
75. A 2022 survey found that over a third of U.S. shoppers were aware of live streaming shopping events, yet only 20% participated. Despite identical awareness levels, Denmark saw slightly more engagement, with 24% participation (Statista).
76. The 2022 survey identified the top global benefits of livestream shopping as exclusive discounts and inspiration, with 31% of respondents also noting it facilitated smarter, more informed purchases (Statista).
77. Facebook led the pack as the preferred social media platform for live streaming shopping in 2022, capturing the attention of nearly 58 percent of global internet users. Instagram secured the second spot with 46 percent of users, while TikTok trailed in third with close to 16 percent of respondents (Statista).
---
Wrapping Things Up
While these statistics clearly show that you can reach a wide audience with live streaming, there's still a lot of critical work that needs to happen behind the scene and screen. You can't just sit back and stream.
One of the main reasons why live streaming is so popular is because of the interaction. Your viewers will want to feel connected to you. So, you'll need to be willing to interact with your viewers. Just like with any type of content, your live stream also needs to be engaging. Speaking of connection, you'll also need to make sure that your ethernet connection is fast and reliable. Get these two main challenges right, and you'll be able to generate a steady stream of income with live streaming.