Advertising Disclosure
Advertising disclosure:
Our partners compensate us. This may influence which products or services we review (also where and how those products appear on the site), this in no way affects our recommendations or the advice we offer. Our reviews are based on years of experience and countless hours of research. Our partners cannot pay us to guarantee favorable reviews of their products or services.
For brands and businesses looking to seize the digital world, having an online presence has become crucial. But as businesses increasingly seek to establish their fingerprint, the role of advertising, particularly through platforms like Google Ads, has become paramount. This is where AdWords management agencies come into play.
Business owners wonder about the multifaceted aspects of AdWords and the associated tasks that come with it, like A/B testing, competitor analysis, and bid optimization. The good news is that the right AdWords management agency will take care of these tasks, providing an end-to-end solution. This ensures ad campaigns are not only competitive but also yield the desired results in terms of driving traffic and conversions.
To help navigate this landscape and make an informed choice, we've compiled a comprehensive review of the top 10 AdWords Management Agencies of 2024.
---
Top AdWords Management Agencies
Top
adwords management agencies
2024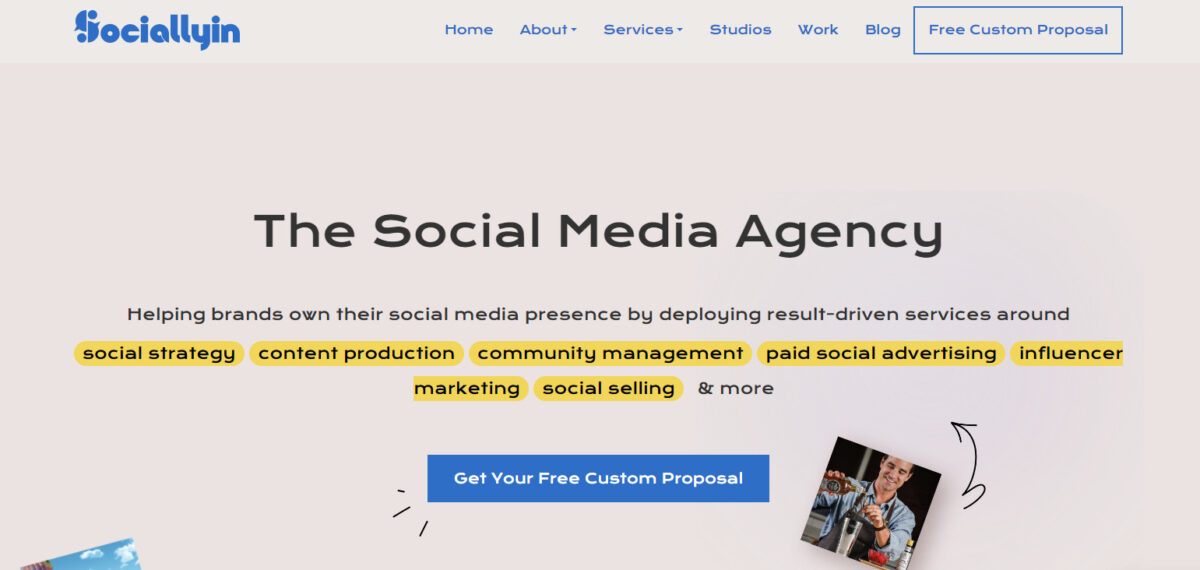 Sociallyin is a top digital marketing agency offering an exhaustive suite of services tailored to the modern business landscape. Their expertise encompasses everything from a nuanced social media strategy to placing ads on search engines and compelling social content production. But what truly distinguishes their Paid Social Advertising service is its ability to offer businesses a cost-effective approach to reach vast audiences. By crafting high-quality advertisements that encapsulate a brand's ethos and objectives and employing precision targeting, they ensure campaigns resonate with the right audience, maximizing returns while minimizing wastage of resources.
Their commitment doesn't just end with crafting and launching campaigns. Sociallyin invests heavily in post-launch analytics and optimization. They employ a meticulous evaluation process, analyzing each advertisement's performance metrics like conversion rates and user interaction. This data-driven approach guarantees businesses can clearly understand the return on their advertising investment and make informed decisions on future strategies.
A testament to their prowess and dedication to client success is the successful collaboration with Clinical Trial Media. This collaboration witnessed Sociallyin's creative team generating a staggering 80,000 leads. Through a combination of precisely targeted ads, strategic retargeting, and enhanced brand engagement, they not only increased lead generation but also significantly boosted brand recognition.
---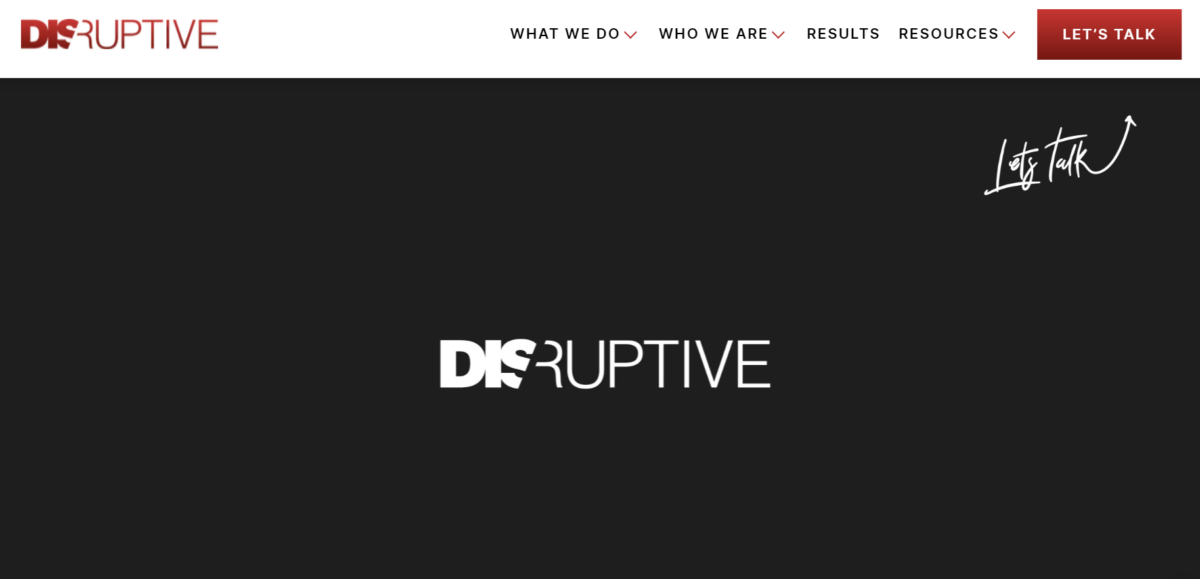 Disruptive Advertising is an esteemed agency in the digital advertising sector. Their proficiency ranges from crafting social media strategies to masterful community management. But the core of their offerings is the AdWords' Paid Social Advertising service. This service enables brands to optimize their advertising spend by delivering meticulously crafted, high-quality ads that encapsulate a brand's core values and objectives. Coupled with precise targeting methodologies, Disruptive Advertising ensures that campaigns resonate seamlessly with the intended audience, thereby enhancing returns and reducing resource wastage.
Notably, Disruptive Advertising's commitment to excellence is palpable throughout the entirety of a campaign's lifecycle. Beyond mere campaign initiation, the agency delves deep into post-launch analytics. They systematically evaluate an ad's performance, focusing on key metrics such as conversion rates and user interactions. This rigorous data-centric approach empowers businesses with actionable insights, paving the way for discerning future strategies that yield tangible results.
A salient illustration of their prowess is the remarkable collaboration with KPMG Spark. Confronted with the challenge of enhancing KPMG Spark's digital presence, Disruptive Advertising undertook a ground-up approach, spearheading a robust online campaign that significantly bolstered the company's outreach. The effects are astounding, with media-attributed leads numbering 4,675 over 26 months, culminating in an average revenue of approximately $1.4 million and an impressive ROI of 2x.
---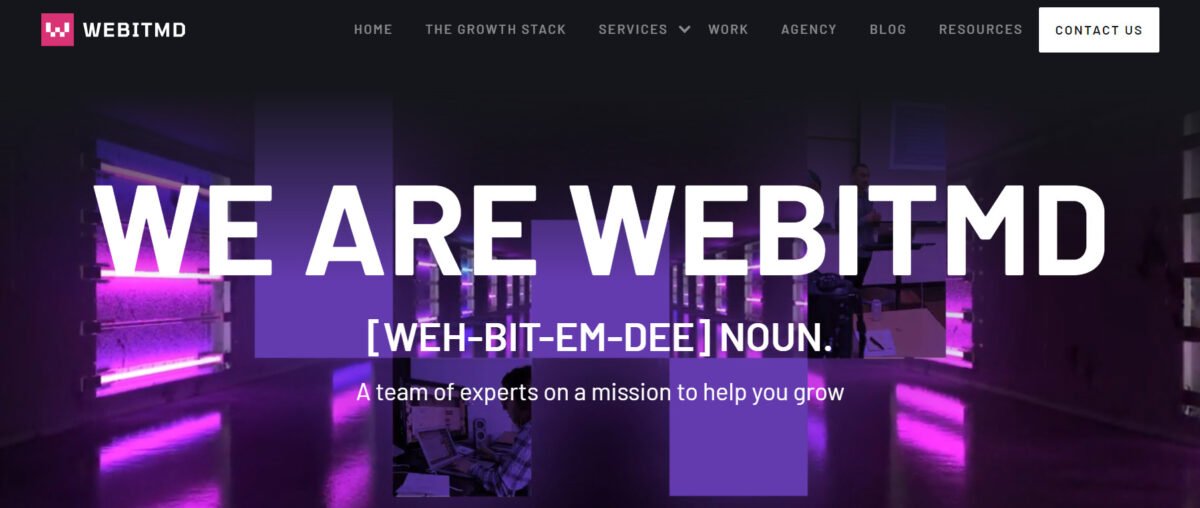 WEBITMD has firmly established itself as a trailblazer in the realm of digital advertising, with a meticulous focus on revenue-driven growth strategies tailored for businesses worldwide. Their diverse services encompass everything from concise messaging & positioning and imaginative creative & branding to adept web design & development. WEBITMD's offering is further enhanced with its multi-channeled performance ad management system. By leveraging this, they guarantee campaigns that resonate powerfully with the right audience and ensure conversions through methods like search, social media, and video display. With this holistic approach, businesses can anticipate a measurable uptick in brand visibility and conversion rates.
Distinctively, WEBITMD's commitment to transformative outcomes extends beyond the initiation of campaigns. They're known for their continuous optimization strategies, including intensive A/B testing on ad copy, fine-tuning audience attributes, reallocating budgets to prioritize top-performing campaigns, and perfecting supporting assets to maximize conversions. Their WEBITMD® Growth Stack is an accolade for their innovation, blending the latest marketing tactics, sales technology, and operations automation, making them a one-stop solution for businesses aiming for exponential growth.
Collaborations with industry stalwarts further cement their legacy. One notable success story is with Tenth Street Hats, where WEBITMD catalyzed the launch of its first Direct-to-Consumer (DTC) sales channel, realizing an 800% increase in ad revenue in just over four years. Another triumphant venture with Mila & Rose saw a staggering 700% surge in online orders and a 326% YoY growth.
---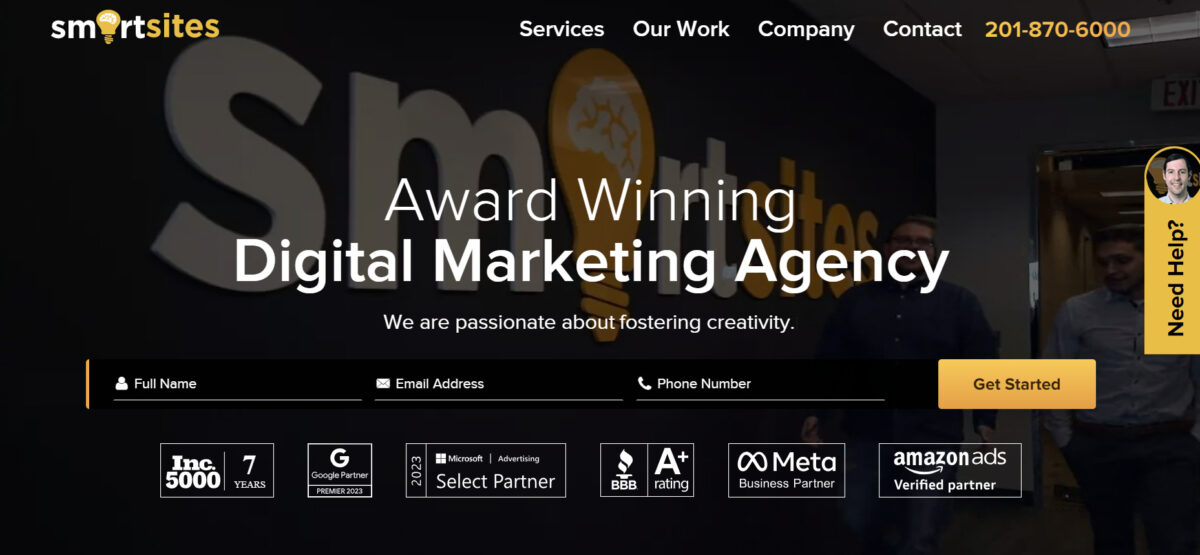 SmartSites is a leading digital marketing agency synonymous with precision, innovation, and palpable results. They cast a wide net, offering a spectrum of services tailored to businesses' unique digital footprints. Key offerings range from intuitive web design and search engine optimization to robust pay-per-click advertising strategies. Their proficiency in the latter is especially commendable, with a proven track record bolstered by a slew of partnerships with tech giants like Google, Microsoft, and Meta.
SmartSites's prowess is underlined by their structured, data-driven approach. Their certified PPC specialists undertake comprehensive audits to devise and refine strategies, segmenting campaigns for local in-store visits and broader online purchases. By deploying advanced techniques such as remarketing, they maintain a cost-effective edge, continually enticing potential customers back to a site. But their expertise isn't just confined to initiating campaigns; the emphasis on ongoing optimization and regular strategy brainstorming sessions ensures that their clients stay ahead of the curve in the dynamic AdWords landscape.
A spotlight on their success stories amplifies their credentials. Take the case of 1-800GetARug, a stalwart in hand-knotted rugs. Challenged with enhancing their ROI and managing dual objectives of online sales and in-store visits, SmartSites reimagined the company's PPC campaign. As a result, they saw a staggering 88% decrease in cost-per-lead and a 191% surge in click-through rates.
---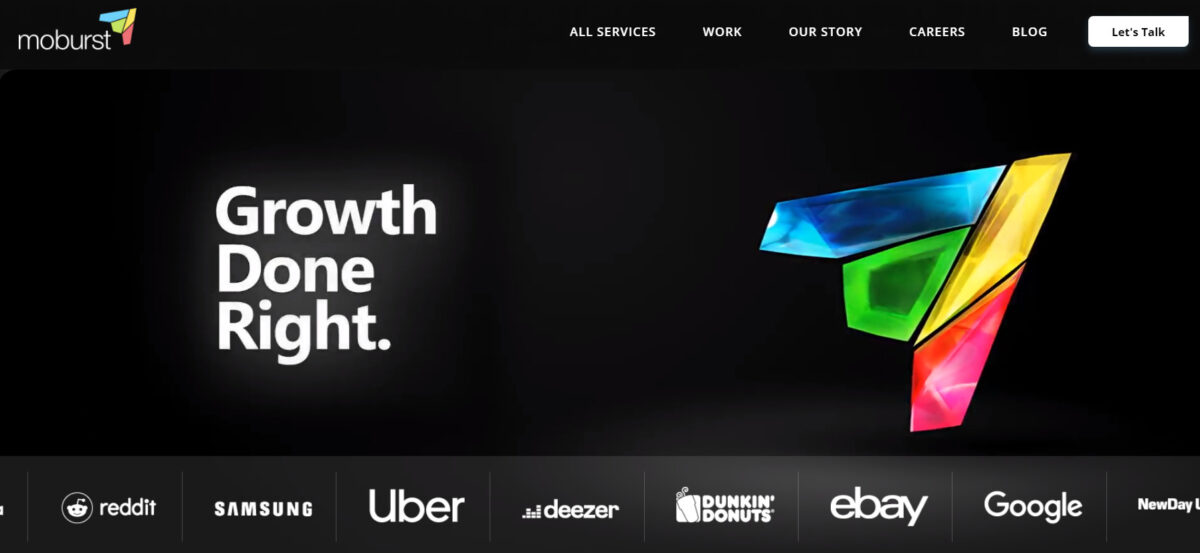 Moburst is distinguished as a pivotal player in the AdWords management domain, emphasizing the importance of hypergrowth. As a full-service digital agency, their holistic offerings are engineered to skyrocket brands to unparalleled heights. At its core, Moburst endeavors to innovate creative solutions, harmonizing brands with laser-targeted audiences that metamorphose into loyal users.
Their portfolio boasts a plethora of services, each tailored to cater to the nuanced needs of businesses today. These include a meticulous mobile-first strategy, where insights garnered from liaising with numerous global brands are channeled into creating engaging user pathways. From this bedrock, their expertise expands to realms like digital strategy, social strategy, SEO, and conversion rate optimization (CRO). Their prowess isn't merely confined to strategizing; creative content, video production, email marketing, influencer outreach, and product development further underscore their comprehensive capabilities.
Indeed, the astounding figures from their case studies – from a 1400% growth for Samsung to an 87% decrease in Cost Per Install for Shopkick – are a testament to their mettle. But what truly sets Moburst apart is its commitment to results-driven marketing. With a data-centric approach, they guarantee transparency, ensuring every ad campaign is trackable and measurable.
---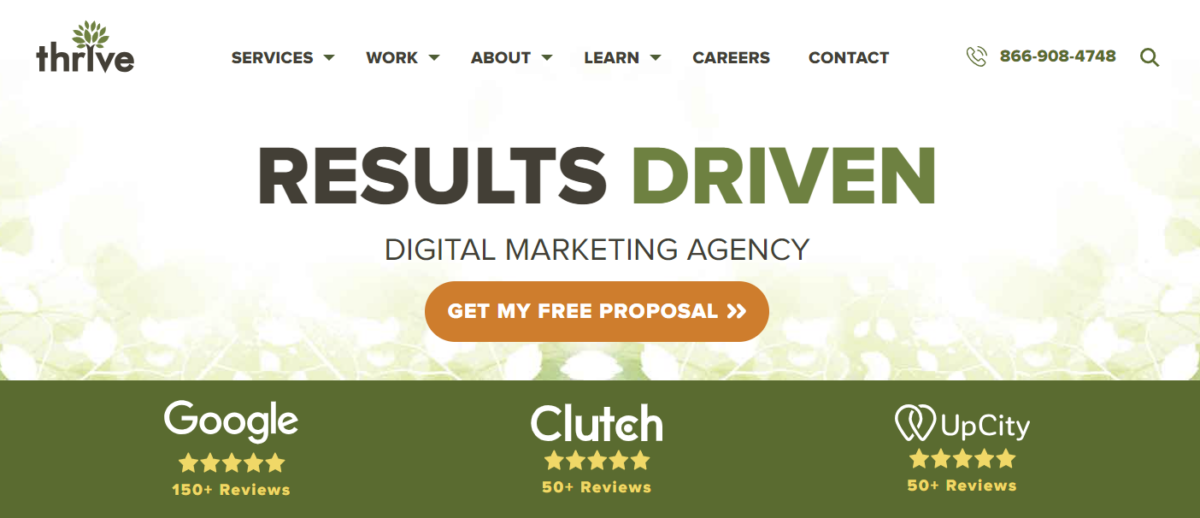 Presenting itself as a full-service digital marketing agency in the US, Thrive's expertise spans an array of online marketing tactics ranging from search engine optimization (SEO) to pay-per-click (PPC) AdWords campaigns. Additionally, the agency provides Amazon store optimization and conversion rate optimization (CRO) and boasts proficiency in web design and development for both eCommerce and B2B enterprises. In essence, Thrive's promise isn't just about partnering with a digital marketing agency but aligning with a trustworthy companion in the digital journey.
Crucially, what differentiates Thrive is its holistic marketing approach. They recognize the importance of a potent online presence and offer solutions to ensure their clients' websites resonate with the targeted audience. This encompasses meticulous website design, persuasive copywriting, strategic keyword deployment, and an optimized social media presence. Ethical, honest, and customer-focused, Thrive's operations are grounded in integrity, ensuring clients receive tailored solutions without a one-size-fits-all approach.
The outcomes achieved by Thrive are both substantial and compelling. Their strategic approach to SEO and PPC significantly elevated traffic to the Farah website by a staggering 664%, simultaneously boosting online leads by over 360%. Another impressive case study with Geoforce showcased Thrive's prowess with a 360% rise in organic traffic, an 88% increase in ad clicks, and exponential growth in social media metrics across platforms like Facebook, LinkedIn, and Instagram. Client testimonials further bolster Thrive's reputation, highlighting their straightforward approach, reliability, unmatched customer support, and commitment to delivering tangible outcomes.
---

PPC advertising stands at the heart of modern digital marketing, and Lyfe Marketing stands out as a dedicated PPC Management software solution designed to escalate online presence. With a strategy that puts businesses right at the peak of search engine results, Lyfe's services encompass both Google and Bing, ensuring a vast audience reach. But they don't just place ads; it's about advanced ad targeting, innovative advertising creation, and meticulous bid management & optimization.
Lyfe Marketing aims at channeling high-quality traffic to websites, thereby enhancing conversions. With over 3 billion searches conducted daily, a chunk of these can be potential business avenues. Through Lyfe's precision-focused PPC services, businesses can tap into these avenues instantly. The agency stresses the immediacy of effects; while organic search listings take time to manifest, PPC campaigns with Lyfe bring businesses to the frontlines instantly. However, what sets them apart is their dedication to ensuring every click counts, emphasizing the conversion value, and ensuring the Cost Per Conversion (CPC) remains profitable.
What differentiates Lyfe Marketing from the rest is its comprehensive, step-by-step process. From assigning an experienced PPC manager to each account, identifying profitable keywords, and closely analyzing competitors to creating compelling ads and continuous monitoring for optimization, Lyfe Marketing's collaboration with VegaX Holdings underscored their prowess in targeted PPC campaigns, generating 136 website leads from East Asian English speakers at a mere $3.75 per lead, all within a $509.43 monthly budget. Their tailored strategy, enhanced by client-provided video ads, exemplifies their commitment to cost-effective and results-driven advertising solutions.
---

Outer Box has been a prominent figure in the PPC management landscape since 2004, boasting a significant Google Ads spend of over 45 million. As a Google Partner, they specialize in crafting targeted AdWords campaigns, particularly on eCommerce platforms.
They employ a data-driven approach, using highly focused keyword research to drive potential buyers to client platforms. Monthly reporting and weekly consultations keep clients informed and ensure campaign alignment with business goals. Their methodology includes A/B testing for optimal ad conversion rates.
Outer Box employs a 75-point Google Ads audit to regularly refine campaigns. Their services extend to competitor ad analysis, landing page creation and optimization, and leveraging Google Analytics insights. Their commitment revolves around ensuring campaigns are always at their most efficient, delivering the best possible ROI for clients.
Notably, their work with Warehouse Lighting led to doubled page-one rankings, and their efforts with Lethal Performance yielded a 490% YoY revenue increase.
---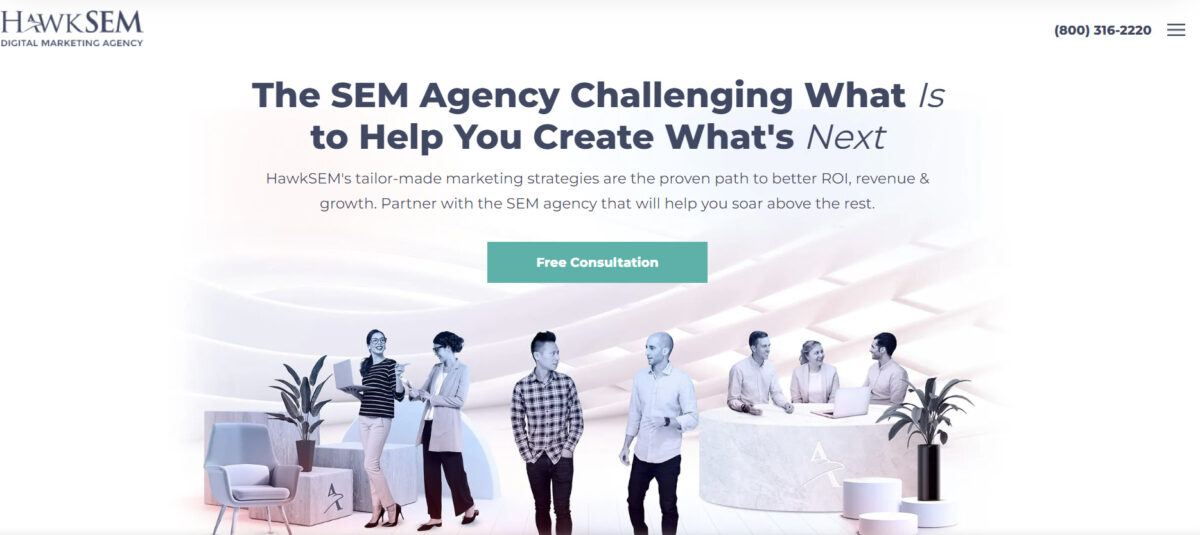 HawkSEM, standing among the top 3% of Google Ads agencies, provides specialized expertise in navigating the intricate landscape of AdWords. The agency emphasizes the potential challenges posed by Google's evolving algorithms and the move towards automation, underscoring the need for businesses to have a proficient PPC team. They undertake a systematic approach to ensure success, starting with a detailed audit of existing PPC campaigns, leveraging tools like Semrush and Google Trends. Their proprietary platform, ConversionIQ, integrates analytics from multiple channels into one dashboard.
HawkSEM's dedication extends beyond the launch of campaigns. They place a strong emphasis on regular analysis, transparent reporting, and consistent optimization. By making data-informed adjustments, such as refining ad copy, tweaking bidding strategies, and enhancing site conversion rate, they ensure campaigns are agile and responsive to evolving business needs.
In their collaboration with Honda, HawkSEM's expertise delivered tangible outcomes. Through strategic partnership, they achieved a 30% reduction in Honda's cost per conversion, increased dealer inquiries by 40%, and amplified the traffic rate by 200%. Such outcomes validate HawkSEM's commitment to driving impactful outcomes for their clients through data-driven strategies.
---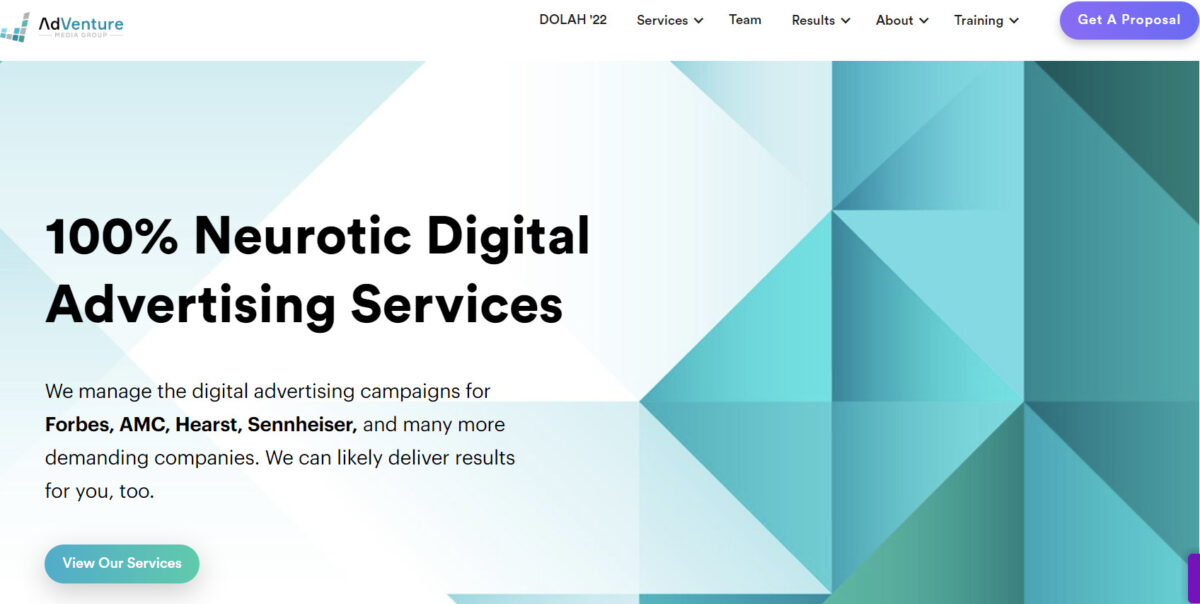 Adventure PPC, with the audacious tagline "100% Neurotic Digital Advertising Services," serves as the behind-the-scenes powerhouse for some of the industry's most prominent names, including Forbes, Hearst, and Sennheiser. Their proficiency isn't limited to Google Ads; they are experts in omnichannel optimization and testing, always with a laser focus on profitability and cost per acquisition.
Their service suite extends far beyond mere pay-per-click management. Adventure PPC delves deep into conversion rate optimization, utilizing principles from web design, psychology, and neuromarketing. They also offer tailored consulting, with over 65,000 students benefiting from their extensive online courses. Whether it's full-service PPC management, Google Shopping campaigns, or intricate landing page designs, Adventure PPC approaches every project with a unique blend of grit, creativity, and intelligence, continually striving to exceed client expectations.
For AMC's Sundance Now, a subscription-based streaming service, Adventure PPC delivered transformative results. The challenge: increase the total subscribers for Sundance Now while decreasing customer acquisition costs. Adventure PPC achieved a staggering 302% YoY increase in paid subscriptions through innovative strategies that balanced branding and specific title promotions. Branded searches surged by 1,308%, and the average cost per conversion dipped by 65%. With creative video campaigns on YouTube, they garnered 2,513 views, converting at a cost of just $27 per conversion.
---
Mistakes to Avoid in AdWords Campaigns
Google AdWords or Google Ads can be a potent tool in the digital marketing arsenal. However, like all tools, its effectiveness depends on how it's used. Let's delve into some common mistakes businesses make in their AdWords campaigns and how to avoid them.
Neglecting Negative Keywords: One of the most common pitfalls is not utilizing negative keywords. These prevent your ads from being triggered by particular terms. By filtering out irrelevant searches, you can avoid wasted clicks and enhance the relevancy of your traffic.
Generic Ad Copy: It's essential to tailor your ad copy to your target audience. Generic messages fail to resonate with users, leading to lower click-through rates.
Overlooking Mobile Optimization: With an increasing number of users accessing Google via mobile devices, it's crucial to ensure your ads and landing pages are mobile-friendly.
Not Monitoring Performance: Setting up a campaign and forgetting about it can lead to wasted budgets and poor performance. Regularly assess and adjust your strategy based on the data.
Setting and Forgetting Your Budget: Businesses often set a daily budget and then ignore it. However, monitoring and adjusting spend can help you identify opportunities and inefficiencies.
---
Integrating AdWords with Other Marketing Strategies
Google AdWords can be a game-changer for many businesses, driving significant traffic and conversions. But its true potential shines through when integrated with other marketing strategies.
Seamless Digital Ecosystem: AdWords is a single piece of a much larger puzzle. While it can drive traffic, content marketing can engage users, SEO can attract organic visitors, and social media campaigns can enhance brand awareness and loyalty.
Synergy with SEO: The insights gained from AdWords, such as which keywords drive traffic and conversions, can be invaluable for SEO efforts. You can tailor your content and optimization efforts by understanding which terms resonate with your audience.
Enhanced Content Strategies: Combining the targeting capabilities of AdWords with content marketing can be a powerful strategy. For instance, retargeting users can lead to higher conversion rates.
Social Media Integration: AdWords can complement social media campaigns by targeting users based on their interests, behaviors, and demographics.
---
Conclusion
Selecting the right AdWords management agency is crucial for business success. These agencies offer specialized expertise, ensuring campaigns resonate with the target audience while maximizing ROI. Businesses can make informed decisions by understanding common pitfalls, integrating AdWords seamlessly into broader marketing strategies, and addressing key queries.
Ultimately, a strategic partnership with the right agency enhances online visibility and drives significant business growth. It's an investment in expertise that pays dividends in the form of increased traffic, conversions, and brand recognition.
Frequently Asked Questions
What role does keyword research play in AdWords?
Keyword research is foundational in AdWords. It involves identifying terms and phrases your target audience uses to search for products or services like yours. By targeting these keywords, your ads can appear in relevant search results, increasing visibility and attracting potential customers.
How does an agency determine the right budget for my campaign?
Agencies conduct a campaign budget analysis, considering factors like your business goals, industry benchmarks, and the competitive landscape. They'll assess your desired reach, potential return on investment (ROI), and past campaign performances to suggest a budget that maximizes results while being cost-effective.
I've run AdWords campaigns before but didn't see great results. Can an agency help?
Absolutely. Agencies often start by reviewing past campaigns to identify strengths and areas of improvement. With their expertise, they can pinpoint why a campaign may not have performed well and make the necessary adjustments to strategies, targeting, or ad content for future success.
How do agencies ensure my ads stand out from my competitors?
One of the core services of AdWords management agencies is competitor ad campaign analysis. By examining what your competitors are doing, agencies can craft strategies that not only match but outperform them. This includes crafting unique creative assets, compelling ad copy, and selecting optimal keywords.
Are A/B tests necessary, and how do they benefit my campaign?
A/B testing is a method of comparing two versions of an ad or landing page to determine which one performs better. Agencies use it to test variations in design, content, and calls-to-action. By determining which version resonates more with your audience, they can optimize campaigns for higher conversions and better ROI.