You've perfected your on-site SEO strategy and successfully targeted some of the most popular keywords in your industry. But what if you want to target consumers in a specific area? While regular SEO may be enough to get featured prominently in relevant industry searches, you may still have trouble attracting local customers. That's where Google's Local Service Ads enter the picture, allowing your business to get prominently featured in relevant local searches.
So what are these Local Service Ads and how exactly do they work? More importantly, how can you start using them for your business? You'll find the answer to all these pressing questions in this post. Let's dive in.
---
Everything You Need to Know about Google's Local Service Ads:
---
What are Local Service Ads on Google?
Local Service Ads are an ad solution from Google that lets businesses target customers in their area. With this solution, your ads are displayed to people located in your area that are searching for the types of products or services you offer. This means you're targeting people who are most likely to turn into leads because your ad is relevant to them.
You can then generate leads directly from the ad by giving these searchers the option to contact your business via messages and phone calls. Google will only charge you if a customer contacts you directly from the ad. That way, you're only paying for results, giving you a better return on your investment.
---
PPC vs. Local Service Ads: What's the Difference?
Now you may be asking–aren't these just regular Google PPC ads? There are a few key distinctions between pay-per-click ads and Local Service Ads on Google.
For starters, as you can tell from the name, you pay for each click with PPC ads. However, Google only charges you for each lead generated from your Local Service Ads.
Another major difference is that PPC involves direct keyword bidding, whereas, with Local Service Ads, you can manually set a maximum bid per lead. Or you can even let Google set it for you.
Additionally, to run a successful PPC ad, you need to conduct exhaustive keyword research and run tests on those keywords. This is a necessary step in ensuring that your ads show up in the right search queries to the right customers. With Local Service Ads, however, Google will automatically decide your ranking based on factors such as your review rate, proximity, and response rate.
Where and how your ads appear is another way that Local Service Ads differ from PPC ads. Your PPC ads will show up with a "Sponsored" tag above or below organic search results. Here's how they will typically look.
Meanwhile, your Local Service Ads will always be displayed at the top of the search results page. These ads will also have a green "Google Guaranteed" or "Google Screened" badge that will add credibility to your business.
---
Benefits of Using Google's Local Service Ads
From what we've discussed so far, you should have a clear understanding of how these Local Service Ads differ from your regular PPC ads. So now you'd want to know why you should consider running these ads. What makes Google's Local Service Ads so beneficial for your business? Let's take a look.
Get Featured Prominently in Search Results
First of all, Local Service Ads feature prominently at the top of the search results pages. People won't have to scroll to see the ad as it will instantly appear right under the search field. This allows your business to stand out and immediately capture the attention of relevant prospects. In other words, you have a better chance of people taking notice of your business through these ads.
Generate High-Quality Leads Directly
With Local Service Ads, you're specifically targeting people who are located in your area and actively looking for the services or products you provide. This means your ads are served to people who have displayed a high level of interest in your business and are most likely to become valuable leads.
Moreover, these prospects will have the option to get in touch with your business directly through the ad. So they don't have to manually type in your number to send you a message or give you a call. Instead, they can instantly get connected when they tap on the message or call button in your ad, thus turning into high-quality leads for your business.
Improve Your Advertising ROI
One of the best parts about Local Service Ads is that you only pay for the leads delivered through the ad. That means you won't have to spend money just for displaying your ad, and instead, ensure that everything you pay for directly contributes to your bottom line. This allows you to cut down your ad spend, which will help you maximize your return.
Enhance Credibility with Trust Badges
Unlike regular PPC ads, Local Services Ads on Google are displayed with a green badge of trust. Every business featured in Local Services Ads has passed through a thorough screening and verification process by Google. As such, all the ads will have a "Google Guaranteed" or "Google Screened" badge, which shows people that the business is verified as credible.
This not only helps your business stand out, but it also adds instant credibility. So even if it's the first time someone comes across your business, they will feel more comfortable trusting you because Google is vouching for you.
---
Which Industries Can Use Local Service Ads?
While you may be keen on getting started with Local Service Ads, this ad solution isn't yet available to every business. Google provides support for Local Service Ads across 70+ types of businesses in industries such as healthcare, pet care, education, and wellness. If your business comes under any of the verticals below and if the ad solution is available in your region, you may be eligible to sign up.
Appliance repair
Childcare
Cleaning services
Dental services
Landscaping
Legal services
Pet grooming
Pest control
Plumbing
Tutoring
Veterinary services
While Google initially made the ad solution available only to home services and professional services, it has since expanded the offering to businesses in other verticals. Here's a full list of the different verticals and types of businesses that are eligible for Local Service Ads.
Additionally, Local Service Ads aren't yet available globally. Google currently offers this ad solution in the following industries.
Austria
Belgium
Canada
France
Germany
Ireland
Italy
Spain
Switzerland
United Kingdom
United States
It's important to note that the supported services vary by country. While most of the services shown above can use Local Service Ads in the United States, other countries may have fewer options. For example, an acupuncturist in the United States will be able to advertise using LSAs, whereas one in Ireland won't have the same option.
---
How to Get Started with Local Service Ads
Excited to give Local Service Ads a try? The process is fairly straightforward, with the most challenging part being the verification step. Let's break down the steps to get started with Local Service Ads.
Step 1: Check Your Eligibility
The first step is to verify if your business is actually eligible to use Local Service Ads. To do this, go to the Local Service Ads page and click on "Get Started." This will take you to a page where you can check eligibility.
On this page, enter key details such as your country, state, and ZIP code. Select the job category that best fits your business from the drop-down menu. Then click the "Check Eligibility" button. If none of the options match your business category, it's likely that your business is ineligible for Local Service Ads.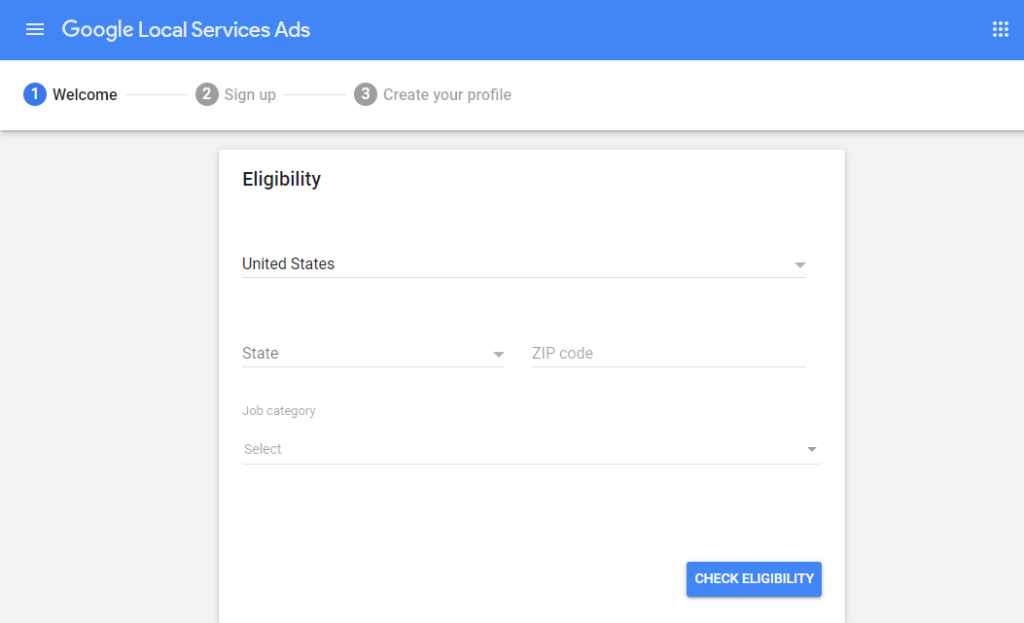 ---
Step 2: Create Your Profile
Once your eligibility has been verified, you'll be taken to the next page where you can sign up and create a business profile. Here, you'll need to provide some key details about your business such as the name, phone, owner's name, year of founding, number of field workers, and address.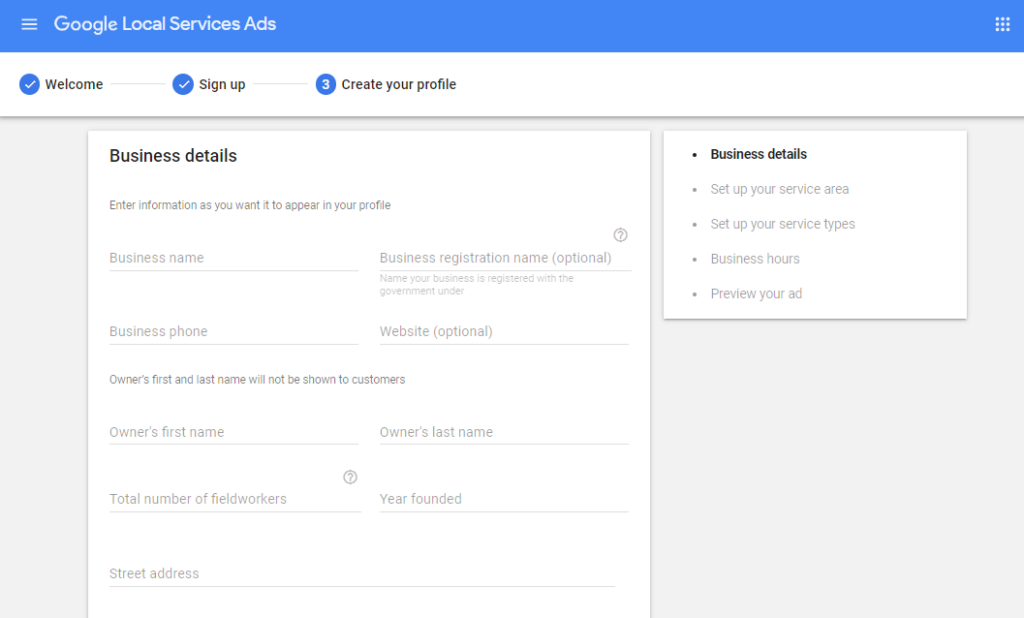 Google will also give you an option to select whether your location is somewhere customers can visit such as a store or office. If you select "Yes," then your location might be displayed on Google Maps so users who are looking for your services will be able to locate you more easily.
After filling out all the details, click on "Next" to set up your service area. Just enter the name of the county, city, or neighborhood and add it to your service area. You can also choose to exclude specific areas. Then click on "Next."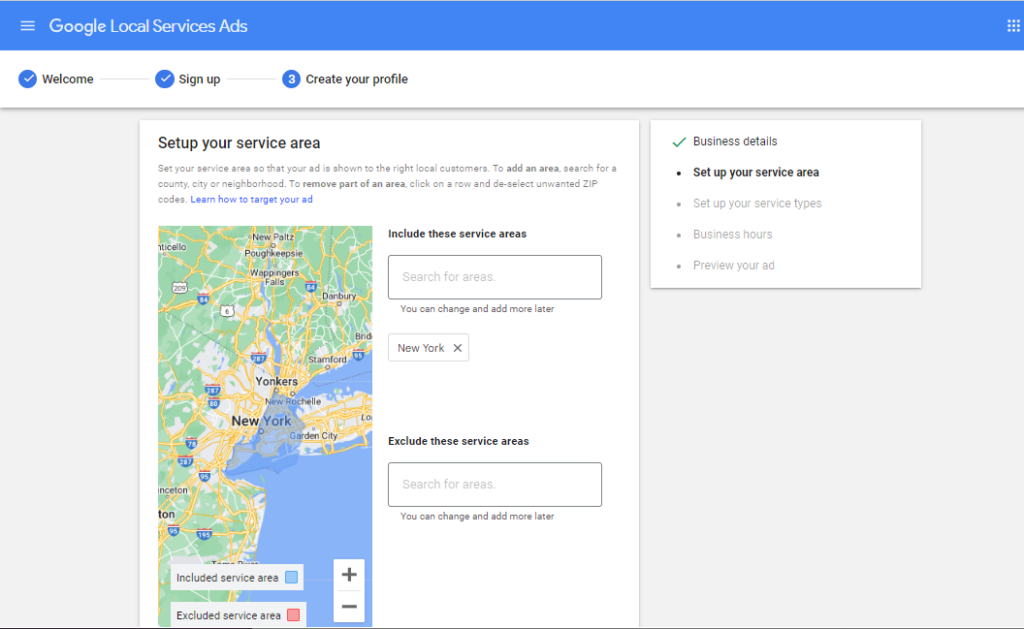 On the next page, you'll have the option to select the services you offer. The list of options will vary depending on your business category. So for example, a plumber will be able to choose whether they can install a toilet, repair outdoor systems, install a shower, and so on. Similarly, if you provide language learning services, you'll be able to choose which languages you can teach.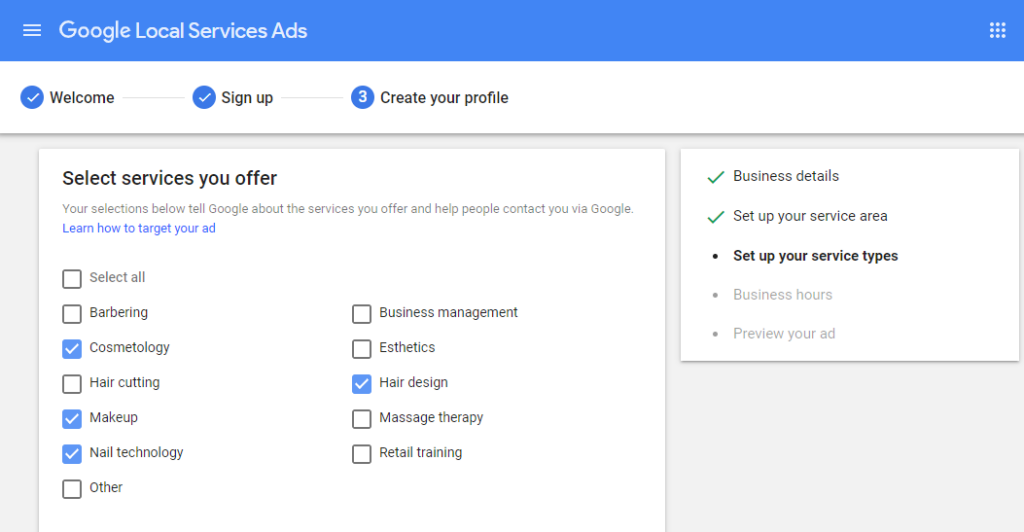 Next, you'll need to provide details about your business hours. Simply toggle on the days that your business is open and include the hours of operation. Then click on "Next."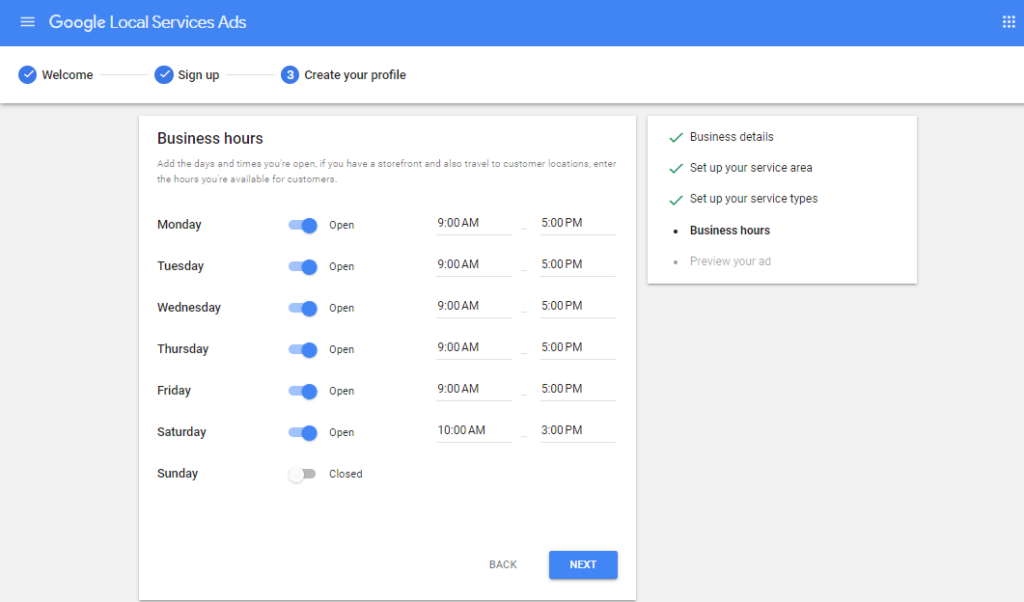 On the final page, you'll get to see a preview of how your ad will appear to customers searching for your service. Check the box to agree to the onboarding terms and click on "Next" to finish setting up your profile.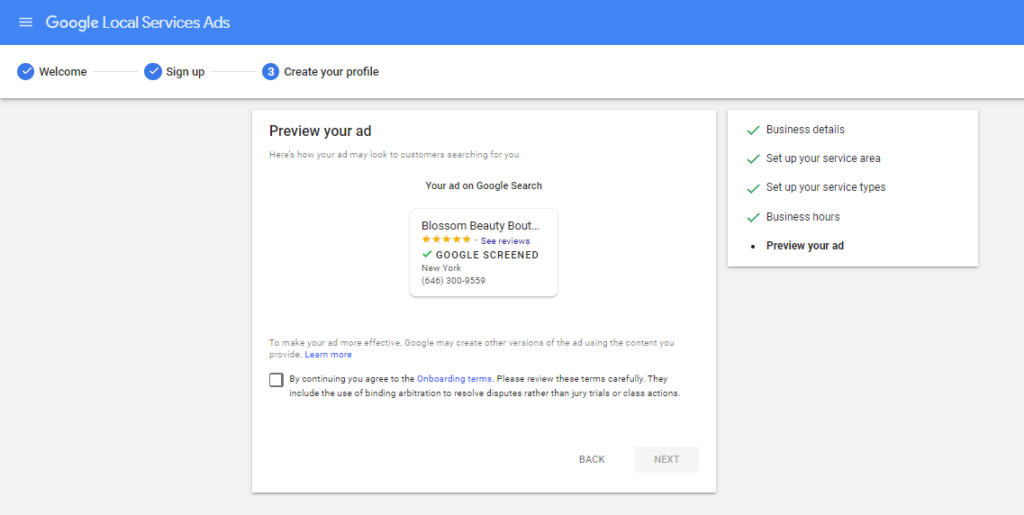 ---
Step 3: Complete Your Business Verification
The next step is to complete the verification process to prove to Google that your business is trustworthy. You'll need to complete a background check through Evident, which will verify your credentials, licenses, registrations, insurance, and other key details about your business. The uploading guidelines and required documents will also vary depending on the type of business you run and the country you're in.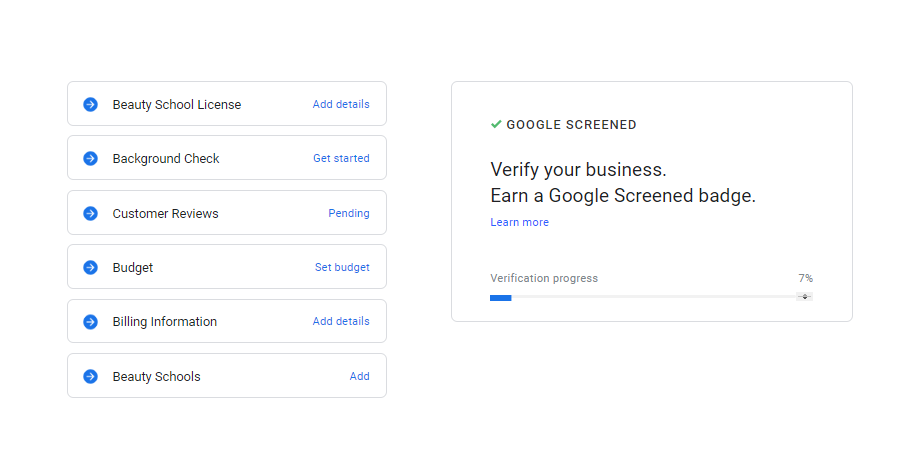 This stage of the setup process will also require adding customer reviews. Google will automatically pull customer reviews from your listing. If you don't have any reviews yet, you can also send a custom link to previous customers to collect more reviews.
Next, make sure to set a budget depending on how much you're willing to spend per week. Google will provide you with a list of suggested budgets. But you can also choose to select your own budget.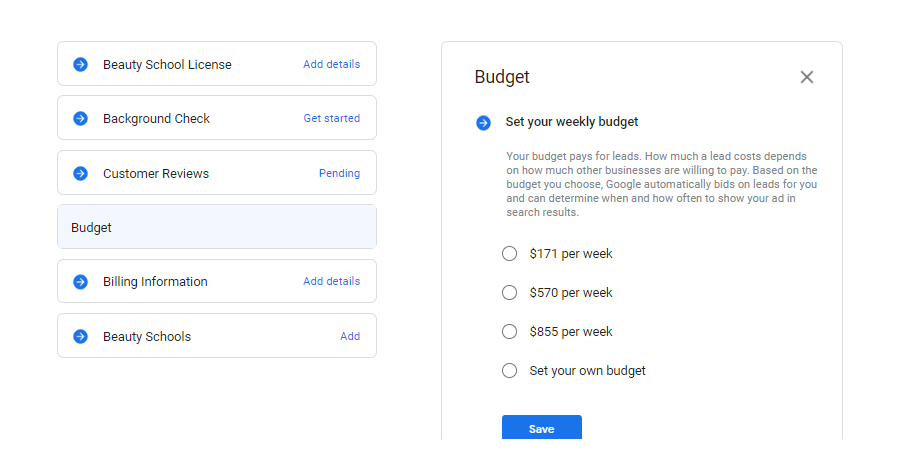 Once this is done, provide your billing information so Google can charge you for the leads generated through your ads. This step simply involves adding your credit or debit card information to your account.
You may also get additional steps depending on the type of business you operate. For example, a language learning establishment might get the option to feature prominent language instructors to further add credibility.
After filling out all the required details, all you need to do next is wait to get approved. Google will take anywhere from a few days to several weeks to complete the screening and verification process. If you get approved, your account will appear under the "Live Accounts" section of your dashboard.
---
Step 4: Optimize and Improve Performance
Once your Local Service Ads go live, you can closely monitor their performance and see if there's anything you need to improve. Make sure you're constantly making improvements so that your ads are delivering the kind of results you need. Here are a few best practices to improve your ad performance:
Be comprehensive with your service areas and job types. Don't forget to include all the areas you service and all the services you can offer.
Collect tons of reviews. Google recommends at least five reviews for your Local Service Ads to show. Don't forget to encourage past and existing customers to share their reviews of your business.
Use the "Maximize Leads" option instead of the "Max Per Lead" option. This will automatically optimize your budget so you get the best leads.
Include high-quality photos for visual proof. This could be anything from a photo of your offices to a photo of your equipment. The idea is to further boost credibility by including eye-catching visuals.
---
Ready to Attract Local Customers?
There you have it–a comprehensive guide to using and setting up Local Service Ads on Google. The setup process is fairly simple, with the most complicated part being the verification process. Once you get featured in these ads, you can attract plenty of highly relevant local customers that are most likely to convert.
Frequently Asked Questions
What is Local Service Ad?
Local Service Ads are an ad solution from Google that lets businesses display ads to people in a specific area.
What is the difference between Google Ads and Local Service Ads?
Google ads are regular PPC ads where you pay for each click. They show up above or below search results. Local Service Ads are specifically shown to users in a specific area and are always displayed at the top of the page. Advertisers also pay only for leads generated directly through the ads.
Are Local Service Ads worth it?
Local Service Ads can be a great way to maximize your ad spend since you only get charged for the leads generated. That means you're paying for direct results only.
Where do Local Service Ads appear?
Local Service Ads appear at the top of the search results page.
Why are Local Service Ads important?
Local Service Ads let you target highly relevant customers in a specific area and turn them into leads directly from the ad. You also pay only for the leads generated and have your ads show up prominently at the top of the page.