Advertising Disclosure
Advertising disclosure:
Our partners compensate us. This may influence which products or services we review (also where and how those products appear on the site), this in no way affects our recommendations or the advice we offer. Our reviews are based on years of experience and countless hours of research. Our partners cannot pay us to guarantee favorable reviews of their products or services.
Luxury marketing is a highly specialized field that focuses on promoting high-end products and services to a niche audience. It is characterized by the use of high-quality visuals, sophisticated language, and exclusive experiences to appeal to affluent consumers. The luxury market encompasses a range of industries, including fashion, beauty, jewelry, travel, and hospitality.
Luxury marketing agencies specialize in helping businesses in these industries promote their products and services to the right audience through effective digital marketing strategies. These agencies have extensive knowledge and experience in luxury branding, social media marketing, influencer marketing, email marketing, and other digital marketing techniques that are tailored to the needs of luxury brands. Luxury marketing agencies provide customized solutions that take into account the unique needs and goals of each business and help them establish a strong online presence that resonates with their target audience.
---
The 12 Leading Luxury Marketing Agencies for Upscale Brands:
Top
luxury marketing agencies
2024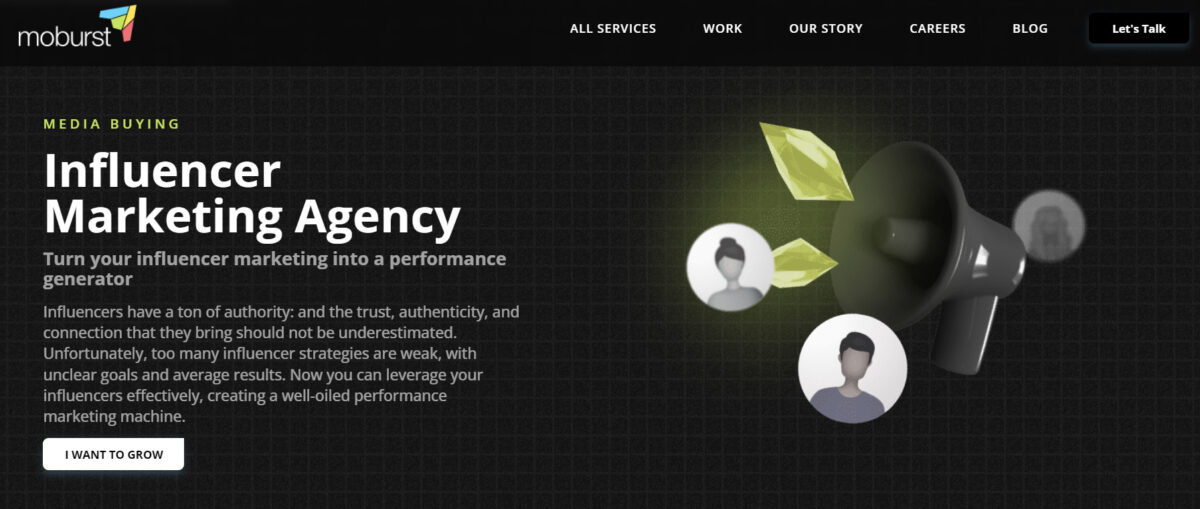 As a distinguished mobile growth agency, Moburst has partnered with industry leaders like Google and Samsung to propel their mobile success. Their extensive array of services encompassing influencer marketing, user-generated content, and app store optimization makes them a versatile choice for brands keen on optimizing their mobile presence.
Though not luxury-specific, their adeptness in collaborating with both startups and established brands illustrates their flexibility and understanding of various market dynamics. The combination of innovative strategies and a results-driven approach positions them as a valuable partner for luxury brands venturing into the mobile domain.
Services:
Influencer Marketing
User Generated Content
App Store Optimization (ASO)
Conversion Rate Optimization (CRO)
Mobile and Social Strategy
Media Buying and Creative Production
---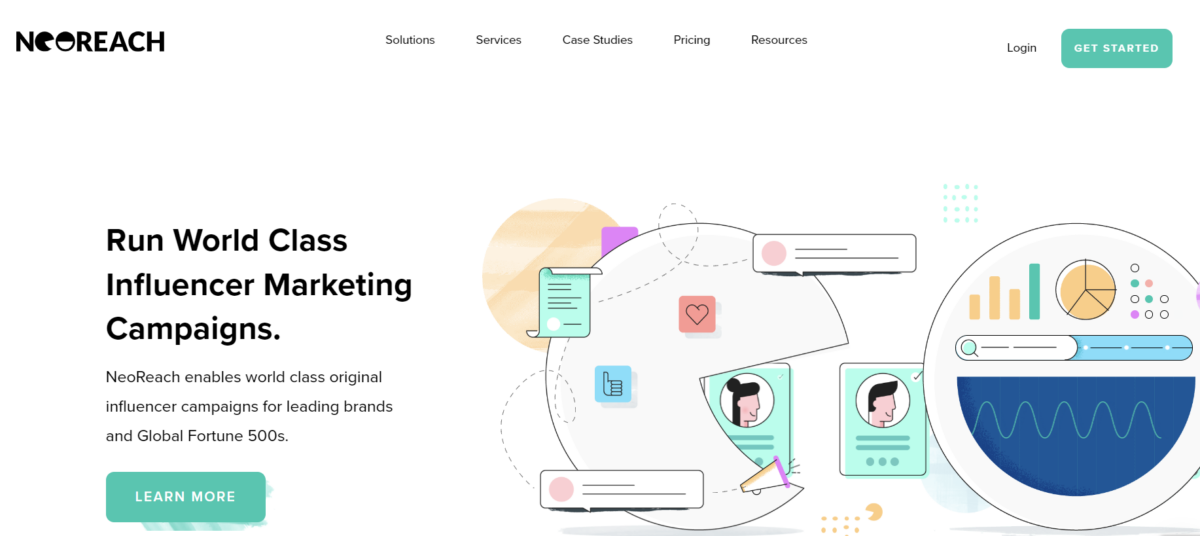 NeoReach, with its roots at Stanford University, has grown into a reputable influencer marketing platform, managing over $250 million in influencer spend to date. Their proficiency in orchestrating successful influencer campaigns has been validated through collaborations with diverse brands like NVIDIA and A&E, portraying a clear understanding of various market segments​.While they have a broad spectrum of clientele, their emphasis on tech-enabled services and influencer marketing campaigns signifies a potential advantage for luxury brands aiming to capitalize on influencer marketing. Their robust platform and experienced team are well-equipped to craft campaigns that resonate with the high expectations of luxury consumers.
Services:
Full-Service Influencer Marketing Campaigns
Influencer Activation and Management
Campaign Measurement and Analytics
Tech-Enabled Influencer Marketing Solutions
Brand Awareness and Engagement Campaigns
---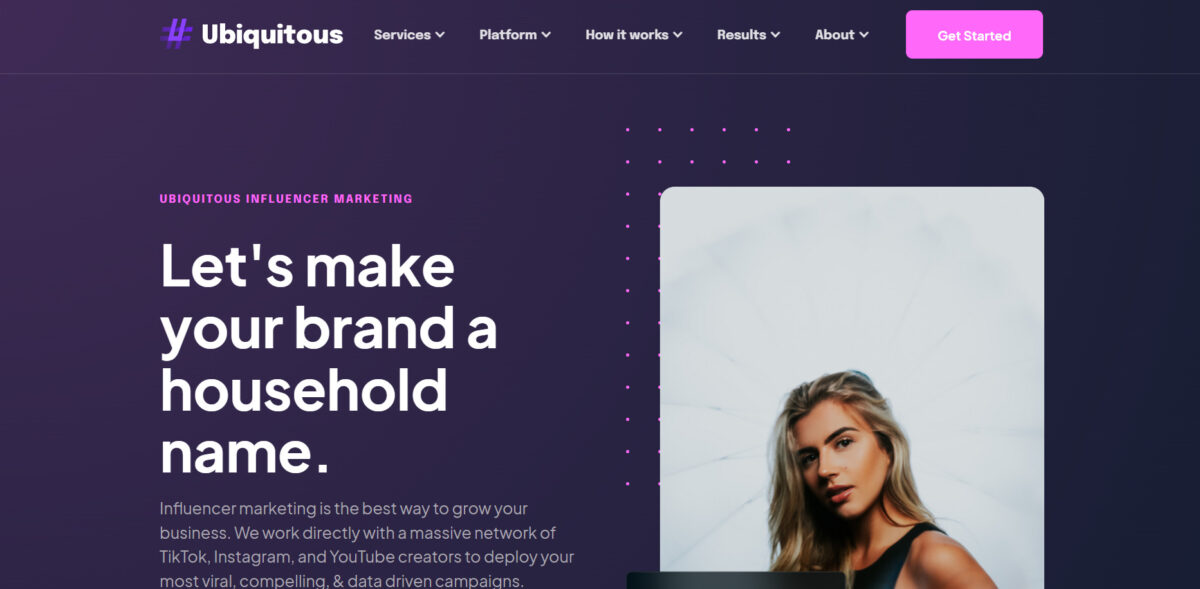 Ubiquitous is a premier influencer marketing agency trusted by a plethora of top-notch brands for executing stellar influencer campaigns. With an illustrious clientele that includes names like Disney, Amazon, and American Eagle, they have exhibited profound expertise in harnessing the power of social platforms, particularly Instagram, to elevate brand awareness and engagement​.
Their methodical approach to campaign creation starts with a robust testing roadmap, ensuring each campaign is well-structured to meet the unique objectives of the brand. While not exclusively focused on the luxury sector, their success with prestigious brands showcases their capability to adapt and deliver results that resonate with a discerning audience.
Services:
Instagram Influencer Marketing
Campaign Testing and Optimization
Influencer Vetting and Management
Content Creation and Distribution
Performance Analytics and Reporting
---

SmartSites is a leading marketing agency that specializes in luxury-oriented digital marketing, focusing on attracting the right customers to businesses in the luxury industry. Their proven success in increasing paid clicks and conversion rates for luxury goods businesses, such as ForeverLux and NJ Lux Real Estate, demonstrates their expertise and understanding of the luxury market. With a 94% increase in total site traffic and a 59% increase in organic search traffic for ForeverLux, their results speak for themselves.
At SmartSites, their experienced team of designers creates elegant and sleek websites that are tailored to the specific needs of luxury brands. Their designs not only showcase the luxury brand's identity but also create a seamless online experience across various devices, including desktop and mobile. Their luxury website design expertise is complemented by their skill in executing successful luxury SEO campaigns, utilizing white hat SEO techniques to ensure that clients' websites rank high in search engine results pages while avoiding penalties.
The agency also excels in other areas of digital marketing, such as pay-per-click advertising and social media marketing. Their ability to deliver effective and comprehensive digital marketing solutions has made them a trusted partner for businesses in the luxury industry.
Services:
Website Design
Website Development
Search Engine Optimization (SEO)
Pay-Per-Click Advertising (PPC)
Social Media Marketing
Content Marketing
Logo Design & Branding
---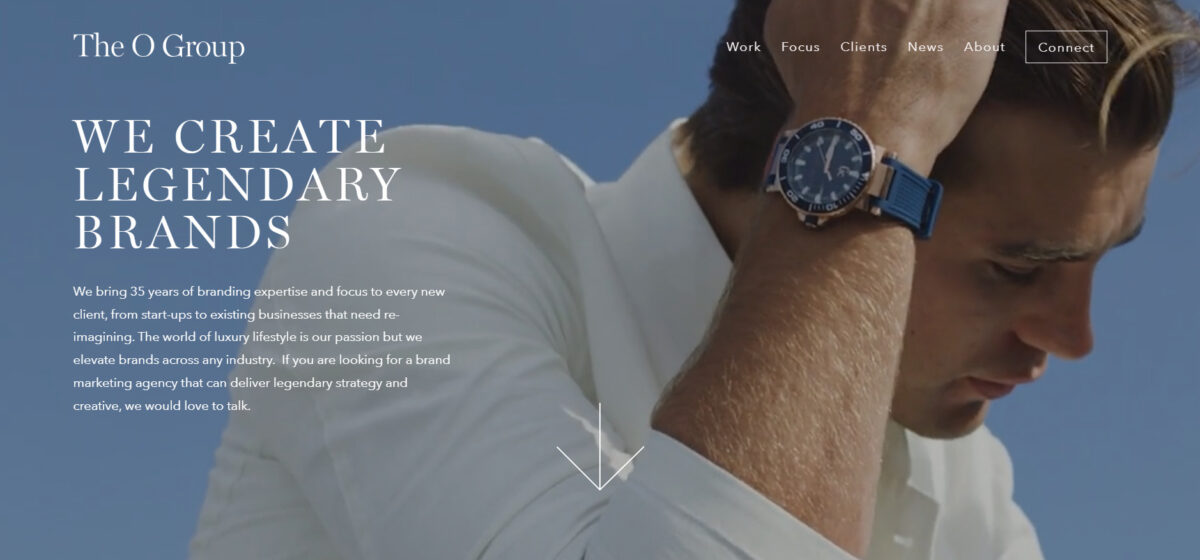 The O Group is a full-service luxury marketing agency with over 35 years of branding expertise. They have worked with some of the world's most prestigious brands and start-ups across various industries, offering a boutique approach to create legendary brands.
With luxury lifestyle branding as their first language, The O Group excels in premium and luxury communications, including start-ups and rebranding. Their dynamic full-service approach covers various aspects, such as positioning, strategy, brand identity, creative design, collateral, digital marketing, content production, and advertising.
The O Group has an impressive roster of clients, including Moet & Chandon, Hennessy, Ritz-Carlton, and Piaget. They offer an end-to-end solution for luxury brands, from defining and positioning to creating powerful strategies, designing captivating brand identities, and executing creative campaigns, ultimately helping brands realize their full potential.
Services:
Brand Strategy & Positioning
Brand Identity & Design
Packaging Design
Digital Design & Development
Content Creation
Social Media Strategy
Experiential & Event Marketing
Influencer Partnerships
Advertising & Media
Public Relations & Communications
---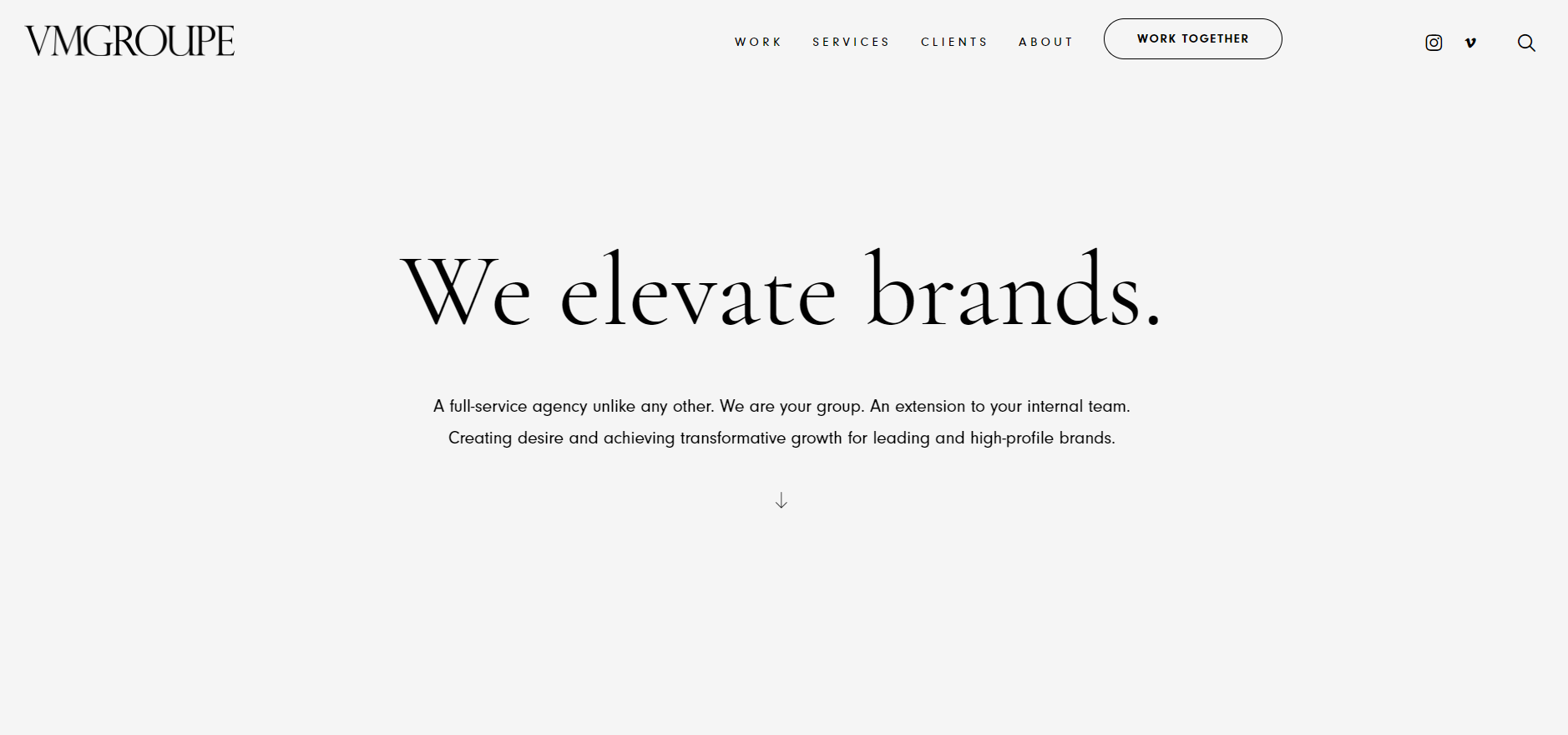 VMGROUPE is a full-service branding and digital creative agency with a focus on exceptional branding, memorable content, compelling storytelling, high conversion, and transformative growth. With over 16 years of experience, they have been elevating high-profile and emerging brands in various sectors, such as beauty, fine jewelry, fashion, real estate, hospitality, aviation, and luxury lifestyle.
As digital strategists with great taste and industry-leading expertise in SEO, SEM, and email marketing, VMGROUPE offers a comprehensive range of services, including site audits, search optimization, customer acquisition strategy, digital paid media strategy, management, performance marketing, and website design and development. They are expert content creators capable of evoking emotions and driving consumer desire.
In response to the growing need for cost-efficient and engaging content, VMGROUPE has streamlined and simplified content creation through ultra-photorealistic 3D renderings and motion imagery with CGI (Computer Generated Imagery) for various online-owned media channels. Their approach is a perfect blend analytical, creative, and exceptional, helping brands achieve transformative growth.
Services:
Brand Strategy & Positioning
Brand Identity & Design
Digital Design & Development
Content Creation
Social Media Management & Advertising
Search Engine Optimization (SEO)
E-commerce Solutions
Influencer Partnerships
Public Relations & Communications
---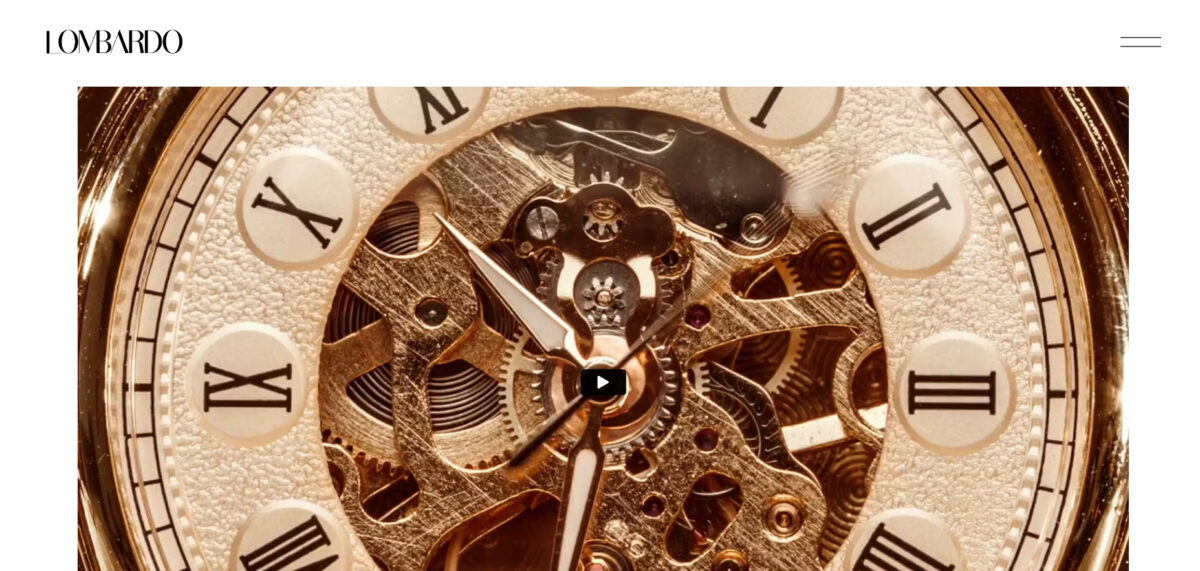 Lombardo is a full-service luxury marketing and advertising agency with over eleven years of experience in building multi-million-dollar brands. With a unique emphasis on strategy and design, they have produced dramatic and sustained growth for their clients by creating iconic, strategically grounded, and culturally relevant campaigns.
As an independent agency, Lombardo is fully dedicated and focused on their clients' goals and objectives. They thrive in challenging and deadline-driven environments, providing clients with a consistent approach to building long-term equity. Most of their client relationships span over five years, with several currently exceeding eleven years.
Lombardo specializes in various luxury sectors, including beauty, fashion, and luxury homes. They develop brands with charismatic, engaging characters, artful design, and compelling channels. Their comprehensive process includes market research, strategic planning, creative development, production, brand execution, and amplification. With innovations such as CGI rendering and generating buzz through earned media, Lombardo carries your brand's story further and faster, ensuring success in the luxury market.
Services:
Branding & Identity
Website Design & Development
Digital Marketing
Social Media Management
Content Creation
Video Production
Photography
Influencer Marketing
Experiential Marketing
Media Planning & Buying
---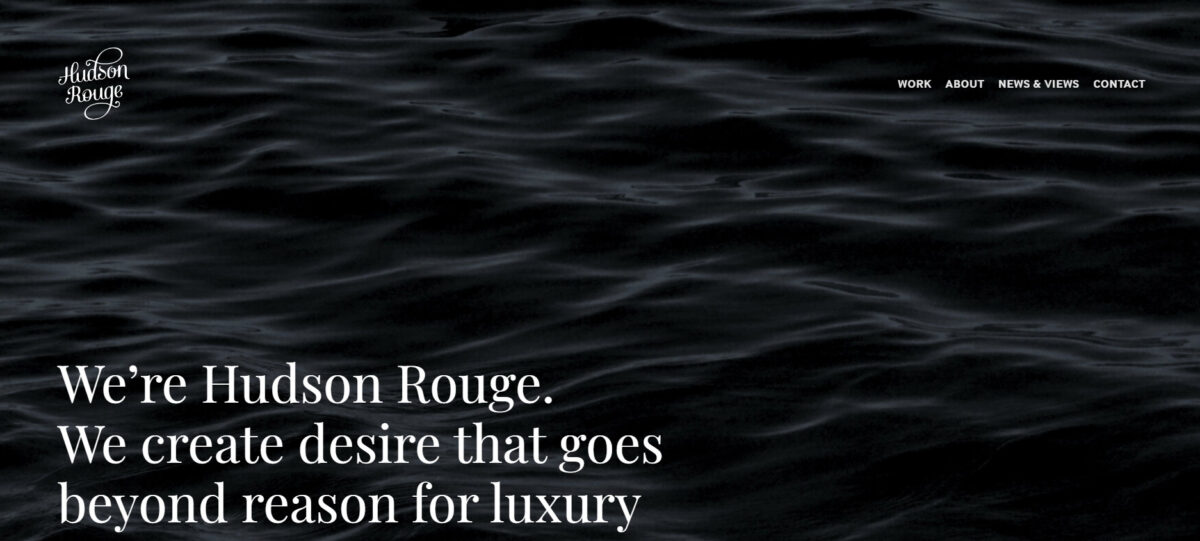 Hudson Rouge is a luxury marketing agency that creates desire beyond reason for luxury brands. They focus on three key principles: gestures over words, restraint, and cults, not brands. By emphasizing the way a luxury brand behaves over the language it uses, Hudson Rouge crafts campaigns that resonate deeply with consumers.
The agency believes in the power of restraint and the magnetic pull of a luxury brand, knowing how to ingratiate themselves into a consumer's life without being pushy. By treating luxury brands as "cults," they create discerning, insider campaigns that appeal to the desire for exclusivity and belonging. With a prestigious client list that includes Rolex, NEMARK, and Lincoln, Hudson Rouge has a proven track record of success in the luxury market.
Services:
Gestures Over Words
Restraint in Luxury Marketing
Creating Cult-like Luxury Brands
---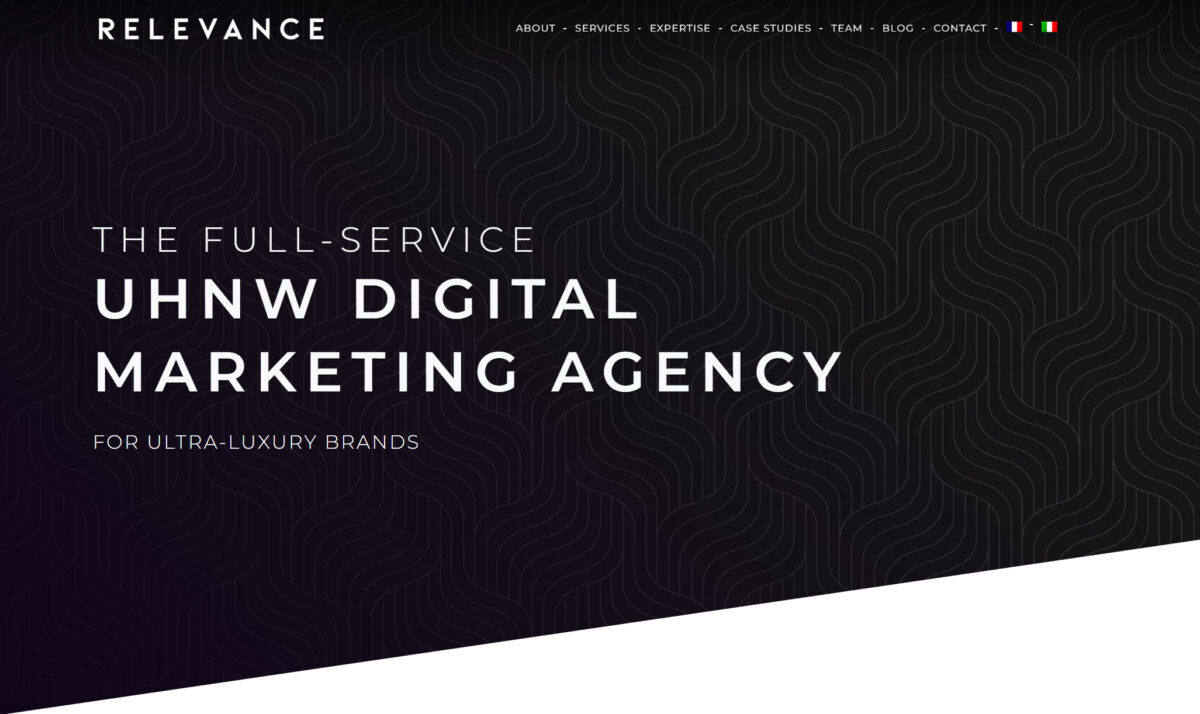 Relevance is an award-winning, full-service luxury digital marketing agency specializing in reaching the world's wealthiest audiences. With over 15 years of expertise in luxury marketing and targeting UHNWIs, they have helped hundreds of international luxury brands, from small start-ups to global powerhouses.
Their team of creative and digital strategists covers branding, creative, and digital marketing, offering a holistic approach that consistently exceeds clients' expectations. Relevance offers a range of services, such as developing brand identities, crafting state-of-the-art websites, and devising inventive digital strategies that encompass SEO, paid and social advertising, media purchasing, social media management, influencer marketing, public relations, content marketing, and customer relationship management.
Operating from Monaco and London, Relevance's international presence allows them to provide comprehensive, multilingual digital solutions on a global scale. They work with a wide range of luxury markets, including real estate, hospitality, private travel, gastronomy, fashion and apparel, jewelry and accessories, and finance.
Services:
Branding
Creative
Digital Marketing
SEO, Paid and Social Advertising
Media Buying
Social Media
Influencer Marketing
PR
Content Marketing
CRM
---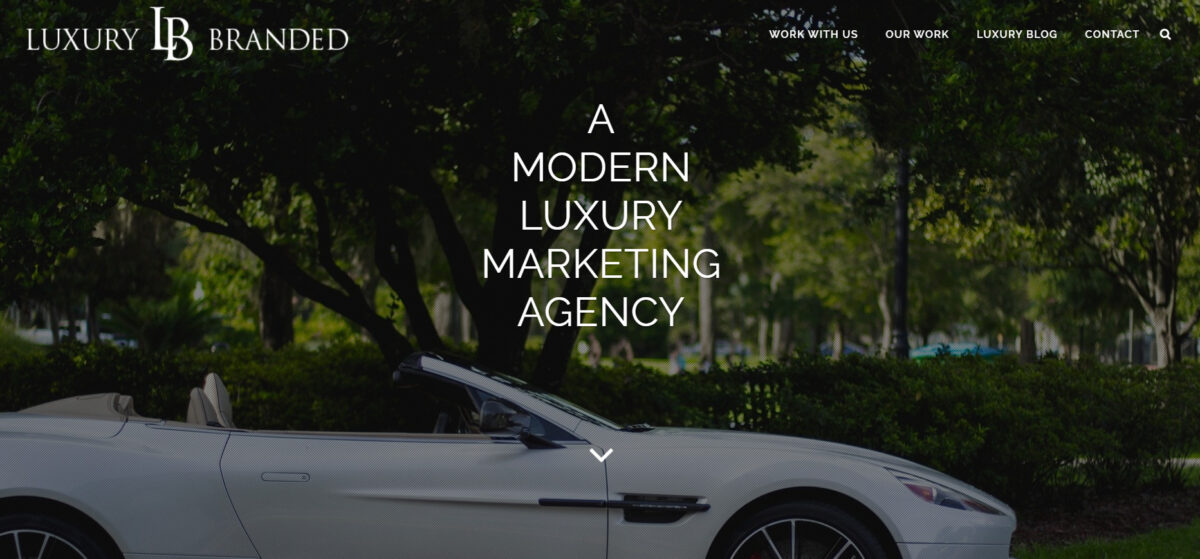 Luxury Branded is a luxury marketing consulting agency sought out by luxury brands across the globe to revitalize their marketing strategy. They excel in UHNW marketing, helping clients develop and execute strategies to reach the right audience both online and offline. With a decade of experience, Luxury Branded has been assisting luxury brands in rethinking and energizing their UHNW marketing strategies.
The creative team at the agency collaborates closely with every client, generating buzzworthy triumphs, informative material, and attention-catching headlines. The agency's founder, Ryan Clark, personally oversees the creation of each campaign, emphasizing the crucial role of strategy in achieving sustainable growth and success. Luxury Branded diligently plans each campaign to achieve stellar results, targeting UHNW individuals and affluent millennials both offline and online.
Luxury Branded offers a range of services, including branding and web design, viral marketing, event marketing, social media, public relations, advanced SEO, luxury real estate marketing, luxury hotel marketing, and private jet marketing. Their boutique approach and commitment to doing something different ensure that clients achieve the results they desire.
Solutions:
Branding & Web Design
Viral Marketing
Event Marketing
Social Media
Public Relations
Advanced SEO
Luxury Real Estate Marketing
Luxury Hotel Marketing
Private Jet Marketing
---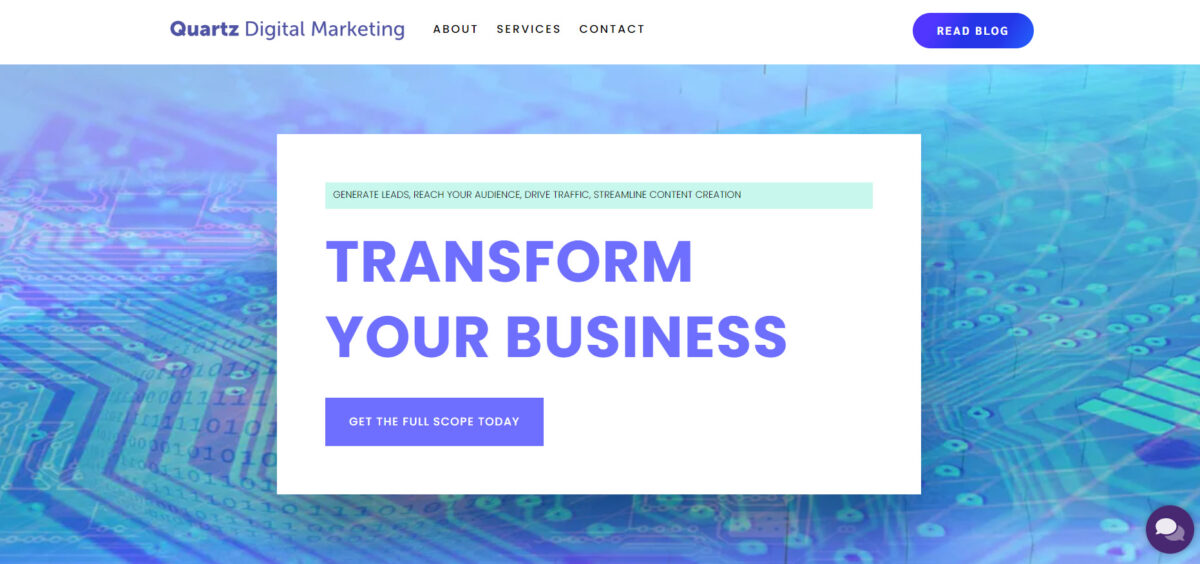 QUARTZ is more than just a digital marketing agency; they are a dedicated business partner that involves clients in every step of a project. By listening to clients' visions and needs, QUARTZ explains technical definitions, narrows down options, and unveils the best solutions for each business.
Favoring quality over quantity, QUARTZ is a boutique agency that takes the time to delight its clients. They share their clients' dedication to their products and services and commit to using their skills to showcase them in the best light. QUARTZ believes in building partnerships rather than acquiring clients, valuing long-standing relationships rooted in mutual respect and understanding.
As a QUARTZ client, you can expect to be as pampered as your customers. The agency seeks clients who truly respect great quality work and appreciate their commitment to success. They see the potential in people, not projects, and relish the opportunity to develop lasting relationships.
Solutions:
Brand Strategy
Brand Identity
Messaging
Copywriting
Collateral Design
Web Design / Development
Photography / Videography
Rendering / Interactive VR
Print Production
---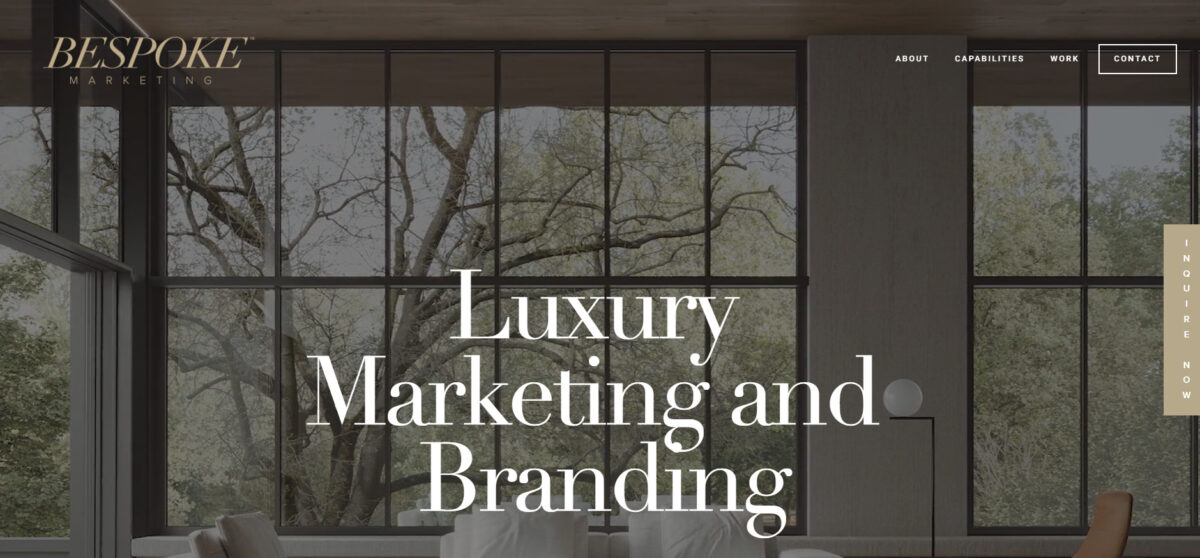 Bespoke Luxury Marketing is a comprehensive branding and marketing agency that excels in delivering creative, research-based, and strategic solutions. They offer seamless access to an exclusive and proficient network of ultra-high-net-worth individuals for their clients. Driven by industry-leading creative, research, and strategy, Bespoke Luxury Marketing delivers tailored solutions for luxury brands.
Their Bespoke Art services include brand strategy, brand identity, messaging, copywriting, collateral design, web design and development, photography and videography, rendering and interactive VR, and print production. These services ensure a cohesive and powerful brand presence for clients.
The Bespoke Method focuses on marketing strategy, competitive analysis, data and research, social media, SEO and SEM, advertising, email marketing, distribution, and access marketing. This method allows for the development of comprehensive and effective marketing campaigns tailored to the luxury market.
Bespoke Access provides a unique advantage by offering connections to their UHNW network and database, Bespoke Magazine, Bespoke Private Circle, influencer and brand partnerships, and event integration. This access ensures that clients' brands reach the most relevant and affluent audiences.
Some of their notable clients include Lamborghini, Copper Fit, Apollo Yachts, Fly XO, Ellish Builders, Farrell Companies, Poliform, GO Partners, Rosewood Half Moon Bay, and Fabrikant. With Bespoke Luxury Marketing, clients can expect a customized approach to help elevate their brand and achieve their marketing objectives.
Services:
Bespoke Luxury Marketing:
Brand Strategy
Messaging
Copywriting
Collateral Design
Photography / Videography
Rendering / Interactive VR
Print Production
---
Frequently Asked Questions
What is a luxury marketing agency?
A luxury marketing agency is a specialized marketing agency that focuses on creating marketing campaigns and strategies for high-end, luxury brands. These agencies often work with luxury brands in industries such as fashion, jewelry, watches, automobiles, and hospitality.
What services do luxury marketing agencies offer?
Luxury marketing agencies offer a range of services, including branding, advertising, public relations, social media marketing, event planning, influencer marketing, and market research. These agencies often work with luxury brands to create tailored marketing strategies that align with the brand's values and target audience.
What should I look for when choosing a luxury marketing agency?
When choosing a luxury marketing agency, it's important to look for a team with experience working with luxury brands, a track record of success in the industry, and a deep understanding of the target audience. You should also consider the agency's approach to creativity, innovation, and strategy, as well as their communication and collaboration style.
How much does it cost to hire a luxury marketing agency?
The cost of hiring a luxury marketing agency can vary widely depending on the scope of the project, the agency's experience and expertise, and the level of customization required. Some agencies charge a flat fee, while others charge by the hour or offer a retainer-based model. It's important to discuss pricing upfront and ensure that you have a clear understanding of the costs involved.
How long does it take to see results from a luxury marketing campaign?
The timeline for seeing results from a luxury marketing campaign can vary depending on the nature of the campaign and the goals you've set. Some campaigns may see immediate results, while others may take several months or even years to fully realize their potential. It's important to set realistic expectations and work closely with your luxury marketing agency to track and measure the success of your campaign.
How do I measure the success of a luxury marketing campaign?
Measuring the success of a luxury marketing campaign depends on the goals you've set and the metrics you're tracking. Some common metrics for measuring success include website traffic, social media engagement, sales revenue, and customer feedback. Your luxury marketing agency should work with you to define clear goals and establish a system for tracking and measuring success over time.