Advertising Disclosure
Advertising disclosure:
Our partners compensate us. This may influence which products or services we review (also where and how those products appear on the site), this in no way affects our recommendations or the advice we offer. Our reviews are based on years of experience and countless hours of research. Our partners cannot pay us to guarantee favorable reviews of their products or services.
Navigating the vast world of Search Engine Optimization can be a challenge, especially when trying to find the best content services to elevate your website's ranking. As you understand the immense value of high-quality SEO content, we've curated a list of the top 10 SEO content services to make your journey easier.
Whether new to the scene or looking to refine your strategy, these services will provide you with the resources you need to ensure your content not only shines but also performs. Dive in and discover the best in the business.
---
Top SEO Content Services
Top
seo content services
2024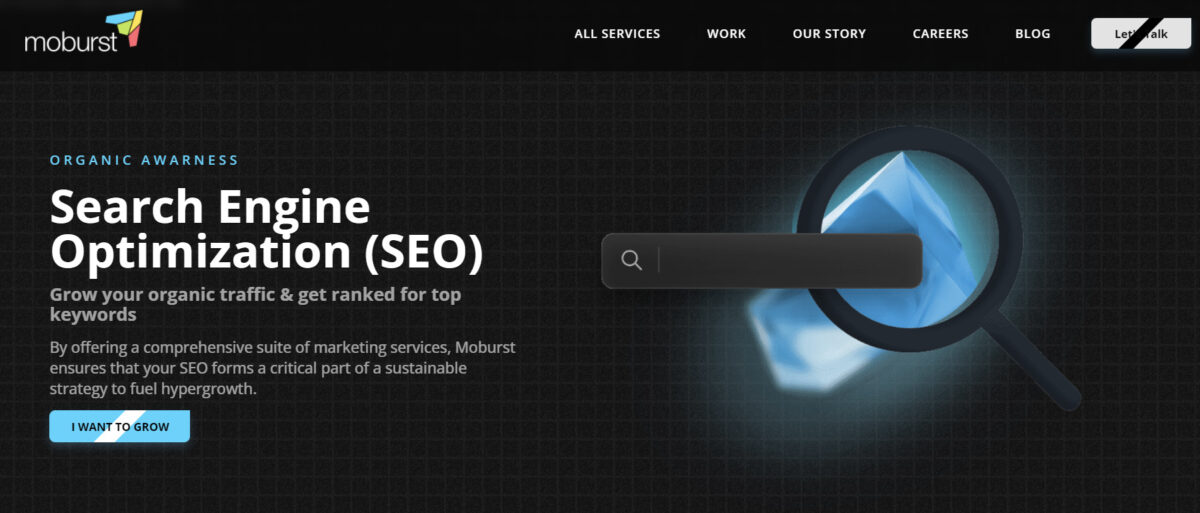 Best for: Businesses and agencies of all sizes
Notable clients: Samsung, The Discovery Network, Reddit, Reflect.ly, Pink Park
Pricing: Minimum Project Size is $5,000+, Average Hourly Rate is $150 – $199
Positioned in the heart of New York City, Moburst is a leader in developing mobile-first strategies. Partnering with them means leveraging the expertise of an agency dedicated to projecting mobile products into the limelight. Moburst's SEO content services are geared to help you identify your target audience and ensure these connections mature into loyal user relationships. Diving deeper, you'll find unparalleled proficiency in BI & Analytics, ASO (App Store Optimization), and CRO (Conversion Rate Optimization). Their illustrious track record, boasting collaborations with global titans like Samsung, is a testament to their prowess. If SEO mobile growth backed by data-driven strategies resonates with your brand's vision, then Moburst might just be your ideal companion.
---

Best for: Mid-sized businesses and enterprises
Notable clients: Hardware Tree, MalpracticeBrokers.com, California Home Health, The Good and The Beautiful Homeschool Curriculum Company
Pricing: Minimum Project Size is $5,000+, Average Hour Rate is $100 – $149
Disruptive Advertising is a stalwart in SEO content services, creating strategies and campaign insight to launch your brand to new heights. They're an agency that specializes in optimizing your website for search engines and squeezing every drop of value from your advertising budget. Disruptive Advertising's claim that over 76% of ad spend is wasted elsewhere underlines their commitment to such efficiency. Their suite of SEO content services focuses on long-term organic growth, comparing it to the steady returns of a 401K. Collaborating with Disruptive promises enhanced online visibility and optimized content for conversions across the marketing funnel. From keyword research to copywriting, their offerings help formulate a winning online strategy. As you explore deeper, their vast experience, reflected by the trust of clients managing over $450M+ in ad spend, could be the assurance you need.
---

Best for: Small businesses
Notable clients: A&A Thermal Spray, Airtech Vacuum, Anexio
Pricing: Minimum Project Size is $1,000+, Average Hourly Rate is $100 – $149
Nestled in Paramus, NJ, SmartSites is a digital marketing agency offering specialized SEO content services. Engaging with SmartSites means partnering with a Fastest Growing Inc. 5000 Company for three consecutive years. Their suite of SEO content services underscores their commitment to such growth, helping brands like yours rank higher organically. But they don't stop there. Their expertise spans keyword research and ad copywriting to National and Local SEO. If you're aspiring to craft a seamless online narrative that not only draws visitors but also converts them, SmartSites should be your next call.
---
Best for: Businesses of all sizes
Notable clients: Farah, Nationwide Constructions
Pricing: Minimum Project Size is $1,000+, Average Hourly Rate is $100 – $149
Thrive Internet Marketing Agency, with its presence in 25 cities globally, is ready to elevate your brand through specialized SEO content services. These services are not generic; they're highly tailored, focusing on careful keyword research and ethical white-hat strategies. But that's just one facet of their multifaceted approach. Thrive offers comprehensive digital solutions, from engaging social media campaigns to compelling video content that tells your brand's story. Their work has helped clients achieve significant boosts in organic traffic and conversions, showcasing their commitment to delivering tangible results. If a results-oriented, comprehensive digital strategy is on your checklist, Thrive can deliver.
---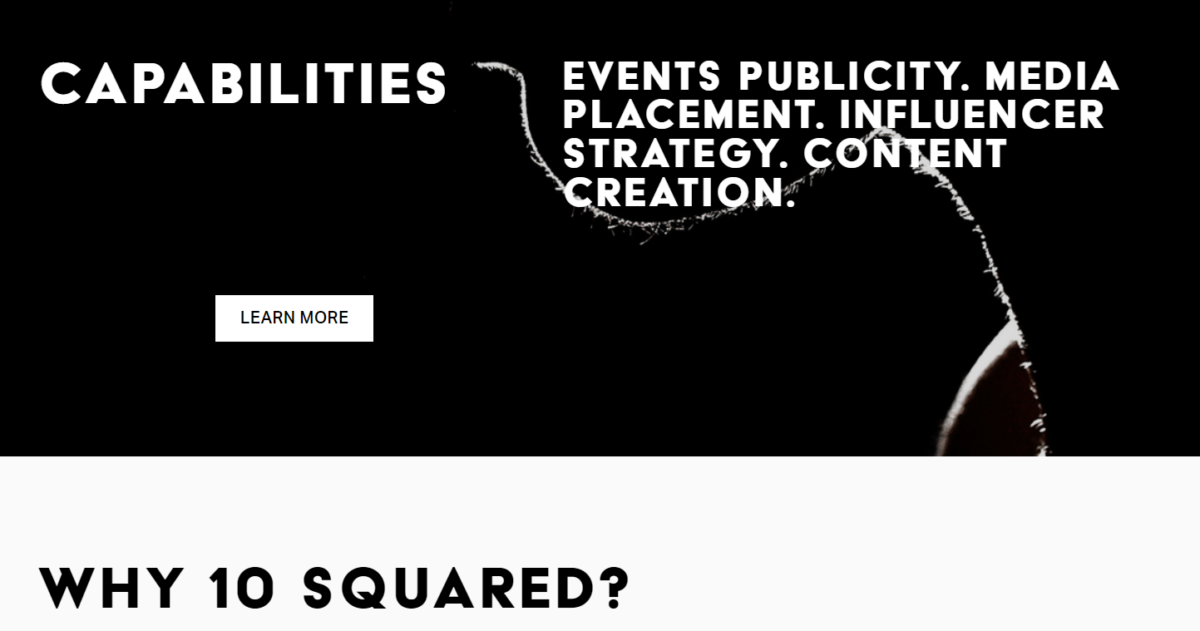 Best for: Medium-sized businesses and enterprises
Notable clients: W Hotels, Jeezy, Ragtrade Atlanta
Pricing: Undisclosed
10 Squared is not just an agency but a hub of creativity focusing on the lifestyle and entertainment industries. Collaborating with them means engaging a team aware of current trends. Their SEO services amplify your brand's voice in a competitive market, ensuring distinction and relevance, while their content services help you engage audiences across platforms. 10 Squared excels in designing campaigns that integrate with popular culture, boosting visibility and awareness for your product or services. If your brand aligns with lifestyle and entertainment, and you seek effective strategies for today's audience, consider 10 Squared.
Key SEO and Content Marketing Services:
Content Creation and Amplification
Integrated Marketing Campaigns
Influencer Outreach
---

Best for: Small to medium-sized businesses
Notable clients: Milam Law Firm, Private Counsel, Phil Klein
Pricing: Min Project Size is $1,000+, Avg Hourly Rate $100 – $149
Venturing into the corridors of 1GS Digital Agency, you're embraced by a team that champions data-driven digital marketing. They hold a firm belief that any successful online strategy should be built on concrete analytics. As such, they're experts at translating hard data into actionable insights. Moreover, 1GS are experts at blending SEO with content marketing, providing you with a suite of services to enhance visibility and drive conversions. These services ensure every campaign reaches the desired target audience, amplifying your voice through the right platforms. If you're searching for an agency where data reigns supreme and every strategy is measurable, 1GS Digital Agency is worth exploring.
---

Best for: Small businesses
Notable clients: FVC Bank, Paw Pals, Atlas Insurance, Advantage Technology
Pricing: Min project size $10,000+, Average Hourly Rate $100 – $149
321 Web Marketing introduces you to the world of local optimization. Recognizing the power of local searches, they've tailored their strategies to ensure your brand dominates its niche within specific regions. When you're with them, local customers don't just find you; they engage with you. Their SEO content services focus on crafting narratives that resonate with the local audience, building a community around your brand. If penetrating local markets and building loyal customer bases within specific regions aligns with your goals, 321 Web Marketing is ready to champion your cause.
---

Best for: Medium-sized agencies to enterprise giants
Notable clients: Rankings.io, GrowthSquad, SocialSEO
Pricing: Undisclosed
Located in Denver, Colorado, Verblio is a marketing campaign agency that excels in creating high-quality SEO content. When you partner with Verblio, you're not just getting a content provider; you're getting a full-fledged marketing campaign strategist. Their SEO writing services are designed to elevate your brand's visibility and drive organic traffic. They offer a range of services, from blog posts to video content, all optimized for searches. Their unique approach to content creation involves a blend of creativity and data analytics, ensuring your marketing campaigns are both engaging and effective. With an impressive and satisfied client roster under their belt, Verblio's expertise is proven and trusted.
---

Best for: Medium to large-sized businesses
Notable clients: SurferSEO, SEO Signals Lab, Simonet Marketing
Pricing: Undisclosed
Based in Florida, SEO Content Hero is a marketing campaign agency that specializes in crafting SEO-optimized content that resonates with your target audience. Their services are not just about keyword stuffing; they focus on creating valuable, high-quality content that positions your brand as an industry leader. They offer a comprehensive suite of services, including keyword research, content creation, and link-building strategies. Their approach is backed by robust analytics, ensuring your marketing campaigns are always on point. SEO Content Hero has the experience and expertise to take your marketing campaigns to the next level.
---
Best for: Small to medium-sized businesses, with some enterprises
Notable clients: Healthline, deel, Banks.com, Balancer, HealthMatch
Pricing: Minimum Project Size is $1,000, Average Hourly Rate is $100-$149
Headquartered in Auckland, New Zealand, Writing Studio is a marketing campaign agency that stands out for its focus on writing services, encompassing white-hat SEO and content creation. This proficiency ensures your campaigns are not only well-written but also well-optimized for search engines. Their services range from blog posts and articles to white papers and e-books, all designed to enhance your brand's online presence. Their team of experts employs a data-driven strategy, ensuring your marketing campaigns yield measurable results. With a client list across 50 industries and a team of over 80 writers and 15 editors, Writing Studio has the credentials to back up their claims of excellence.
---
What Are the Benefits of Hiring SEO Content Services?
When businesses invest in top-tier SEO content services, they're not just paying for words on a page; they're investing in a strategy designed to drive organic traffic, increase brand visibility, and, ultimately, boost sales.
One of the most tangible benefits of SEO content services is the increase in organic traffic. Unlike paid advertising, which stops the moment you halt your ad spend, organic traffic, once achieved, can provide a steady stream of potential customers. According to Backlinko, organic traffic accounts for 40% of revenue across many industries. This traffic is often more valuable because these are users actively searching for solutions that your business offers.
Another significant benefit is the conversion rate. Quality SEO content is tailored to the user's intent. When a user finds precisely what they're looking for on your site, they're more likely to convert, be it by signing up for a newsletter, making a purchase, or any other desired action. Statistics show that SEO has an average conversion rate of 2.4%. On the content side, email has one of the highest conversion rates, with 15%.
Lastly, SEO content services can lead to increased brand visibility and authority. When your content consistently ranks high on search engines, your brand becomes synonymous with industry expertise. This recognition can lead to other opportunities like partnerships, interviews, and backlinks to your website. SEO content services know how to optimize your content to attract backlinks. On average, the #1 ranked page on Google SERPs attracts between 5%-14.5% more backlinks per month. 
---
What Services Do SEO Content Agencies Provide?
Content marketing and SEO agencies offer a variety of specialized services designed to enhance your online presence, draw in qualified traffic, and promote significant conversions. Here's a deep dive into the vast array of services these agencies offer:
Comprehensive Content Strategy Execution
The best SEO content agencies handle the entire content marketing process. They not only pinpoint high-value keywords but also craft pertinent content that ranks for them. Furthermore, they assume the task of building links to boost rankings and consistently report on the conversions that each content piece garners.
Targeted Keyword Rankings
Although a boost in website traffic can be perceived as a success, it's the caliber of that traffic that truly holds significance. These agencies zero in not just on high-volume keywords but on ones that pull genuinely intrigued individuals — potential clients more inclined to make a purchase.
Top-tier agencies distinguish themselves by producing content that leaves an impression, sidestepping surface-level articles. Collaborating intimately with your team, they formulate content that deeply explores the distinct features, advantages, and unique selling points of your goods or services. Such detailed attention guarantees not only genuineness but also a stronger connection with your intended audience.
In the current cutthroat environment, merely relying on the inherent worth of content falls short. The best agencies employ a forward-thinking link-building strategy, incorporating diverse methods like guest blogging and public relations initiatives. This ensures the content they produce not only finds its place but also excels in its rankings.
Conversion-Focused Reporting
The true merit of content marketing is evident in its power to spawn leads and finalize sales. Prioritizing this, these agencies spotlight conversions in their reports. Instead of parading shallow metrics such as social media shares or generic traffic figures, they concentrate on conversion rates. By attributing leads and completed sales to specific articles or web pages through both initial and final touch attribution, they grant insights that resonate with business expansion.
Expanding SEO Horizons with New Content
Merely focusing your SEO strategies on existing web pages narrows the array of keywords you might rank for. Discerning the untapped possibilities of many high-purchase-intent keywords, these agencies fashion fresh, bespoke content. This tactic not only enriches your content collection but also broadens the range of keywords your brand could potentially rank for, enhancing your visibility and conversion chances.
---
Conclusion
Aligning with the right agency can be the catalyst for significant business growth. By understanding the nuances of your brand and the market, these top agencies craft content that resonates, engages, and converts. As you consider your next steps, remember that the right partnership can elevate your online presence, drive organic traffic, and position your brand as an industry leader. The future is digital, and with the right SEO content strategy, your business can lead the way.
Frequently Asked Questions
How do SEO content strategies differ for B2B and B2C businesses?
B2B content strategies often focus on longer sales cycles, targeting decision-makers with in-depth, informative content. B2C strategies prioritize shorter, more engaging content aimed at consumers, emphasizing immediate benefits and emotional triggers.
What are the emerging SEO content trends in 2024?
In 2024, voice search optimization, AI-generated content, and E-A-T (Expertise, Authoritativeness, Trustworthiness) are trending. Additionally, there's a shift towards more interactive content and a focus on user experience signals.
How do these agencies measure the success of their SEO content?
Agencies typically use metrics like organic traffic growth, conversion rates, keyword rankings, and user engagement metrics (like bounce rate and session duration) to measure SEO content success.
Are there industry-specific SEO content strategies?
Yes, different industries have unique keywords, audience needs, and competition levels. Tailored strategies ensure content resonates with the specific target audience and addresses industry-specific pain points.
How often should businesses update their SEO content for optimal results?
Regular updates, at least quarterly, are recommended. However, high-competition keywords or rapidly changing industries might require monthly updates. Regularly updating content ensures relevance and alignment with current search algorithms.