With over a billion monthly active users and people creating 500 million+ Stories daily, Instagram is one of the most powerful and engaging social platforms to market your business. While the platform does come with robust features to create high-quality content, they may not be enough for those who want to stand out. So check out these 23 great tools that can enhance your Instagram marketing strategy.
---
Top 23 Instagram Marketing Tools for the Informed Marketer:
---
Iconosquare is another excellent tool that provides you with in-depth analytics insights into your Instagram performance. While it does come with a publishing feature as well, the monitoring and analytics features are the highlights of this tool. In addition to tracking engagement data, you can even discover important audience insights.
You'll be able to find out where your followers are located, how old they are, what language they speak, and more. These insights are crucial to optimise your targeting efforts and create content that appeals to your audience. It also lets you monitor what people are saying about your brand so you can understand how people feel and provide timely responses even when you're not tagged in the post.
---
#2: Repost for Instagram
User-generated content can be a great way to keep engaging your audience with fresh content while boosting brand trust. Simplify the process of sharing UGC with the Repost app that lets you repost someone else's content with due credit given to the original creator.
This tool is great for curating high-quality content relevant to your brand. And you can instantly give recognition to your biggest fans by displaying the creator's handle within the post as shown below.
---
#3: VSCO
Instagram is all about visuals, as you already know. This makes it crucial to create high-quality imagery if you want your brand to shine. If you're not satisfied with Instagram's default filters, you can use a photo editing tool like VSCO to create beautiful and artistic photos.
It comes with several free filters and a comprehensive set of editing tools. You can also pay for a membership to access over 130 presets and more advanced editing tools.
---
#4: Snapseed
If you don't like the idea of applying filters to the whole photo, you can also use Snapseed. This tool lets you apply effects using a brush so you can fine tune specific areas of the photo.
What's great about this tool is that it allows you to save the changes you've made and save it as a preset. So you can keep applying the same presets to maintain an aesthetically consistent feed.
---
#5: Boomerang
Visuals aren't just limited to photos. You should create fun and engaging videos for your Instagram feed as well. That's where tools like Boomerang enter the picture. Developed by Instagram, this tool lets you create short videos by taking 10 snapshots and combining them to loop back and forth like a GIF. This is great for creating mini videos to share snapshots of your day.
---
#6: Unfold
With people creating millions of Instagram Stories daily, it's crucial for marketers to ensure that their Stories stand out. That's why tools like Unfold are perfect for Instagram marketers to create beautiful, professional-looking Stories.
You can choose from over 150 templates and customise them with advanced text tools, stickers, and curated fonts. The tool lets you make edits to both photo and video content and turn it into artful Stories that captivate your audience.
---
Content scheduling and publishing are a crucial part of social media management. So even when you're looking for Instagram tools to boost your marketing efforts, you should consider investing in a tool like Sendible. This tool gives you the option to schedule updates so they get published when your followers are most likely to interact with them.
It also allows you to respond to your followers through a social media inbox, helping you publish timely replies to engage your audience. The tool even provides you with a comprehensive analytics reports so you can understand the impact of your efforts. It analyses how people interact with your posts at what times, so you can determine the best times to publish your posts.
Sendible is especially great for marketers and agencies that are working with multiple clients because it gives you the option to easily switch between different social media accounts. This means you can manage all of your clients' social media account much more effectively without any delays.
---
#8: Shorby
One of the biggest disadvantages of Instagram is that it allows you to add only one link in your bio. While you can add links to Stories, that option is only available to accounts with over 10,000 followers. This is extremely inconvenient when you're a small business or startup that wants to market its products, services, or content.
That's why tools like Shorby are a godsend as it helps you get more out of your Instagram bio link. You can create a mobile-optimised landing page that has multiple clickable links to different destinations. This could be anywhere from your blog posts to your product pages. You can then share the landing page link on your Instagram bio so your followers can easily access the links.
---
#9: Canva
Visual marketing on Instagram also requires original graphics in addition to photos and videos. And Canva is the best tool to create them for free.
This tool has a ton of existing templates that you can customise according to your needs. These templates come in dimensions that fit the requirements of different social media posts, so you don't have to start from scratch.
But even if you do need to create something from scratch or create an image with custom dimensions, this tool gives you the freedom to do that. You can choose from different themes when creating your Instagram graphic and customise the template with text, elements, and photos as needed.
---
#10: Autohash
If you've been doing Instagram marketing for a while, you'll know that hashtags are a necessity for increased visibility. With that said, the hashtags do need to be relevant to your industry and post in addition to being widely used. You can use an app like Autohash to discover the most relevant hashtags for your post and improve the visibility of your posts.
This app detects the objects in your photo and automatically finds the best hashtags relevant to those objects. It even ensures that you don't go over the 30-hashtag limit. The app also has a new location-based hashtag recommendation feature that automatically suggests location-based hashtags if you turn on your GPS.
---
#11: Later
Later is another scheduling tool that's extremely affordable for solo marketers, startups, and small businesses. Their visual content calendar makes post scheduling a breeze even for beginners. Later is easy to use because you can quickly import your media files from anywhere – whether it's your phone, desktop, Dropbox, or Google Drive.
If you're managing multiple Instagram accounts, you can even create a separate content library for each account for easy organisation. Additionally, Later comes with a content discovery feature that lets you search for user-generated content by hashtag. This can be very useful if UGC forms an important part of your Instagram marketing strategy.
---
#12: SocialRank
As a marketer, you know how important it is to understand your audience. Without knowing what your audience is like, you'll have a hard time engaging them and creating content that will resonate with them. That's why you need a tool like SocialRank to easily understand and manage your social media audience.
This tool lets you discover your most valuable and engaged followers in case you want to show them some recognition. You can also find your most followed followers, so you can convert influential fans into loyal advocates. It even lets you filter the results by certain keywords in their bios in case you want to find people with very specific interests.
You also have the option to filter by other characteristics like location, verification status, activity, interest, or organisation. What's great about SocialRank is that you can save these results into different lists for later use.
---
#13: Kapwing
If you feel that Boomerang's video editing features are a bit limited, you'll love Kapwing. This tool has a robust video editing feature, which is perfect for optimising your Instagram video strategy. It lets you resize videos to fit the platform's standard dimensions, trim them, rotate them, loop them, or reverse them.
You can also add subtitles and text to your videos, enhance the look with the right filters, or even change the playback speed. Kapwing even lets you add music to your videos or mute them as needed. You might even want to use the stop motion maker to develop creative and engaging original videos.
---
Buffer offers three different apps: Buffer Reply, Buffer Analyze, and Buffer Publish. The latter, Butter Publish, is the most popular and helps you to create and schedule your Instagram posts.
In short, the idea behind Buffer is actually quite simple. After you have connected your social accounts (you can connect both Instagram business and personal profiles), you can create new posts via the app. You can then also create queues by adding posts to the top of your social queue which the app will then schedule at your preferred times.
One of the advantages is that you can also use it to add other team members so that you can collaborate effectively and delegate specific social accounts to other team members. While it does offer a Free plan, it is rather limited and only allows you to create and schedule no more than 10 posts. All in all, it is one of the most intuitive Instagram marketing tools.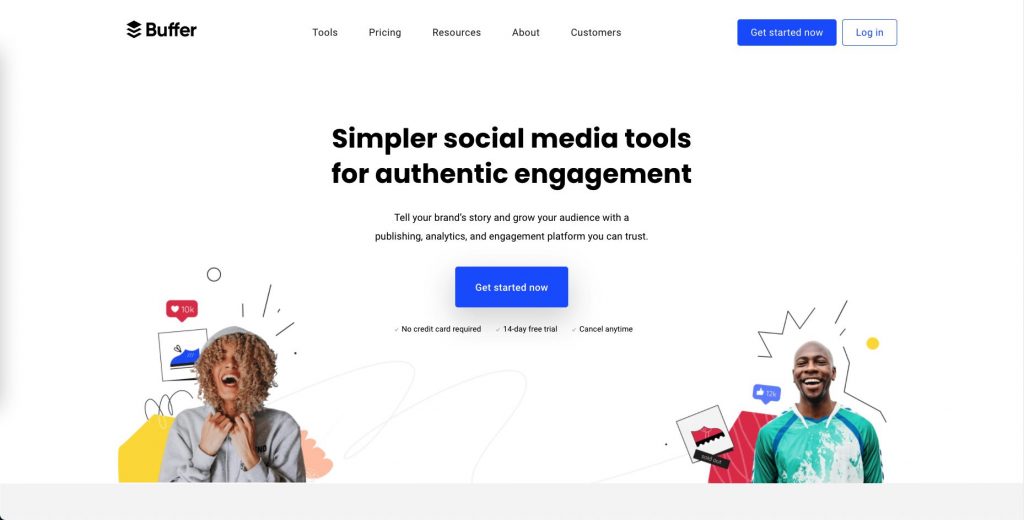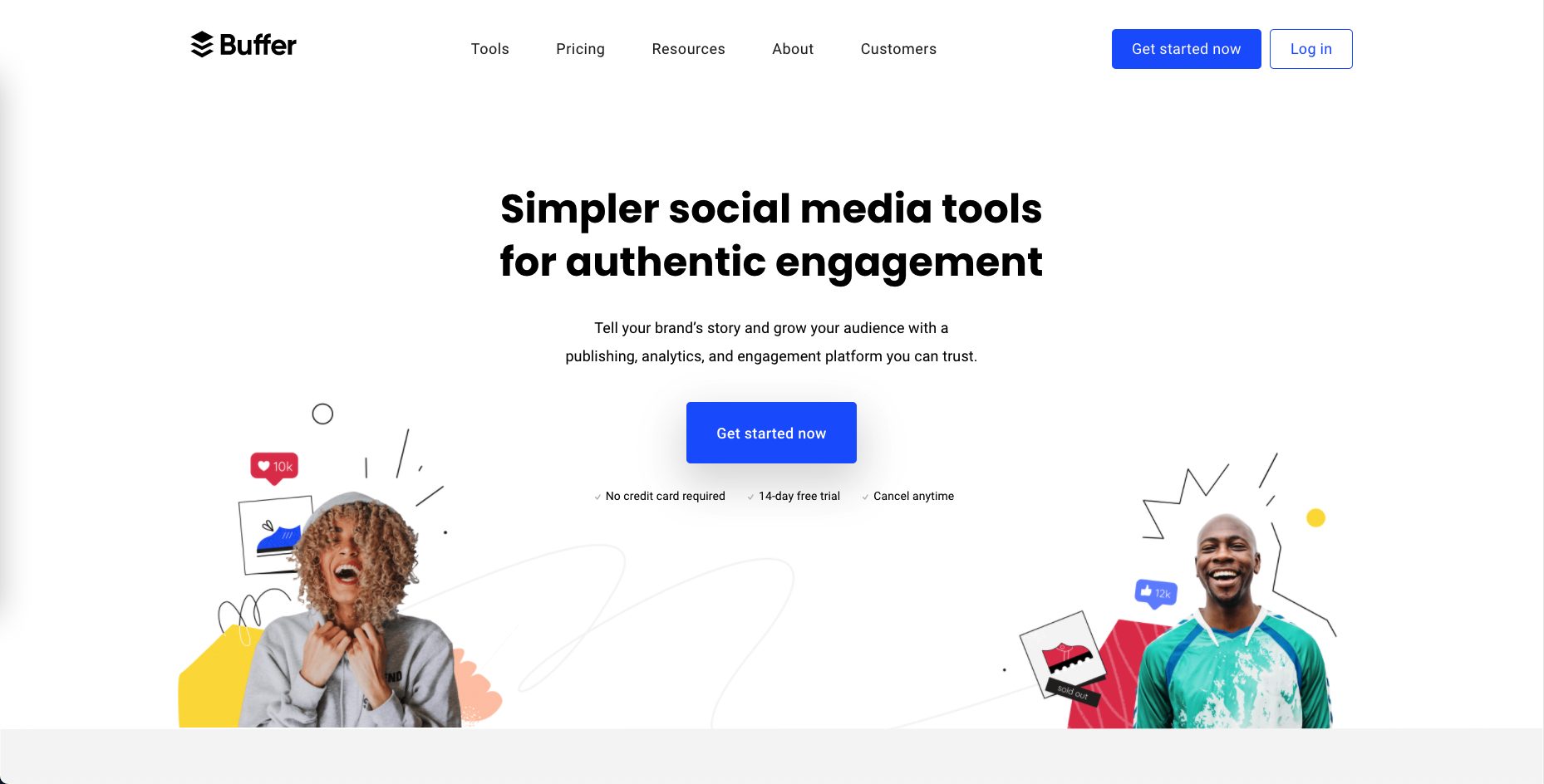 ---
If you are specifically searching for a tool to help you with hashtag generation, be sure to check out RiteTag. It is one of the top Instagram hashtag generator tools and uses real-time hashtag engagement data to give you hashtag recommendations for your Instagram posts. It can even suggest relevant hashtags for images!
Then, to help you pick the most suitable hashtag for the specific goals of your marketing campaign, it will color-code the hashtags. What's more, it will also notify you via email whenever a new hashtag has generated significant engagement in your industry.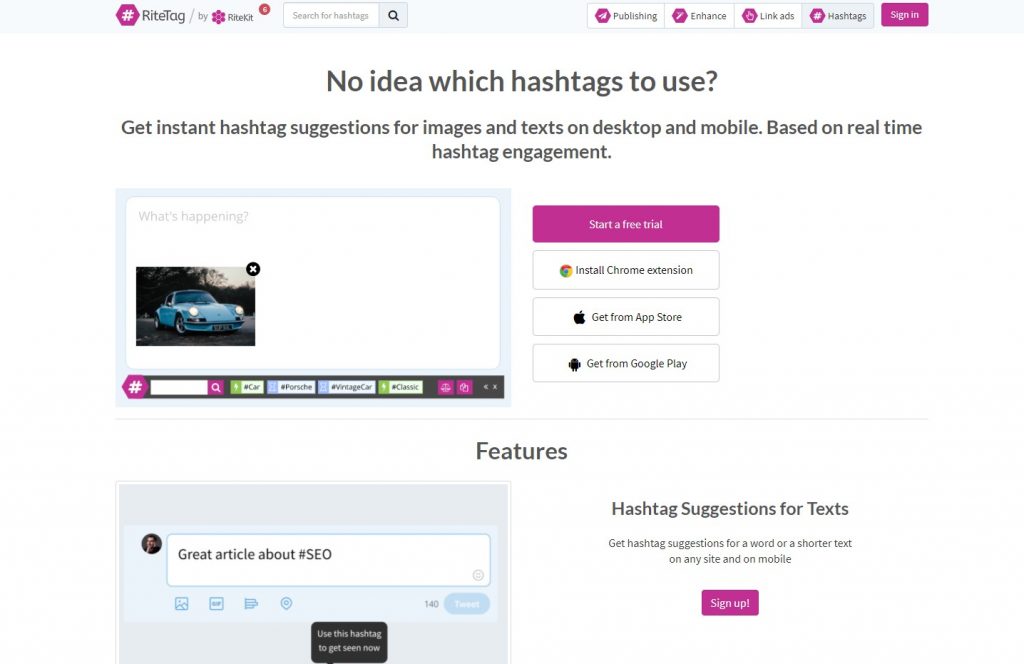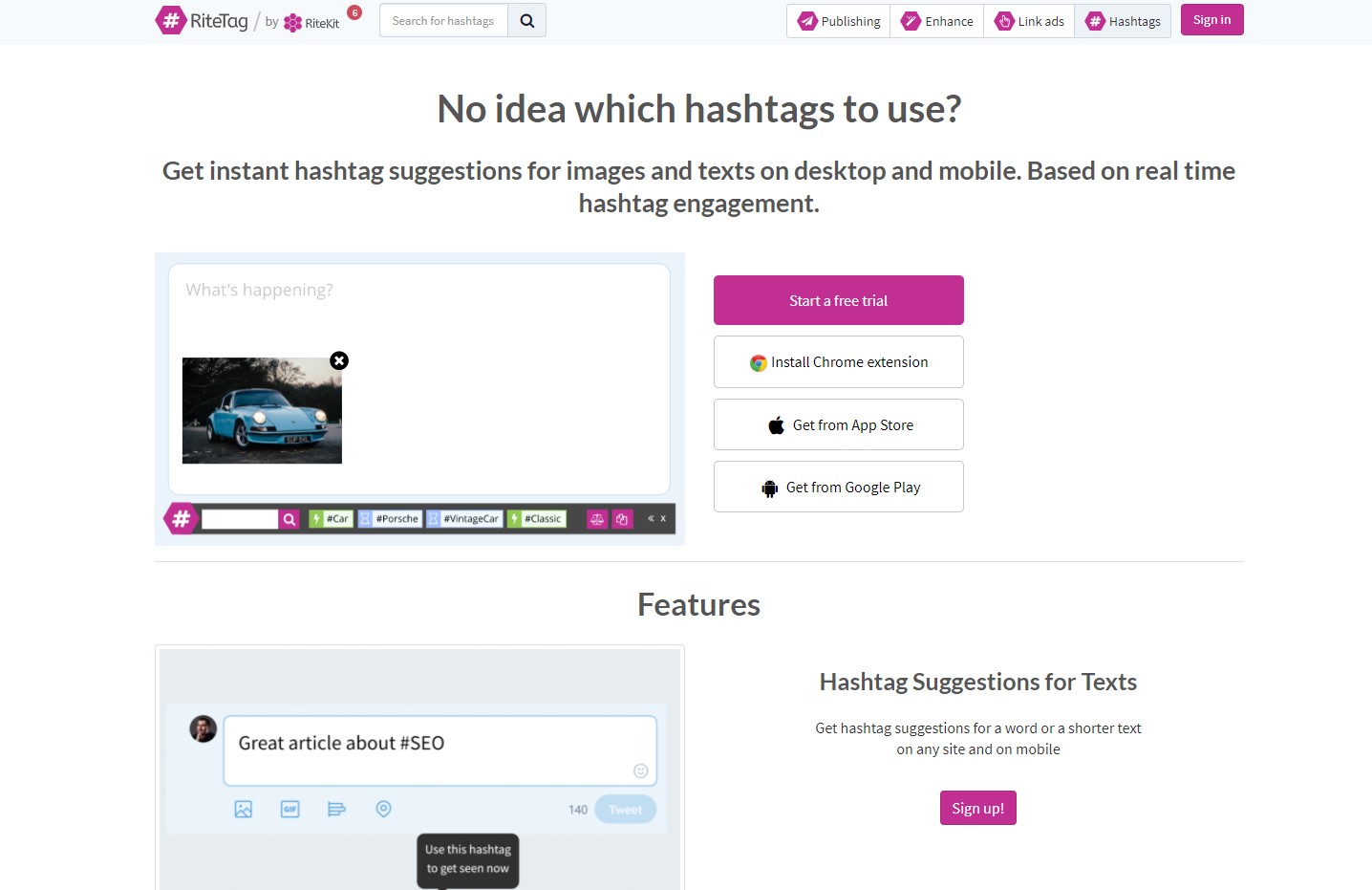 ---
For analytics and reporting, Socialinsider is one of the most powerful Instagram marketing tools. You can use it to track KPIs, reach and engagement per post. You can even use it to keep track of your competitors' performance and compare how your Instagram marketing strategy stacks up against theirs. If you manage Instagram accounts for clients, it is especially useful as you can use it to create branded reports. All in all, it is a great alternative to Iconosquare (though, bear in mind that Socialinsider is about double the price).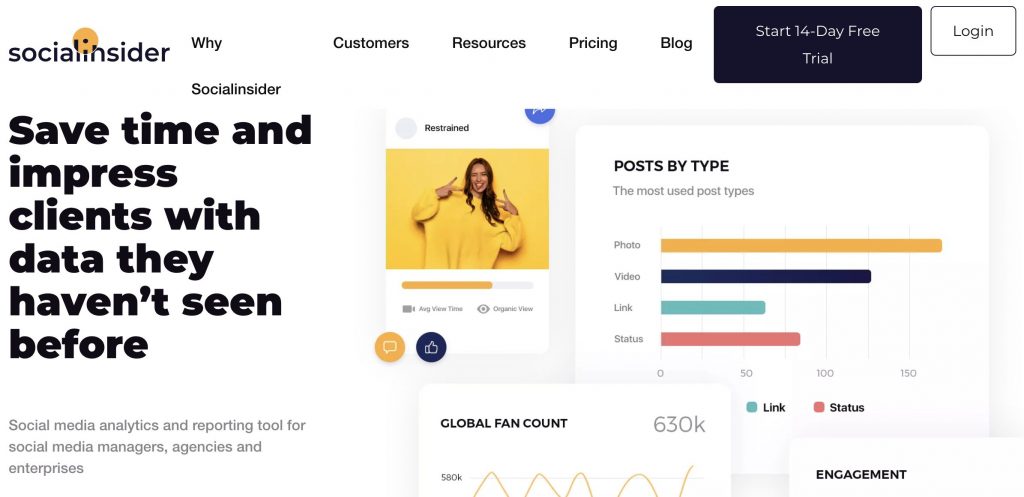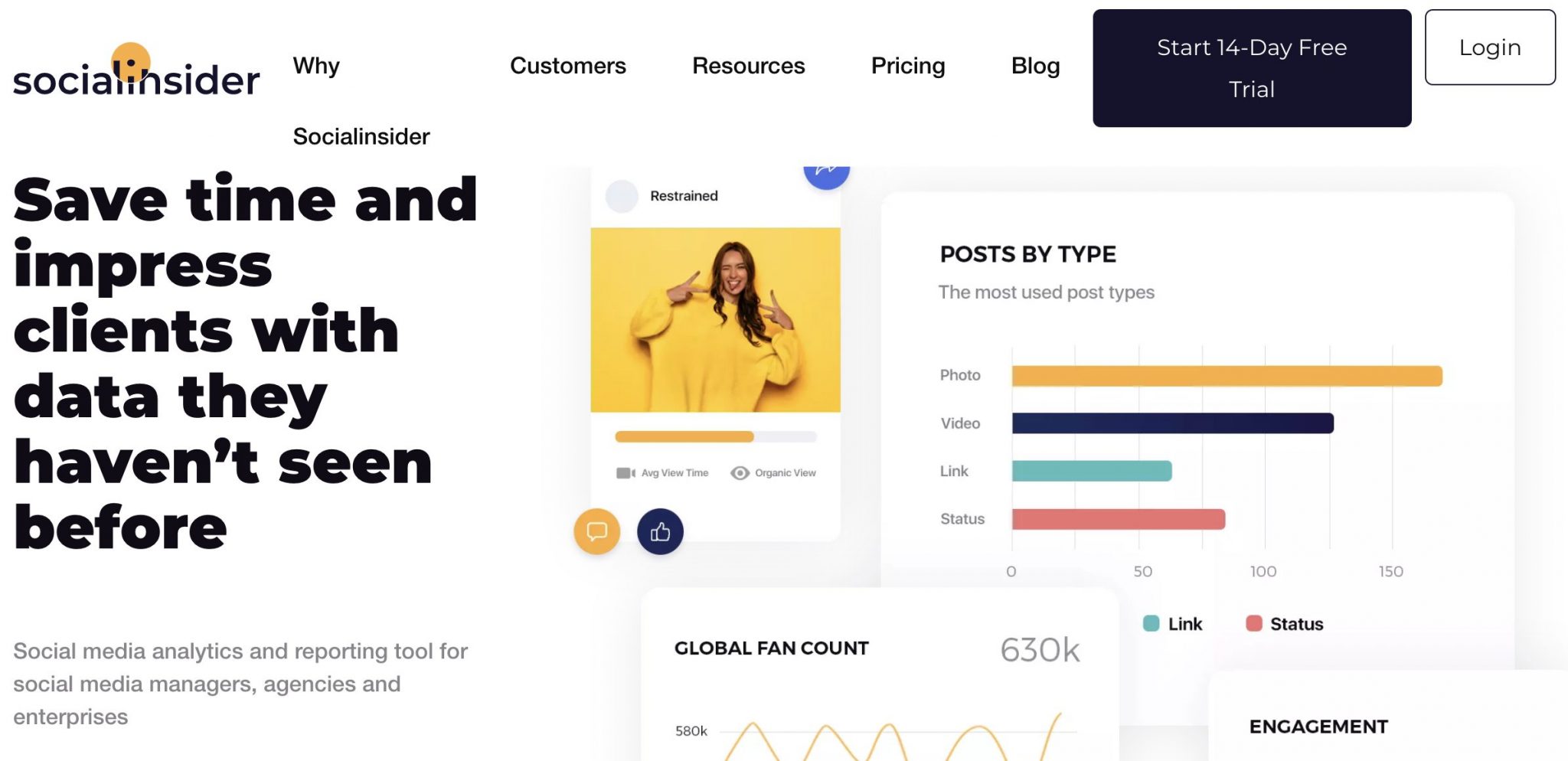 ---
Similarly to Buffer, Hootsuite also divides its different features into separate apps. If you need a tool for social sharing and scheduling, Hootsuite (the primary app) is the one that you will need. It also offers analytics and impressive reporting capabilities.
One of its main features is its unified inbox. Here, you can find all your incoming messages and even reply directly via the app, eliminating the need to switch between Instagram and Hootsuite. So, in this sense, Hootsuite can almost act like a substitute for your Instagram app.
One drawback, however, is that newbies will find it more difficult to use at first compared to a similar tool like Buffer. Also, if you plan on using it for bigger teams, it does become considerably more expensive.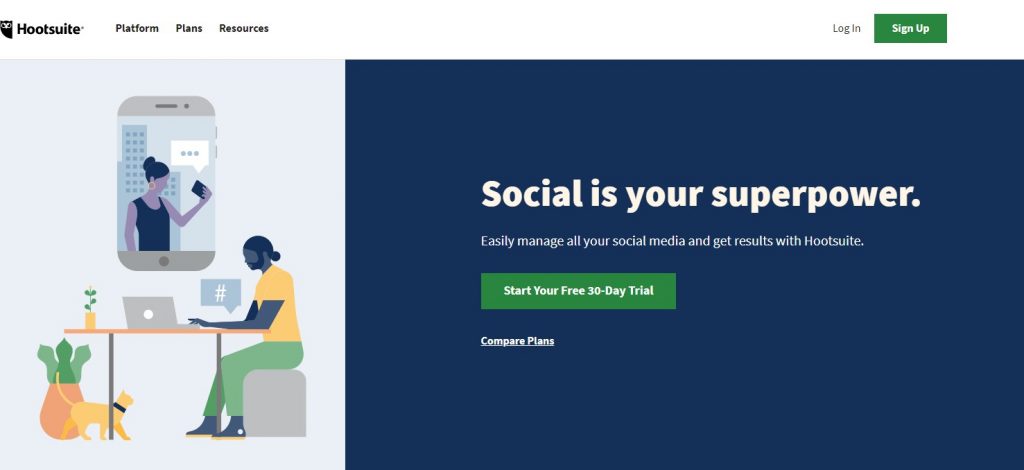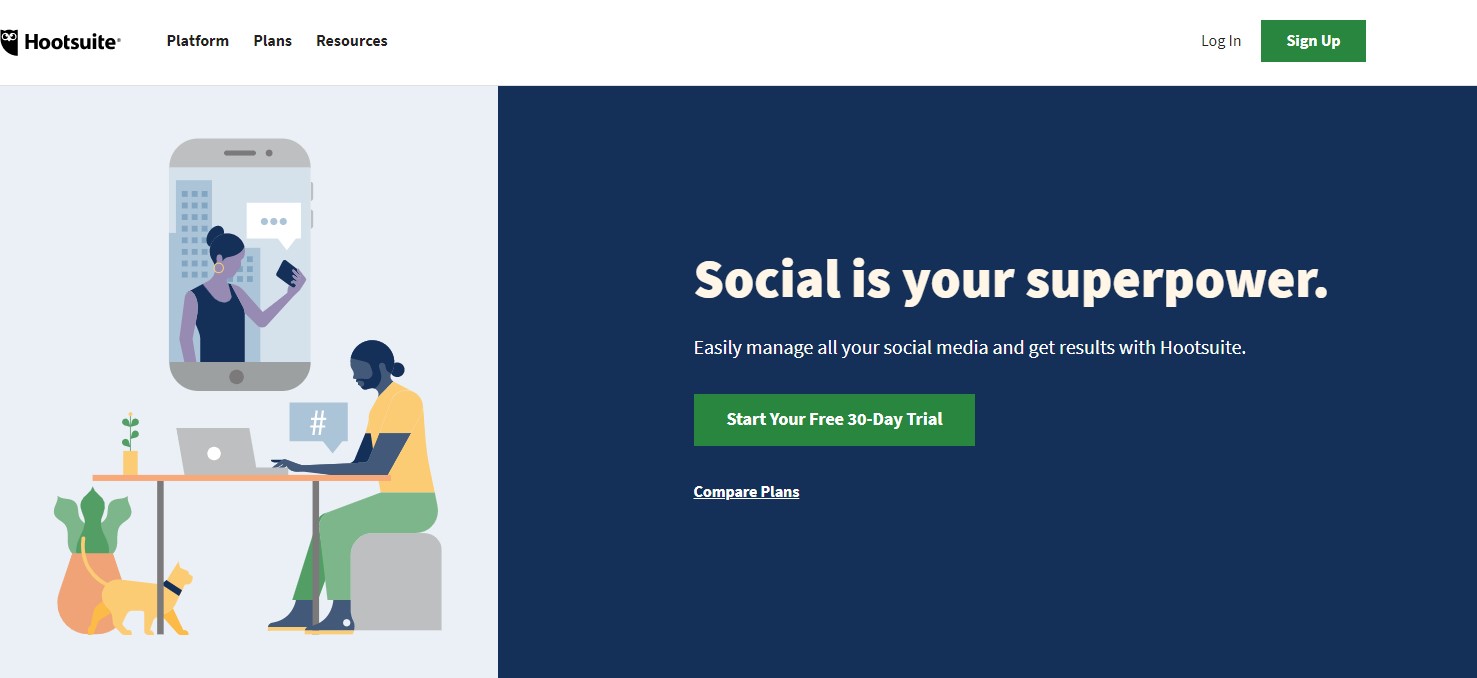 ---
The beauty behind Leetags is found in its simplicity. Similarly to RiteTag, Leetags is a tool for generating hashtags. All you have to do to find the most trending hashtags is to type in a term or two that relate to your post. It will then create a list of related hashtags that are currently trending for your search. What makes it such a useful tool to use for marketing is that each hashtag in the search results is followed by the number of posts in which it was used and how relevant it is.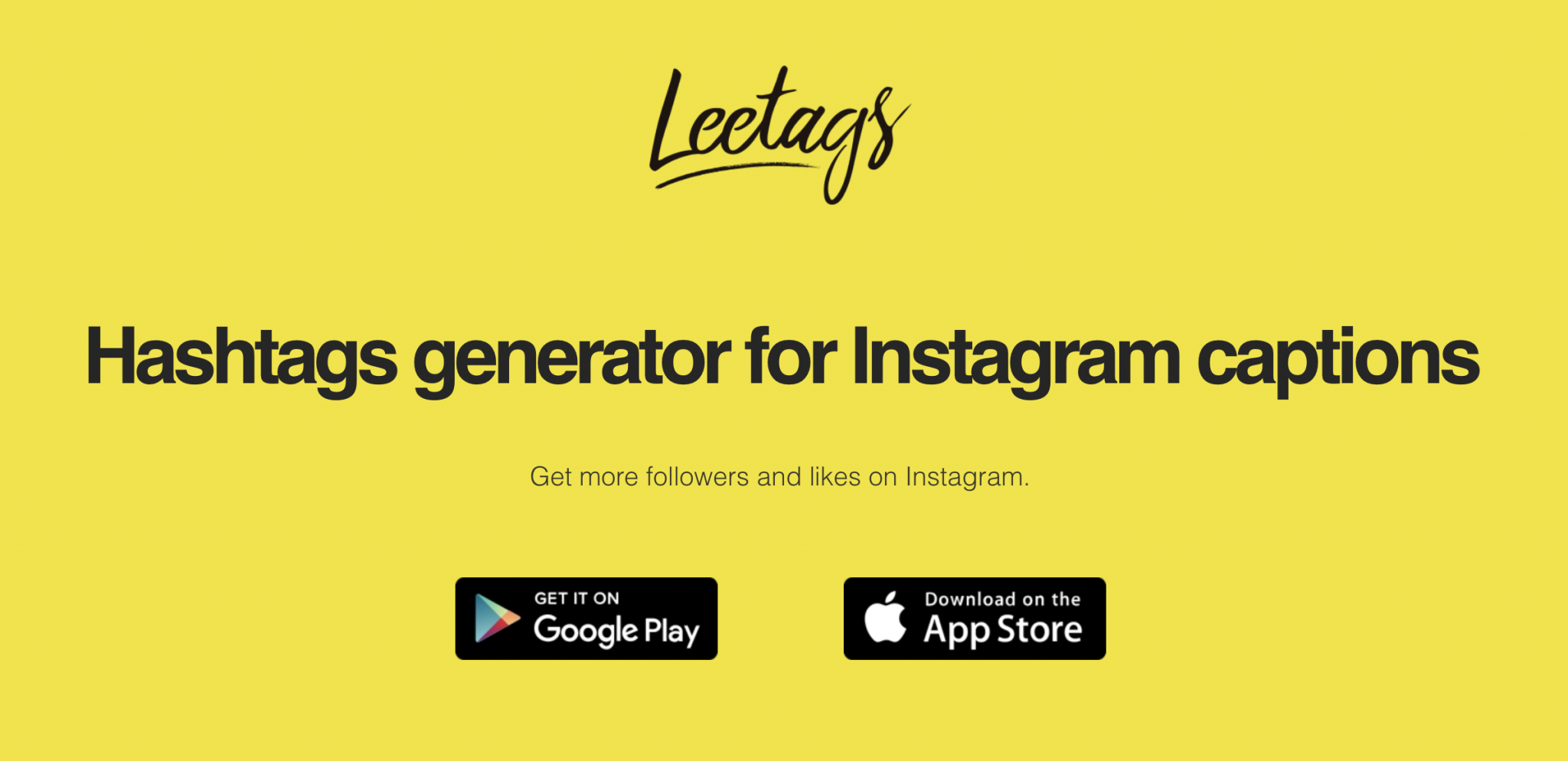 ---
Instagrowth Ninja is a monthly organic Instagram marketing service for personal brands, small businesses, and influencers. According to Instagrowth Ninja's website, you can expect to gain anything between 30 to 100 new followers per day with the help of their tool. In addition to followers, the tool can also help you to generate likes.
To sum up, they identify your target market and then interact with them by following them, liking their posts, commenting by using customized messages and sending direct messages. This round-the-clock action helps to create a lot of exposure and clients, who in response, check out your Instagram page.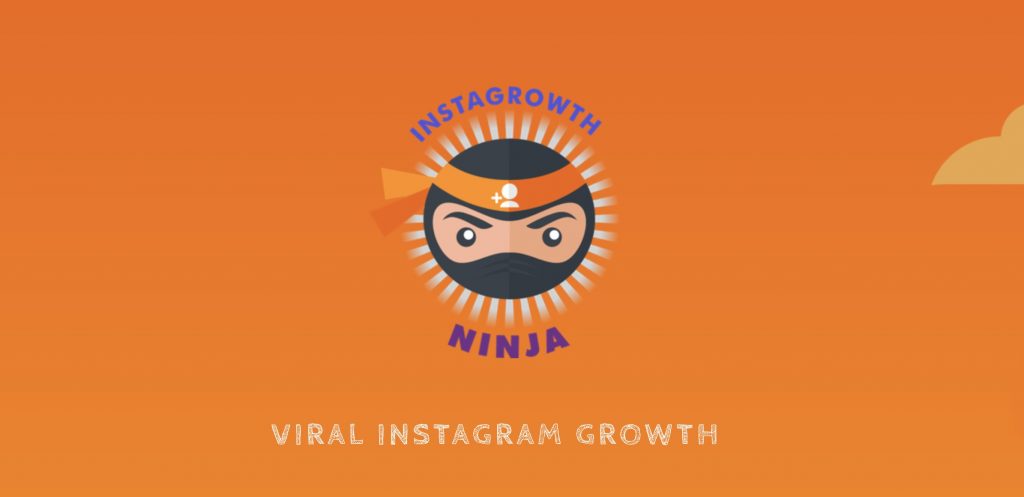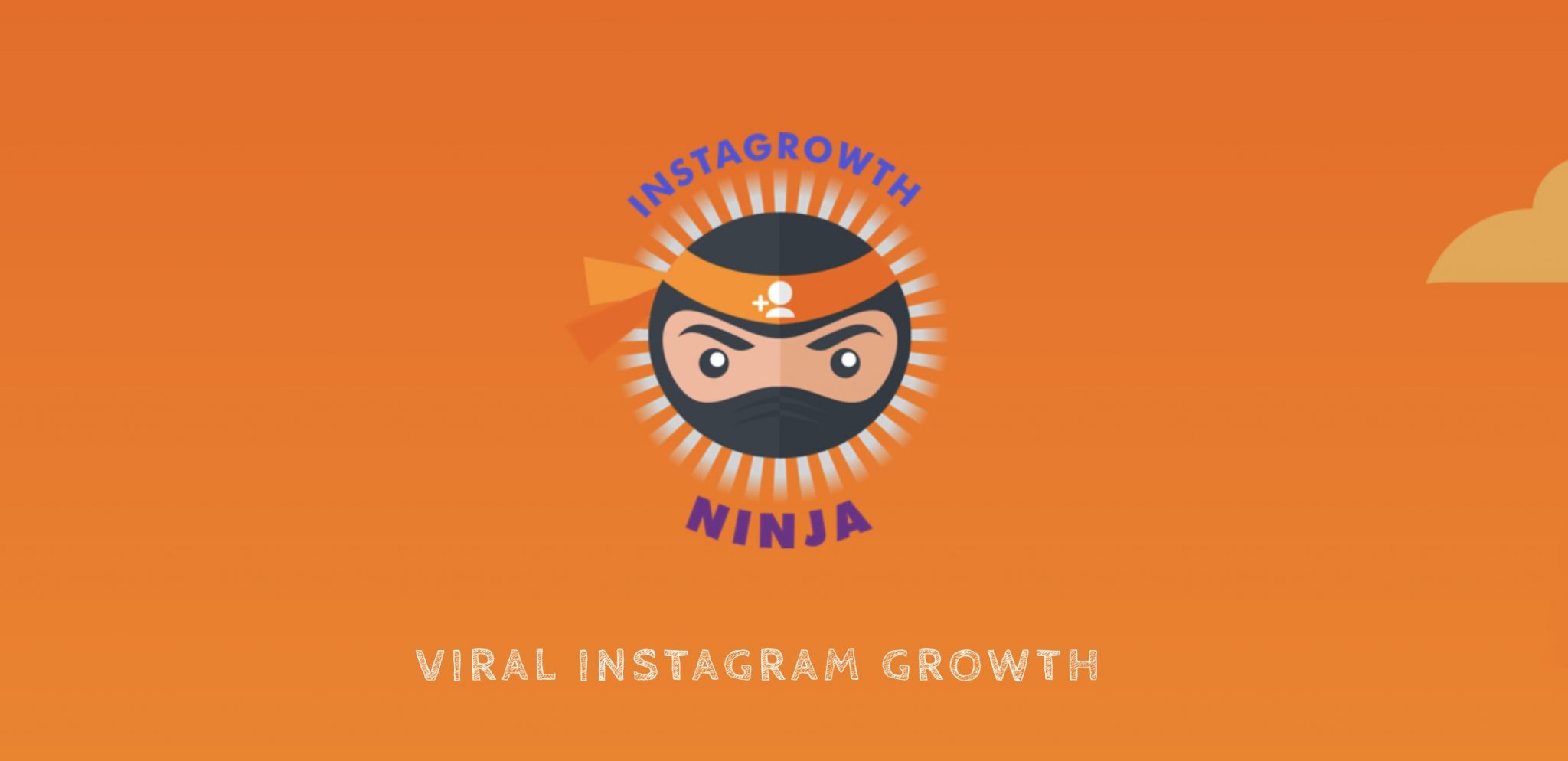 ---
You might already be familiar with Social Blade as one of the most well-known YouTube channel management and marketing tools. In addition to using it for YouTube, you can also use it for Instagram marketing. In fact, it is already trusted by 16 million Instagram accounts.
With the help of advanced technology, Social Blade gives you access to its public database where you can find global analytics. All you have to do is type in a username to look up the account's stats. Using this information, you can get a much better understanding of your growth and trends.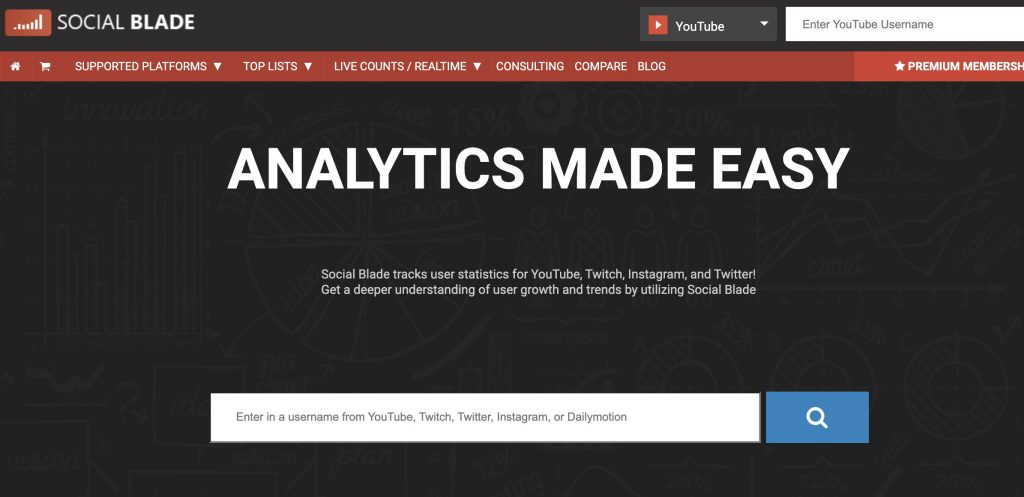 ---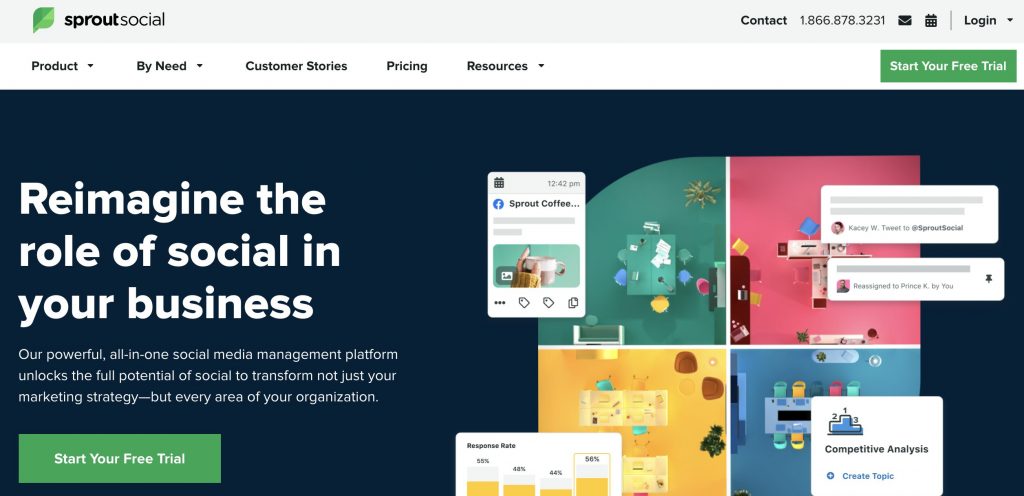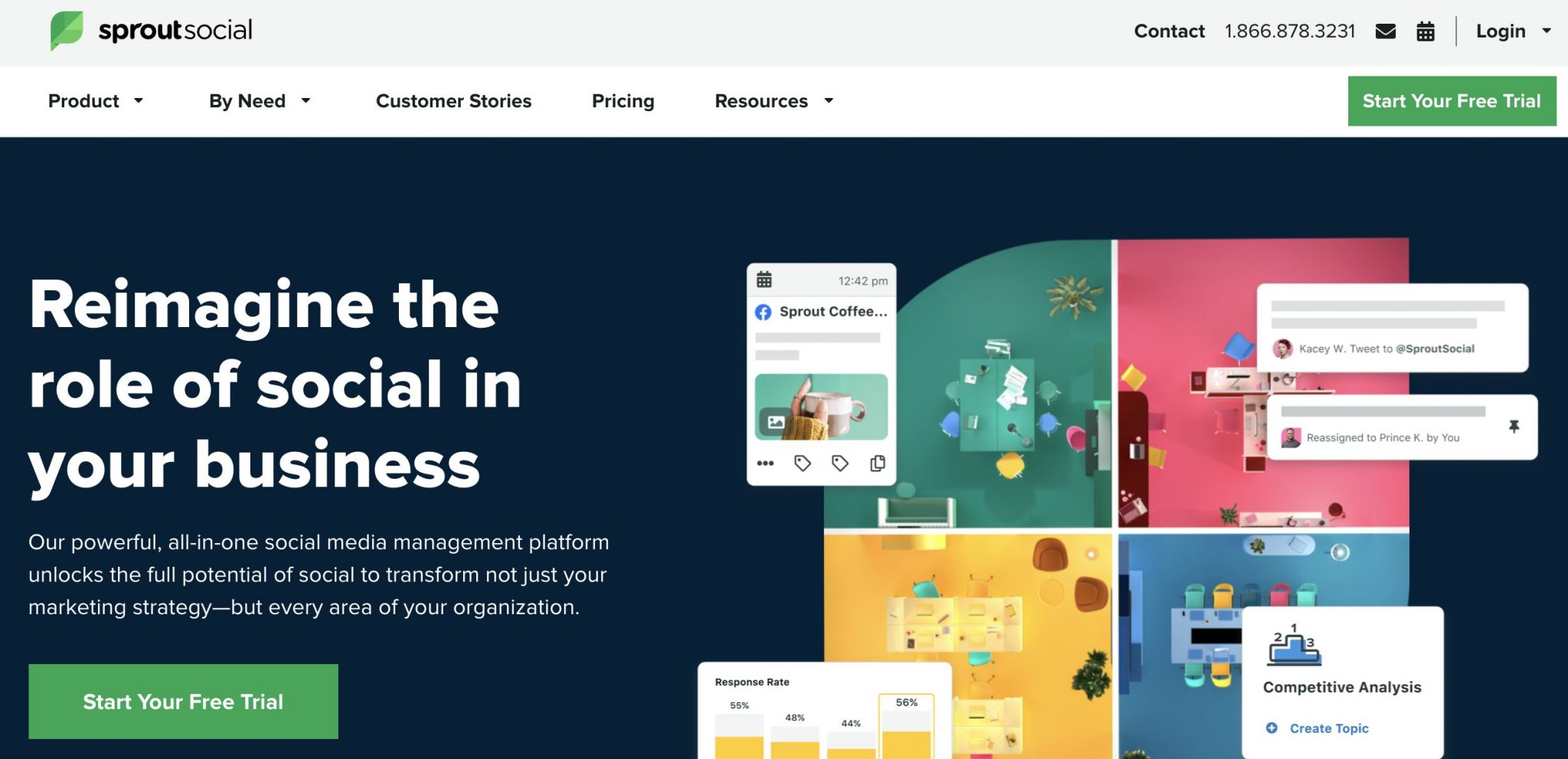 If you have more substantial needs or run a bigger business, Sprout Social could be the tool for the job. Its interface is easy to understand and it offers the features that you expect from this type of tool like creating and scheduling your Instagram posts as well as reporting. It also boasts a unified inbox like Hootsuite. This can be particularly useful if you are an agency entrusted with marketing a few clients' Instagram accounts.
Unlike many of the other tools mentioned in our list, it also offers a social listening module. With this feature, you can pick relevant topics so that you can identify trends and analyze feelings and opinions about your brand. All things considered, while it is not cheap, it is one of the most professional tools that you can use for Instagram marketing.
---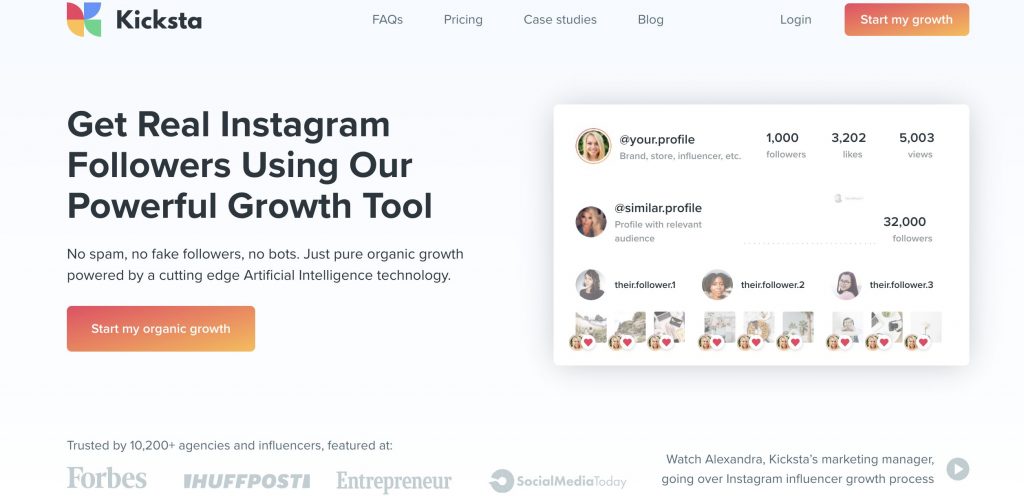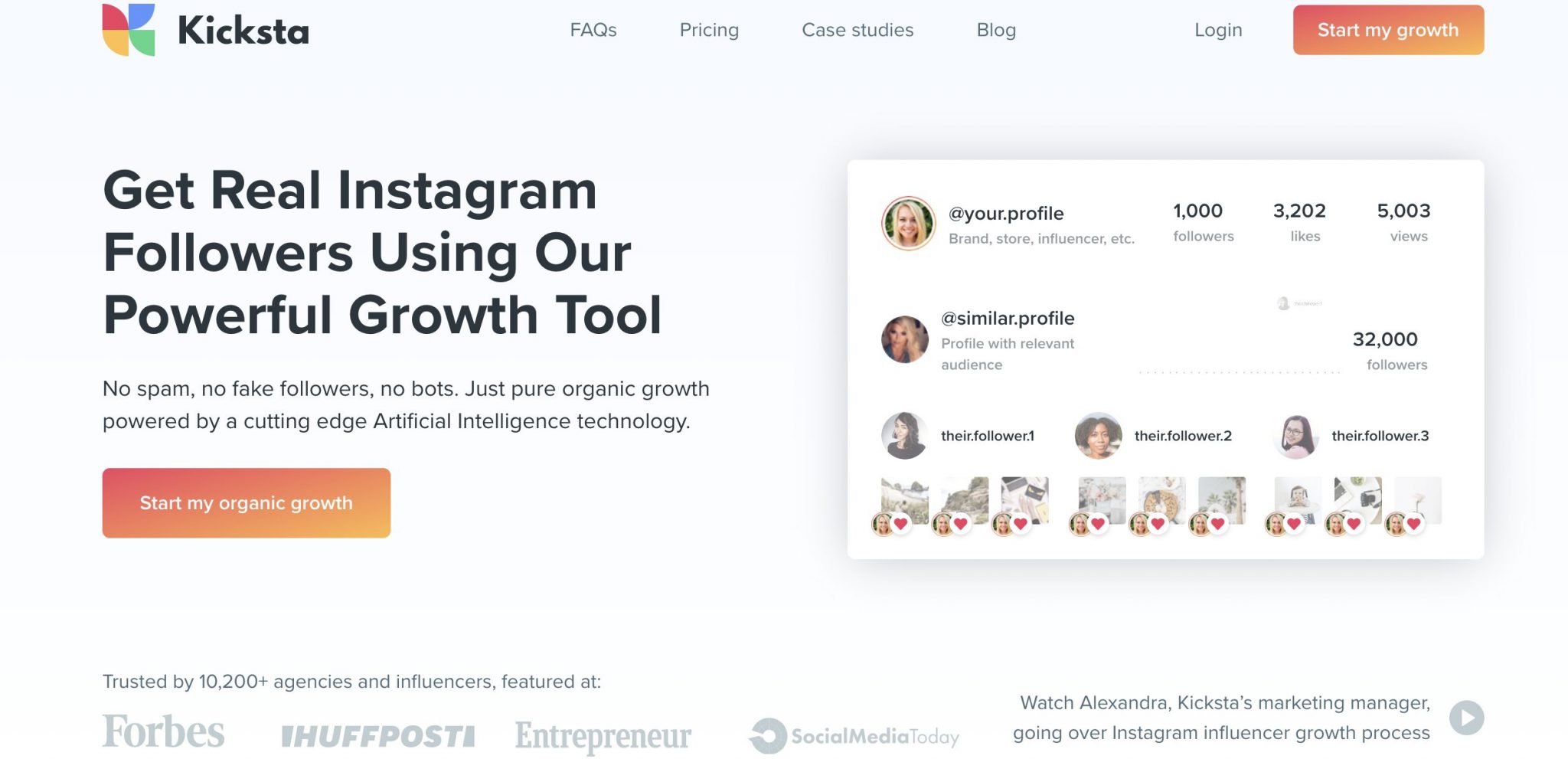 Kicksta is trusted by more than 10,000 influencers and agencies and have been featured in the likes of Forbes and SocialMediaToday. With the help of its powerful growth tool which relies on AI, it will help you to get real Instagram followers.
Its features and pricing are similar to Instagrowth Ninja. However, one major difference is that unlike Instagrowth Ninja, Kicksta will not comment on your behalf.
In short, it finds profiles that are similar to your Instagram profile. It then automatically engages with the followers of these similar profiles on your behalf. The result – more followers.
---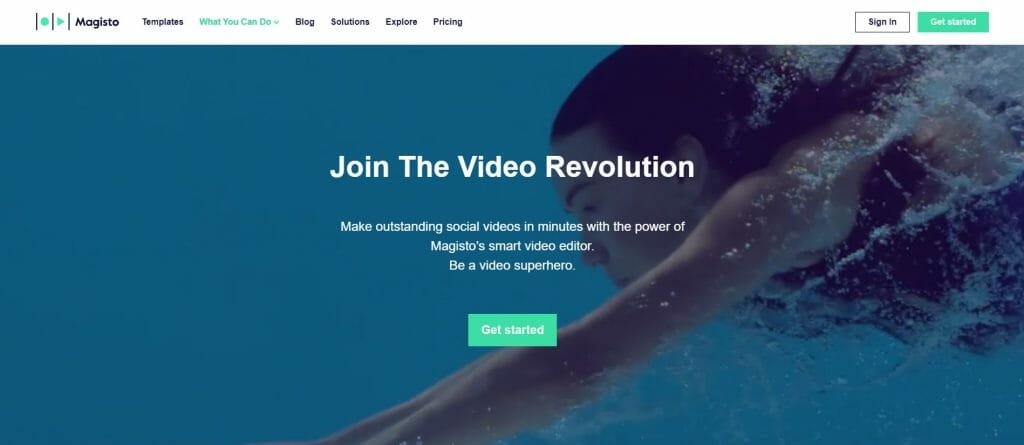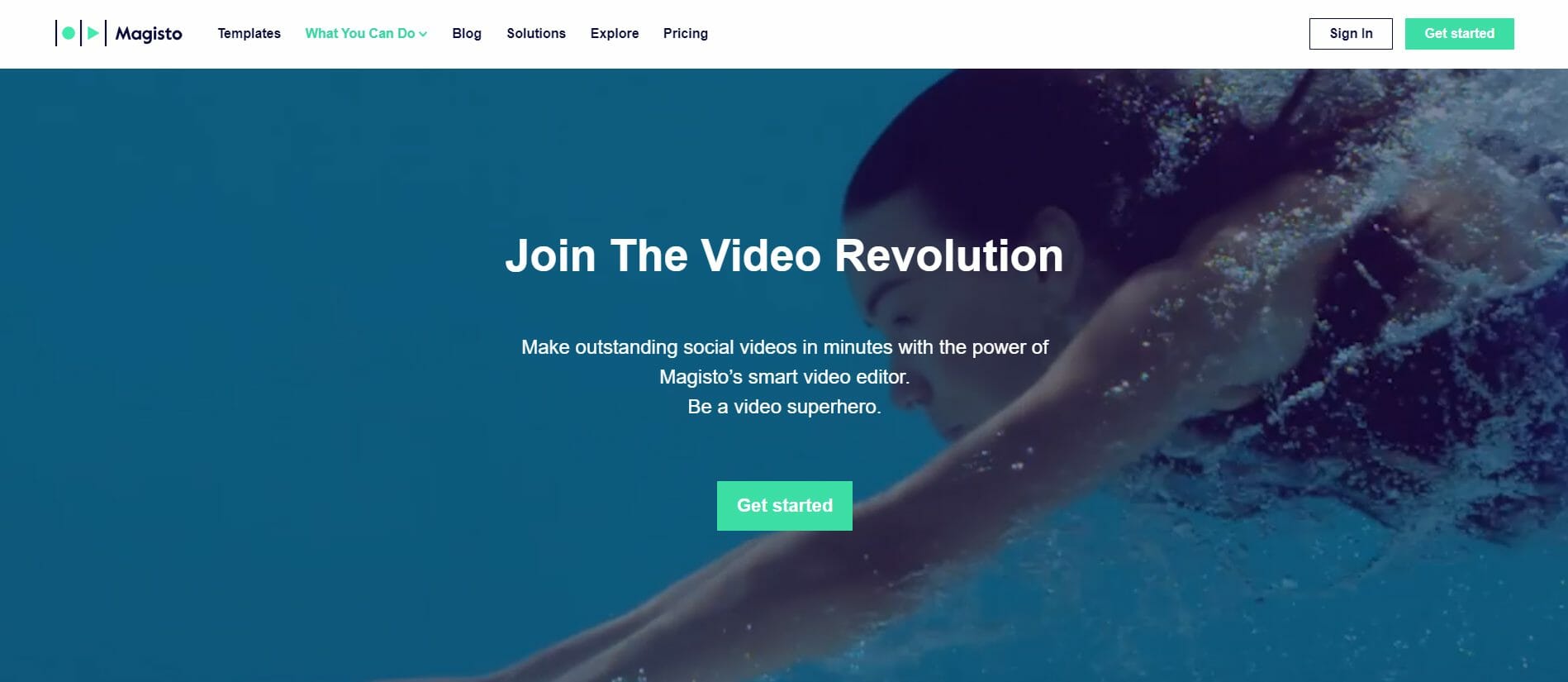 Magisto is a smart video editor that is a certified partner of Instagram. It can create powerful Instagram videos in three simple steps. All you have to do is upload your photos and videos, select an editing style and music and its AI-powered video maker will analyze and edit your video.
What sets it apart from other video makers is that it includes professional effects and transitions to help communicate your brand's story. It also applies image stabilization, color-correction and other technologies to ensure that your videos look their best.
---
Final Thoughts
Use these 23 tools to create highly engaging and professional-quality content for your Instagram account and publish it at the right times. And use the analytics insights to understand how your posts are performing and what your audience likes.