Advertising Disclosure
Advertising disclosure:
Our partners compensate us. This may influence which products or services we review (also where and how those products appear on the site), this in no way affects our recommendations or the advice we offer. Our reviews are based on years of experience and countless hours of research. Our partners cannot pay us to guarantee favorable reviews of their products or services.
In the past couple of years, Artificial Intelligence (AI) has experienced unparalleled growth, revolutionizing industries across various sectors. Among the many facets of AI, AI Writing Generators have emerged as powerful AI tools that enable marketers to produce high-quality content more efficiently and effectively than ever before.
AI Writing Generators leverage Natural Language Processing (NLP) and Machine Learning (ML) algorithms to generate human-like text, capable of crafting compelling, engaging, and relevant content for various marketing purposes. These applications have gained significant traction in recent years, as marketers look for innovative ways to address the ever-increasing demand for high-quality content.
The importance of AI Writing Generators in the marketing landscape cannot be overstated. In a world where content is king, businesses are constantly striving to stay ahead of the curve, and AI-powered solutions offer a competitive advantage. By automating the content generation process, these tools save valuable time and resources while simultaneously providing consistent, high-quality output. Furthermore, AI Writing Generators can analyze and adapt to target audiences, ensuring that the generated content is tailored to resonate with consumers and ultimately drive conversions.
---
Top AI Writing Generators for Your Content Production Needs:
---
Top AI Writing Generators for Your Content Production Needs
Your journey towards powerful, AI-assisted writing starts here. Whether you're an entrepreneur, a marketer, an agency, or a writer, these tools are set to help you generate high-quality content faster than ever before.
---
---
---
---
---
---
---
---
---
---
---
Factors to Keep in Mind When Selecting the Best AI Writing Generator
Selecting the right AI Writing Generator is crucial for achieving optimal results.
There are several factors marketers should take into consideration when evaluating different software options: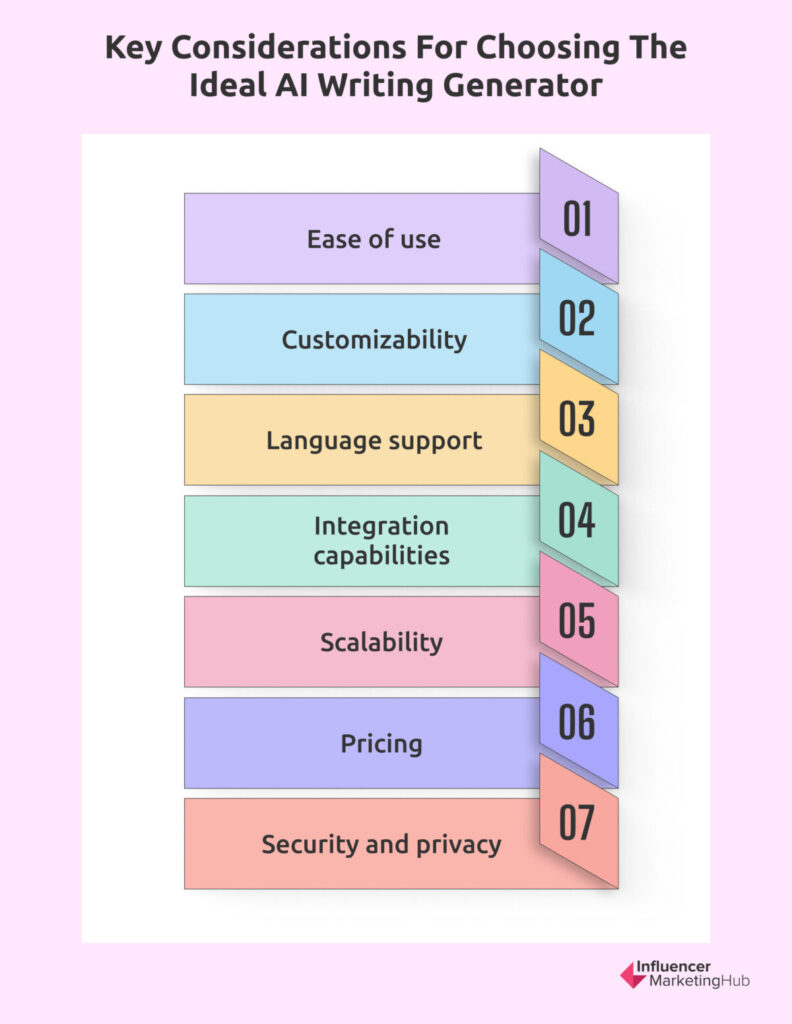 Ease of use: The user interface and overall experience should be seamless, enabling users to create content with minimal effort and time investment.
Customizability: The AI Writing Generator should offer customization options, allowing marketers to align the generated content with their brand's unique voice and target audience preferences.
Language support: The software must cater to the marketer's target demographic by offering support for various languages.
Integration capabilities: The AI Writing Generator should be compatible with other tools and platforms in the marketer's tech stack, facilitating smooth integration into existing workflows.
Scalability: The software should be capable of handling varying degrees of complexity and volume, ensuring that it remains relevant and useful as the marketer's needs evolve.
Pricing: The cost of the AI Writing Generator should be aligned with the value it delivers and remain within the marketer's budget.
Security and privacy: The AI Writing Generator must adhere to strict data protection standards, ensuring the privacy and security of both the marketer's and their customers' information.
By carefully evaluating the factors outlined above, you can make an informed decision when selecting the right AI Writing Generator software to revolutionize their content creation process and drive successful marketing campaigns.
Frequently Asked Questions
What is the top free AI writing generator?
While there are several contenders for the top spot, Jasper stands out due to its superior features, ease of use, and ability to generate high-quality, engaging content across various formats. While Jasper isn't entirely free, it offers a 7-day free trial, allowing users to experience its powerful AI and advanced features. This trial period can be highly beneficial for individuals or companies uncertain about committing to a subscription.
Can these tools completely replace a human writer?
While AI content generation tools can greatly assist in the writing process, they can't fully replace a human writer. AI tools lack the human touch, creativity, and context understanding that a human writer brings. They're best used as a tool to assist and augment human writers.
Can I collaborate with my team using these AI writing tools?
Yes, many of these tools, like Jounce and Shortly AI, offer collaboration features. This means you can work together with your team on content creation projects.
What kind of content can I create using these tools?
With these tools, you can create a wide range of content, including blog posts, articles, social media posts, ad copies, product descriptions, email campaigns, and much more.
Is the content generated by these tools unique and plagiarism-free?
Yes, most AI content generation software, like those mentioned in our listicle, are designed to generate unique content. They use advanced algorithms to ensure the content they produce is original and not plagiarized.
Does AI writing work?
Absolutely! AI writing has been transformative in the content generation landscape. It not only works but provides efficiency, consistency, and scalability that traditional writing methods can't match. Many professionals believe AI handles repetitive tasks, like content creation, more effectively. AI Writing Generators, like Jasper, are capable of creating high-quality, engaging content that's customized to resonate with target audiences, driving conversions and saving valuable time and resources.