Content marketing is impactful–that's a given. But to really enjoy the benefits, you need to have a proper strategy in place. Having a content marketing strategy gives you a better sense of direction so you can organize your content production and promotion efforts.
In fact, according to the Content Marketing Institute, 62% of the most successful organizations have a documented content strategy in place. So, if you want to grow your business through content marketing, it's time to start developing your strategy. Here are 10 steps to creating a content marketing strategy.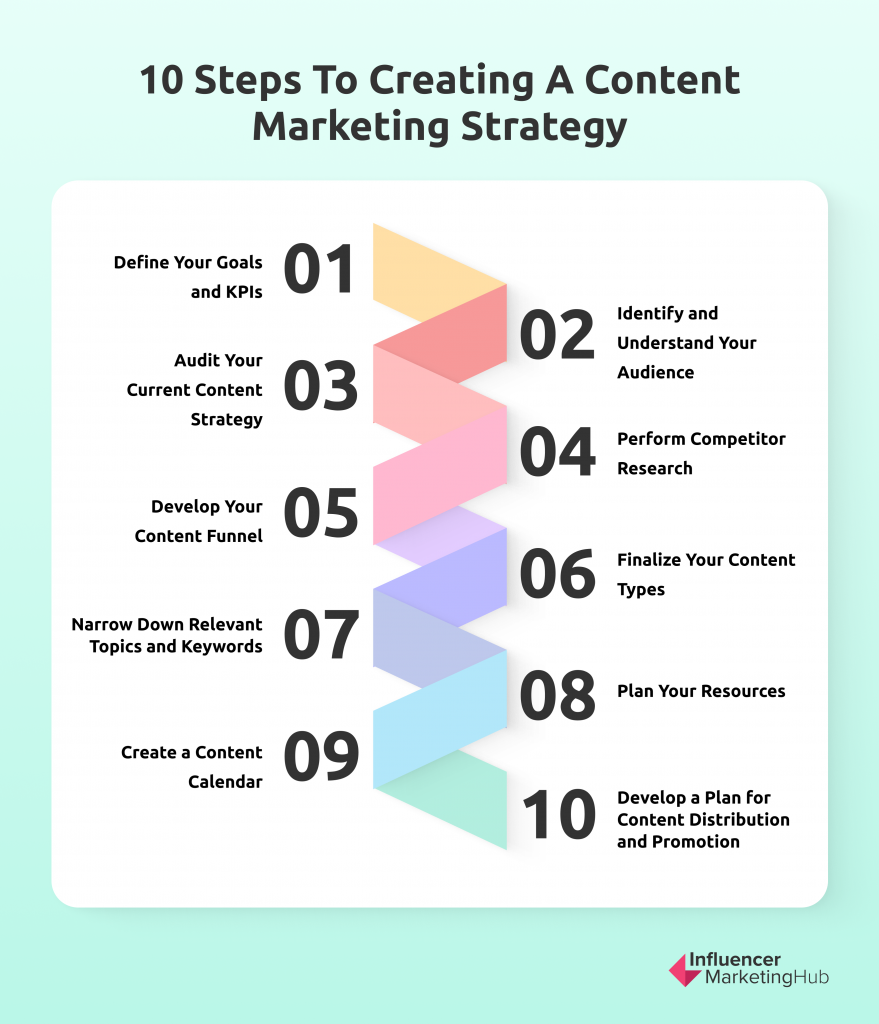 ---
Your Go-to Guide to Creating a Content Marketing Strategy (+ Strategy Template):
---
Step 1: Define Your Goals and KPIs
Start with a clear definition of what you want to achieve through content marketing and when you want to achieve it. Yes, growth may be the ultimate goal, but you should be able to measure your results against this goal, so it's important to get more specific. You can even break down the goal into several smaller objectives.
For example, your goal may be to grow awareness about your email marketing platform. This goal can be broken down into smaller objectives such as:
Gain 5,000 new followers on Instagram by November 2022.

Garner 10,000 impressions on Instagram by November 2022.

Drive 10x more traffic to your website by November 2022.
Once these goals are defined, you can then begin to outline the key performance indicators (KPIs) that make the most sense. Which metrics will help you measure the impact of your content strategy?
In the above example, for instance, impressions and traffic are relevant KPIs since the goal is to raise brand awareness. However, if your goal involves growing your revenue, your KPIs may include conversion rates and cost-per-acquisition, among several other metrics.
---
Step 2: Identify and Understand Your Audience
Next, think about your target audience. Who's going to consume the content you've created? This will help you align your offering and value proposition accordingly. And you'll be able to create content that addresses their pain points in a voice and tone that appeals to them.
The target audience for your content marketing strategy can be the same as the target audience for your overall marketing plan. If you don't have buyer personas created yet, check out our beginner's guide to creating buyer personas to get started.
This outlines all the information that you need to include in a buyer persona and the process of developing one. Essentially, you should define the personal background, personality traits, shopping preferences, and buying process for each persona.
Based on this information, you can strategically map your product or service to the needs and preferences of each persona. This will give you a better understanding of how you can help them and how to present that information through your content.
---
Step 3: Audit Your Current Content Strategy
If your business has been around for a while, you've probably created some content of your own. This includes your blog posts, videos, social media posts, ebooks, and so on. So, the next step is to take stock of this existing content and see how it contributes to your goals.
A content audit will help you figure out which content pieces are already performing well with your audience. This can then be used to answer the following questions:
Which topics appeal to my audience?

Which content types do they find the most engaging?

Which channels are most effective at driving traffic?
Your Google Analytics reports will be able to help you measure your content performance in terms of traffic and conversions. Additionally, you can use tools like BuzzSumo to assess your content popularity in terms of social media shares and engagements.
SEMrush also has a Content Audit tool that runs a comprehensive analysis of your website content. You can use this tool to measure the performance of different content pieces in terms of shares, backlinks, referral traffic, ranking, and much more. It also identifies issues in the content and provides suggestions on how to make improvements.
---
Step 4: Perform Competitor Research
Next, it's time to look at what others in your industry are doing. Competitor research can help you answer a number of questions:
What kind of content are they creating that appeal to your audience?

How often are they publishing content and does this seem to work?

How do you measure up to them?

Which channels are they using to distribute their content?

What do you need to do to stand out?
By answering these questions, you'll be able to understand what you need to replicate for your strategy and what will help you stand apart. For example, your research may tell you that most of your competitors are targeting the keyword "how to create an email marketing strategy." While you might want to target the same keyword since it's highly relevant and popular, you could find ways to strengthen your offering by including an email marketing strategy template.
Your competitor's research will uncover insights that you can add to the outline you've created, allowing you to get a better sense of how to build out your strategy. You'll be able to narrow down the channels and content formats to focus on as well as how to create content that stands out rather than blend in.
---
Step 5: Develop Your Content Funnel
Don't forget that your audience will be made up of people at different stages of the customer journey. Someone who's just starting the journey may not necessarily be interested in your case studies and client reviews. As such, it's important to map out your content funnel while considering the different stages of the customer journey.
Top of the funnel –

Customers at this stage are just starting to learn about the problem or need. As such, you should consider creating discovery-stage content to grow awareness about your brand and its products or services. Informative and educational blog posts, thought leadership articles, and display ads are some of the content types you can use to target this type of audience.

Middle of the funnel –

At this stage, people are starting to become more interested in your offering and may be evaluating their options. Comparison posts, customer reviews, and case studies are an effective way to move them to the next stage of the buying journey.

Bottom of the funnel –

These customers are ready for commitment and may be looking for reasons to make a decision. Demos and trials can be an effective way to help them finalize their decision.
---
Step 6: Finalize Your Content Types
One of the most critical aspects of your content marketing strategy is the content types you'll be focusing on. While you may feel inclined to cover every type of content, this could get overwhelming and difficult to manage. Especially since you won't get the same results for all those content types.
However, keeping your content formats diversified is also essential if you want to maintain your audience's interest. It's best to focus on content types that appeal to your audience and are best at engaging them. Additionally, you'd also want to look at the content formats that are best at getting your information across. Based on this, you can start to develop a content marketing mix that perfectly balances several content formats.
Most content marketing strategies will include blog posts as they help with SEO in addition to sharing valuable information. Besides this, you can decide whether to include videos and podcasts in your content marketing mix. B2B companies may also consider using webinars, whitepapers, and ebooks in their strategy.
After careful consideration, you may create a list of content types that will be included in your content strategy along with a short description. For example, your list may look something like this:
Blog articles –

1000 words in length, targeting specific topics and keywords, written for SEO and backlinks

Pillar blog posts –

Highly comprehensive pieces of 3000-4000 words linking back to blog articles that focus on other, more specific subtopics

Webinars –

30-minute sessions, featuring product demonstrations or expert instructions and advice pertaining to a chosen topic

Infographics –

150-word pieces, providing very brief, high-level instructions and tips, focusing on very specific topics

Explainer videos –

5-minute videos, explaining how to use specific product features to perform certain tasks
---
Step 7: Narrow Down Relevant Topics and Keywords
At this stage of your content strategy development, you don't necessarily need to create a list of highly specific topics. However, start by outlining relevant high-level topics and big themes to cover for the year. For example, if you're providing an email marketing platform, you may want to focus on topics around email marketing and digital marketing.
Start with a list of evergreen themes that will remain relevant for years down the line. Then put together some popular and relevant keywords that you want to target based on these themes. Tools like Keywordtool.io can help you conduct keyword research for several channels including Google search, YouTube, Amazon, and social media platforms.
You can also use the Keyword Magic Tool from SEMrush to simplify the research process. This will generate a list of the best keywords based on the topic you've entered. In addition to finding your target keywords, you can also use this research to develop more specific content topics for your content marketing strategy.
---
Step 8: Plan Your Resources
Now that you have the framework for your content strategy, it's time to look at your resources to make sure you have everything you need to execute it. First, you'll need to clearly define who's in charge of producing, distributing, and maintaining your content.
Make a list of both in-house talent and third-party contractors such as freelancers and agencies. For instance, you may have an in-house team for content management, but you'll likely be outsourcing the content creation to multiple freelancers.
Essentially, you'll be allocating roles to make sure that everyone knows what they need to do. So, your list may look something like this:
Chief Marketing Officer to have final approval on content strategy and production timelines

Content Marketing Manager to work with the content team and oversee the content production process i.e., approving topics, outlines, content, etc.

Content team to handle content production on a daily basis according to the production timeline

Freelance designers to create designs for infographics and original social media graphics
Next, you'll also need to create a content workflow that must be followed for everyone involved in your content strategy. This is a step-by-step breakdown of the typical process that will be followed for content production. You may even create a separate workflow for different content types. So, a workflow for a typical blog post may look something like:
Ideate topics and have them approved

Create outlines and have them approved

Write the post

Develop accompanying social media copy

Create hero image and in-article graphics

Have an editor review the content

Make necessary edits

Upload to WordPress

Schedule a publishing date

Publish the post
After developing your content workflow, you'll also need to figure out the tools and resources needed to create content. Make a list of the different types of tools or resources that you'll be using for each step in the content workflow and then look for the best options in the market to fulfill your needs. You can then build out your list of core tools and resources that will be used for executing your content marketing strategy.
For example, if you need help from freelance designers, you may include freelance platforms like ClearVoice in your list of resources. Or if you want to create design in-house, you could speak to your design team about which tools are already being used and which ones are needed, and then include those in your documented strategy. Similarly, if you plan on creating webinars, you may decide to invest in tools like GoTo Webinar.
---
Step 9: Create a Content Calendar
The next step is to plan your publishing timeline to make sure that your content strategy is seamlessly executed. This involves creating a content calendar that specifies exactly when you'll be publishing your content across all the channels you've chosen. Having this publishing schedule in place will also help you plan your production and allocate your resources accordingly.
If you want to create quality content, be sure to plan your production well in advance so that every team member has ample time to complete their work. For example, let's say you plan to publish a blog post every week. To maintain this publishing timeline, you may plan your ideation at least a month in advance.
If the outlines are approved the following week, you'll need to immediately assign them to writers. After giving writers 2-3 days to complete the assignments, editors will need at least a day or two to go through each assignment and provide feedback and suggestions. The edit may need another 1-2 days, following which you'll need to set aside 3-5 days for design. This should give you enough time to schedule your blog posts about a week in advance.
Ideally, your content calendar should serve as a central hub to keep track of all your content production activities across different platforms. This means it should help you plan your blog posts, social media posts, webinars, ebook publications, and so on.
Many social media management platforms will come with their own content calendar, but these are usually limited to just social media. Consider using an all-in-one content calendar tool like CoSchedule or a list-making platform like Trello to organize your content production efforts in one place. Alternatively, you can also use content calendar templates to create your own calendar in a Google Sheet.
---
Step 10: Develop a Plan for Content Distribution and Promotion
Remember that successful content marketing isn't just about the content itself but also about how you distribute and promote the content. It's not enough to create awesome blog posts that cover everything that your audience wants to know about. You also have to make sure that your audience sees those blog posts so they can extract value from them.
So, make sure your content marketing strategy also outlines your content distribution channels and promotion tactics. For instance, you may share your blog posts on social media as soon as they go live and 2-3 days after they're published. Additionally, you may also use email to share these latest blog posts and send newsletters to promote your most popular posts.
Creating a content distribution workflow can be a great way to ensure that this process is carried out smoothly. For example, the workflow may be as follows:
Publish content

Share with internal teams to encourage them to share

Share on social media

Notify email subscribers

Publish guest post that links back to the post
---
Start Creating Awesome Content
Now that you know the step-by-step process of building a content marketing strategy, it's time to start creating awesome content. Not sure how to get started? Customize this template to start developing your content marketing strategy.
Template:
Frequently Asked Questions
What are content marketing strategies?
Content marketing is a type of marketing that will attract, engage and retain your potential customers by creating and sharing relevant articles, videos, podcasts, and other media. You do this by establishing expertise, promoting brand awareness and keeping business top of mind when you pitch the sale.
What are the 7 steps of content marketing?
Create a successful content marketing plan with these 7 steps:
Define goals

Track performance metrics

Gather data

Pick content types

Create content

Distribute the content

Follow-up with analytics
What is the best content marketing strategy?
Tried-and-true steps to create the best content marketing strategy to grow your business:
Establish goals

Narrow down your audience

Do competitive research

Do keyword research

Review and refine existing content

Identify and Allocate resources

Follow a content publishing schedule
How do you create a content marketing strategy?
Follow this step-by-step guide to create a content marketing strategy and plan:
Establish goals

Narrow down your audience

Do competitive research

Do keyword research

Review and refine existing content

Allocate resources

Follow a content publishing schedule