If you're in business the odds are high that you will have heard of customer relationship management (CRM) software. There is even a high probability that you're using one yourself. Even if you haven't actively purchased a product for its CRM capabilities, you will probably have heard of products that include them, like Salesforce, HubSpot, Zoho, or Microsoft Dynamics 365. But partnership relationship management (PRM) software is less known, and less of a common business buzzword.
However, in many ways, the clue is in the name. Just as you use CRM software to manage dealings with your customers, you use PRM software to manage relationships with your partners. Your partners will typically be your distributors, resellers, service providers, and other strategic stakeholders.
---
What is Partner Relationship Management (PRM) Software?:
---
What is PRM Software?
You use partner relationship management (PRM) software to connect and automate all the data and processes relating to your business partners. They will be the main tools used by your partner relationship managers (if you have them), in their day-to-day work. If you're too small for such a position, PRMs can be of value to those staff members and managers who take on the role of connecting with your outside stakeholders, such as vendors and resellers.
PRM software creates a common portal where you can carry out all your partner-related administration and other activities. Typical uses for the partner portal include providing access to deal registration, marketing resources, pricing, and sales information for products and services, as well as holding technical details not publicly available.
Most PRM software products nowadays are SaaS and cloud based. This makes it easy for any relevant party to (legitimately) gain access to the PRM software, no matter where they are or whether they are in office.
---
Who are the Partners of a Business?
It isn't always clear who you should consider being a partner of your business. The fact that the word "partner" has multiple meanings in business, including as a type of ownership structure, can add to the confusion. Crossbeam has written a collection of in-depth articles (Partnership 101) where they have examined the roles of business partners. They see partners existing within an ecosystem, a network of partners a business creates and nurtures to create new market opportunities, typically via account mapping, co-selling, and co-marketing. An ecosystem is made of many bi-directional partnerships. A large network of interdependent bi-directional partnerships makes up your ecosystem.
You can generally place your partners into one of three broad categories: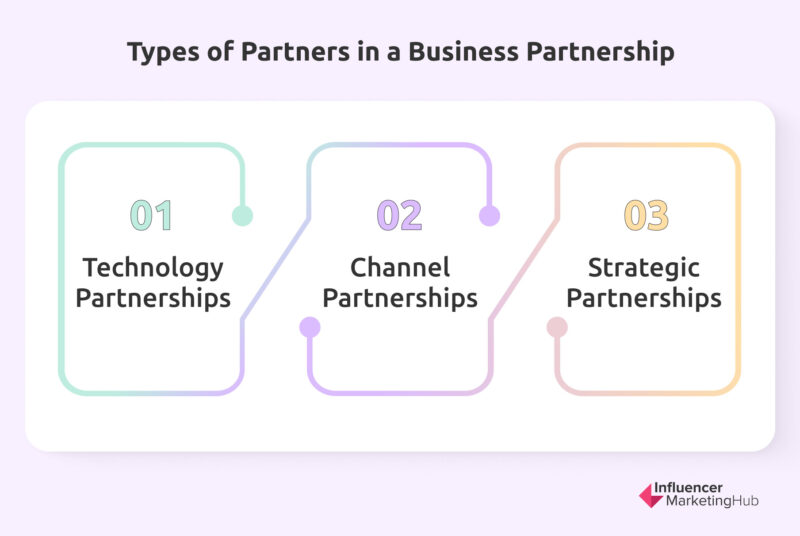 Technology Partnerships (aka Integration Partnerships) – these occur when your product sends or receives data from a partner's product.

Channel Partnerships – these most frequently occur with people or businesses who sell your products, or with vendors who sell you products to resell. Channel partnerships include Resellers, Value Added Resellers (VARs), Systems Integrators (SIs), agency partners, indirect sales partners, affiliate partners, Business Process Outsourcers (BPOs), and Managed Service Providers (MSPs).

Strategic Partnerships (aka Strategic Alliances) – these align your long-term goals with one or more other companies. They are mutually beneficial business relationships that can help both businesses grow at reduced costs. Strategic partnerships can cover a wide range of areas including marketing, supply chain, and finance. Technology and channel partnerships can also be strategic partnerships, depending on their importance.
Although there are many possible partners for businesses, arguably the most common are reseller partners. Your reseller partners can often have large teams of (indirect) sales professionals, who need some access to relevant company documents and communications, but for whom you don't want to give full access to your CRM. In this situation, you can look at your PRM as a cut-down version of your CRM, where you can control access to relevant people external to your organization.
---
The Difference Between CRM and PRM Software
Although CRM and PRM sound very similar, and indeed have many commonalities in practice, the primary difference is in the name. You use your CRM to record all customer-related activity, whilst you use your PRM to record all partner-related activity. Customers and partners are both external stakeholders, so you will want to record certain types of information for both, for example, names, addresses, and contact details. However, as you have partners for very different reasons than having customers, you generally interact with your partners in very different ways than you do with your customers. Your PRM and CRM software should recognize these differences and focus on these differences.
You will find software that recognizes the similarities between CRM and PRM, however and integrate the two. Often these will include both partner and client portals, enabling a better connection between you and your external stakeholders.
Oh, in case you were wondering, ERM software is very different. ERM stands for enterprise risk management software, a totally different category of software.
When your sales reps use CRM software, they generally focus on turning leads into sales and then managing future purchases. You will focus much more on relationships when using PRM software, however. The whole point of having partners in a business is to create relationships where you help each other. You can manage and administer these relationships in your PRM software.
Whereas a brand uses its CRM to manage relationships with its customers in a single set of records, it uses its PRM to manage its relationships with its indirect sales and reseller teams.
---
Key Features of Partner Relationship Management (PRM) Software
Businesses can use partner relationship software to streamline processes relating to their sales partners. Like much modern software, most PRN programs are SaaS bases, operating via the Cloud.
Most programs marketed as PRM software have a partner portal, where your partners can sign in and communicate with you.
Other typical features you'll find in PRM software include: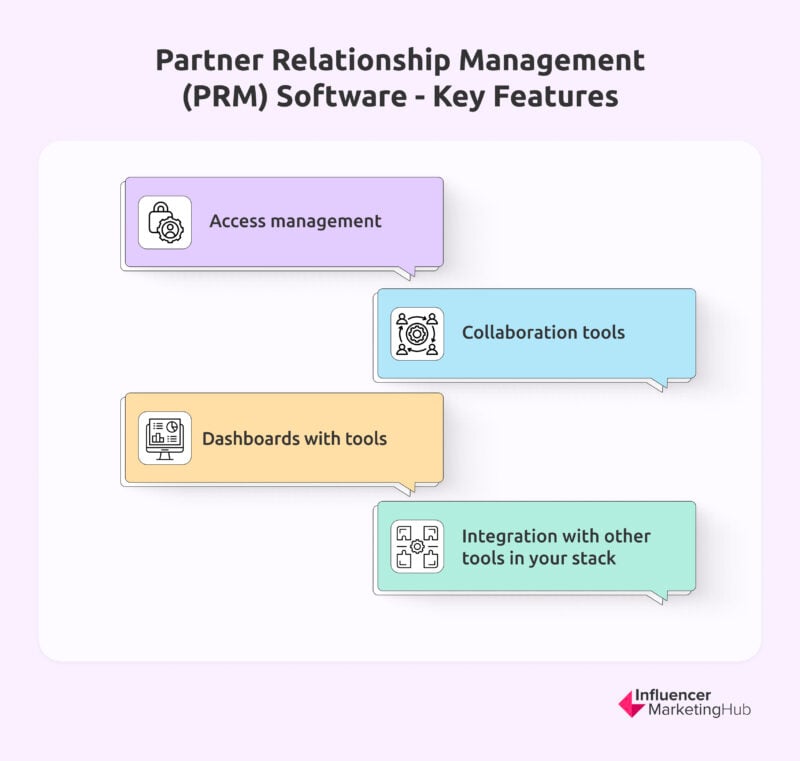 Access management, so you can keep sensitive information private, visible only to the "right" people.

Collaboration tools, so your employees and those of your partners can work together on joint projects.

Dashboards with tools where you can set goals and then measure progress toward achieving them.

Integration with other tools in your stack, including your CRM, project management, time management, accounting package, communications, and contract management.
WorkSpan suggests PRM software should have six sets of common features:
Dedicated Partner Portals (one for each partner) – these allow you to create and manage personalized experiences.

Lead Management – to encourage your reseller partners to attract leads to close the business.

Marketing Campaigns, Training, and Performance – a centralized repository for all your marketing assets that may be usable by your partners.

Admin Controls – the tools to manage the workflows between you and your partners.

Dashboard to Measure Goals – tracking the ROI of your partner programs, using whatever metrics measure the relevant goals.

Communications, Notifications, and Alerts Tools – communications tools between you and your partners that allow for the sharing of knowledge, feedback, and valuable experience.
---
Pros of Using PRM Software
Many businesses work alongside other companies. For example, they may use a network of distributors who sell their products. PRM software can simplify your interactions with them, streamlining all your processes and minimizing duplication. You can use your PRM software as a repository for information relating to each partner, ensuring it is only visible to the relevant parties.
Using a common PRM framework ensures that you streamline all your partner processes and can minimize duplication and inconsistent practices relating to your partners.
Businesses can use their PRM software to share leads with their reseller partners, as well as encourage them to share leads with them.
Having a PRM can be useful when you work with multiple partners on marketing campaigns. You can use it for facilitating marketing asset distribution, giving access so your partners can share content and access assets like logos and ad specifications. You can also create self-guided training and enablement documents that relevant partners and their team members can access.
Many PRM programs offer business intelligence-based dashboards where you can track your partner interactions and view the ROI of your partner programs.
---
Factors to Consider When Selecting PRM Software
There is no ideal PRM software solution for you to strive towards. You need to look at the features that best suit the way your business operates. There are a few factors you should consider in your decision-making, however.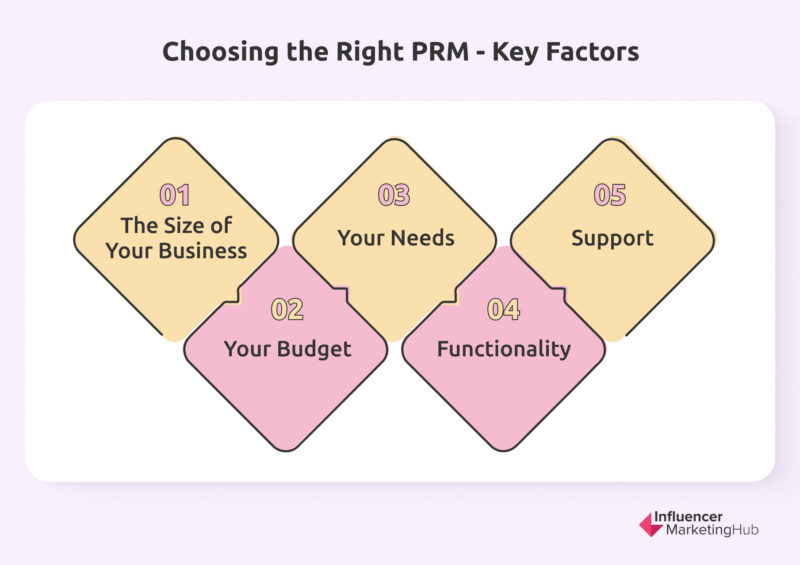 1. The Size of Your Business
The PRM an enterprise opts for is likely to be very different from the one selected by a medium-sized business, and most small businesses are unlikely to have one at all. You should look at the complexity of your business relationships – the larger the business the more complex your relationships are likely to be, and the more comprehensive your PRM software should be.
2. Your Budget
Your budget will probably also be connected to your size. However, with PRM solutions varying greatly in price depending on your needs, your budget can limit what you can afford.
3. Your Needs
Take a look at how your business interacts with partners. In what areas do you have formal partner relationships? Looking at the Key Features of PRM Software we've listed above, which are most important to the operation of your business, which are "nice haves" that might be useful, and which are irrelevant to how you operate?
4. Functionality
Take a close look at the various PRM software packages currently available. Which packages cover all your essential needs, possibly some of your "nice-to-haves", and can come within your budget? Which ones integrate with your existing software, making for an easier learning curve?
5. Support
Ideally, you will want a PRM package that provides easy-to-access customer support to handle your problems and queries. The level of support will, of course, depend on the price point of the software. However, regardless of price, you would still expect to be able to reach their support team via a range of methods, such as phone, email, and possibly even chat.
---
Having a Channel Partner Portal
A channel partner portal can be a very useful feature of PRM software. You can use it as a cloud-based way for your distributors, resellers, service providers, and other strategic partners to interact with your business. The exact way you use it will depend on the type of partnership, but typical uses include deal registration, marketing resources, pricing and sales information, technical details, and support. For example, you can use the partner portal to list new promotions or discounts for each channel partner.
In many cases, relevant managers at your partner firms will be able to access your partner portal using secure login credentials. There may be a link on their website where they can access the portal, or maybe they can even use their mobile devices.
You would typically use your partner portal as an administration hub for all activity between you and your partner. For example, you might include deal registration systems, reseller agreement contracts, partner engagement-focused communications, and more. If you use external sellers to sell your products, you might use your product portal to include descriptions of your direct and indirect sales policies. You would also use the portal to upload any sales and marketing materials your sales consultants would use.
A recent trend is to use partner portals for education and training purposes. They can be particularly handy because of their security. You can offer training courses with certification and accreditation to relevant partners and other stakeholders.
---
Rounding Things Up
Obviously, you will need PRM software that best meets the needs of your business and the types of interactions you have with your partners.
If you're already using a software package like Salesforce CRM, which also has a PRM module, it makes sense to upgrade, adding on Salesforce PRM (or your product's equivalent), as it will allow for seamless integration and an easier learning curve.
Good partnership relationship management software can help you find, recruit, train, and manage relationships with your business partners. Above all else, you can use it to streamline tracking partnership sales, marketing activities, and other partnership activities, making it easy for everybody to measure the success of your partnerships.