Businesses have recognized the value of keeping an active presence on the various social platforms. Most firms have to be somewhat selective about the social networks to which they actively contribute, however. Social networking can be a huge time suck and use of resources. That means that you need to focus on the social platforms where your customers spend the bulk of their time. LinkedIn may not have the daily appeal of TikTok for a young audience or Facebook for their elders, but it is popular, particularly with a professional audience. Keeping an active LinkedIn presence is particularly essential for any B2B business.
LinkedIn had more than 740 million active users in 2020, meaning that it is now much more than merely a networking site for professionals. It is an ideal place for many businesses to demonstrate thought leadership and market their brands.
However, as with all social media, you need to find a way to operate your LinkedIn accounts as efficiently as possible. The best solution to this is to use a LinkedIn posting tool to save your business time. Many of these tools offer more than just post-scheduling, too. They include features like analytics, automated publishing, content management, keyword filtering, multi-account management, and more. Most allow you to schedule your social posts across all your social accounts, customizing them to ensure you follow best practices for each social platform. We believe the LinkedIn scheduling tools we have included here can simplify your social media marketing efforts, giving you more time for the things that matter to your business.
---
15 LinkedIn Posting Tools to Save Your Business Time:
---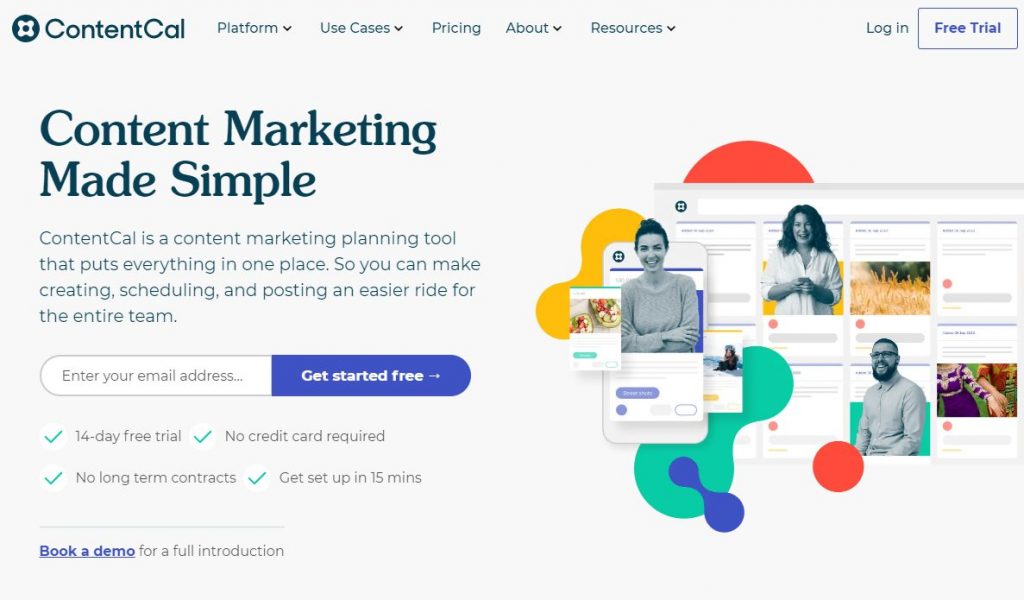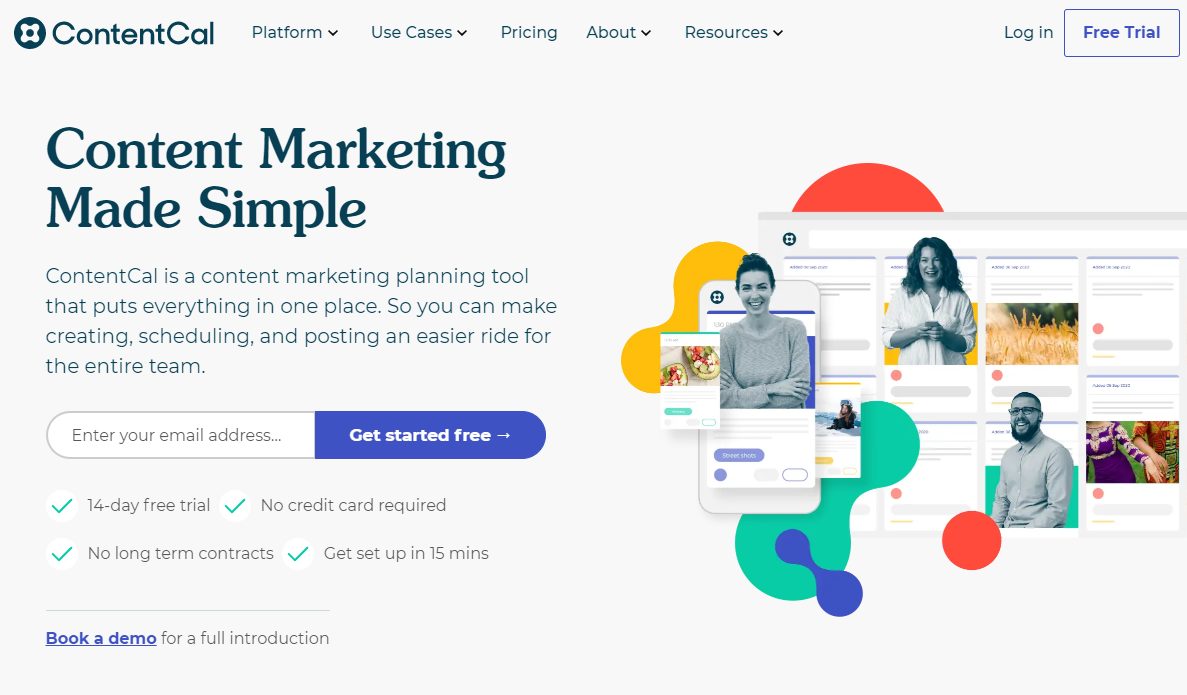 You can use ContentCal to plan, create, collaborate, publish and analyze your content from a central content hub. It includes in-built approval flows to help streamline the process and avoid bottlenecks. The different plans permit different numbers of social profiles, with four social accounts allowed on the lowest level (Pro) plan. One of these can be LinkedIn.
At its heart, ContentCal is a visual calendar. Its central dashboard includes tutorial videos that cover just about everything the platform can do. You can visualize all the posts you set in the main calendar, using color-coding to indicate each post's status.
Although you will find some analytics in all ContentCal plans, you can purchase an optional Advanced Analytics bolt-on. This includes much organic LinkedIn data, including followers, paid followers, impressions, posts, follower growth, engagement rate, impressions, likes, comments, and clicks. You can also view paid media analytics for LinkedIn, Facebook, Google, and TikTok ads.
---
Brandwatch is a social media listening, publishing, advertising, measurement, and customer data management platform. It comes in two versions:
Essentials, where you can connect up to five social media channels, including LinkedIn, and use a social media calendar, social inbox, performance dashboards, and a mobile app.

Full Suite, which includes everything in Essentials with unlimited social media channels, team collaboration, approval flows, social listening, competitive benchmarking, and much more
Brandwatch uses a unified content calendar with posts scheduled by date and clearly identifiable by social platforms. You can plan, schedule, edit, and post across multiple networks. Alternatively, with their Campaign Planner, you can develop social campaigns in collaboration with team members and map, create a brief, roll out, and collaborate on campaigns.
---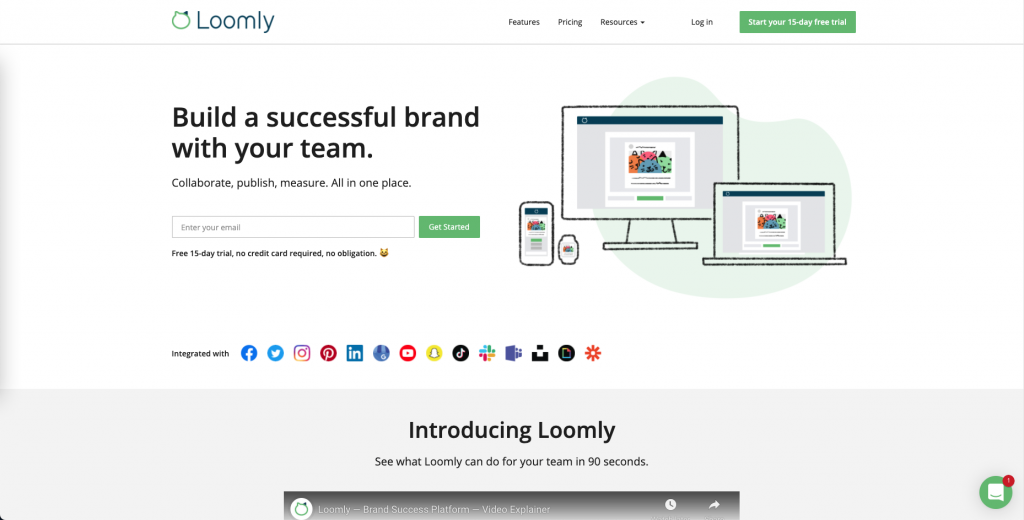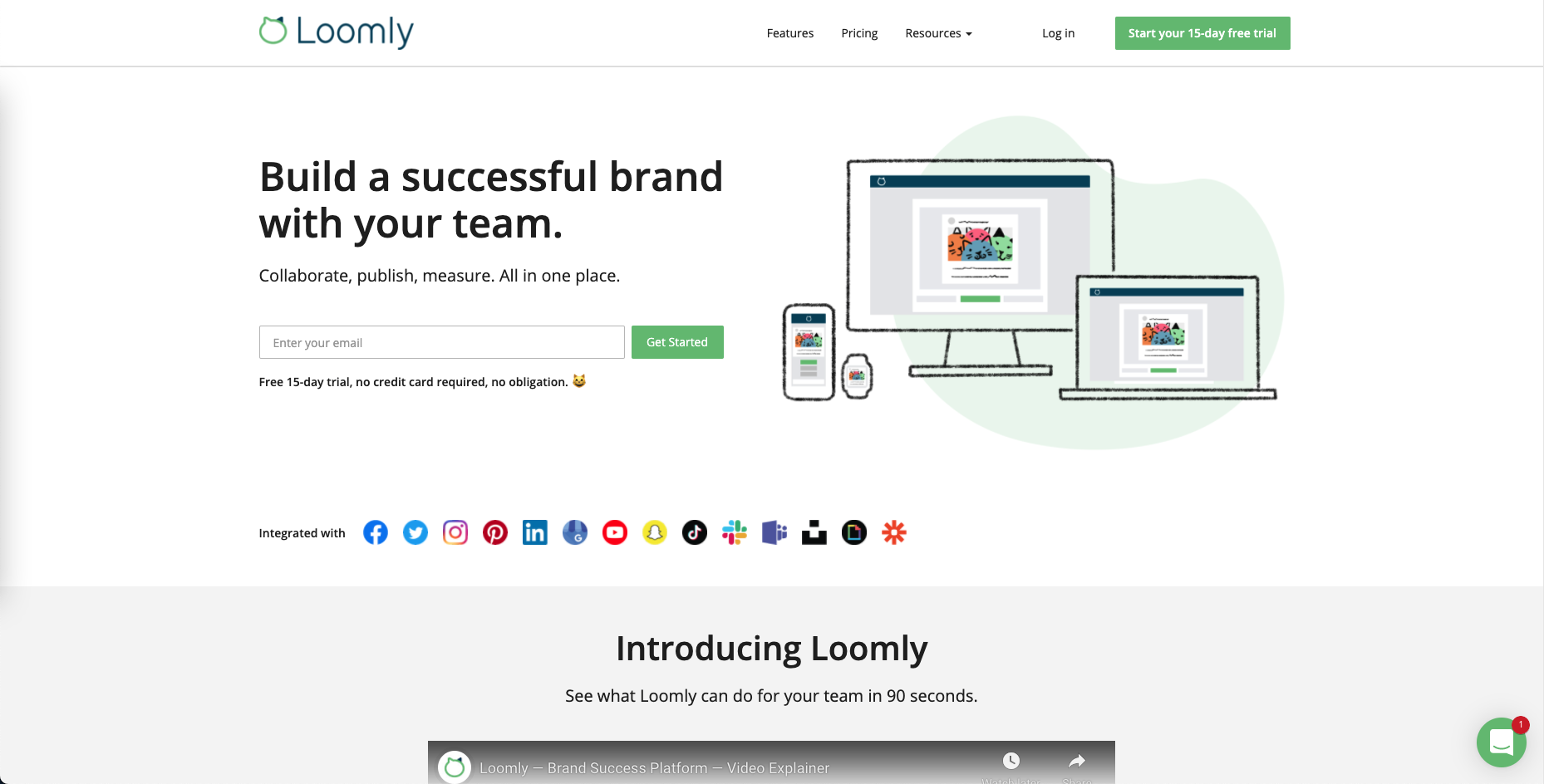 Loomly offers multiple plans to meet its users' needs, starting from the Base plan, with two users and ten social accounts (LinkedIn is one of many options). At the other extreme, the Enterprise plan lets you use more than 27 users and 51+ social accounts.
One difference with Loomly is that it allows you to schedule and publish posts directly within Loomly or through Buffer. However, the Buffer integration is limited, and links to LinkedIn posts are removed.
Calendar workflows are an integral part of Loomly. It has different recommended workflows, depending on whether you have team collaboration and the need for approvals.
Loomly leads you through your selected workflow. You create a post with 'base' content, which you fine-tune and adapt for each social network.
---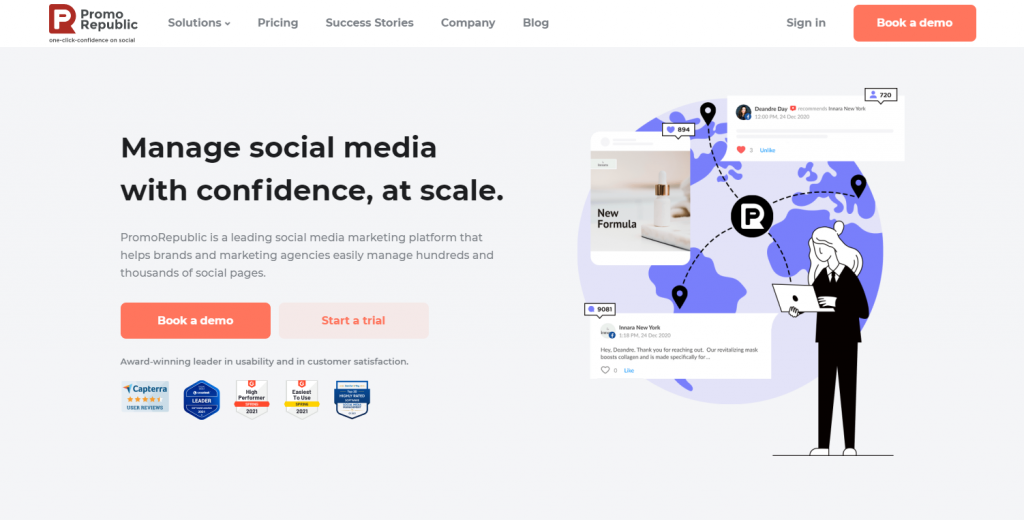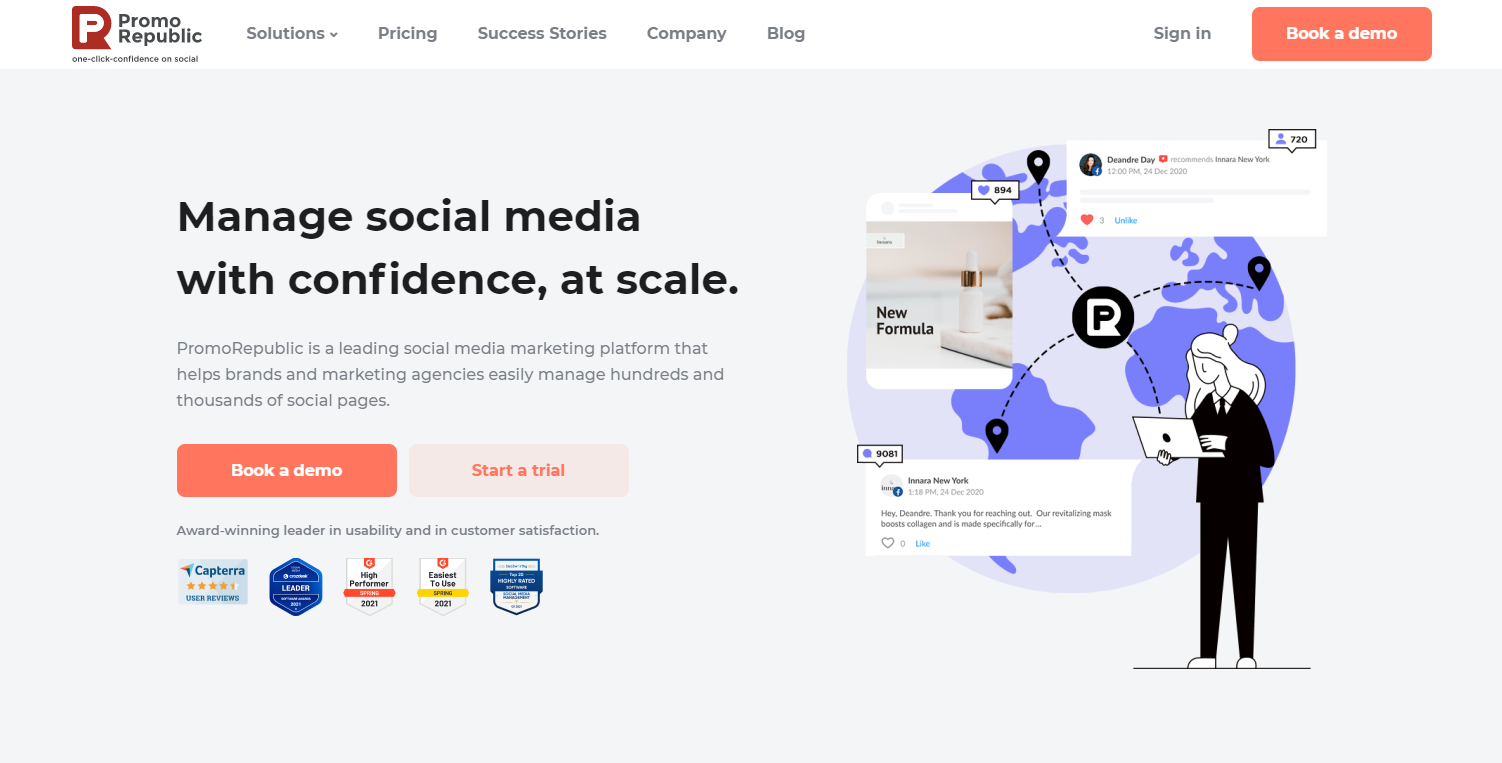 PromoRepublic's point of difference is its design focus. You can design beautiful posts without leaving the app as it incorporates graphics software. You can use it to schedule and share posts with all the major social networks, including LinkedIn.
You can set a posting schedule for different types of posts. PromoRepublic suggests a suitable posting schedule for each social network, but you can easily modify this. It includes a central calendar that shows your content (both past and planned) for a specific day, week, or month.
PromoRepublic offers over 100,000 post ideas and templates. Most post ideas come pre-designed, with eye-catching graphics which you can easily modify and customize within the social posting app.
---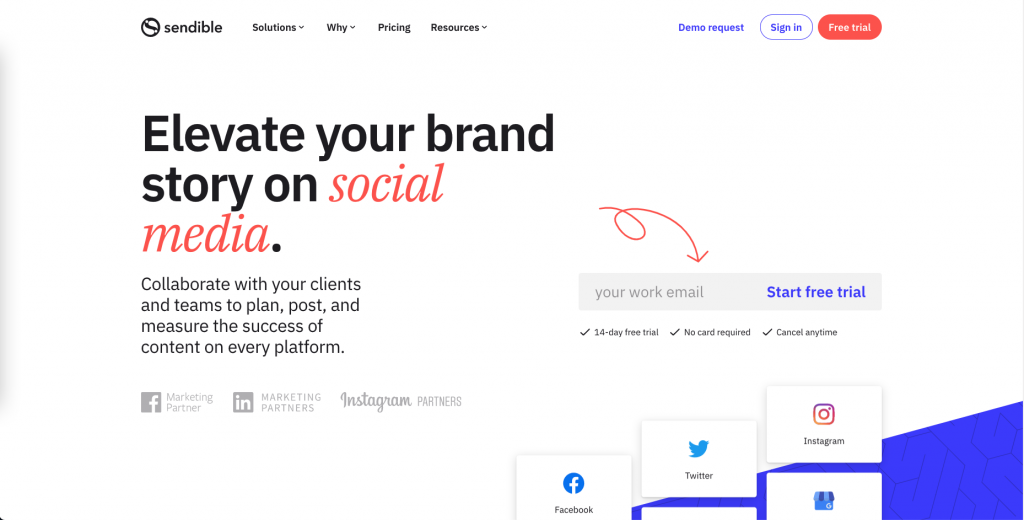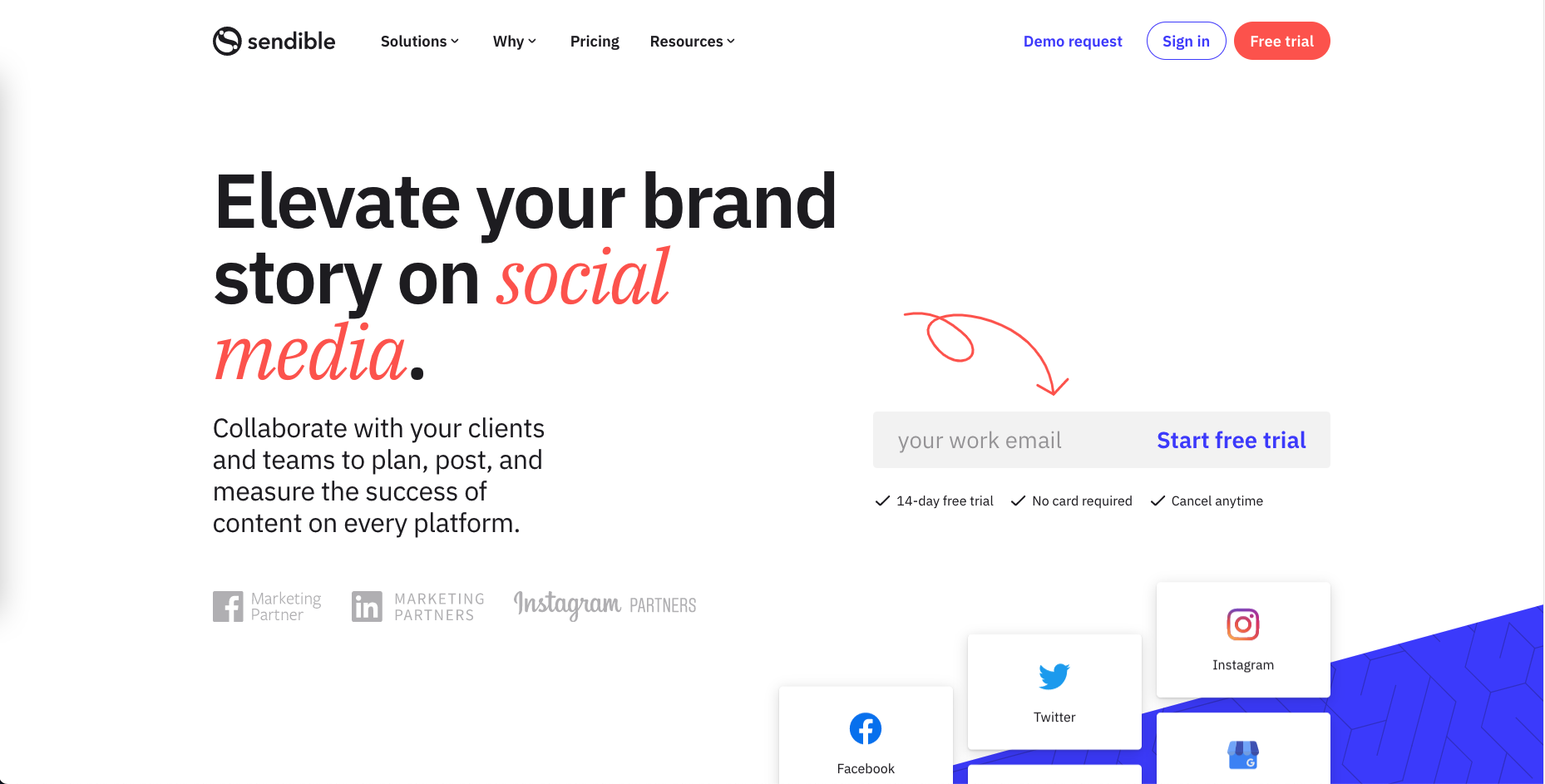 Sendible offers four plans, ranging from the $29/mo Creator plan, for one user with up to six social profiles, up to the $399/mo Expansion pack for 15 users with 105 profiles. It caters to multiple social networks and platforms, including LinkedIn.
Sendible focuses on what they call Services. Services are like channels or profiles that you create within your Sendible account. Services allow you to select which features you need from a social platform. In the case of LinkedIn, you can schedule posts to LinkedIn profiles and Company Pages, respond to comments, and analyze your content performance.
Some of Sendible's other integrations help when scheduling LinkedIn posts. For example, you can create social media graphics with Canva and schedule them to your profiles and pages without leaving Sendible, or attach images and video to your posts directly from your Dropbox and Google Drive folders
---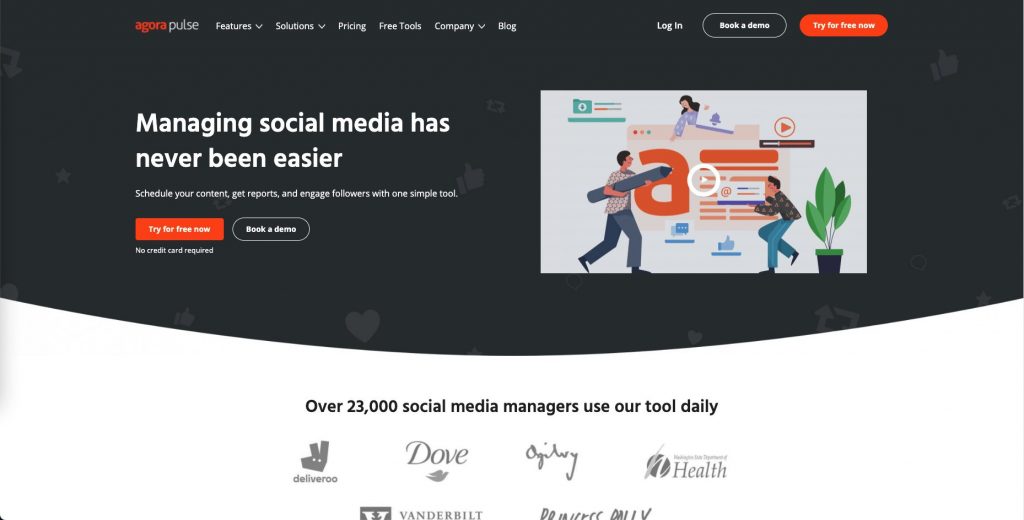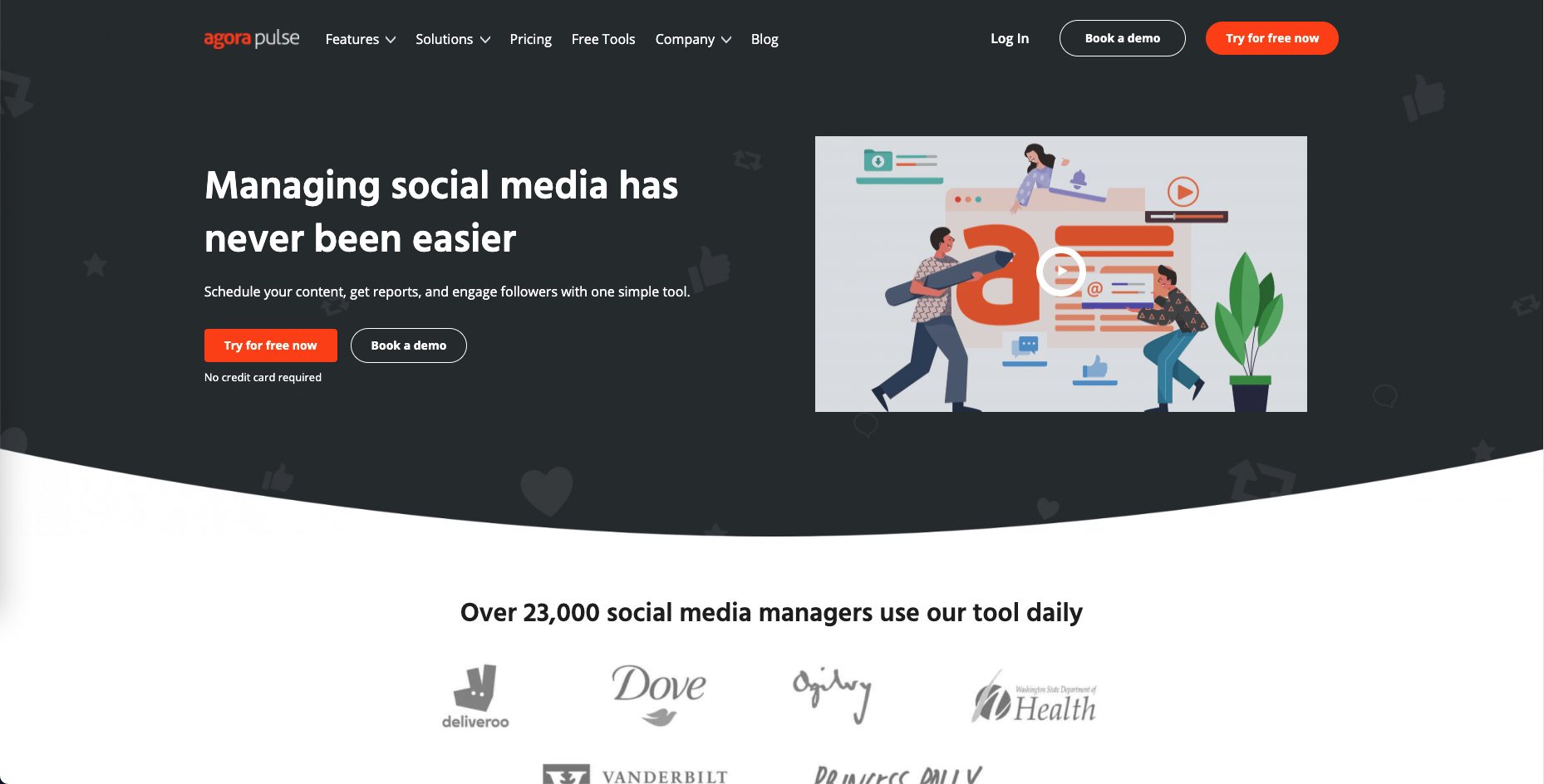 Agorapulse is a fully featured social media management program. An important feature is a unified inbox. The inbox shows your comments, ad comments, mentions, conversations, and reviews relating to each of your social accounts. You can set rules that automatically clean up and organize each account's inbox.
Agorapulse provides a variety of ways to publish content. Its Publishing tab takes you to a calendar that shows the social messages you have scheduled, queued, published, sent for approval, have been assigned to you, or failed this month (or another period of your choice). You can schedule a post simply by clicking on a time slot.
With the bulk publish feature, you can import a series of posts from a CSV file, a website using RSS feeds, or as a group of pictures to transform into posts. You can also use Agorapulse's Chrome extension to grab additional content. You add these posts to a queue.
---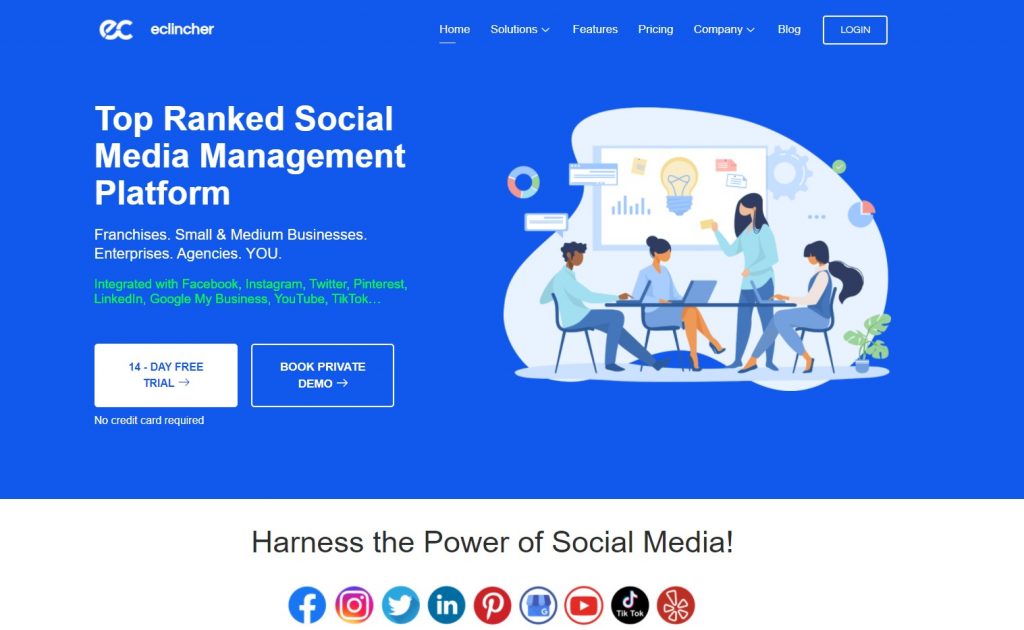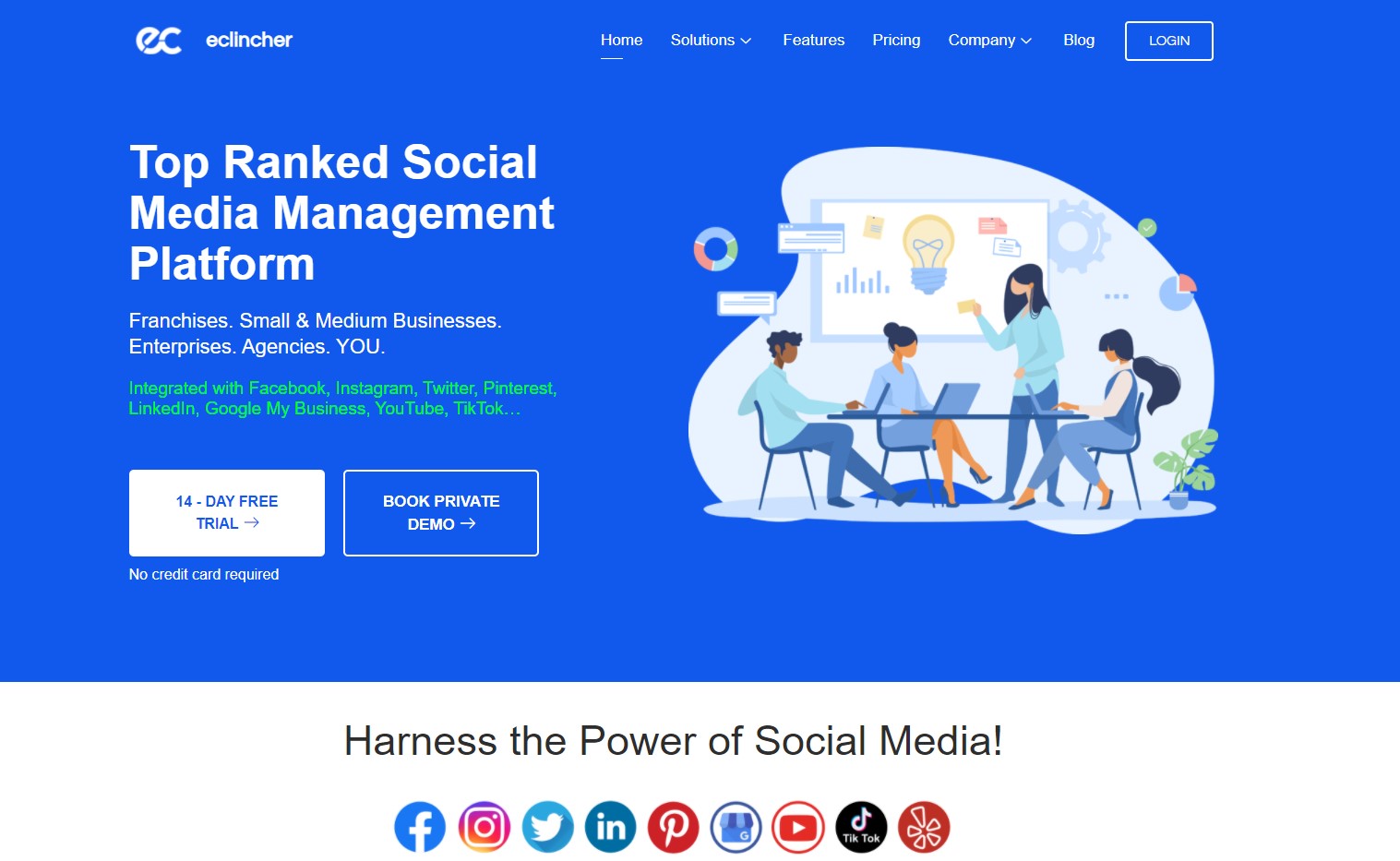 e-clincher offers 24/7 live support, even at its lowest tiered subscription, making it one of few companies available all day for their customers.
The platform features a modern and clean interface, despite its retro name. Set-up is straightforward. Once you've got your profiles set up, you can start using the many features e-clincher has to offer.
Publishing and scheduling are excellent. You can schedule posts by choosing dates and times in e-clincher's Visual Calendar, which shows you a week at a time. You can drag and drop anything you have scheduled from one date and time to another. You can even drag an image onto the calendar, causing an overlay window to appear where you can create the rest of the post.
---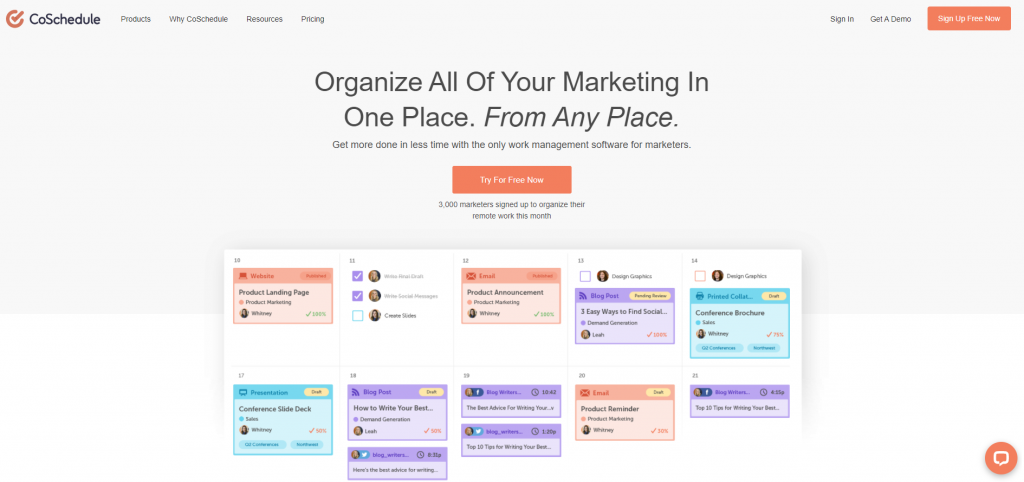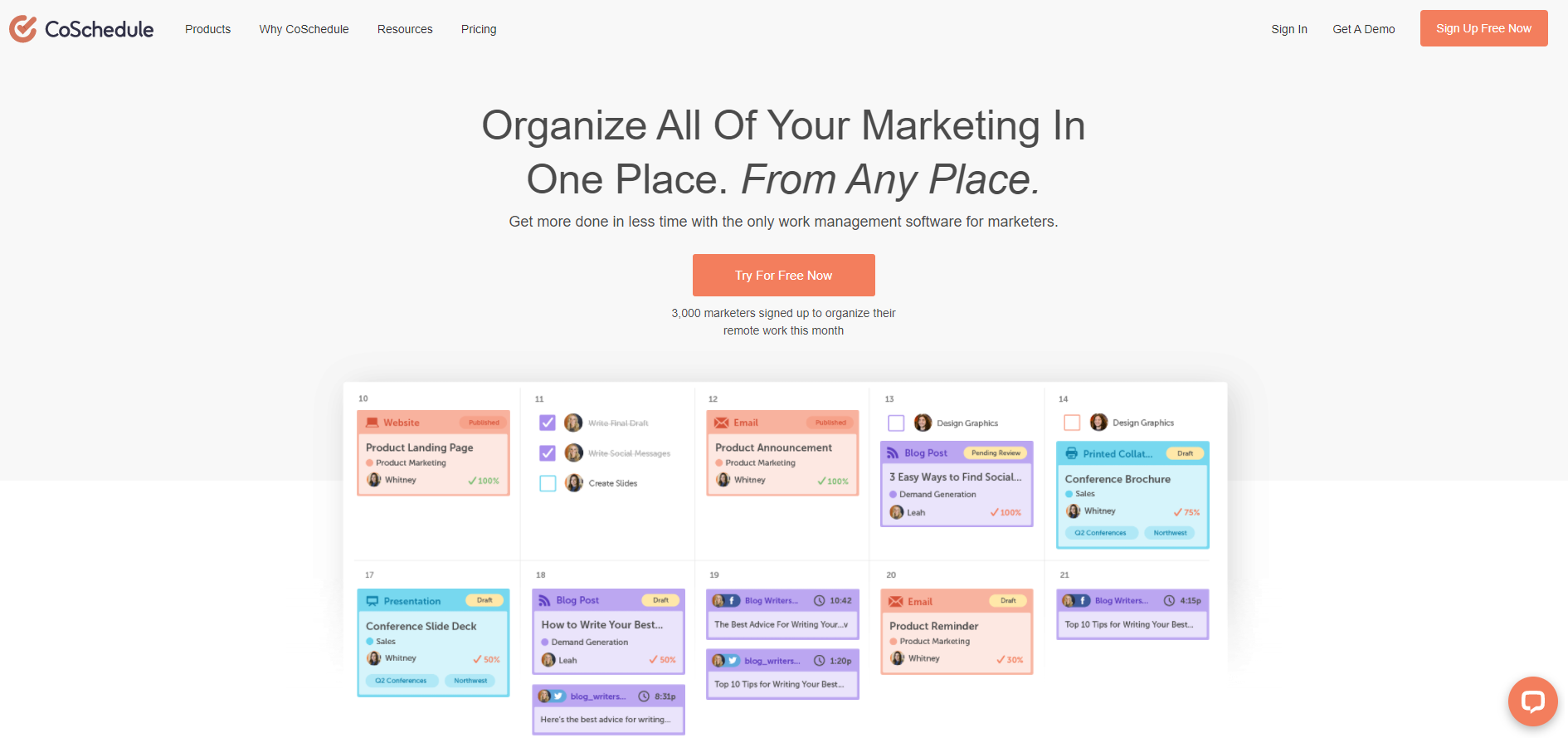 CoSchedule caters to businesses of all sizes but particularly focuses on organizations that run a blog. It offers an Editorial Calendar for solopreneurs, bloggers, startups, and small businesses, which is a cut-down version of their full product. Larger businesses can subscribe to CoSchedule's Marketing Suite, which includes four components: Content Organizer, Work Organizer, Social Organizer, and Asset Organizer.
The central focus of both products is content marketing. You can place any content item into a centralized marketing calendar, including all of the content creation, related social messages, email promotion, and even overall To-Do tasks.
The simple Editorial Calendar incorporates two main types of projects – blog posts and social posts. The more advanced Marketing Suite adds many more varieties.
---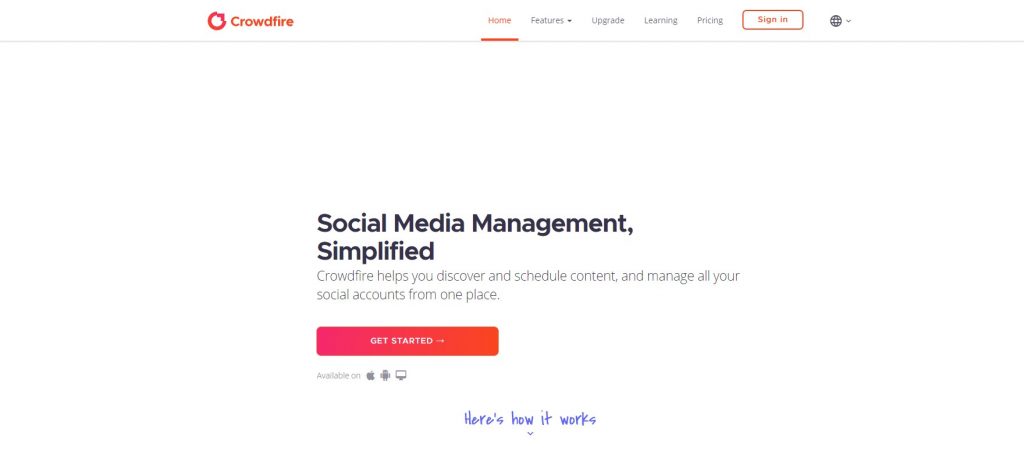 Crowdfire puts a strong emphasis on scheduling content across your social channels at the most suitable times, although it adds social listening and competitor analysis at its higher subscription levels.
You can use Crowdfire to post to virtually every major social network (including LinkedIn), as well as sharing your material from many blogging platforms, online shops, and video sites. You can easily send a single post to all your selected social networks, customizing your message for each account.
With Crowdfire, you can select content to share from articles, images, posts (yours, including YouTube videos), and RSS feeds.
---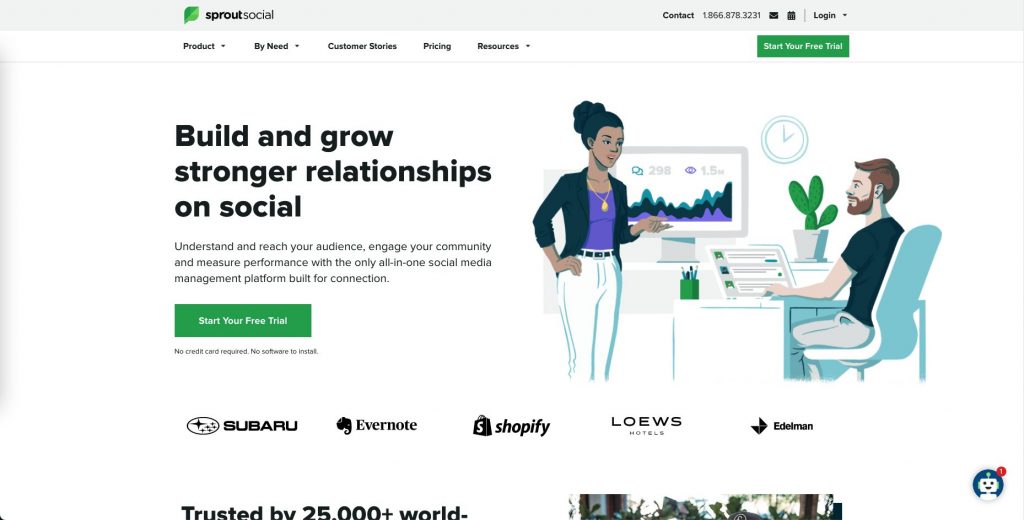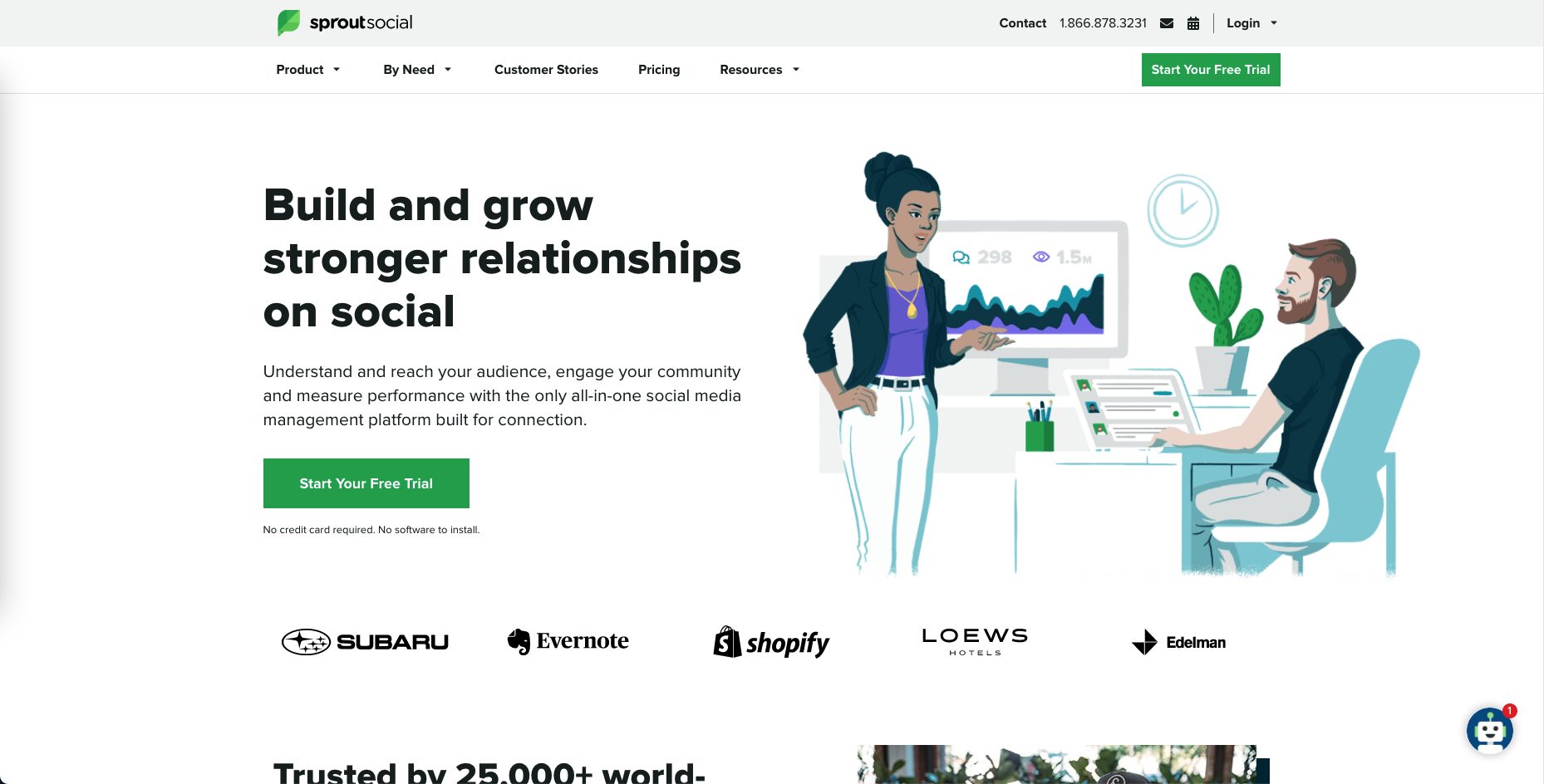 Sprout Social is a professional social media management platform that targets larger organizations with more heavy-duty needs. It includes a Smart Inbox that collects all your social messages, either combining them into a unified feed or keeping them separate, depending on your preference. You can select the types of messages you want to show here.
Its LinkedIn integration includes publishing, response management, and productivity tools and analytics. You can easily share posts, engage with followers, and measure performance.
You can publish from a single Compose window, easily drafting, scheduling, and queuing LinkedIn updates to one or multiple LinkedIn Company Pages. It's easy to reach the right audience on Sprout Social because you can apply audience targeting to LinkedIn Company Page posts based on company size, industry, job title, and more.
---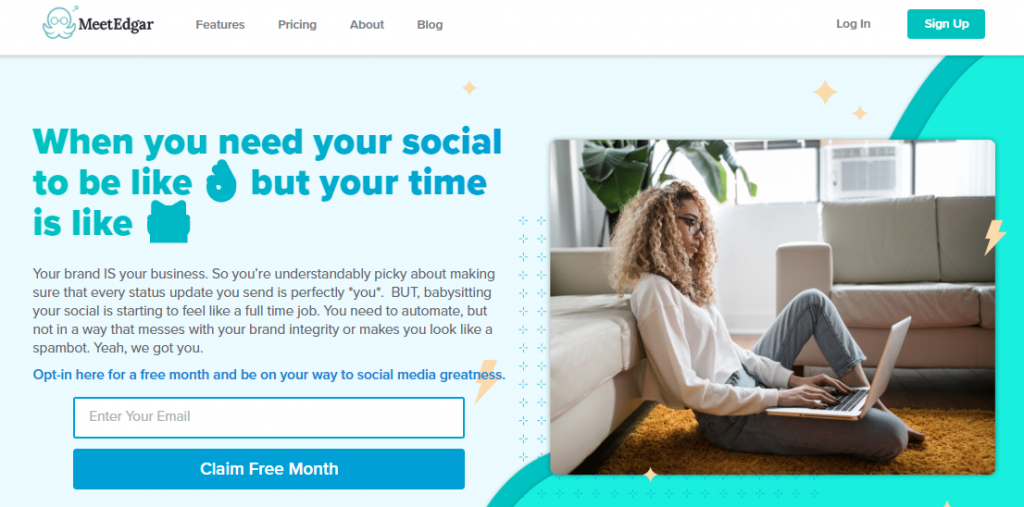 Technically, this platform is just Edgar. When you come to use it, you "Meet Edgar," hence the website name.
Edgar has just one plan that allows you to connect to 25 social profiles. It's excellent for businesses wanting to concentrate on queuing and delivering content, although it lacks some more specialist capabilities, such as social listening and an in-app inbox.
You schedule different categories of posts across your social networks. Although there are default categories, you can add to or adapt these categories to fit the way you run your social accounts.
You create a weekly recurring schedule with the times and days of the week to post from each of your social accounts and the post category for each slot. Once you approve enough content, Edgar creates a queue for the next two weeks, matching your queue to your schedule and categories.
---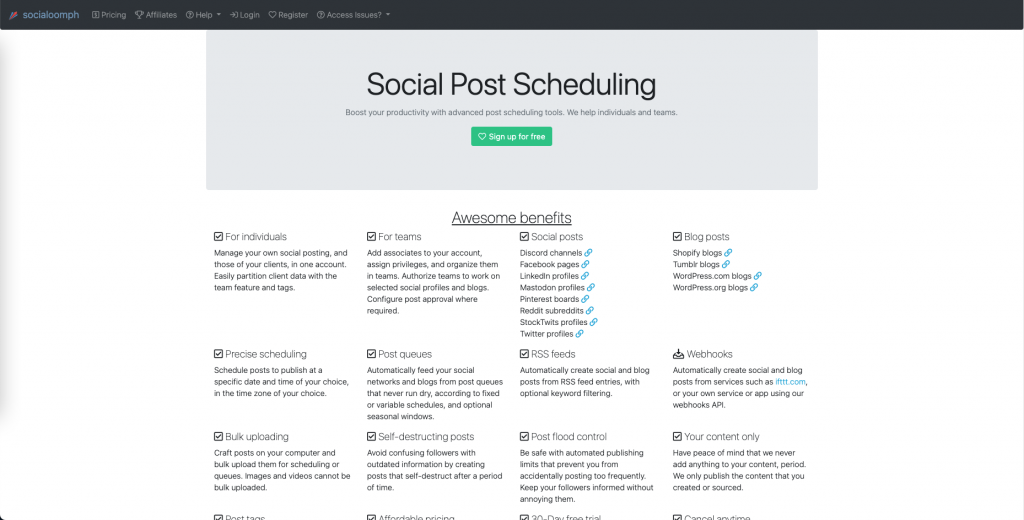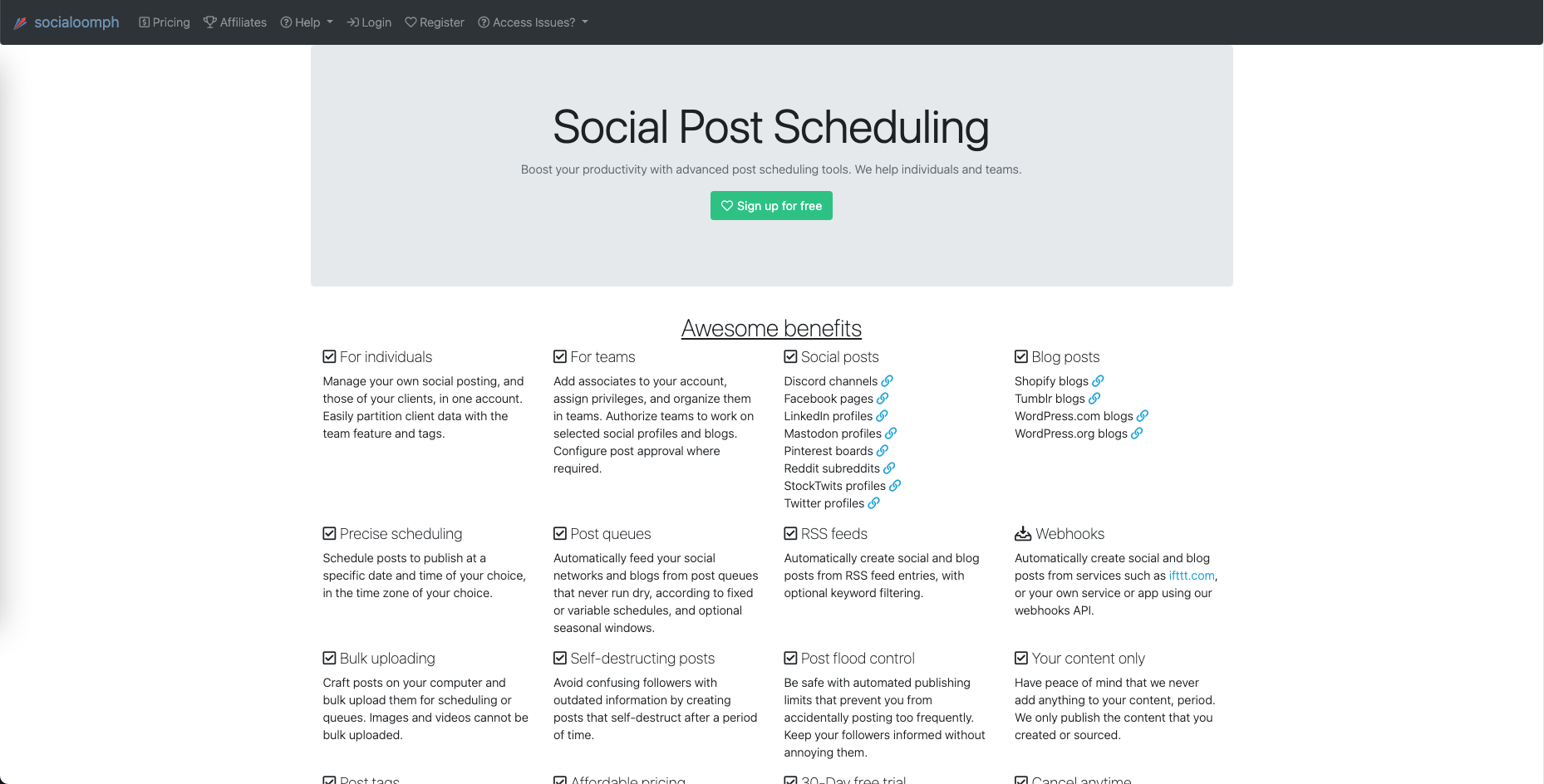 Socialoomph provides excellent scheduling and queuing power, although it comes with a less user-friendly interface than much of the competition. You need to create a customized LinkedIn application if you want to join your LinkedIn accounts. This is not quite as daunting as it sounds, but still much more complex than most other platforms. Facebook can also be challenging to connect. However, although it can be challenging to add some of your social accounts, you have wide-ranging capabilities once connected. Techies will love Socialoomph.
One of Socialoomph's great strengths is its queueing system. You can automatically fill up "never-go-dry" queues for each social account.
A central concept in Socialoomph is that of teams. You gain one team, "My Account," with the free plan and additional teams if you buy a paid plan. If you work with multiple clients, you can separate their profiles into different teams.
---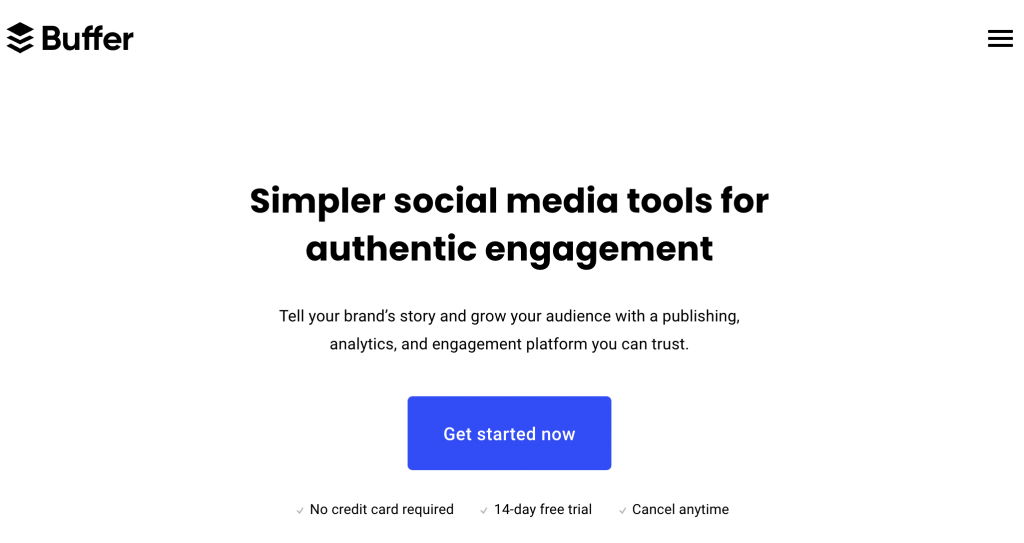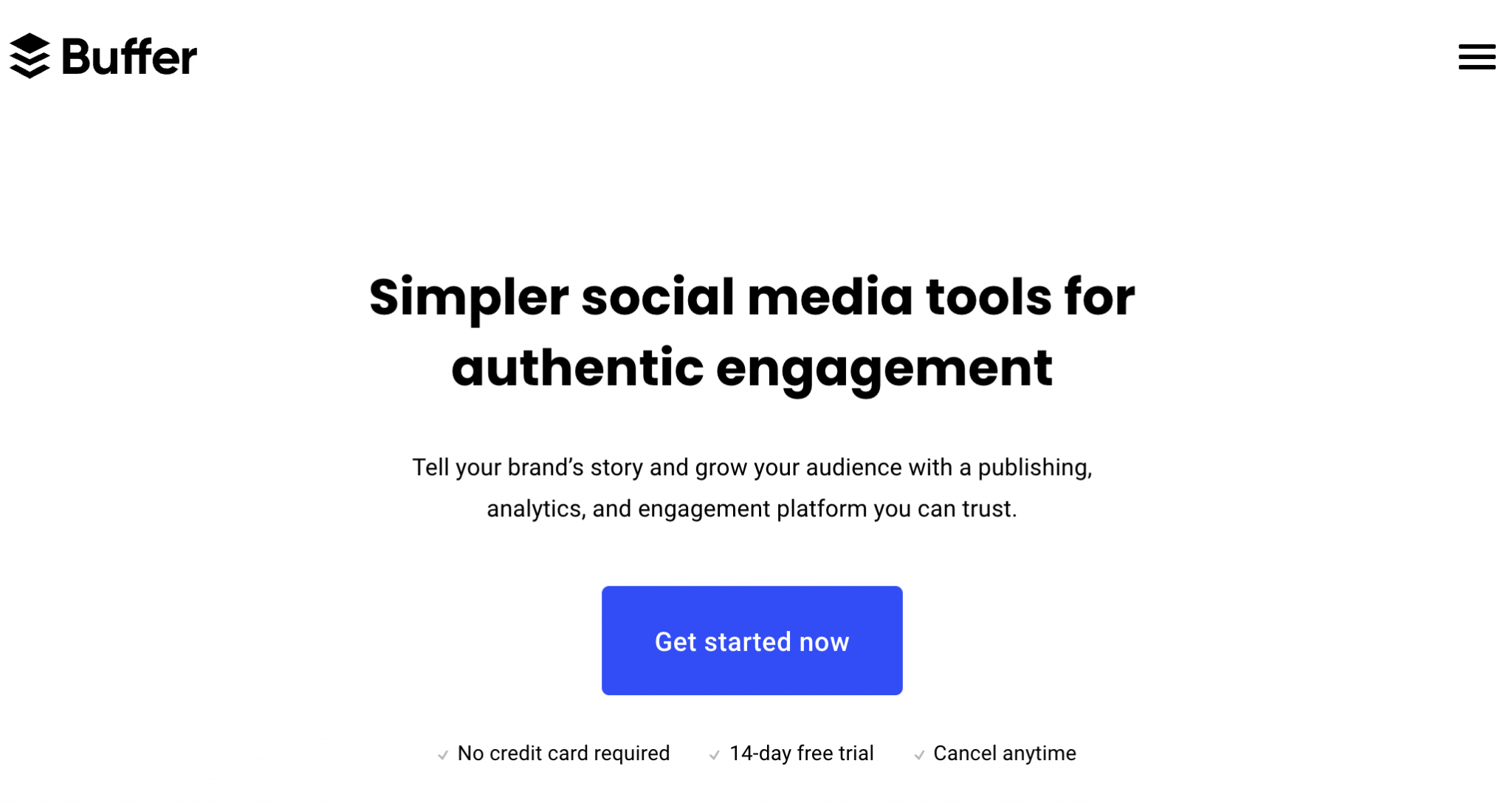 Buffer has changed their offering over the last year. They have sunset their separate engagement tool, Buffer Reply, which targeted enterprises, recognizing that their primary focus is on small and medium-sized businesses. They have also simplified their pricing, with just two plans, Free and Essentials, with an add-on Team Pack for those wanting to collaborate with their team in one place and save time reporting.
However, at its heart, Buffer still offers a straightforward service. You attach your social media accounts and schedule content to post to each account. Approved social accounts include LinkedIn profiles and pages. Whenever you find content you want to share, you add it to your "buffer," and Buffer publishes it on your behalf at an agreed time.
Buffer is highly user-friendly, with every action intuitive.
---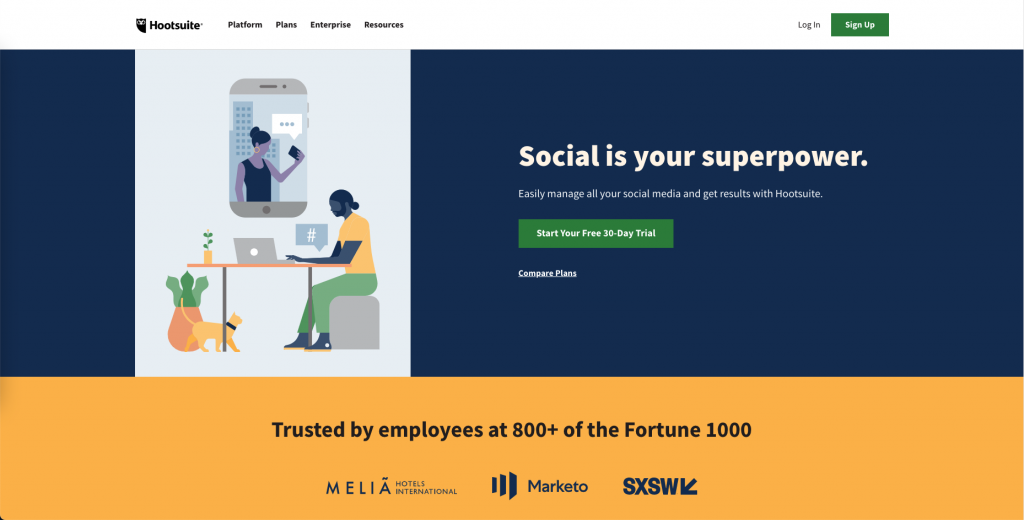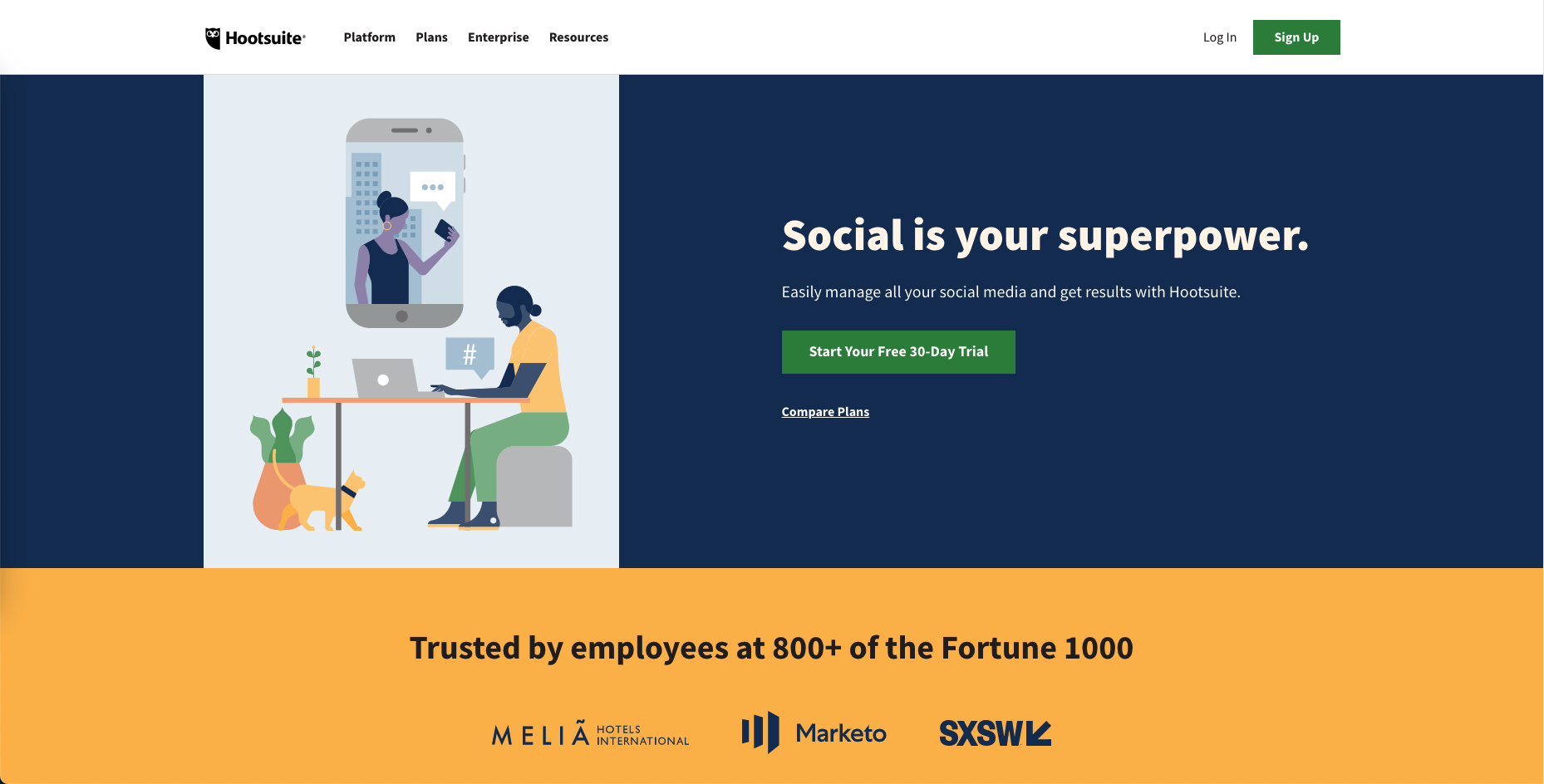 Hootsuite is built around Streams. You have a page (Board) for each of your social accounts, and within each Board, you have a series of columns. Each column is a Stream. You can use these streams in multiple ways, and they effectively replace your social account apps for daily usage. For example, LinkedIn default streams include "My posts and mentions," "My industry," and "Browse all streams." "My posts and mentions" and "My industry" streams show your own posts or search streams based on keywords and hashtags in your industry. With "Browse all streams," you can build streams of your own.
You also have a unified inbox, showing all your incoming messages across your accounts.
If you create original posts, you can use the Publisher screen, which shows you a calendar, slotting in any new posts as you make them.
---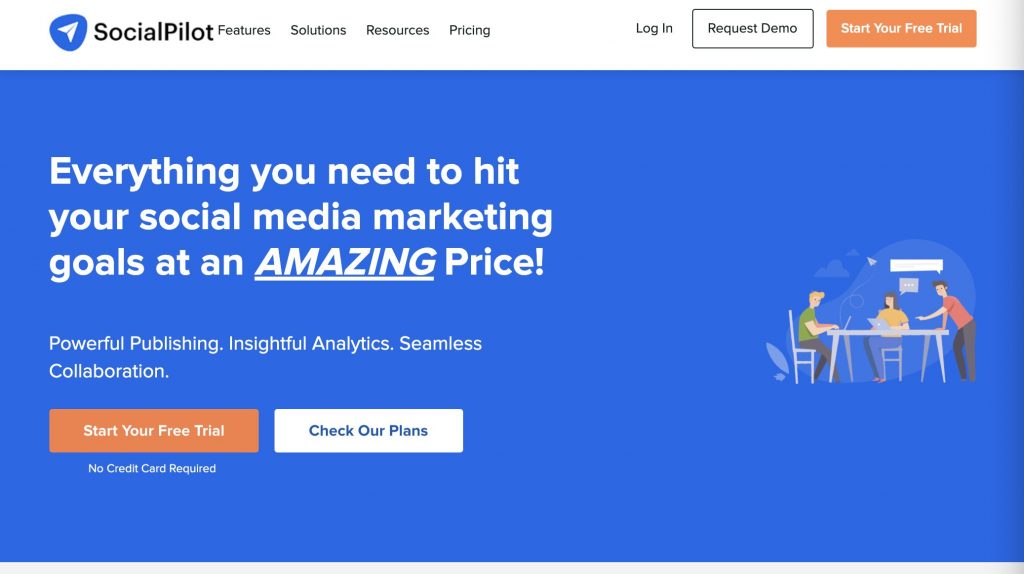 Social Pilot targets a broad audience, with pricing options aimed at everything from small businesses to large enterprises. It has four plans, but the features are similar at all levels, with differing numbers of permissible users, social media accounts, and RSS feeds. Their Social Inbox is not available in the lowest level Professional plan, however.
You can organize each account into relevant groups. If you're posting the same content across multiple channels that you have previously grouped, you can select the group, and your posts will be made to all the channels in the group. However, you can also utilize the best practices for posting on LinkedIn by crafting posts specifically for the platform.
You can even use SocialPilot to publish LinkedIn carousel posts that tell your brand story in an interactive format with multiple images. SocialPilot's LinkedIn publishing tool provides you with the flexibility to upload images or select from the page URL you are posting.