Buyer personas are important tools not just in sales and marketing but in nearly every business endeavor. Well-thought-out buyer personas enable you to envision your customers in detail. Having a clear understanding of your audience lets you tailor content and messages to meet the needs and concerns of specific buyers instead of everyone.
So, how do you create buyer personas from scratch?
Here, we'll walk you through the process of creating well-detailed buyer personas that you can share with the rest of your company.
---
A Beginner's Guide to Creating Buyer Personas:
---
What Is a Buyer Persona?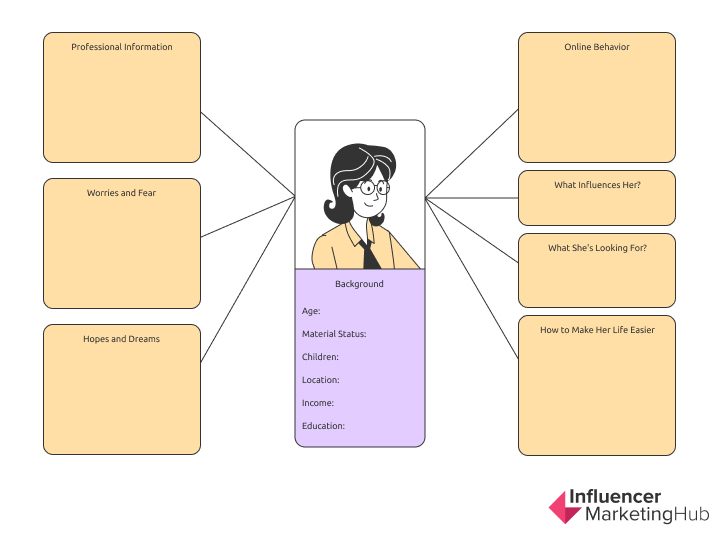 A buyer persona is a detailed and data-driven profile of the customer you're trying to connect with. Based on market research, actual data about existing consumers, and a few educated guesses, a buyer persona tells you about their spending power, their buying habits, pain points, and more.
Depending on the nature of your business, you can have at least one or as many as 20 personas. Companies with a handful of products or services often have multiple buyer personas to represent every segment of their customer base.
Just as buyer personas help you understand your ideal customers, negative buyer personas represent the consumers who aren't compatible with your products or services.
---
Why Is a Buyer Persona Important?
The advantages of creating buyer personas extend beyond marketing and sales. By sharing them with the entire organization, all departments can have a unified understanding of your target consumers. This promotes cross-departmental alignment, enabling everyone to tailor content, communications, and experiences to your customers' needs and preferences.
Here are a few advantages of using buyer personas:
Product development
Buyer personas can help you make well-informed decisions when it comes to product development. With buyer personas as your guide, you can determine which changes to make on your offers. You can also identify which ones to prioritize based on what your target customers need most.
Targeted marketing
Another huge benefit of having well-defined buyer personas is targeted marketing. Instead of marketing to everyone, you can tailor your content to meet the interests of a specific group of people.
Personalized content will be more impactful. By tailoring content to your audience's position in the buyer's journey and distributing it on their preferred channels, you can drive positive results. More importantly, you can build long-term relationships with your buyers.
Customer support
Knowing your customers' pain points enables your support team to serve them better. You can verify your prospects' values and communication. Using all the data you gathered, you can look back at post analytics.
---
What Does a Buyer Persona Look Like?
Although buyer personas are made-up profiles representing actual paying consumers, there's more to them than stereotypes like soccer mom or NASCAR dad. Just because Mary can prepare orange slices and drive everyone to soccer matches doesn't mean that she is a suburban housewife with a rich husband who makes the money and pays the bills. She might be an entrepreneur with a thriving business.
You can't simply make hasty generalizations. To create real value for your business, you need data-driven buyer personas.
Buyer personas go beyond demographics. It details behaviors, interests, motivations, and traits. It encompasses a wide range of factors that can help your brand connect with customers on a human level.
For a business-to-consumer (B2C) company, buyer personas don't have to contain detailed information about their occupation or responsibilities. Instead, you must establish what they are like on a day-to-day basis as it enables you to understand the processes they go through when they are making purchasing decisions.
A basic buyer persona about Mary might look like this: A 30- to 35-year-old woman who runs a small home-based business with up to five employees. To build a more complex buyer persona, you can list all the relevant information that pertains to her lifestyle, buying preferences, pain points, and more.
Some might give the buyer persona a name like Mary. However, others might argue that you shouldn't name your buyer personas as it might introduce bias into your marketing. Instead, you can name these profiles based on shared traits. In this case, Mary can be Working Mom or Self-Employed Mom.
---
How to Gather Information for Buyer Personas
How do you gather data to make buyer personas? Market research, interviews, and surveys are important methods that you can utilize to collect information from different people that align with your target audience.
So, who do you interview or survey?
You can reach out to your existing customer base, prospects, and other consumers who don't know your brand. You can also turn to third-party networks that can connect you with potential interviewees. For every type of respondent, you need to interview or survey multiple people.
Based on Survey Monkey's data, people are most likely to complete surveys on Thursdays and Fridays from 7 am to 1 pm PST.
Here are a few methods for gathering information:
Interviews
A one-on-one interview is a reliable way to gather extensive information for your buyer personas. You can ask a series of questions, ranging from demographic information to opinions about your products or services. With personal interviews, you can follow up every single one with "why?"
Interviews might be more labor-intensive than surveys, but the answers you get can be more detailed. Your respondents can elaborate on their answers, giving you very valuable information for your buyer personas.
---
Customers surveys
There are different ways to conduct surveys—via telephone, mail, e-mail, and web. Each type of survey has its own advantages and disadvantages. Phone surveys, for example, are faster. You can get the results instantly after completing the interview. However, you can't exactly show photos or sample products over the phone.
Mail surveys aren't as costly, but the responses might take longer than other methods. That's because your respondents can answer the survey at their leisure.
As for e-mail surveys, they are fast and economical.
You can use email marketing software like
Omnisend
, which integrates with survey tools like SurveyMonkey and Google Forms. Another platform you can use is
ConvertKit.
Although it doesn't have built-in survey capabilities, it can integrate with other tools like Survicate.
Just take note that you must have a list of your buyers' e-mail addresses to leverage this method.
If you have several buyers and prospects, customer surveys can be more efficient than one-on-one interviews. You can use variations of multiple choice questions. Depending on what you're using, you can have single or multiple answers.
Give them an opportunity to write their own response in case their answer isn't in the options provided. You can also add open-ended questions to get a more in-depth response from your respondents.
---
Web surveys
According to
Survey Monkey
, around 87% of people prefer to answer multiple-choice questions over open-ended ones. Thus, don't miss the opportunity to use surveys for your website.
Wix
might not have poll or survey features; however, you can use third-party tools to insert web surveys into your website. You can also add post-purchase surveys to your e-commerce store like
Shopify.
Unlike your average customer surveys, web surveys often have short multiple-choice questions. Still, they can help you understand your customers' behavior, drivers and pain points.
For example, you can ask open-ended questions. How would you rate the overall experience? What can we do to improve? What did you like the most about the experience?
You can test different questions to determine which ones get the most responses and which responses offer the most insights. Instead of creating a different page for the survey, you can add it to the Thank You page. It should pop up from the bottom of the page after the purchase has been confirmed.
---
Feedback
Although buyer personas are typically the marketing team's responsibility, you can work hand in hand with sales because they work closely with consumers. You can gather feedback from the leads that they are engaging with. You can find out what patterns and trends they've observed about the customers you serve.
Customer support teams can also provide valuable information for your buyer personas. From their daily interactions with consumers, you can try to find out what kind of questions customers ask. You might gain insights into their challenges, motivations, and goals. After gathering those questions, you can organize them according to factors like your customers' job titles or shopping habits. This way, you can determine which customers are asking which questions. You can build more accurate buyer personas.
---
What Kind of Information Appears in a Buyer Persona?
Asking the right questions can help you develop the right personas for your business. As you work on your questionnaire, whether for interviews or surveys, think of questions that relate to your respondents' personal and professional background, buying habits, challenges, and goals.
Here are some questions to help you get started:
Personal background
Collecting demographic information is a great place to start. Is your target customer male or female? How old are they? Are they married? Do they have a family? What level of education did they complete?
Personality traits
What are they like? Are they interested in trying out different products and services? Are they consistent with their brand choices?
Career path
Are your target consumers employed? Do they run their own business? What industry are they in? How big is the company they are working for? What are their responsibilities and roles?
Shopping preferences
How do your consumers communicate with brands? Where do they prefer to interact with brands? Do they look up brand or product information online? What social media platforms are they on?
Buying process
How did they discover the brand? How did they hear about your product or service?
If they paid for a product or service from your brand, ask them: what made them decide to purchase your product or service? Did they look at other options? How did they evaluate these options? What makes them hesitate to buy from you or other vendors in the industry?
Challenges
What obstacles are standing in their way to success? What are the challenges they are facing in relation to your products or services?
Goals and motivations
What do they want to achieve in life? What are their professional goals? What results did they envision with your product or service?
---
How to Reinforce Buyer Personas
Once you've gathered all the information you need, you'll begin to see patterns and trends. This should make it easier for you to segment existing customers and prospects.
Aligning your qualitative data with your quantitative data can help you gain a clearer picture of your consumer. You can grab data from Google Analytics or other analytics systems. By combining your survey or interview results with the quantitative data, you might pull deeper insights.
Let's say you don't have past consumers. To create your buyer personas, you can make educated guesses about your audience. You can turn to analytics systems like Facebook Audience Insights to confirm your buyer personas. From this tool, you can gain aggregate information about everyone on Facebook and people who are connected to your page.
Since you don't have an existing customer base yet, you can gather information from Everyone on Facebook. Well, not exactly everyone. There are filters that enable you to narrow down your audience. For instance, you choose a specific country, region, or city. You can also enter demographic information like gender and age. However, you might want to leave these filters blank because Facebook can determine them for you later on.
Under the Interest tab, you can pick out specific topics that relate to your target consumer. Say, you want to target yoga enthusiasts. You can choose topics like yoga and Pilates.
If you want a more detailed dive into your audience, there's an Advance tab for that. You can add filters like language, behaviors, relationship status, and education. As you add new filters, you'll see changes in your dashboard.
From your dashboard, you'll see a wide range of details about your target audience, including their age, family size, profession, lifestyle, spending habits, and income, among other things.
Do note that if you have different products and services, you're most likely going to end up with a handful of buyer personas.
---
What's Next?
Well-made buyer personas can contribute to overall business success. However, in this fast-changing landscape of business, it's not enough that you create them. It's important that you keep your buyer personas up to date.
As you add more products and services, or as your reach expands, you are most likely going to tap into new audiences. Hence, new buyer personas have to be created.
Buyer personas need to be tweaked regularly for them to stay timely and relevant. Over time, market changes and emerging trends will influence your consumers. For your products, services, and campaigns to remain effective, you need to continuously refine your buyer personas. In doing so, you can guarantee that your outreach and engagement endeavors will continue to deliver value.