It looks like NFTs have taken the world by storm these past few years. While non-fungible tokens have been around since 2014, 2021 was their breakthrough year. Since then, they've become more mainstream, with people from all walks of life purchasing and even creating their own digital assets. From 2017's CryptoPunks and the rise of the Bored Ape Yacht Club to NFTs fetching millions of dollars in auctions, NFTs have given way to a new wave of collectors and artists.
Despite the NFT market's volatility, it experienced a significant increase between 2018 and 2020. With NFT sales amounting to millions of dollars every week and with the number of buyers continuing to grow, many creators are trying to ride the wave.
But how do you transform your art into an NFT? What platforms should you use when minting and listing NFTs? How do you want to monetize your digital asset?
If you want to get in on all the NFT action, or you're simply curious about the whole process of making an NFT, this guide will walk you through everything you need to know about how to create your own NFTs.
---
A Beginner's Guide on How to Make Your Very Own NFT:
---
What is an NFT?
The first step to making an NFT is knowing what a non-fungible token is.
Non-fungible tokens, or NFTs, are unique digital assets that represent real-world counterparts. Popular use cases of NFTs include virtual real estate, digital art and music, and gaming assets.
Unlike fungible tokens or digital currencies like Bitcoin, where each bitcoin holds the same value and can be traded for another bitcoin, NFTs are one-of-a-kind and have their own identifying signatures. One NFT isn't equal to another NFT, hence the non-fungible aspect. For example, a creator can mint three NFTs. While these NFTs may share some similarities, each one has its own identifying signature.
NFTs are held on a blockchain, a database that acts as a public ledger with mechanisms that allow for the issuing or trading of such digital tokens. Once new data is added to a blockchain, it's verified and recorded. It can't be changed or erased.
Before you can create an NFT, you need to create digital tokens through minting. You'll then need to pay for smart contracts, which securely store information on a blockchain using cryptocurrency. Smart contracts are an essential part of making NFTs because they allow creators to manage the ownership of and transfer their NFTs to the respective buyer. Smart contracts also play a role in ensuring that an NFT is unique and non-replicable.
But why are NFTs so appealing to creators?
One of the primary reasons is that with NFTs, there's no need for middlemen. This means creators can sell their works directly to their audience, and they can continue to get a cut of the sales every time someone sells the creator's NFT. As a creator, you also retain the copyright and reproduction rights of your work, giving you control over the ownership of your creation.
NFTs have also changed the creator economy landscape, allowing more individuals to create their own digital content and use online platforms to connect with their audience. The rise of NFTs also allowed for more transparent and secure transactions.
Creators can also determine an NFT's level of scarcity, which can play a role in increasing an NFT's value. Furthermore, an NFT's value can change depending on its perceived scarcity and demand.
---
How to Make an NFT in 8 Steps
Now that we've got the basics covered, it's time to start making an NFT.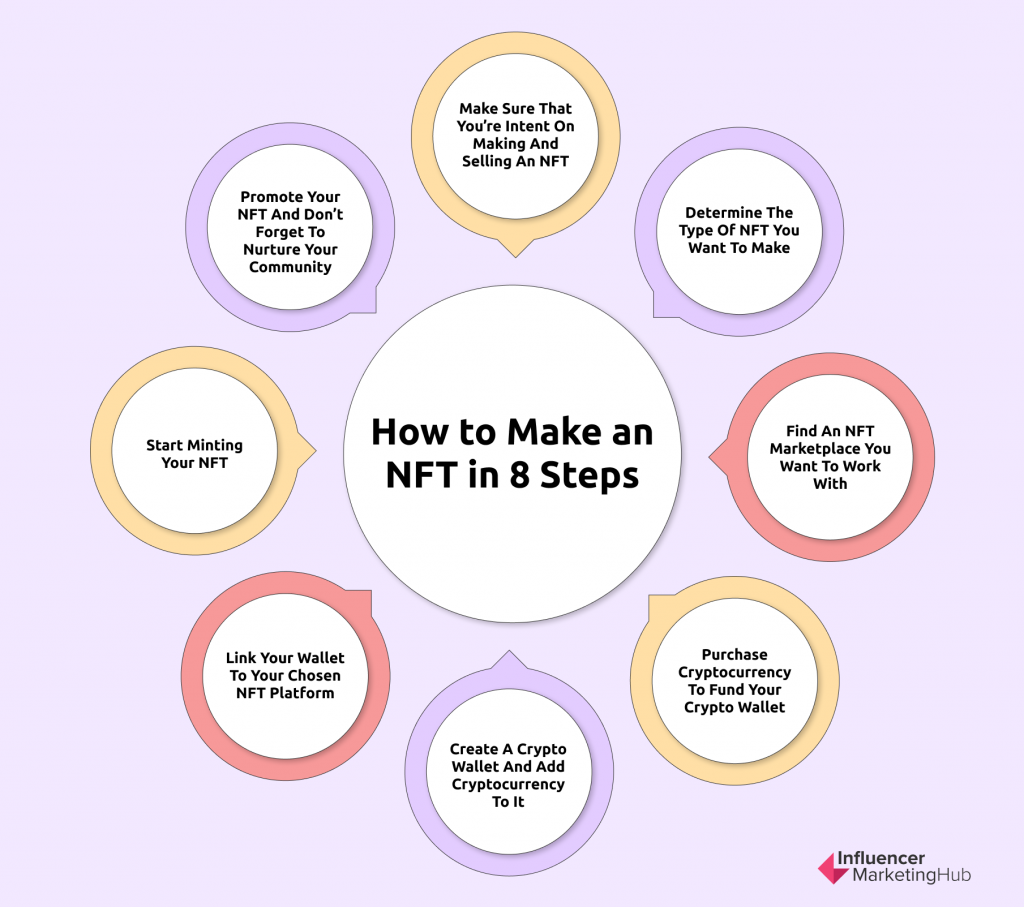 ---
Make sure that you're intent on making and selling an NFT
Creating an NFT isn't a walk in the park. There are several barriers to entry, such as transaction fees, technical challenges, and accessibility.
Many platforms allow creators to make NFTs for free, but selling NFTs can incur fees for mining them on blockchains. Mining an NFT also uses up a lot of energy, as it uses a system that leaves a significant carbon footprint. OpenSea, for example, requires creators to pay a fee of up to $100 to set up their accounts.
On the technical side, NFTs aren't exactly compatible with mobile devices. Your digital wallets should be compatible not only with regular applications but also with decentralized apps. Moreover, creators should ideally have some know-how regarding blockchain technologies and how they work so that they can optimize how they make their NFTs.
Accessibility is also an issue when it comes to creating NFTs. With NFTs being hosted on various blockchains and platforms, their scalability is highly limited. Therefore, it's been recommended that a second marketplace be created, one that accepts all currencies and assets from these various blockchains, particularly when it comes to NFT transactions (buying and selling).
---
Determine the type of NFT you want to make
If you've weighed these considerations and still want to make an NFT, you need to figure out the type of NFT you want to make. NFTs come in all shapes and sizes, ranging from artworks and music to games and memes. These can also take on various file types, like MOV, PNG, and JPG.
Before making an NFT, it also helps if you consider how it can be a value-adding asset to your audience.
---
Find an NFT marketplace you want to work with
The good news is, it's not that difficult to find an NFT marketplace where you can mint your NFT. Some of the top NFT marketplaces include OpenSea, Rarible, SuperRare, and Nifty Gateway.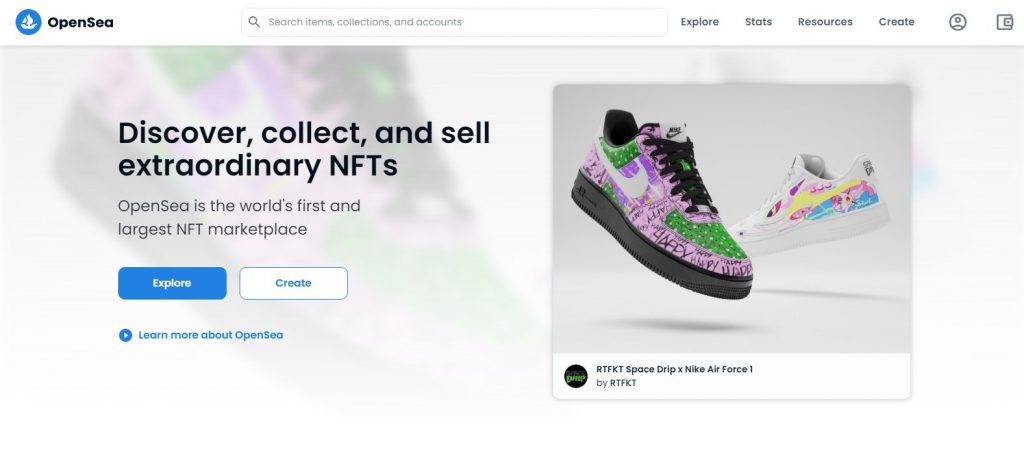 Each marketplace has its own regulations and fees when it comes to minting NFTs. As a creator, you need to study the pros and cons of each platform to find out which one suits your needs best. Some marketplaces, such as the Axie Marketplace, are geared toward games, while NBA Top Shot is ideal for creators who are creating basketball-focused NFTs. Some marketplaces also require creators to use their own cryptocurrency. For example, Rarible requires users to use its Rarible cryptocurrency.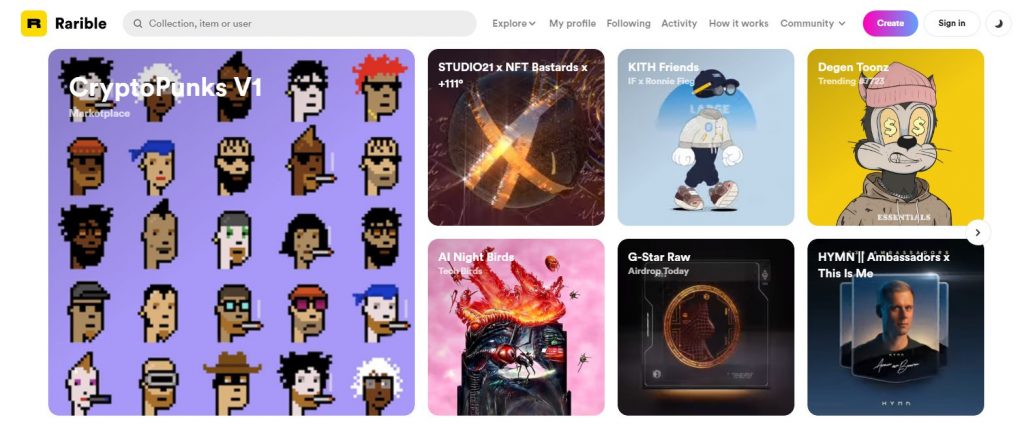 If you're looking for a more general or more accessible NFT marketplace, then you can go with OpenSea, which allows creators to make use of "lazy minting." With lazy minting, you can offset some fees, which are then passed to a buyer once they purchase your work.
---
Purchase cryptocurrency to fund your crypto wallet
Before you can start making and selling your NFT, you need to purchase cryptocurrency so you can fund your digital wallet. All NFT platforms require creators to pay a fee before they can start minting their NFTs. Ether (ETH) is currently the most commonly accepted cryptocurrency. However, some platforms are starting to offer more variety when it comes to payment formats and blockchains used to create NFTs.
You can purchase cryptocurrency from a crypto trading platform or a crypto exchange like Coinbase and Gemini. These platforms exchange your fiat currency for digital currencies and allow users to trade cryptocurrencies. Note that these platforms charge exchange fees. Some charge fees per transaction, while others require a flat fee upfront.
If you already have a digital wallet like MetaMask, you can use that to directly purchase ETH.
---
Create a crypto wallet and add cryptocurrency to it
If you don't yet have a digital wallet, you need to set up one. Make sure that your wallet is compatible with the blockchain and marketplace you're going to use.
MetaMask is one of the most popular crypto wallets and supports an array of blockchain applications and marketplaces, such as Ethereum, Axie Infinity, Gitcoin, OpenSea, and Rarible. It's easy to set up and lets you purchase, store, and exchange tokens. You can download it as a browser extension or as a mobile app.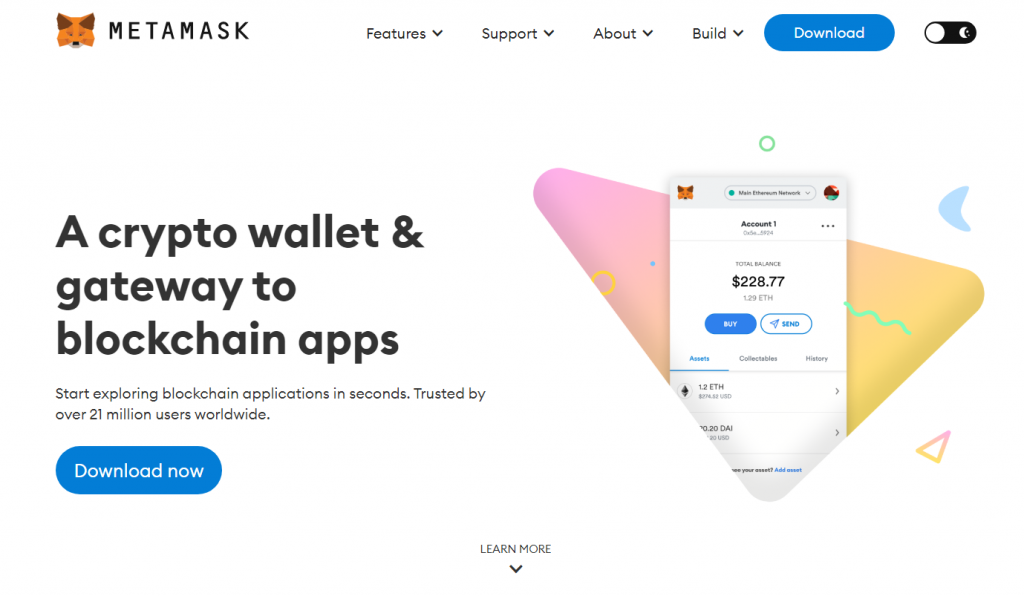 MetaMask also lets you purchase Ethereum directly. Once you've set up your wallet, click "Add funds" or "Buy" and pay using your debit card or Apple Pay. While you can use MetaMask without cryptocurrency, its functions will be limited. Without crypto, you can still accept signature requests. However, if you want to invest, trade, or own NFTs, you'll need to add cryptocurrencies to your account.
---
Link your wallet to your chosen NFT platform
To start selling NFTs, you'll need to connect your crypto wallet to your chosen NFT marketplace.
For example, if you're using OpenSea, click "Create" on the upper left corner of the window to view the list of crypto wallets compatible with the platform. If you've downloaded MetaMask as a browser extension, you'll see a pop-up with an option for you to connect your wallet to your OpenSea account.
---
Start minting your NFT
To create an NFT on OpenSea, you need to visit the website and click "Create" on the top right corner of your profile icon. You'll be redirected to the NFT item creation page.
Set up your collection by uploading your NFT file and adding a name, external link, and description. OpenSea also lets you customize your NFT with features that let you add properties, show stats, and include unlockable content, such as codes buyers can use to redeem something from your site or a personalized message from you.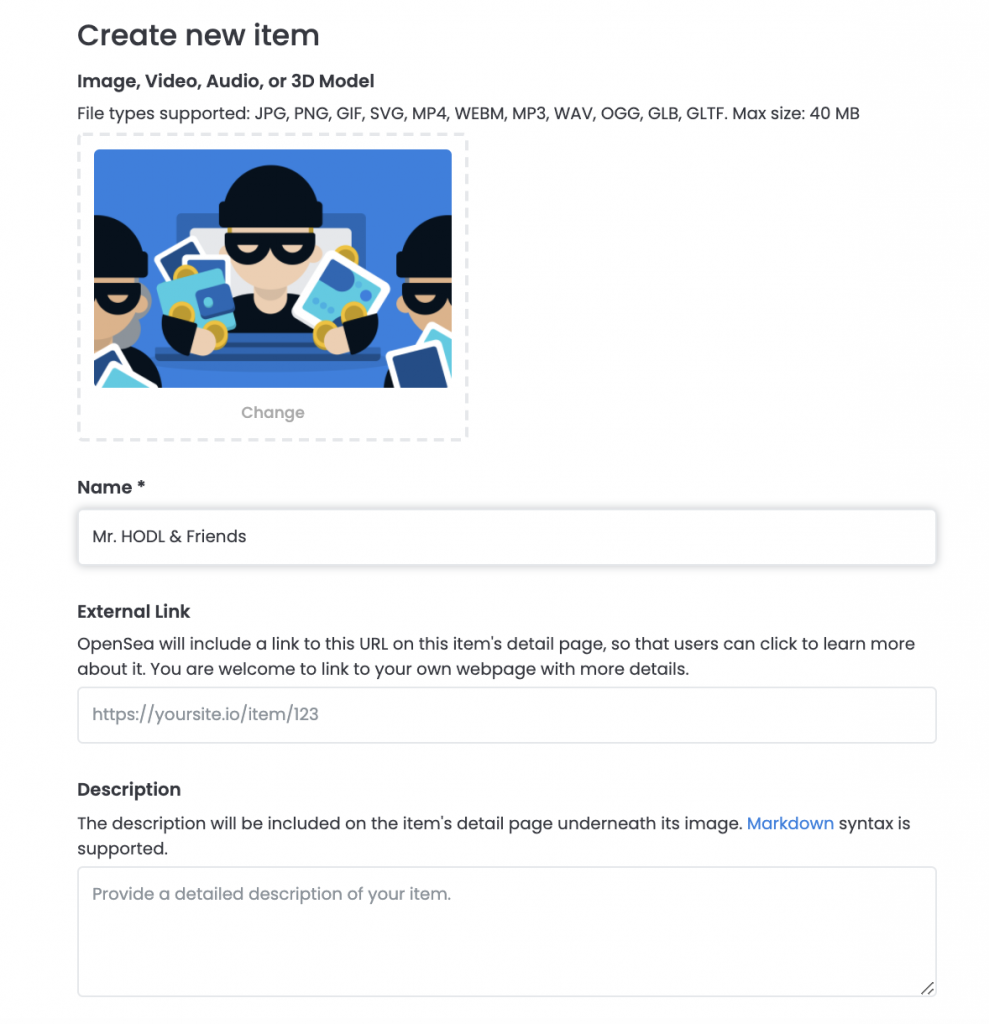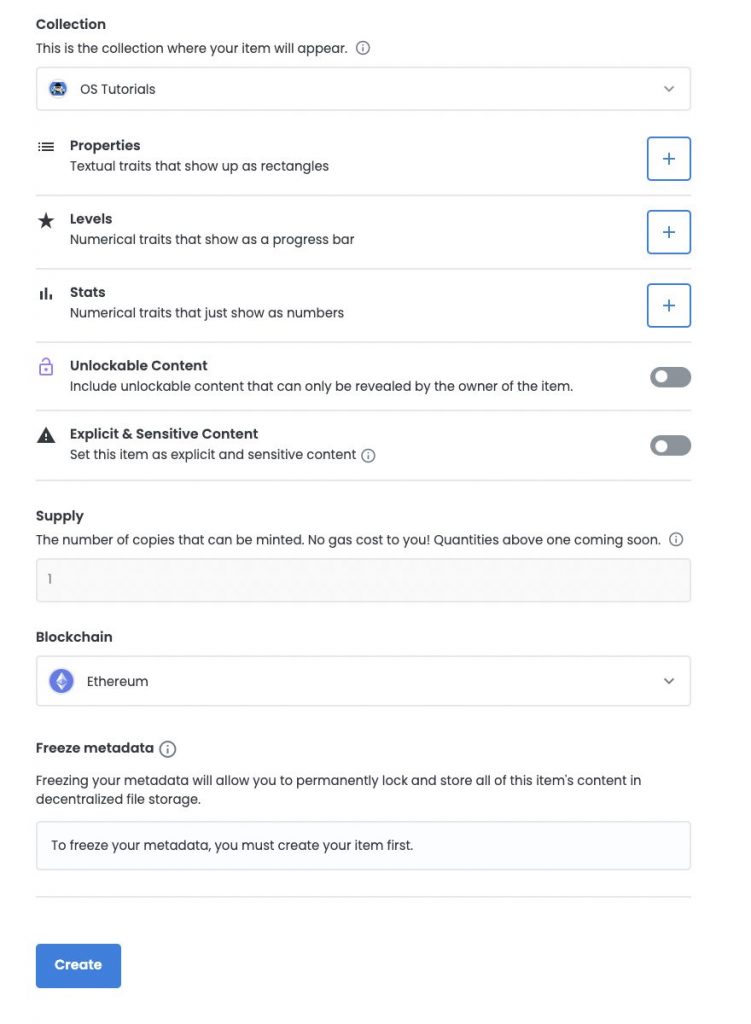 In the photo above, you'll see a field for "Blockchain". Make sure that you select the right blockchain that you're going to use when minting your NFTs because you won't be able to change it later. Double-check every single detail and once you're happy with your output, click the "Create" button at the bottom of the page. Congratulations! You've created your first NFT!
Now, this doesn't mean that your NFT is automatically up for sale. Different platforms implement different sales processes. Some let you sell your NFT at a fixed price, while others give you the option to start an auction (timed or unlimited).
If you're using OpenSea, you'll need to go to your NFTs page and click the "Sell" button. From there, you'll be taken to a page where you can fine-tune the details of your sale, such as the price of your NFT, the sale's duration, and whether you want to reserve your creation for a specific buyer.
If you're using Polygon as your blockchain to mint your NFTs, you can mint for free because it uses lazy minting. Some platforms like Rarible will ask you to pay a listing fee using your linked crypto wallet. If you're using OpenSea, you'll be charged a 2.5% service fee, which will be deducted from your NFT's selling price after it's sold.
Click "Complete listing" so you can put your NFT up for sale.
---
Promote your NFT and don't forget to nurture your community
Creating and listing your NFT on an NFT marketplace won't guarantee that it's going to sell immediately or that you're going to cash in a huge amount of money from the sale.
Keep in mind that there's a ton of competition out there, which is why you need to build and nurture relationships with like-minded individuals. Having a community that's founded on authentic relationships with your audience will be one of your best marketing tools. Use your Twitter account or Discord to find other crypto and NFT enthusiasts and use that network to get industry information and valuable insights. Communicate with them and swap insider information—don't be afraid to make new friends.
Aside from building a community, you'll need to promote your creations. Use social media to your advantage and start promoting your NFTs there. Once you've created an NFT, whether it's on OpenSea, Rarible, or other NFT marketplaces, you'll get a pop-up window with options that'll let you share your work on social media platforms like Twitter, Facebook, and Telegram.
---
From Art to NFTs
One of the best things about NFTs is you can create one even without coding know-how. You can take your existing creations in different file formats like PNG, JPG, MP3, and GLB, and upload them to your preferred NFT marketplace.
While the process of creating NFTs may have some barriers to entry and the market is seen as highly speculative, many marketplaces are stepping up and making the creation process easier for both beginners and experienced NFT creators. Additionally, online editing suites like Fotor are leveraging artificial intelligence and machine learning, making it easier for creatives to make NFT artworks. All you need to do is upload the image you want to transform into an NFT, apply an art style that you like, and download the finished product.
While the NFT market is still relatively new, it's quickly becoming very popular. As demand for NFTs increases, this creates an opportunity for higher sale prices. However, it's important to note that you could still potentially lose money in creating NFTs as you'll need to purchase cryptocurrencies and pay any associated fees. While some platforms will let you mint for free, making and selling NFTs can set you back anywhere between an average of $70 and $300, depending on the NFT marketplace you're working with.
There is some good news, though. Some platforms support lazy minting, which lets you offset gas fees and passes the said fees to the buyer.
NFTs are making content creation more democratic and are giving creators more control over their works. Additionally, they allow creators to earn lifetime royalties and start marketing their products without middlemen, allowing them to keep a significant cut of the proceeds.
The NFT market can be a lucrative avenue for creatives. We hope that this guide will help jumpstart your journey to minting your very own NFTs.