Social media usage has grown by leaps and bounds in recent years. Marketers have identified this opportunity and are actively investing in social media marketing.
However, even with the growing adoption of social media marketing, marketers face numerous challenges. Some find it difficult to formulate a social media marketing strategy, others find it hard to measure ROI.
Given that a lot of marketers still struggle with social media marketing, the use of social media marketing agencies has also grown. More and more marketers are relying on these agencies to improve their social marketing initiatives.
However, selecting the right social media marketing agency for your business is a task in itself. And, if you choose the wrong one, you might end up wasting money and resources.
In this post, we will tell you exactly how to select the best agency for your needs. But, before that, let's first discuss why you need to hire one in the first place.
---
How to Choose a Social Media Marketing Agency:
---
Why Should You Invest in a Social Media Agency?
Social media management and marketing requires a lot of effort and time, especially if you want to be active on multiple platforms. Most social media platforms require you to be active and post frequently to get your content more visibility. This means that you have to create and post engaging social media content regularly and consistently.
Moreover, you need to customize your content for each platform. You cannot simply share the same post on different platforms. You need a dedicated social media team to be able to achieve that. You might also need a social media manager to manage that team. This is a costly endeavor.
Social media marketing agencies are a good alternative to that. By hiring an agency, you can outsource all of your social media marketing and management activities for a fixed monthly fee.
Moreover, these agencies are experts in the field and can generally do a much better job than someone inexperienced. They already have best practices in place, tools at their disposal, and years of experience to help you grow your social media presence.
Therefore, you should consider hiring an agency instead of trying to manage it in-house. This is especially useful for businesses that are active on multiple platforms but don't want to spend a lot on social media marketing.
---
How to Find Social Media Marketing Agencies
The research process for finding the best social media marketing agencies is fairly simple, but time-taking. You start with an online search and then check out the websites of the agencies that show up in your search results.
You will also find numerous online resources that directly give you a list to the top social media marketing agencies. Going through such articles will help you save time as you will get a list and a brief review of each agency.
However, you cannot rely just on these reviews and need to do your own research. So, use these online resources only to find a list of agencies and then check each one out individually.
In the next section, we will list the various parameters on which you can evaluate each agency and then select the best one for your business.
---
Parameters For Selection
Here are the key criteria that you should consider for selecting a social media marketing agency:
Niche and Areas of Expertise
The first thing that you need to check while searching for social media marketing agencies is their areas of expertise.
There are some agencies that provide a variety of services under the umbrella of digital marketing and social media is just a part of it. Some are specialized agencies that only provide social media marketing as a service. Then, some are niche agencies that focus only on one or two social media platforms.
You need to select the right agency based on the requirements of your business. Are you looking for an all-in-one solution for your digital marketing needs and social media is just a part of it? Or, maybe you only need an agency to handle your Instagram and Facebook, because that's where you're active.
Figure out what the needs of your business are and then decide whether you want a generic agency or a specialized one.
Past Achievements
It is one thing to say that you provide a service and another to have something to show for it. While browsing through different agencies' websites, look for their past achievements. These could be case studies from the past clients that they served. It could also be in the form of awards and recognition that the agency received for their work.
Agencies that have something to show for their work showcase their achievements proudly. Look for sections on "case studies" and "awards and achievements" on their website.
Check out this social media marketing agency's homepage where they proudly display the awards that they have received: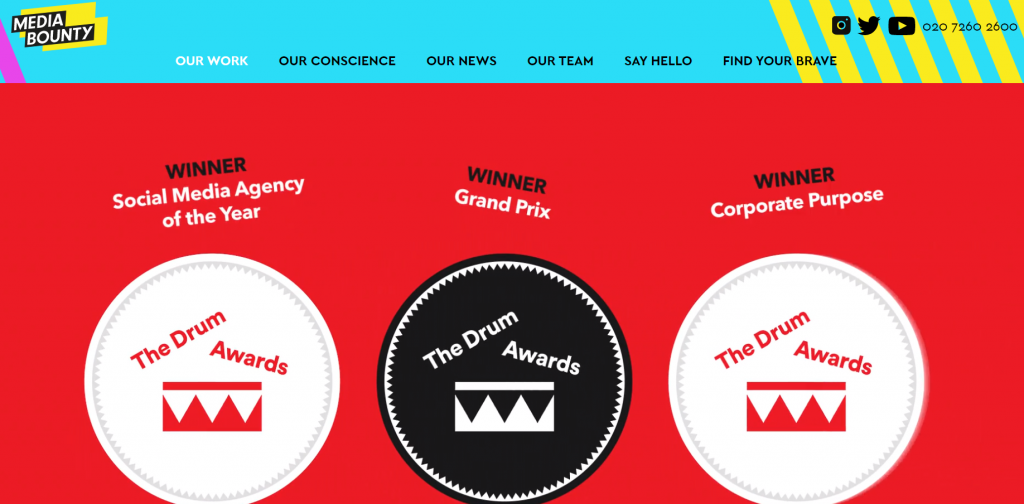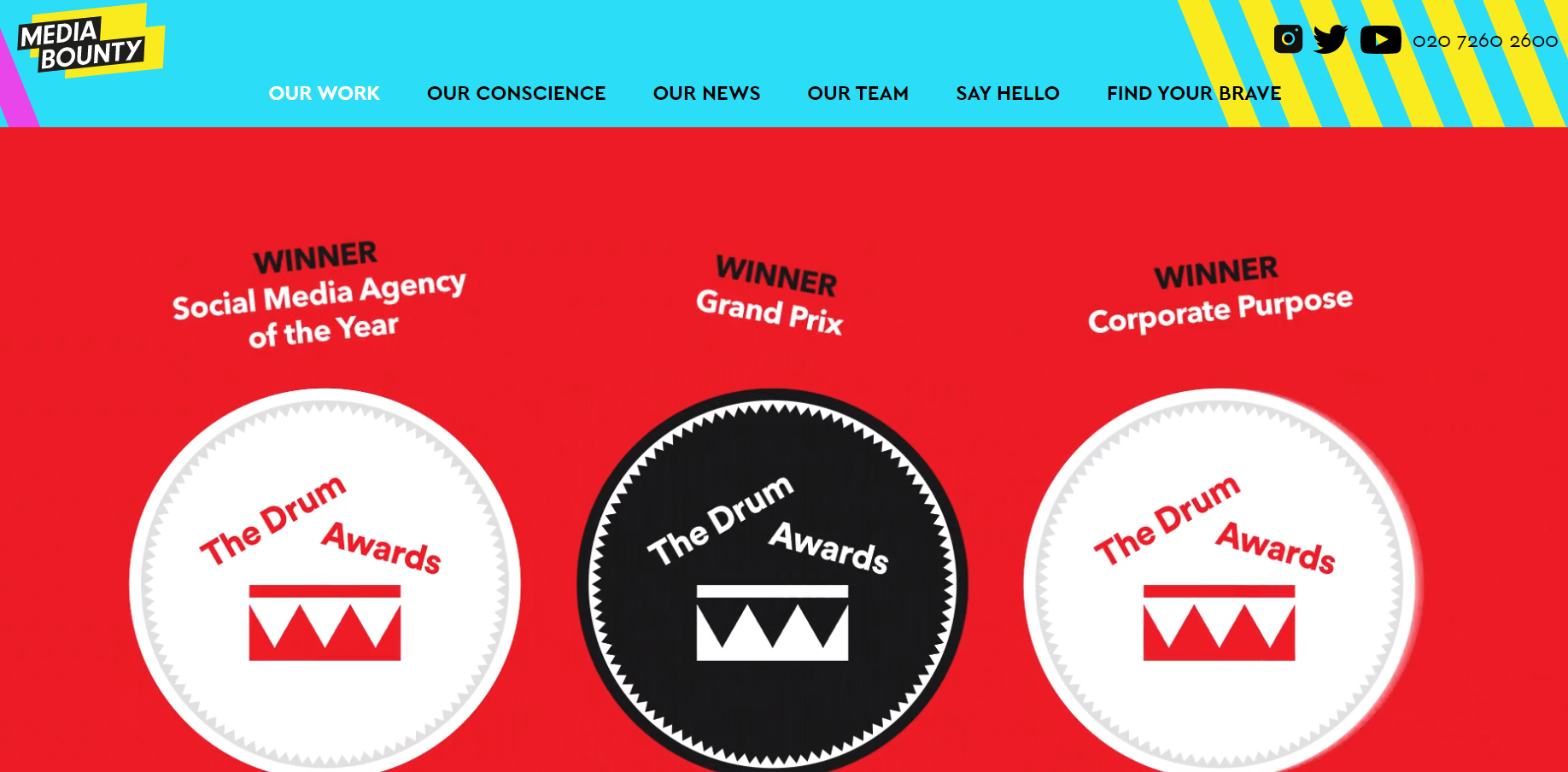 Client Testimonials
Adding to the point above, you need proof of expertise before you decide to work with an agency. And yes, case studies and awards provide that, but it's not enough. When selecting a social media marketing agency, also look for client reviews and testimonials.
An agency can show the results that they achieved but will not likely mention if the collaboration was not smooth. Sure, they may have helped the client get the desired results, but were they a pain to work with? Only the clients can provide you with the true picture of what it was like working with an agency.
Testimonials help you determine what kind of service and level of engagement you can expect from an agency. Read the client testimonials and look for agencies that are known to provide a high level of engagement and collaboration, apart from the results.
Platform Interface and Features
Most social media marketing agencies will have some tools and reporting dashboards from where you can see your campaign's progress. After you have filtered and shortlisted agencies based on the above three criteria, this is the next thing that you need to look at.
See how easy or difficult it is to use the agency's platform and if you will require some training. Also, see what kind of analytics and reports the agency provides and what metrics they track.
To test that, you need to ask them for a demo or have a call with their team to understand exactly what you will get. This is important because this will help you determine the success or failure of your initiatives and help you improve. Therefore, it is important to choose an agency that has a good reporting and analytics dashboard that allows you to track progress and measure ROI.
Price
Now, coming to the final deciding factor that will help you select an agency from your shortlist—price.
Before you even start your search for a social media marketing agency, you need to decide on your budget. This, ideally, should be a range with a maximum limit.
Once you have shortlisted agencies on other criteria, compare the pricing plans of each to make your final decision. See exactly what services you will get and for how much.
Another important thing to consider is how flexible the pricing plans are. Some agencies draft a customized proposal and pricing plan suited to your specific business needs. This might be better for you if you don't really want to avail all of their services but only a few of them.
Social Media Presence
We have all heard of the saying "practice what you preach" and it applies to the agency selection process as well. Agencies can make any number of claims to sell their services, but if they are actually good, they should apply their tactics to market themselves as well.
This is an often overlooked criterion that many people forget about, but shouldn't. You should look at the social media presence of the agencies that you're considering. Any agency that is good at social media marketing would have been able to build a solid online presence for their own brand as well.
This is basically to test whether an agency's claims are true or not.
You can look at metrics like the number of followers, the average engagement rate on posts, and frequency of posting. You can also get an idea about their creative style by looking at the kind of content they post on social media. If their posts are boring and fail to engage their audience, chances are that they would not do a great job for you as well.
---
Ready to Make Your Choice?
Now that you know what criteria to look for, we hope that you feel confident enough to start your selection process. Use this post as your guide and select the best social media marketing agency to build your social presence.
Get started with your research right now.