When it comes to social media, time is of the essence. Every last second counts if you want to reach the right people at the right time. This is why social media schedulers are such an important part of your marketing toolkit.
That said, there are so many social media schedulers in the market. This makes it challenging to pick one that'll work best for you and your team. Read on for some tips on how to choose the best social media scheduler. We've even narrowed down 10 of the best options that you should consider using.
---
How to Choose the Best Social Media Scheduler:
---
What is a Social Media Scheduler?
A social media scheduler is a tool that allows you to set a date and time for your social media posts to automatically go out. It lets you draft your post and schedule it to get published across your chosen social networks at the time and date of your choosing. That way, you can schedule multiple social media posts ahead of time so you don't have to manually create a new post when it's time to publish.
This is an excellent way to save time and organize your social media posting schedule. You can plan ahead and create several new posts based on your content calendar.
More importantly, using a social media scheduler allows you to reach your audience at a time when they're most likely to interact with your posts. You can schedule your post to go out at the optimal post timing for each social network, which makes it easy to drive engagement and visibility across all social media channels.
---
What to Look for in a Social Media Scheduler
One of the easiest ways to identify the best social media scheduler for you is by knowing exactly what to look for. Here are some factors to consider when choosing a social media scheduler.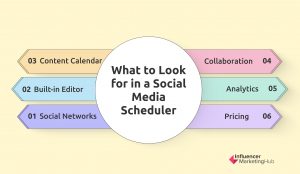 Social Networks
Start by looking at the social networks it supports. Does it allow scheduling for all the social networks where you want to build a brand presence? This would typically be all major social media channels such as Twitter, Instagram, Facebook, and LinkedIn. Some may even offer scheduling for TikTok, which is something you'd want to consider if you're using the platform for marketing.
Keep in mind that at the time of writing this post, most social media schedulers won't automatically publish Instagram and Facebook Stories for you. So although you can technically schedule them, you'll only get a reminder at the set time. You'll then need to manually publish the Stories yourself from the Instagram or Facebook mobile app.
Built-in Editor
Since you'll need to draft your post using the social media scheduler, you should look for something that has robust built-in editing features. You should be able to seamlessly add captions, tags, media, and hashtags so you don't have to go back in and make edits to a published post. Some schedulers even provide you with smart hashtag suggestions so you can strike the perfect balance between highly relevant hashtags and highly popular ones.
With some social media scheduling tools, you can even get access to basic photo editing features. This is a handy tool to have if you want to quickly brighten up a picture or change the overall tone before scheduling it to go out.
Content Calendar
The whole point of using a social media scheduler is so you can simplify your publishing efforts. This is why you need to look for a tool that comes with a visual content calendar so you can easily organize your publishing schedule. You have to be able to get an overview of how your posts are distributed so you can make necessary changes to further optimize your content plan.
You can find plenty of schedulers that allow you to drag and drop your post ideas/drafts across a visual content calendar. This makes it much easier to plan your content ahead of time and ensure consistency while keeping your feed diverse and engaging.
Collaboration
If you're in the market for a social media scheduler, chances are that you're working as a team and not on your own. As such, you should also look for scheduling tools that allow for seamless collaboration between different team members. You should be able to assign tasks and posts to different team members, communicate with each other, and get feedback on post ideas/drafts.
Analytics
When you're using social media for marketing, you'd want to make sure that your publishing strategy is working. Are people responding to your content the way you anticipated? If not, what could be the reason? Do you need to change your post timing or your content format?
This is why having comprehensive analytics is important in a social media scheduler. You should be able to track all the key metrics that are an indicator of your content or campaign performance. These would typically be metrics such as reach, impressions, and engagement. Some tools may also give you insights into the performance of your paid social media posts.
More importantly, make sure your social media scheduler can analyze the best time to post based on how your audience is interacting with your posts. This will help you optimize your posting schedule for increased engagement and visibility.
Additional Capabilities
Besides the essentials above, there may be some additional good-to-have features that you might want to look for based on your unique needs. Social media listening and monitoring, for example, are some useful capabilities that could inform your posting strategy. You may be able to gain valuable insights into the trends and topics that are shaping conversations in your industry, which can then provide you with content ideas.
If you often post links to your blog, landing page, or product page, the ability to set UTM parameters is another useful feature. Some schedulers will let you set UTM parameters by post, while others might be limited to a per-channel basis.
Pricing
While you may find a social media scheduler that has all the essential features you're looking for, you also have to make sure that it's within budget. Many schedulers will set a lower price for plans with basic features and limited access i.e. it may limit access to fewer people. So it's important to keep in mind your team size and your feature requirements when assessing different pricing plans. Look for something that offers an affordable plan without compromising key features and access limits.
---
Top 10 Social Media Schedulers
Now that you know exactly what to look for in a social media scheduler, it's time to begin your search. Here are 10 of the best social media schedulers that you can check out.
---
---
---
---
---
---
---
---
---
---
Get to Scheduling
Using a social media scheduler is a great way to save time and organize your social media content efforts. Make the most of the tips and the suggestions given above to find the best social media scheduler to use for your team.