The days of restricting your media to traditional channels are well gone. Most businesses have a finite marketing budget, so it makes sense to spend it carefully. Marketing through social media can be highly effective and cost-efficient. If your customers and potential clients are on social media, then you need to be visible there too.
Many businesses either lack the skill or time to devote to running their social media marketing campaigns themselves. Instead, they prefer to work with social media marketing agencies to help tell their stories on social. In some cases, this may involve operating corporate social accounts; in others, it may be PPC social advertising. You may even choose to run both options, perhaps combining with influencer marketing.
With the proliferation of social networks over the last few years, it should come as no surprise to find that many agencies advertise social media services. We have taken a look at ten such agencies in this article.
---
Top 10 Social Media Marketing Agencies:
---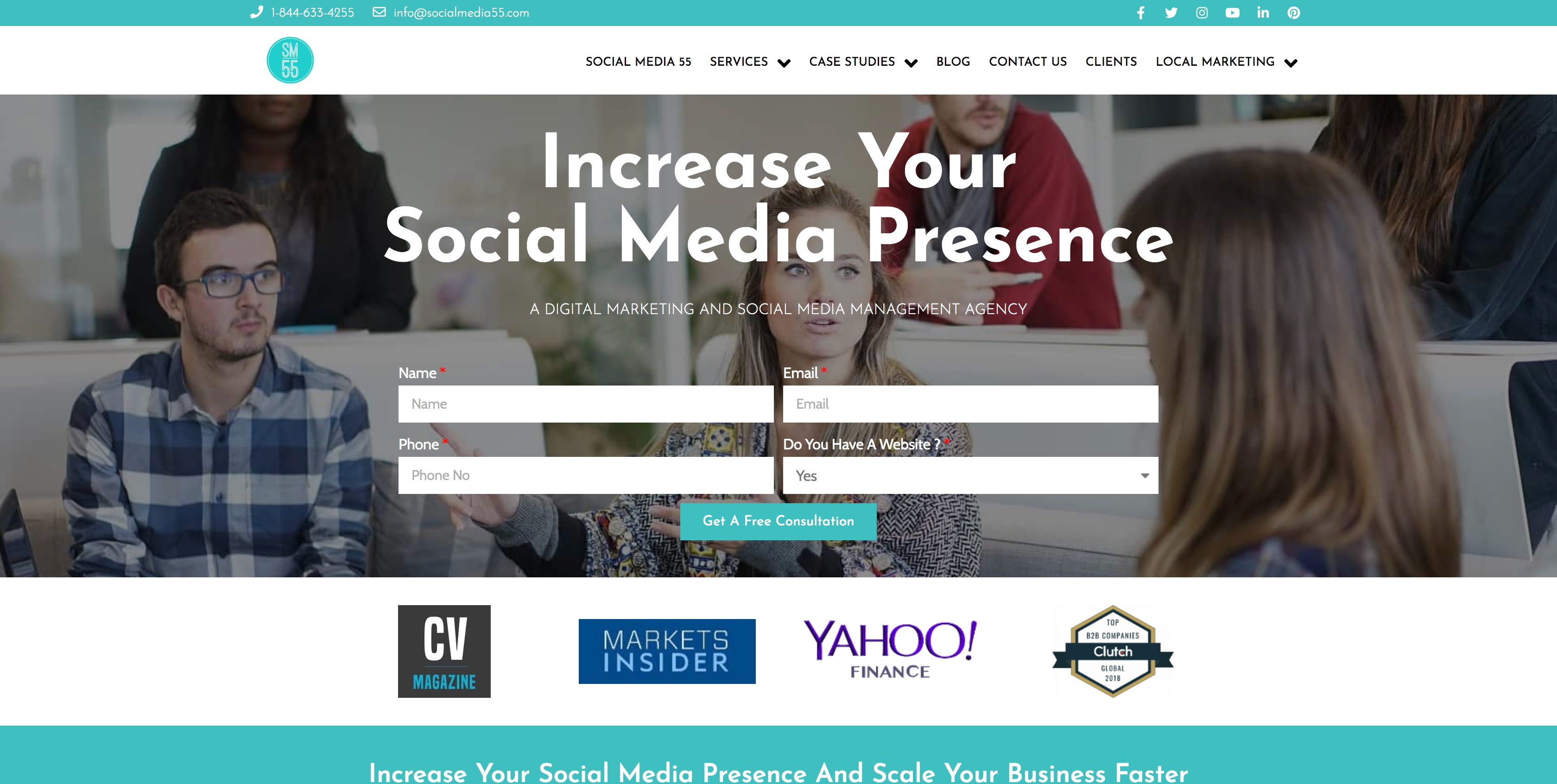 Social Media 55 describe themselves as being a digital marketing and social media management agency. They have become experts at nano-targeting digital marketing efforts to deliver results to their clients.
They recognize that social media is now one of the most powerful marketing tools with the ability to communicate with a target audience in real-time. The challenge some "do it yourself" companies run into is the ability to develop and maintain these channels.
Social Media 55's social media solutions cater to any size business. Their 'a la carte' style options are designed to maximize their clients' ability to communicate with their target audience.
They split their social media marketing services into:
Influencer marketing

Social media management

Social media advertising – Facebook, Instagram, LinkedIn, Pinterest, Twitter, SnapChat, and YouTube

SnapChat marketing

Facebook marketing
---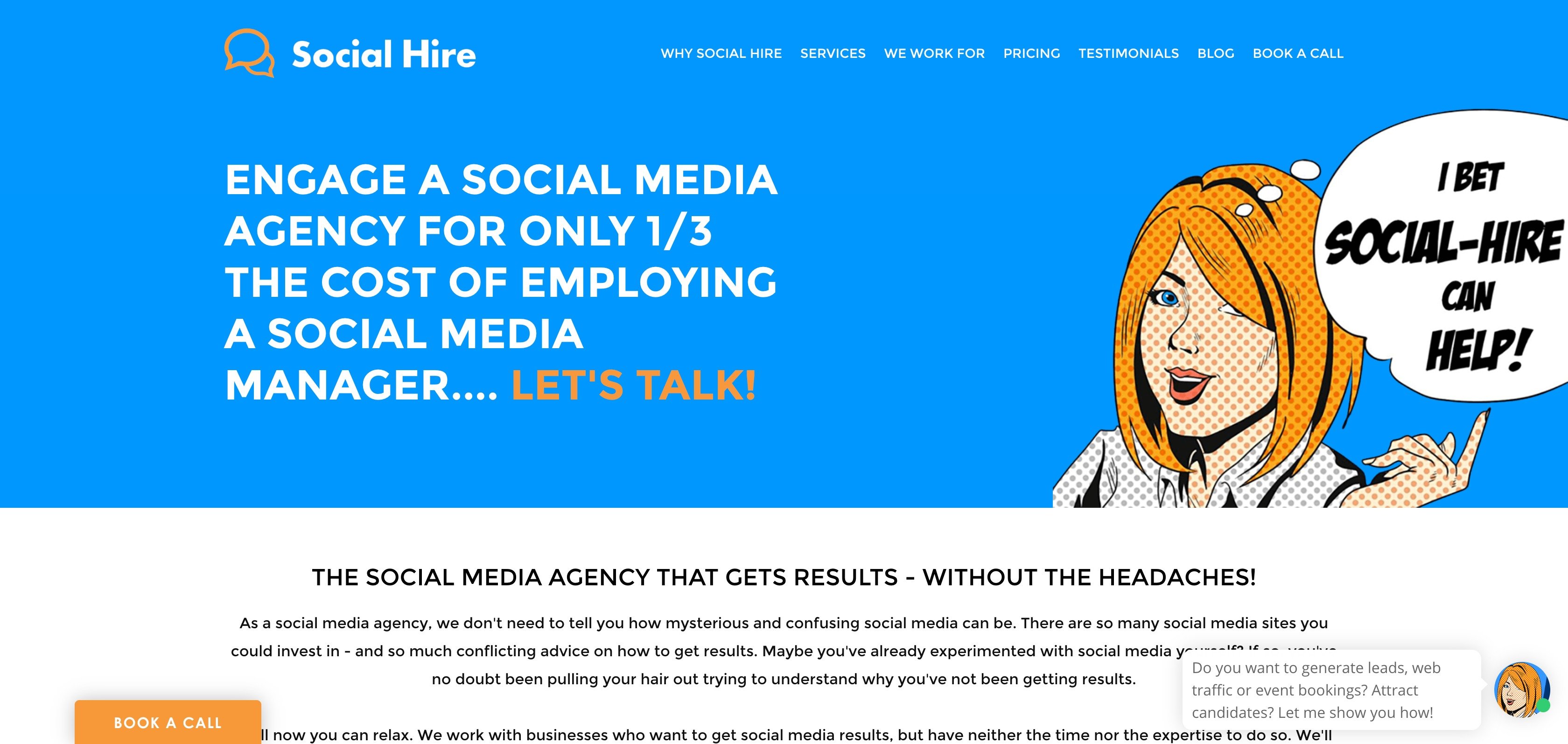 Social Hire is a specialist social media agency. They specialize in social media services tailored to smaller businesses and recruitment teams. They help grow their clients' organic reach on social media with the ideal customers, candidates, business partners, and the like. Simultaneously Social Hire works on converting the audience they have built, so that they go on to become qualified sales leads, candidate applicants, event attendees, or the like. They do this by formulating a winning social media strategy for their clients' businesses from the outset.
Social Hire places much emphasis on its tremendous client testimonials and a 5-star rating on Google.
They offer three levels of service:
Pro (£499 / $799) per month

Ultimate (£649 / $999) per month

Ultimate + (£899 / $1399) per month
All plans include researching relevant content, sharing content on Twitter, a LinkedIn company page, a Facebook fan page, and Google My Business. The higher plans add additional services. You can select three of these on the Ultimate Plan and eight on Ultimate +. Some of these additional services include following active users, endorsing and promoting, publishing a monthly blog, creating social profiles, a 24-hour social presence, social media advertising, researching and following targets, monitoring and responding to social profiles, hosting a webinar, researching influencers, and quite a few other options.
---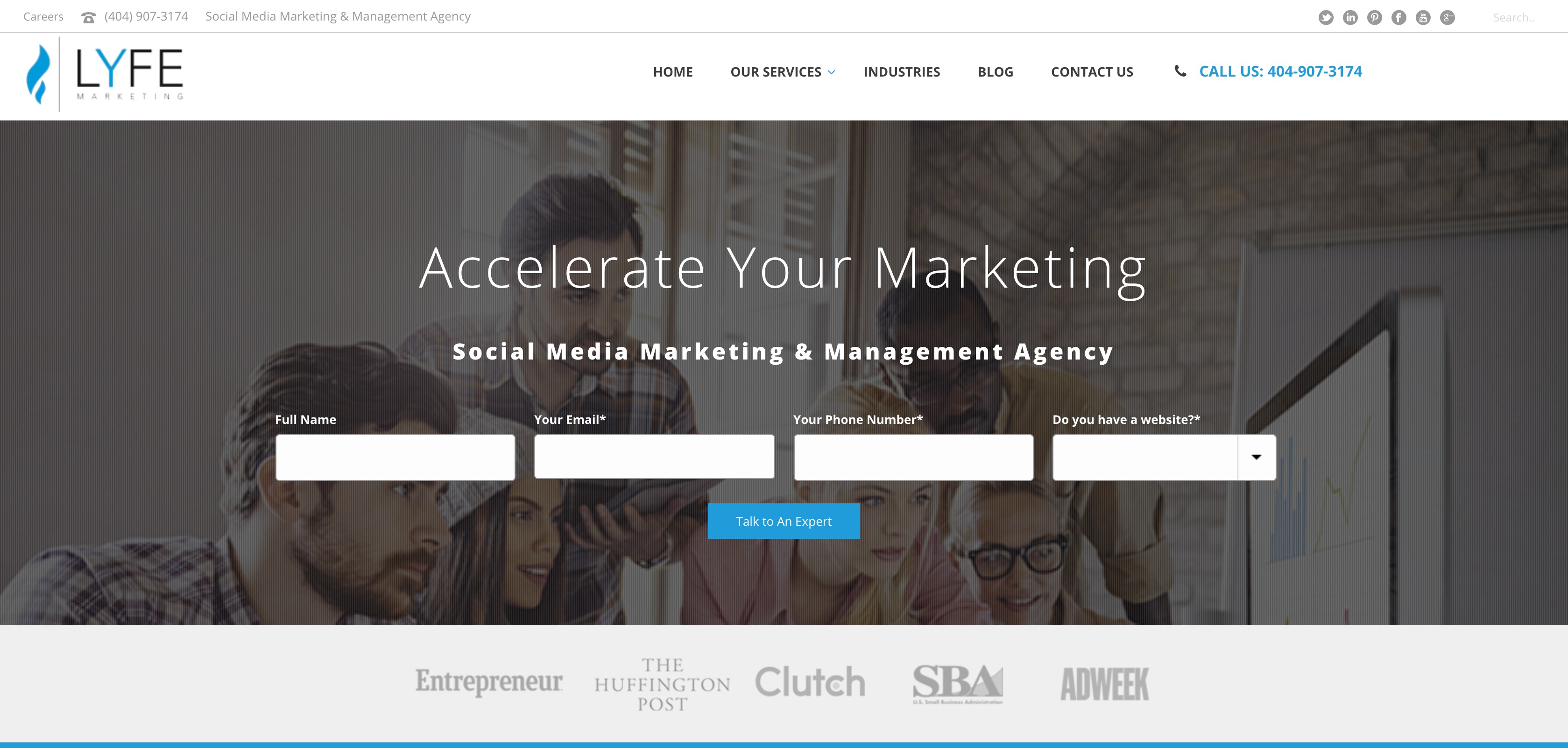 LYFE Marketing is a full social media management company. They offer social media services, search engine services, and website design services. They create and manage top-performing social media campaigns for clients on Twitter, Facebook, Pinterest, LinkedIn, and Instagram.
They split their services into:
Social Media Management Services

Social Media Advertising Services

Website Design Services

Search Engine Optimization Services
Since 2011, LYFE Marketing has managed over 2,000 social media marketing campaigns. They claim to have driven over 983,287 leads for clients through digital marketing.
Their social media marketing services help their clients' businesses grow brand awareness (followers), relationships (engagement), and website exposure (traffic).
They follow a five-step social media marketing process:
Assign a dedicated social media manager to your account

Develop a social media strategy that is specific to your business

Develop content calendars and advertisements

Growth optimization and daily maintenance

Reporting and communication
---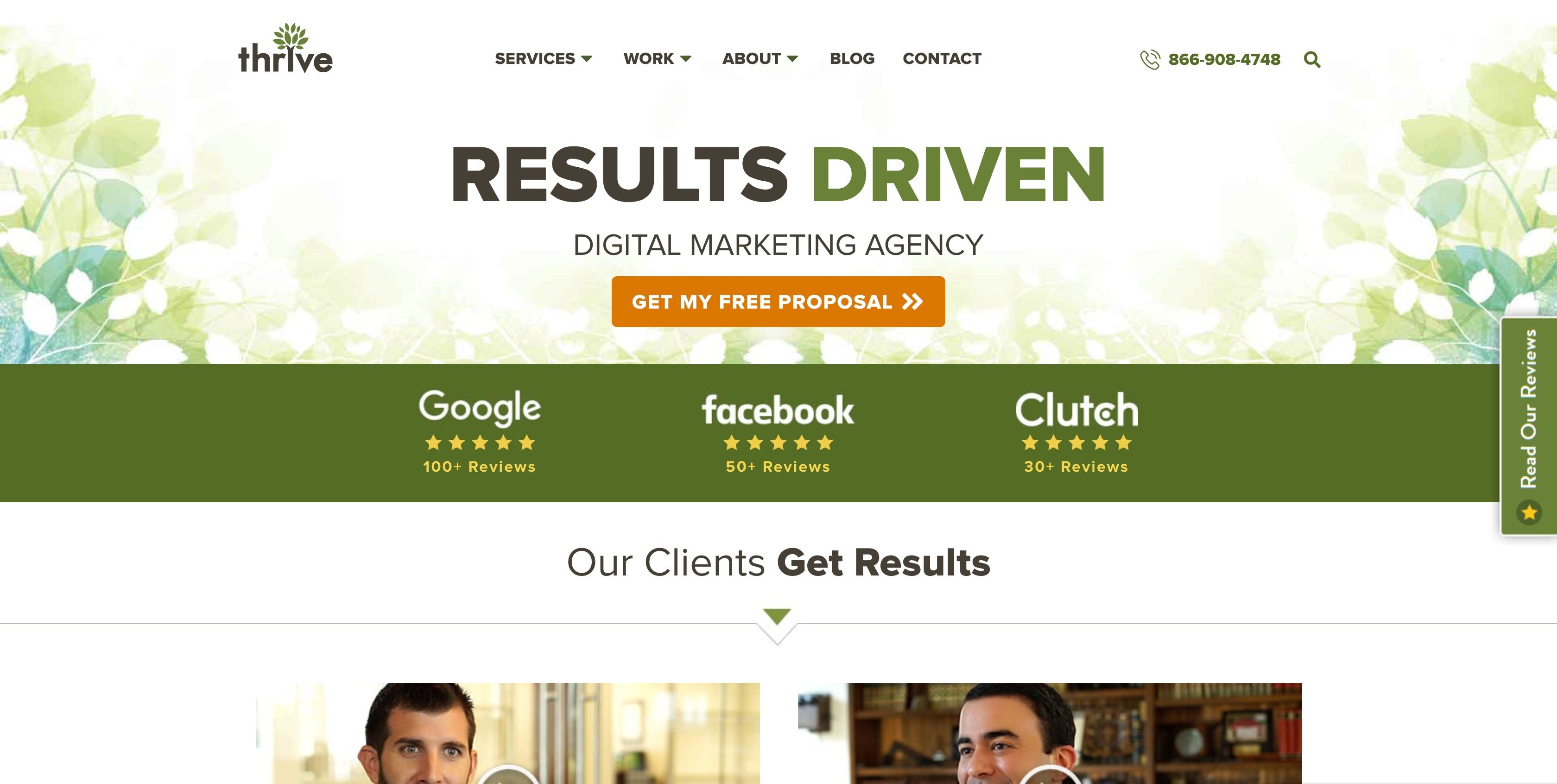 Thrive proudly displays evidence of their results on their website. They can claim more than 100 5-Star Reviews on Google, more than 50 on Facebook, and more than 30 on Clutch. They also feature testimonials frequently, clearly being a believer in word of mouth marketing.
They are a full-service digital marketing agency and have been providing a wide range of services to clients in all industries since 2005. They believe they can take your online presence to the next level - your website design, copywriting, keywords, social media presence, and more.
One facet of their work is social media marketing. They include the following activities as part of their social media marketing services:
Identification and assessment of the target audience

Creation of effective social media marketing strategy and implementation

Regularly scheduled updates as well as news and articles as they happen

Continuous social media monitoring, including recognition and response

Sustained research, tracking, and adaptation to online trends and resources

Encouraging awareness and support within the blogging community and forums

Targeting specific keywords, phrases, and topics relevant to your brand

Utilization of analytics and data-tracking tools for strategy improvement
---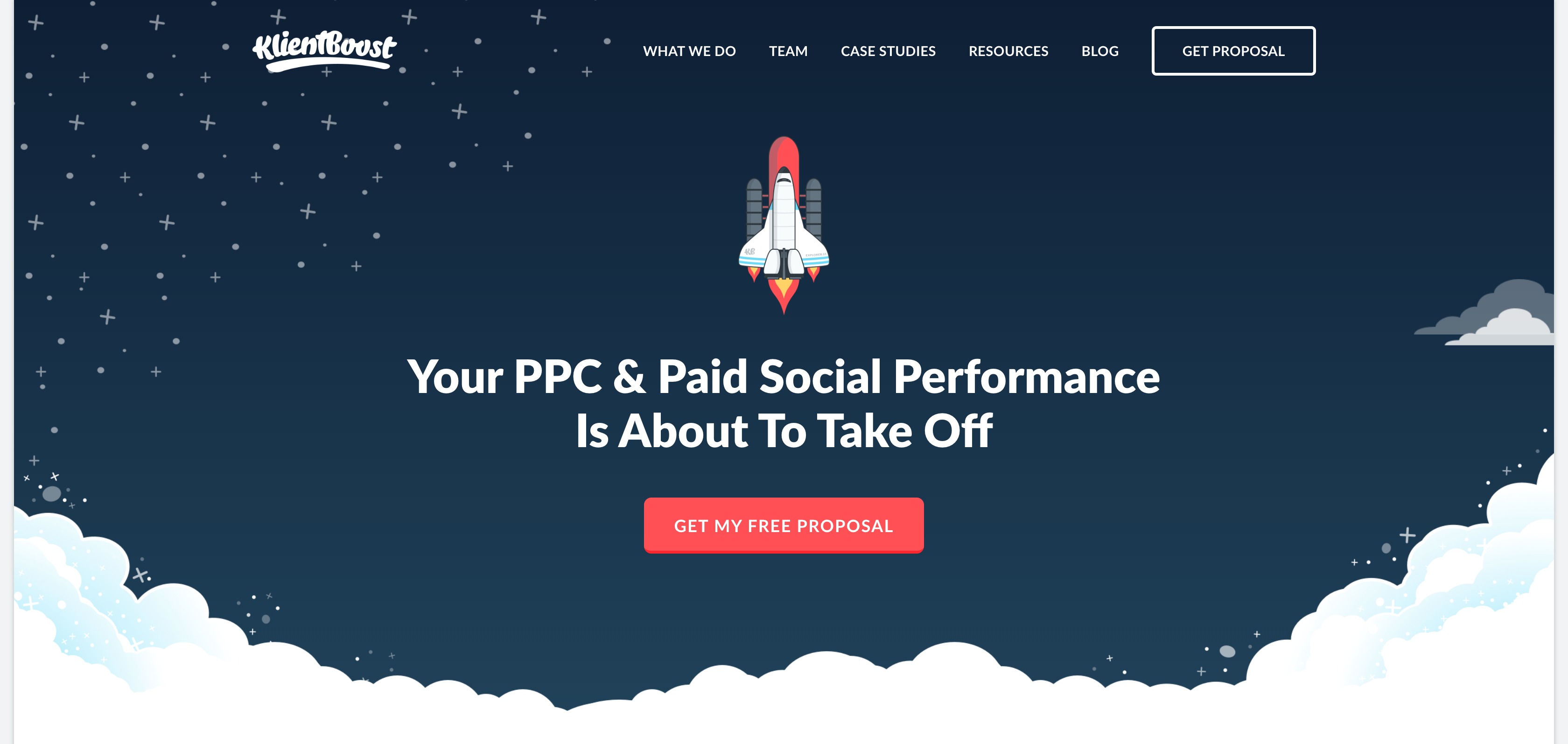 KlientBoost helps companies make more money through intelligent digital advertising and creative conversion rate optimization. They split their services into three main groupings: Pay-Per-Click (PPC), Conversion, and Design. Much of this work involves optimizing their clients' presence on social media.
One important area that KlientBoost specializes in is social advertising. They help you advertise more effectively on Facebook, Twitter, and LinkedIn. Also, they design custom landing pages to go with the PPC ads.
They believe that Facebook advertising works much better when you're testing ads and landing pages at the same time. They always help their clients with landing page design and testing, in addition to Facebook advertising. It helps them achieve results at a quicker rate too.
Higher conversion rates from landing page testing also allows KloutBoost to get more aggressive with their Facebook advertising bids to continually get more conversions from the right audiences.
KloutBoost then provides its clients with a custom dashboard with their PPC channels, which they formally update every Monday.
---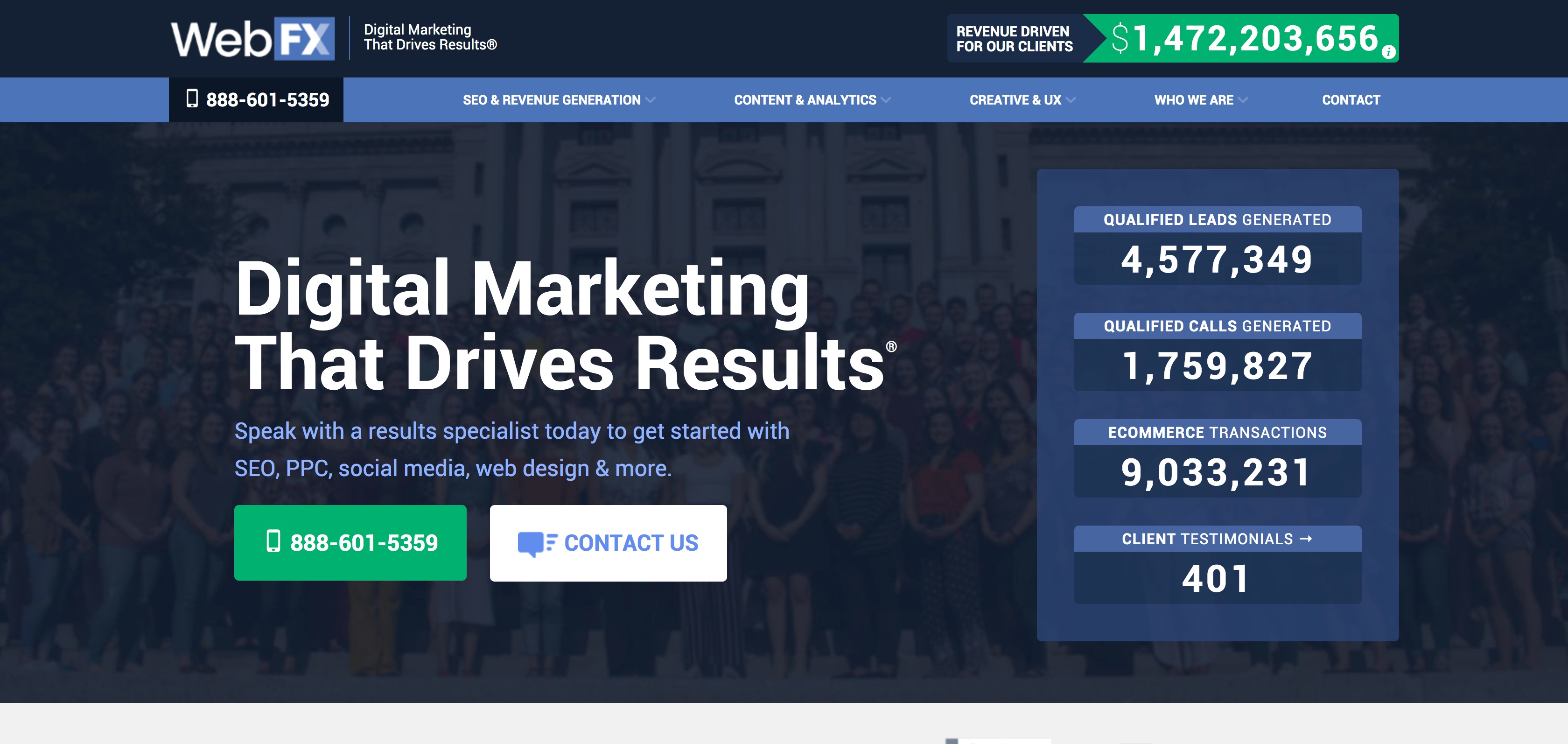 WebFX is a full-service Internet marketing and SEO company offering innovative web marketing solutions to mid to large size companies across the globe. Their social media team are experts in creating and executing a social media management plan that gets the right message in front of your desired audience.
They offer five levels of social media management service:
One social network for $900 per month with 15 social posts per month, 6 custom images per month, and 2 ad campaigns

Two networks for $1,300 per month with 30 social posts per month, 8 custom images per month, 3 ad campaigns, 2 blog posts, and Mon, Wed, Fri ad commenting monitoring

Three networks for $1,500 per month with 45 social posts per month, 10 custom images per month, 4 ad campaigns, 2 blog posts, and daily ad commenting monitoring

Four networks for $1,800 per month with 60 social posts per month, 12 custom images per month, 5 ad campaigns, 4 blog posts, one contest per year, and daily ad commenting monitoring

Five networks for $2,100 per month with 75 social posts per month, 14 custom images per month, 6 ad campaigns, 4 blog posts, one contest per year, and daily ad commenting monitoring
---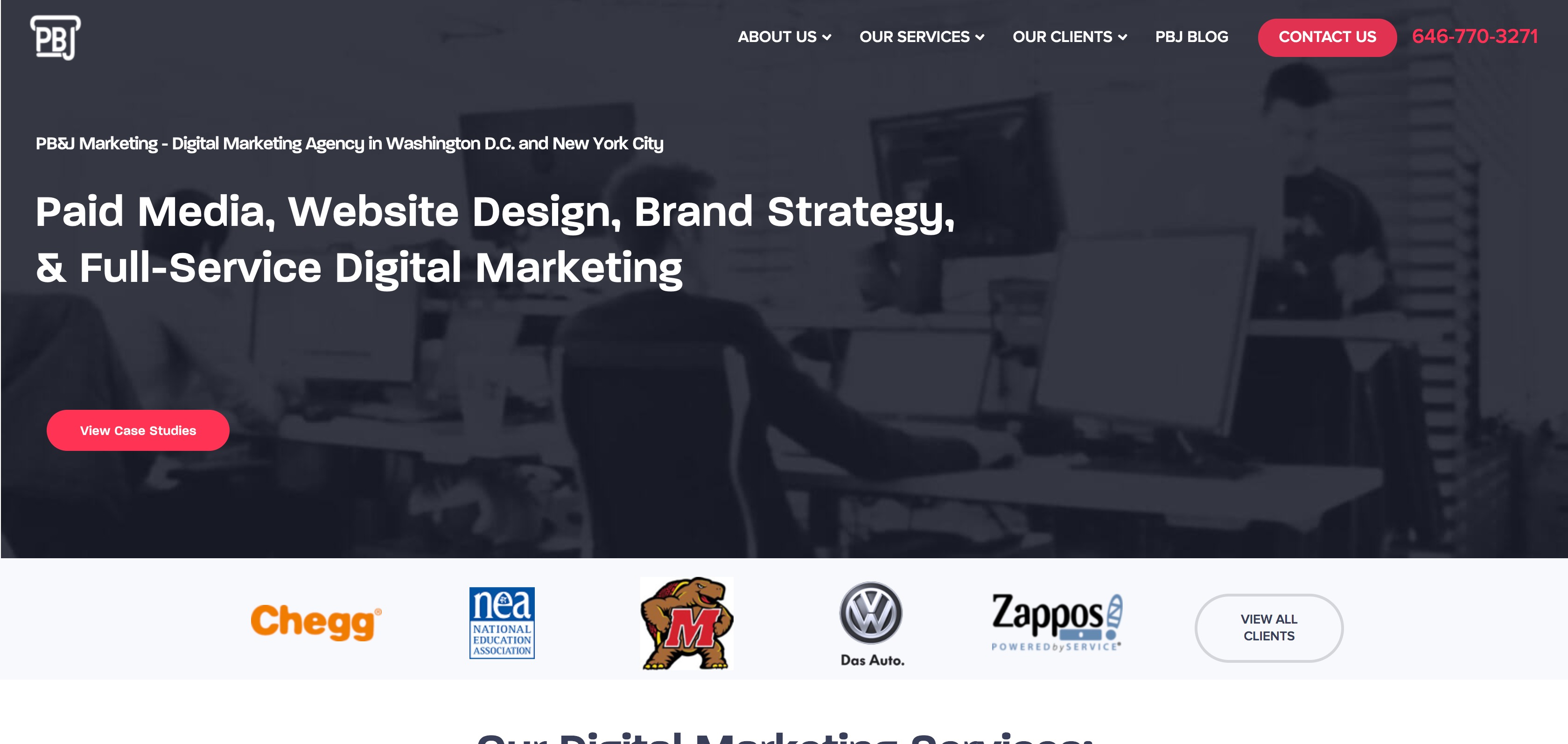 PBJ Marketing offers a mix of paid media, website design, brand strategy, and full-service digital marketing services. These include social media advertising. They believe that social media as a marketing channel requires a strategic, data-driven approach to activation with targeting, messaging, and KPIs tailored to a brand's audience and objectives. Social Media Advertising campaigns are ideal for growing brand awareness, generating leads, and driving conversions in the short term.
They focus their social media advertising around Facebook ads, Twitter ads, and Instagram ads.
PBJ Marketing leverages Facebook users' data to provide powerful, conversion-focused audience targeting, crafting Facebook ads that deliver a brand's message to the audience most relevant to the brand's goals. PBJ Marketing zeros in on custom audiences using a four-pronged approach:
A/B Testing

Engaging ads

Audience targeting

Analytics tracking
---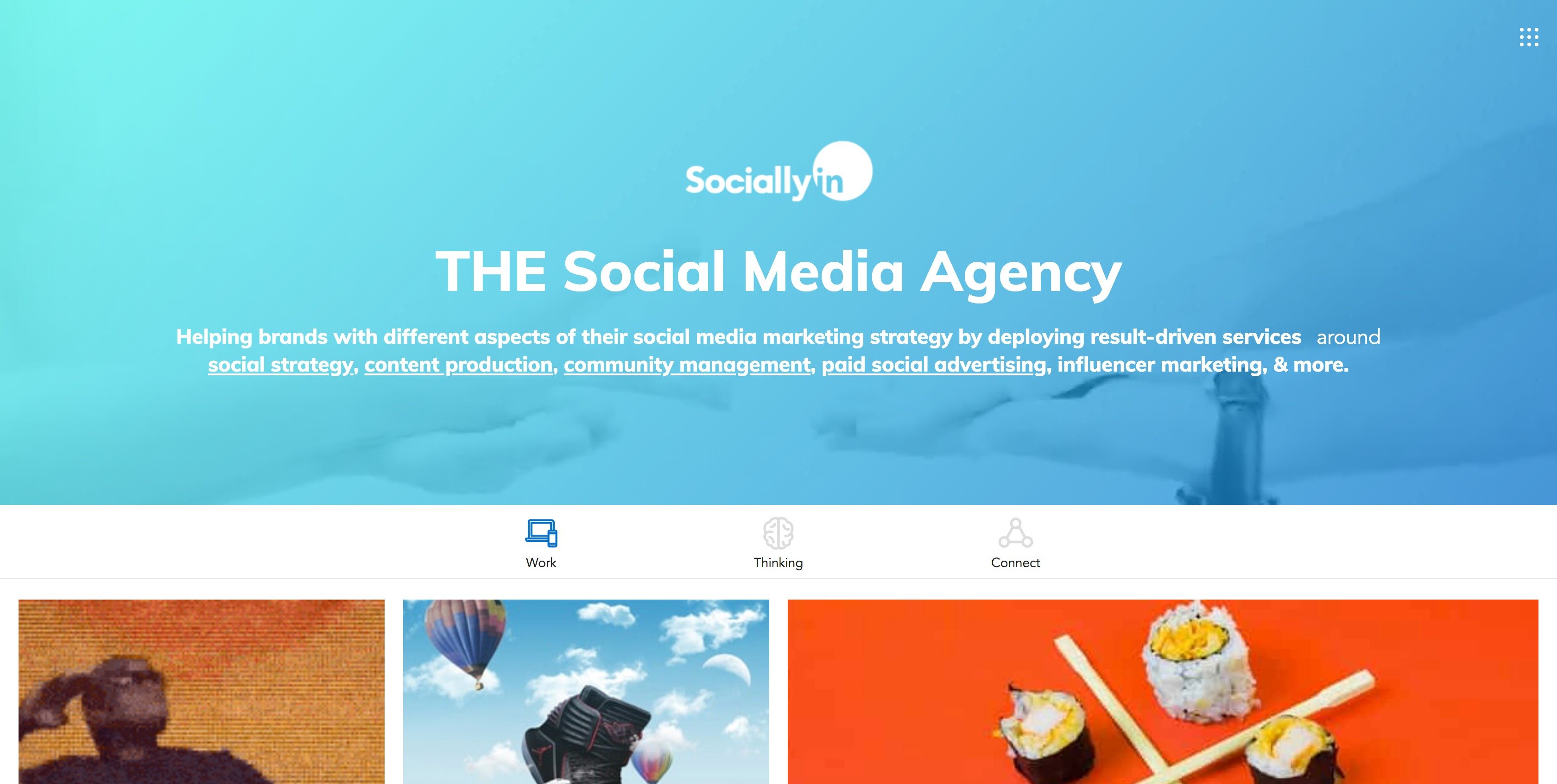 SociallyIn helps brands with different aspects of their social media marketing strategy by deploying result-driven services around social strategy, content production, community management, paid social advertising, influencer marketing, and more.
They split their services into creative and production, community management, social media strategy, and social paid advertising.
SociallyIn films, captures, makes, paints, records, bakes, builds, hatches, composes, invents, writes, draws all of their clients' social media content in-house. They begin their social strategy by having an in-depth meeting around the demographics of the audience they are trying to reach for the social media campaign. This meeting helps the creative team brainstorm content that will resonate with the ideal audience.
Once their team has an understanding of the business and branding, they move into a discussion around a brief. It can be a campaign, a seasonal holiday, or anything in between. After the brief, they move into a brainstorm session, using different brainstorming techniques to come up with unique ideas for various social platforms. Once they are ready to launch their strategy, they continue to test, measure and optimize.
If you opt for community management, SociallyIn uses community managers to represent your brand, keeping the page filled with fresh content, actively participating in conversations with your followers. At the end of each month, they review their efforts, including engagement and follower growth. They even offer multilingual social media management in over 36 languages.
---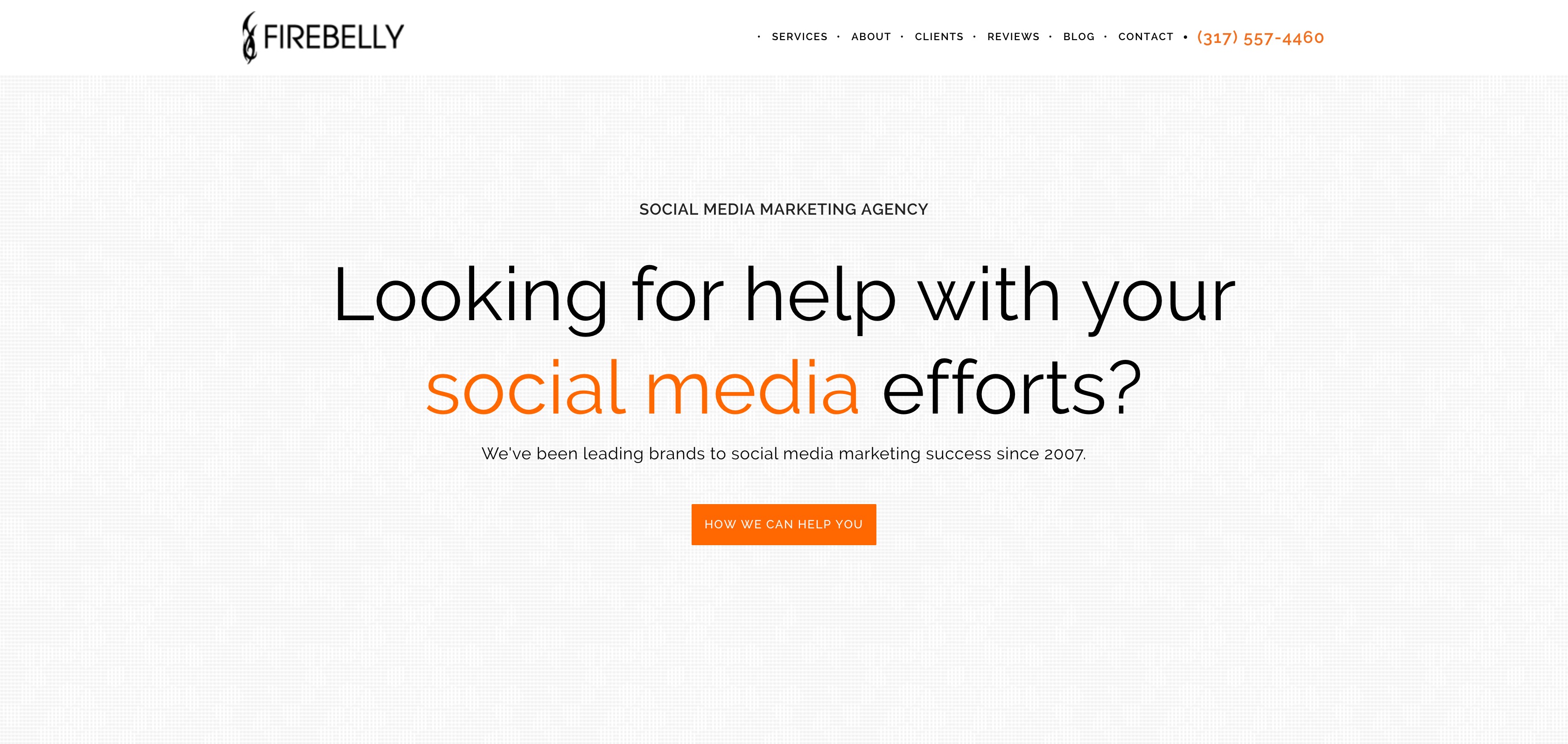 Firebelly Marketing has been leading brands to social marketing success since 2007. Their services include social media channel audit, social media management, and social ad management.
Firebelly's social media audit service is a great first step toward understanding what you should do next with your social accounts. It can be used to inform your social media strategy moving forward.
Firebelly's social media management service provides everything you need to be successful on your brand's social media channels. It includes:
Content creation and publishing

Community management

Insights and reporting
They work with social accounts on Facebook, Instagram, LinkedIn, Pinterest, Snapchat, and Twitter.
Firebelly has successfully managed over $1 million in social media ad spends for brands. Their social ad management service provides targeted social media ads to grow their clients' audience, engagement, traffic, and sales. It consists of three parts:
Audience and creative development

Daily monitoring

Reporting and recommendations
---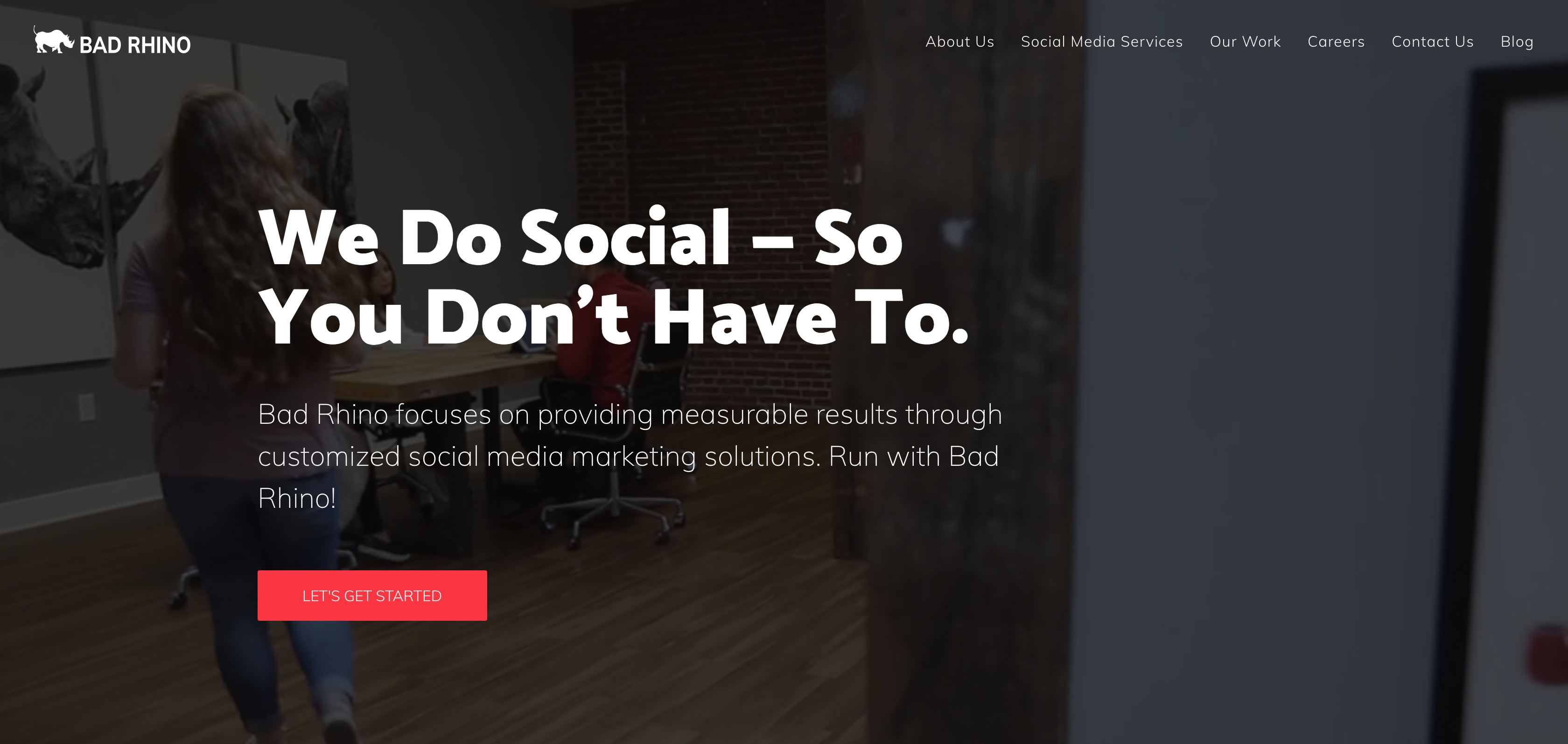 Bad-Rhino focuses on providing measurable results through customized social media marketing solutions. They take great pride in creating and offering tailored programs for each of their clients.
They use the following social media process:
Social Media Audit -

Content Creation & Approval

Community Recruitment

Strategy Evolution

Identify Key Strategies

Implementation

Monthly Analytics

Repeat
Bad Rhino creates and implements customized strategies just for their clients. They research the social channels that make the best fit and create amazing content that each client's target audience will love.
Bad Rhino believes that social media advertising is the most cost-effective form of advertising available today. They assign an ad specialist on their staff to run social media ads. They develop a clear and concise ad strategy for each business. The ad specialists write copy, headlines, and develop images for each campaign. They monitor campaigns hourly, daily, and weekly. If results decline, they detect and pause low-performing ads. Also, they launch new ads to keep positive results coming in.