Advertising Disclosure
Advertising disclosure:
Our partners compensate us. This may influence which products or services we review (also where and how those products appear on the site), this in no way affects our recommendations or the advice we offer. Our reviews are based on years of experience and countless hours of research. Our partners cannot pay us to guarantee favorable reviews of their products or services.
Are you aware that 93% of online experiences begin with a search engine? Yet, a staggering number of eCommerce businesses, including BigCommerce stores, are not fully optimized to seize this opportunity.
In the dynamic digital marketplace, every click, impression, and view counts. Therefore, a specialized BigCommerce SEO agency can catapult store visibility, driving increased traffic and, more importantly, conversions. But with a myriad of options at your fingertips, how do we discern the elite from the mediocre? In this comprehensive review, we meticulously evaluate the top 11 agencies, laying bare their strengths, weaknesses, and unique selling propositions to empower readers with the information they need to elevate eCommerce enterprises to unprecedented heights of success.
---
Top BigCommerce SEO Agency Choices
Top
bigcommerce seo agencies
2024
SmartSites boasts an array of accolades and a track record of delivering measurable results in BigCommerce SEO. With a renowned reputation of being ranked the #1 Marketing Strategy Agency by G2 and GoodFirms' top pick in digital marketing, SmartSites couples innovation with expertise to drive eCommerce success. Certified partnerships with tech giants like Google, Microsoft, and Meta underscore their adeptness at navigating the dynamic digital advertising ecosystem, ensuring BigCommerce stores are not just visible but dominate the competitive space.
The agency's proficiency in BigCommerce SEO is validated by a systematic approach that encapsulates technical SEO audits, site enhancements, and strategic implementations tailored to outperform the competition. Beyond SEO, SmartSites specializes in BigCommerce development, epitomizing excellence in crafting seamless user experiences that not only retain but convert visitors. With statistics indicating a 96% exit rate of visitors before purchase, the agency's strategies are anchored in reversing this trend, ensuring stores capitalizes on every interaction.
Leveraging data-driven insights, SmartSites' BigCommerce SEO services are meticulously crafted to augment organic traffic and bolster online visibility. A substantial 2.64 billion people shop online; SmartSites' mission is to ensure eCommerce stores command a significant share of this bustling marketplace. Client testimonials accentuate a narrative of transformation and amplified revenue, painting a vivid picture of an agency that not only promises but delivers.
---

Thrive stands out as a distinguished BigCommerce SEO agency renowned for its holistic approach to eCommerce digital marketing and SEO. With a focus on sustainable eCommerce SEO, Thrive acknowledges the seamless blend of traditional and digital commerce, tailoring its strategies to ensure online experiences translate to brand loyalty and conversions. Statistics underscore the pivotal role of online interactions, with 63% of shopping occasions commencing online. Thrive's strategies are meticulously designed to capitalize on this trend, ensuring businesses not only mark their online presence but also convert online interactions into tangible sales.
The core services offered by Thrive are comprehensive and tailored to meet the diverse needs of the modern eCommerce environment. Their expertise spans from in-depth keyword research & optimization, where the team crafts bespoke strategies to enhance online visibility, to local SEO and technical SEO, ensuring optimal site usability and performance. Thrive's eCommerce services are underscored by innovation and adaptability, addressing the fast-evolving consumer needs driven by technological advancements. Moreover, the agency boasts prowess in PPC and content writing, ensuring businesses attract, engage, and convert their target audience.
Thrive's commitment to boosting brand visibility and improving customer experience is further evident in its specialized BigCommerce web design services. They're also a certified Shopify partner. Email marketing automation, Walmart Marketplace integration, and Amazon marketing services accentuate Thrive's comprehensive approach, ensuring businesses leverage every available avenue to enhance their online presence and sales.
---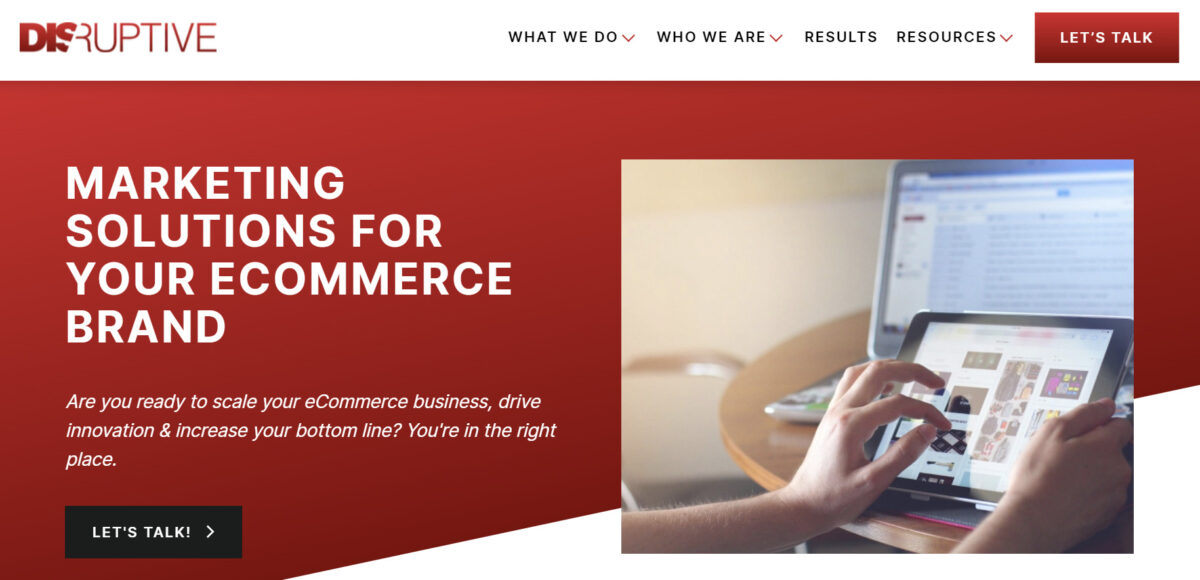 Disruptive Advertising elevates the conventional norms of SEO, seamlessly blending data-driven strategies with expertise to command authority in the SERPs. This agency is grounded in the conviction that real BigCommerce SEO growth is not a product of guesswork but rather a meticulous orchestration of data and strategic planning. The stakes are high, with 43.32% of clicks being claimed by the top position on Google, and Disruptive is adept at ensuring businesses do not just compete but excel, marking their prominence in this coveted space.
Specializing in a holistic approach, the agency ensures SEO is not just about visibility but encompasses a comprehensive strategy that accentuates brand awareness, credibility, and trust. With 94% of clicks in the SERPs going to organic results, Disruptive zeroes in on this opportunity, ensuring businesses are positioned to capture and convert this traffic. Their tailored strategies are underscored by in-depth audits and analyses, a step that lays a robust foundation for implementing bespoke SEO strategies that are as diverse as the clients they serve.
At the heart of Disruptive's SEO strategy is a commitment to outcomes that transcend typical metrics. While SEO is central, the focus shifts beyond visibility to conversion, with a meticulous process that refines every aspect of a client's online presence. The agency's comprehensive service portfolio, including technical SEO, CRO testing, and content optimization, underscores a commitment to not just attract but convert traffic. Every strategy is uniquely crafted, a testament to Disruptive's dedication to offering tailored BigCommerce solutions that resonate with individual brand needs and objectives.
---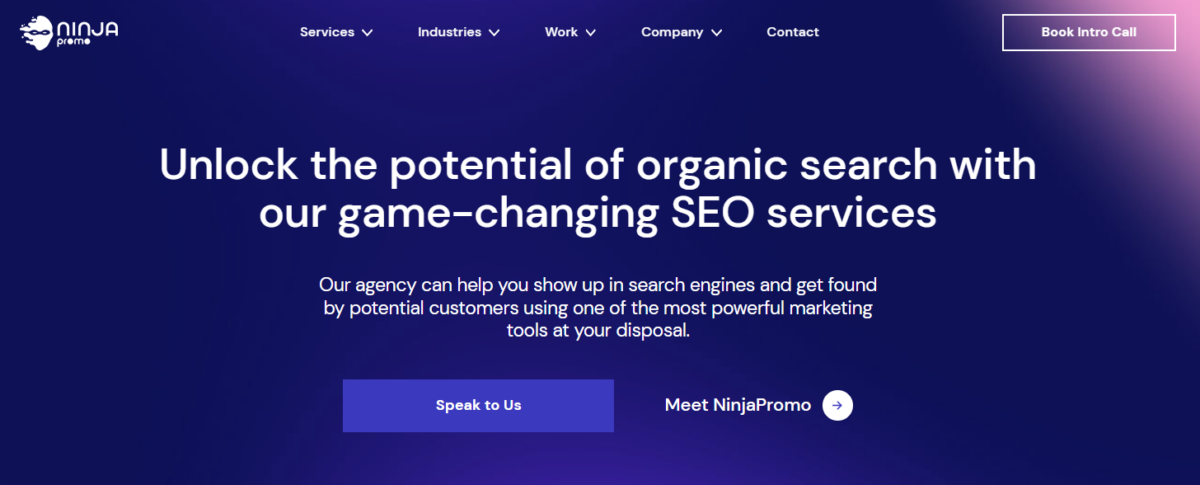 NinjaPromo stands as a pioneering force in the BigCommerce SEO sector, renowned for their innovative approach to enhancing online visibility. With a focus on organic search, they merge intricate analytics with strategic implementation, ensuring BigCommerce businesses are not just seen but are also highly ranked in search engine results. Distinguished as SEO hackers, they venture beyond traditional boundaries, exploring innovative methodologies that set their clients distinctly apart in competitive eCommerce spaces. They blend deep business insights with a granular understanding of client objectives, ensuring their strategies are finely tuned to each unique business narrative.
The agency's services are expansive and meticulously crafted. From SEO analytics and in-depth keyword research to high-quality link building and continuous monitoring, every aspect is engineered to ensure optimal SERP positioning of eCommerce stores. Local SEO is also a significant focal point, a service designed to enhance local online presence, ensuring businesses are prominently visible in geographically relevant searches. Industry-specific SEO services, particularly for competitive sectors like eCommerce, further exemplify their capability to tailor strategies to nuanced business landscapes. Every service is an investment, positioned to offer immense ROI, evidenced by the 49% of marketers who attest to organic search's unparalleled return on investment.
NinjaPromo is adept at evolving in real-time with the dynamic eCommerce SEO digital marketing landscape. The strategies implemented are fluid and responsive to Google's over 500 annual algorithm changes, ensuring clients' online positioning is current and pioneering. Their client-centric BigCommerce SEO strategies, continuous adaptability to SEO trends, and focus on long-term results underscore their position as a leader in the BigCommerce space.
---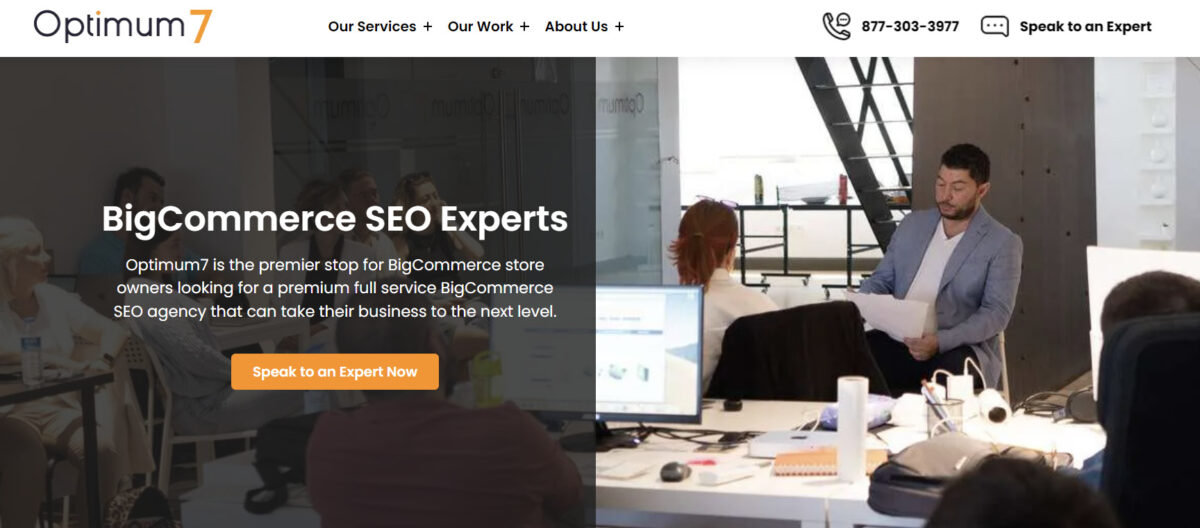 Optimum7 carries over a decade of experience and a roster of more than 10,000 satisfied customers. Specializing in eCommerce marketing, this agency employs a team of world-class developers and SEO specialists dedicated to propelling stores to the forefront of search engine rankings. Their approach is holistic, ensuring not just enhanced visibility but also substantial growth in sales.
Their tailored SEO strategies commence with an extensive audit to identify both immediate opportunities and long-term goals. Optimum7's meticulous approach encompasses on-page optimizations, technical SEO audits, and an adept content strategy aimed at driving organic traffic to BigCommerce stores. This agency underscores the importance of link building, focusing on acquiring high-authority and industry-relevant backlinks. Moreover, they leverage their expertise in BigCommerce development to offer additional platform improvements, such as optimizing title tags and meta descriptions, developing aggressive remarketing campaigns, improving site speed, and implementing video to enhance conversion rates. Clients benefit from a comprehensive and dynamic SEO strategy, ensuring consistent adaptability and advancement in a competitive digital environment.
Optimum7's suite of services extends beyond SEO to include ADA compliance, ensuring stores are accessible to users with disabilities, thus mitigating the risk of lawsuits. Their BigCommerce development expertise is highlighted by a zero data loss migration process, offering seamless transitions with an assurance of enhanced organic traffic. With a promise of a guaranteed boost in organic traffic or a refund, Optimum7's confidence in delivering impactful results is evident. In the complex and competitive world of eCommerce SEO, this agency stands as a beacon of reliability, innovation, and tangible success.
---

OuterBox Design is distinguished in the field of BigCommerce SEO, celebrated for its precision and innovation in enhancing the visibility and sales of online stores. Recognized by Forbes Advisor as the leading eCommerce SEO Agency of 2023, OuterBox couples their two decades of specialized focus with a proven track record, boasting over 2 million Page #1 Google rankings delivered and fostering over 400 successful client relationships. This seasoned agency's expertise extends to tailored SEO strategies specifically designed to harness and optimize the full potential of BigCommerce platforms.
The service portfolio of OuterBox is expansive and methodically structured. It incorporates crucial elements of SEO, including intricate keyword research, on-page optimization, and adept content creation, each tailored to resonate with the specific nuances and demands of BigCommerce. Their technical SEO audits stand out, designed meticulously to identify and amend any latent issues inhibiting optimal search engine rankings. OuterBox doesn't just focus on elevating the online visibility of its clients; it is equally committed to improving conversion rates, ensuring that enhanced traffic translates into tangible sales and revenue growth.
With the backing of an in-house team well-versed in the intricacies of BigCommerce, OuterBox formulates SEO campaigns that are as informed as they are effective. Clients are not just offered generic solutions but are walked through bespoke strategies, ensuring an alignment with individual business needs and goals. Services extend to BigCommerce theme optimization, app installation and configuration, header tag, and title tags optimization, along with a robust strategy for content creation and modification.
---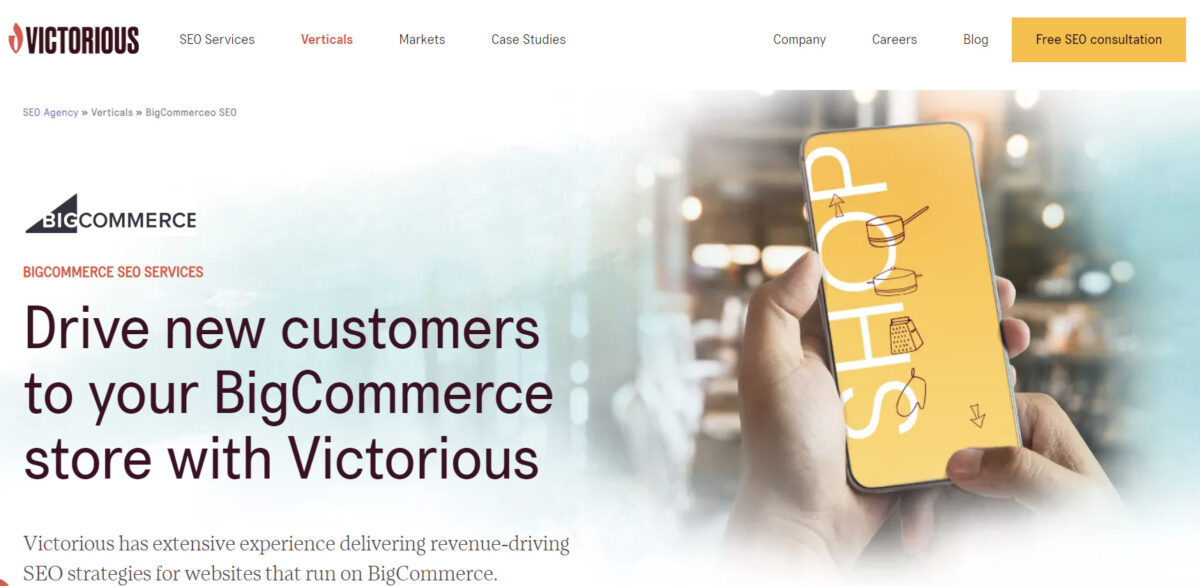 Victorious SEO stands out in the crowded space of BigCommerce SEO agencies for its comprehensive, data-driven approach that is customized to each client's unique needs and goals. A core aspect of Victorious SEO's offering is its in-depth keyword research, utilizing advanced tools and methodologies to identify intuitive, high-impact keywords that align with both volume and competition levels, ensuring qualified traffic influx.
Victorious SEO goes beyond traditional on-page SEO practices, augmenting BigCommerce's inherent SEO tools with additional strategies to maximize the impact of SEO signals. They skillfully navigate and optimize around the BigCommerce platform features and limitations, amplifying efforts with a broader campaign to elevate clients' online visibility. A specialized focus on product pages and laser-focused link building underscores their dedication to outpacing and outranking the competition, ensuring clients attract increased traffic and achieve enhanced conversion rates.
One of Victorious SEO's distinct offerings is its real-time analytics through VictoriousAnalytics®, granting clients direct access to a dynamic reporting platform showcasing live data on keyword rankings, organic traffic growth, and ROI. Transparency, education, and empowerment are central to their client engagement model, ensuring clients are informed and involved throughout the SEO process.
---

Think Shaw, a proficient BigCommerce SEO agency, is adept at enhancing eCommerce stores' online visibility and conversion rates. Boasting a team of experts well-versed in the latest eCommerce trends and BigCommerce technologies, Think Shaw customizes its SEO services to align with each client's individual requirements. They emphasize a comprehensive approach that includes creative theme creation and optimization, website structure optimization, responsive design, and the effective integration of social media, showcasing a multifaceted strategy to enhance online store performance.
The agency's expertise extends to specialized areas such as loading speed optimization and the configuration and installation of BigCommerce apps. Their approach to content creation and optimization is meticulous, ensuring that each product page is primed for maximum visibility and engagement. The agency's proficiency in Google Analytics and Search Console setup underscores their commitment to data-driven strategies, providing insightful and actionable analytics for continuous performance improvement.
Furthermore, Think Shaw has established itself as a trusted partner in the BigCommerce space, underscored by client testimonials attesting to the agency's effectiveness and transparency. Their tailor-made SEO strategies are not just about increasing traffic but are centered around enhancing the user experience and boosting conversions. Think Shaw's team of BigCommerce SEO professionals are skilled in navigating the nuances of the CMS platform, customizing optimization strategies to align with the specific technical and aesthetic attributes of each online store.
---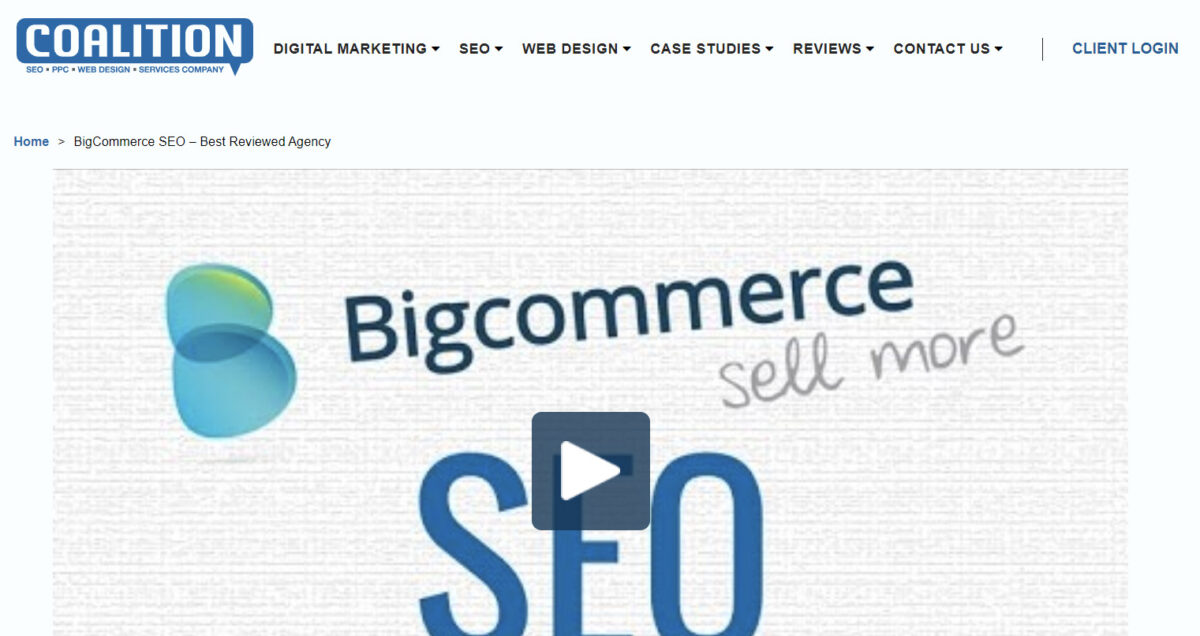 Coalition Technologies emerges as a distinguished figure in the field of BigCommerce SEO, recognized for its meticulous approach to elevating the digital presence and performance of eCommerce businesses. As a BigCommerce certified marketing partner, the agency is adept in harnessing the platform's robust features to optimize websites effectively, ensuring they are primed for visibility and engagement. Coalition Technologies' SEO services are characterized by a blend of technical acumen and strategic innovation, underpinned by a deep understanding of how the BigCommerce CMS interacts with search engine algorithms.
The agency's modus operandi involves a comprehensive, results-oriented approach. They transcend conventional methodologies, investing in ongoing research and testing to adapt to the dynamic nature of SEO and algorithm changes. This adaptability is evidenced by their portfolio of over 780 case studies, which underscores their commitment to delivering tangible, impactful results for a diverse clientele.
In addition to their acumen in SEO, the team's expertise in web design and custom programming amplifies the multifaceted benefits clients receive. Websites are not only optimized for search engines but are crafted to offer an exceptional user experience, enhancing engagement and conversion rates. Each project is executed with a focus on traffic augmentation and revenue generation, yielding websites that are not only visually compelling but also commercially viable.
---
Eventige Media Group is a leading force in the sector of BigCommerce SEO, known for its comprehensive, tailored strategies that address every aspect of SEO enhancement. The agency delivers a harmonious blend of technical refinement and strategic content marketing. Their adeptness in link-building is complemented by a prolific approach to content creation, ensuring that clients not only rank prominently on search engines but also offer value-driven content to their audience. Each strategy is underpinned by an in-depth analysis initiated by deep-crawl SEO audits, which form the basis of actionable plans tailored to individual client needs and industry nuances.
One of the standout aspects of Eventige is its expertise in supercharging BigCommerce on-page SEO, where attention to the minutiae, such as title naming conventions and metadata, plays a pivotal role in enhancing search rankings. The agenc's off-page SEO services are anchored in building credibility and trust through generating quality backlinks and brand mentions, accentuating the visibility and authority of BigCommerce stores in the digital space.
Additionally, Eventige does not limit its prowess to SEO but extends its expertise to PPC, offering ultra-optimized programs that leverage platforms like Google Shopping and Ads, thereby providing a holistic growth trajectory for eCommerce brands. Each service is curated with a focus on adaptability, ensuring that brands not only meet the current market demands but are also poised to navigate future trends with agility and foresight.
---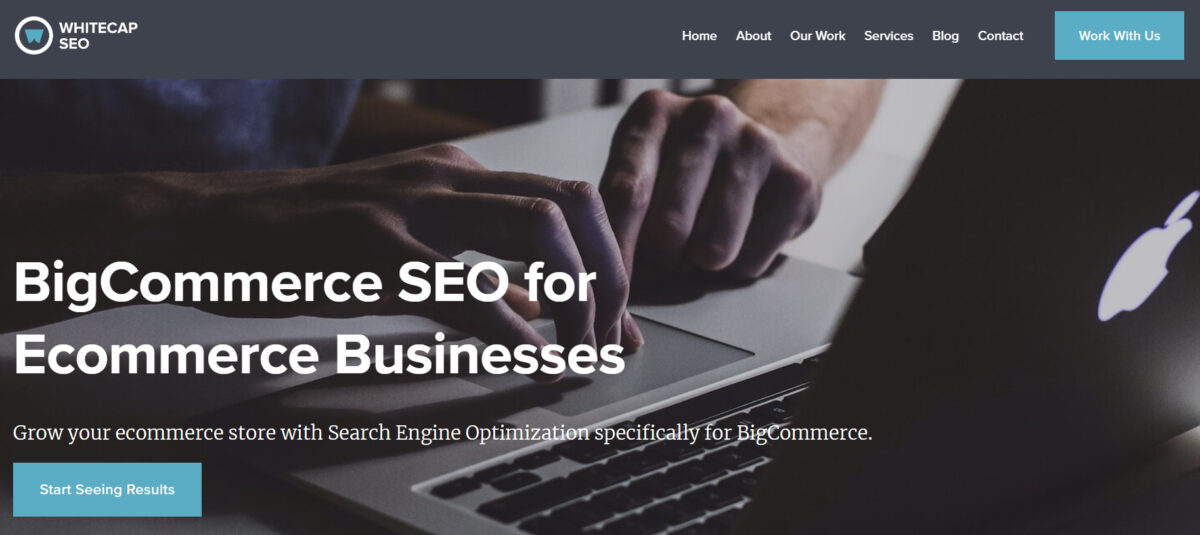 White Cap SEO is determined in the field of eCommerce SEO, offering specialized services tailored for BigCommerce platforms. Their proficiency is marked by a holistic approach that encompasses both on-page and off-page SEO, aiming at not just increasing traffic but also enhancing the conversion rate, thus turning every visitor interaction into a potential sales opportunity.
White Cap SEO's adept team is skilled in the integration of optimized keyword research strategies, which are specially developed for BigCommerce, ensuring each client's specific needs and market dynamics are meticulously addressed. Their approach to SEO is further characterized by customization, understanding that no two eCommerce businesses are identical. White Cap SEO crafts targeted strategies, each designed to address the unique challenges and opportunities presented by individual online stores.
This bespoke approach ensures optimal ranking in search engines, increased traffic, and a boost in online sales. The agency's proven track record is backed by quantifiable results, including significant increases in organic website hits, revenue, and top Google rankings achieved within concise timelines. Their client testimonials attest to their expertise, underscoring their reputation as a reliable partner for eCommerce businesses aiming to maximize their online presence and sales revenue.
---
Analyzing the Average Growth Metrics Achieved with a BigCommerce SEO Agency
Data stands as the lighthouse guiding businesses to the shores of success. One of the critical questions entrepreneurs grapple with is – "How effective is partnering with a BigCommerce SEO agency?" To answer this, we venture into a comprehensive analysis of the average growth metrics achieved by businesses that have outsourced their SEO needs.
The proof of the pudding is in the eating – and in the case of SEO, in the surge of organic traffic, heightened visibility, and amplified sales. A study reveals that the first position on Google has an average CTR of 39.8%. For BigCommerce brands, this highlights a necessity to partner with an agency that can deliver optimal SEO success.
However, SEO is not a monolithic entity but a dynamic confluence of multiple elements, each contributing to the magnification of online presence. A particular case study involving a Vaping industry client noted a 32% increase in revenue after partnering with a BigCommerce SEO agency. This spike is attributed to the agency's adeptness at tailoring SEO strategies, encompassing keyword optimization, quality content creation, and backlinking, molded to each business's unique needs and aspirations.
ROI, the ultimate barometer of success, has also recorded significant ascension. According to Zipdo, the average ROI for a well-executed SEO campaign is 275%, underscoring the cost-effectiveness and high yield associated with entrusting SEO responsibilities to specialized agencies. These professionals, with their expertise, tools, and insights, unlock untapped potentials, positioning businesses to not just participate but thrive in the competitive e-commerce landscape.
---
Conclusion
The optimal selection of a BigCommerce SEO agency can markedly amplify the online visibility, traffic, and conversion rates of eCommerce businesses. Specialized agencies, armed with tailored strategies and innovative approaches, are poised to navigate the intricate and dynamic landscape of SEO.
The in-depth evaluation presented illuminates not only the diverse proficiencies of each agency but also underscores their unique approaches to driving tangible, impactful results. For eCommerce businesses on the cusp of selecting an SEO partner, this comprehensive review serves as an invaluable resource, facilitating an informed decision that aligns with specific business needs, goals, and aspirations.
Frequently Asked Questions
What is the Typical Cost of Hiring a BigCommerce SEO Agency?
The cost varies based on agency reputation, location, and the scope of services, but it typically ranges from $1,000 to $10,000+ per month.
How Long Does It Take to See SEO Results with a BigCommerce Agency?
Generally, you can start seeing preliminary results in 3-6 months, but meaningful and lasting SEO results typically take 6-12 months or more.
How Do BigCommerce SEO Agencies Handle Algorithm Updates?
Agencies stay updated with the latest changes and adjust strategies accordingly to ensure consistent performance and mitigate negative impacts.
What Customized SEO Strategies are Offered for Niche Markets?
Agencies analyze the specific demands of the niche market, research competitors, and determine audience behavior to tailor SEO strategies for optimal engagement and visibility.
How Do BigCommerce SEO Agencies Measure and Report Success?
Agencies use tools to track metrics like organic traffic, conversion rates, keyword rankings, and backlink growth. They provide regular reports, often monthly, highlighting performance and progress.