Advertising Disclosure
Advertising disclosure:
Our partners compensate us. This may influence which products or services we review (also where and how those products appear on the site), this in no way affects our recommendations or the advice we offer. Our reviews are based on years of experience and countless hours of research. Our partners cannot pay us to guarantee favorable reviews of their products or services.
Within the ever-evolving realm of fashion, establishing a robust online presence is no longer a luxury but a vital necessity. As the fashion industry accelerates its digital transformation, the very essence of attracting, engaging, and retaining consumers has reshaped itself. Today, a fashion brand's online identity often serves as the first point of interaction with potential customers. At the heart of this digital transformation lies the expertise and creativity of Fashion Web Design Agencies.
Such agencies specialize in creating digital spaces that reflect a brand's ethos and are optimized for engagement, functionality, and sales. Every digital nuance, from the fluidity of the web page's navigation to the aesthetics of product displays, can profoundly impact a brand's online success. In an industry where trends change at breakneck speed, and consumer attention spans are fleeting, the role of a Fashion Web Design Agency is more crucial than ever.
As we delve into the intricate world of Fashion Web Design Agencies and their indispensable role in shaping the online landscape for fashion brands, let's explore the top 10 contenders leading this transformative journey in 2024.
---
Top Fashion Web Design Agencies
Top
fashion web design agencies
2024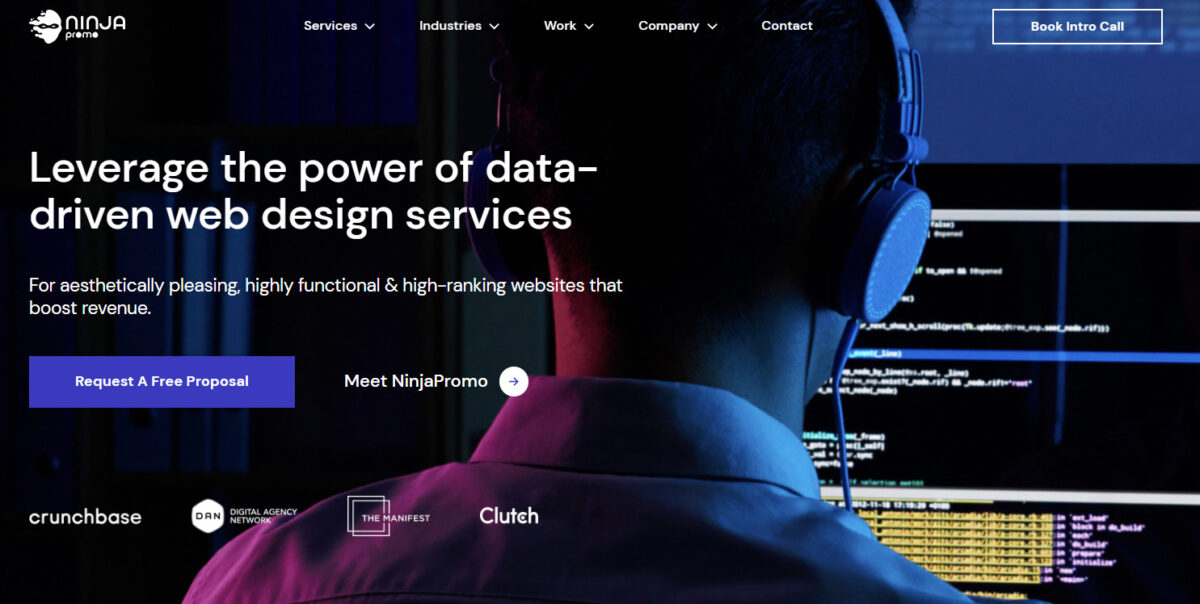 Headquarters: London, United Kingdom
NinjaPromo stands out as a comprehensive web design agency, epitomizing technical and marketing dexterity tailored to fashion eCommerce platforms. With an expansive portfolio reflecting adaptability and proficiency, this agency has consistently delivered user-centric, responsive websites that align with fashion brand needs.
NinjaPromo's services extend beyond just web design, emphasizing the convergence of design, technology, and marketing. They specialize in creating customized website designs that captivate and convert. Their additional range of services ensures brands remain distinct and memorable in the vast fashion industry, while their marketing strategies guarantee brands don't just exist but thrive in the digital domain.
Other Relevant Services Offered:
SEO
SMM
Mobile app development
Ecommerce marketing
Pricing: You will need to book an intro call to learn more about Ninja Promo's pricing.
---
Headquarters: San Francisco, CA, United States
Positioned at the intersection of fashion brand storytelling and user experience, Clay has solidified its standing in web design by creating adaptive, seamless web interfaces. Rooted in San Francisco, the tech capital, this agency crafts websites that are aesthetically pleasing and functionally superior.
Clay's core strength lies in impeccable UX/UI design, ensuring that every fashion website interaction is smooth and resonates with the brand's essence. Their expertise stretches from crafting brand experiences to intricate web applications and enterprise software, cementing their stature as a holistic web design solution.
Other Relevant Services Offered:
Brand strategy and identity
Content strategy and production
Frontend and backend development
Mobile app development
Pricing: Clay doesn't openly disclose its pricing. You will need to get in touch with them for an assessment.
---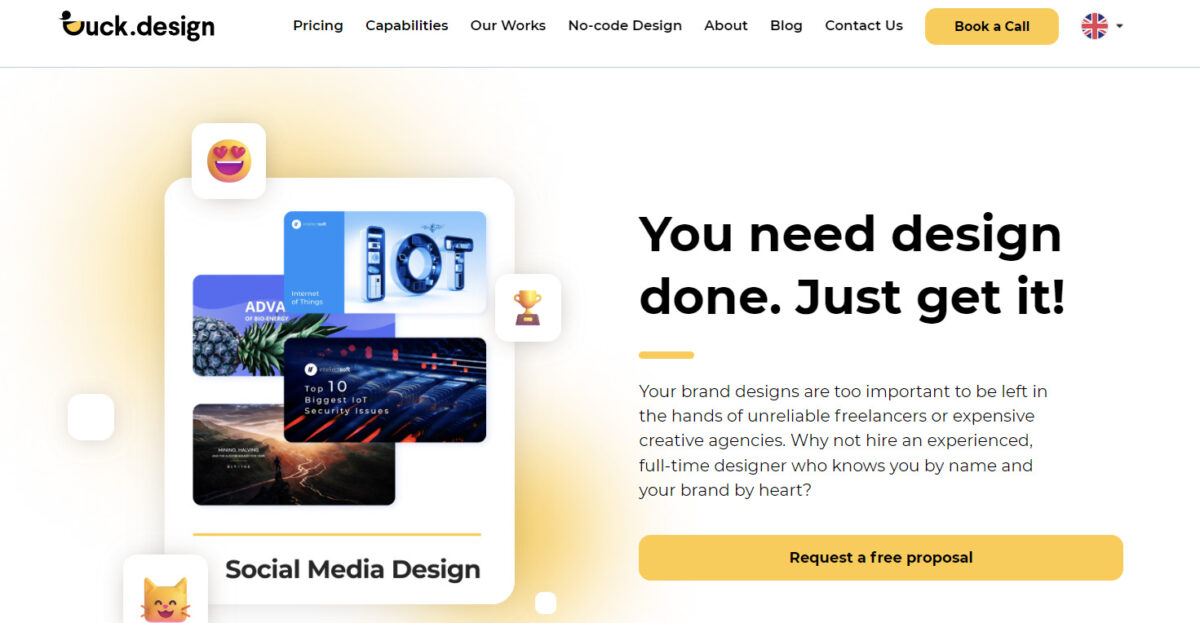 Headquarters: London, United Kingdom
DuckDesign is one of the best web design agencies to partner with, ensuring every project combines aesthetics, functionality, and seamless web page navigation. With the skills to organize vast quantities of data professionally, they cater to multi-user projects ranging from corporate websites for legacy brands to dynamic fashion online stores. Their designs do more than just present a product; they narrate the brand's story.
Opting for DuckDesign is a decision favoring precision, speed, and innovation. They pride themselves on their ability to deliver designs on-demand, ensuring 12- or 24-hour turnarounds. Their team of experienced designers and developers promises visually stimulating promotions and pages highlighting a fashion brand's product advantages. 
Other Relevant Services Offered:
Graphics design
Brand identity design
App UI/UX
Website and landing page design and development
Pricing: Get in touch with DuckDesign to learn more about their pricing.
---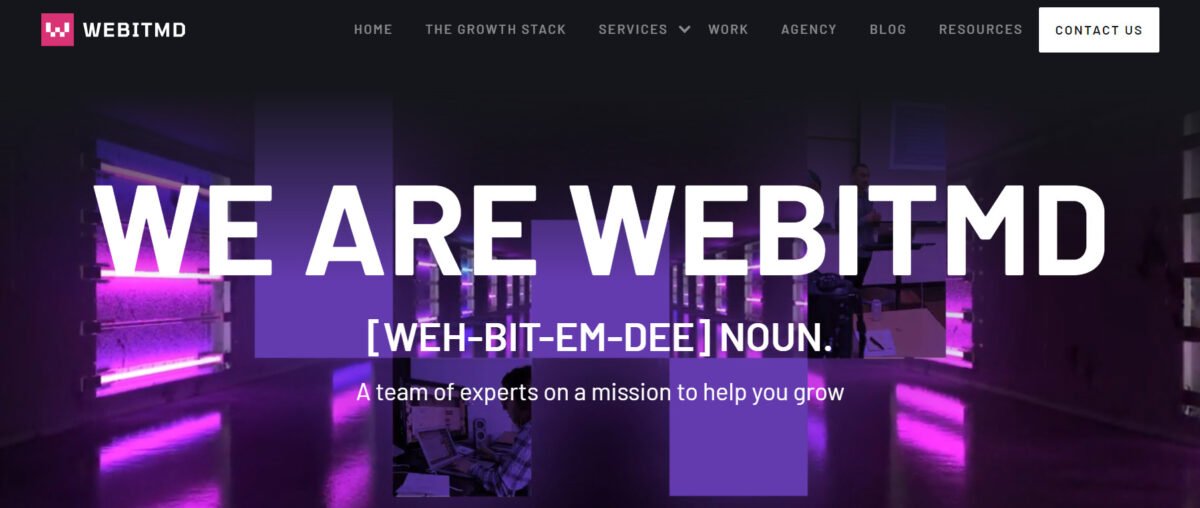 Headquarters: Los Angeles, CA, United States
WEBITMD stands at the forefront of fashion web design, offering performance-based websites that resonate with the brand's ethos and customer preferences. From the get-go, they ensure their designs don't just serve as visual treats but act as robust sales tools. Their meticulous process, from kick-off to launch, revolves around client vision, making them a trustworthy partner in the web design journey.
WEBITMD emerges as a go-to agency for fashion businesses that envision their websites as pivotal sales catalysts. They create a meticulous design and development process where client insights are transformed into a tangible, optimized website. Moreover, their Growth Stack provides an integrated marketing solution, indicating their capabilities beyond just web design.
Other Relevant Services Offered:
Creative and branding
Web development
Content creation and marketing
Sales enablement
Pricing: Book a meeting with WEBITMD to get an assessment of their rates.
---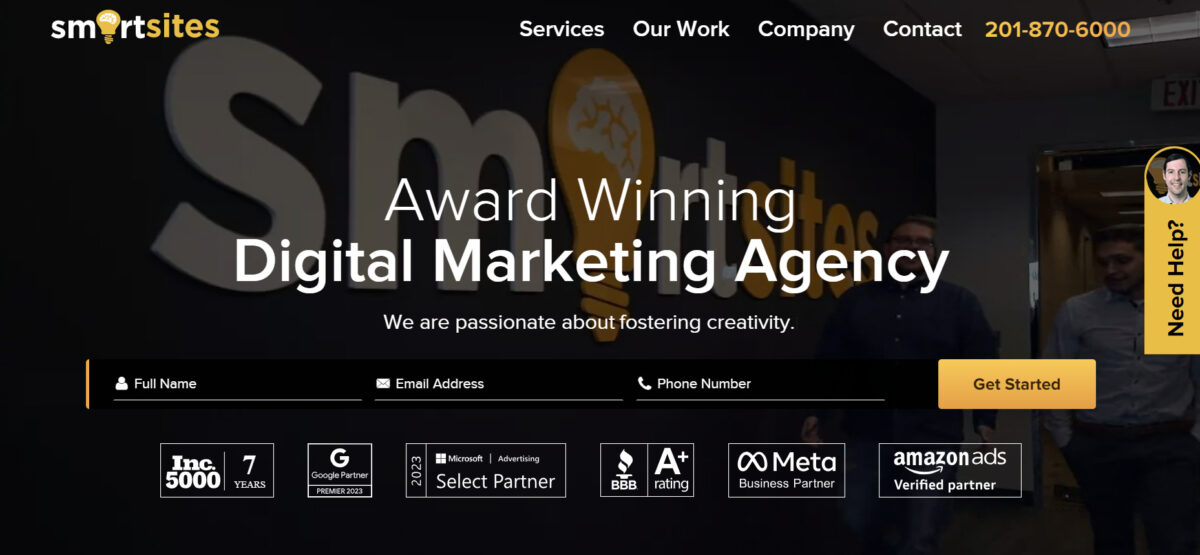 Headquarters: Paramus, New Jersey
SmartSites is a frontrunner in fashion-focused web marketing. Recognized for their mastery in capturing the essence of fashion brands, they design impeccable websites, be it for showcasing a fashion blog or launching an online magazine. Focused on the rising trend of online shopping, their designs are user-centric and guarantee to elevate the representation of your fashion brand.
Fashion boutiques looking for a comprehensive online presence should consider SmartSites. They exhibit unmatched expertise in creating chic fashion websites and offer holistic online marketing solutions tailored for the fashion niche. Their adeptness in optimization, particularly for the fashion sector, ensures enhanced visibility for your brand, thereby amplifying sales.
Other Relevant Services Offered:
Web development
PPC advertising
SEO
SMM
Pricing: Contact SmartSites directly to learn more about their pricing.
---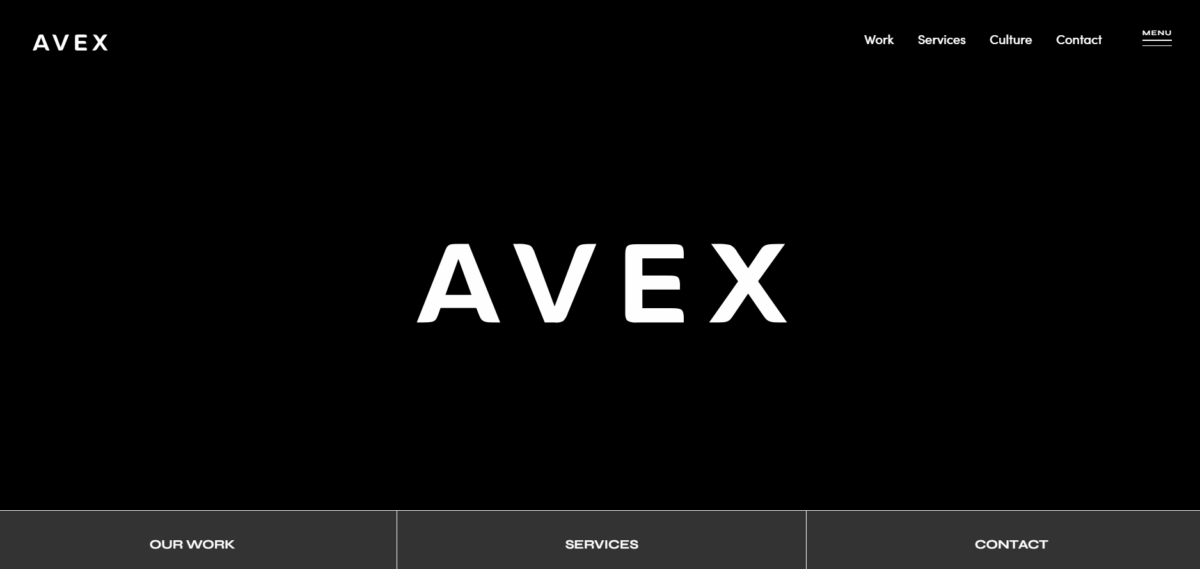 Headquarters: New York City, New York
Avex Designs is a renowned fashion web design agency in the US that primarily focuses on the Shopify Plus platform. With their unique design thinking, they take brands from concept to realization. Moreover, they excel in creating compelling experiences based on data-driven insights.
Clients aiming to imprint a mark in the fashion industry will find Avex's offerings invaluable. Their deep understanding of the intricate tie between culture, brand, and product ensures a coherent and resonating online representation. Avex's portfolio is replete with successfully executed projects showcasing their prowess in fashion web design and email marketing.
Other Relevant Services Offered:
Ecommerce development
UX/UI design
Branding and visual identity
SEO
Development support
Pricing: If you're interested in growing your fashion brand with Avex, contact them to estimate their pricing structure.
---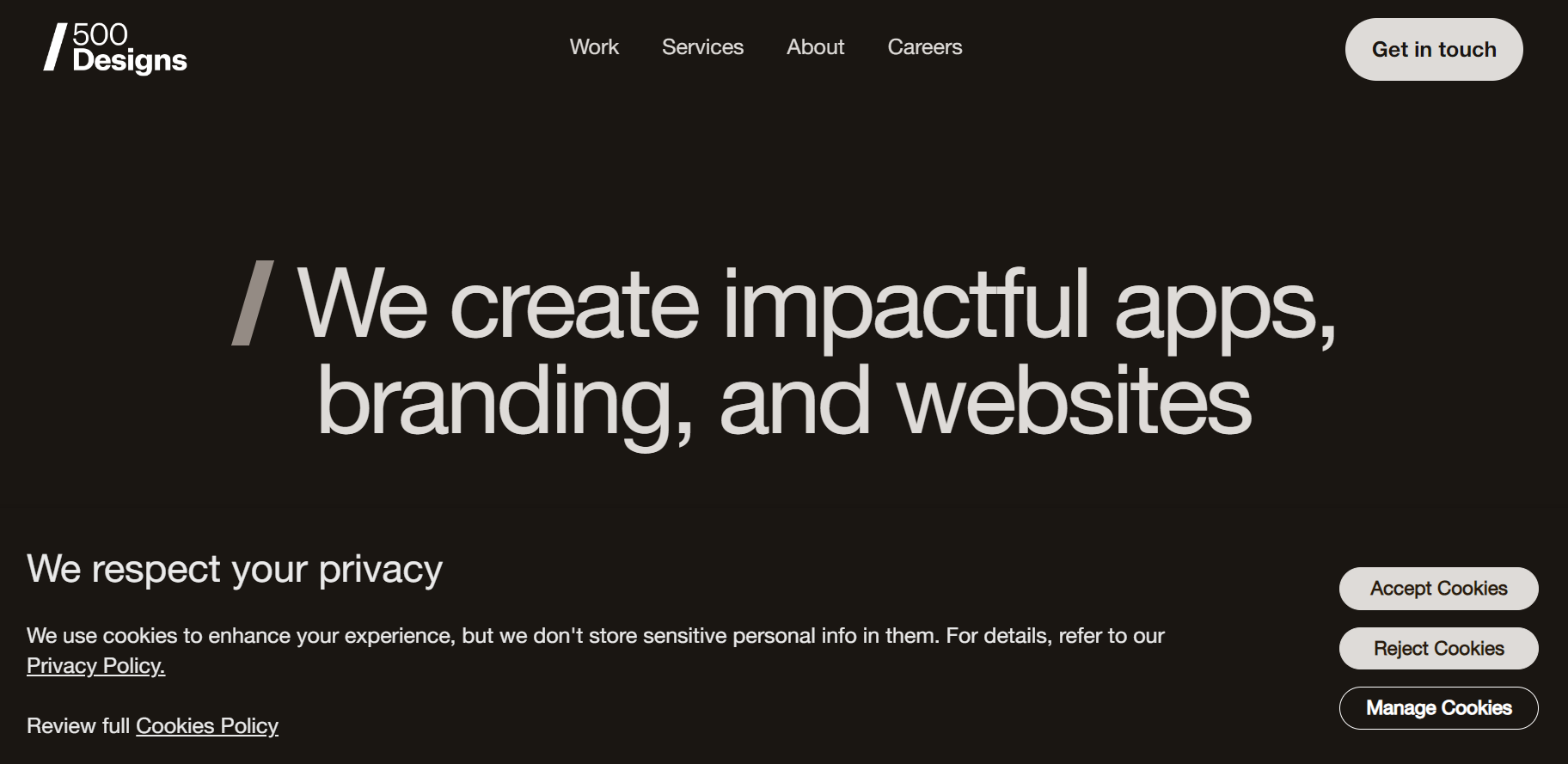 Headquarters: Irvine, California
500 Designs is a prominent player in the realm of fashion web design, offering a comprehensive suite of services designed to elevate fashion brands and drive growth. Their approach is rooted in collaboration and customization, ensuring each project reflects the client's brand identity and aspirations. At the core of their Fashion Web Design services is their expertise in cultivating digital experiences. With a keen eye for aesthetics, they craft visually striking websites that resonate with fashion-conscious audiences.
Their impeccable design proficiency ensures seamless navigation, enhancing the website's UX. Animation elements are thoughtfully integrated to increase creativity further, breathing life into the fashion brand's online presence. Innovation is a hallmark of 500 Designs. They employ Innovation sprints and prototyping to bring fresh ideas and concepts to the forefront, allowing fashion brands to stay ahead of the curve.
Other Relevant Services Offered:
SEO
WordPress development
UX/UI 
Branding strategy and identity
Pricing: To learn more about 500 Designs' pricing, get in touch with them.
---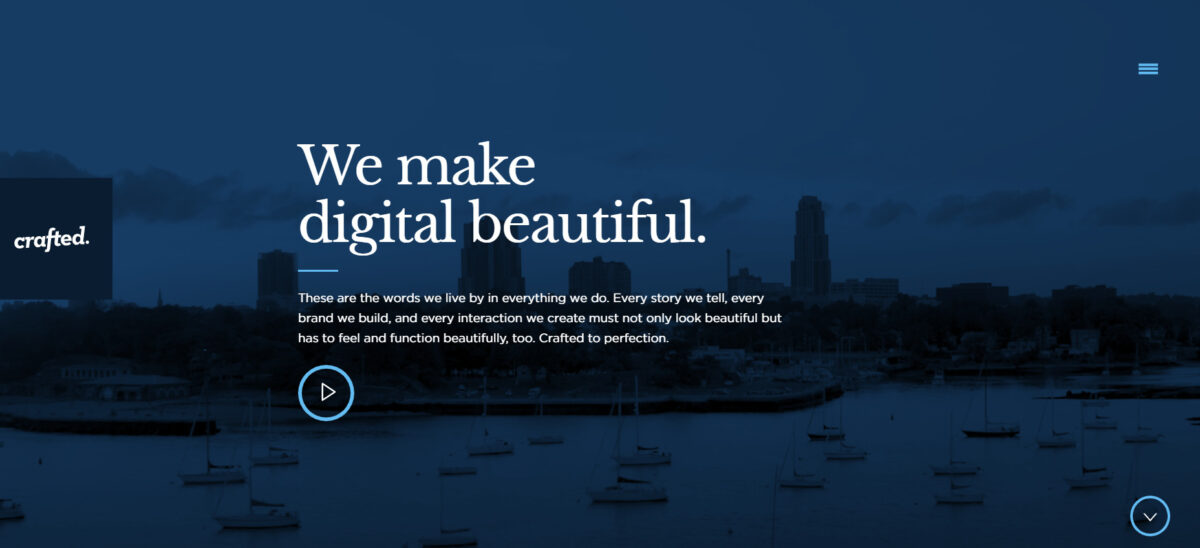 Headquarters: New York, NY, United States
Situated in the bustling heart of New York, Crafted is a leading web and fashion marketing agency. They bridge the gap between runway fashion and digital presence, ensuring brands seamlessly transition to the super-highway of the digital world. Their prowess is evident in their holistic approach, which ranges from responsive web designs to complex inventory management systems.
Crafted understands the nuances of the fashion industry, making it a go-to agency for businesses aiming to leave a mark. Their emphasis on responsive design ensures brands resonate across devices. Meanwhile, their eCommerce solutions are geared towards facilitating sales and cultivating brand ambassadors. By integrating SEO and SEM strategies, they guarantee a holistic digital elevation of fashion brands.
Other Relevant Services Offered:
UX/UI
App design and development
Testing and optimization
Brand visual identity
Brand strategy
Pricing: Get in touch with Crafted to learn more about their pricing structure.
---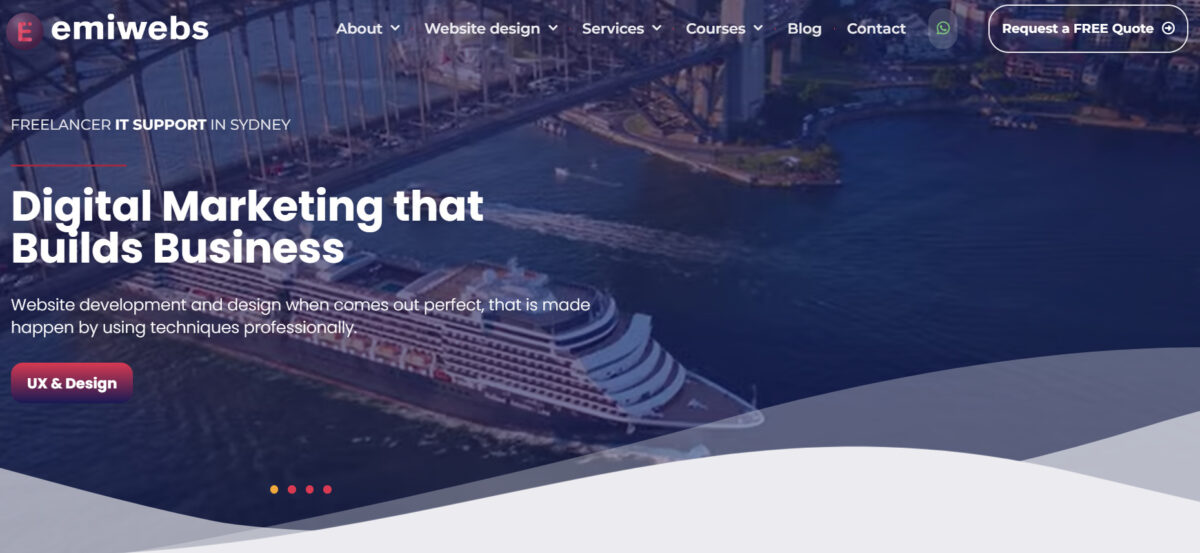 Headquarters: North Bondi, Australia
emiwebs excels as a leading web design agency for startups, primarily catering to the ever-evolving fashion industry. With an in-depth understanding of digital marketing's significance in fashion, they focus on ensuring a fashion brand's website stands out as a primary tool to connect and promote products and services. The meticulous design approach prioritizes user experience, providing seamless site interaction.
emiwebs presents itself as a distinct choice for brands seeking to establish a digital footprint. They highlight key website features such as clear CTAs, user-friendly editors, and integrated eCommerce systems. In addition, they offer a plethora of services, from graphic design to dedicated IT support, ensuring an all-encompassing digital solution.
Other Relevant Services Offered:
SEO
WordPress design and development
Ecommerce design
Custom web design
Pricing: Get in touch with emiwebs to get a free quote. 
---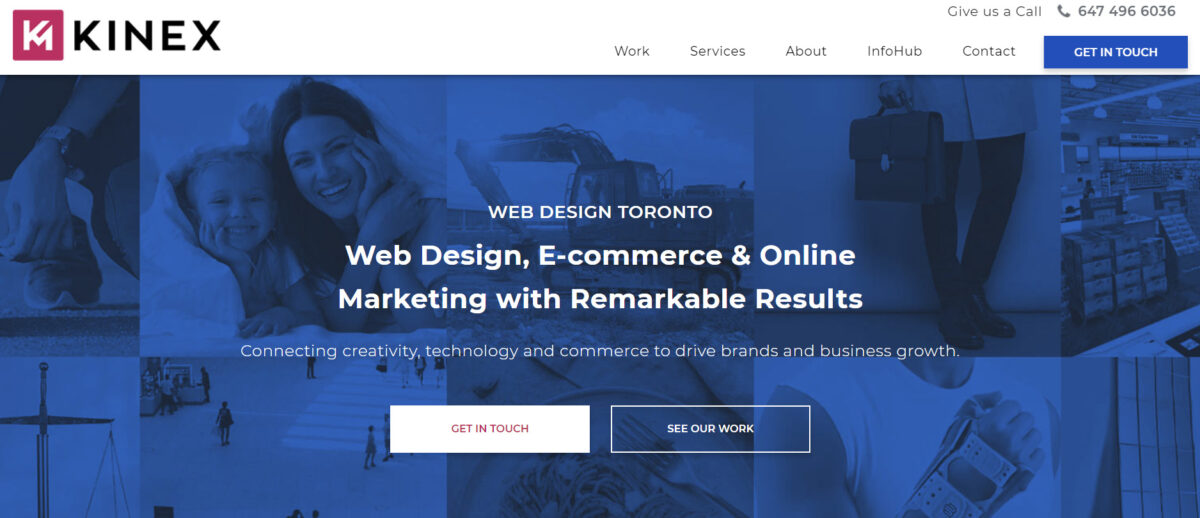 Headquarters: Mississauga, Canada
A front-runner in the fashion web design realm, Kinex Media crafts unparalleled designs to amplify the digital presence of fashion designers, brands, and businesses. Their portfolio radiates creativity, ensuring that businesses stand out and stay ahead in the competitive fashion industry.
Kinex Media emerges as a prominent choice for those desiring a touch of innovation and a fresh perspective on their fashion website. With a keen eye for design elements such as font readability, color palettes, and on-page animations, their solutions are both chic and functional. Furthermore, they emphasize content management and exhaustive market research, ensuring clients get the whole package.
Other Relevant Services Offered:
Website development
Magento 1 and 2 development
SEO
Ecommerce integration
PPC
Pricing: Contact Kinex Media to receive a project estimate.
---
Why Fashion Web Design Agency Are Important for Your Business?
The importance of these agencies goes beyond crafting visually appealing websites. They ensure that every aspect of the user experience is seamless. This can include everything from mobile responsiveness, ensuring that customers can easily browse and purchase from any device, to backend functionalities that offer real-time inventory updates or sophisticated filters that allow users to pinpoint their exact desires. When done right, a website becomes more than just a digital storefront—it becomes an immersive experience that makes users want to stay and explore.
For business owners in the fashion sector, the digital storefront directly represents their brand's value proposition. A subpar online experience could inadvertently communicate a lack of attention to detail or a detachment from the latest digital practices. This is where selecting the right Fashion Web Design Agency becomes paramount. But how does one select the perfect partner in this crucial endeavor?
---
Key factors to consider when looking for a fashion web design agency
When considering a Fashion Web Design Agency, it's paramount for business owners to delve into an agency's past works, as it can provide invaluable insights into their design acumen, adaptability, and technical competence.
Aesthetic allure, though critical, is just one facet; equally vital is the agency's mastery of contemporary web technologies, which ensures a site's optimal performance and scalability. An agency's grasp of the fashion industry's intricate details is also indispensable. Those who remain attuned to evolving fashion trends, shifts in consumer behaviors, and cutting-edge digital innovations are poised to craft digital platforms that resonate deeply with the audience.
Furthermore, the voices of previous clients—through testimonials and reviews—serve as essential markers, offering a candid portrayal of the agency's dependability and the quality of its deliverables. And, in a domain that celebrates individuality like fashion, the ability of an agency to eschew generic templates in favor of bespoke solutions is a telling sign of their commitment to capturing a brand's distinct essence.
---
Conclusion
As the fashion industry's digital landscape becomes increasingly competitive, business owners must understand the immense value a specialized Fashion Web Design Agency brings to the table. By melding design prowess with technical expertise and industry knowledge, these agencies can craft digital platforms that set fashion businesses far above their competition. The future of fashion is digital, and choosing the right agency partner is the first step towards seizing it.
Frequently Asked Questions
What sets a Fashion Web Design Agency apart from general web design agencies?
A Fashion Web Design Agency specializes in understanding the nuances and requirements of the fashion industry. They prioritize aesthetics, functionality, and the ever-changing trends of the fashion world to create websites that resonate with fashion-forward audiences. Their expertise ensures the brand's digital presence aligns seamlessly with its real-world image.
Can these agencies integrate e-commerce functionalities into my fashion website?
Absolutely! Most top-tier Fashion Web Design Agencies offer integration of eCommerce functionalities, ensuring that your fashion products are showcased beautifully and can be purchased directly from the website. They focus on providing a smooth shopping experience with easy checkouts, secure payment gateways, and intuitive product displays.
How do they ensure my website stands out in a saturated market?
Fashion Web Design Agencies utilize a combination of unique designs, the latest web technologies, high-quality imagery, and strategic content placement. By understanding your brand's unique selling points and target audience, they craft a website that stands out and engages and retains visitors.
Will I be able to update my website's content without technical knowledge?
Yes, most agencies develop websites on platforms that come with easy-to-use content management systems (CMS). This allows business owners to update content, add new products, or post blog articles without the need for extensive technical know-how.
What if I need ongoing support and updates after my website is launched?
Many Fashion Web Design Agencies offer post-launch support and maintenance packages. These can cover everything from minor updates and changes to regular performance checks and technical support. It's recommended to discuss these details before finalizing the project.