Affiliate marketing takes a fair amount of time and effort, but it can be an ultimately rewarding endeavor for you and your business. Furthermore, affiliate marketing can be an effective and accessible way to establish your online presence, drive engagement, improve business scalability, and increase revenue.
As a creator or beginner, how can you leverage affiliate marketing for success? Is it still a viable income stream in 2024? Where do you start, and what best practices do you need to observe?

---
Affiliate Marketing in 2024:
---
How Can You Benefit from Affiliate Marketing as a Creator?
As a content creator, there are several ways for you to monetize your content. One of which is through affiliate marketing.
When done properly, affiliate marketing can be a sustainable means of generating passive income and diversifying your income streams. It's an immensely popular and accessible way to earn extra revenue without you having to shell out any initial monetary investment. Additionally, it's relatively low-risk and doesn't require you to produce or source your own products to market.
Affiliate marketing also gives you a lot of flexibility in terms of when and where you can work. You can opt to work full-time or as a freelancer. You can also select the niches or products you want to promote. This allows you to establish yourself as an expert and promote the products to your niche audience.
Furthermore, it gives you the chance to expand your network. By working with merchants, other influencers, and affiliate networks, you can build partnerships with them. This, in turn, can help drive engagement and open opportunities for working with other businesses. This comes in handy especially if you're planning on going into business yourself. As an affiliate, you can do market research and broaden your reach.
But before you dive right into affiliate marketing and expect to earn thousands of dollars right away, you need to understand results take time. It requires hard work and, to be honest, there's no guarantee that you'll succeed. While you might put in a lot of time and effort, affiliate marketing is still tinged with uncertainty, making it more challenging.
However, the best way to see whether or not something will ultimately work out for you is to go ahead and try it. This guide will help you start your journey into the world of affiliate marketing.
---
A Practical Guide to Affiliate Marketing for Creators and Beginners
In this guide, we've outlined the necessary steps you need to follow to start affiliate marketing.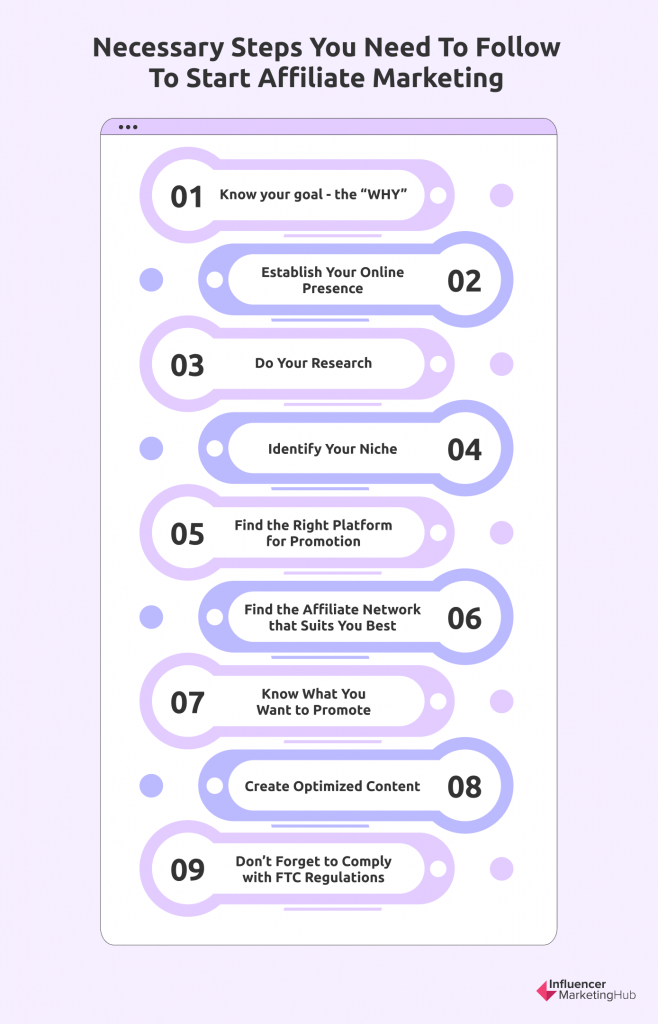 Knowing why you want to go into affiliate marketing can help you determine the direction and the actions you're going to take. Set smart goals that are realistic and measurable. You also need to have clear expectations of what you can get from affiliate marketing.
Why do you want to go into affiliate marketing? Do you want to earn extra money for yourself or your family and diversify your income streams? Do you want to grow your online presence or build new relationships?
Additionally, you must know how much you want to earn and how much time and work you can invest.
---
Establish Your Online Presence
Before you start promoting products, you first need to have a platform and begin establishing your online presence on social media or a dedicated blog or website. The good news is, it's easy to create a blog or website. Some platforms offer free services, and others will let you create your own website at a low cost.
Having an online presence is necessary because some networks won't allow creators to become their affiliates if they don't have their own website, blog, or other means of promoting products and services.
---
Doing your research beforehand helps you create a good marketing strategy. This allows you to optimize your earning potential and ensure that your model is sustainable. You can do market research and find out what your competitors are doing. This way, you can craft a strategy that will help you stand out. Research also helps you know what niche to work in and which products you can promote.
---
Identifying your niche is a crucial first step in affiliate marketing. A niche is a specific segment of the audience you want to target. You may be wondering if selecting a nice will limit your reach, but that's a common misconception. On the contrary, it means that you're focusing on one segment and market instead of working on a broader scale. It still allows you to reach out to an audience on a more targeted level.
Before setting your sights on one particular niche, ask yourself the following questions:
What value can I add?

How can this help me utilize my expertise?

Is this something that I want to be known for?

Am I passionate or knowledgeable about this topic or niche?

Does this resonate with my branding?
Affiliate marketing is a competitive industry, so it is nice to start with a niche that has low to medium competition and is not yet oversaturated.
---
Find the Right Platform for Promotion
Where do you want to host your affiliate content? What type of content do you want to use to promote affiliate products?
For beginners, a website or YouTube channel are examples of highly-accessible platforms. They're ideal for growing an audience and getting your brand out there. These methods lend themselves well to affiliate product promotion.
If you're just starting out, you can always focus on one platform. However, if you're looking to grow your operations, you need to consider diversifying the range of platforms you're going to use.
Once you've identified your platform, you need to know how you're going to promote the products. You can focus on doing product reviews, videos, or blog posts. But don't let these limit your reach. Another way to promote affiliate products is through courses or workshops.
The thing to remember here is that you want to establish a genuine connection with your target audience. You need to create content and promote it in a way that resonates with them.
---
Find the Affiliate Network that Suits You Best
There are tons of affiliate networks out there to choose from, making it very challenging to pick the best one. Commission rates vary from one company to another. Before choosing an affiliate network to work with, you need to assess factors such as:
Commission structure

Cookie duration—Long cookie life will give your audience more time to decide on what to do

Competition

The network's and the merchant's reputation

Brand alignment

Fees

Transparency

The level of support a network can offer
Companies also vary in their commission structures. Some offer one-time commission, while others can pay you through cost-per-action or a recurring commission model.
If you're not up to working with affiliate networks, you can look for companies that run an affiliate program. You can also check if the product you want to promote offers an affiliate program.
Once you've done your research and have taken the preliminary steps, you're ready to join an affiliate program.
---
Know What You Want to Promote
Once you've done all the above, you can now start choosing the products you want to promote.
Make sure that the products you're promoting align with your brand and values. If you're just starting out, it's best to go with a product you're already using and something that you'd highly recommend to others.
Of course, before promoting these products, you need to do some research. This helps you add value to your content and allows you to be more honest and transparent with your audience.
---
Content is and always will be king, so you must ensure that you're producing high-quality and value-adding content.
Affiliate marketing isn't just about talking about the product or embedding links on your website or blog. Your content should guide your audience and help them make a decision—it should be compelling enough to convert visitors into buyers.
There are many ways to promote affiliate products. You can do product reviews, roundups, or comparisons. You can also offer resources to your audience like checklists or eBooks. Additionally, you can integrate these products into your tutorials or courses.
---
Don't Forget to Comply with FTC Regulations
Regardless of where or how you're going to promote these products, make sure that you're following FTC regulations. These require you to disclose any affiliate partnerships or products you're promoting and aren't limited to direct affiliate links. The guideline covers other compensation models such as store credits, discounts, free products or services, and exclusive access.
This is to protect consumers from unscrupulous or misleading practices. The bottom line is, if you're working as an affiliate, you need to inform your audience that you're going to receive compensation.
---
Affiliate Marketing Trends to Look Out for in 2024
Keeping up with the latest trends will give you a competitive edge. That said, here are some of the emerging trends in affiliate marketing: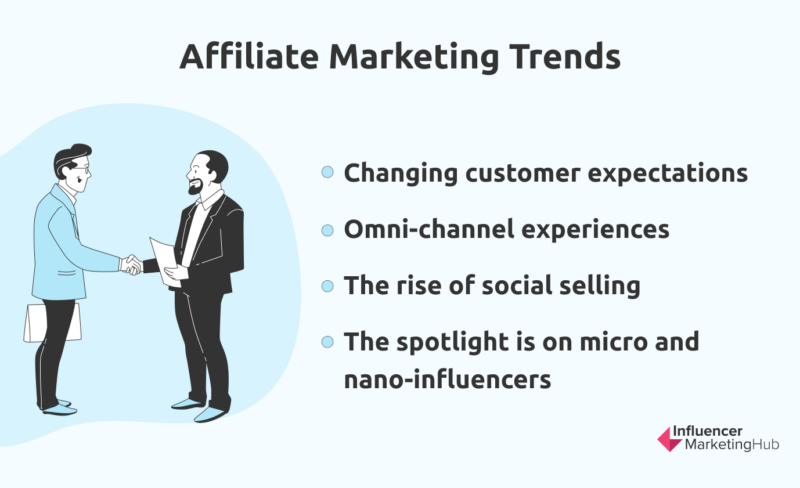 Changing customer expectations
Consumer behavior and attitudes tend to change. To keep up with these shifts, you need to bank on data. Know who your target audience is and find out what their pain points are. Use the data to build a strategy and create relevant content that resonates with your audience.
One way to expand your reach is to look into offering omni-channel experiences for your audience. Find out where they're likely to spend most of their time and be there. If they're active on social media, then use that to your advantage and focus on that channel.
This doesn't mean that you won't look into other channels. Finding other or newer communication channels will help you become more visible to other segments of your target audience.
The rise of social selling
Video creation and selling platforms are good channels for social selling. They allow you to interact directly with your audience while letting you promote affiliate products.
The spotlight is on micro and nano-influencers
While micro and nano-influencers don't have as many followers as their mega- or macro- counterparts, it's expected that more brands are looking to work with these influencer types.
So if you're a micro- or nano-influencer looking to break into the affiliate marketing industry, don't fret. You just need a small but loyal following and expertise in a particular niche. Partner with brands and small businesses that are expanding their influencer marketing budget.
Micro- and nano-influencers tend to be more authentic and have a dedicated following. Their relationship is built on trust, and these influencer types often have high engagement rates.
---
Best Practices to Affiliate Marketing in 2024
Don't be afraid to diversify
Earlier, we've mentioned that affiliate marketing comes with some amount of uncertainty. It's a wise idea to work with a diverse set of partners. Don't just stick to one or two partners in case something untoward happens.
Finding your niche is important, especially if you're working in a competitive area. Make it your goal to stand out and establish yourself as a subject matter expert. You can use keyword research tools to find out what people are looking for and what areas you can target.
Create a genuine relationship with your audience
Authenticity is important, and so is making an effort to establish a relationship with your audience and keeping them engaged. Do your best to be transparent and honest by giving genuine reviews or recommendations. Publishing misleading content can adversely affect your reputation and relationship with your audience and affiliate partners.
There's always room to improve your content. Aside from optimizing your content for SEO, you need to utilize data. Find out what resonates the most with your audience (content type, platform, products) and start creating content that highlights their interests.
Make your affiliate links easily accessible
Make it easier for your audience to find your affiliate links. You can put the links in the description box or bio or use a compelling call-to-action to encourage them to buy.
Use analytics tools to help you make informed decisions. You can use data to find out the best time to post, which content receives a lot of engagement, or what type of content fares well with your audience.
While you're at it, it's worth looking into emerging trends. You can use keyword research tools or Google Trends to check the search volume for certain topics or keywords.
---
Embracing Growth with Affiliate Marketing
Affiliate marketing is one of the best ways to earn passive income as a content creator. While it's certainly not a get-rich-quick scheme, it does yield results, given that you're doing it right.
You have to put in resources, such as your time and effort, especially if you're just starting. It's not just about promoting a product and encouraging your audience to click the link and make a purchase. It requires you to build your online presence, create and nurture genuine relationships with your followers, and do a lot of research and preparation.
And while it may be tasking at times, it can ultimately prove to be a rewarding venture.
Frequently Asked Questions
What is affiliate marketing?
Affiliate marketing involves promoting a merchant's product and earning commissions for successful transactions.
Merchants provide affiliates with unique links they can use to promote the merchant's products. When a visitor clicks a link and makes a purchase or completes a desired action, the affiliate will earn a commission.
What are some of the best affiliate networks for creators?
Some of the best networks in the industry include:
Amazon Associates
CJ Affiliates
ClickBank
ShareASale
Rakuten
Is affiliate marketing easy to get into?
Affiliate marketing is relatively easy, but it takes time and effort before you can see results. It's also a highly competitive industry, so it can be challenging to get approved as an affiliate. However, once you become an affiliate, you can find that it's a flexible and low-risk way for you to earn supplemental income.