Advertising Disclosure
Advertising disclosure:
Our partners compensate us. This may influence which products or services we review (also where and how those products appear on the site), this in no way affects our recommendations or the advice we offer. Our reviews are based on years of experience and countless hours of research. Our partners cannot pay us to guarantee favorable reviews of their products or services.
As SMS marketing stands as a powerful tool for businesses aiming to elevate their customer engagement and drive growth, this article discovers the top 8 SMS marketing services, offering a detailed review of their unique strategies, services, and the tangible benefits they bring to your business.
From personalized messaging to innovative campaigns, discover how these agencies can transform your marketing efforts and yield remarkable results. Join us as we explore the world of SMS marketing and unveil the secrets to successful customer communication and business expansion.
---
Top SMS Marketing Services
Top
sms marketing services
2024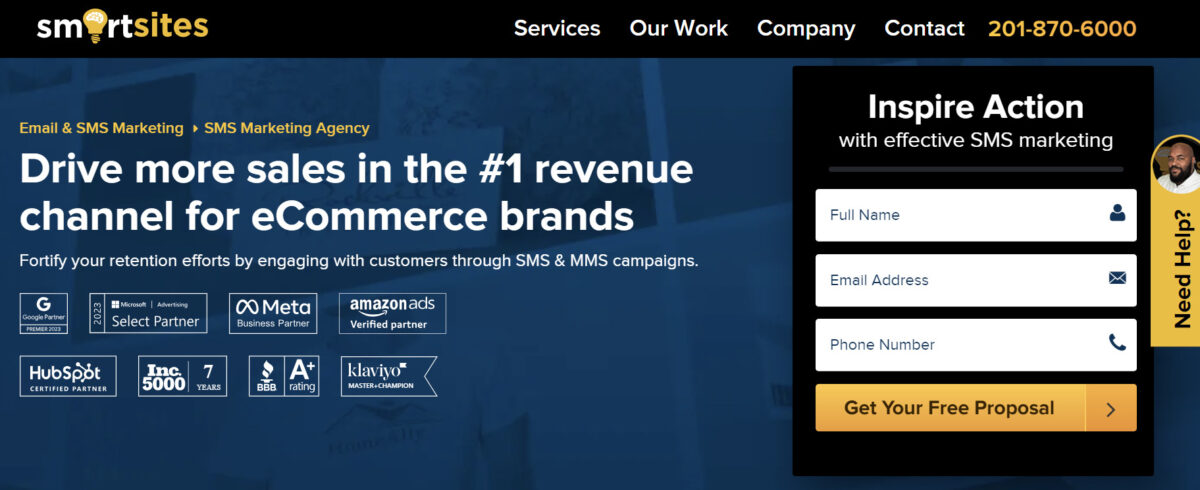 Pricing Info: Minimum Project Size is $1,000+ | Average Hourly Rate is $100 – $149
Location: Paramus, New Jersey, USA
At SmartSites, you'll find a focus on crafting highly engaging SMS & MMS messages, utilizing data-driven strategies to ensure your messages reach a wide audience with a 99% visibility rate. This agency excels in integrating dual opt-in tools for both mediums, enhancing your subscriber collection and turning mobile users into loyal customers. But their approach isn't just about sending messages; it's about creating meaningful connections through personalized, targeted communication. SmartSites' SMS marketing services are particularly effective for businesses like yours seeking to promote products, announce new offerings, or share special deals, making them a versatile choice for various business sizes.
Their cost-effective solutions, coupled with high open rates, position them as a leading choice in SMS marketing. Their recognition as a Fastest Growing Inc. 5000 Company for three consecutive years speaks to their proficiency and success in the digital marketing space.
---

Pricing Info: Minimum Project Size is $1,000+ | Average Hourly Rate is $100 – $149
Location: Dallas, TX, United States | Offices in 26 locations across the US and UK
Thrive Internet Marketing Agency offers comprehensive SMS marketing services tailored to meet your unique needs. Their approach to SMS marketing is deeply rooted in understanding customer behavior, enabling them to craft messages that resonate and drive engagement for your business. Thrive's services extend beyond mere message delivery; they focus on creating a seamless integration of SMS marketing into your broader digital strategy, ensuring consistency and effectiveness across all channels.
Their pricing structure reflects their commitment to delivering quality and value to your business, while their extensive range of digital marketing services and client-centric approach position them as a reliable and versatile choice for enhancing your SMS marketing efforts.
---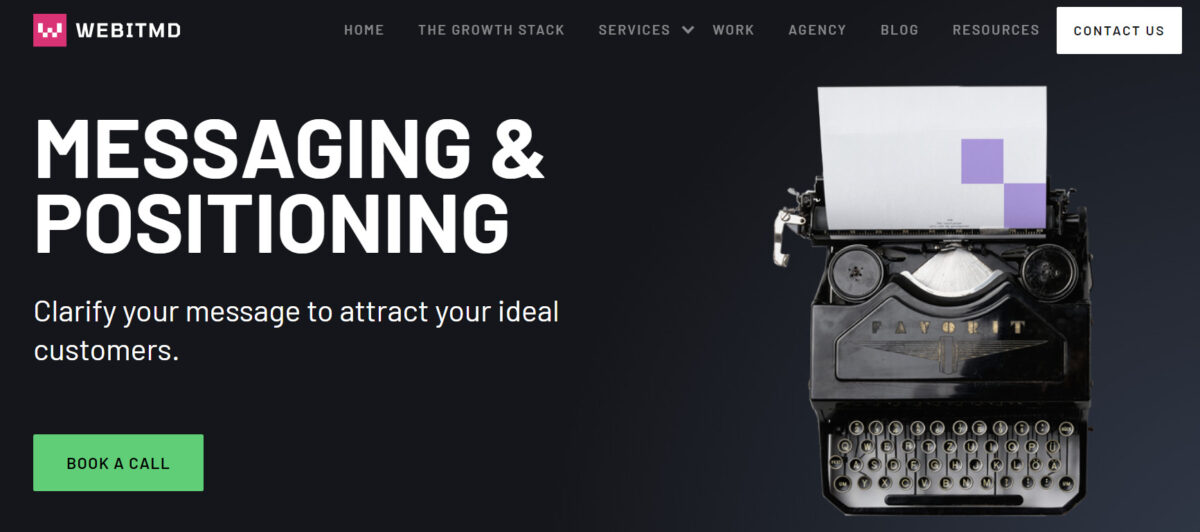 Pricing Info: Minimum Project Size is $1,000+ | Average Hourly Rate is $150 – $199
Location: Offices in Los Angeles, New York, and Texas
WEBITMD excels in providing SMS marketing services as part of its comprehensive digital growth strategy. WEBITMD's SMS marketing is not just about sending texts; it's about integrating these messages into your broader marketing and sales strategy, ensuring each message contributes to your overall growth objectives.
With over 15 years of experience and status as a HubSpot Platinum Partner and Klaviyo Partner Agency, WEBITMD's approach combines creativity with data and technology. Their pricing reflects their focus on delivering high-quality, results-driven services to your business. Their global recognition and multiple awards in other areas of digital marketing underscore their expertise and success in driving business growth through innovative SMS marketing techniques.
---
Pricing Info: Minimum Project Size is $5,000 | Average Hourly Rate is $50-$99
Location: Dubai, UAE
At Task Advertising, your message surges to the forefront of the digital age, where SMS marketing campaigns are not just about sending texts, but creating connections. With a proven track record of over a decade in the industry, the agency brings an unparalleled 98% open rate to your fingertips, leveraging precision-targeted approaches and a robust SMS Platform with seamless API integration that guarantees 100% data sovereignty. This ensures every campaign is not only wide-reaching but also respects the privacy and regulatory frameworks across diverse markets.
Task Advertising's expertise in local and international markets stands as a beacon of success. The agency's dedication to campaign success measurement is not mere analytics; it's an insightful compass guiding companies to achieve higher conversion rates. Each bulk SMS package is meticulously sculpted to provide affordability without compromising on quality, mirroring your ambition to resonate with audiences.
---

Pricing Info: Minimum Project Size is $5,000 | Average Hourly Rate is $100 – $149 
Location: Libertyville, Illinois
Grand Marketing Solutions specializes in SMS marketing services, catering to businesses across diverse industries. Their expertise in understanding and addressing the unique marketing needs of businesses like yours results in strategies that maximize engagement and yield tangible results. They excel in creating SMS campaigns that are not just messages but strategic conversations with your target audience.
This agency stands out for its ability to integrate SMS marketing with a comprehensive range of other marketing services, ensuring your brand messaging is consistent across all platforms. Their focus on customization and effectiveness makes them a suitable partner for businesses that aim to create a lasting impact through SMS marketing. With Grand Marketing Solutions, you can expect tailored campaigns to resonate with your needs, fostering a deeper connection between your brand and your customers.
---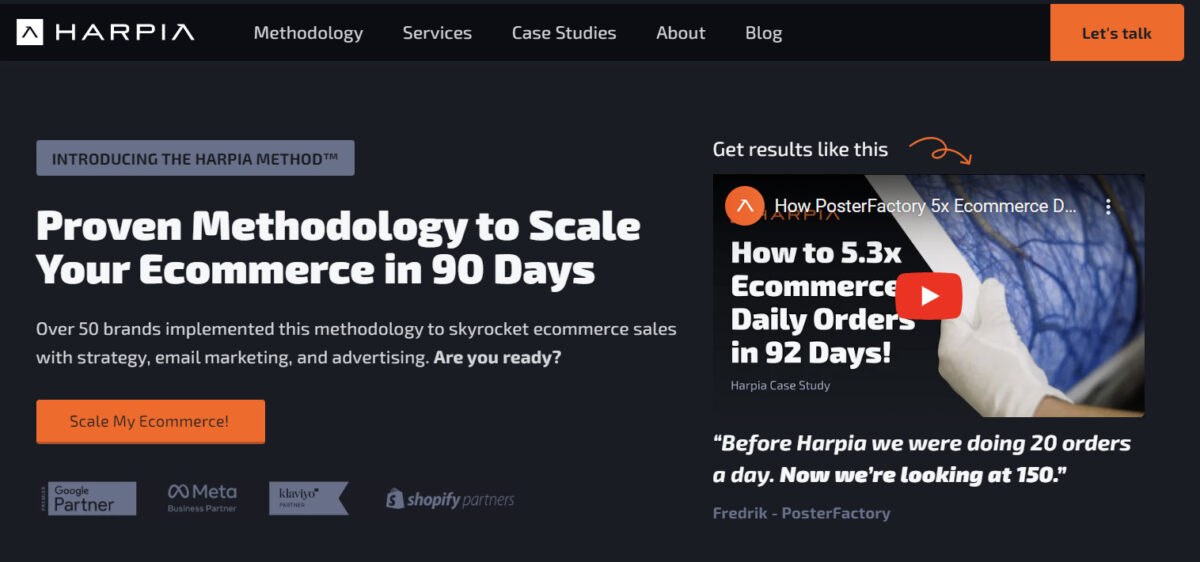 Pricing Info: Minimum Project Size is $1,000+ | Average Hourly Rate is $100-$149
Location: Walnut, California
At Harpia, your SMS marketing campaigns are elevated to become powerful tools for customer engagement and interaction. Specializing in creating personalized email and SMS strategies, Harpia ensures each of your campaigns aligns seamlessly with your overall marketing objectives. This agency is particularly adept at developing campaigns that speak directly to your audience, making them a preferred partner for enhancing your customer engagement strategies.
With Harpia, your SMS marketing is not just about sending messages; it's about crafting conversations that lead to meaningful customer interactions. Their expertise in developing targeted campaigns tailored to your business needs sets them apart in the SMS marketing arena. If you're looking to engage your customers in a more personal and impactful way, Harpia's tailored SMS marketing services are an excellent choice. They offer the perfect blend, ensuring your SMS efforts are not only noticed but also remembered by your audience.
---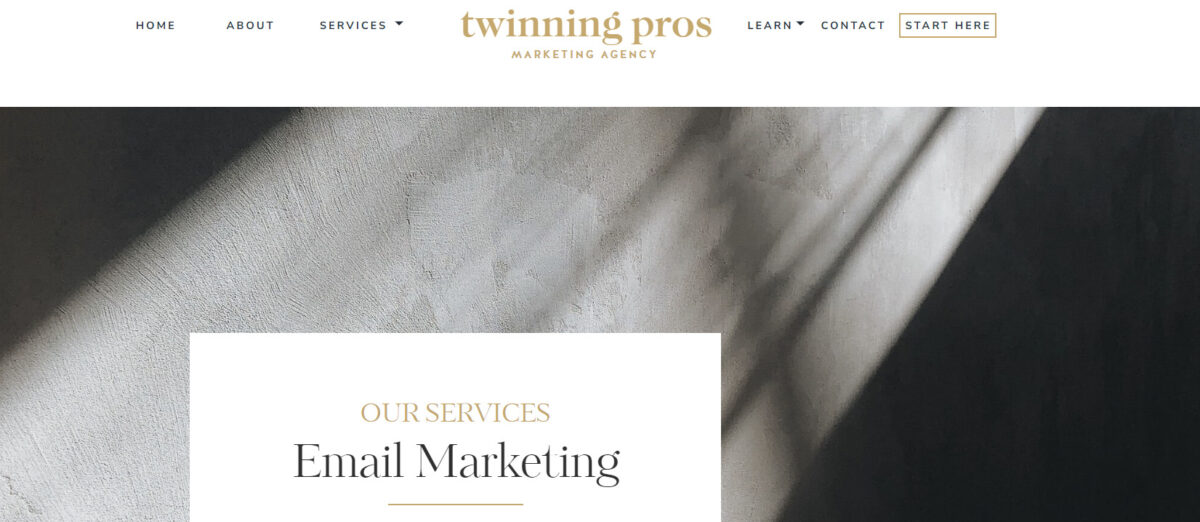 Pricing Info: Minimum Project Size is $1,000+ | Average Hourly Rate is $150-$199
Location: Destin, Florida
With Twinning Pros, you get access to dynamic and personalized SMS and email marketing services. Their ability to craft innovative and highly customized marketing strategies ensures every SMS campaign they manage for you is uniquely designed to engage and convert your audience. Known for their creative flair in crafting compelling messages, Twinning Pros is an excellent choice for your business if you're aiming to create impactful and memorable SMS campaigns.
If you're seeking an agency that combines innovation with a deep understanding of your unique marketing needs, Twinning Pros is your go-to. They excel in creating SMS marketing campaigns that not only reach your audience but also resonate with them, ensuring your messages are both seen and felt.
---

Pricing Info: Minimum Project Size is $1,000 | Average Hourly Rate is $150-$199
Location: Roseville, California
As a partner to high-growth, innovative brands seeking to make a global impact, Transparent Digital positions itself as an agency that transcends the traditional boundaries of SMS marketing. Recognizing the power of mobile engagement, the agency leverages a potent mix of SMS strategy, sophisticated copywriting, and bespoke design to craft messages that resonate with a diverse clientele.
Their meticulous approach to analytics ensures every campaign is data-driven, allowing for precise targeting and list growth that speaks directly to a multicultural audience. At the core of Transparent Digital's service is the development of scalable retention marketing systems. These are tailored to foster repeatable and predictable outcomes, pivotal for brands aiming to maintain a compelling dialogue with their customers through SMS. Their execution of segmentation and timed delivery is rooted in extensive research, ensuring your message is not only heard but felt.
---
What is SMS Marketing Service?
SMS marketing is a digital marketing strategy that utilizes text messages to communicate promotional or informative content directly to customers via their mobile phones. This method is favored by businesses for its efficiency in reaching a wide audience, given the ubiquitous nature of mobile phones. SMS marketing allows companies to send messages that are direct, personal, and often receive higher engagement compared to other mediums like email.
This marketing approach is also recognized for its cost-effectiveness and immediacy, making it particularly suitable for time-sensitive promotions or updates. SMS campaigns can be tailored and personalized, which increases their relevance and impact on the intended audience. Moreover, the effectiveness of these campaigns can be readily measured, providing valuable insights into customer engagement and preferences.
Businesses using SMS marketing need to navigate certain legal considerations, such as obtaining consent from message recipients and ensuring there's an easy way for them to opt out of receiving future messages. This compliance is crucial to maintain trust and a positive relationship with customers.
---
How much does SMS marketing cost?
The cost of SMS marketing can vary, depending on several factors such as the provider, the plan chosen, the number of messages sent, and the location.
Here are some specific examples of pricing:
Agency Pricing Example

SimpleTexting offers various plans, with their Core Plans starting at

$39.00

per month or

$398.40

if billed yearly. This plan starts with 500 SMS messages or 500 credits, and prices increase with the number of messages, offering options for 1,000, 2,000, 3,000, and up to 50,000 text messages. Extra credits are billed at

$0.55

each. For more than 50,000 monthly messages, you need an enterprise quote.

International SMS Marketing Pricing

For international SMS marketing, the cost typically ranges between

$0.25

to

$0.50

per message. This variation is due to different carrier fees and SMS regulations in various countries, although some service providers might reduce costs through partnerships with local carriers.

Standard Long Code Number Costs

The cost for a standard long code number, which is often used for applications like appointment reminders or two-factor authentication, ranges from

$1

to

$2

, with an additional

$0.2

to

$0.5

per text message.

General SMS Marketing Costs

Generally, the cost to send an SMS text message is between

$0.01

to

$0.05

. MMS texts, which can include more characters and data like emojis, images, and brief videos, are slightly more expensive. International texts may also incur higher costs.

Average Cost per Send

The average cost per send for an SMS in a marketing context is reported to be around

$0.07

.
These figures highlight that the cost of SMS marketing is highly variable and dependent on specific needs and contexts.
It's important for businesses to consider their specific requirements and compare different providers and plans to find the most cost-effective solution for their SMS marketing campaigns.
---
What's the Impact of SMS Marketing?
SMS marketing, a pivotal component of digital marketing strategies, has shown remarkable efficacy in driving conversions. The immediacy and personal nature of SMS messages contribute to their high open rates, often exceeding 90%, significantly higher than email marketing. This immediacy translates into impressive conversion rates.
Statistics reveal that SMS marketing campaigns can achieve conversion rates as high as 45%, according to SalesForce. This is a stark contrast to the average email marketing conversion rate of around 3%. This difference is attributed to the direct and concise nature of SMS messages, typically read within minutes of receipt. Moreover, SMS marketing boasts a click-through rate (CTR) of around 36%, dwarfing the CTRs of other digital marketing channels.
The effectiveness of SMS marketing is further highlighted in the retail and e-commerce sectors. Retailers leveraging SMS marketing report up to $71 for every dollar spent. These statistics underscore the potential of SMS marketing in not only reaching customers but also compelling them to take action.
In summary, the impact of SMS marketing on conversion rates is undeniable. Its ability to deliver concise, targeted messages directly to consumers' mobile devices makes it a powerful tool for businesses seeking to enhance their customer engagement and drive sales.
---
Comparing the ROI of SMS Marketing to Email Marketing
When evaluating the return on investment (ROI) of SMS marketing compared to other digital strategies, such as email marketing, several factors come into play. SMS marketing, known for its high engagement rates, offers a unique value proposition.
The ROI of SMS marketing is often higher than that of email marketing. Email marketing, while cost-effective, typically yields an average ROI of $40 for every $1 spent. In contrast, SMS marketing offers a much higher ROI, which we already mentioned, at $71 for every $1 spent.
One of the key reasons for this high ROI is the direct and personal nature of SMS messages, leading to higher open and engagement rates. Additionally, the cost of sending SMS messages is also low, contributing to a higher ROI. When integrated with other digital strategies like email marketing, social media, and SEO, SMS marketing can complement and enhance the overall effectiveness of a digital marketing campaign.
However, it's important to note that the success of SMS marketing depends on various factors, including message relevance, timing, and audience segmentation. When these factors are optimized, SMS marketing can significantly outperform other digital strategies in terms of ROI.
In conclusion, while each digital marketing channel has its strengths, SMS marketing stands out for its high engagement rates and potential for exceptional ROI, making it a valuable addition to any digital marketing strategy.
---
Conclusion
It's clear that SMS marketing services are not just a trend but a crucial element in the modern marketing mix. These services offer a direct and personal way to reach customers, providing businesses with a unique opportunity to engage, inform, and convert. Whether you're a small startup or a large corporation, incorporating SMS marketing into your strategy can lead to significant improvements in customer relationships and business growth.
Frequently Asked Questions
How does SMS marketing integrate with other digital marketing strategies?
SMS marketing integrates seamlessly with other digital strategies by providing a direct communication channel. It complements email marketing for time-sensitive offers, supports social media campaigns with instant notifications, and enhances SEO efforts by driving traffic to optimized web pages through links in messages.
What are the compliance considerations in SMS marketing?
Compliance in SMS marketing involves adhering to regulations like the TCPA (Telephone Consumer Protection Act) and GDPR for European customers. It requires obtaining explicit consent from recipients, providing clear opt-out options, and ensuring message content is appropriate and respects privacy standards.
Can SMS marketing be personalized for different customer segments?
Yes, SMS marketing can be highly personalized. By segmenting your audience based on demographics, purchase history, or engagement levels, you can tailor messages to meet the specific interests and needs of different groups, enhancing relevance and effectiveness.
How do analytics and reporting work in SMS marketing campaigns?
Analytics in SMS marketing involve tracking metrics such as delivery rates, open rates, click-through rates, and conversion rates. Reporting tools provided by SMS marketing platforms offer insights into campaign performance, enabling businesses to refine their strategies for better results.
What are the latest trends in SMS marketing technology and strategies?
Current trends in SMS marketing include the integration of AI for personalized messaging, the use of rich media like images and videos, automated chatbots for instant customer service, and the incorporation of interactive elements like polls and surveys to engage recipients actively.
What are the cons of SMS marketing?
SMS marketing, while effective, can be seen as intrusive if not managed properly, potentially leading to negative perceptions of a brand. It also faces strict legal and compliance requirements, such as obtaining consent and providing opt-out options. Additionally, the limited character space restricts the amount of information that can be conveyed, and the per-message costs can add up, especially for larger campaigns.