British brands wishing to work with a local influencer agency have a range of possible options. There are a surprisingly large number of influencer agencies in the UK.
Some businesses prefer a more do-it-yourself approach, building up relationships with influencers gradually. Yet this can be a hit or miss scenario. If you try and find influencers yourself, there is no guarantee that the influencers you woo will have any interest in working with you. When you work with an influencer agency you know that your efforts will not be wasted.
There is another advantage for British firms working with locally-based influencer agencies in the UK. They know that these influencers will understand the market. They talk in pounds and pence and remember to put the "u" in colour. If you work with an international agency there is always the risk that their influencers aren't influential in your target UK market.
Here are eight influencer agencies in the UK who could create the perfect influencer marketing campaign for your brand.
---
Leading Influencer Marketing Agencies in the UK for 2022:
---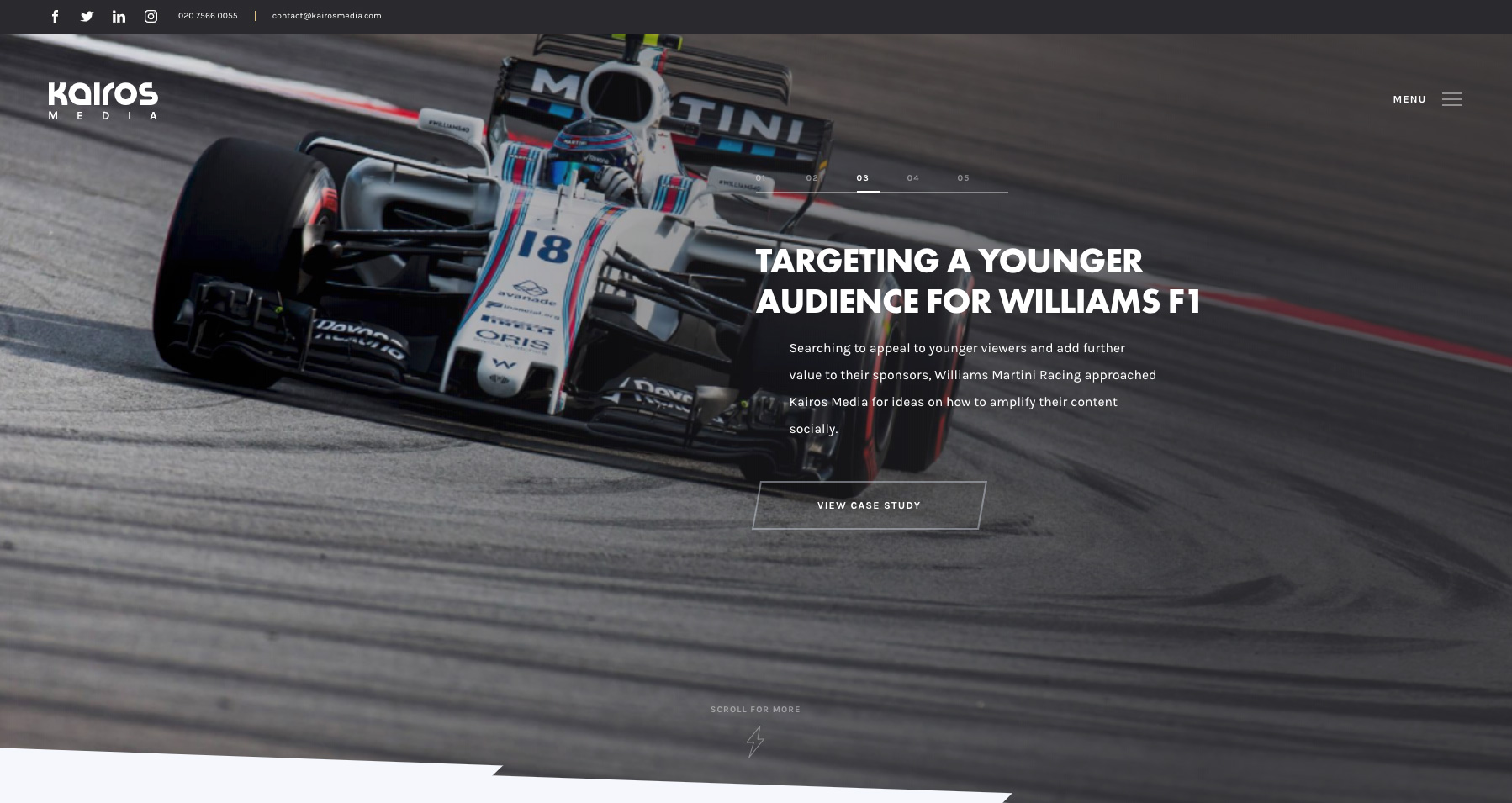 Kairos Media acts as a global full-service digital communications agency, with offices in both London and Hollywood. They believe passion to be their heart.
Kairos aims to create authentic, memorable campaigns powered by insight, data, and creative. They love telling stories and collaborating with leading content creators to generate audience engagements. They aim to produce content that is beneficial to brands, entertaining for audiences and unique every time.
Kairos prides itself in being entirely driven by data. They focus on analytics to ensure that their clients' audiences are targeted, excited, and converted.
They see their service as a five-step process:
Creative Review – they recognise that every project needs (and deserves) a different approach and their creative team are ready for the challenge.
KPI Alignment – Kairos carefully reviews key performance indicators, campaign objectives and the wider marketing strategy to ensure that the most appropriate digital communications service is selected
Strategy Selection – Kairos looks at a range of options here – social creative, influencer marketing, eSports, video production or something far more bespoke
Campaign Execution – they offer a full-service, end-to-end project management solution
Reporting – Kairos provides clients with a detailed presentation showcasing precisely what they have achieved, highlighting the success of the campaign and the benefit to the brand.
Kairos works with clients across a range of sectors, including eSports, lifestyle and travel, mobile and gaming, food and drink, sports, and fashion and beauty.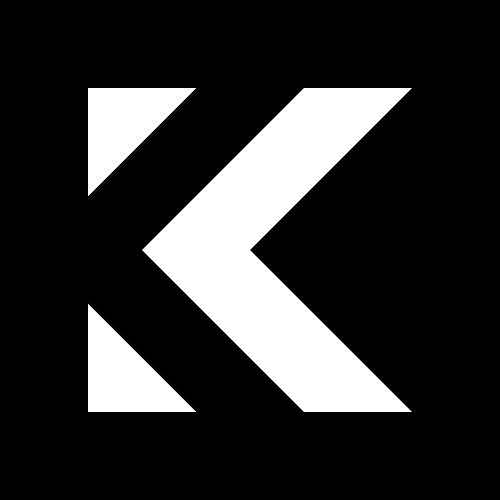 Kairos Media, one of the founding agencies of the influencer marketing scene, is now one of the fastest growing social-first creative agencies in the UK. And they've bagged the awards to prove it. ...
---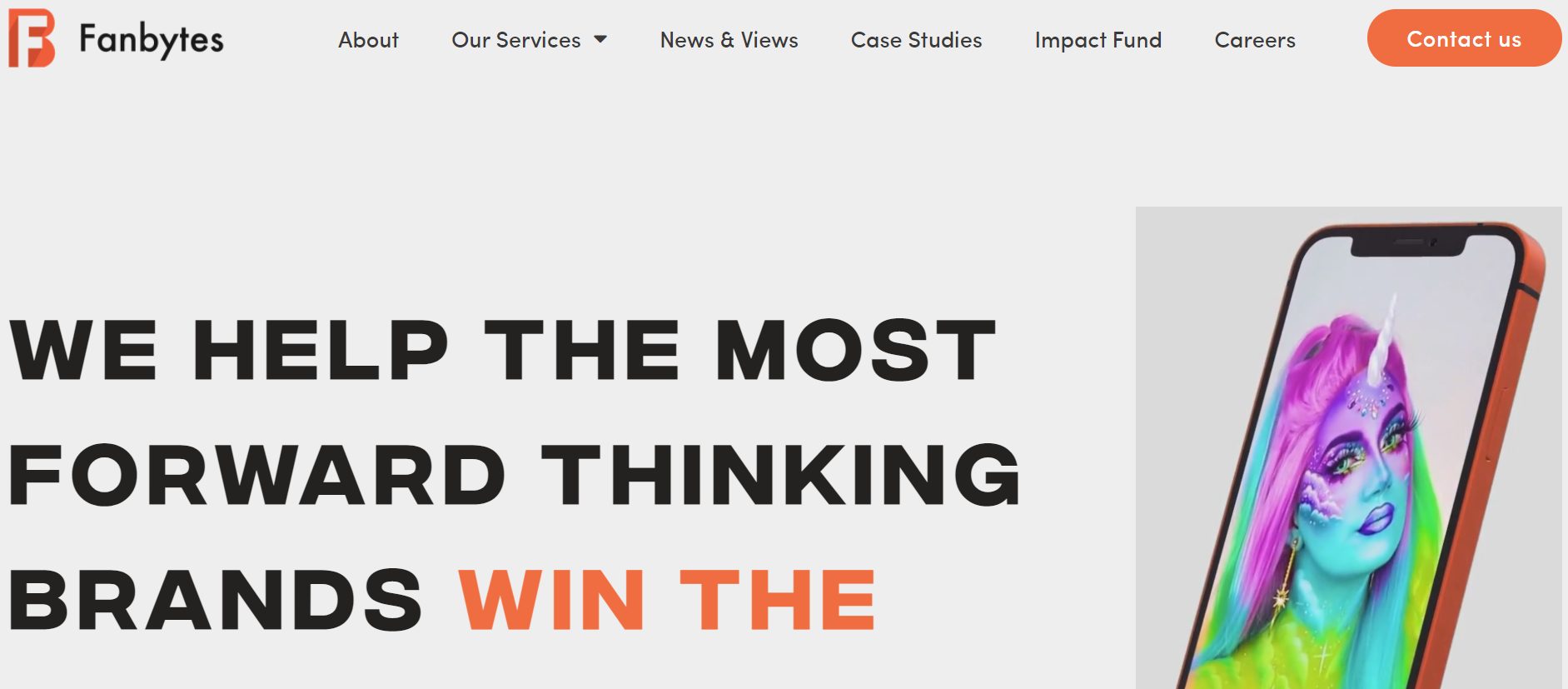 London-based Fanbytes is an award-winning influencer marketing agency focusing on Generation Z. Even their CEO, Timothy Armoo, at 24 years old, is part of that generation. They have a team of social media and influencer marketing experts who help brands to engage Gen Z audiences in the most interactive ways on the planet.
You might notice that we have included Fanbytes in our Platform reviews section. This is because they are one of a small number of influencer agencies who have created a platform that they both use in-house and make available to brands wanting to do the legwork of finding influencers and running campaigns themselves.
Fanbytes has a clear mission that they place front and center on their website: "We help the most forward-thinking brands win the hearts of Gen Z." This again emphasizes whom the agency is targeting. They don't claim to be experts at creating campaigns targeting Baby Boomers. Instead, they offer influencer marketing to "unlock Gen Z through data-led influencer campaigns on TikTok, Instagram, Snapchat & YouTube."
The company also has a talent management arm they call Bytesized. This manages over 40 of the UK's biggest and best Gen Z content creators. These include Bytesquad – six top TikTok creators who lived and created from Europe's first TikTok House during the first 2020 lockdown. Bytesized creators provide brands with direct connections to their hugely engaged Gen Z audiences. Brands can work directly with the Bytesized team, or Fanbytes clients can tap into the Bytesized managed talent at any point.
Fanbytes can name multiple high-profile clients, including Burger King, H&M, Samsung, Deliveroo, Clinique, Vestiaire Collective, McVitie's, Ubisoft, and Universal Music Group.
They are also proud to have launched the Fanbytes Impact Fund in 2020. This is a £250K fund dedicated to helping black-owned businesses and black creators get to the next level.
---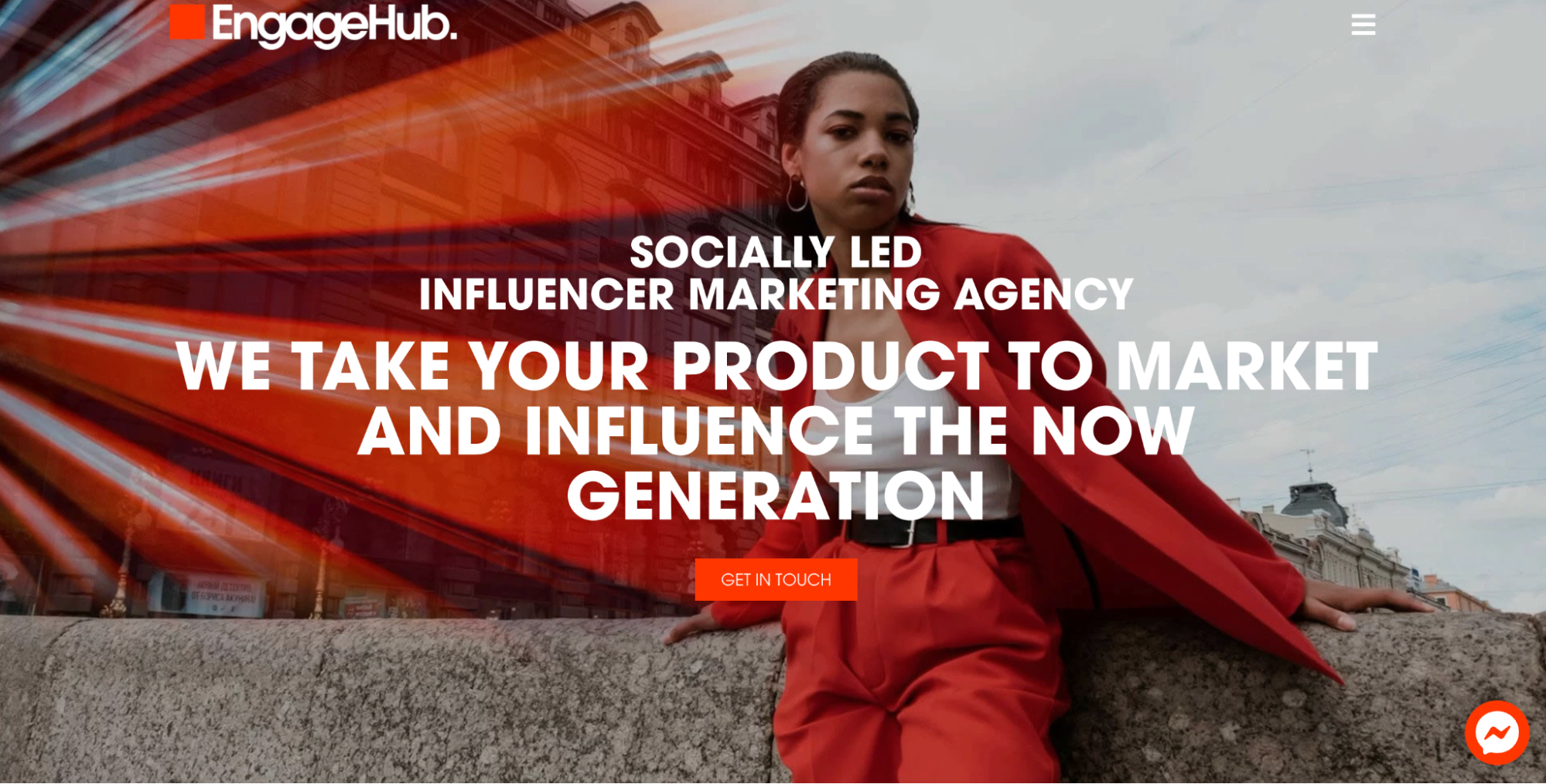 Engage Hub operates from Manchester, London, and Dublin. They describe themselves as a socially led influencer marketing agency that takes your product to market and influences the "now" generation.
They split their services into:
Influencer marketing

Creative & production

Paid media

Social commerce

Social media management
They have so far delivered more than 1000 global influencer marketing campaigns. They take their clients' brand values and partner with authentic influencers, launching their products to the masses and achieving spectacular results. Their recent clients include Brit Awards 2020, Staropramen, Just Water, Asos, Hello Fresh, SodaStream, Mars, and Universal.
Their full-service, integrated approach means they cover all the elements needed to deliver campaigns that turbocharge your commercial goals. They can manage everything in your strategy, from the influencers you need to work with all the way to deploying your campaign. Their way of delivering influencer marketing ensures your budget is spent to achieve maximum reach and ROI. They happily work with nano, micro, and mid-level influencers with some of the most engaged audiences in the world across Instagram, Facebook, YouTube, TikTok, Twitch, Twitter, LinkedIn, and Snapchat.
Engage Hub works with high-quality analytical tracking software, keeping track of your campaign progress, analyzing data, and even making changes to your digital depending on the data they receive from your campaigns. They ensure that posts released on your behalf are as fully optimized and profitable as possible.
You can work with Engage Hub to build the right content for your brand and the platforms and influencers of your choice. The agency's in-house content production team of photographers, videographers, designers, and influencers creates your content that will convert.
---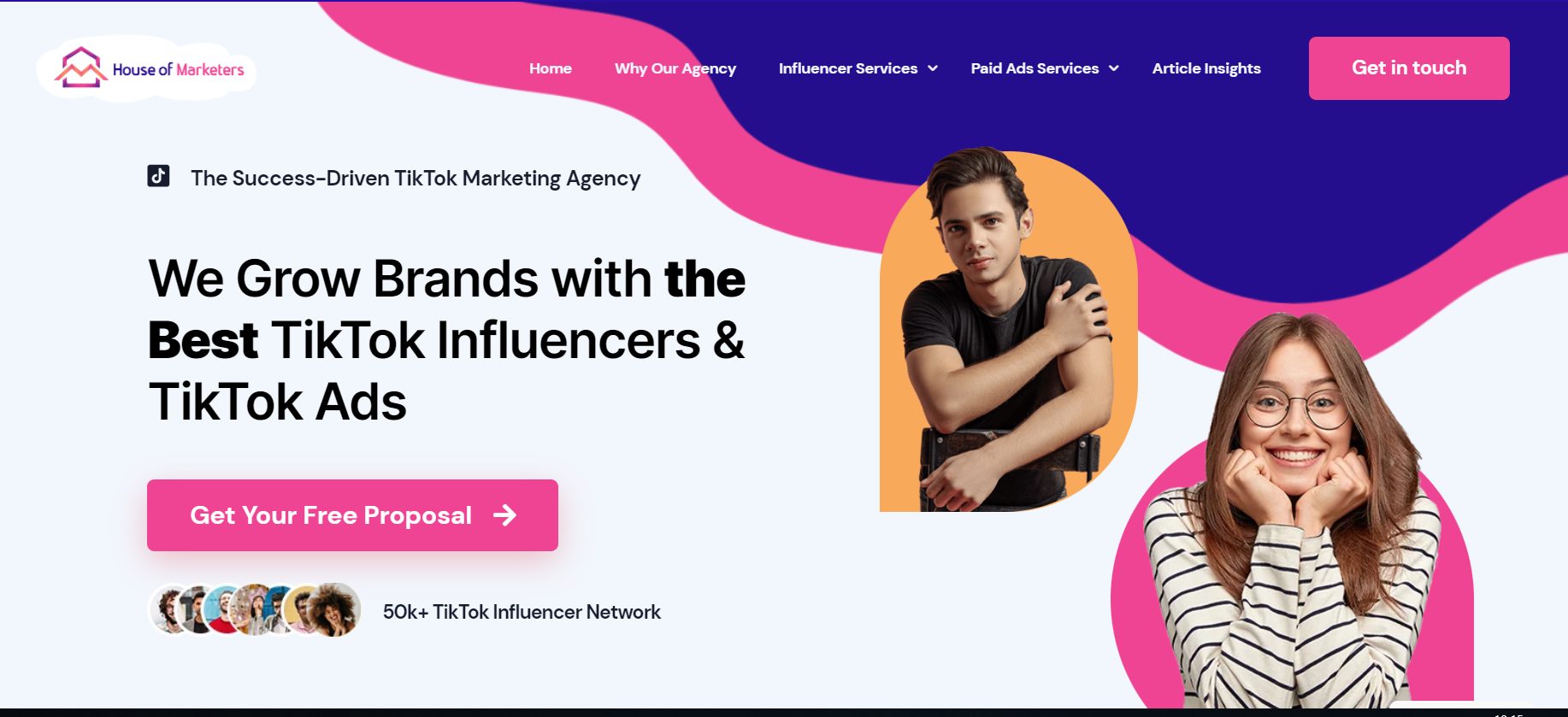 Nottingham-based House of Marketers is a success-driven TikTok marketing agency. Their Co-founder and Managing Director, Inigo Rivera, was one of TikTok's first employees as a Strategy and Partnerships Manager. Therefore, he knows how TikTok works and the best strategies for growing on the platform. Inigo wasn't at TikTok for long before discovering exactly how powerful TikTok can be in engaging and converting audiences than other platforms. When he later formed House of Marketers, it became his goal to lead ambitious global brands through the power of TikTok.
House of Marketers believes they are one of the best TikTok marketing agencies for leading brands. With clients like Red Bull, Baidoo, Hello Fresh, Paris Saint-Germain, and Playstika, they have had little trouble attracting quality, high-profile clients.
Their services include full-service influencer campaigns, TikTok ads management, TikTok brand profile building, and influencer strategy development.
House of Marketers partners with both large, high-profile TikTok creators with leading engagement rates and views and micro-influencers with smaller dedicated followings but a strong digital footprint within TikTok. Together, House of Marketers' in-house team and influencers generate positive, long-lasting brand recognition for companies.
When starting a campaign, House of Marketers takes a deep dive into your brand, audience, and industry to help you work with the best influencers and create compelling content that resonates with TikTok's core audience. They assist you in establishing goals for your TikTok influencer campaign and deciding on the messaging of your campaign. The agency matches brands with the most appropriate TikTok influencers for their respective niche markets, campaigns, and objectives.
---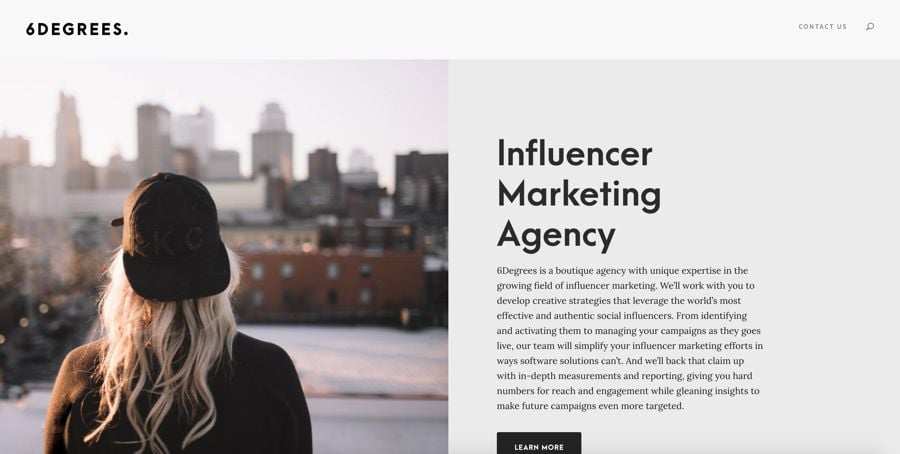 6Degrees is a boutique influencer marketing agency based in Copenhagen, Denmark, with satellite offices in London and New York.
They offer a range of influencer marketing services, including influencer identification, relationship management, campaign management, campaign measurement, and campaign reporting.
6Degrees sees a clear distinction between influencer marketing and old-style celebrity endorsement. They know that follower numbers are not everything. It is genuine engagement with keen and enthusiastic supporters that makes an influencer important, rather than just playing the numbers game to seem important.
They view a brand's marketing as being a story to tell audiences, and they are happy to help their clients write their story, and package it in the most enticing way possible.
They make a point of encouraging a brand to set clear campaign goals, and they then do all they can to help meet these goals. Their aim is to find the best influencers to narrate the story in an authentic and realistic way. They also understand that as important as engagement is to any campaign, many brands have other campaign goals they want to meet. Campaign success measurement needs to be focused on how well the selected influencers succeed in helping the brand meet its objectives.

6Degrees is a boutique agency, located in Copenhagen with unique expertise in the growing field of Influencer Marketing, focusing on European Brands and Influencer Campaigns. 6Degrees works with you t...
---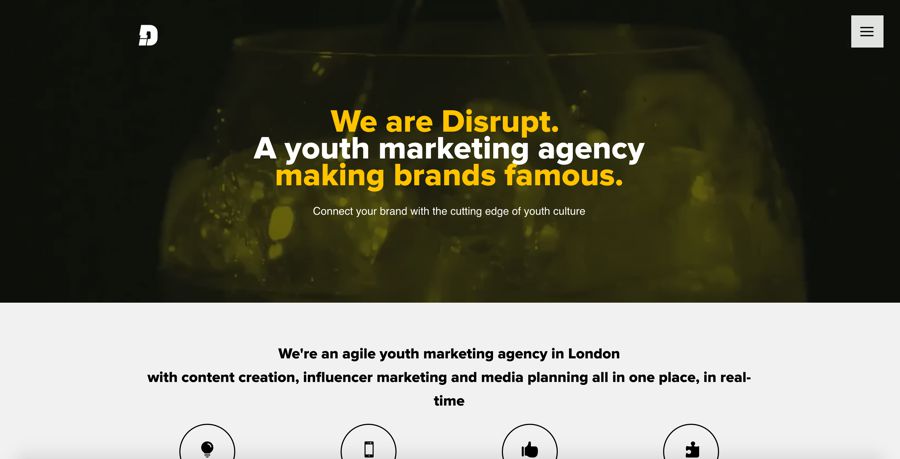 Disrupt describes themselves as an agile youth marketing agency in London who reaches over 100 million millennials each month. They combine content creation, influencer marketing and media planning.
Their influencer marketing work includes finding influencers, talent alignment, media partnerships and licensing. They also put a large emphasis on creating social content – production, short-form, long-form, GIFs, and graphics.
The agency's founders, Matt Thorne and Phil Kemish, met while working on GRM Daily – the UK's largest urban entertainment platform. They both had a passion for youth culture. The team has had a key role in pioneering early branded content for the UK urban scene.
They call their young talent their Disruptors – a team of content creators, bloggers, artists and social influencers.
One of their recent campaigns was for Alize. They built up a #AlizeArmy influencer network of more than 100 artists, creatives, influencers and publishers. They initiated 15 event partnerships which drove brand awareness, aligning the brand with other culturally relevant brands. They also arranged product placement in music videos. These featured artists like Big Narstie, Angel, Skepta and Cadet.


We are Disrupt. We're a UK based Social, Content and Influencer Marketing Agency. We make brands famous!...
---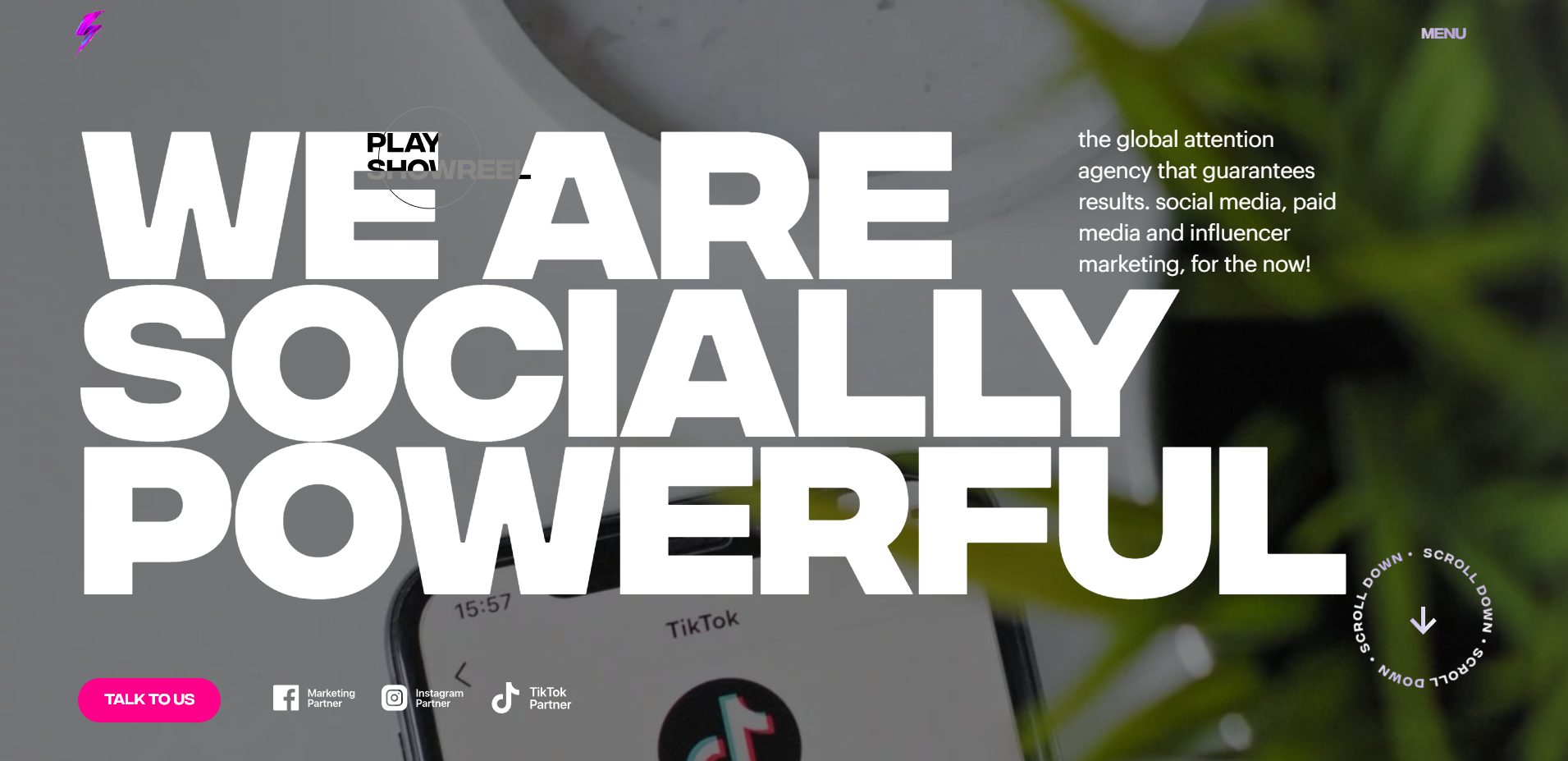 Socially Powerful works to connect brands with leading social influencers in a range of verticals. These include sports, lifestyle, gaming, entertainment, fashion, beauty, food and tech.
Although they are London based, Socially Powerful is happy to take clients worldwide. They work with more than 5,000 global and influencers across a wide range of social media platforms – YouTube, Facebook, Instagram, Snapchat, Vine and Twitter.
They believe in telling brand stories through influencer marketing. They provide a single access point for brands to communicate with influencers who can spread brand messages.
Socially Powerful makes recommendations to brands about who they believe will be the most suitable influencers for a particular campaign. They target these to particular campaign objectives.
Of course, they are far more than just a platform where businesses can find influencers. They are also a creative agency and provide credible, engaging, original content tailor-made for influencers to use with their audiences.
Socially Powerful provides a full array of analytics to help businesses gauge the success of their influencer campaigns.
Of course, they also work with influencers to help them grow their profile. They provide talent management and even provide workshops for influencers so they can learn from the masters.
---
Staffordshire-based Tamba calls itself an all-in-one web design, influencer marketing and social media agency.
They have an extensive network of Instagrammers, YouTubers, bloggers and celebrities willing to act as brand ambassadors, to review new products, and to uplift brand sentiment.
Tamba lists its influencer marketing services as:
Influencer marketing campaign strategy
Proposition creation and media pack development
Celebrity endorsements
Blogger outreach
Talent management
Contract negotiations
Competitions and prize fulfilment
Creation of apps and engagement campaigns
Utilising niche channels such as Periscope, Snapchat, Vine, and Blippar
Media planning and buying
Although Tamba is British based it operates an international influencer network, and are happy to run campaigns across the globe.
They are even prepared to go offline in some of their promotions and list flash mobs among their experiential/viral services. They also offer more traditional services such as event management and promotions.
---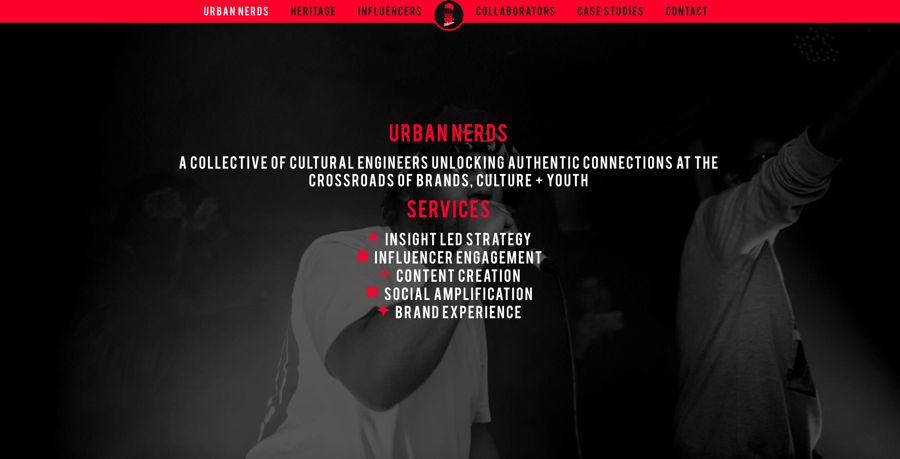 Urban Nerds Collective has a somewhat unusual background for an influencer marketing agency. It grew out of London's Urban Nerds crew who promoted quality underground parties. They were a team of youth promoting youth activities.
In 2013 this expanded into youth marketing. This gave them the opportunity to further find youth stars and promote their cultural influence.
They provide a range of services including:
Insight led strategy
Influencer engagement
Content creation
Social amplification
Brand experience
In keeping with their origins, Urban Nerds Collective has a firm focus on promoting talented youth and amplifying youth culture. They navigate the full spectrum of cultural influence; working where trends are created and culture truly shaped.
They can claim to have collaborated with a wide range of brands including G-Shock, Heineken, BBC, Converse, Puma, Red Bull, Dr Martens and Lynx.
One of their campaigns involved the global launch of #DMsLITE, a Dr Martens product innovation. Urban Nerds devised and delivered the influencer engagement and content marketing strategy for the UK. They worked with influencers in a campaign that included product seeding, user-generated content, branded content and live music activations. The campaign resulted in a reach of 7 million and 200,000 views.
---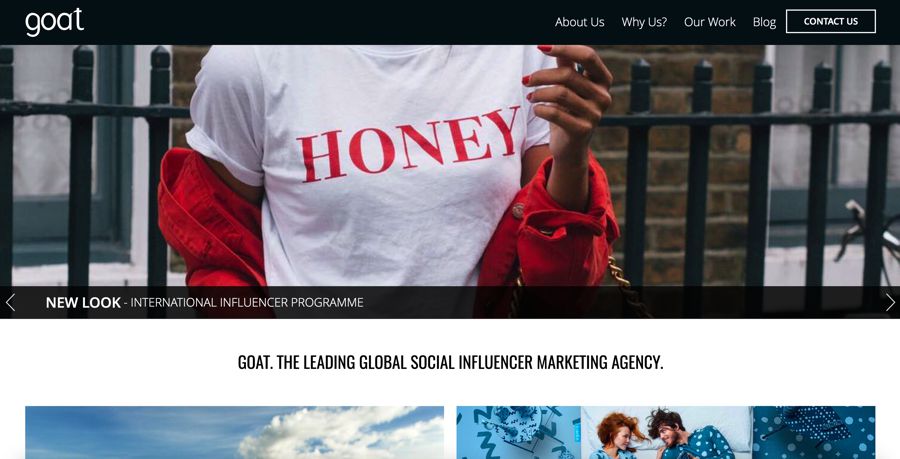 London-based Goat Agency is happy to provide campaigns worldwide. They currently operate campaigns covering, North and South America, Australia, Southern Asia, North Africa, various European countries, as well as their UK home base. Their clients include well-known brands such as Malibu, Formula E, KFC, British Airways, Asics and Adidas. They are a young team, whose founders are still aged only 30, 28 and 22.
They consider themselves a completely neutral influencer agency. They base their selections of influencers for client campaigns on data gathered from their CRM system. To date, they have worked on over 1,200 campaigns and used 30,000 influencers. They do not represent any influencers directly, therefore they select influencers for each campaign based on the brands needs and campaign goals rather than obligation to channels.
Goat emphasises the importance of the data they collect. They tell you for each potential influencer:
their followers
average views
engagement rates
the number of clicks
conversion rate
the average value of sales made as a result of their posts.
When a brand asks Goat to set up an influencer campaign for them, Goat begins by pinpointing the client's online community. They then use unique data to analyse the best performing influencers in that community, most likely to hit the client's KPIs.
Using key data they narrow down potential influencers to the most relevant. These will have the best experience of meeting client needs. They then rank these influencers and speak with each one in order of preference.
When an influencer agrees to take part, Goat sets up the campaign. Goat manages the entire influencer marketing process for the campaign.
---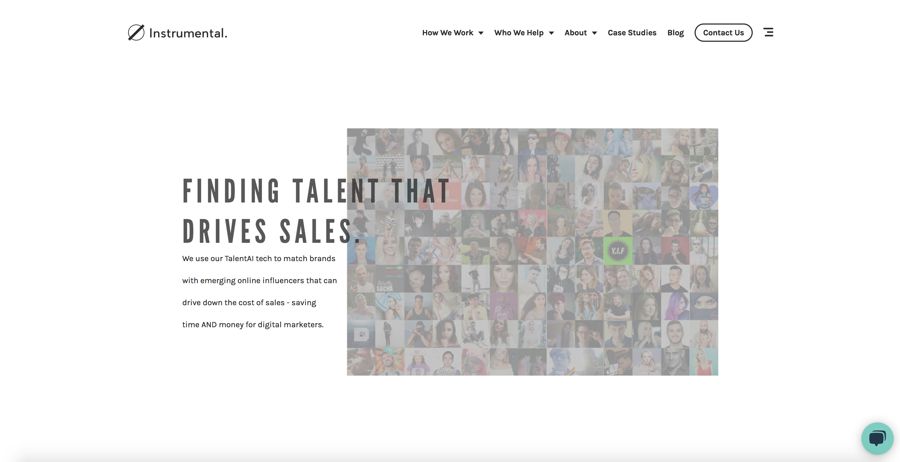 London-based Instrumental is part of the Blenheim Chalcott (BC) portfolio of businesses. They find talent that drives sales. They use their tech to save brands and marketers time and money in influencer marketing.
It grew out of a desire to find the next big music act. Many artists now post demos online rather than going to a record label. Instrumental was looking for some way of finding promising demos on social media before they simply sunk from view.
Instrumental built social API tracking capabilities, talent filters and machine learning to identify growth potential. This was the world's first tech-driven A&R tool. Today, it is used by Warner Music to scout talent.
In 2016, Instrumental widened the capabilities of its digital scouting platform, to find non-musical talent online. It now uses it to identify emerging influencers in virtually every imaginable field.
The technology finds high potential artists and influencers across the key video platforms – YouTube, Facebook, Instagram and Twitter. It then tracks these influencers and evaluates there influence on a daily basis.
Having determined the people they consider most influential, Instrumental works with clients to build relevant campaigns. Their services include talent liaison, fee negotiations and content tracking.
They work with social talent, artists, labels and brands to maximise their social media presence. They create strategies across YouTube, Facebook, Instagram, Twitter, Musical.ly and Snapchat.
The main types of brands that Instrumental work with are:
Consumer brands
E-commerce
Digital and communications agencies
Game and app publishers
Music labels, promoters, and publishers
Book publishers
Television
YouTube networks
---
Conclusion
There are many talented influencer agencies in the UK. Perhaps in keeping with the young nature of the industry, quite a few of the agencies stress their youth. Indeed, several of them refer to themselves as youth marketing agencies.
There are many influential Brits operating blogs, vlogs, and high-powered social media accounts across the full spectrum of social media channels. It should be no surprise that influencer agencies have sprung up to help these people earn extra income and find products that their target audiences will love.
Brands operating in the UK have no shortage of choice when it comes to finding an influencer agency to meet their needs, make the process of working with influencers easy and make a perfect match for the brands and their clientele.