Advertising Disclosure
Advertising disclosure:
Our partners compensate us. This may influence which products or services we review (also where and how those products appear on the site), this in no way affects our recommendations or the advice we offer. Our reviews are based on years of experience and countless hours of research. Our partners cannot pay us to guarantee favorable reviews of their products or services.
Twitch came into its own earlier in 2022 when people were forced to while away their time at home, locked down thanks to COVID-19. They couldn't go outside much and had to find entertaining ways to relieve their boredom. According to the streaming software company StreamElements, Twitch viewership rose considerably during March. In one week, it increased by a full 10%. And this increase in Twitch viewership was evident around the world. Live-stream viewership grew 66% in the first few weeks of lockdown. The number of channels able to attract viewers doubled.
We have often written about the benefits for brands of using an influencer marketing platform. The platforms offer a range of tools for brands and agencies to help streamline their influencer campaigns. Many include discovery tools and searchable databases of potential influencers using smart algorithms.
Some influencer platforms specialize in one or a few social networks/streaming platforms. Twitch is relatively new on the social scene, but here is a collection of platforms that cater to clients wanting to use influencer marketing alongside Twitch's best streamers.
---
Top 10 Influencer Marketing Platforms for Twitch:
---
Top
influencer marketing platforms twitch
2024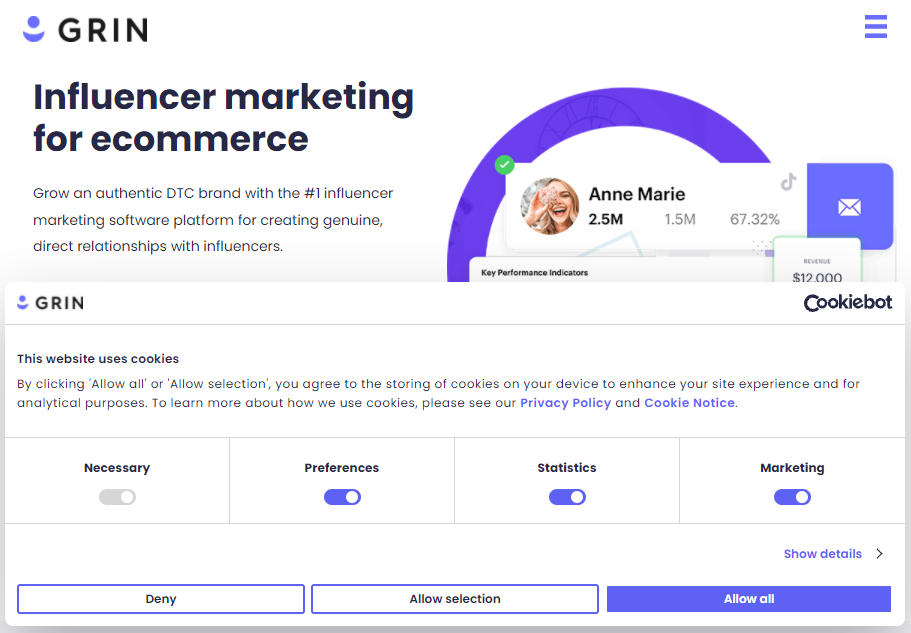 Grin places much emphasis on marketing to influencers. Before you can work with an influencer, a streamer in the case of Twitch, you first need to attract their attention and interest and build a trusting relationship with them. The other main focal point of Grin is eCommerce businesses.
For this reason, Grin integrates with your whole marketing stack, not just a few social platforms. Yes, they work with popular Twitch streamers and influencers on other major social networks, including Facebook, Instagram, TikTok, YouTube, and Twitter. But brands can also integrate Grin with their eCommerce software, e.g., Shopify, Salesforce, Magento, and WooCommerce) and communications software, e.g., Gmail, Slack, Office 365, and SMS.
Once you've found influencers who interest you, Grin automates the outreach process, starting with a template and then emailing each person individually from your mail domain. All the emails look like personal one-to-one messages.
You can automate the creation of special sales tracking links for each influencer that participates. Grin provides a real-time counter of sales you make as a result of the work of your influencers. It provides a sizable amount of data to give you a clear idea of each influencer's performance.

Key Features: Content Amplification, Search/Discovery, Influencer Lifecycle Management, Influencer Relationship Management, Content Review, Content Library, Campaign Management, Campaign Reporting, Influencer Analysis, Audience Analysis, E-commerce Tools, Product/Gifting Tools, Forms and Compliance,
Channels: Facebook, Instagram, TikTok, Twitter, Twitch, YouTube
---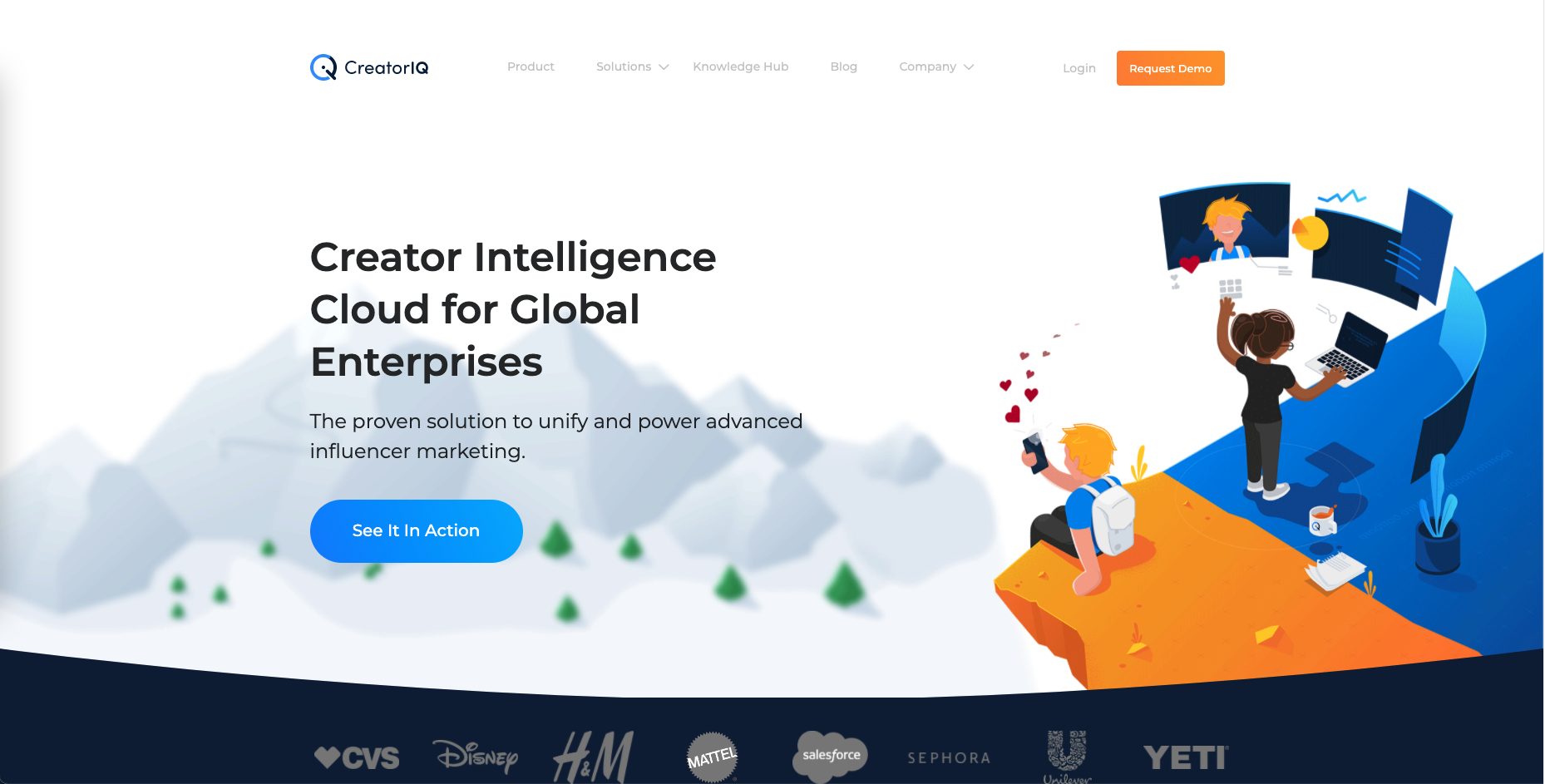 CreatorIQ offers a tool to assist people wanting to undertake influencer marketing on most of the better-known social media networks, as well as blogs. This list includes video streaming platforms, such as YouTube and Twitch.
It markets to large businesses and enterprises, with the smallest of its advertised clients, earning around $100m annually.
In 2022, CreatorIQ added two new, live streaming Twitch metrics to their platform: average views and peak views. The platform automatically tracks stream metrics once a creator is added to an active campaign. Creators do not need to authenticate to monitor these metrics!
With the addition of new streaming metrics, CreatorIQ's Twitch support allows you to:
Search among 40K+ Twitch creators in Discovery
Filter by Twitch followers to find Twitch creators in your CRM
Capture and monitor Twitch posts and metrics in your campaigns (including Followers, Video Views, Peak Views, Average Views)
Showcase key streaming metrics of Twitch creators in talent One-Sheets
CreatorIQ integrates directly with social platform APIs, and its AI-powered algorithm analyses over 1 billion public social accounts and their content, checking everything against a set of criteria. More than 15 million creator accounts are indexed on the system. Obviously, these are from all the social networks analyzed by CreatorIQ, not just Twitch.

Key Features: Search/Discovery, Automated Recruiting, Influencer Relationship Management, Content Review, Campaign Management, Campaign Reporting, Influencer Analysis, Audience Analysis, E-commerce Tools, Product/Gifting Tools, Forms and Compliance, Fake Follower/Fraud Detection, Payment Processing,
Channels: Facebook, Instagram, Twitter, YouTube, Pinterest, Twitch, Blogs
---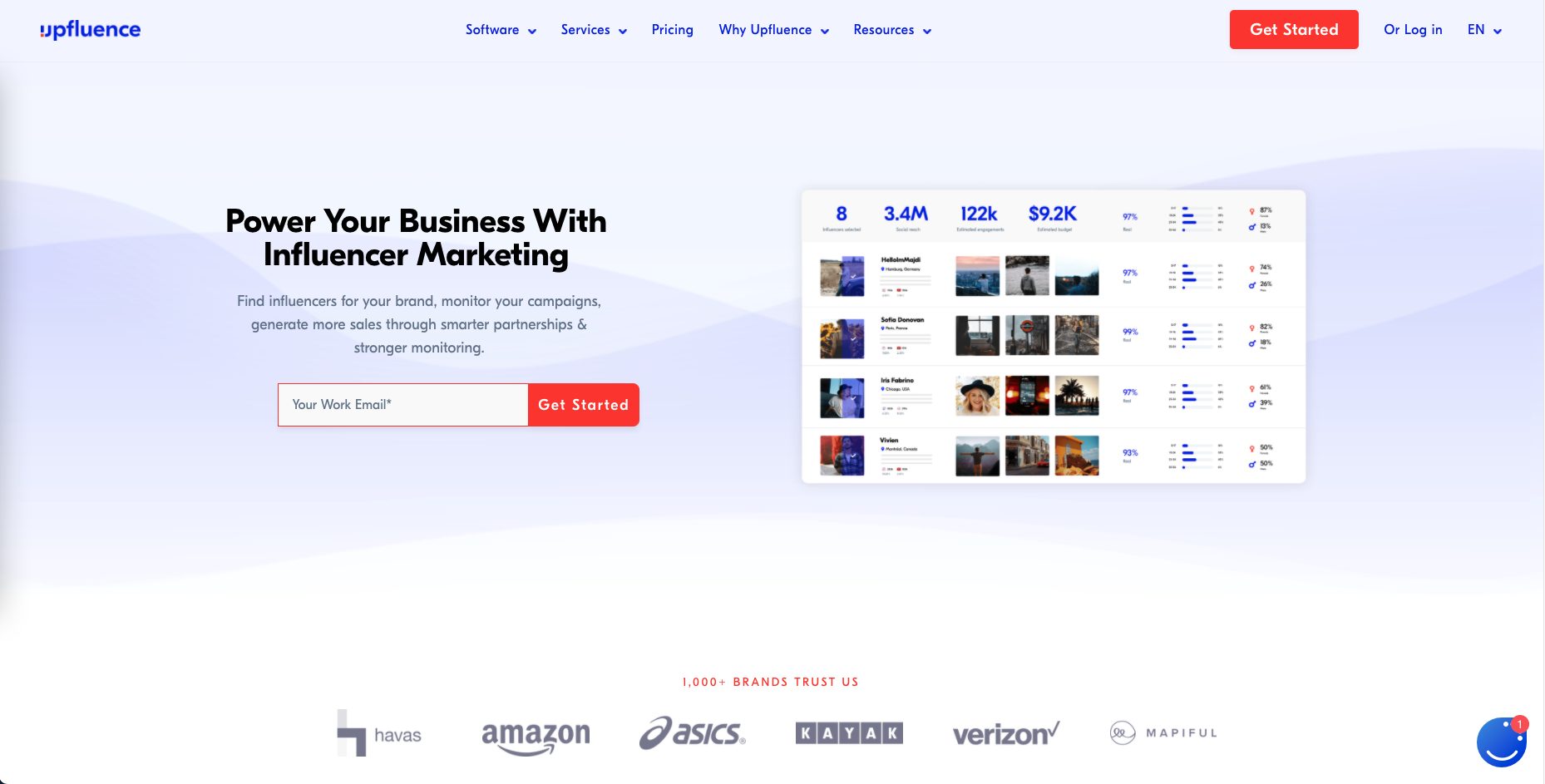 Upfluence also helps you find and work with influencers across a wide range of social networks: Instagram, YouTube, Facebook, Twitch, TikTok, Twitter, and Pinterest, as well as blogs.
Upfluence is built on a massive database. Every piece of content by the listed influencers is analyzed for reach and engagement. Presumably, in the case of Twitch, this focuses on archived broadcasts made by live streamers.
Brands and agencies can search through Upfluence to find influencers using as many keywords as necessary. You can place a relative weight on each keyword and end up with very precise results. You can export lists of potential influencers to CSV files and then add new columns of data that you can bring back into the platform.
With Upfluence's campaign workflow, you can run several influencer marketing campaigns at once and stay on top of influencer selection and offers.

Key Features: Influencer Search & Discovery, Relationship Management, Campaign Management, Third Party Analytics, Automated Recruiting, Influencer Lifecycle Management, Team Collaboration Tools, Content Review, Campaign Reporting, Audience Analysis, E-commerce Tools, Product/Gifting Tools, Payment Processing, Social Listening, Affiliate Management, Affiliate Campaigns,
Channels: Instagram, Youtube, Facebook, Twitch, Tiktok, Twitter, Pinterest, Blogs
---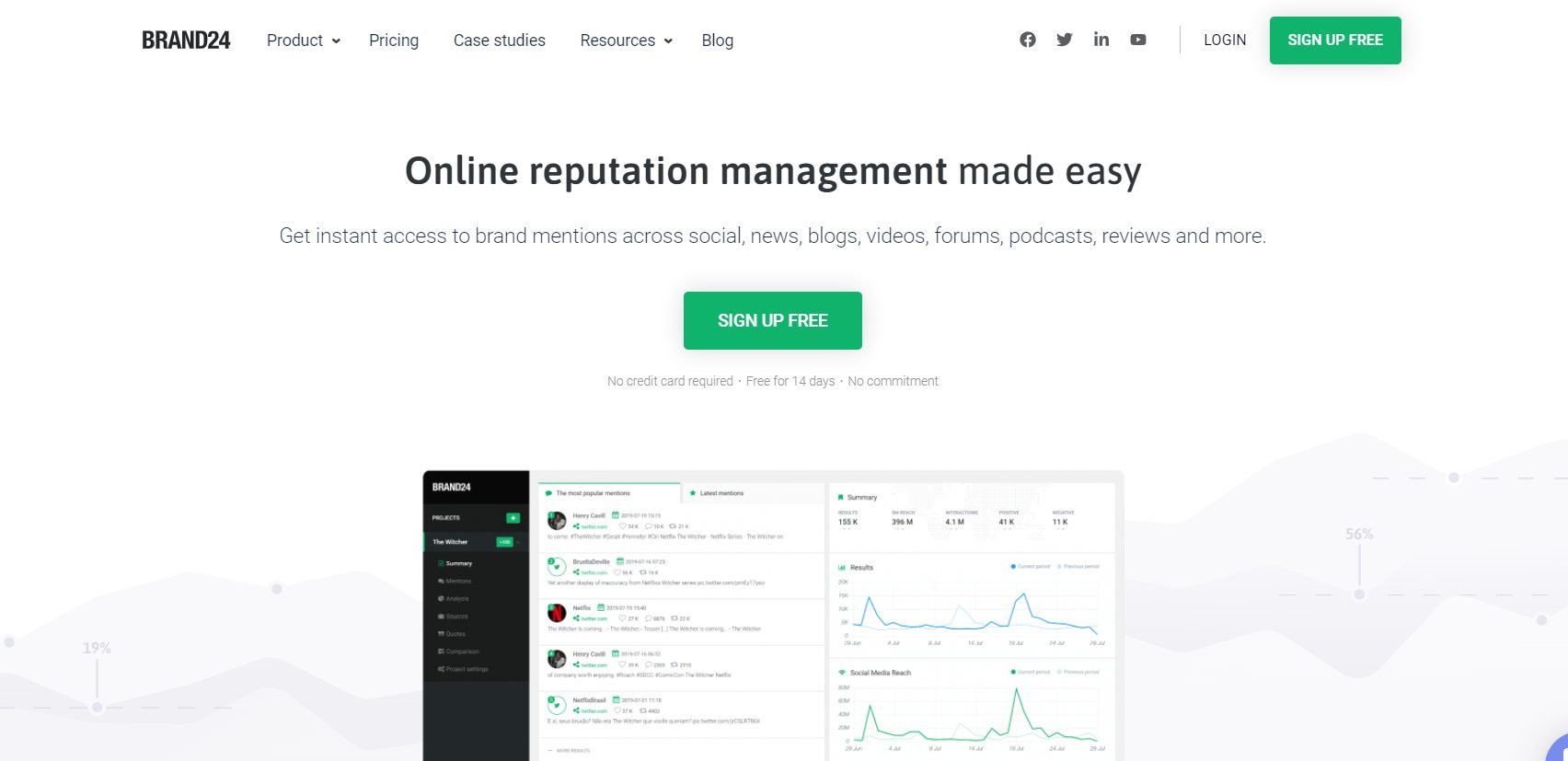 Brand24 takes a broader approach than most of the products listed here. It offers a series of tools useful for social media management (of your own company's accounts) and influencer marketing (working with successful category leaders on social media). Of course, in the case of Twitch, most brands aren't going to livestream themselves. They are more likely to work with leading streamers on the platform to promote their products.
The software has an ever-expanding list of features that make it more than just a simple monitoring tool. It can provide you with the kinds of insights to improve your brand image and marketing strategy.
Brand24 includes a robust social media analytics platform. The tool tracks keywords across many social media platforms, including Twitch. Based on mentions, Brand24 calculates social media reach and the share of voice.
---
5. PowerSpike
PowerSpike is a Twitch-specific influencer marketing platform. The company believes they have partnered with some of the best live streamers. Their platform helps you find influencers in line with your target audience, campaign goals, and budget.
Brands trust PowerSpike to find influencers and drive results with innovative marketing campaigns. The platform helps create your campaign with ease and communicates promotion details to influencers clearly.
PowerSpike user base currently has over 38,000 streamers, with over 120 million followers and 851,000 average views.
They handle every step of the influencer marketing process — from hiring, communicating, delivering resources, and more.
You can track results with their analytics tools and analyze which influencers drive clicks and engagements. With PowerSpike and the PowerSpike Pixel, you can easily track clicks, conversions, and more. Measure conversions and ROI, track link-clicks along with their location, verify when and where sponsored content occurred in seconds and A/B test for future campaigns.
---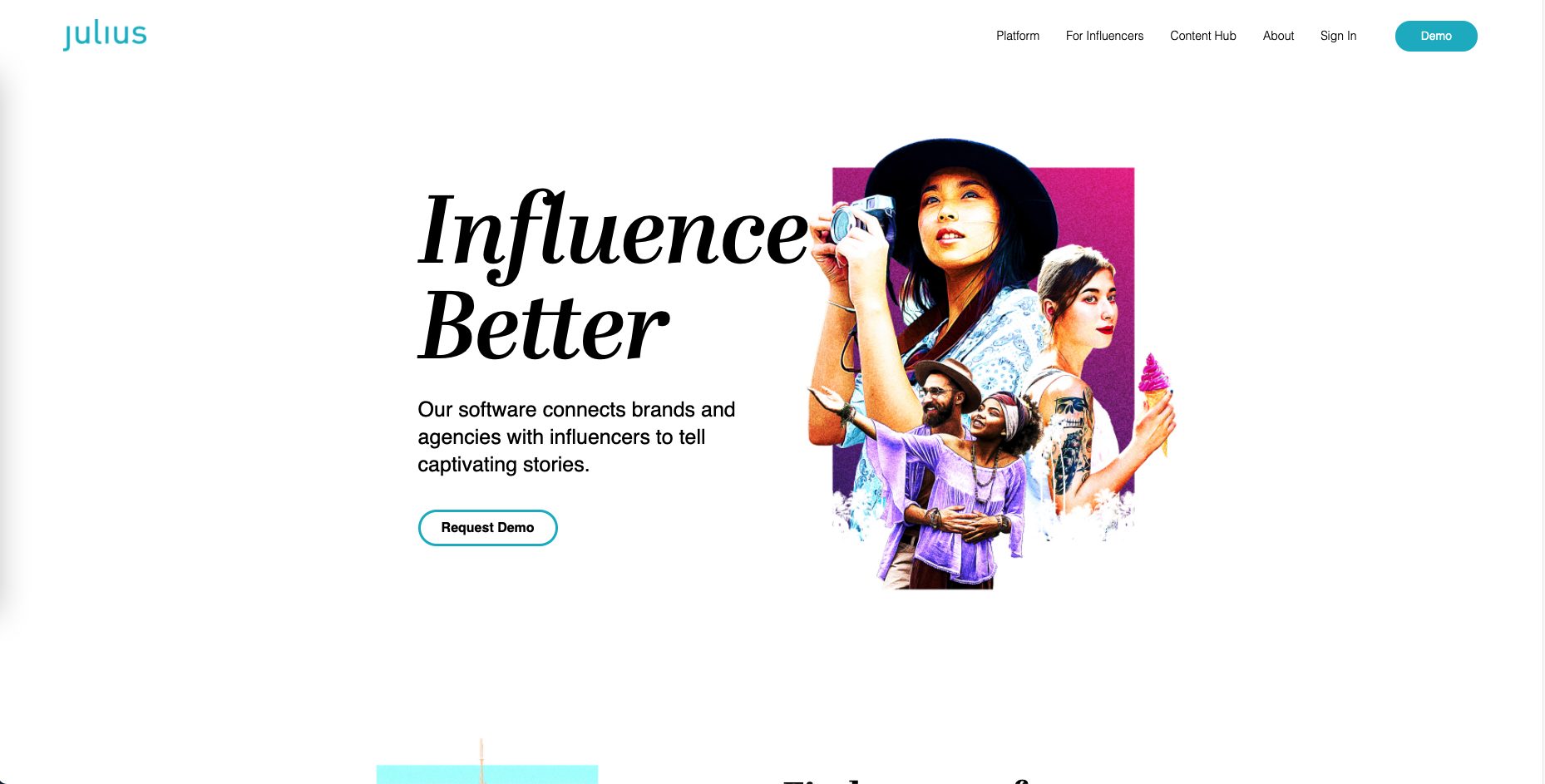 Julius has grown from a purpose-built influencer discovery engine to a full-fledged self-service marketing suite. It still has a powerful database with over 50 different criteria for narrowing a search—covering both demographic and psychographic data. It has broadened the social networks it analyzes recently to include Instagram, Facebook, Twitter, YouTube, Pinterest, and, most notably for this post, Twitch. Every influencer who appears in the database has been vetted as genuine by a real person. Julius doesn't just rely on AI for its data.
One of Julius's most noticeable features is its clean and logical layout of information. This is particularly important because of the vast number of data points you can use in your influencer discovery. This clutter-free look carries through to the platform's recently upgraded campaign management tools, as well as Julius's clear and in-depth reporting function.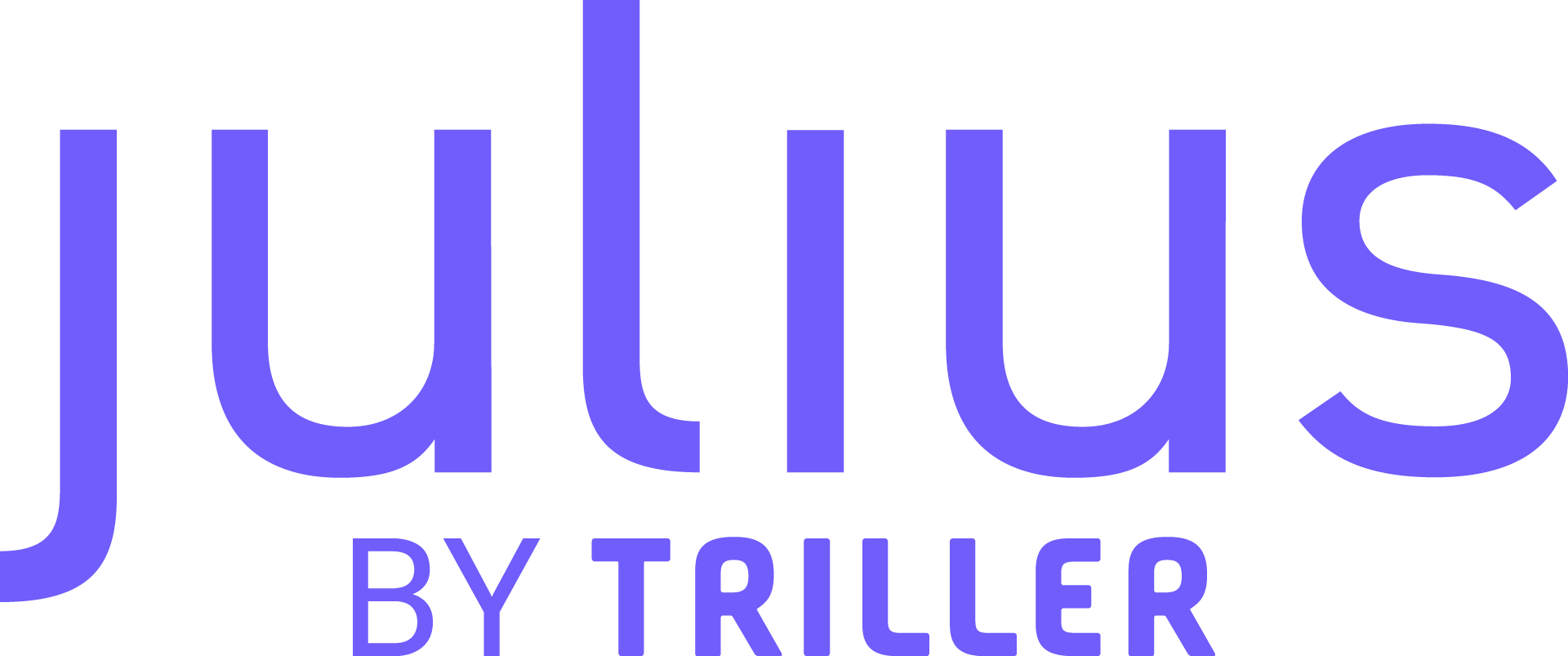 Key Features: Search/Discovery, Influencer Relationship Management, Campaign Management, Campaign Reporting, Influencer Analysis, Audience Analysis, Forms/Compliance,
Channels: TikTok, Facebook, Twitter, Instagram, Pinterest, Snapchat, YouTube
---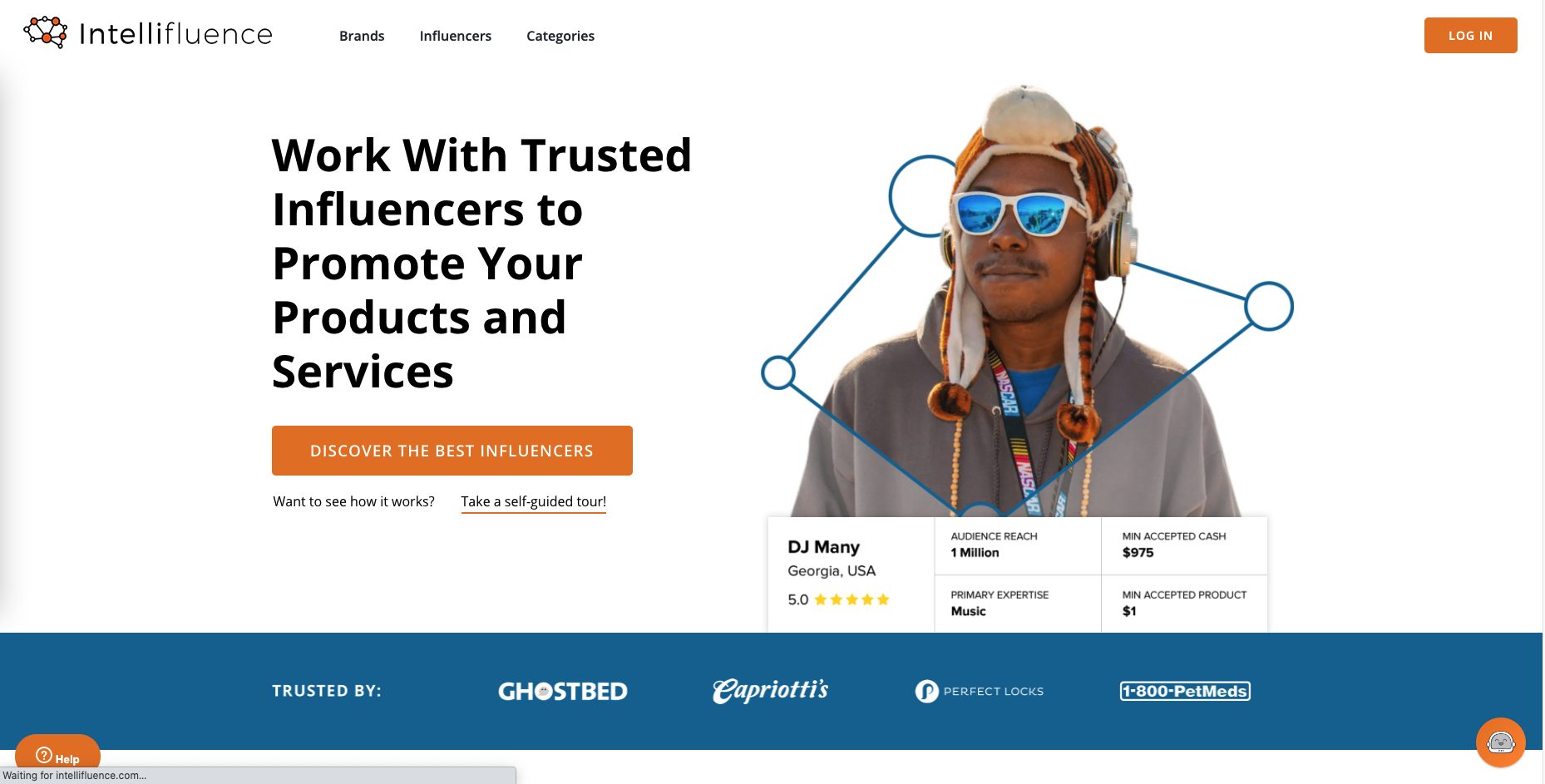 Intellifluence targets small businesses more than many of its competitors on this list. A single user can run up to three simultaneous campaigns, receive up to 50 applications from influencers per campaign, and pitch directly to another 50 for $99 per month.
The first time you log in to Intellifluence, you are directed to Campaign Mode. The campaign you select depends on your stated goals. Obviously, if you target a typical gaming audience, you will choose to take most notice of the Twitch influencers that the platform highlights.
A campaign can be public or private with higher plan levels. With a public campaign, briefs are published to the Intellifluence Marketplace, viewable by influencers who match the criteria you set. With private campaigns, you can pitch directly to influencers who you find using the discovery tool.
Key Features: Search/Discovery, Automated Recruiting, Influencer Relationship Management, Influencer Marketplace, Campaign Management, Product/Gifting Tools, Payment Processing,
Channels: Facebook, Twitter, Instagram, Pinterest, YouTube, LinkedIn, Twitch, TikTok, Reddit
---
8. Socialpubli
Socialpubli operates both as a self-service influencer platform and as a full-service marketing agency. SocialPubli's platform is very much an influencer marketplace. Its campaign creation process is relatively detailed, asking for a lot of information before it even asks you for what you're looking for in an influencer. You can adjust your budget to give you an idea of what you can expect for your money.
There isn't a full-fledged discovery engine, but Socialpubli allows you to keep a list of their favorite influencers so you can work with them again in the future.
Once a campaign is underway, you manage it through your campaign dashboard. It provides a bird's-eye view of each campaign.
---
9. SocialBook
SocialBook offers influencer search & discovery, campaign management, and third-party analytics to brands wishing to work with influencers on Instagram, YouTube, and Twitch. Boostinsider built SocialBook with a single purpose: to help you outreach influencers and manage influencer relationships with ease.
The SocialBook influencer analysis tool lets you find the right influencers that fit your campaign perfectly and come within your budget. It allows you to use filters to narrow down your search. You can filter influencers according to your niche. It provides you with sufficient data to choose influencers according to their engagement rate. You can search by an influencer's name, filters, or by your competitors.
With SocialBook influencer management software, you gain access to track open and email sequences. It includes tools to build and nurture influencer relationships. You can create and manage contracts to enjoy long-term partnerships.
SocialBook includes analytics to measure KPIs and influencer performance. You can set custom performance metrics for each campaign.
---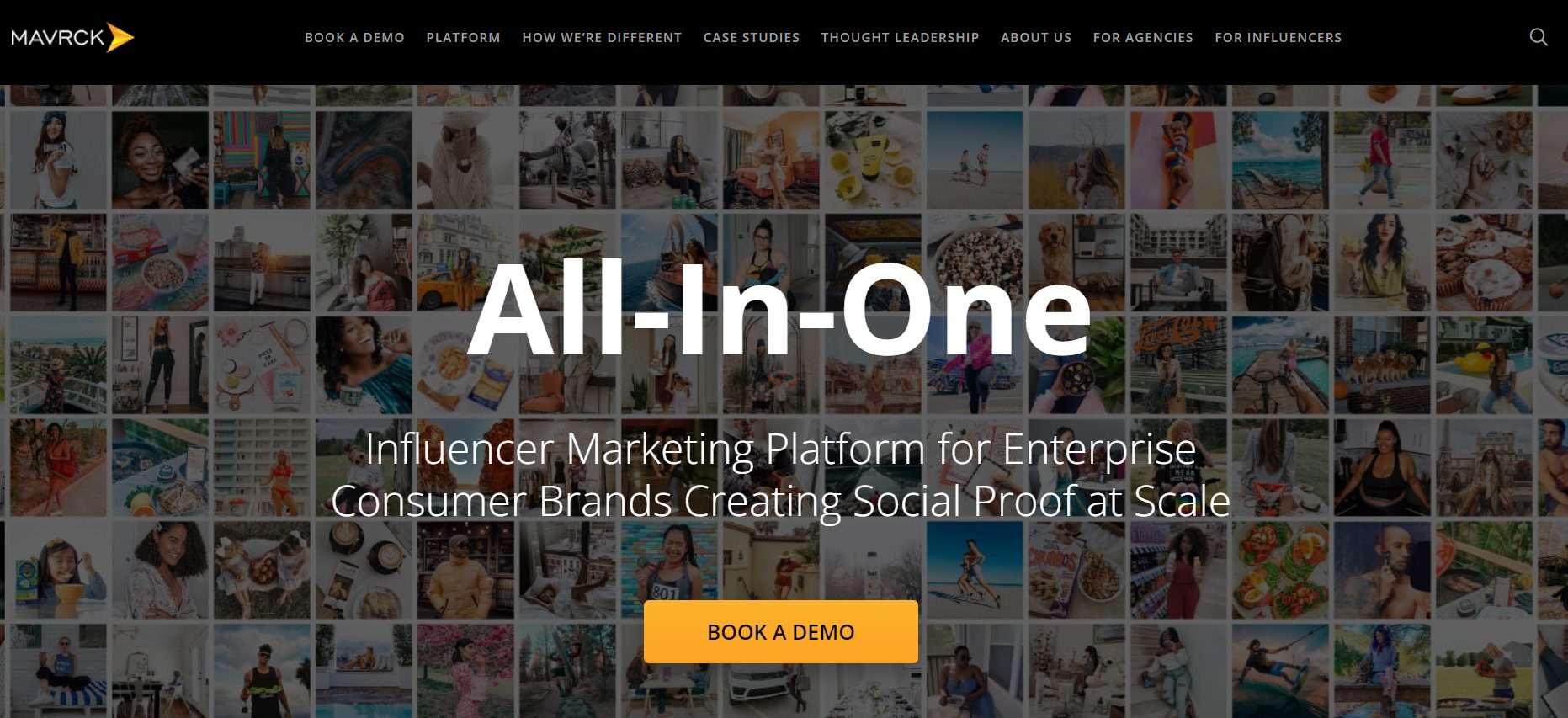 Mavrck has a programmatic approach to influencer marketing. The campaign is already programmed; you just need to tell the platform all the specifics. However, Mavrck offers many more programs than other marketplace platforms. Many of these can be almost entirely automated.
You begin by selecting one of Mavrck's 20 predefined "digital activities" for your influencers to participate in. Your customers earn rewards for participating. If you intend to work with Twitch influencers, you will need to ensure that your customers are the correct demographic to use that platform. You can segment your influencers based on many criteria, both demographic and psychographic, and you can assign digital activities to them based on the segments in which they land.
Mavrck connects with your existing digital presence, so If you intend to work with Twitch influencers, you will need to ensure that your customers use that platform. There is a traditional discovery tool within the platform, but you can also recruit your existing customers as "ambassadors."
Influencers from either of these pools need to sign up for your brand's Mavrck platform using their social media accounts. Every person you work with grants the platform access to their data, which Mavrck brings in via its API. Importantly, this includes data on each customer's influence, measured by standard metrics for reach and engagement. Influential customers are automatically activated into any for which campaigns they qualify.
Mavrck feels more like a fully-featured CRM than an influencer marketing platform.

Key Features: Search/Discovery, Influencer Relationship Management, Campaign Management, Campaign Reporting, Influencer Analysis, Audience Analysis, E-commerce Tools,
Channels: Facebook, Instagram, YouTube, Pinterest,TikTok, Twitter, Twitch, Blogs
---