Advertising Disclosure
Advertising disclosure:
Our partners compensate us. This may influence which products or services we review (also where and how those products appear on the site), this in no way affects our recommendations or the advice we offer. Our reviews are based on years of experience and countless hours of research. Our partners cannot pay us to guarantee favorable reviews of their products or services.
Understanding your customers is the key to providing them with an awe-inspiring experience. Knowing what motivates your customers, which channels they're using, how they prefer to purchase products — these are all essential pieces of information that can help you provide meaningful, personalized experiences for each and every customer.
To ensure that you have the right data at hand when it matters most, investing in reliable customer relationship management (CRM) tools designed specifically for eCommerce businesses is a must. Here are 10 of the top eCommerce CRM tools that will let you prioritize and personalize the customer experience.
---
Top CRM Tools for eCommerce Brands Looking to Prioritize Customer Experience: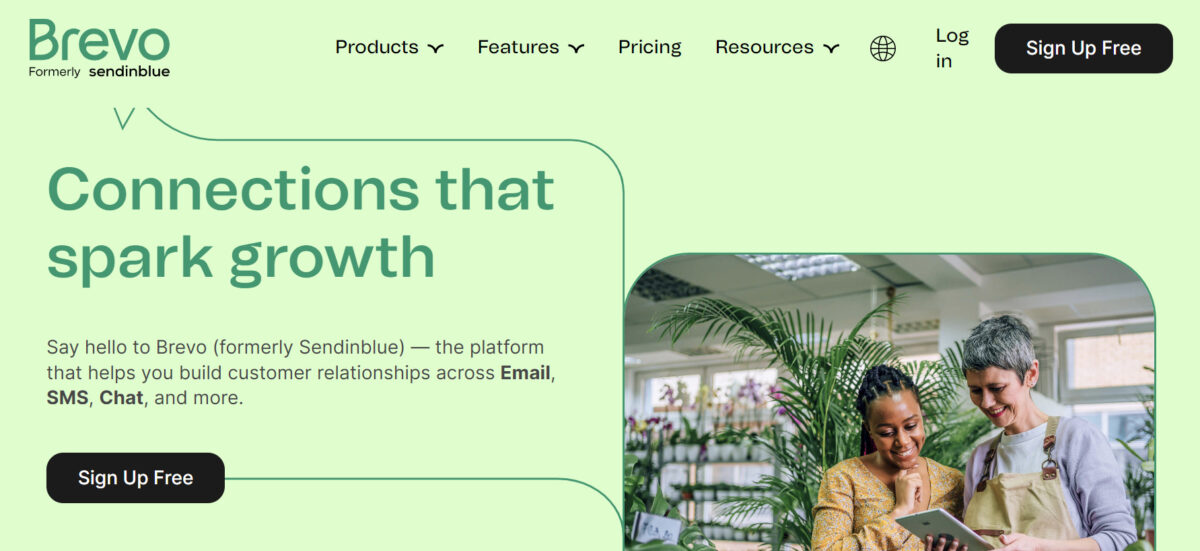 In addition to email marketing features Brevo also includes a sales CRM, making it one of the most popular alternatives to HubSpot CRM and other leading tools like Keap and ActiveCampaign.
Aimed mainly at small businesses, its CRM is easy to understand and use. You can use it to keep tabs on all your deals conveniently via one place, making it easy to get a complete view of all your open deals at any given time. Then, it also lets you customize your pipeline stages to help you track opportunities at different stages.
Even though it's aimed at smaller businesses, it provides a number of features to help with team management. You can, for example, add notes, assign tasks, and attach docs. It also supports in-browser video calls to streamline meetings.
In terms of automation, the ability to automate your sales pipeline is currently in their own pipeline. According to their website, they're planning to add functionality that will let you automate various steps in your pipeline allowing you to put certain repetitive tasks on autopilot.
Other key features include:
An activity timeline
Task automation
Customizable revenue estimation
A weekly task report
Calendar synchronization
Meeting reminders
Customizable sign-up forms
Plans and pricing: Brevo's sales CRM is available for free.
---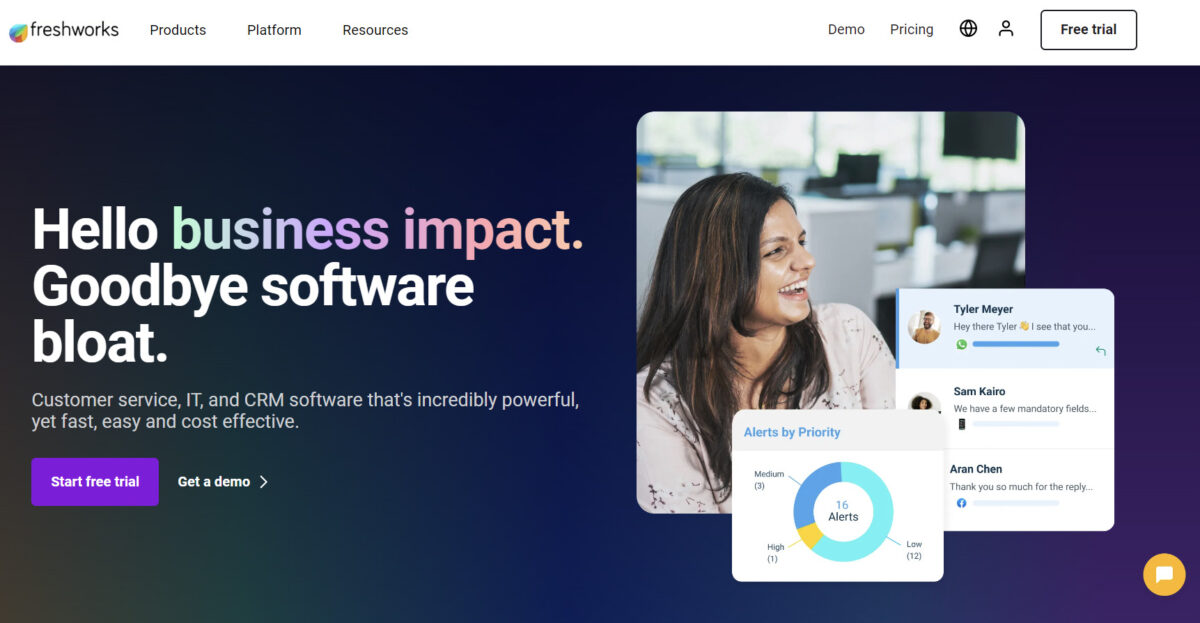 Used by thousands of businesses, Freshmarketer is loved by eCommerce businesses. It offers personalized engagement and powerful automation, helping you to improve engagement across various channels, including email, SMS, and social channels like Facebook and Instagram.
It's especially powerful if you've chosen Shopify as your eCommerce platform. After connecting it to your Shopify store, you can use pre-built, Shopify-based segments and create personalized campaigns using criteria like orders placed.
Compared to other tools in this category, users have described it as slightly easier to use. There are over 20 eCommerce journey templates and loads more customizable email templates. For example, when NatXtra used Freshmarketer for their email newsletter, both their open rates and click rates more than doubled.
Other key features include:
Contact and account management
Website tracking
Built-in chat
Custom reports and dashboards
A drag-and-drop journey builder
Plans and pricing: After a generous free 21-day trial (no credit card required), pricing starts at $23 per month (or $19 per month when billed annually). It also includes a Free plan.
---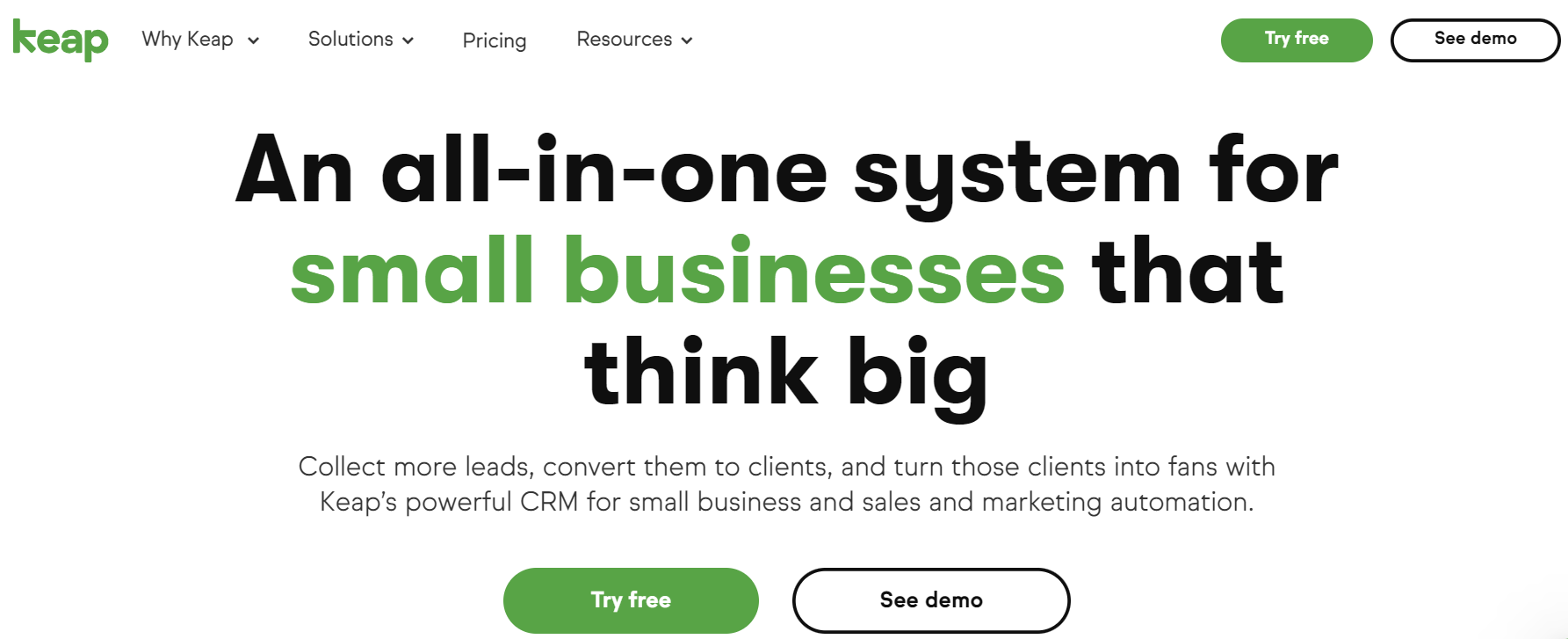 Small eCommerce businesses can check out Keap. Their mission — to simplify growth for entrepreneurs and small businesses.
Keap has received thousands of online reviews, with Capterra shortlisting it as a noteworthy CRM software solution. Its highest rated features include email marketing, campaign management, and lead management. Users have also praised its activity dashboard and, compared to other CRMs, its level of support is much higher. You also get phone support and a dedicated account manager which some of the other tools often lack.
For example, when Milkhouse Candles needed a tool to automate their email and manage sales and marketing, Keap helped them to boost sales and acquire more customers. On top of that, it has also helped them to expand their influence and become an authority in their niche.
Other key features include:
Automated lead capture and follow up
A sales pipeline and analysis
Landing pages
Text marketing
Plans and pricing: After a free 14-day trial (no credit card required), pricing starts at $189 per month.
---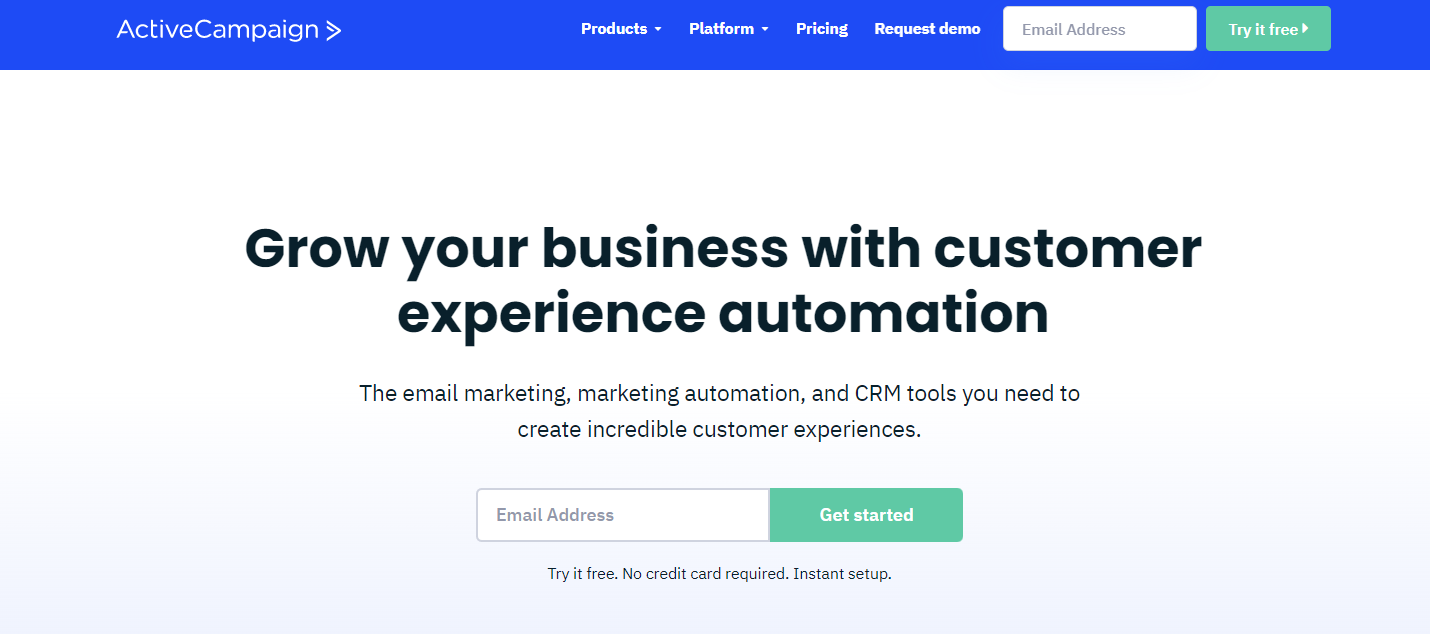 Along with Sendinblue, ActiveCampaign is also well-known for its email marketing capabilities, but its CRM is equally popular and used by more than 150,000 customers all across the world. It provides a central platform from where you can manage all your contacts and get a comprehensive overview of your whole sales pipeline.
Thanks to integrations with all the leading eCommerce platforms like BigCommerce, Shopify, and Magento, it's a great choice for online stores. Not only does it integrate with various eCommerce platforms, but also hundreds of other popular marketing apps and tools such as Calendly, Unbounce, and Zendesk.
One of its features that deserve special mention is its lead scoring. This way, you can make informed decisions and devote your attention more strategically to better quality leads.
Other key features include:
Automated contact management
Lead capture forms
Task assignment
Lead scoring
Reporting
Plans and pricing: ActiveCampaign offers a free trial that requires no credit card and includes most of their features. Pricing starts at $19 per month when paid yearly.
---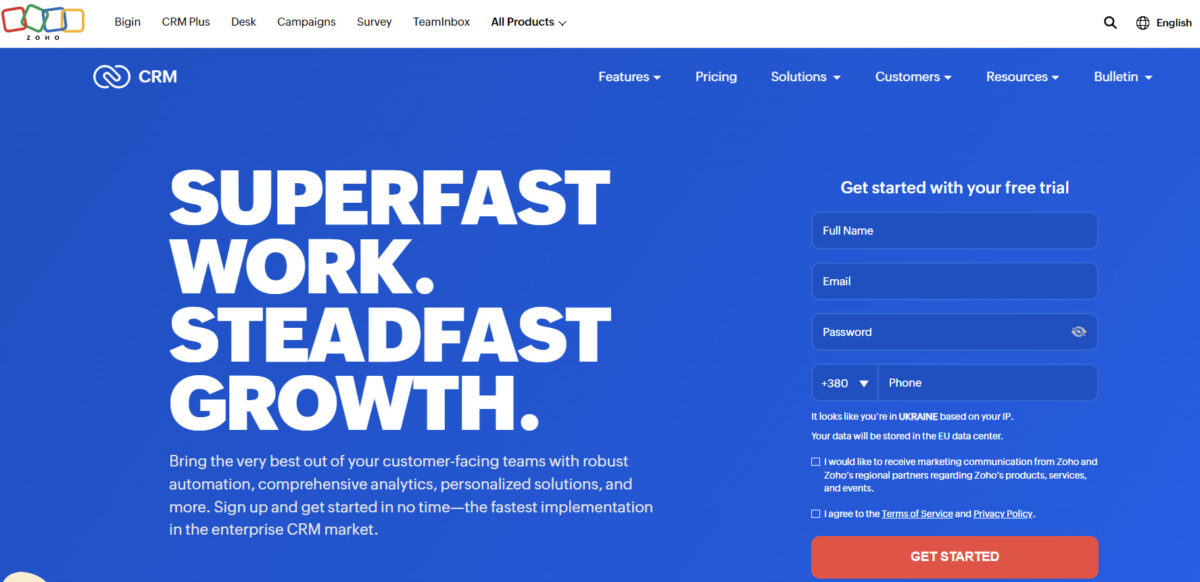 Along with HubSpot, Zoho CRM is one of the best social CRM software tools helping you to create a unified brand experience. In addition to integration with Facebook and Twitter, it offers various other great features including powerful automation, detailed analytics, and sophisticated customization.
It's also a great pick if you want to explore how AI can help you with customer relationships. Included in its higher tier plans is Zia, their intelligent AI solution that can make accurate predictions and share suggestions for which steps you should take for each lead next.
It's trusted by hundreds of thousands of clients across various industries, with many clients switching from Salesforce to Zoho. For example, when Apliiq, a new media fashion company, had to upgrade their pen-and-paper approach, they put their trust in Zoho CRM. Their main priority was finding an intuitive tool that all their employees could learn and use without any difficulty. It's Zoho CRM's flexibility that was the big attraction and the feature that has helped them to expand their business and improve customer relationships.
Other key features include:
Integration with over 800 apps
Sales forecasting
A document library
Reports
Workflow rules
Plans and pricing: Zoho CRM offers a number of subscription options, including a Free plan. After a free 15-day trial (no credit card required), pricing starts at about $15 per user per month.
---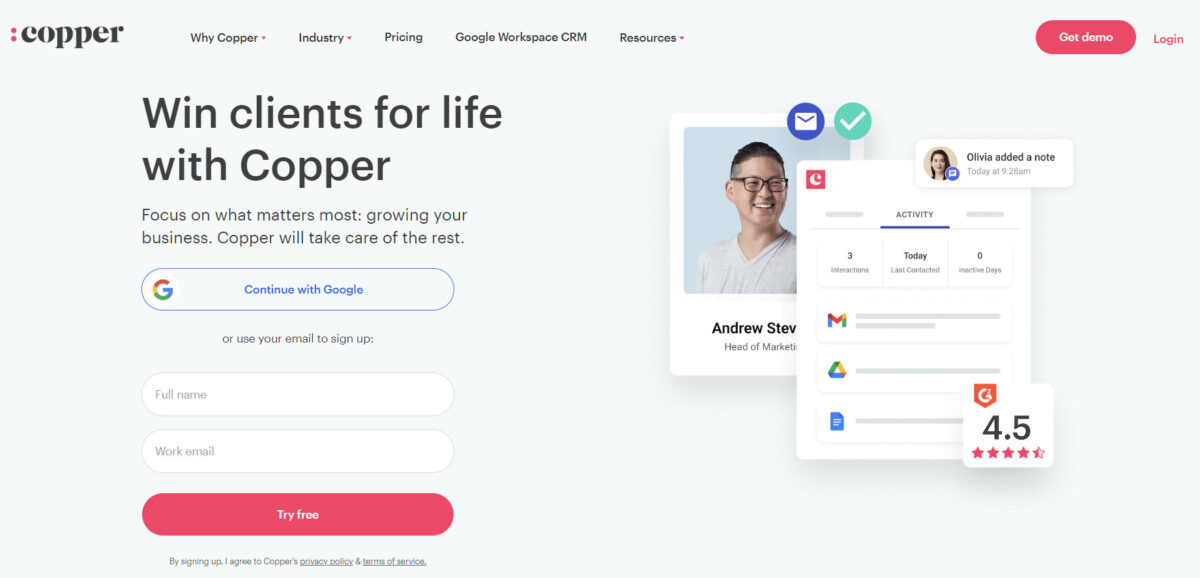 If you use Google Workspace, you can check out Copper. It's a Google Partner and offers a native integration with Google Workspace making it easy to sync calendar invites, emails, and other docs.
As a matter of fact, its CRM is recommended by Google and the company is backed by them too. Not only has it received the backing of Google, but its client list has grown to thousands of companies that include names like Udacity, Mailchimp, and Shipt.
What makes it such a popular CRM is that it's flexible and customizable. This means that not only is it easy to use, but also straightforward to adapt it to your customer journey and sales. It also integrates with other popular Google products like Chat, Sheets, and Forms, and with its Chrome extension you can make use of other productivity apps and tools like Trello, Asana, and Monday.com. Plus, to help you keep those productivity levels high, it also offers a CRM mobile app.
Other key features include:
Note taking
Task management
Mentions, comments, and team collaboration
Customizable pipelines
Reporting
Plans and pricing: After a free 14-day trial (no credit card required), pricing starts at $29 per user per month. However, if you switch to yearly billing, you can save up to 20%.
---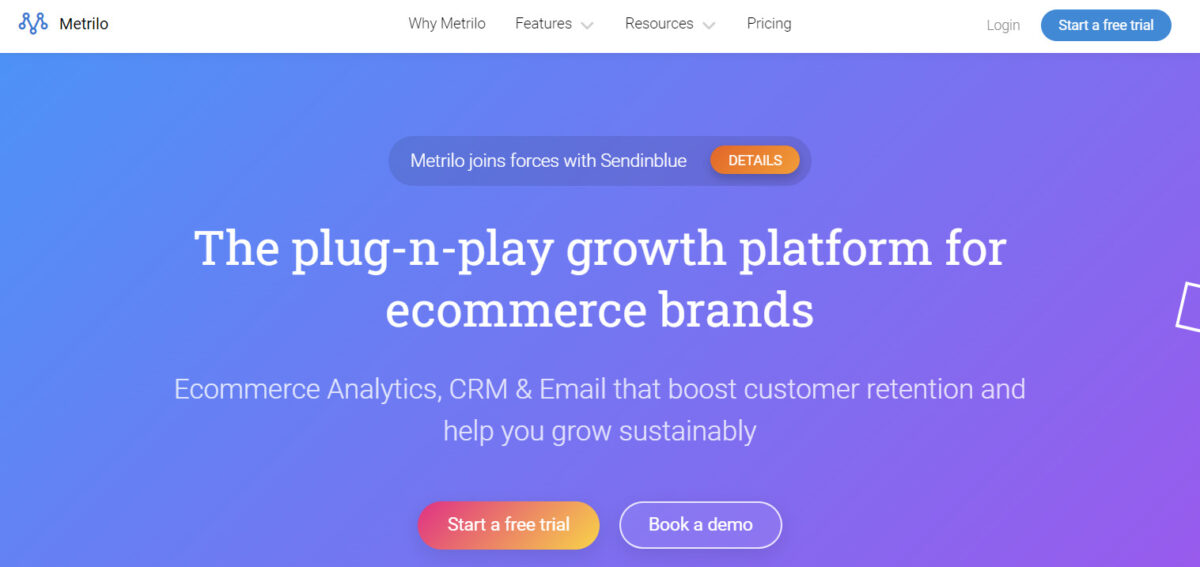 Metrilo describes itself as a "plug-and-play growth platform for eCommerce brands". Its mission — to empower eCommerce entrepreneurs.
It integrates with WooCommerce, Shopify, and Magento, making it a great CRM for small to mid-sized online stores that use one of these platforms. It will convert all your important business data like customer behavior, past purchases, and individual details to create dedicated customer profiles. You'll also be able to add notes and incorporate segmentation to make these individual customer profiles even more useful.
In terms of segmentation, it's quite powerful. There are several action-based filters, like cart abandonment and product interactions, that you can use to create segments. Add to that a variety of customer-based filters and it becomes much easier to target specific customers via, for example, email marketing.
Another useful feature that deserves special mention is its Assistant tool. It's an active algorithm that takes reporting to a whole new level. Instead of simply reporting on the data, it includes actionable insights.
Other key features include:
Customer lifetime metrics
Filtering and segmentation
Conversion funnels
A real-time dashboard
Plans and pricing: After a free 14-day trial, pricing starts at $199 per month (or $165 per month when billed annually).
---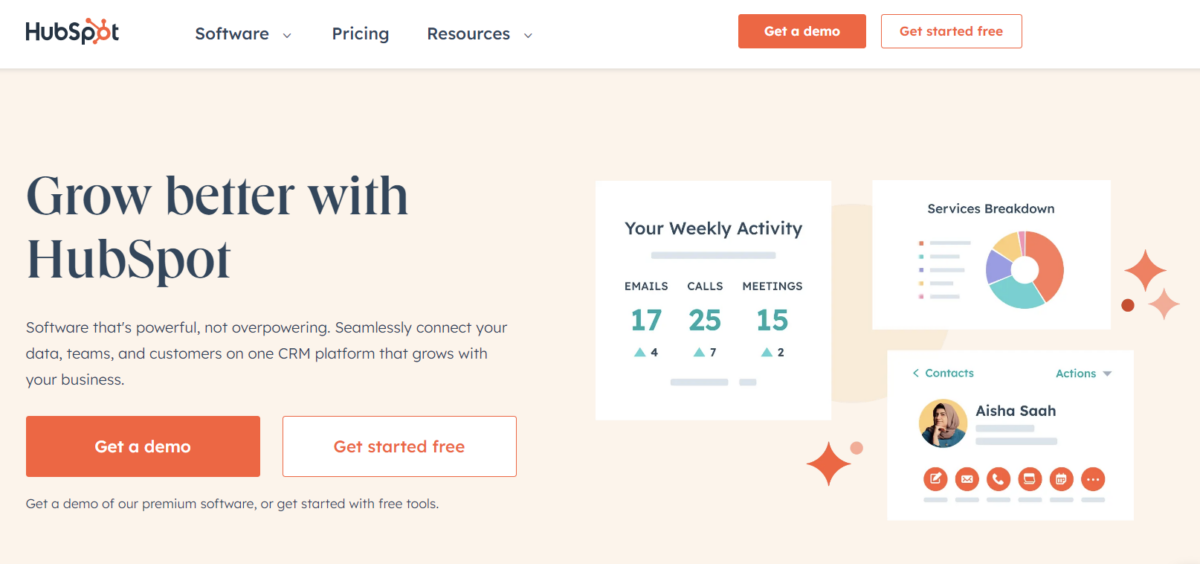 HubSpot needs no intro. If you haven't used one of its many powerful products, you've probably read one of its blog posts. Either way, here's a quick recap of why it's one of the leading CRM tools.
With its free CRM, you can get an overview of your whole sales pipeline via its visual dashboard in real time. Here, you'll also find comprehensive reports covering productivity (including team and individual performance) as well as sales activity. It also includes free CRM tools that will inform your team whenever a prospect visits your site or opens an email message equipping them to optimize their engagement.
Other key features include:
Form automation
Mobile optimization
Ad management
Custom user permissions
List segmentation
Email reply tracking
Plans and pricing: While HubSpot does offer a free CRM, if you want to sign up for its CRM suite, the pricing can become pretty expensive pretty quickly. The Starter plan starts at only $50 per month when billed monthly, but for more functionality you're looking at spending more than $1,700 per month.
---

According to their website, Pipedrive was the first CRM platform created by salespeople for salespeople. It was born after their founders spotted a gap in the market. They were yet to find a sales management tool that was built around the actual sales team's needs and decided to create Pipedrive using activity-based selling.
You can use it to sort, manage, and monitor the customer experience across all stages of the customer lifecycle. Thanks to automations, your communication can also be streamlined, helping to improve the overall user and customer experience.
For example, when Second Bind, a Canadian company that offers an online (and offline) service for selling used books, upgraded to Pipedrive they achieved impressive results in multiple areas. They reduced the size of their software stack and the time spent on closing tickets as well as increasing their revenue. Time spent was almost cut in half while their revenue was boosted by a massive 80%. This has translated to a company growth of 20%.
Other key features include:
Seamless data import
Lead and deal management
Customizable pipelines
Deal card customization
Calendar view
Activity reminder notifications
24/7 support
Plans and pricing: Pipedrive offers various subscription plans. Pricing starts at only $15 per user per month when billed monthly.
---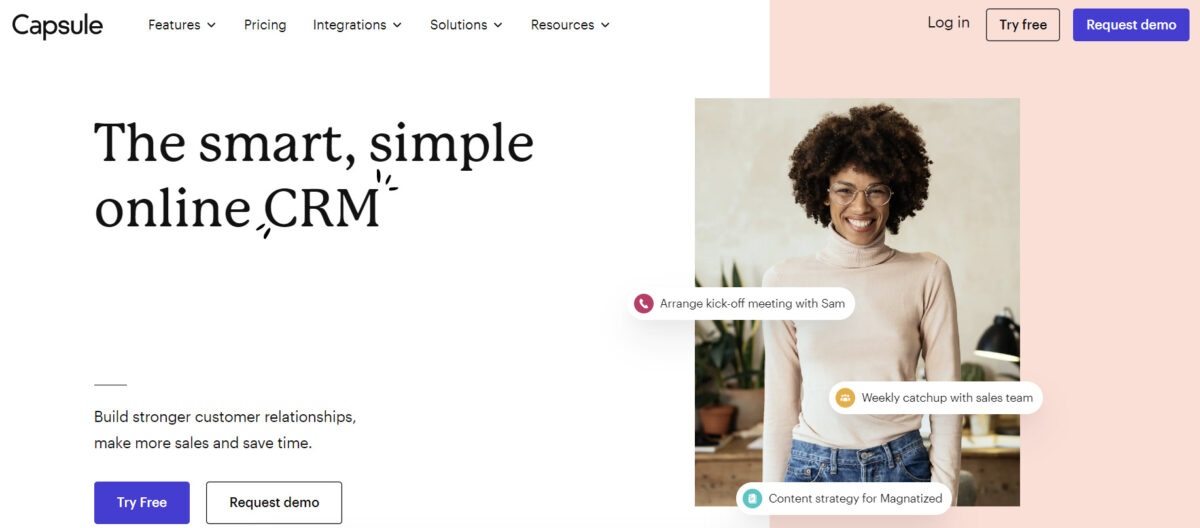 Capsule's backstory is similar to that of Pipedrive. It was developed in response to the founders' frustration of not finding a CRM that's powerful enough, yet intuitive to use.
It has received hundreds of positive online reviews with users highlighting its performance, reliability, and contact and account management as its standout features. Capterra has also included it as an emerging favorite in the small business CRM software category. What makes them such a great CRM solution for small businesses specifically is its flexibility.
When Hasbean, a coffee roasting business, needed a CRM to support their recent business growth, they turned to Capsule. They've integrated it with other popular solutions like Zendesk and Xero to get a better idea of their leads and conversion rates, helping them to make more accurate sales forecasts. Hasbean has highlighted Capsule's affordability as one of the biggest benefits.
Other key features include:
A sales pipeline
Project management
Email templates
Workflow automation
Activity reporting
Plans and pricing: Capsule offers a free starter CRM with basic features. For the ability to add more than two users and 250 contacts, pricing starts at $18 per user per month after a free 14-day trial.
---
What Is eCommerce CRM Software?
A customer relationship management (CRM) software is a central digital place where your sales and customer support employees can add information about prospects and customers. Examples of information that you'll typically find in a CRM include:
The name of the customer
Contact details like phone number and email address
Communication preferences
Purchase history
A history of customer interaction
It's more often used by B2B companies, but it also offers features that eCommerce brands can find useful for managing leads and tracking the customer lifecycle. Also, as many eCommerce brands work with third-party retailers and wholesalers, a tool like this will come in useful.
---
How to Select the Best eCommerce CRM Software
There are three key factors to keep in mind when selecting a CRM tool for your eCommerce brand: integrations, ease of use, and automation options.
Start your search by narrowing it down to the tools that integrate with your eCommerce platform. For example, if you're currently using Shopify, restrict your search to tools that include Shopify integration. In addition to eCommerce platforms, also pay attention to which other tools it integrates with like productivity tools and social media platforms.
Integrations are key, but so too is automation. You're searching for a tool that can scale with your business. You might not need a specific feature now, but keep in mind that down the line your needs will most likely (hopefully) change. Workflow automation specifically is a big plus.
Lastly, take your CRM for a test to get a better idea of its user-friendliness. You won't be the only one to use it and so your goal is to find a solution that other employees will find easy to learn and use too.
---
Wrapping Things Up
Investing in a CRM system can help streamline key business processes and make it possible to grow customer loyalty, reduce acquisition costs, and limit errors relating to managing customer data. Though, deciding on the right CRM tool is no easy feat.
If you've been looking for a comprehensive and user-friendly customer relationship management solution for your eCommerce business, you can consider any one of the 10 discussed in this article. To further ensure that you find the most suitable system for your unique brand requirements, make sure to research each in detail to see what features best match your needs. Each has their strengths and weaknesses, so it's a good idea to take them up on their free trial (most offer some type of free trial or free plan). Lastly, keep in mind that whichever software you decide on will require some effort on your part during the setup process. That said, this extra effort can pay off in future growth opportunities for your eCommerce business.