One of the answers to how to drive more revenue has probably been in front of you all this time. Quite literally.
With clever eCommerce marketing, you can encourage your existing customers to spend more while they're browsing or ready to checkout. How? By suggesting that they add additional products to their cart.
This means that you don't necessarily need to focus on expanding your product range or launching new features. In other words, instead of making it all about what you're selling, think about how you're selling what you have to those that you already have (aka your current customers).
Here's an overview of what cross-selling entails, why you should try it, and how to incorporate it tactfully. Plus, to see how all the tactics come together, be sure to check out the real-life examples of how major brands are getting their customers to make additional purchases.
---
Cross-selling: How to Sell More Without New Customers:
---
What's Cross-selling?
Cross-selling refers to a sales strategy that recommends extra products to a customer to help generate incremental sales to drive growth. These products are typically complementary or related.
A classic example of cross-selling is when an online store displays a list of items frequently bought together on a product page or at checkout. For example, when a store visitor is browsing yoga mats, you may suggest trending products like activewear or water bottles. That said, your chance to cross-sell doesn't end once an initial purchase is made. You can also share suggestions after they've bought a product via a well-timed email message.
In some instances there will be a direct link, like when you're suggesting a yoga block to complement their recent yoga mat purchase. In other instances, the connection will be more indirect, like when you're cross-selling coffee mugs to go with their almond milk purchase.
The main trick is to keep your suggestions relevant. There needs to be a clear connection between the product that your customer is interested in (or bought) and the ones that you're recommending. For example, if the customer has added almond milk, trying to cross-sell a hunting rifle will get you shot down for sure.
---
The Difference Between Cross-selling and Upselling
Cross-selling and upselling are similar, but there's a unique difference. With cross-selling, customers are encouraged to buy more. On the other hand, upselling's goal is to get customers to pay more by suggesting a more expensive model.
For example, when you're applying upselling, you'll recommend that a customer buys a premium yoga mat instead of an entry-level one. Or, you'll suggest branded activewear, instead of a budget-friendly, no-name set.
While they're different, you can incorporate both cross-selling and upselling into your marketing tactics. In some instances, it might make more sense for you to recommend complementary products, while at other times upselling will work better. The secret, though, is to do so in moderation.
---
Key Benefits of Cross-selling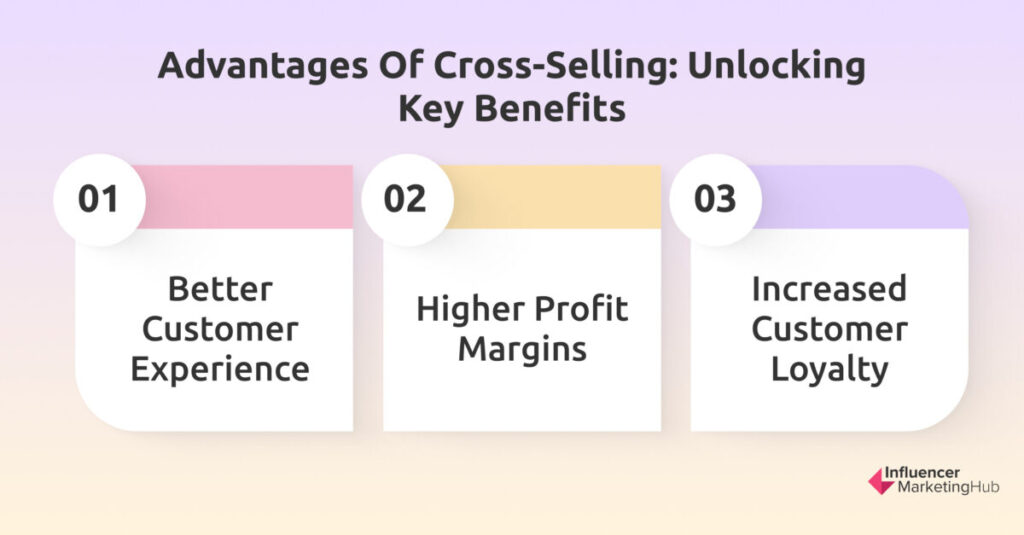 1. A better customer experience
If you're feeling guilty about pushing your customers to spend more so that you can make more profit, don't. Here's the thing: it's not only serving you.
When cross-selling is applied correctly, it can actually be helpful to your customers too. The right suggestion can help them to solve a pain point. It could be as simple as saving them another trip by suggesting that they buy the coffee pods and almond milk that their new coffee machine uses now.
In other instances, your cross-selling suggestions can help your customers to get more out of their purchase or introduce them to products that they didn't know exist. For example, did you know that there's something like a staple remover? You actually don't have to break a nail trying to remove a staple. It costs only a few dollars, much less than the average cost of a manicure.
---
2. Higher profit margins
Cross-selling gives you the opportunity to push products that have higher profit margins. A survey completed by HubSpot found that 74% of sales professionals that use cross-selling attributed as much as 30% of their revenue to cross-selling.
---
3. Increased customer loyalty
Winning new customers is expensive. It's much easier to focus on selling more to your existing customers.
With cross-selling, you can do just that. Instead of having to focus on acquiring new customers which is costly, you can boost an individual customer's spending and, doing so, boost your average order value (AOV).
---
7 Cross-selling Techniques and Tricks
In addition to using an eCommerce recommendation system, keep the following seven tips in mind: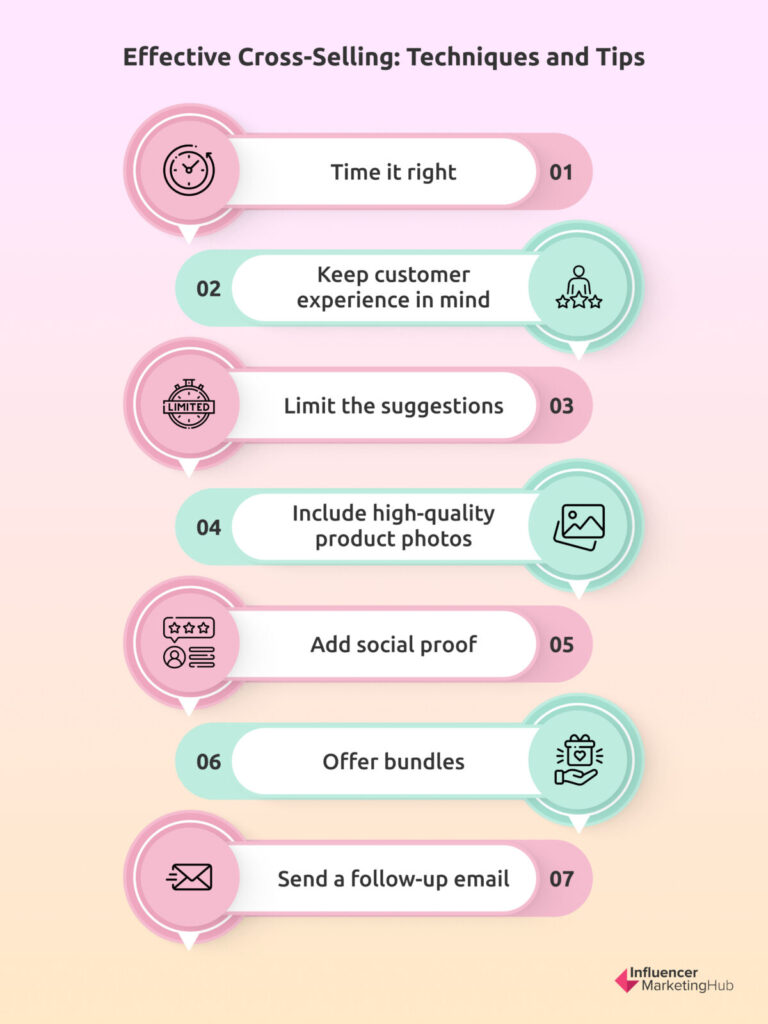 1. Time it right
There are two optimal times that you can cross-sell: on a product page or when checking out.
When you try to sneak in suggestions at other times, you run the risk of annoying store visitors, which can hurt your conversion rates.
If you choose to go the route of incorporating it into your product pages, you'll also need to keep pricing in mind. It's best to suggest related products which are cheaper than the product that they're currently viewing. Sellbrite suggests that the recommended products should cost no more than half of the main product.
This also applies to when you'll be leaving your suggestions for the checkout page. Limit your product suggestions to inexpensive add-ons. For example, if the customer is about to buy a pickleball racket, try to cross-sell socks, a cap, or a pack of outdoor balls. If you tie free shipping to a minimal spend, let this number guide you. For example, if they need to spend $15 more to qualify for free shipping, suggest products in this price range.
---
2. Keep customer experience in mind
As mentioned earlier, one of the pros of cross-selling is that it can actually improve the customer experience. That's if it's done with thought and tact.
The goal is to offer value. Keep your customers' needs in mind when you offer cross-selling suggestions, not your own hidden agenda.
Also, it shouldn't be done excessively. Remember the previous point about timing and restrict your cross-selling to two stages during the customer journey max.
---
3. Limit the suggestions
Just like you want to limit the number of times that you try to push another sale, you also want to guard against bombarding them with too many options. It's overwhelming and distracting.
In fact, it can cause them not to buy anything at all. This is referred to as decision paralysis (or analysis paralysis).
---
4. Include high-quality product photos
Be sure to include product photos of the additional items too. You can also consider sharing a video that shows the product in action.
For example, if you're selling decor or apparel, you can use visuals in such a way to create a certain look or style. This way, customers can get the same look by buying all the different products included.
---
5. Add social proof
Another critical element is social proof like customer reviews, testimonials, or case studies. Basically, you're searching for ways to prove to potential buyers that a particular product will make a valuable addition.
---
6. Offer bundles
To make it as effortless as possible, you can bundle products together. After all, choice isn't always helpful.
Adding a discount can make going for the bundle instead of the individual product(s) an attractive deal. In fact, according to HubSpot, it's the most popular strategy, with 63% of sales teams admitting that they use bundling.
---
7. Send a follow-up email
In addition to your website, you can also look to other channels to help with your cross-selling efforts. You can, for example, include complimentary items in transactional emails like a confirmation email or a reminder about items waiting in their cart.
---
6 Examples of Effective Cross-selling Strategies
If you Google cross-selling, you'll come across the classic example of selling a cheeseburger. When a burger joint doesn't include fries with their burgers but rather sell it as an extra side dish, it's cross-selling. McDonald's isn't the only big brand to use cross-selling, here are examples of how other leading names are using this sales strategy.
1. Apple
If you're worried that cross-selling will make your brand look cheap and desperate, leading brands like Apple are using it. For example, if you're interested in buying an iPad, you'll be asked if you're interested in adding an Apple Pencil or Smart Folio.
With both these add-ons, Apple makes sure to focus on the benefit. The Apple Pencil can expand the capabilities of the primary product (the iPad), while the Smart Folio offers durable protection. Not only do they make it effortless to add these extras, but they also give more info about the Smart Folio.
What makes Apple's cross-selling such a good example is that it also shows that you can look beyond products. Depending on what you're selling, you can also offer a service as an add-on. In Apple's case, they also cross-sell AppleCare+ coverage to help protect your new mobile device and accessories.
---
2. Walmart
With such a massive range of products, cross-selling comes naturally to Walmart. When you scroll down on a product page, they include a section titled "Shop for more compatible items". They describe these products as "items that pair well together" and add social proof in various forms such as how many items were bought since yesterday, together with a star rating.
---
3. Lancôme
Beauty brand Lancôme chooses to leave their suggestions for once you've added a specific product to your basket. After you've clicked on "Add to my cart", a confirmation pop-up window will share items that you may also like.
Many of these products are listed as best-sellers (an example of social proof). Then, to encourage customers to add more, they also cleverly display how much money they still need to spend to qualify for free shipping.
---
4. Best Buy
For a great example of how you can leverage bundling, you can check out Best Buy's website. On a product page, customers are presented with what their "experts" recommend you buy together.
Then, if you were to choose all the add-on products, they also display the package savings. And, if you need more proof that you'll be making a good choice, they also include a star rating along with the number of reviews a suggested product has already received.
In addition to the bundling option, they also simply list items frequently bought together.
---
5. IKEA
IKEA includes cross-selling on their product pages in two ways. Firstly, they list frequently bought items together. Secondly, they list items that go well with your main purchase. They also ensure to include key elements, like visuals and social proof, by identifying top-sellers.
Then, when you add a product to your shopping bag, they'll also include related products in the popup window. Each of these related products have a product photo as well as a star rating.
---
6. Dollar Shave Club
As one of the most successful eCommerce businesses, you would expect that Dollar Shave Club leverages cross-selling. On their individual product pages, they list related products but limit it to only a few to prevent decision paralysis.
When you proceed to checkout, you're given another friendly push to increase the value of your cart by listing other products that you might like. Similarly to Lancôme, they also indicate how much more you need to spend to qualify for free shipping on their checkout page.
---
Wrapping Things Up
Cross-selling is by no means an attempt at replacing your efforts to acquire new customers. Though, without it, getting new customers becomes a whole lot more difficult.
You see, cross-selling is a great way to increase your average order value. Aside from the obvious benefit — higher revenue and profit, it gives you more financial freedom. With this freedom, you're much better positioned to focus on winning over new customers.
While individual product pages and the checkout page are the most common ways to do it, you can also use confirmation or post-sales emails or even create a landing page with this purpose in mind. Email, in particular, can be very effective as it makes it easy to include personalized offers. Just keep the customer experience in mind at each stage and focus on their needs instead of your profit margin.
Frequently Asked Questions
Are cross-selling and upselling the same?
No, while similar, cross-selling and upselling are viewed as two distinct marketing techniques. With cross-selling, your goal is to get customers to buy more products by encouraging them to add another relevant product to their cart. In the case of upselling, your goal is to get them to spend more by suggesting a more expensive option instead of getting them to add more products that they might also like.
What's a recommendation system?
A recommendation system (also known as a product recommendation engine) is a type of information filtering system that works out how a customer would rate a product. It does that by running algorithms and analyzing data like a customer's previous purchases. In some instances, it can also use artificial intelligence (AI) to identify personalized suggestions. This type of technology can help eCommerce businesses to increase their revenue, meet their customers' individual needs better, and promote cross-selling successfully.
How can you increase the average order value (AOV)?
A higher average order value (AOV) gives you more financial freedom that you can, for example, use to focus on winning more new customers. To help you boost your AOV, you can do the following:
Conduct comprehensive market research to find out what customers' real needs are
Cross-selling products by displaying items frequently bought together on product pages, at checkout, or in post-sales emails
Offer product bundles or packages at a discounted price
Upsell products
What are the steps to successful cross-selling?
If you're interested in implementing cross-selling, keep the following best practices in mind:
Get to know your customers by creating customer personas
Map out the customer journey to understand better how the product will help them
Identify customer pain points and common challenges and identify products that can solve these needs
What are some examples of cross-selling?
The following are some of the most popular examples of cross-selling:
Offering a package of grouped products at a discounted price
Suggesting feature add-ons to a subscription plan
Advertising an extra warranty when a customer wants to buy an expensive piece of equipment
Recommending smaller items like scatter cushions, a throw, or linen when a customer buys something like a mattress
Including products to complement a recently bought item via a purchase confirmation email