Advertising Disclosure
Advertising disclosure:
Our partners compensate us. This may influence which products or services we review (also where and how those products appear on the site), this in no way affects our recommendations or the advice we offer. Our reviews are based on years of experience and countless hours of research. Our partners cannot pay us to guarantee favorable reviews of their products or services.
As COVID-19 restrictions ease up and more consumers return to in-store shopping, the eCommerce industry finds itself at a critical point. Growth has slowed from 2020 levels, but reports indicate that it will not die any time soon. The US Department of Commerce estimated that eCommerce sales during the fourth quarter of 2022—totaling $262 billion—accounted for approximately 14.7% of total sales in the country.
Global retail eCommerce sales are expected to grow to over $8 trillion by 2026—that's a 29% growth from forecasted figures for 2023. In the US alone, the eCommerce market is expected to hit over $1.1 trillion in sales this year.
With so many eCommerce players in the industry, business owners need to step up their game. Thanks to technology, software tools for eCommerce analytics are changing the way that eCommerce enterprises operate. We're seeing more data-driven strategies and less speculative decision-making. Nowadays, it's all about crunching and analyzing the numbers.
---
Best eCommerce Analytics Software to Drive Sales and Achieve Growth:
---
What is an eCommerce Analytics Software?
An eCommerce analytics software is a set of tools or a platform that enables eCommerce businesses to collect, monitor, and analyze market data. This allows them to evaluate the performance of the business—from individual products to marketing strategy to customer service and more.
The beauty of the online retail industry is that it's easier to track and analyze consumer insights because of digital footprints. When shopping in-store, customers typically do not provide information other than the items they purchased, and their names if they pay by credit card. Unless businesses specifically ask each of their customers to fill out a form with all their information, including which other stores they have visited or which products they picked up and considered, they would only have sales as their reference data.
In eCommerce, businesses have a wealth of additional information that they can explore to learn more about the types of customers that they attract. They can identify the geographical locations of their most loyal customers, the products they frequently buy, the payment methods they prefer, and so on. In addition, artificial intelligence technology today can even acquire data on people who do not end up buying from a website, which can be as important as sales figures. Cart and checkout abandonment rate is a significant KPI that can also help eCommerce businesses improve their operations.
Ecommerce analytics software can provide you with the tools you need in order to deliver an exceptional customer experience for your market, increase your revenue, and operate more efficiently.
---
Best eCommerce Analytics Software for 2023
There are tons of eCommerce analytics tools available, some offering a full suite of features, others excelling at providing a specific function of eCommerce analytics, such as marketing automation. We've listed 8 of the top eCommerce analytics software for 2023 that can help your online business achieve growth.
---
---
---
---
---
---
---
---
---
How to Grow Your Business with eCommerce Analytics Software tools
We've talked a lot about features and functionalities, but what exactly can you do with these, and the data that these tools have gathered?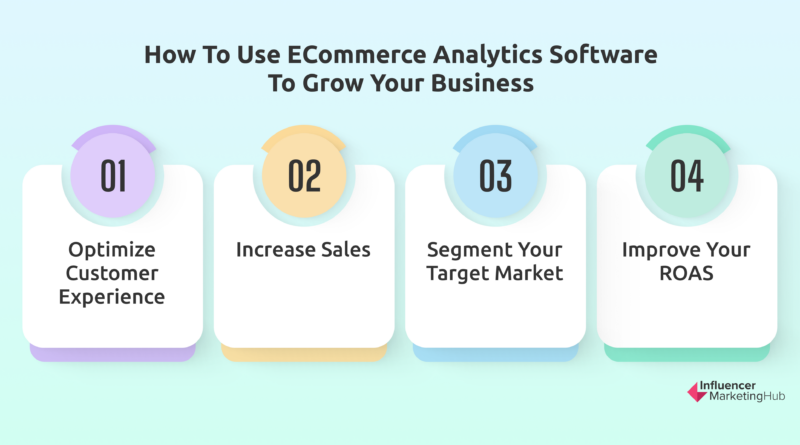 Optimize Customer Experience
It's no secret that customers will more likely patronize your business if you provide good customer service and experience. By using eCommerce analytics software, you can deliver great experiences that will delight your customers and keep them coming back.
AI-powered eCommerce tools allow businesses to personalize each experience according to the visitor's preferences and history. Things like product recommendations, personalized offers and rewards as well as important notifications can all contribute to an enhanced customer experience that will lead to higher revenue.
---
Increase Sales
Boost your conversion rate by analyzing significant data and KPIs on your website. Which of your products are always selling out? You can adjust inventory to match the demand. Are customers leaving the site at the payment page? You might need to offer more modes of payment. Is there most-viewed product page that rarely gets added to the cart? You might need to rewrite the product description.
Increasing your conversion rate means studying the different factors that might affect a customer's decision to purchase, and improving so that your website or app can lead customers smoothly down the funnel until they ultimately checkout and complete the transaction—including an exceptional after-sales service.
Your data can also show which of your market segments have high customer lifetime value. You can use this information to make sure that these customers get top-notch customer service, and perhaps even offer them exclusive rewards so they can remain loyal customers.
---
Segment Your Target Market
Market segmentation is used by businesses in order to match marketing efforts to the right customer. By grouping together customers with similar characteristics or interests, you can craft messages that will resonate with them, increasing the chance that they will respond to you positively.
Artificial intelligence makes defining your customer segments easier and more reliable. Use data to group visitors according to specific attributes, site activity, or other characteristics. Then you can personalize your advertising and marketing messages per segment so you're sure that your target market receives information that is relevant and interesting to them.
---
Improve Your ROAS
Finally, you can use eCommerce analytics tools to improve your ROAS, or Return on Ad Spend. By obtaining data from all your campaigns, you can measure their performance and eliminate poor-performing ads, boost high-performing ones, or modify those that need a bit more editing. Experiment with A/B testing to identify the best content or design for campaigns. You can even track data across multiple channels and determine which ones don't really contribute to your sales. You might find that Facebook ads don't bring in as much revenue as ads from Instagram; you can then redirect your budget for Facebook ads toward Instagram, for example.
---
Let eCommerce Analytics Drive Your Decisions
Ecommerce analytics gives you more than just descriptive numbers about your business. It lets you make sound decisions based on empirical evidence. As more and more businesses utilize tools and software to help manage their operations, it will be unwise to continue doing business the old-fashioned way, without technological assistance. Technology should help our work, not hinder it—and these examples of eCommerce analytics software tools can bring your business to the next level.