Advertising Disclosure
Advertising disclosure:
Our partners compensate us. This may influence which products or services we review (also where and how those products appear on the site), this in no way affects our recommendations or the advice we offer. Our reviews are based on years of experience and countless hours of research. Our partners cannot pay us to guarantee favorable reviews of their products or services.
The eCommerce industry is booming, with global sales projected to exceed $5 trillion for the first time this year. So what better way to maximize your eCommerce potential than by enlisting the professional assistance of the top eCommerce digital agencies? 
These agencies specialize in harnessing the power of digital tools and marketing strategies to elevate online stores. From optimizing your website for the ultimate user experience to implementing cutting-edge SEO practices that propel your products to the top of search results, they offer a plethora of services designed to boost your online visibility and customer engagement. Join us as we unveil the top 9 agency picks by our experts.
---
Top eCommerce Digital Agency Choices
Top
ecommerce digital agencies
2024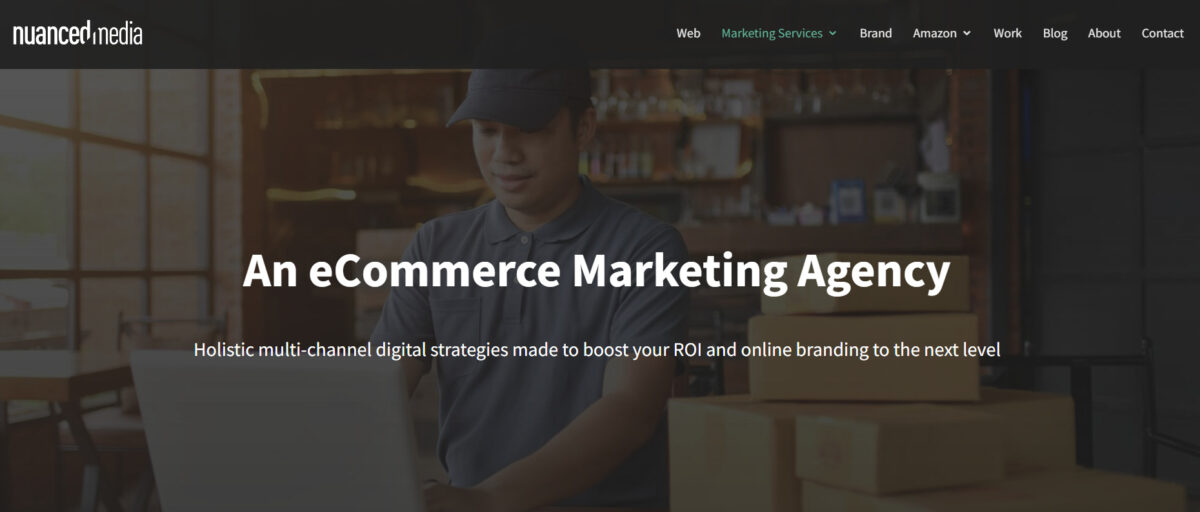 Nuanced Media emerges as an industry leader, distinguished by its unwavering commitment to Amazon and eCommerce brands. What sets Nuanced Media apart is its comprehensive suite of services tailored to navigate the intricate world of the Amazon marketplace. From accelerated sales strategies, tailored keyword research, and listing copywriting to vendor-to-seller management, graphic/image development, and brand registry support, the agency covers every facet of your eCommerce journey.
 Their storefront design and PPC management expertise increase sales while optimizing advertising costs. Nuanced Media's proficiency further extends to product launches, influencer marketing, wholesale & retail consulting, affiliate marketing, social media promotions, website design & optimization, media buying, and more. With Nuanced Media, it's like gaining a dedicated eCommerce and Amazon division within your company.
Nuanced Media's team focuses on one mission: making your goals a reality. Strategists ensure your short and long-term goals materialize, while marketers, deeply immersed in the eCommerce world, understand how to elevate your brand. Designers craft visually compelling brand narratives to help you stand out in a competitive marketplace, and developers take your brand to the next level with web enhancements and automation.
---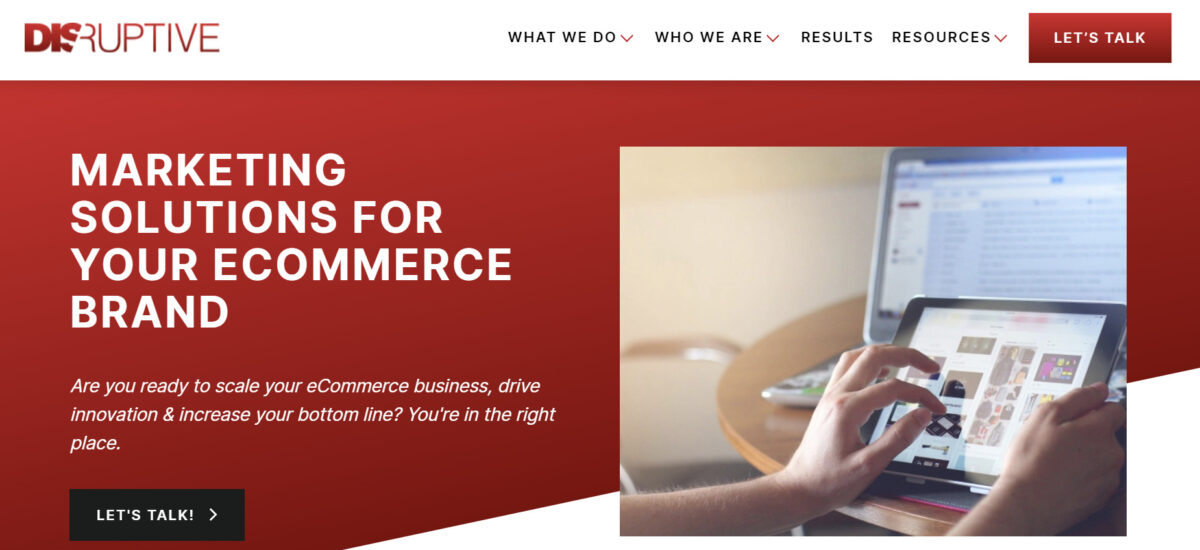 Among eCommerce digital agencies, Disruptive Advertising stands as an unparalleled force. Their commitment to driving innovation and increasing the bottom line for eCommerce businesses is a testament to their expertise and dedication. Offering a full spectrum of marketing solutions, Disruptive Advertising is poised to scale your venture and streamline your digital marketing efforts.
What sets Disruptive Advertising apart is its holistic approach to eCommerce marketing. With a dedicated Account Manager, they craft cohesive, full-funnel digital marketing strategies tailored to your unique needs. Their services encompass paid search, paid social, SEO, and Amazon PPC management, ensuring your brand receives comprehensive exposure. Moreover, their focus on retargeting and storefront CRO is designed to enhance your sales and profitability. Their data-driven tactics are underpinned by a commitment to tangible results, emphasizing repeat sales, brand loyalty, and referrals.
Disruptive Advertising's success stories speak volumes about their capabilities. Their clients, spanning various B2C businesses, commend their responsiveness, professionalism, and ability to drive results. They are more than just an advertising agency; they are strategic partners who understand the intricacies of eCommerce marketing.
---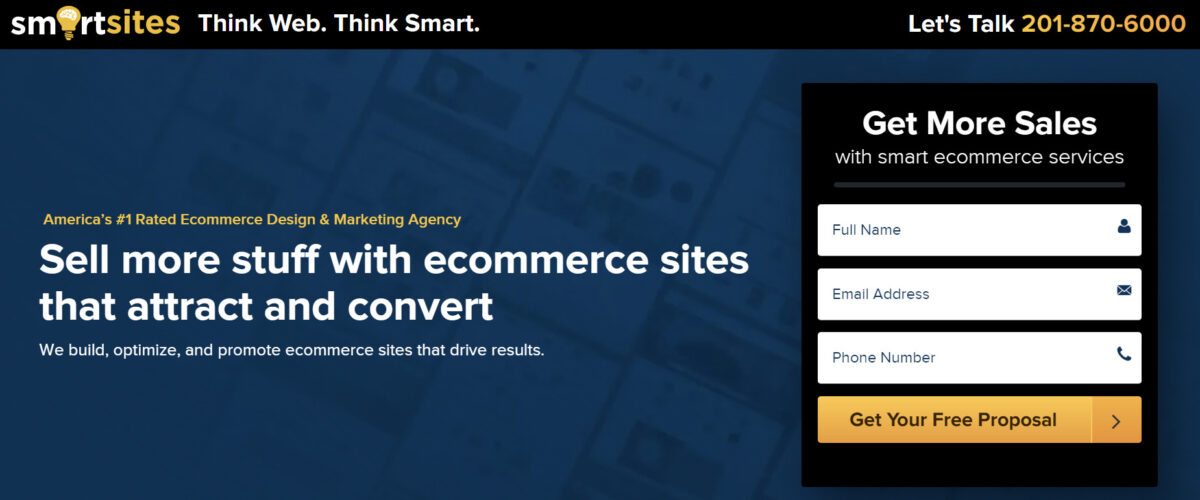 SmartSites redefines the landscape of eCommerce design and marketing with a notable dedication to helping your business sell more effectively. They specialize in building, optimizing, and promoting eCommerce stores to attract and convert visitors into loyal customers.
SmartSites has impeccable credentials and a track record of excellence. They offer eCommerce development on various platforms, including Magento, WooCommerce, Shopify, Bigcommerce, and more. Their Magneto 2 certification, Shopify partnership, and WooCommerce expertise underscore their commitment to delivering top-notch solutions.
SmartSites understands the importance of digital marketing in driving results. Their integrated eCommerce digital marketing solutions encompass comprehensive tracking, ongoing SEO efforts for long-term success, and targeted PPC campaigns for instant results. With over $100 million in client revenue generated, SmartSites proves that they don't just talk about results – they deliver them. If you're looking to elevate your eCommerce game and outshine your competitors, partnering with SmartSites is one option to choose from.
---

When it comes to achieving profitable, long-term growth in the ever-evolving world of eCommerce, Thrive is the name that stands out. Thrive's integrated eCommerce marketing services are designed to help businesses of all sizes convert shoppers into paying customers, from startups to large corporations. With the shift towards online shopping, having a strong online presence is paramount, and Thrive is here to make it happen.
What truly sets Thrive apart is its in-depth understanding of the eCommerce landscape. They recognize that the market offers flexible solutions for both businesses and customers, transforming traditional brick-and-mortar stores into innovative online businesses that operate 24/7. They understand the challenges you might face with your business, from increased competition to the demand for personalized customer experiences. Therefore, Thrive's strategies are data-driven and designed to help you 'thrive' in this competitive space.
Thrive's approach combines various strategies, including eCommerce SEO to enhance your search visibility, content marketing to improve brand engagement, PPC management to connect with high-intent buyers, and web design for an optimal user experience. Thrive's results speak for themselves, with clients experiencing significant increases in search campaigns, Google Shopping conversions, click-through rates, website traffic, transactions, and organic revenue.
---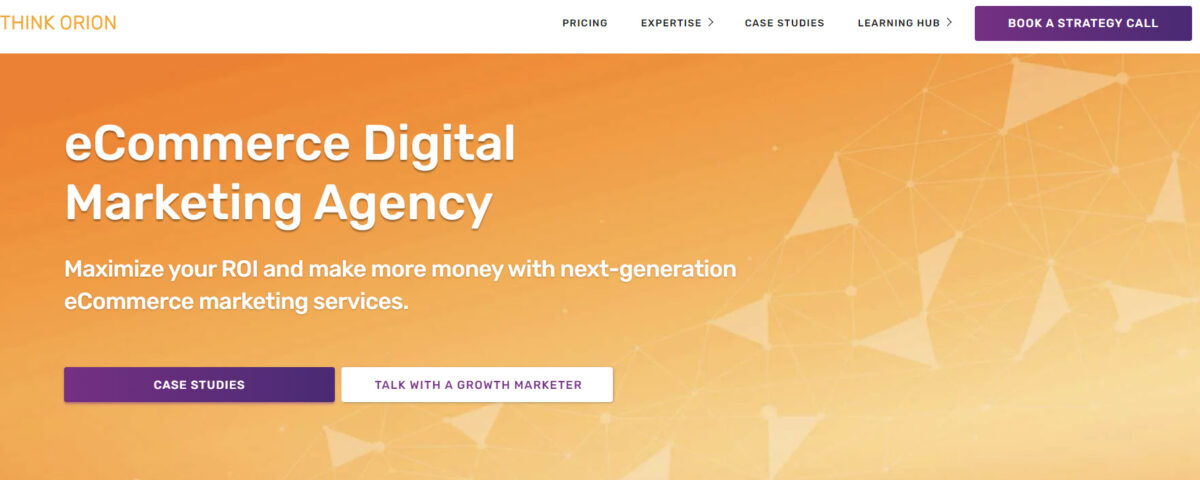 Think Orion offers next-generation eCommerce marketing services that maximize ROI and foster profitability. It helps you set up online stores, but it has unrivaled expertise in driving product sales, outshining competitors, and achieving exponential growth. Their dedicated team of specialists has a track record of scaling businesses up to 10x while ensuring profitability remains at the forefront.
At Think Orion, they take the reins of your eCommerce campaigns, orchestrating a symphony of paid traffic generation and conversion optimization to catapult your growth and deliver transformative results. Working closely to plan and execute marketing strategies allows you to focus on what they do best while ascending to new heights. Transparency and real-time campaign performance tracking are core values, ensuring you bid farewell to dwindling sales figures and embrace marketing services that drive success.
Think Orion's eCommerce digital marketing services are a comprehensive suite designed to tackle your business's unique challenges. This battle-tested ad agency leverages platforms like Instagram, Pinterest, Snapchat, and Facebook's machine learning to accelerate growth, eliminate wasted spending, and reduce trial and error phases. Their email marketing not only assists you in creating engaging campaigns but also provides high-quality email graphic designs and A/B testing opportunities, aiming to transform shoppers into loyal customers.
---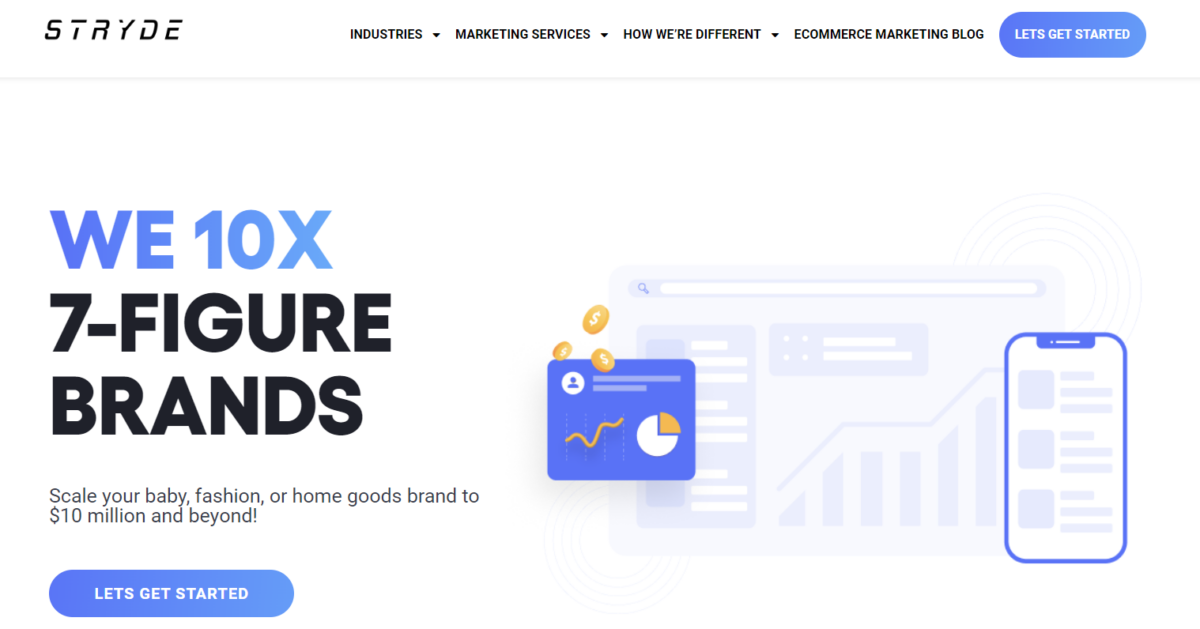 Stryde emerges as a digital marketing agency that stands out, fueling growth for brands with unparalleled expertise and passion. With a track record of propelling 7-figure brands to 8-figure and beyond, Stryde specializes in consumer goods businesses, particularly in the baby, fashion, home goods, and sporting goods D2C sectors. Their eCommerce marketing framework is meticulously crafted for you to achieve exponential growth within 24-36 months.
Stryde's approach revolves around understanding the customer journey and decision-making process, from awareness to purchase. Their team of digital marketing experts collaborates closely with you to identify the ideal target audience, comprehend their purchase behaviors, and formulate marketing strategies that enhance brand awareness, nurture prospects through the marketing funnel, convert them into high-value customers, and foster brand advocacy. Stryde's dedication to client success is evident in their commitment to putting in place marketing systems and processes typically utilized by $10 million eCommerce businesses.
Stryde also offers you a comprehensive suite of digital marketing services, including SEO, Facebook & Paid Social, Paid Search/SEM, Enterprise SEO, and Email Marketing. What sets Stryde apart is their unwavering passion for your growth and their proven ability to scale your brand to new heights.
---

In the domain of eCommerce digital agencies, Single Grain shines as a top-tier agency committed to delivering tailored, game-changing marketing campaigns. Renowned for its work with industry giants like Fujitsu, Amazon, and Nordstrom, Single Grain is a powerhouse that consistently boosts the bottom line for its clients. They distinguish themselves through a meticulous understanding of the nuances that separate average efforts from exceptional eCommercee marketing campaigns.
As a comprehensive marketing agency, Single Grain strategically allocates your marketing budgets to ensure the most impactful results, encompassing paid advertising, social media marketing, SEO, content marketing, and conversion rate optimization. What sets Single Grain apart is its unwavering focus on high return on investment (ROI) campaigns. With expertise in Amazon storefront optimization, Single Grain empowers you to increase revenue and cultivate a dedicated following. Their arsenal of digital marketing tactics, growth hacks, and optimization tools are customized to your unique needs, making them one of the most coveted partners in the competitive space.
Single Grain's collaboration with leading companies within the eCommerce sector has sharpened their understanding of the dynamic and cutthroat nature of success. Their commitment to getting results is unwavering, with a core focus on crafting the most successful eCommerce marketing campaigns possible.
---

With Inflow, there are no one-size-fits-all solutions; instead, they provide tailored strategies designed to nurture your brand's growth. As seasoned eCommerce experts, Inflow's friendly strategists are intimately familiar with eCommerce websites, equipped to enhance brand awareness and boost your bottom line through strategies uniquely suited to your specific requirements.
Inflow's mastery of the digital realm extends to a range of services that address diverse challenges faced by online businesses. Whether you're grappling with stagnant profits, overspending on marketing campaigns, the aftermath of a Google update, lackluster sales, or platform migration concerns, Inflow's dedicated team of marketing experts has you covered. Their full-service solutions encompass Google Ads management, expert SEO services, conversion rate optimization, and paid social campaigns.
What truly sets Inflow apart is its commitment to personalized digital marketing strategies, ensuring every client receives the attention they deserve. Moreover, the results speak for themselves, with impressive statistics showcasing a 97% client retention rate, a 134% increase in average ad revenue, and an impressive $2 million managed ad spend per month. Client testimonials further affirm Inflow's reputation for excellence, with clients praising their technical expertise, dedication, and unmatched results.
---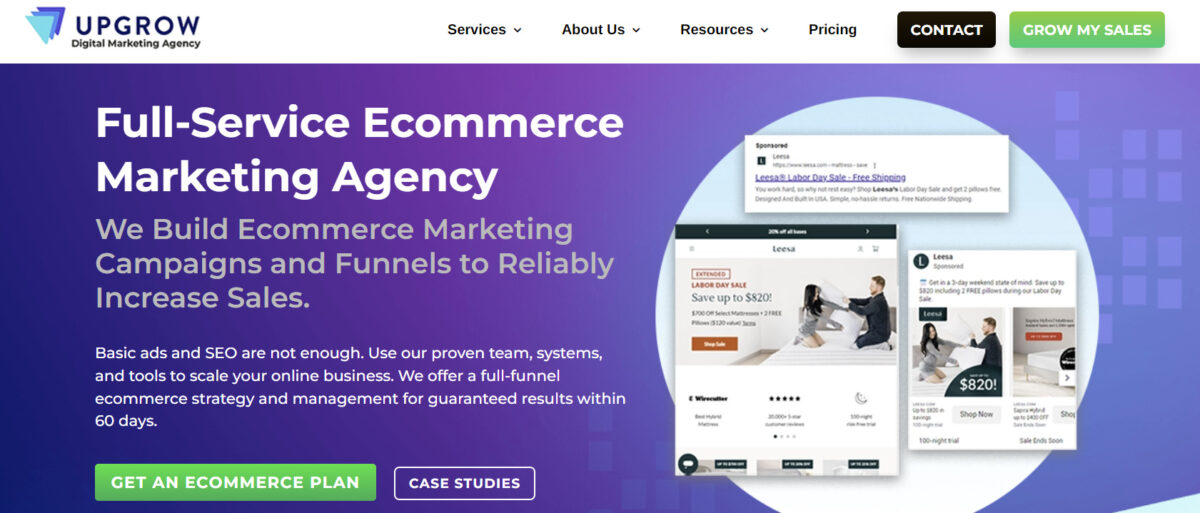 Upgrow offers a comprehensive suite of services designed to propel your online business to new heights. At the core of Upgrow's mission is its commitment to reliability, guaranteeing tangible results within a mere 60 days. This pledge extends beyond the realm of basic ads and SEO, as Upgrow's team of experts harnesses proven strategies, systems, and tools to transform your online business into a thriving enterprise.
Upgrow's team conducts in-depth research into your website, evaluates your competitors, and immerses themselves in your industry. The result? A launch plan meticulously tailored to your unique business needs. With a legacy rooted in industry giants like eBay and Fossil, Upgrow's founders bring unparalleled eCommerce expertise to the table, ensuring that sales growth harmonizes with a healthy ROI. Beyond mere maintenance, Upgrow innovates, consistently refining and optimizing every facet of your sales process to exceed your targets. Open communication and quarterly reviews are integral to their partnership philosophy, ensuring a shared journey and alignment of visions in the ever-evolving business landscape.
When you choose Upgrow as your eCommerce marketing agency, you gain access to an extensive array of services that span the digital marketing spectrum. From eCommerce SEO and store conversion rate optimization to PPC advertising, Amazon advertising, social media campaigns, and comprehensive content marketing across the sales funnel, Upgrow offers a unified approach that elevates your brand across all touchpoints. Moreover, they optimize the entire marketing funnel, addressing elements such as landing page design, lead-flow planning, and retention/referral retargeting programs.
---
How to Maximize Your eCommerce Investment?
eCommerce has become a significant option in selling digital goods, offering tremendous opportunities for growth and profitability. However, simply having an online store is not enough to guarantee success. To truly thrive in the competitive world of eCommerce, you need to maximize your investment. Here are some strategies to help you do just that.
Firstly, focus on user experience. Your website should be user-friendly, responsive, and visually appealing, as a smooth and enjoyable shopping experience will encourage customers to stay longer and make purchases. Secondly, invest in quality product photography and descriptions. High-quality images and detailed product information build trust with potential customers, increasing the likelihood of conversions. According to Indeed, good product images can boost product views by as much as 94%, subsequently increasing the chances of converting customers.
Thirdly, leverage social media and content marketing. Create engaging content that resonates with your target audience and promotes your products. Social media platforms provide an excellent opportunity to connect with your customers and drive traffic to your online store. HubSpot says 31% of salespeople rely on social content to drive sales.
Lastly, consider offering personalized recommendations and discounts to new and returning customers. Convince & Convert found that 93% of shoppers use discount codes, pointing to customers actively seeking deals online. This not only increases customer retention but also boosts your average order value. 
---
How to Ensure a Smooth Partnership with Your Chosen Agency?
Selecting the right eCommerce agency is a crucial decision that can greatly impact the success of your online business. Once you've made your choice, it's essential to ensure a smooth and productive partnership. Here's how to do just that.
Clear Communication: Effective communication is the foundation of any successful partnership. Clearly articulate your goals, expectations, and project requirements to the agency from the start. Encourage open and honest dialogue throughout the collaboration.
Set Realistic Goals: While it's essential to be ambitious, you should also be realistic. Collaborate with your chosen agency to establish achievable milestones and benchmarks. This helps manage expectations and ensures everyone is on the same page.
Regular Updates and Reporting: Request regular updates and progress reports from the agency. This allows you to stay informed about the status of your project and make any necessary adjustments along the way.
Transparency: Transparency is key to building trust. Ensure the agency provides detailed breakdowns of costs, timelines, and project plans. A transparent partnership fosters confidence and accountability.
Flexibility: eCommerce landscapes can change rapidly. Therefore, be prepared to adapt to new developments and opportunities. A flexible agency that can adjust to your evolving needs is invaluable.
Feedback Loop: Establish a feedback loop where both you and the agency can provide constructive criticism and suggestions. This helps refine processes and improve the quality of work.
---
Conclusion
This comprehensive review of the top 9 eCommerce digital agencies has unveiled an array of strategic partners poised to help you realize your eCommerce goals. Each agency brings its unique strengths to the table and offers specialized services tailored to elevate your venture.
To maximize your eCommerce investment, focus on a user-friendly website, quality product content, social media engagement, personalization, data analysis, and staying updated with industry trends. Equally important is ensuring a productive partnership with your chosen agency. Clear communication, realistic goal setting, transparency, flexibility, and a commitment to continuous improvement are the keys to harmonious and fruitful collaboration.
Frequently Asked Questions
What is an eCommerce Digital Agency?
An eCommerce Digital Agency is a specialized firm that offers solutions for businesses seeking to sell their products or services online. They provide a range of services, including web design, development, marketing strategies, SEO, PPC campaigns, and more, tailored to drive online sales and improve the digital presence of an eCommerce business.
How does an eCommerce Digital Agency differ from a general digital agency?
While general digital agencies offer a broad spectrum of services for various online needs, an eCommerce Digital Agency specifically focuses on online retail businesses. Their expertise lies in developing eCommerce websites, optimizing product listings, implementing online payment solutions, and crafting marketing strategies that cater to online shoppers.
Why Should a Business consider hiring an eCommerce Digital Agency?
eCommerce Digital Agencies bring specialized knowledge of the online retail landscape. They can provide insights into current market trends, buyer behaviors, and best practices specific to eCommerce. By hiring such an agency, businesses can get a competitive edge, ensuring their online store is optimized for conversions, user experience, and search visibility.
How do I choose the right eCommerce Digital Agency for my business?
When selecting an agency, consider their experience in your industry, check their portfolio, and read client testimonials. Discussing your business goals and seeing if they align with the agency's approach is essential. Cost, communication style, and their technologies are other factors to consider.