Podcasting has increased in popularity over the last few years. According to Infinity Dial, 75% of the US population is now familiar with the term "podcasting," up from 70% in 2019. Indeed, even in 2017, Nielson found 50% of all US homes were podcast fans. By 2020, 55% (155 million) of the US population had listened to a podcast.
eCommerce has also exploded over the last few years and come into its own since the arrival of COVID-19. Indeed, e-retail sales now account for 14.1% of all retail sales worldwide. Statista forecasts that this figure will reach 22% by 2023. Traditional retailers must be worried by predictions that by 2040, around 95% of all purchases will occur via eCommerce.
Therefore, it should come as no surprise that there are numerous successful eCommerce-focused podcasts. This post highlights a selection of podcasts we believe will enlighten and inform those interested in running a successful eCommerce business.
---
Best 20 eCommerce Focused Podcasts:
---
How to Listen to Podcasts
You can listen to podcasts on a web browser or using a phone app. If using a web browser, you will generally have to search for a podcast's web page. We have linked to these below. You can listen to some podcasts on Soundcloud, Spotify, or another specialist audio website.
If you have an iPhone or iPad, you will have Apple's Podcasts app as standard. Open this and search for the podcast that interests you. You can then select the episode you wish to play.
If you have an Android phone, you can download the Google Podcasts app from Google Play. Once you have the app, search for your preferred podcasts and select the episode you want to listen to.
---
eCommerce Focused Podcasts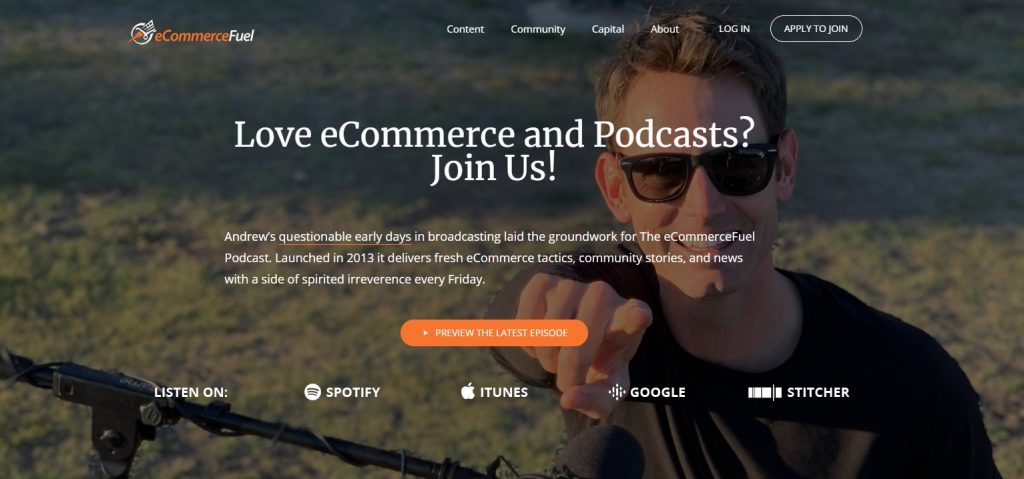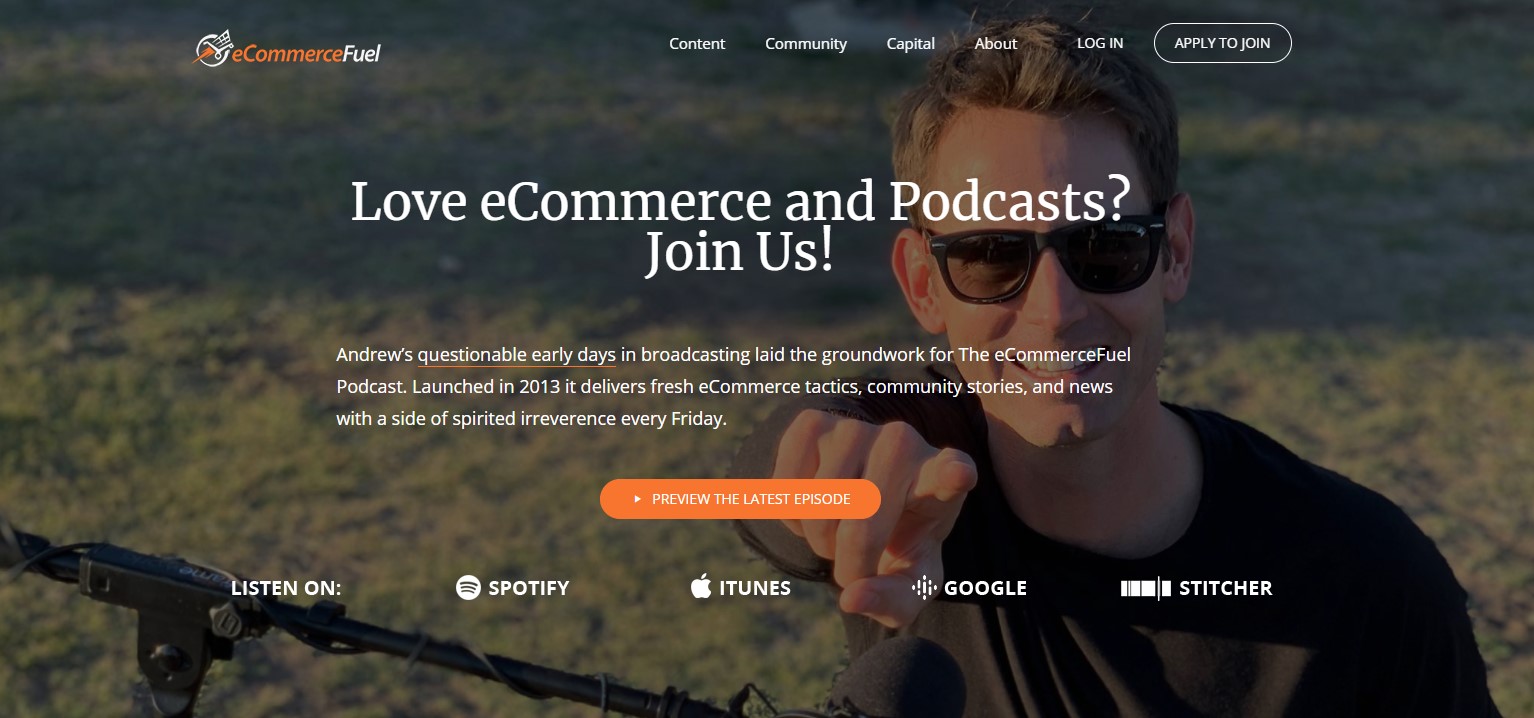 Hosted by: Andrew Youderian
Andrew Youderian is an experienced eCommerce entrepreneur who each week pulls aside some of the industry's top experts to give down-to-earth, actionable advice served up with a side of comic relief. He runs a private community for eCommerce store owners on the website that accompanies his podcast, eCommerceFuel. His mission is to build the world's best community for eCommerce store owners that helps them grow their business while building deep relationships.
Recent episodes include:
Buying and Transforming Underperforming Shares

The World of Asset Based Lending

Bank Hacking for Store Owners
---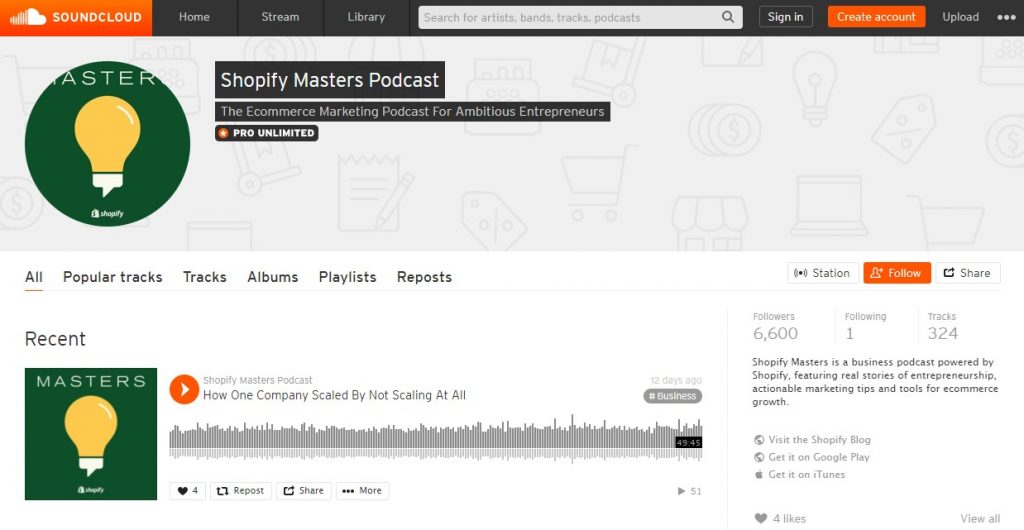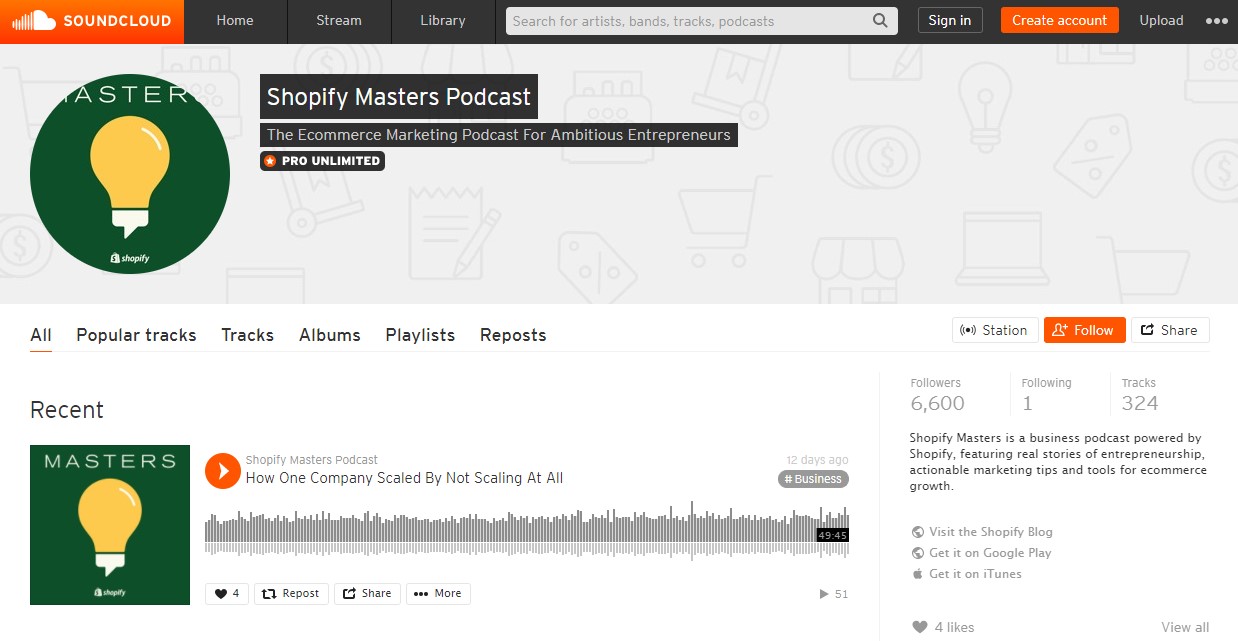 Hosted by: Shopify
Each week, Shopify Masters invites a founder to dig deeper into their business, share the lessons they've learned, and offer helpful resources. Shopify considers itself a collection of founders creating change through commerce.
Recent episodes include:
How One Company scaled by Not Scaling At All

How TikTok Helped This Purpose-Driven Business to Scale to $5 Million in Two Years

How This Entrepreneur Brought Consistent Sales to a Seasonal Business
---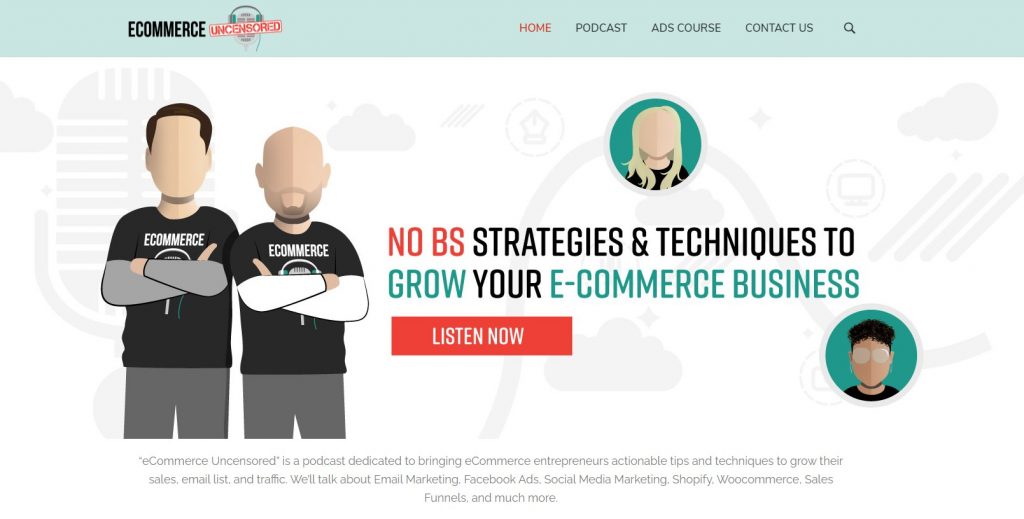 Hosted by: Kevin M and Jason C
eCommerce Uncensored is dedicated to bringing eCommerce entrepreneurs actionable tips and techniques to grow their sales, email list, and traffic. They talk about Email Marketing, Facebook Ads, Social Media Marketing, Shopify, WooCommerce, Sales Funnels, and much more.
Recent episodes include:
How Gina Davis Used Her Background in Fashion to Create a Dog Clothing Line

How Jason Woods Created a Watercraft Business from Scratch

How a Brother and Sister Built Nightcap from a Dream to ABC's Shark Tank
---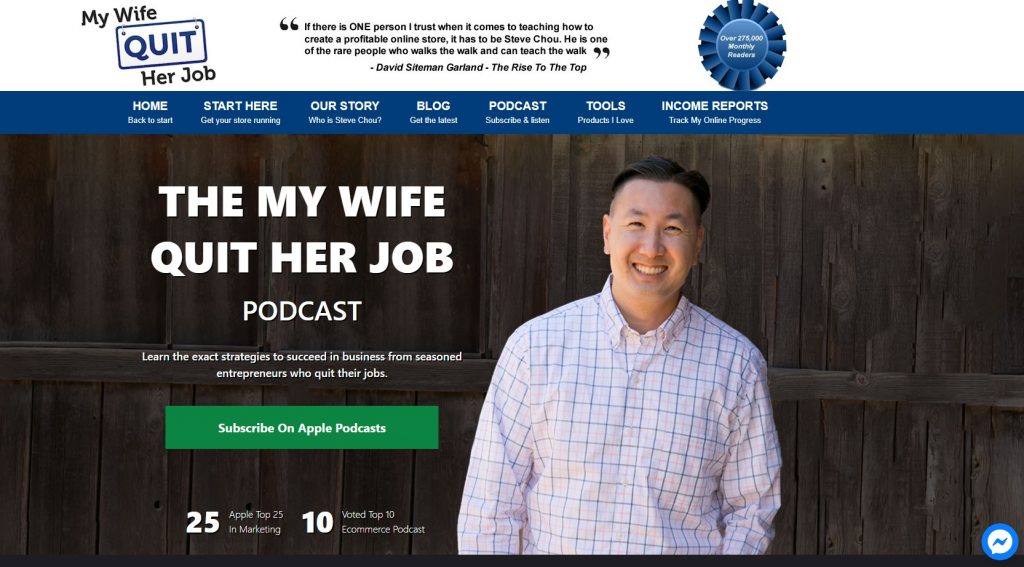 Hosted by: Steve Chou
The My Wife Quit Her Job podcast is about entrepreneurs who quit their jobs to start successful online businesses. Through a series of personal interviews, Steve Chou uncovers the exact strategies that led to his guests' successes.
Recent episodes include:
How to Design Great Packaging for Your Products with Miriska Harris

Making 7 Figures Selling Massage Guns with Victor Yang of Addaday.com

36 Million Dollars in 3 Years – The Story of Brumate with Dylan Jacob
---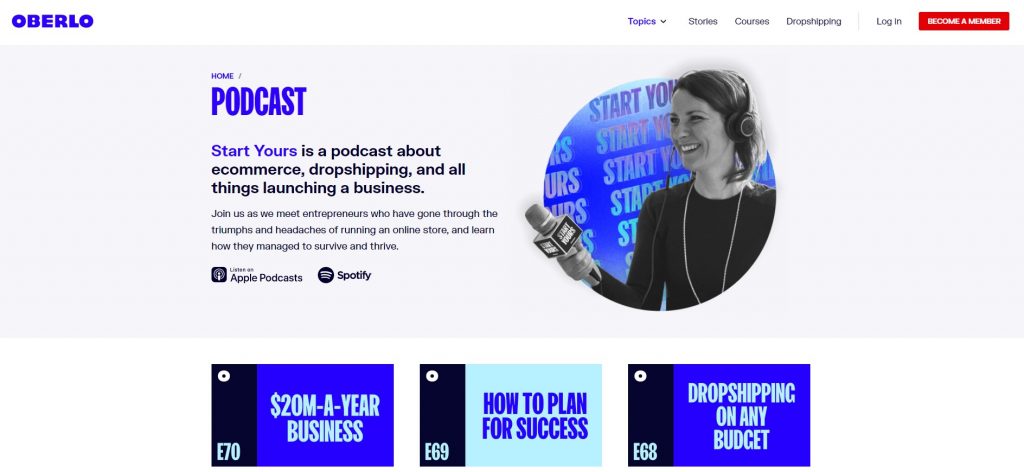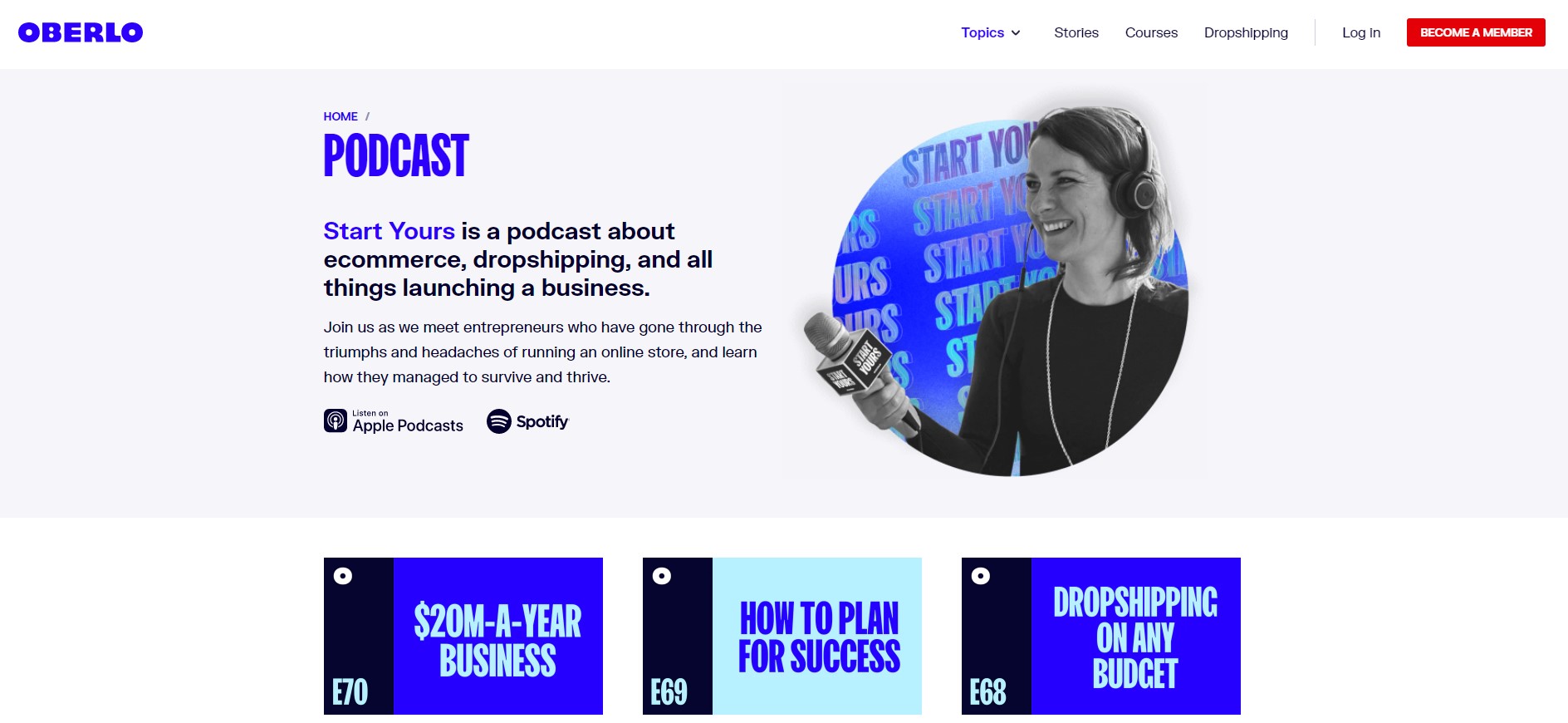 Hosted by: Oberlo
Start Yours is a podcast about eCommerce, dropshipping, and all things launching a business. In these audios, you meet entrepreneurs who have gone through the triumphs and headaches of running an online store and learn how they managed to survive and thrive.
Recent episodes include:
10 Easy Growth Hacks to Master TikTok

From Side-Hustle to a $20M a Year Business

The Money Mindset Difference – How to Plan for Success
---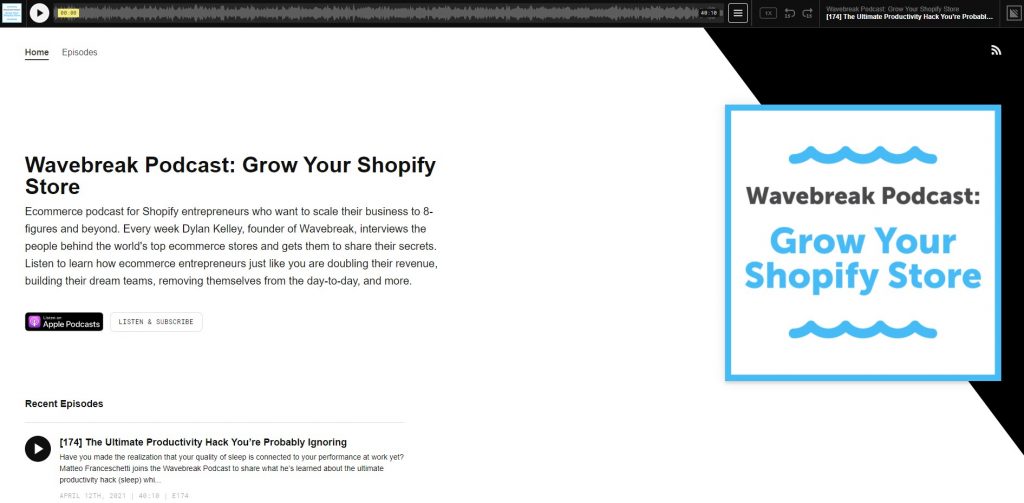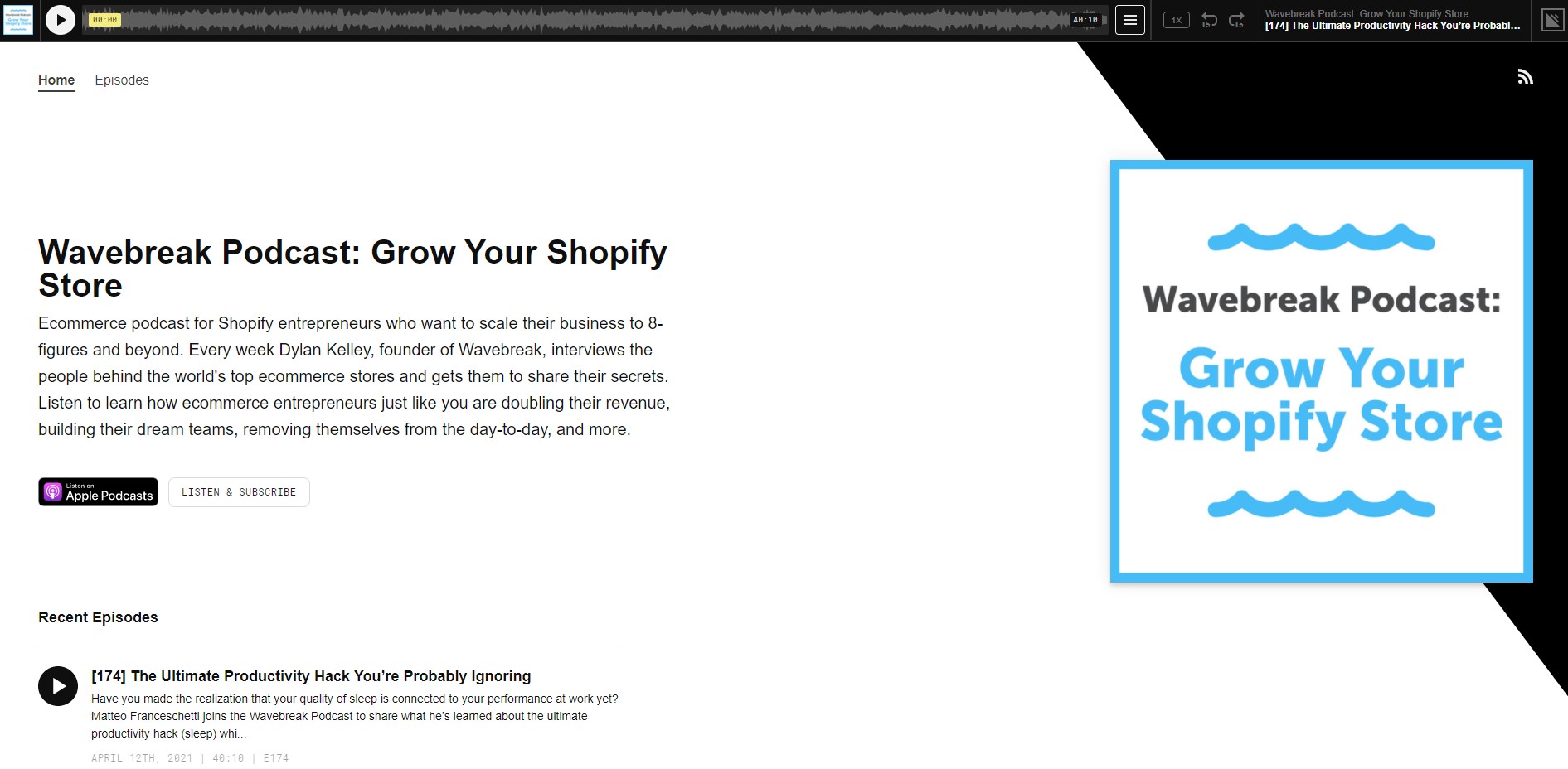 Hosted by Dylan Kelley
Wavebreak is an eCommerce podcast for Shopify entrepreneurs who want to scale their business to 8-figures and beyond. Every week Dylan Kelley interviews the people behind the world's top eCommerce stores and gets them to share their secrets.
Recent episodes include:
Why 'Stickiness' is the Antidote to Rising Competition and Growing Your LTV

Advanced Strategies for Scaling Your eCommerce Business in 2021

How Industry leaders are Using Product Launches to Scale Past $100 Million
---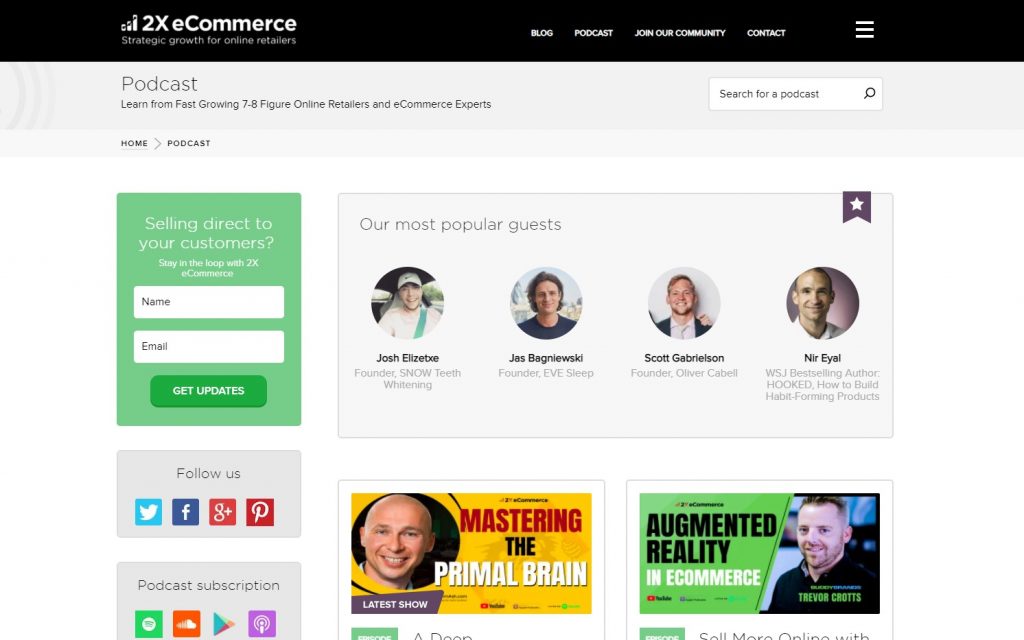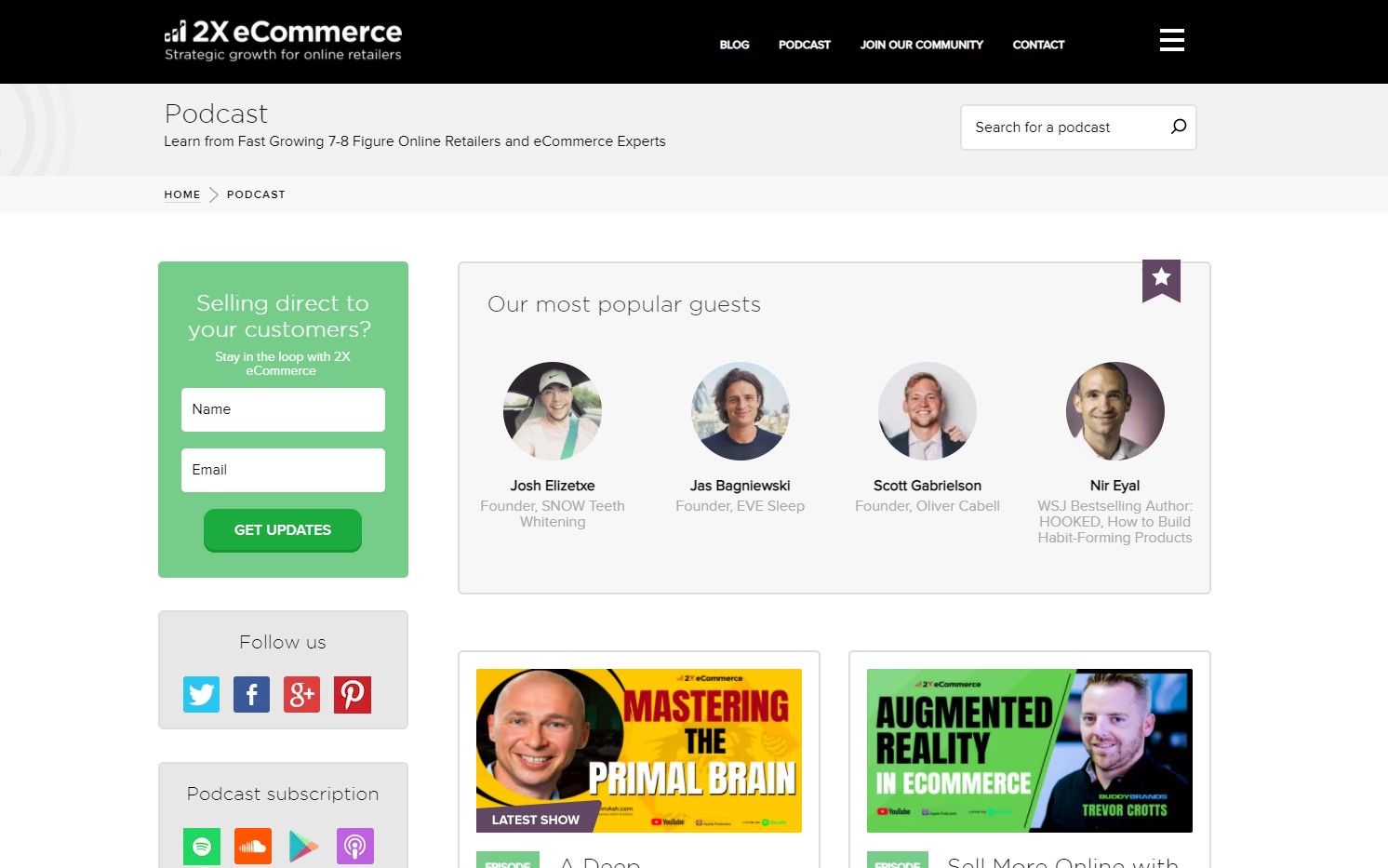 Hosted by: Kunie Campbell
With 2X eCommerce, you can learn from fast-growing 7-8 figure online retailers and eCommerce experts. The podcast features interviews with experts at the forefront of technology and innovation in digital retail.
Recent episodes include:
Sell More Online with 3D Models

Customer Value Optimisation

Juni – the Digital Bank Built for eCommerce and Media Buying
---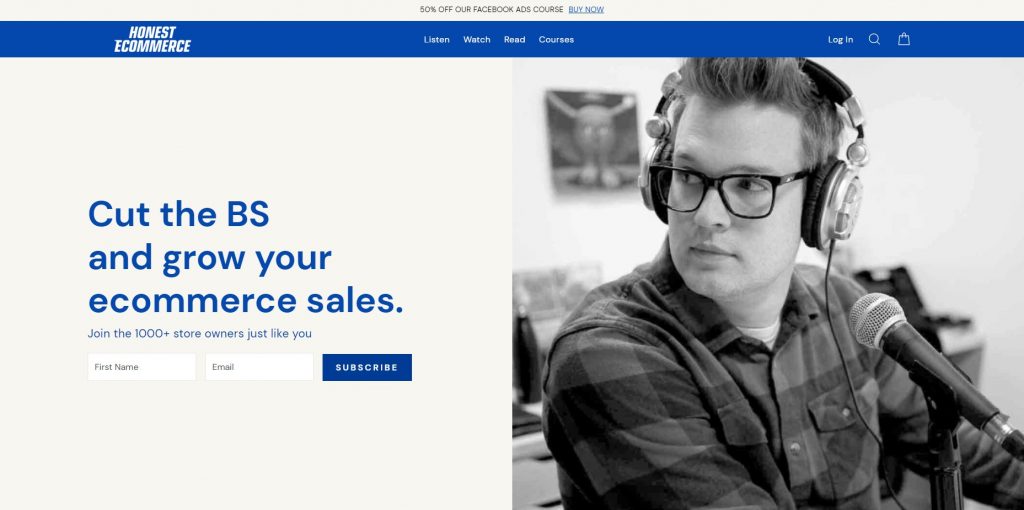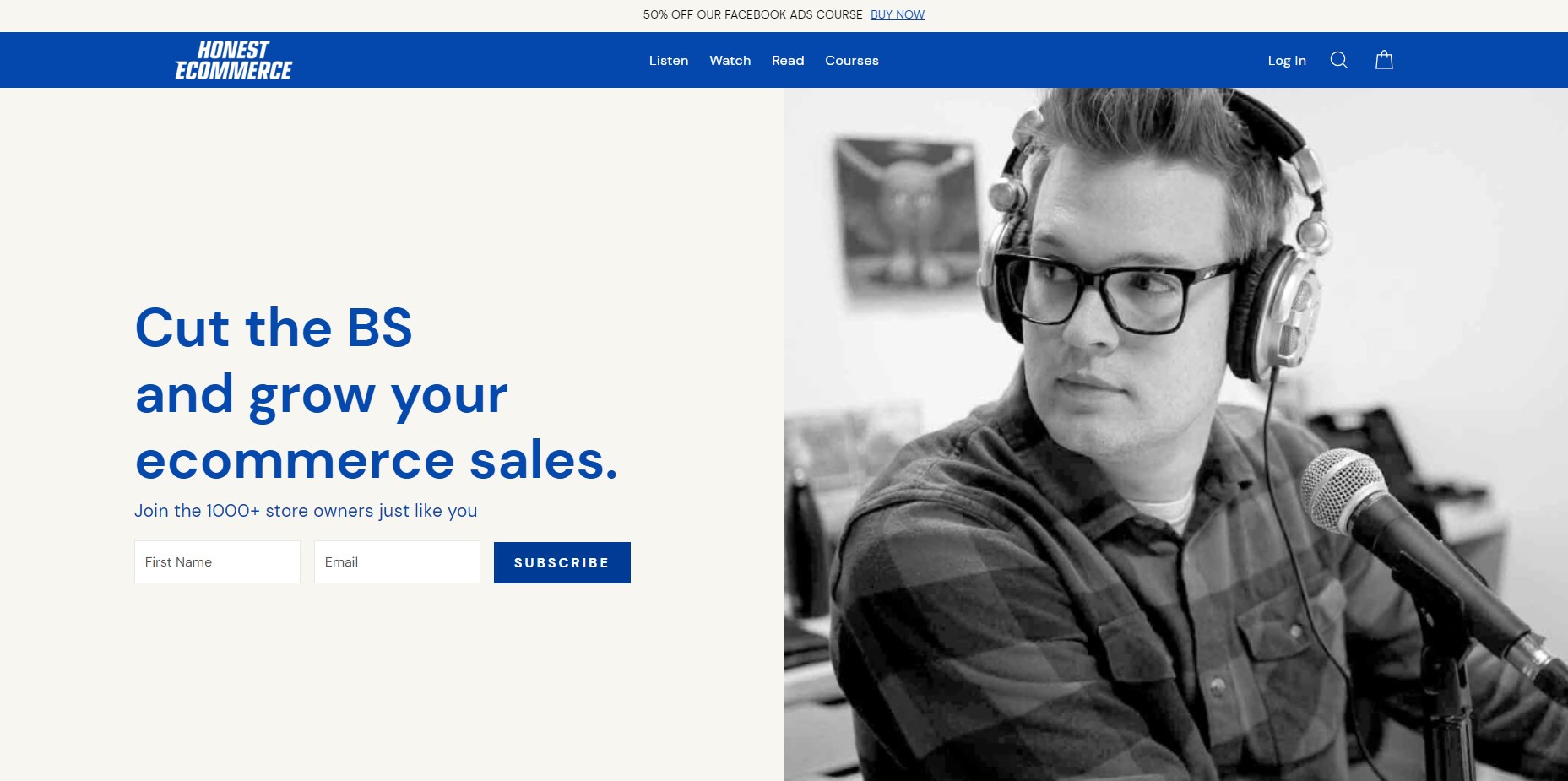 Hosted by: Chase Clymer
Honest eCommerce is a weekly podcast, community, and endless resource for eCommerce store owners and managers who are focused on continued wins. They interview founders and marketers who are putting in the work and reaping real results and share their own insights from running Electric Eye, an eCommerce development and optimization agency.
Recent episodes include:
Outside-the-Box SMS Practices for Your Brand

Unprepared: Scaling Brands Through Partnerships

Keeping the Human Element in Productivity
---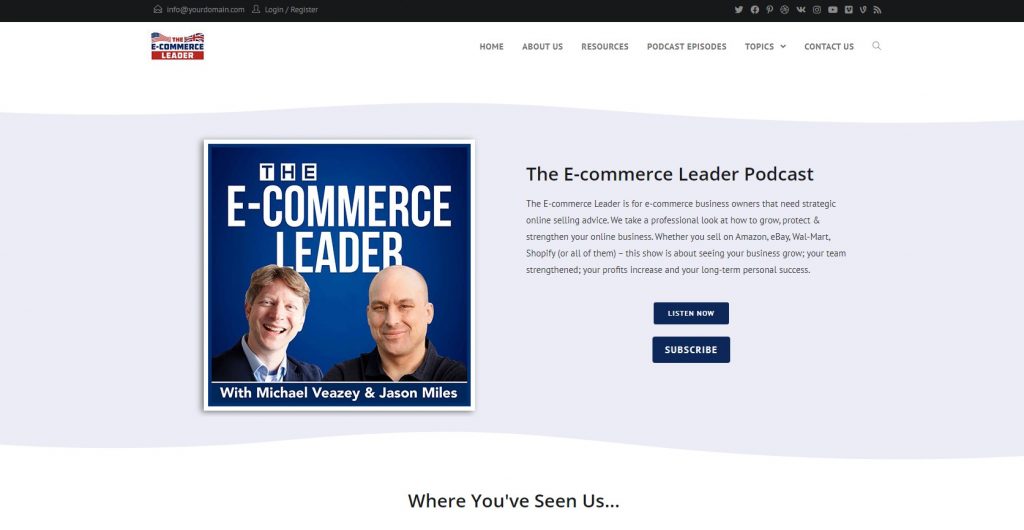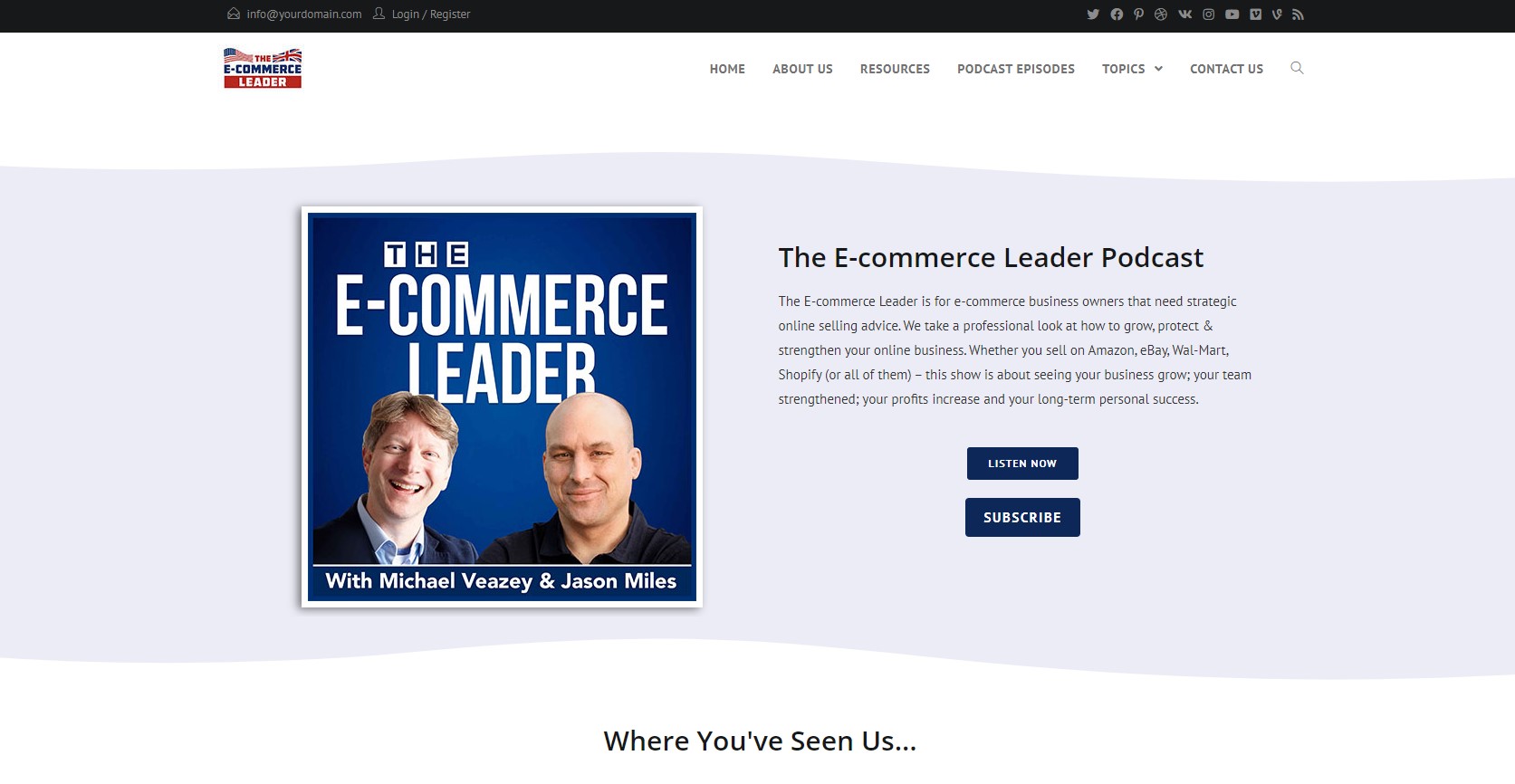 Hosted by: Michael Veazey and Jason Miles
The E-commerce Leader is for eCommerce business owners who need strategic online selling advice. They take a professional look at how to grow, protect and strengthen your online business. Whether you sell on Amazon, eBay, Wal-Mart, Shopify (or all of them) – this show is about seeing your business grow, your team strengthened, your profits increase, and your long-term personal success.
Recent episodes include:
How to Skyrocket Your Pinterest Monthly Viewers

E-commerce Cashflow for Shopify and Amazon – the Secret to Both Safety and Scaling

Time Management for E-commerce Sellers
---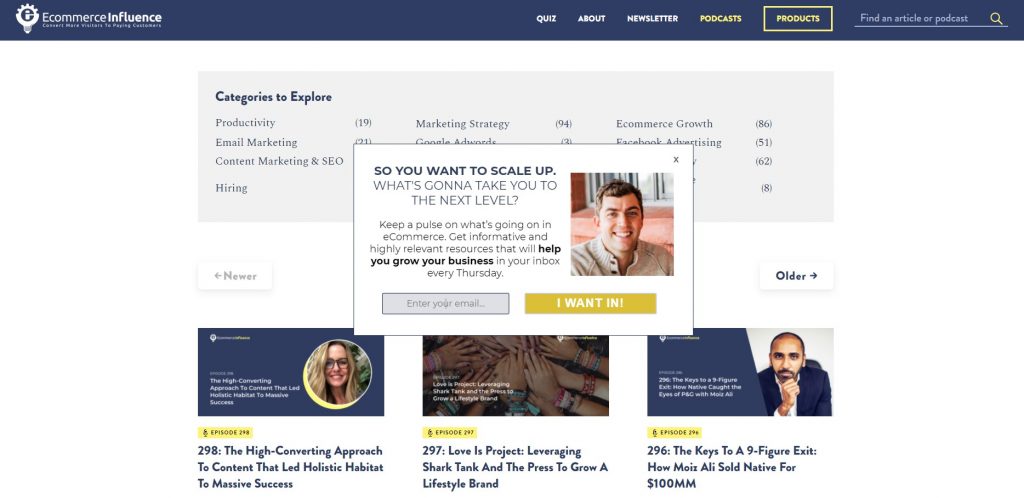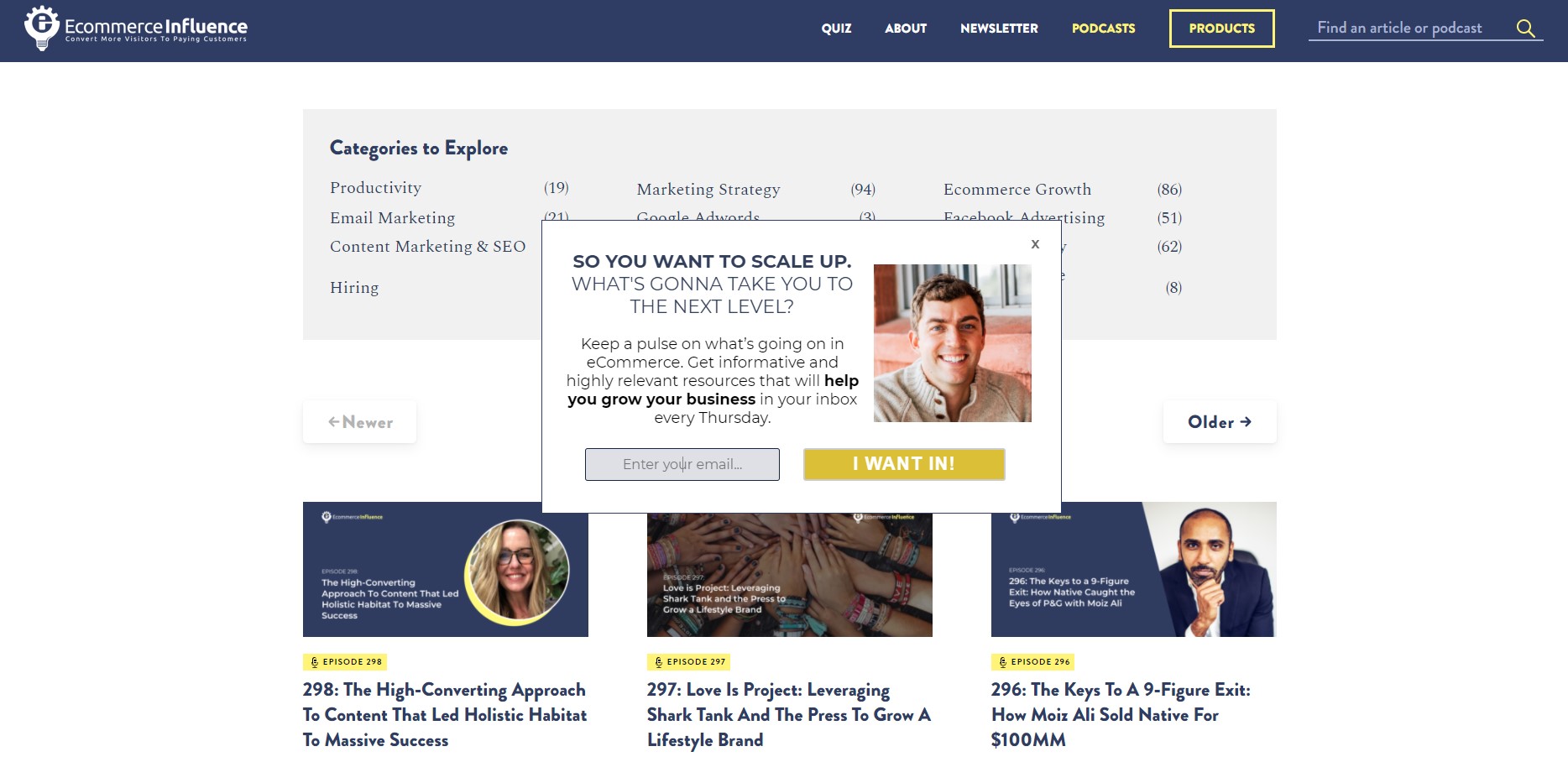 Hosted by: Austin Brawner
Austin Brawner sees the purpose of Ecommerce Influence as being to help eCommerce entrepreneurs build wealth and live more fulfilled lives. Each week he interviews world-class eCommerce operators, deep diving into what's working now, with a refreshing break from the "crush it culture" in the industry.
Recent episodes include:
The Love is Project: Leveraging the Press and Shark Tank to Grow a Lifestyle Brand

The Keys to a 9-Figure Exit: How Moiz Ali Sold Native for $100MM

Building a $100MM Brand: The Story Behind Snow Teeth Whitening
---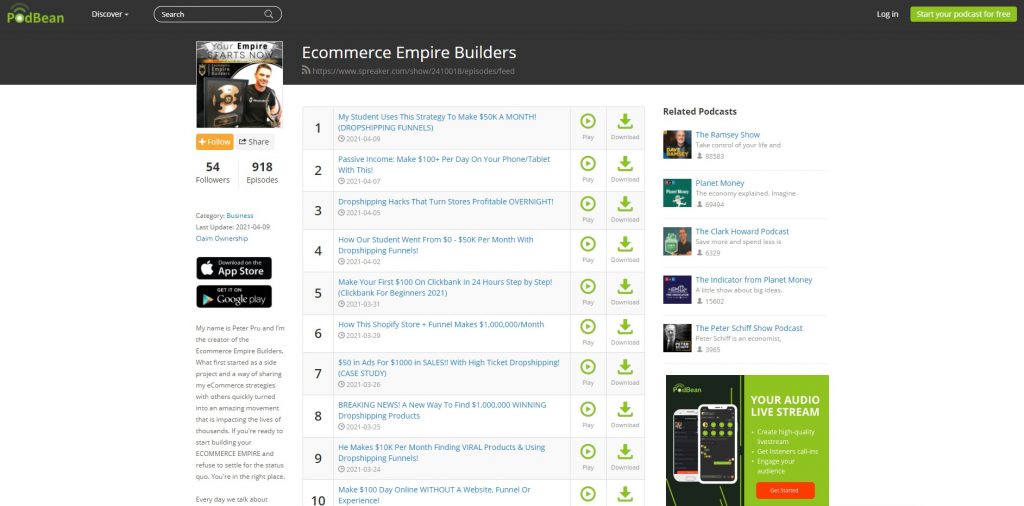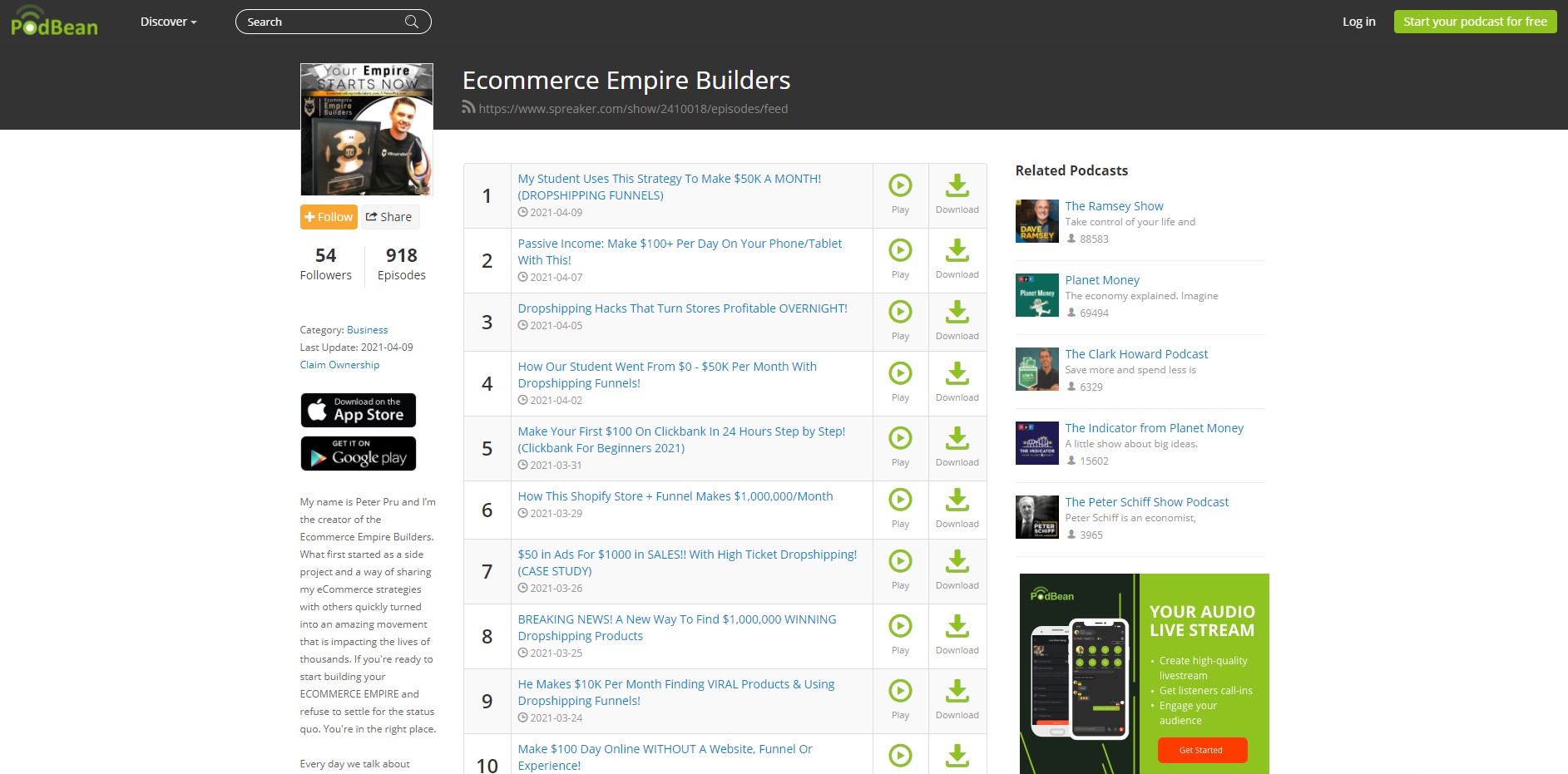 Hosted by: Peter Pru
Ecommerce Empire Builders started as a side project and a way of sharing Peter Pru's eCommerce strategies. But it quickly turned into an amazing movement that is impacting the lives of thousands. Every day Peter Pru talks about Shopify, click funnels, dropshipping, sales funnels, subscription boxes & continuity programs, and general mindset and business strategies for success.
Recent episodes include:
Dropshipping Hacks That Turn Stores Profitable Overnight

How Our Student Went from $0-$50K Per Month with Dropshipping Funnels

Make Your First $100 on Clickbank in 24 Hours Step by Step
---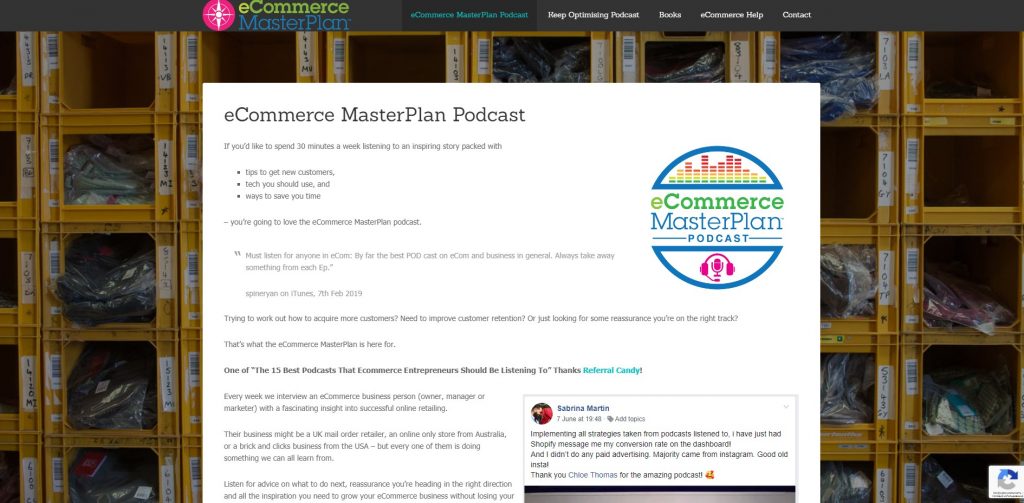 Hosted by: Chloe Thomas
The eCommerce MasterPlan podcast gives you 30 minutes a week listening to an inspiring story packed with tips to get new customers, tech you should use, and ways to save you time. Every week they interview an eCommerce businessperson (owner, manager, or marketer) with a fascinating insight into successful online retailing.
Recent episodes include:
How to Survive the First 12 Months of a Beauty Startup

eCommerce Insurance – what Protection Should You Have?

Expanding Your DTC Business to Wholesale and into New Product Lines
---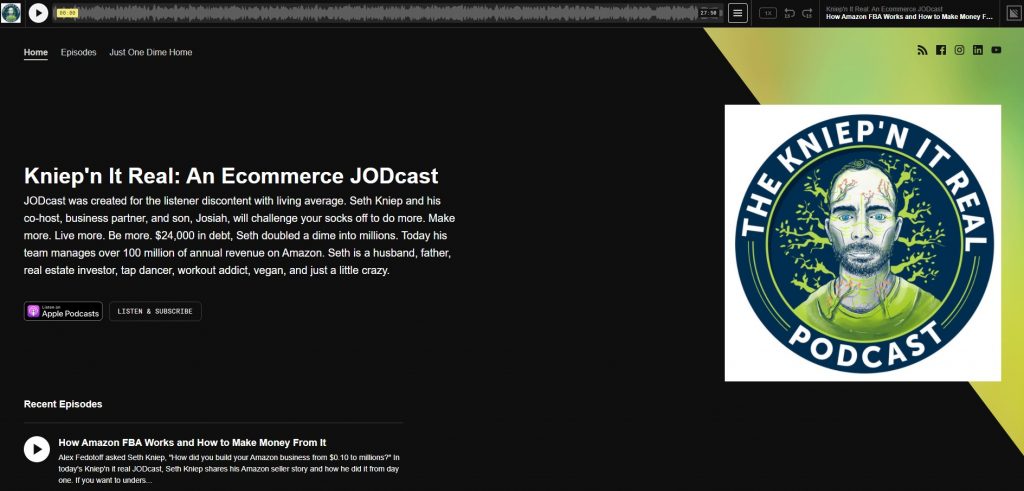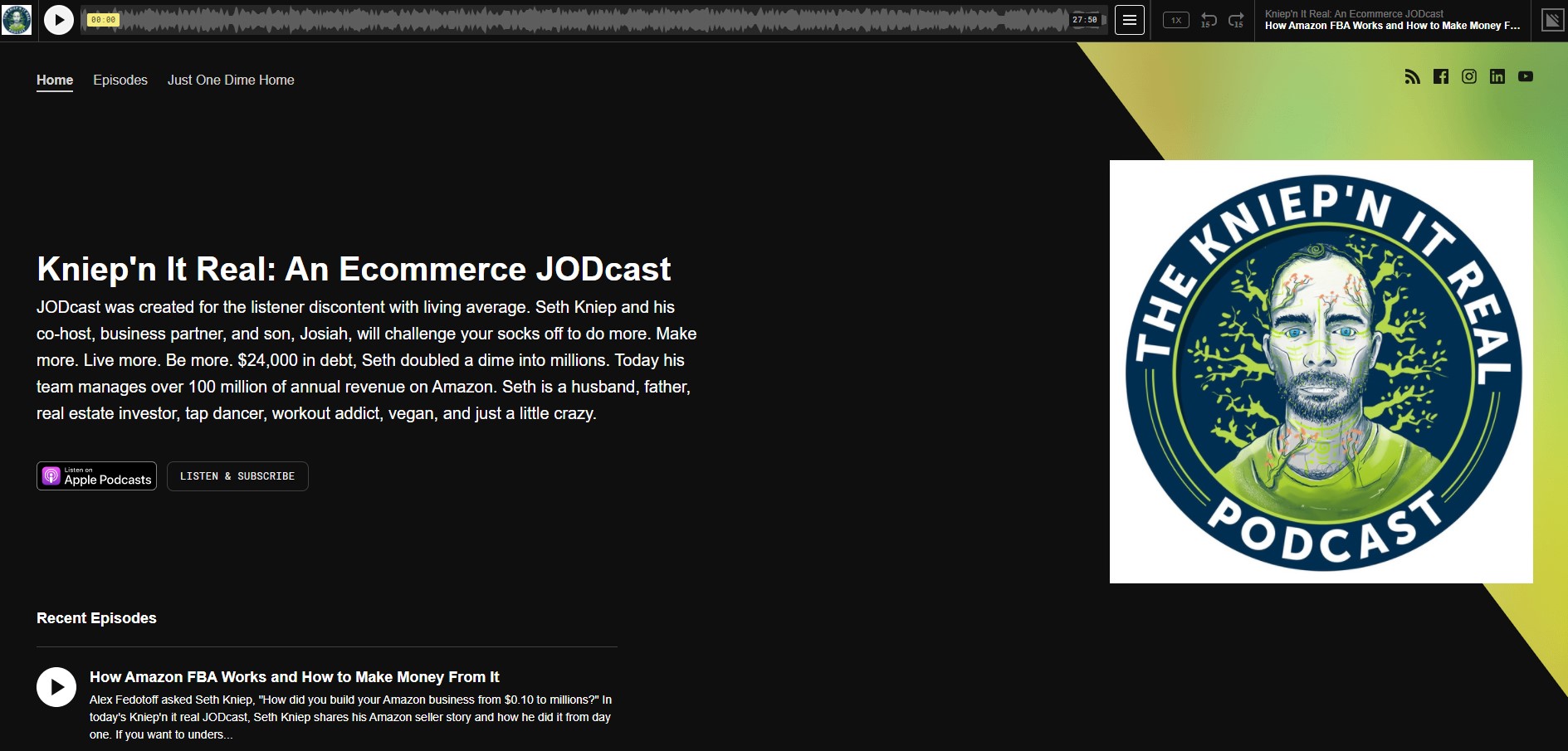 Hosted by: Seth Kniep
Kniep'n It Real is the podcast (JODcast) attached to Seth Kniep's Just One Dime. JODcast was created for the listener discontent with living average. Seth Kniep and his co-host, business partner, and son, Josiah, will challenge your socks off to do more, make more, live more, be more. Seth's team manages over 100 million of annual revenue on Amazon.
Recent episodes include:
How Amazon FBA Works and How to Make Money From It

What is Amazon FBA? 12 Top New Amazon Seller Questions

When Your Amazon Competitor Gains 1000's of Reviews in One Day
---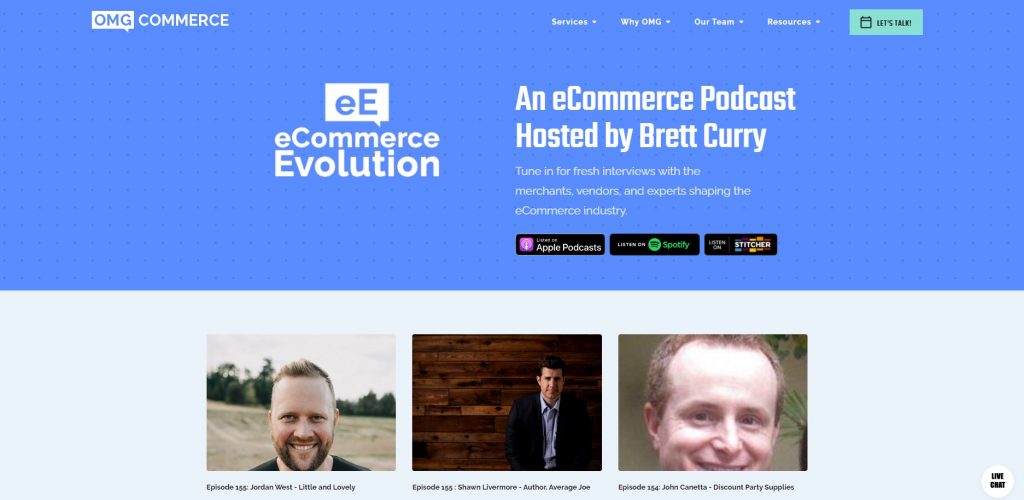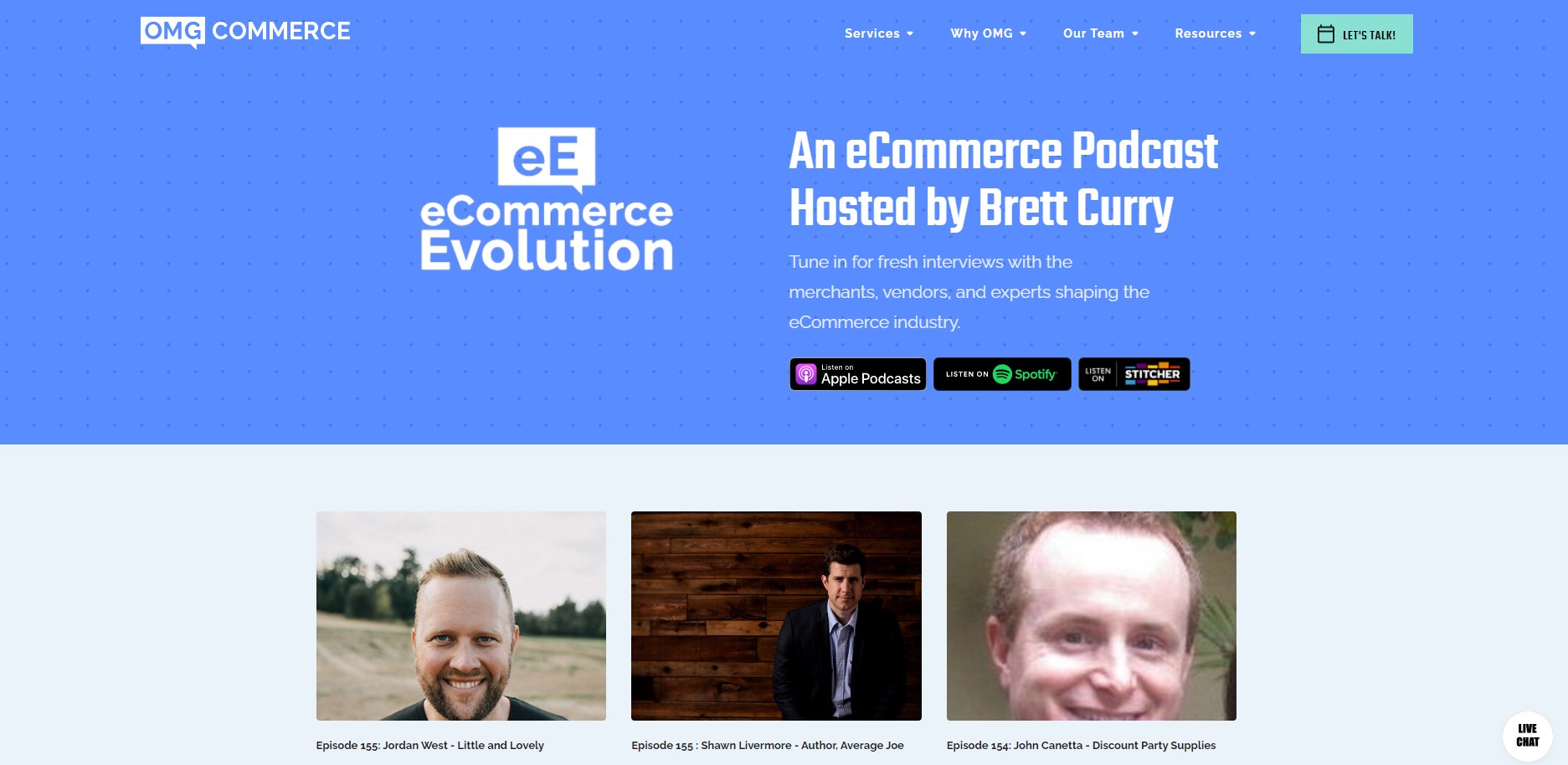 Hosted by: Brent Curry
eCommerce Evolution features fresh interviews with the merchants, vendors, and experts shaping the eCommerce industry.
Recent episodes include:
Moving Fast by Moving Slow + the Myth of the Tech Genius

Knowing Your Numbers and Getting Uncomfortable in Order to Grow

Process Automation & Using Gifting for Growth
---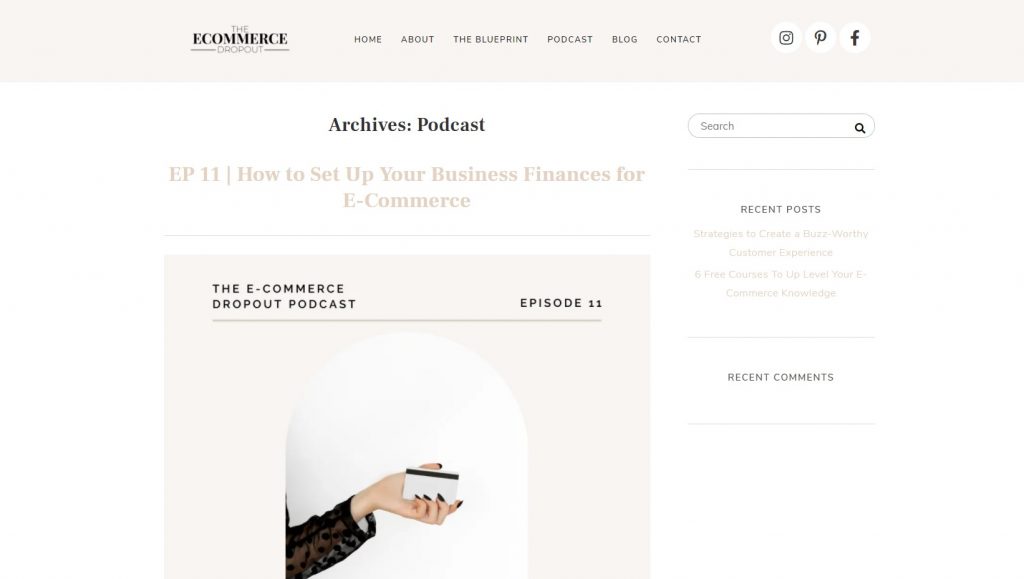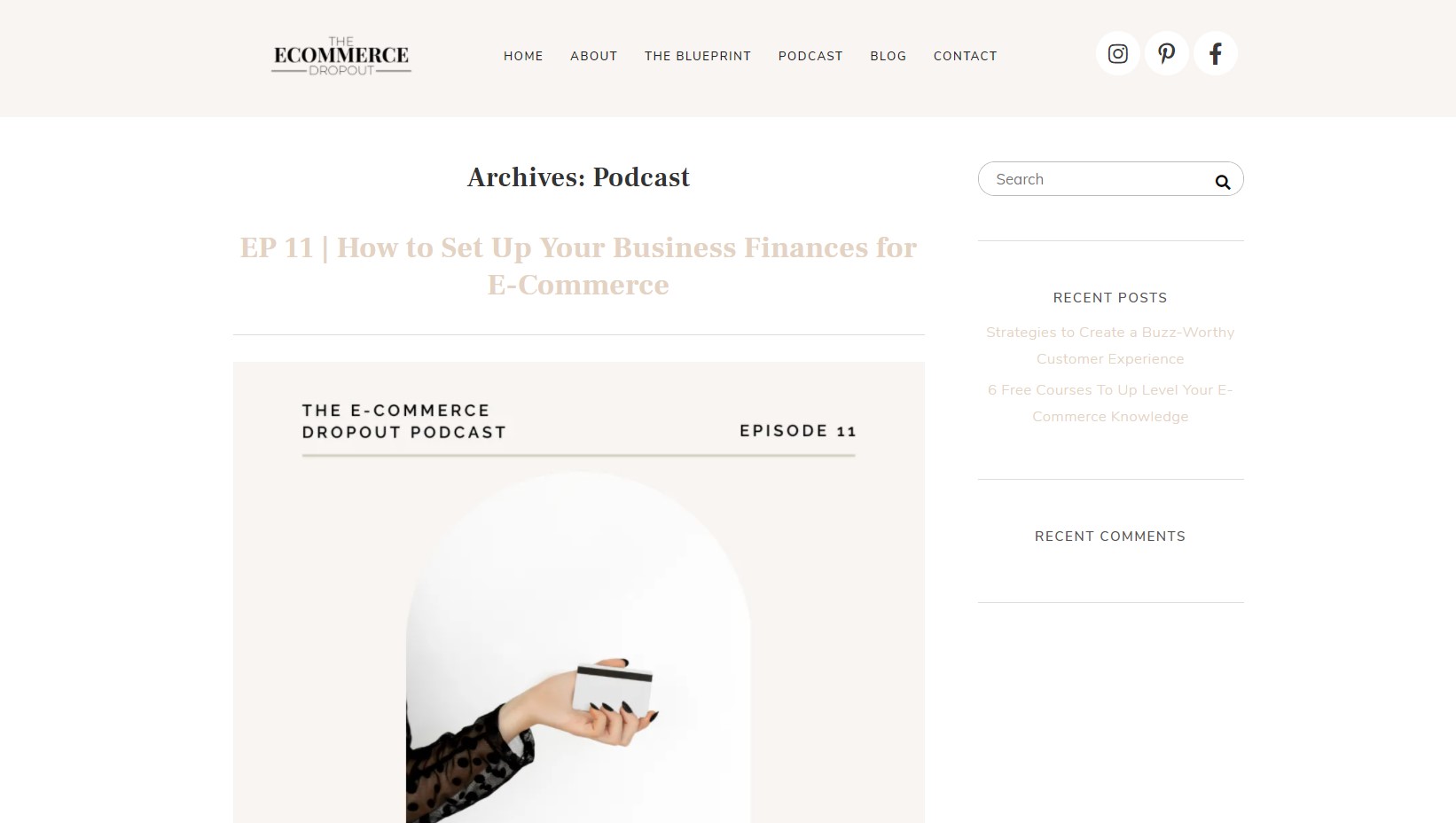 Hosted by: Emily George
The Ecommerce Dropout is a hub for current and aspiring entrepreneurs to learn the ins and outs of eCommerce. Emily George shares her top tips and tricks to succeed in the digital eCommerce world. With a focus on straight-to-the-point actionable content, you'll learn frameworks and strategies that will help you reach and exceed your online business goals.
Recent episodes include:
My Top 3 Recommended Shopify Apps

How to Start an E-Commerce Brand in 10 Hours

Hard Truths Pt 1| Why Should People Buy From You?
---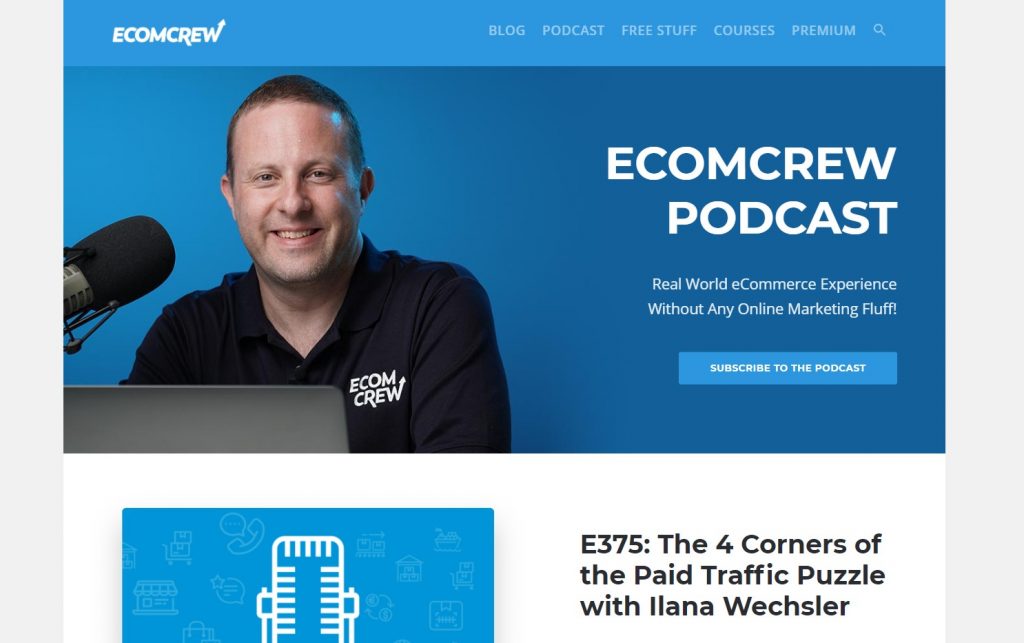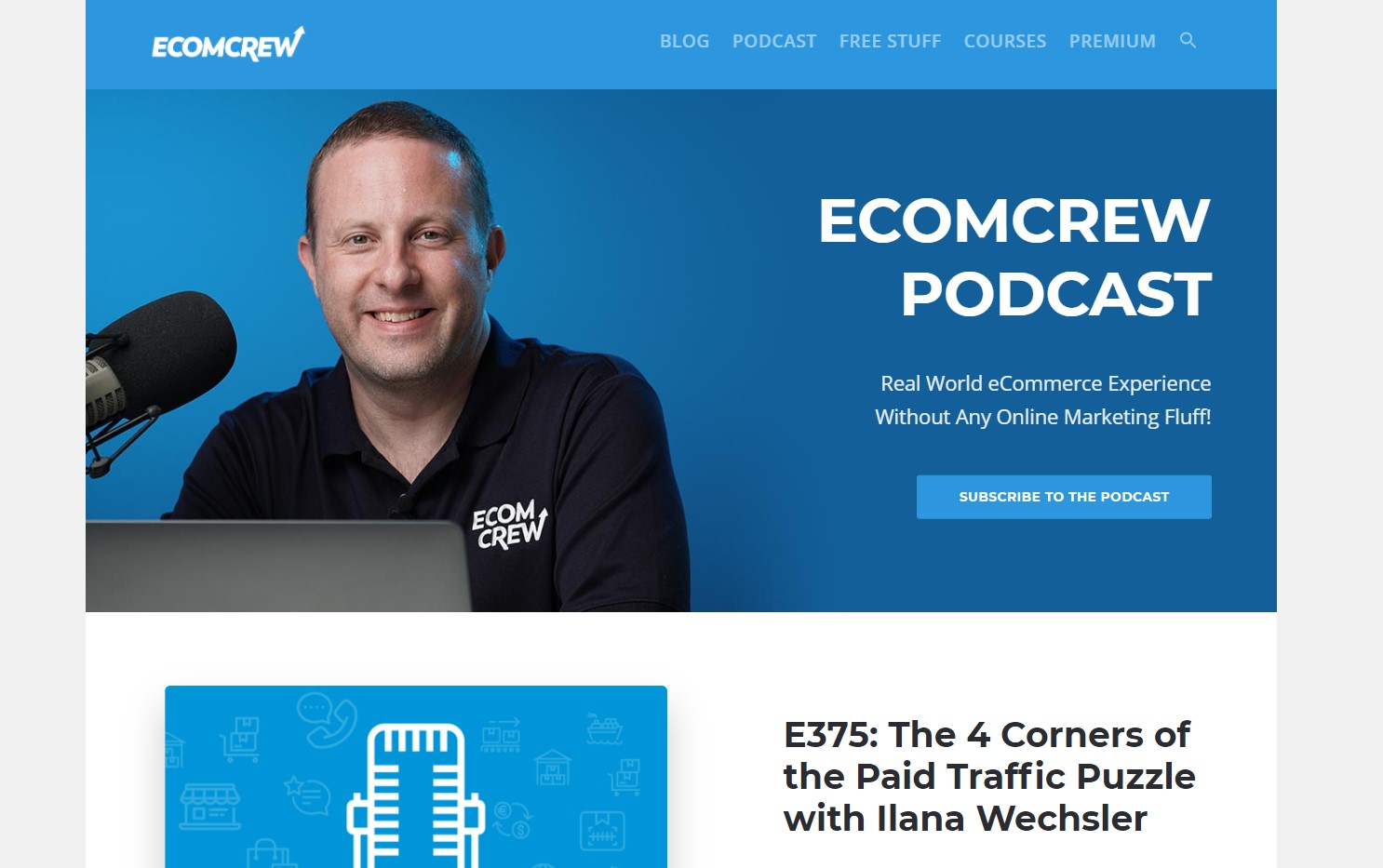 Hosted by: Mike Jackness and Dave Bryant
The Ecomcrew Ecommerce Podcast shares real-world eCommerce experience without any online marketing fluff. It covers everything in eCommerce from Shopify to Amazon FBA, from email marketing to Facebook Ads.
Recent episodes include:
Building a Business Out of Desperation

The Challenges of Building and Selling a 7-Figure Ecommerce Brand

Taking a Chance on Yourself and Building a 10M+ Ecommerce Company
---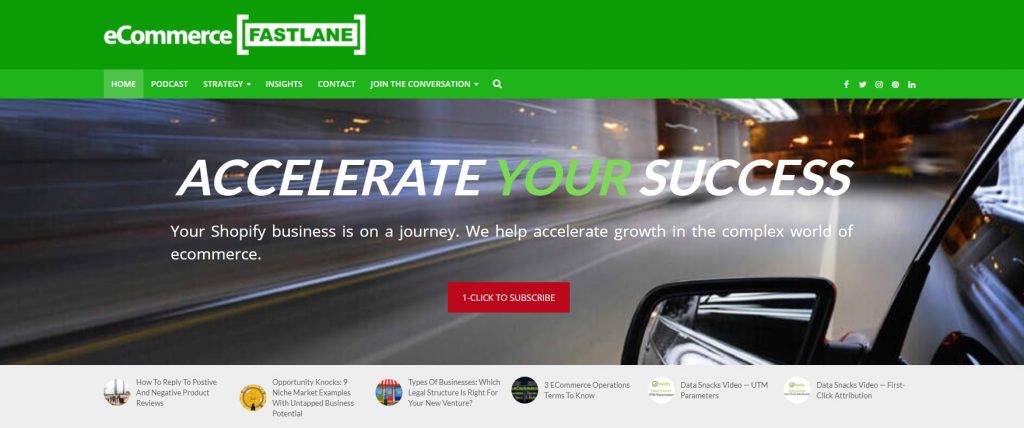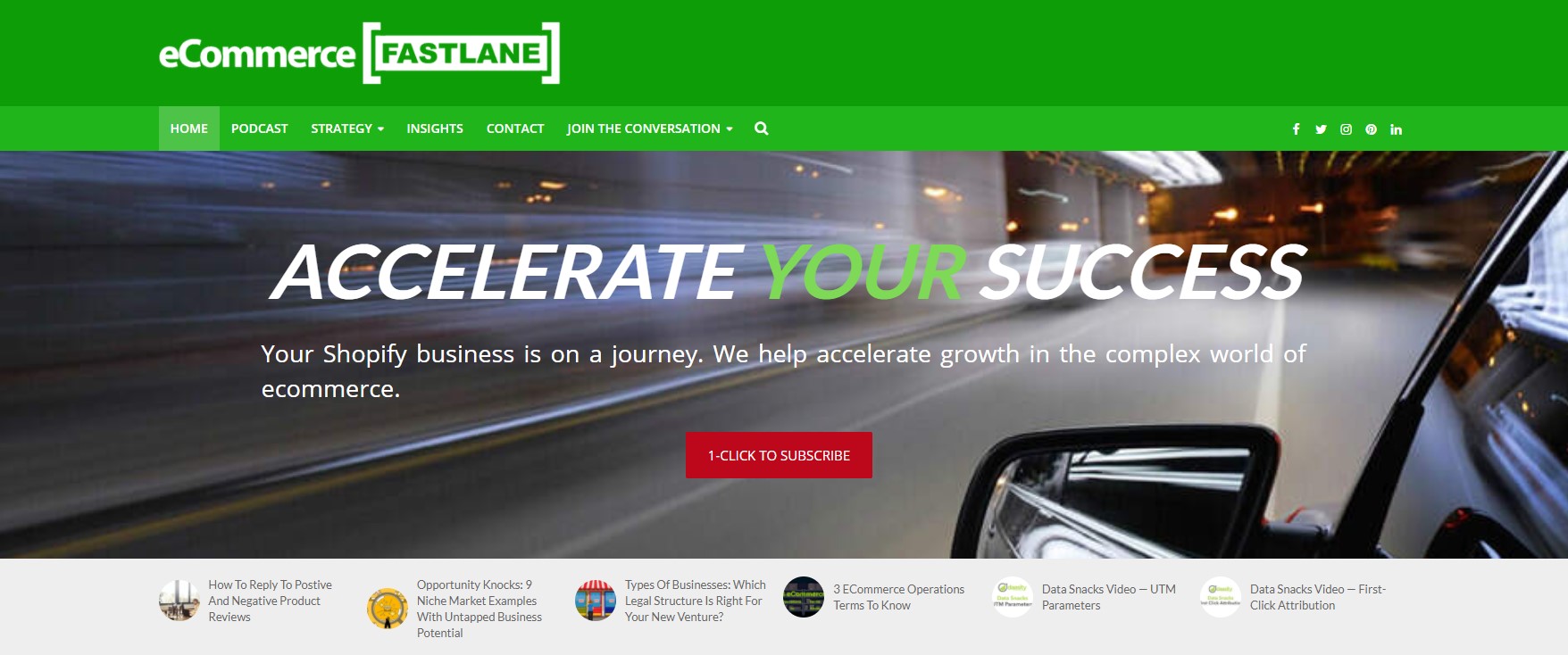 Hosted by: Steve Hutt
eCommerce Fastlane helps you accelerate growth in the complex world of eCommerce. It inspires and educates entrepreneurs to dream, build, launch, grow, and scale a breakthrough Shopify eCommerce business.
Recent episodes include:
Disruptive Drag-and-Drop Productivity Tool Makes it Easy to Automate Your Manual and Repetitive Data Tasks

Build Your Customer Experience Superpower Through Meaningful and Profitable Interactions with Customers

Get Growth Strategy Expertise for Every Stage of Your Sales Funnel and Milestones of Your Customer's Journey
---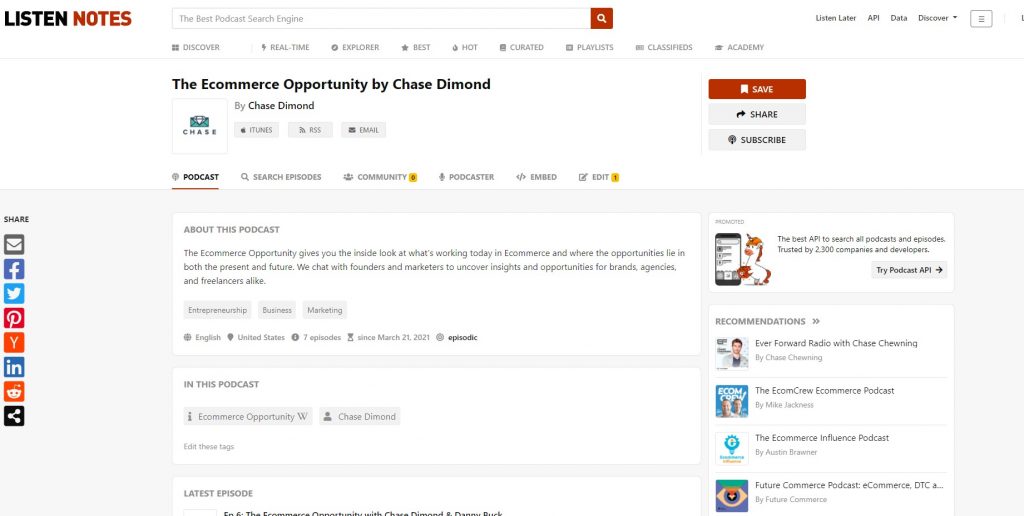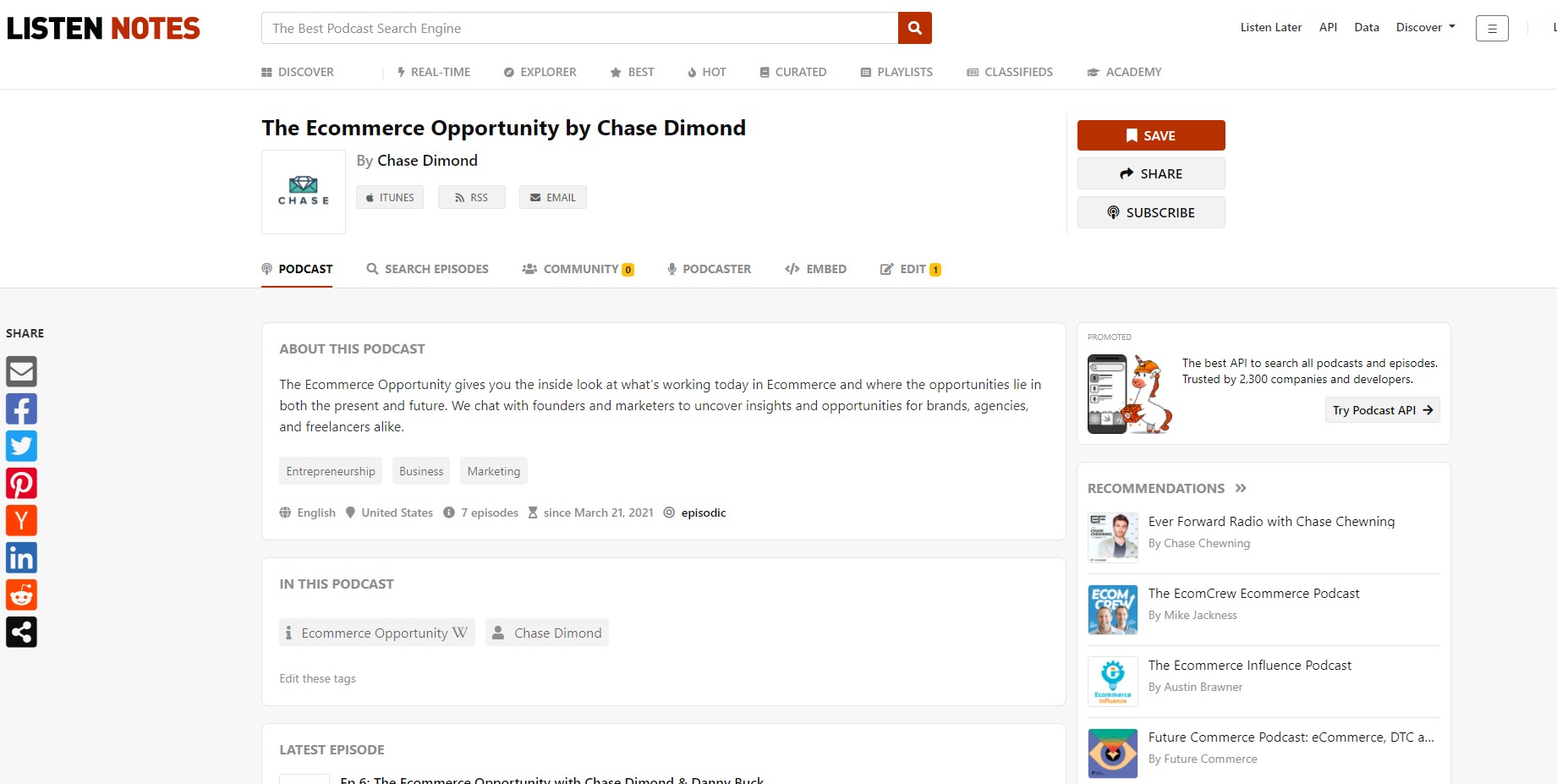 Hosted by: Chase Dimond
The Ecommerce Opportunity gives you an inside look at what's working today in eCommerce and where the opportunities lie in both the present and future. They chat with founders and marketers to uncover insights and opportunities for brands, agencies, and freelancers alike.
Recent episodes include:
The Ecommerce Opportunity with Chase Dimond and Nick Shackelford

The Ecommerce Opportunity with Chase Dimond and Zach Stuck

The Ecommerce Opportunity with Chase Dimond and Wiz of Ecom
---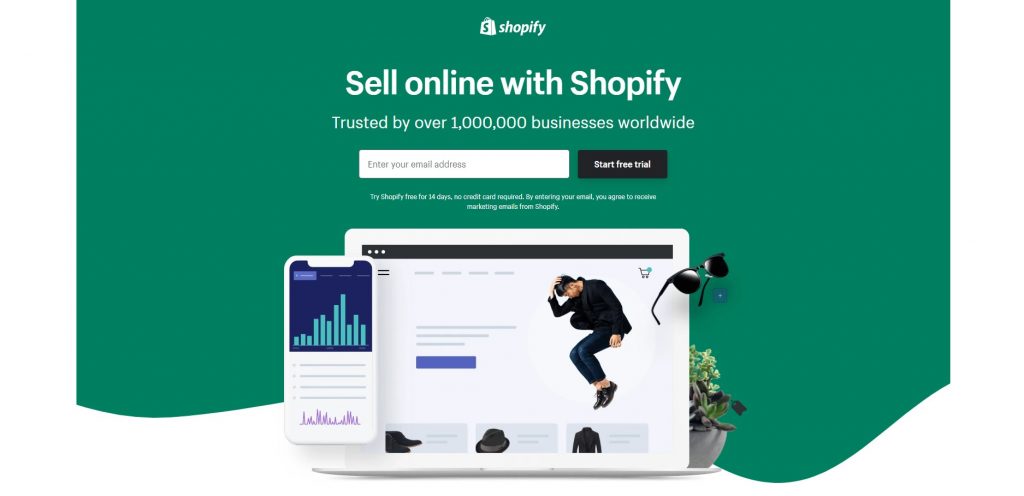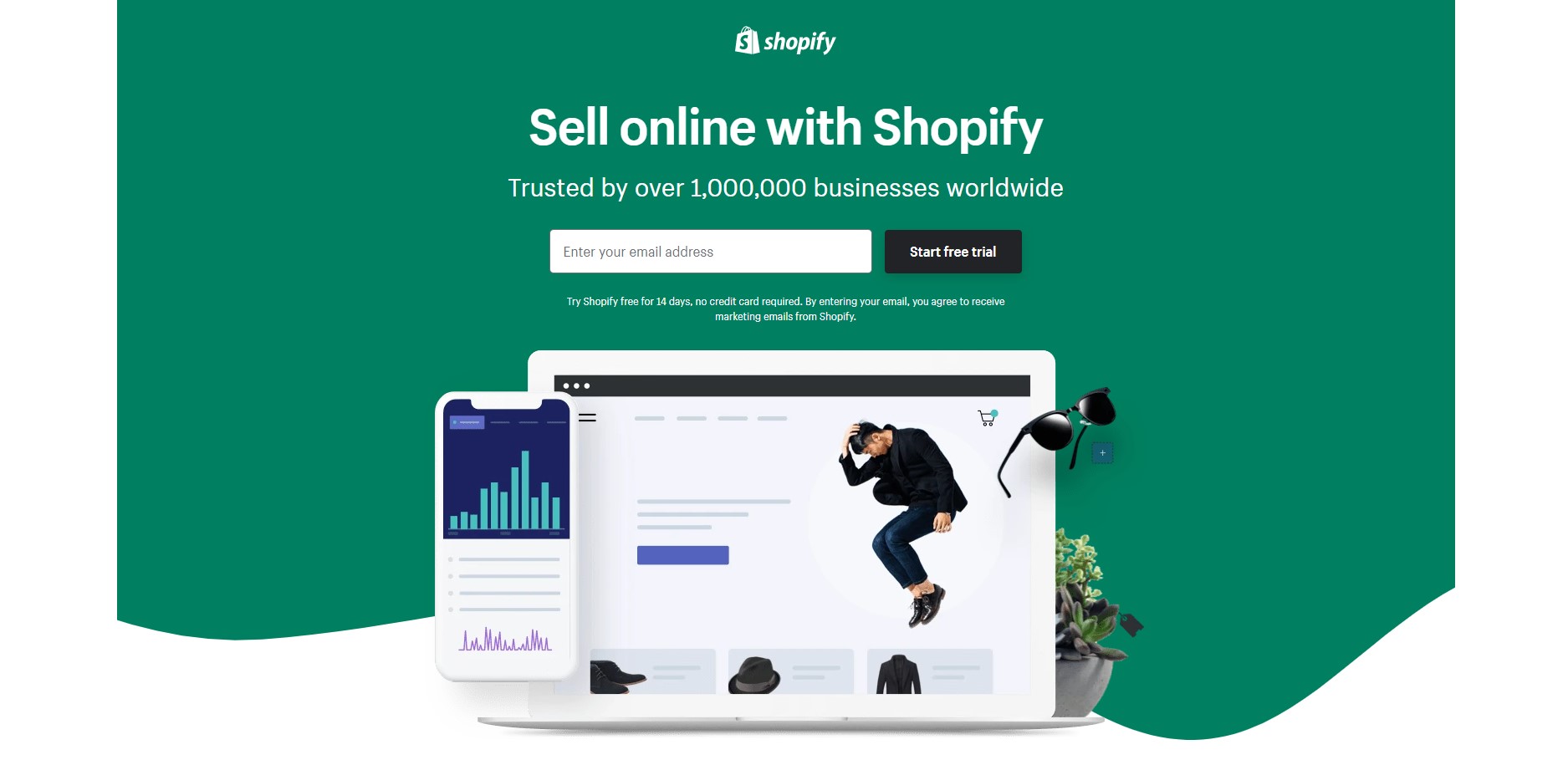 Hosted by: Susan Bradley
Each week on The Roadmap to $50k on Shopify, Susan Bradley takes you behind the scenes of real stores where you're going to learn actionable strategies and tips that will fast-track the growth and profitability of your eCommerce business.
Recent episodes include:
The Secret of Getting Sales Without Relying on Ads

Do These 3 Things and Sleep Better

Crowdfunding? 3 Things You Need to Know
---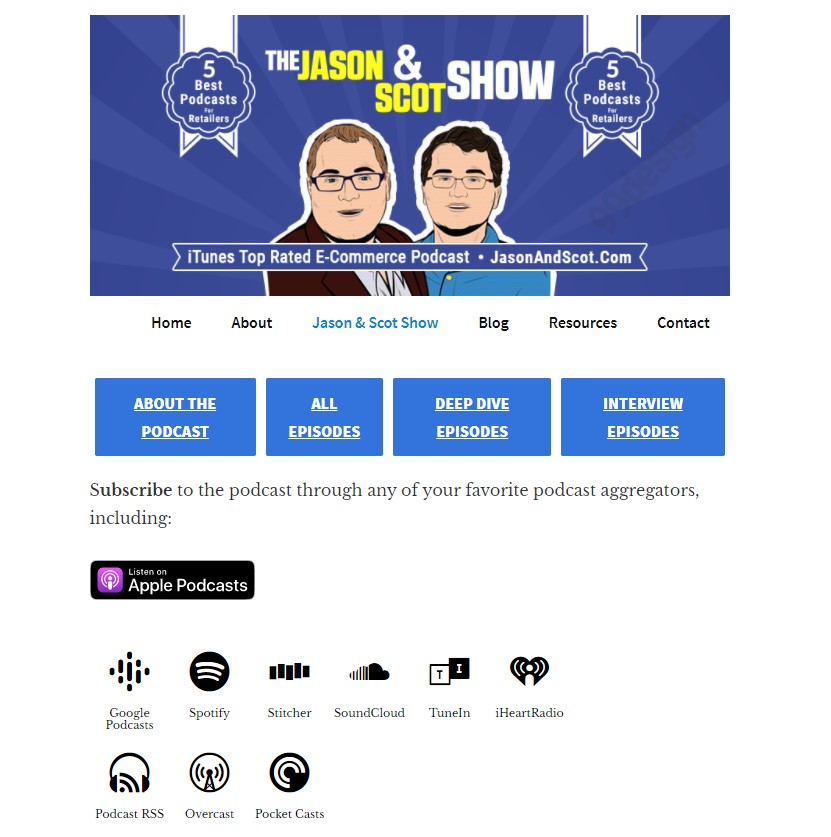 Hosted by: Jason "Retailgeek" Goldberg, Publicis and Scott Wingo, Channel Advisor
The Jason & Scot Show is a weekly podcast about the eCommerce industry. It features interviews with industry leaders, deep dives into key topics, and timely news. It is hosted by two industry veterans, Jason "Retailgeek" Goldberg, Chief Commerce Strategy Officer at Publicis Communications, and Scot Wingo, Founder and Executive Chairman of ChannelAdvisor.
Recent episodes include:
Retailer Owned Brands and Other News

Cookies, IDFA and Commerce Deep Dive

Colin Bryar, former Amazon Chief of Staff and Author of Working Backwards