Email marketing consistently delivers a better ROI than any other marketing channel. Plus, it's brilliant for community building and engaging with your customers on what feels like a one-on-one level. But if you don't have the right infrastructure in place to handle your email marketing, you're not going to be able to reach your subscribers and customers in the way you need to encourage engagement, build those important relationships, generate more leads, and increase sales. That's why we've put together this list of the top email marketing platforms on the market right now. Each of the email marketing platforms on this list offers a unique set of features to explore so you can find the perfect email marketing platform to get the results you need.
Before we dive into our list, we're going to take a little time to answer some questions you may have about email marketing, why it matters, what an email marketing platform actually is, and the features you should look for. Let's get started!
---
10 of the Best Email Marketing Platforms for 2021:
---
Why Does Email Marketing Matter?
As we've already mentioned, email marketing has one of the best ROI of any marketing channel. Despite the fact that email marketing has been around for decades, it still earns an ROI of 4200%—for every $1 you spend on email marketing, you have the potential to earn back $42 in return. Some reports even put email marketing ROI closer to 54%! When you consider that about 4 billion people around the world use email (Statista), this isn't a surprise. With such a large audience spread across different demographics, it would be shocking if email marketing didn't have a great ROI. ROI aside, email marketing helps you reach more customers and subscribers, increase your sales, and improve brand recognition.
No matter your industry, email marketing will help you get your marketing message out to the right people and gives you a way to stay connected with your target audience after they've left your website. Here are a few more reasons why your brand should be using email marketing:
Loyalty.

Email gives you the chance to get website visitors back to your site again and again. And people who come back to your website are more likely to become customers than those visiting your site for the first time.

Returning visitors.

About 97% of the people who visit and leave your website will never come back. That's a sobering statistic for most online businesses. However, by building an email list, you can encourage repeat visitors (and increase our first bullet point, loyalty).

Increased revenue.

Email marketing gets excellent conversion rates. Barilliance reports that the average conversion rates for email marketing in 2020 were 15.11%. Plus, purchases resulting from email marketing campaigns tend to be larger.
---
What's an Email Marketing Platform?
Now that you're convinced email marketing is worth it, you're probably wondering what an email marketing platform actually is and why using one matters. An email marketing platform is a software that lets you create and manage your email marketing campaigns. Simple enough, right?
Email marketing platforms are typically SaaS (Software as a Service) tools that are cloud-based. A high-quality email marketing platform makes it easy for you to send out any email communication, from email newsletters to promotional emails to abandoned cart recovery emails.
---
What Should Email Marketing Platforms Do?
Your email marketing platform should ultimately make your life easier, helping you automate your emails and marketing campaigns and making it easy to create beautiful and engaging emails to send to your customers and subscribers. We recommend looking for these six features when choosing the best email marketing platform for your brand:
User Interface
Email marketing platforms are supposed to make the life of an email marketer easier. Look for an email marketing platform that has an easy-to-use interface with a low learning curve to ensure that you're able to utilize all the features you need quickly and easily. A drag-and-drop email editor is a wonderful feature to have. And, if you have email designers, you'll want to choose a platform that allows for HTML email templates. If you don't have people to design your emails, make sure that the email marketing platform you choose has a collection of templates you can customize to create emails that showcase your brand.
Segmentation
Email segmentation dramatically increases the ROI of your email campaigns. You can create targeted marketing campaigns and promotional emails for the specific audiences that will be most interested in them based on demographics, location, behavior, and more. Some email marketing platforms even operate on AI and machine learning so the software can evaluate user behavior in real-time and fine-tune your email campaigns on the fly.
Personalization
Segmentation is important if you want to personalize your email marketing campaigns. And you definitely want to personalize your email marketing campaigns. Find an email marketing platform that includes merge tags to make it easy to personalize your email subject lines as well as the email copy. There are even some email marketing platforms that use dynamic content so you can create and send a single email that automatically includes certain content depending on the segment the email is being sent to.
Automation
Email marketing has a lot of moving parts, many of which are manual, repetitive tasks. Fortunately, many of the best email marketing platforms include automation features that can help you save tons of time. Email automation includes things like email scheduling, delivery receipts, engagement tracking, text analytics, role-based account access for your marketing team, and even intelligent segmentation/re-segmentation based on response to your email marketing campaigns.
Testing
One of the most important steps to take to ensure that your email marketing campaigns are getting the best ROI is testing. Many of the top email marketing platforms include A/B and split testing functionality that lets you test different elements of your marketing emails against one another to ensure that you have the best possible combination of subject lines, copy, calls to action, email design, and format.
Reports and Analytics
There are several email marketing benchmarks you'll want to track to ensure that your email marketing is meeting your goals. However, tracking this information manually can be a full-time job. Choose an email marketing platform that includes reporting and analytics so you can track open rates, click-through rates, bounce rates, and more.
---
10 Best Email Marketing Platforms
To create and execute your email marketing strategy successfully, you need to find the best email marketing platform for your business. Fortunately, we have a list of 10 of the best email marketing platforms to choose from.
It's important to note that this isn't a comprehensive list of email marketing platforms. The email marketing services included here are just the top ten that we found during our research that offer a mix of features for influencers and brands no matter your email list size or niche. There are plenty of email marketing tools out there that aren't on this list, but using the information we've provided here you'll have a much better idea of what you're looking for if you don't find what you're looking for in this list.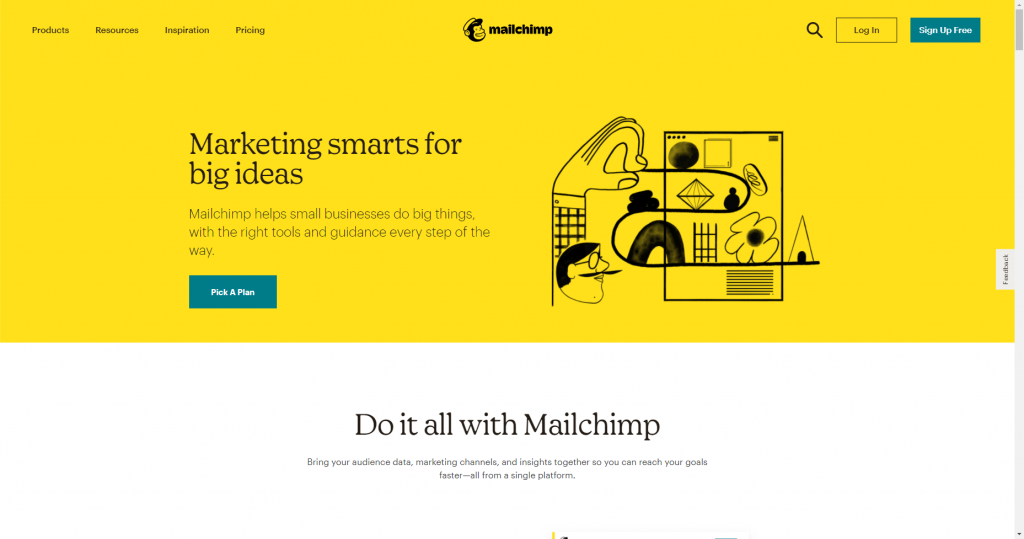 Mailchimp is probably one of the most popular email marketing platforms out there. It's particularly well-suited for beginners and startups and offers tools like email automation, data segmentation, templates, personalization, A/B testing, lead capture forms, and integration with CRMs.
Key Features:
Get predictive insights about your contacts so you can personalize your marketing.

Personalize individual content blocks within your emails with dynamic content.

Design personalized

customer journeys

using conditional logic and branching points.
Pricing:
Mailchimp offers a free plan for up to 2,000 contacts and one audience. Paid plans start at $9.99/month.
---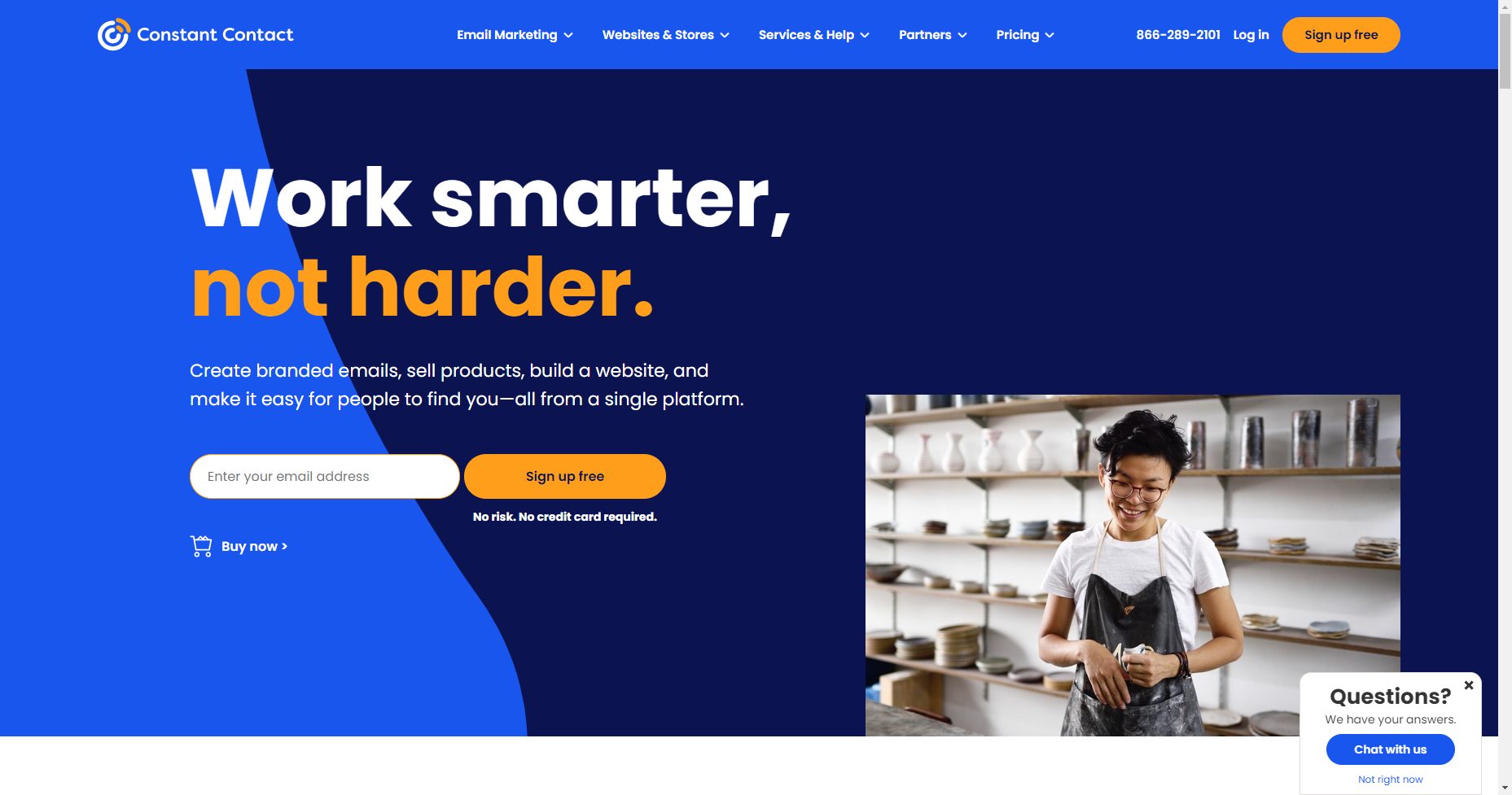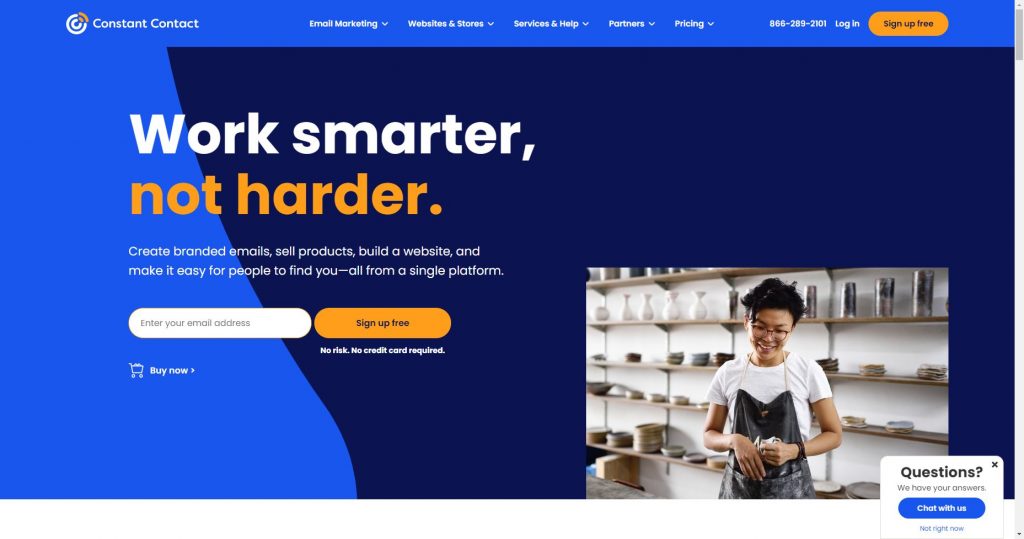 Constant Contact is another of the most popular email marketing platforms and features more than 100 email templates you can customize to create engaging, responsive, and visually appealing email marketing campaigns. This email marketing tool includes drip campaign options, email scheduling, subscriber data management, email automation and workflows, transactional emails, and surveys.
Key Features:
Email marketing automation tools so you can send welcome emails, triggered emails, grow your email list, and more.

https://influencermarketinghub.com/top-ecommerce-apps/ to help you find new customers, keep them engaged, and bring them back to your site.

Social marketing

functionality that makes it easy to post on Facebook and Instagram and even create ads on the platforms.
Pricing:
Constant Contact offers a free trial. Email marketing pricing starts at $20/month. If you're looking for eCommerce email marketing tools, pricing starts at $195/month.
---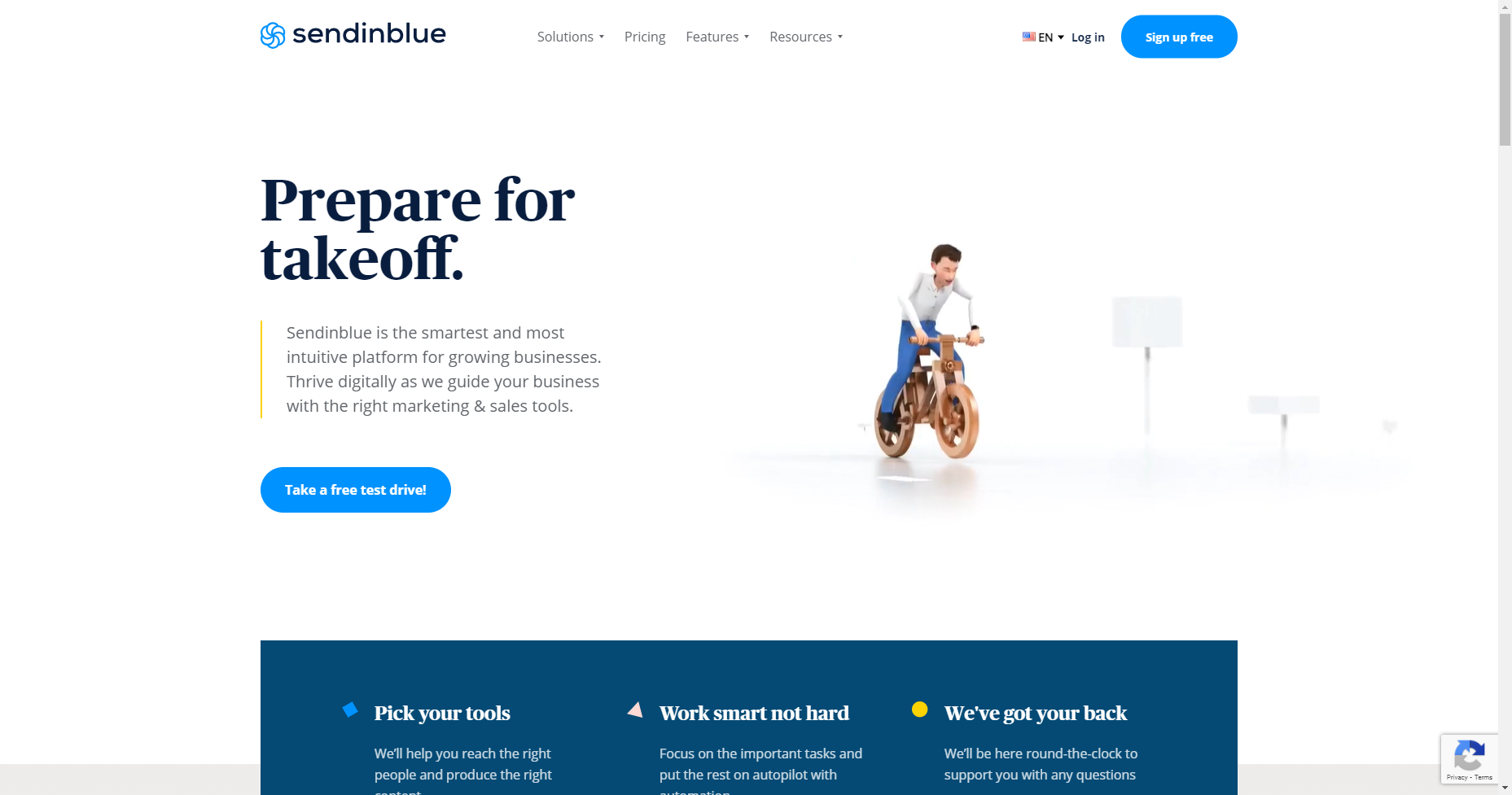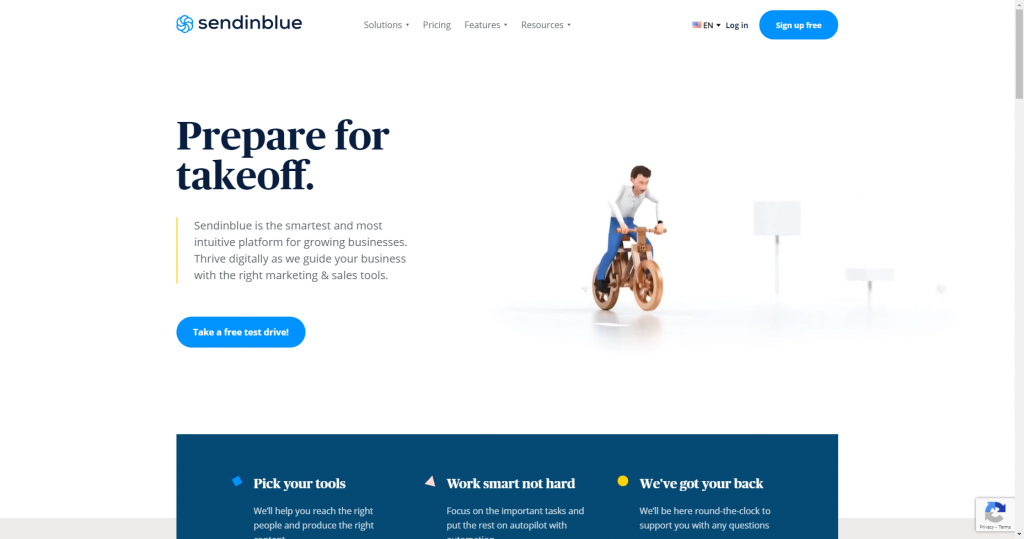 Sendinblue is a digital marketing suite that integrates your marketing efforts. It includes an email template editor, personalization, segmentation, automation and workflows, reports and analytics, and integration with other marketing tools.
Key Features:
SMS marketing so you can communicate more directly with customers for urgent messages or time-sensitive offers.

Show

retargeting ads

to your website visitors as they browse other websites and bring them back to convert.

Step up the design, engagement, and deliverability of your transactional email messages.
Pricing:
Sendinblue offers a free plan allowing you to send up to 300 emails per day. Paid plans start at $25/month.
---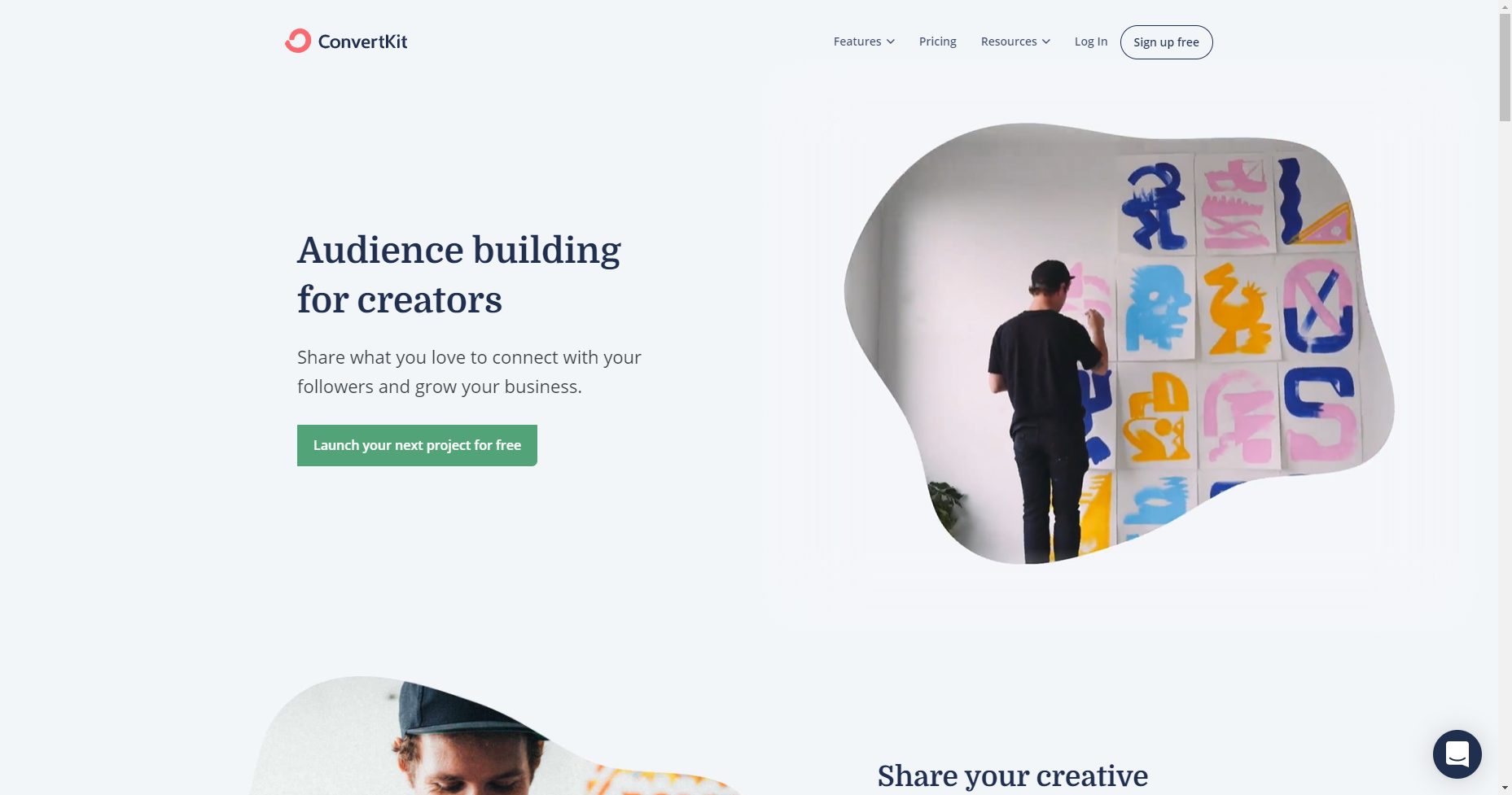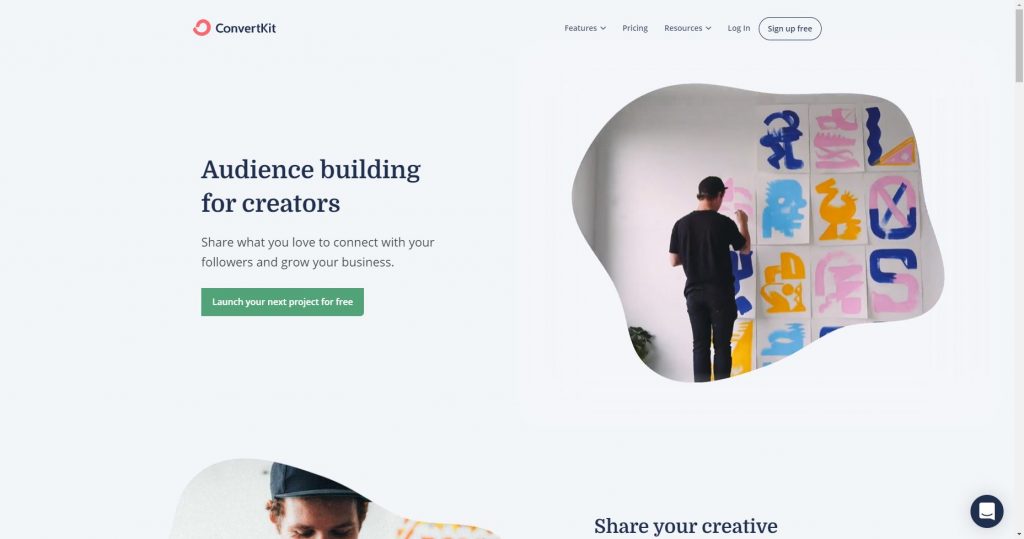 ConverKit is a great fit for both eCommerce businesses and creators. It includes features like opt-in forms, landing pages, email workflows, tagging systems, data management and list segmentation, personalization, automation, and a lot more.
Key Features:
Automate your

sales funnel

to send content to subscribers automatically, getting them prepped to make a purchase.

Sell digital products with a tool built for creators.

Change a URL after the email is already sent with Creator Pro.
Pricing:
ConvertKit offers a free plan for up to 1,000 subscribers. Paid plans start at $25/month.
---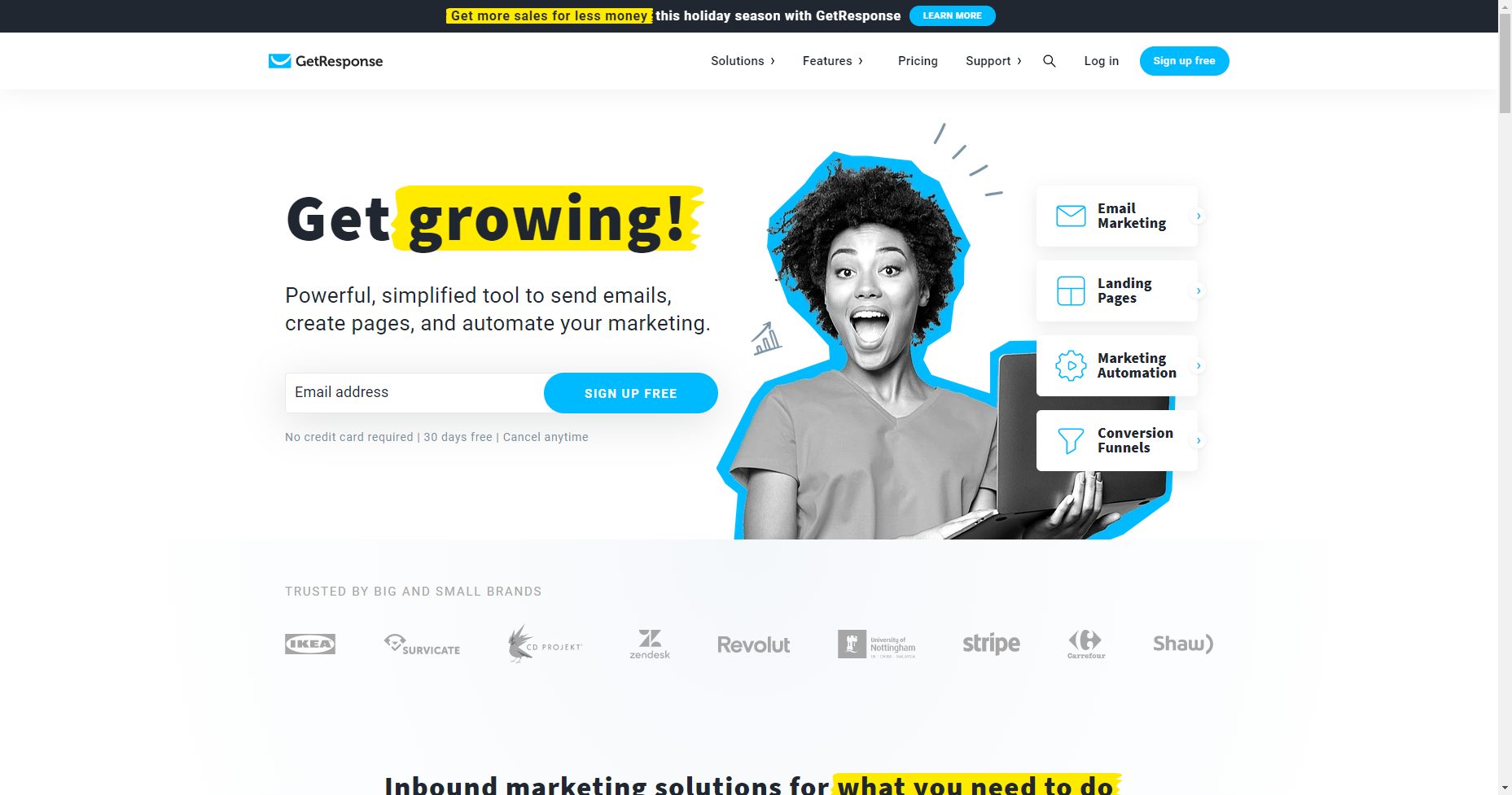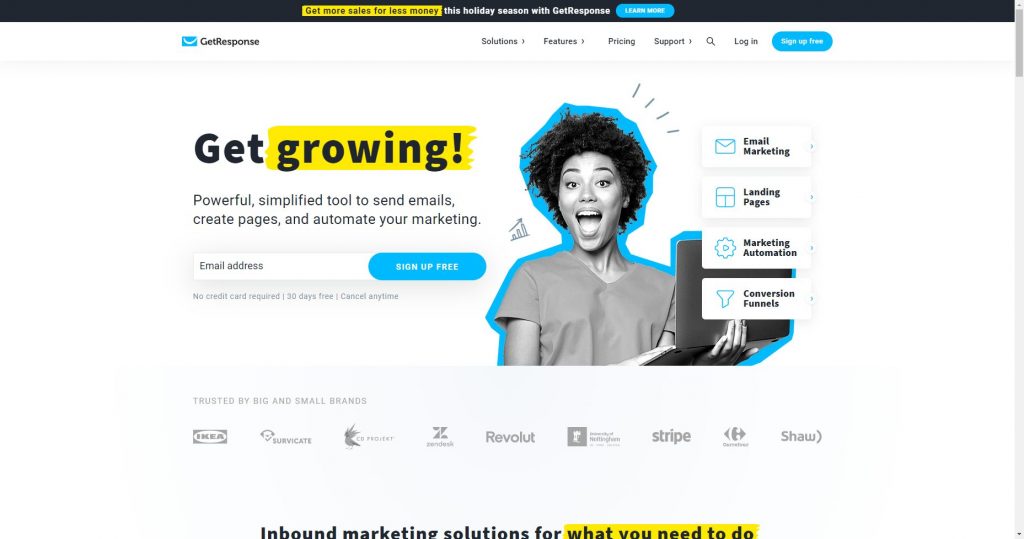 GetResponse is one of our favorite email marketing platforms and its widely used by marketers across industries. It includes email automation, email templates, segmentation, and personalization. There's also a neat Auto Funnel feature that provides a ready-made marketing funnel for email marketing campaigns.
Key Features:
Autoresponders to send welcome emails, followups, educational series, and nurture leads automatically.

One-click integration to run powerful retargeting campaigns using Facebook Pixel.

Website visitor tracking lets you send relevant communication based on page visits.
Pricing:
GetResponse offers a 30-day free trial. Pricing starts at $10.50/month.
---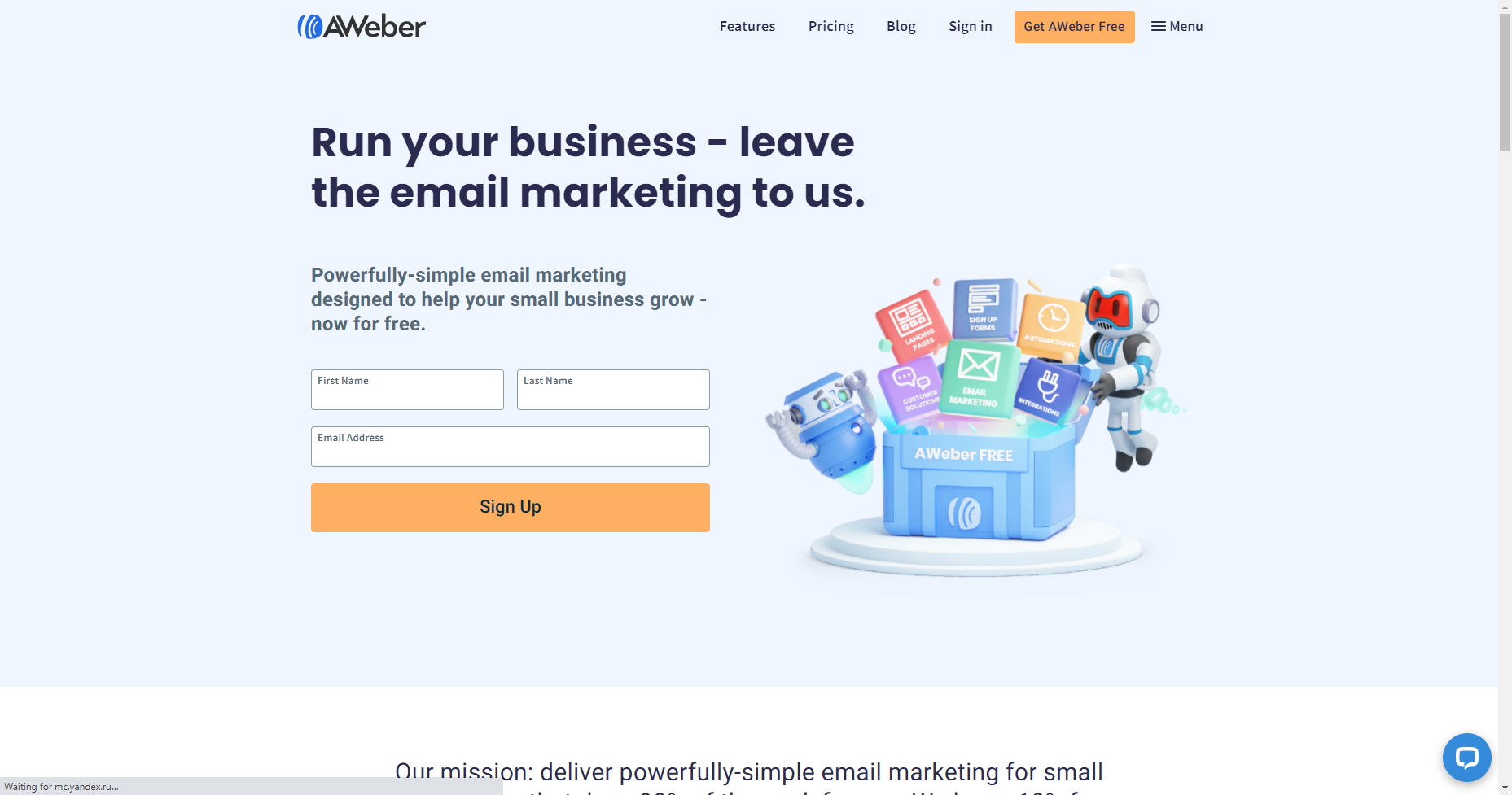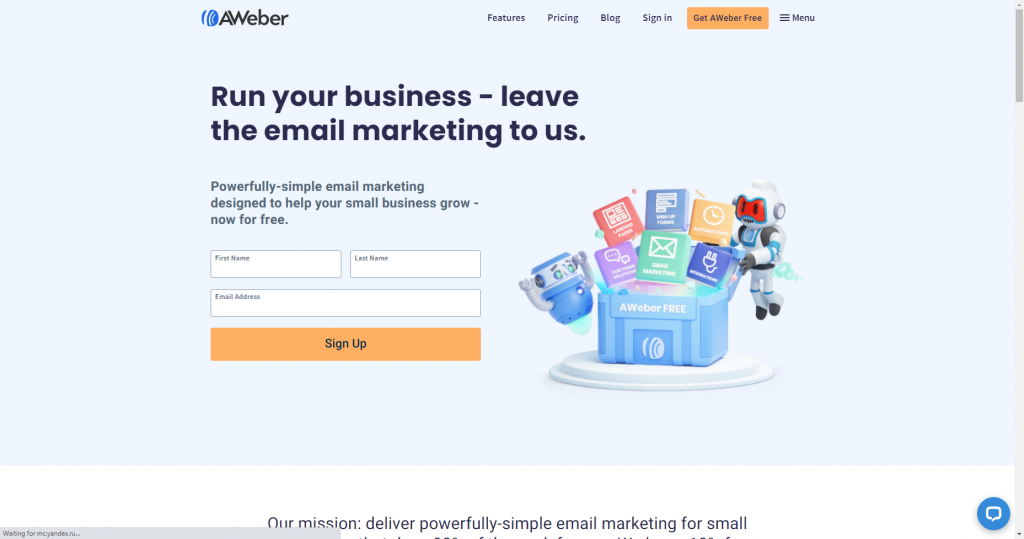 AWeber is a great email marketing platform for teams, small businesses, and entrepreneurs. It includes a drag-and-drop email editor, templates, automation and workflows, A/B testing, segmentation, autoresponders, and tons of integrations.
Key Features:
AI-powered email template designer so you can create stunning branded emails quickly.

Automate email content creation by broadcasting the latest posts from your blogs.

Direct campaigns to the right people using tagging and dynamic content.
Pricing:
AWeber is free for up to 500 subscribers. Pricing starts at $16.15/month.
---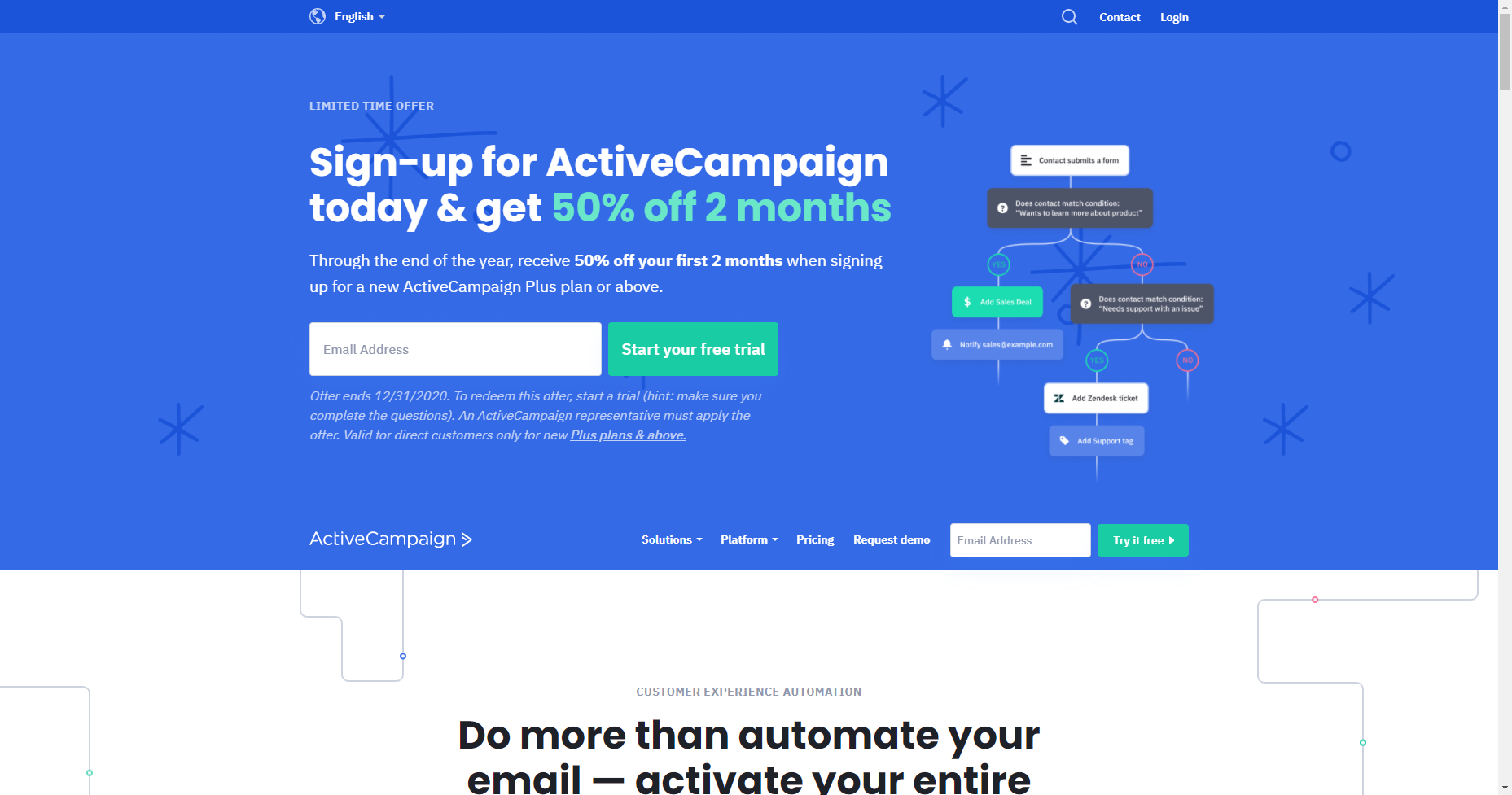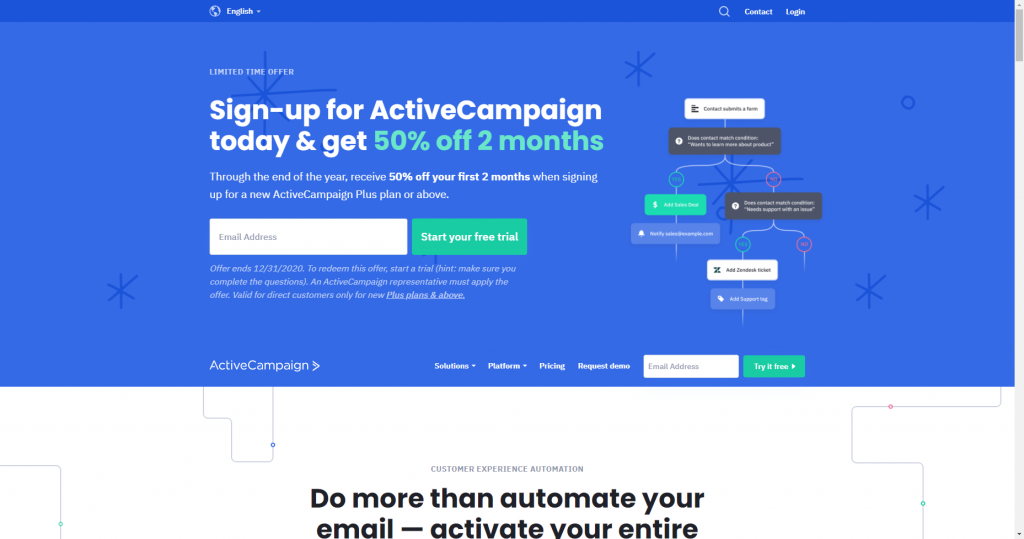 ActiveCampaign is an affordable email marketing platform, making it great for small marketing teams and solopreneurs. It includes all the features you'd expect like automation, segmentation, triggered emails, email funnels, autoresponders, A/B testing, and scheduling. It also includes more advanced features like conditional content, geotracking, managed deliverability, and multi-user editing.
Key Features:
Segmentation and dynamic content make it easy to customize your message and send targeted emails to the right contact.

Personalize your emails based on any contact information you have.

Use simple split testing to make your emails get more opens, clicks, and buys.
Pricing:
Pricing starts at $9/month.
---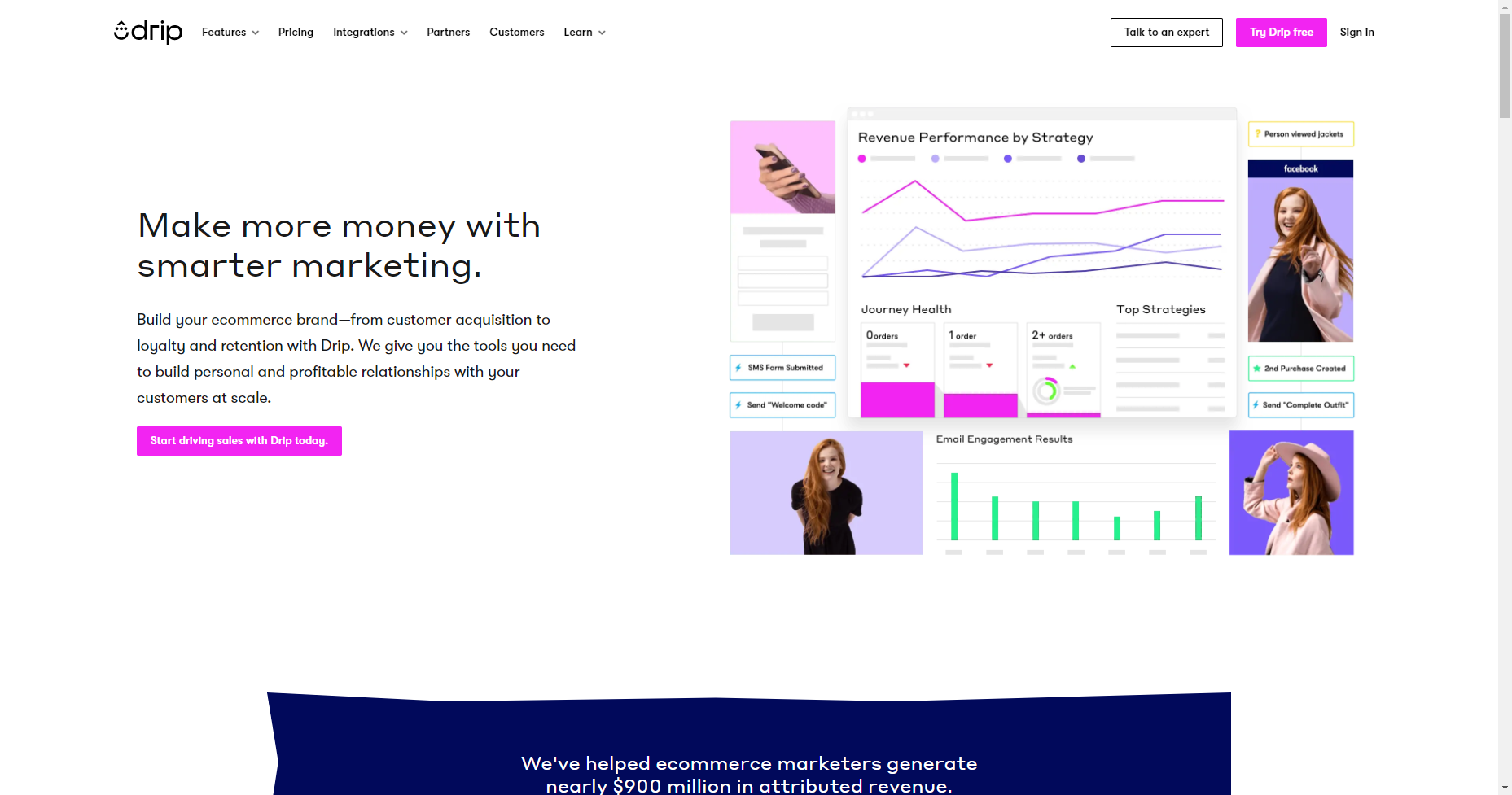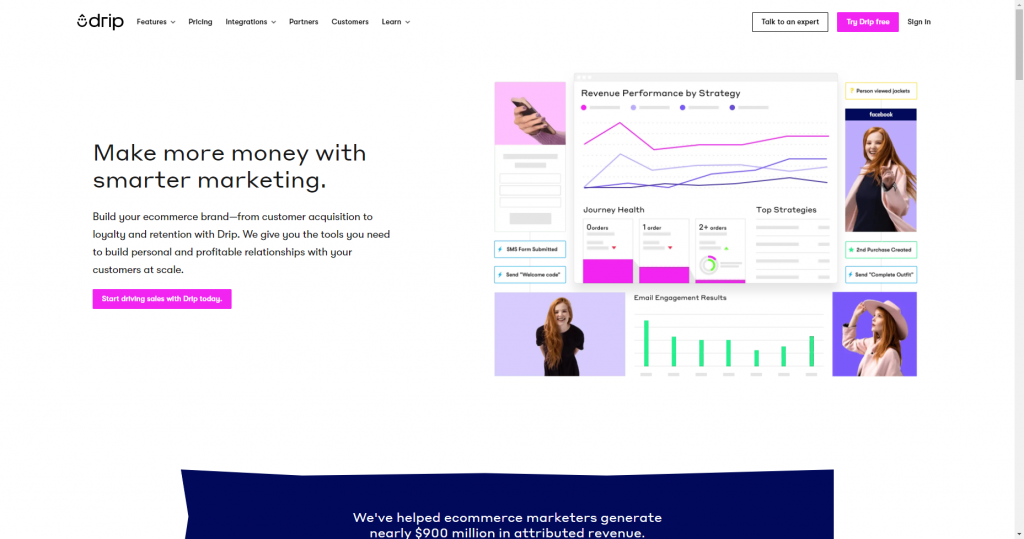 Drip is one of the more advanced email marketing platforms on our list and is the perfect option for eCommerce businesses because of its seamless integration with eCommerce platforms like Shopify, WooCommerce, and Magento. You can use eCommerce CRM data to create personalized marketing, segmenting your email list based on any number of criteria like clicks, purchase history, email opens, and more.
Key Features:
Ecommerce CRM lets you learn more about your customers so you can create targeted and personalized email marketing campaigns.

Communicate with your customers no matter where they are, from email to SMS to social and beyond.

Connect your eCommerce store to Drip to collect revenue-attribution data so you can make better marketing decisions.
Pricing:
Drip offers a free trial. Pricing starts at $19/month.
---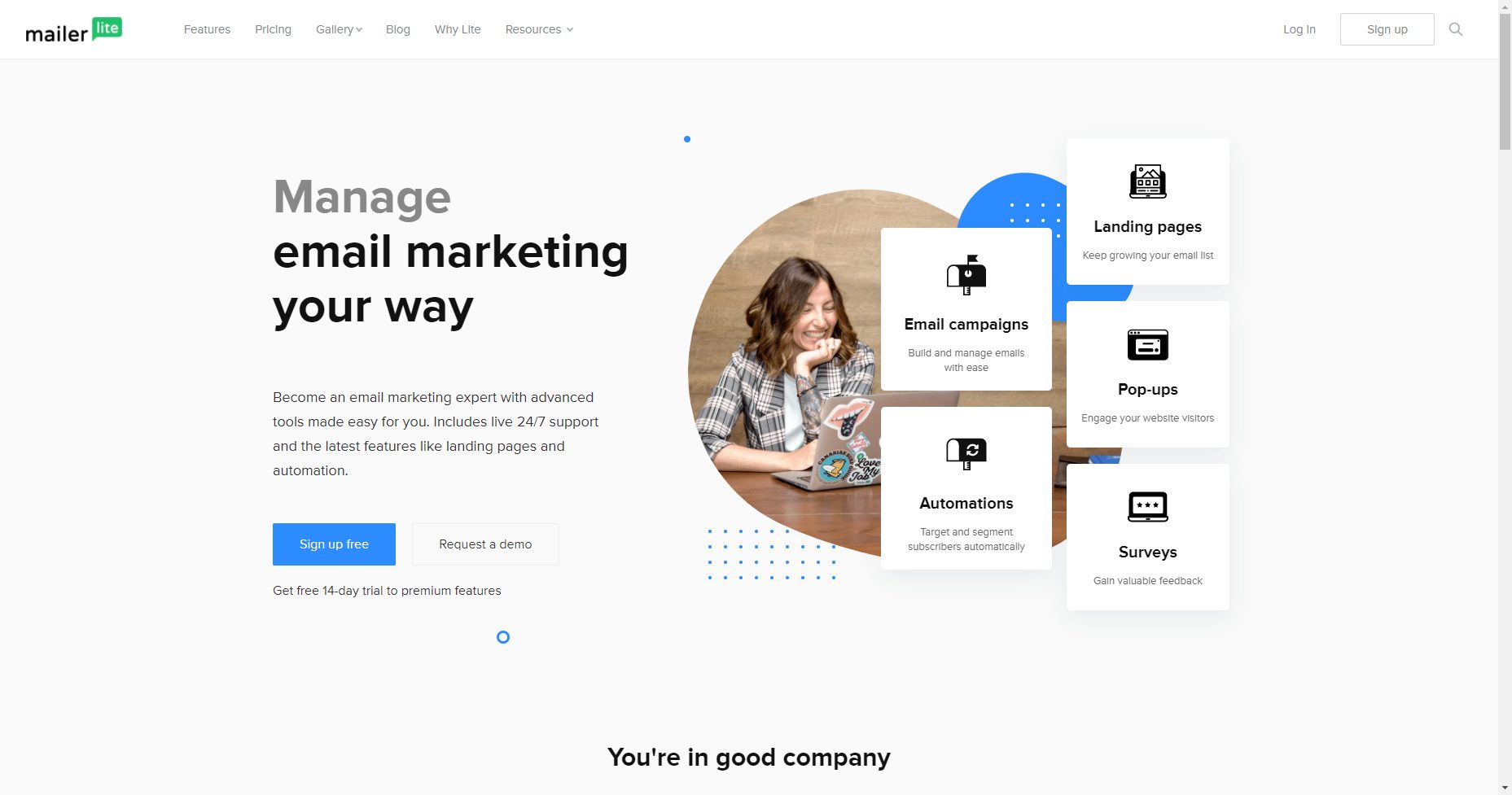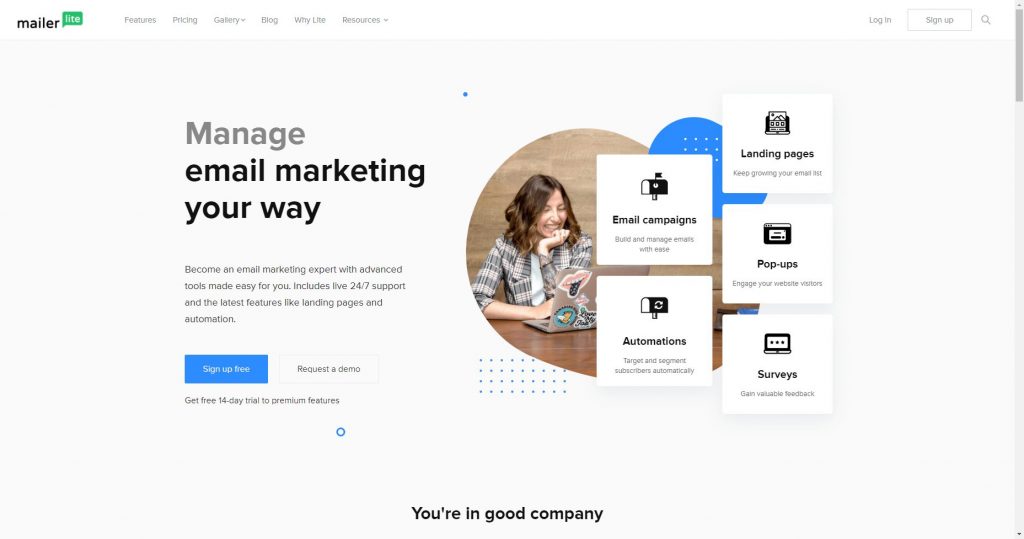 MailerLite is one of the more basic email marketing platforms on our list but that actually makes it perfect for email marketers who are looking for a straightforward email marketing platform that doesn't include a bunch of extra features that they don't need and won't use. It includes the basics you need for successful email marketing like surveys, automation, popups, and landing pages. MailerLite also integrates with dozens of eCommerce platforms and marketing tools you're probably already using.
Key Features:
A website builder, landing pages, popups, and embedded forms help you bring in more leads.

Personalize your campaigns using advanced targeting features.

Test, experiment, and streamline your emails to improve your email marketing benchmarks.
Pricing:
MailerLite is free for up to 1,000 subscribers and 12,000 emails per month. Pricing starts at $10/month.
---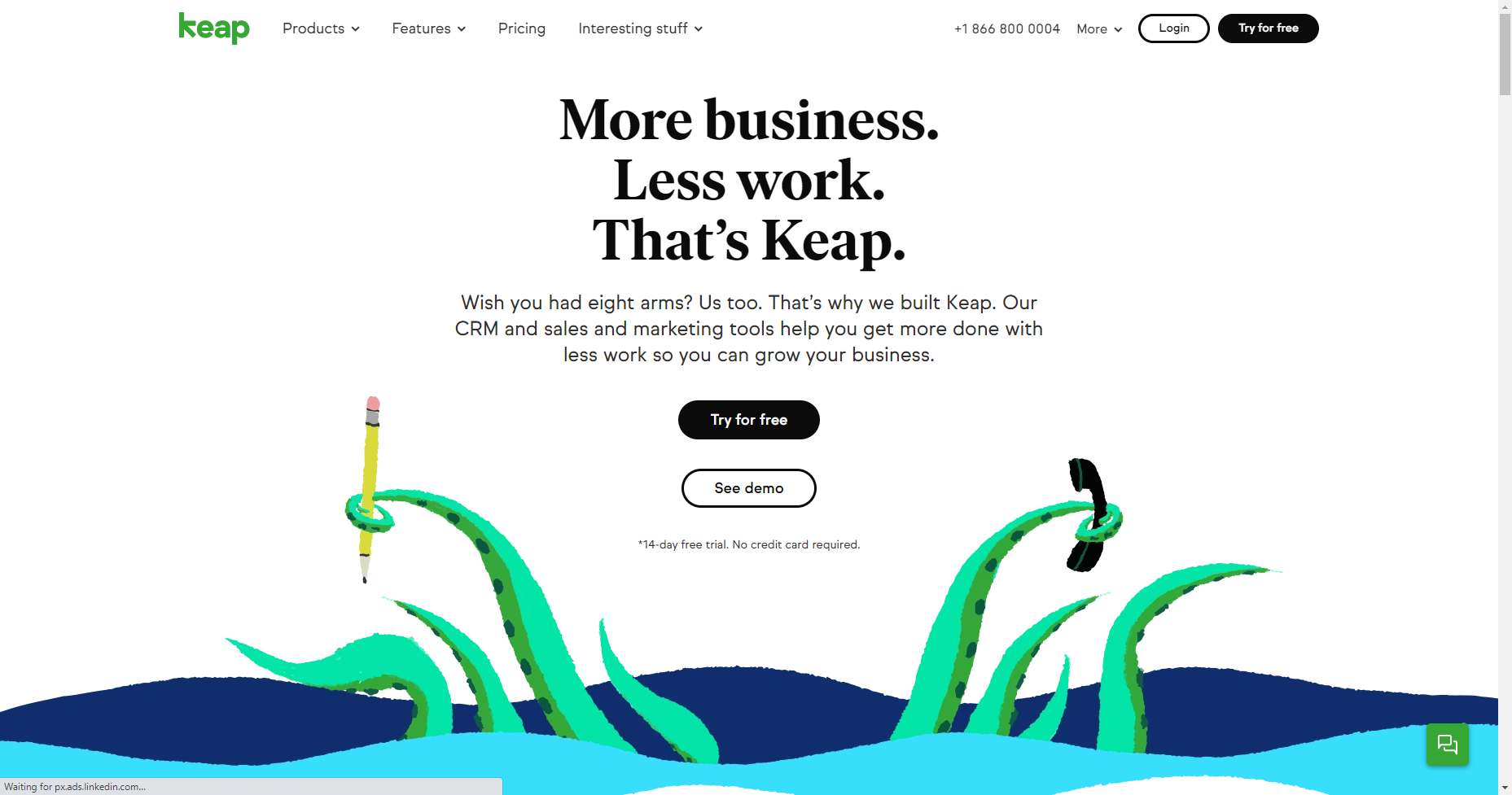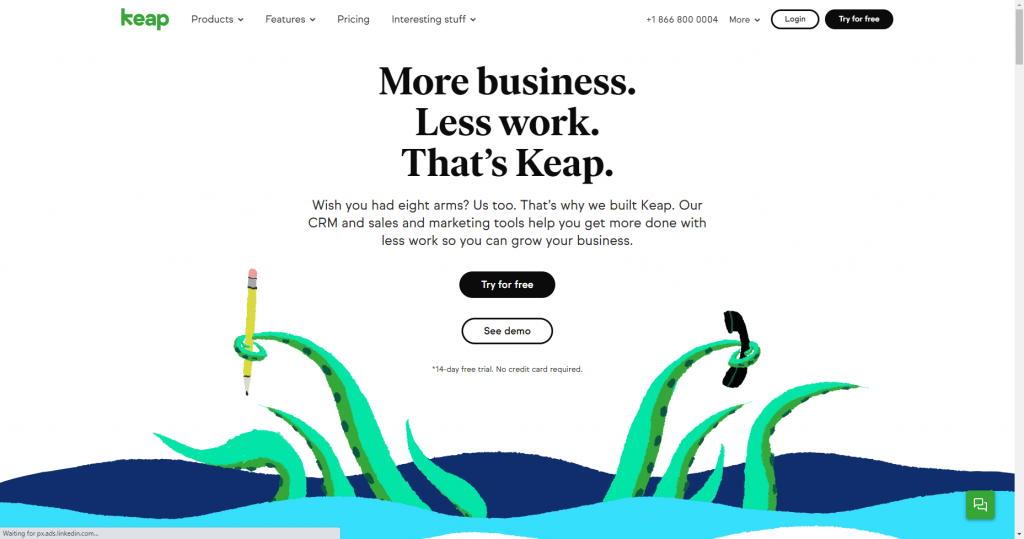 Keap is technically a customer relationship management service, but it has robust email marketing, automation, and sales tools, earning it a spot on our list of the best email marketing platforms. Keap includes automation and workflows, templates for emails, quotes, invoices, and proposals, and it integrates with your other favorite business tools and apps.
Key Features:
Advanced marketing and sales automation, customizable campaigns, and app integration to power growth.

Automatically capture new leads, assign tasks, and trigger personalized messages.

Manage your contacts and leads in Keap and sync your Outlook and Gmail.
Pricing:
Keap offers a free trial. Pricing starts at $56/month.
---
Which is the Best Email Marketing Platform for You?
When you're considering email marketing platforms, it's important to keep your business's specific needs in mind. If you need advanced automation and segmentation, choose a tool that includes those features. As you can tell from our list of email marketing platforms, each platform offers the same basic functionality. Beyond that, the right email marketing platform for your business is the one that fits within your budget and has the features that you need right now (or know you'll need as you grow).
Before choosing an email marketing platform, we recommend taking the time to make a list of what you're hoping to accomplish with your email marketing campaigns and what features you'll need to meet those goals. Then, narrow down your options based on those features. From there, it's just a matter of choosing the one that best fits your budget!