Increasingly more B2B companies are exploring the ecommerce landscape and moving away from more conventional brick-and-mortar locations. In the past, B2B ecommerce sites were simply used as a place where existing customers can place their next order instead of having to work through a rep. However, that has changed and the emerging trend is that the right solution will also help B2B businesses with new customer acquisitions.
In fact, according to a report by Forrester, in the United States, it is anticipated that B2B ecommerce will reach $1.8 trillion and be responsible for almost 20% of all B2B sales by 2023. This means that B2B ecommerce has the potential to be double the size of B2C ecommerce.
If your B2B business is still relying mainly on brick-and-mortar stores, investing in an ecommerce platform with B2B functionality is a smart step that will make it easier to scale your business. To help you select the right ecommerce platform for your B2B business from the start, we've summarized some of the most important features it should ideally offer.
---
How to Select the Right B2B eCommerce Platform the First Time:
---
What's a B2B eCommerce Platform and Why Should You Invest In One?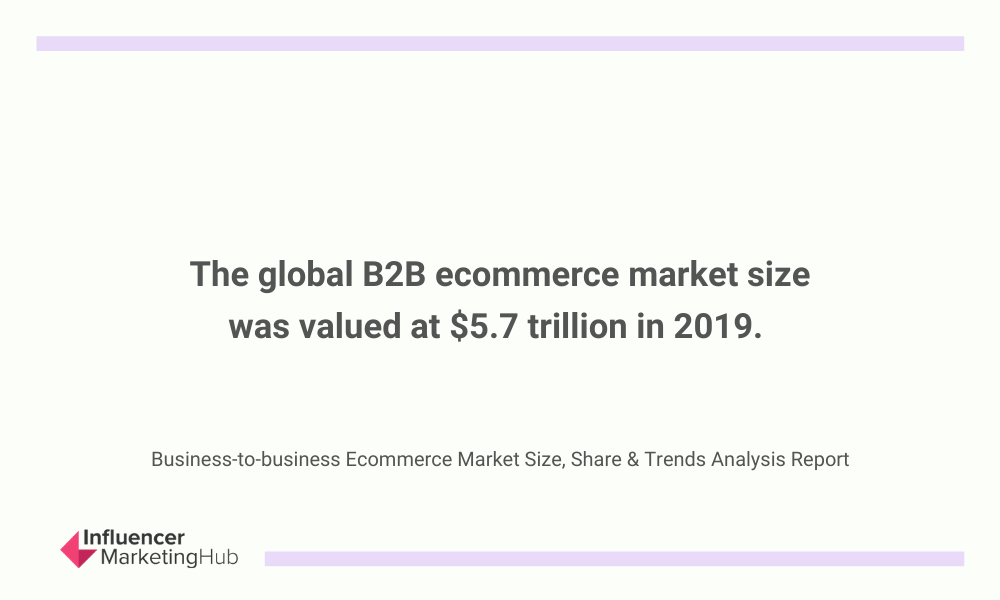 Business-to-business (or more commonly referred to as B2B) is a model that sells services and goods to other businesses. A B2B ecommerce platform helps this type of business to run aspects like selling, managing customers, fulfilling orders, collecting payment and sending invoices.
The new B2B ecommerce platforms are typically cloud-based which means that you can access it via an app/portal or a website. The benefit of opting for a cloud-based platform is that you do not have to worry about any installations or maintenance. All you basically need is access to the Internet and you will be able to access this platform via the web browser on your PC or mobile device.
While you can build your own B2B ecommerce platform, this option is not recommended. It's time-consuming and most platforms on the market offer all the must-have features.
It's crucial that you select the right ecommerce platform for your type of business and its goals from the start. It takes a lot of capital and time to get it up and running and if your platform will not be able to help you realize your goals, all your effort will be useless.
With the right platform, you can increase the number of sales channels and attract more B2B buyers. What's more, it can also help you to boost your brand awareness. Though, it is actually much simpler than that. B2B buyers are starting to expect the same seamless shopping experience that they have grown used to on other sites and only want the best experience online.
---
Key Features of B2B Ecommerce Platforms
The following are some of the most essential features that your B2B ecommerce platform should offer.
Ease of use
B2B transactions are more complex which means that B2B ecommerce platforms offer several advanced features. While this extra functionality is great and needed to deal with longer buying cycles, recurring orders and larger order quantities, it is key that your customers will still find it intuitive. If not, they will stick to other conventional ways of ordering, or, worse, switch to a company that does offer an easy-to-use platform.
The option to restrict access
As mentioned, a B2B company is more intricate than a B2C business. This means that you are searching for an ecommerce platform that lets you customize the experience for different users. It should give you the option to restrict certain pages of your website so that you can, for instance, hide bulk pricing.
The ability to deliver transactional options as a unified solution
A B2B business has various different systems that must work together to deliver a unified system for customization and managing orders. If you use a number of tools, it can cause confusion and possible issues with fulfilling orders and managing your inventory. So, before selecting an ecommerce platform, first take the time to identify the features that you will potentially need. That being said, also remember to check its compatibility with your existing systems.
The ability to offer personalization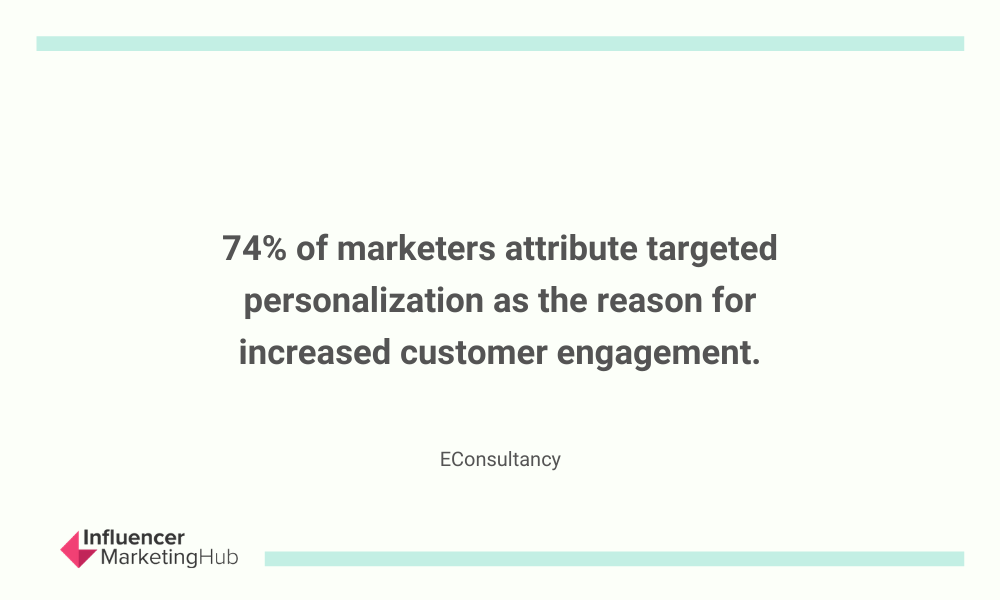 User experience is crucial. While it might not have been that important previously in the B2B sector, according to the B2B ecommerce trends for 2021, personalization is starting to play a factor in this industry. So, ideally you are searching for an intuitive platform that is customizable and will offer your customers an online experience that is specifically tailored to their unique requirements. For example, a solution that can offer customer-specific pricing and restrict the catalog to display only the products that are relevant to a specific customer can help you to offer a more personalized experience.
Responsive design and mobile access
Just like other consumers, B2B buyers also use different devices like a tablet or smartphone when shopping. It's important that the ecommerce platform that you select gives your customers the ability to place orders via their mobile devices.
So, to ensure that buyers can easily read up on products, research prices and make purchases while on the go, your content should display correctly across various device sizes. Ideally, the app should also allow customers to use the camera of their device to scan barcodes.
Payment options
The way that B2B buyers pay for their purchases differ from how your B2C customer would typically pay. Instead of making once-off smaller purchases, B2B buyers usually purchase bigger orders on a recurring basis. So, it is important that the ecommerce platform that you choose offers flexible payment options such as partial payments.
Order notes
To make life easier for your customers and sales reps, your platform should allow customers to add notes about an item or order. It should also allow your sales rep the chance to answer questions about a product, upsell other items, and add instructions about shipping preferences regarding certain aspects of the order.
Product catalog management and inventory availability
One of the main issues that B2B businesses face is how to manage their product information. It's challenging to organize your product info if your suppliers send you catalogs in various formats. So, be sure to compare how different ecommerce platforms tackle product catalogs.
You are also searching for a solution that offers robust inventory data that your customers can access. This will help prevent backorders that can work out expensively.
Functionality for self-service
Your typical B2B buyer wants to be given the ability to get information and sort out issues on their own. So, the best ecommerce platform will allow them to access things like shipping details, quote approvals and order tracking.
The ability to copy previous orders
B2B customers are much more likely to reorder the same order from you frequently than B2C customers. So, it is key that you make it easy for them to duplicate their past orders. The best solutions let buyers view their previous orders so that they can easily duplicate it (or make changes, if necessary).
---
Other Factors to Consider When Picking a B2B Ecommerce Platform
At the end of the day, it's not only about your customers. You should also take into account the needs of your business and how the B2B ecommerce platform will affect you, as a company.
So, consider the reason why you are searching for an ecommerce site. Some businesses explore this route to get new customers, while others want to invest in a platform to build the relationship with their existing customers. While increasing your revenue is important, it should not be your only goal. The right platform will also help you to run your business more efficiently by reducing manual processes and, ultimately, reduce the cost of sales.
Your goal is to identify a platform that will help you to achieve both your immediate goals and long-term goals. In other words, it should offer the tools that you expect you will need as your business grows and evolves.
You also need to consider if your team will be able to use a platform efficiently. User experience is important, but if your team needs a lot of knowledge and skills to utilize the platform to its full potential, it can become less cost-effective. It can cost a lot of manpower to manage a fully functional ecommerce site (even more so if it needs custom development)!
---
7 of the Top B2B eCommerce Platforms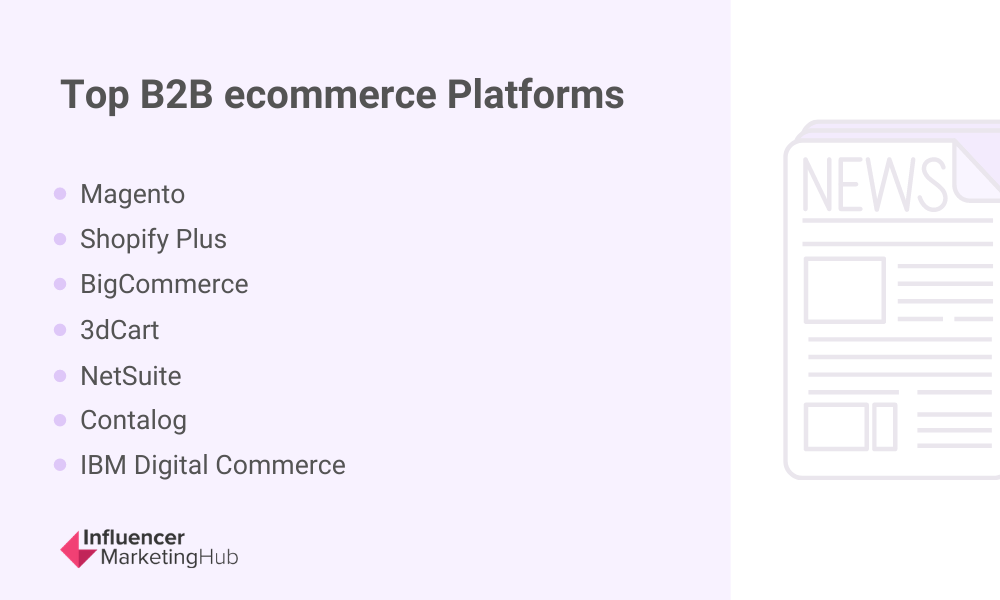 1. Magento
Magento is a top comprehensive platform that boasts 100+ built-in B2B features. These include personalized buying experiences, easy integration with backend systems, multi-channel selling, and custom catolog and pricing. With Magento, you can also manage B2B and B2C online stores simultaneously. So, if you ever thought about diversifying in that direction, this is a great choice.
---
2. Shopify Plus
Shopify Plus is currently used by almost a million online stores that include big brands like Tesla, L'Oreal and Motorola. In fact, it focuses on the requirements of enterprise ecommerce businesses that generate more than one million in revenue. The benefits that Shopify Plus can offer B2B businesses include dedicated storefronts for international ecommerce, advanced custom pricing, and several apps. Its user interface is really easy to understand and use and the transactional processes are equally straightforward. Just like Magento, this is also ideal for businesses that work in both B2B as well as B2C.
---
3. BigCommerce
BigCommerce is one of the most popular platforms among mid-market and enterprise brands. It is reasonably priced, offers highly flexible APIs and various unique B2B ecommerce features. With this platform, businesses can also operate in both the B2B and B2C sector. Some of its main advantages include simplified segmentation, access to B2B-specific payment solutions, automatically applied volume discounts and advanced shipping methods.
---
4. 3dCart
3dcart might not be as popular as Magento, Shopify Plus or BigCommerce, but it is still a good solution for mid to large enterprise B2B ecommerce stores. Although it is not as easy to use, it offers good scalability. Some of the features that it offers specifically for B2B include bulk price discounts, one-click reordering and tax management features.
---
5. NetSuite
More than 40,000 businesses in over 160 countries use NetSuite, making them one of the leading B2B ecommerce platforms. It is modern and offers great scalability. Thanks to its integration and multichannel capabilities, it is a better choice for big brands.
---
6. Contalog
While Contalog initially focused on digital catalog and order management, it has since developed into a comprehensive omnichannel commercial platform for B2B and B2C businesses. Their features include product info management, inventory management and responsive designs.
---
7. IBM Digital Commerce
IBM Digital Commerce gives customers a personalized experience, but, sadly, your employees might not have the same pleasant experience. It takes a time to learn all the ins and outs of this platform. Nevertheless, it is a robust service that makes it easy for your business and customers to find information thanks to its ability to streamline the processing and filing of payment agreements, contracts and other documents.
---
Wrapping Things Up
By selling on a B2B platform, you will be able to unlock new business opportunities and markets, boost your sales and reduce your overall costs. So, it really makes sense for B2B businesses to invest in a B2B ecommerce platform. In fact, it has become a necessity.
Choosing the best B2B ecommerce platform requires serious thought and careful consideration. The majority of B2B ecommerce software solutions have been designed for a specific type of business. While they are not all the same, there are still some essential features that it should offer. Also, to help you select a solution that will grow with your business, this decision-making process should include a look at your company's goals. At the end of the day, you want to choose the platform that your employees will be able to use to its full potential.