It's no longer ideal for a brand to limit itself to a single social media platform. While you can certainly hyperfocus on a single social media marketing channel to create higher-quality posts, audiences today use more than social media to browse—which means more work to get into their feeds.
This makes it more advantageous for companies to post on multiple social media platforms at once, and the best way to do this is through social media marketing tools and services.
Apart from letting you create, schedule, and post on social media, these tools are extremely effective at social media management, giving you valuable insight as to how your brand is engaging your audiences across various channels. Here's a guide on how to use them to create the best posts possible.
---
Top Social Media Posting Tools for 2024:
---
Social Media Posting Tools To Help You Create The Perfect Post
Social media tools may differ in their specific features, but the important thing to keep in mind is that they all fulfill the same goal—to help your brand post high-quality content consistently. Learning what features will best address the needs of your business will be key to picking the best tool to choose for you.
---
---
---
---
---
---
---
---
---
---
---
---
---
---
---
What Are Social Media Posting Tools?
Social media posting tools are platforms or software programs that help users, such as content creators, social media managers, or other members of an SEO team, to post on different social media platforms. These tools aim to optimize the processes for social media posting, which often require a lot of manual input and monitoring without these tools.
Social media tools have become essential for many companies, especially for social media advertising. With an estimated market value of over 300 billion dollars of ad spending by 2024, these tools have become crucial to helping support social media campaigns and increase a brand's presence online.
There are three core functions of a social media posting tool:
Storage

: the platform must enable users to upload content (either kept in the cloud, their own servers or computers, or other data storage) for easy access

Schedule

: the platform must be able to help users organize the content in its libraries for posting on one or more different social media platforms

Publish

: the platform must be able to post the content uploaded to itself by a set time without any input from the user
These tools may sometimes overlap with other social media management software programs since some larger brands add these features under a single product, but these three core features will always be present in any social media posting tool.
---
Why Use Social Media Posting Tools?
A common counterargument for using social media posting tools is that simply hiring a social media manager—or having an SEO team do it—would be enough to fulfill a brand's needs for social media. However, data shows that audiences today are highly segmented and spread across different social platforms. Simply doing everything manually on one social media site is not an option anymore.
According to DataReportal, there are 4.8 billion people on social media platforms today, which means there is a global audience currently available to see what your brand posts on social media. With social media posting tools, reaching these audiences becomes a little easier.
A few reasons to use social media posting tools include: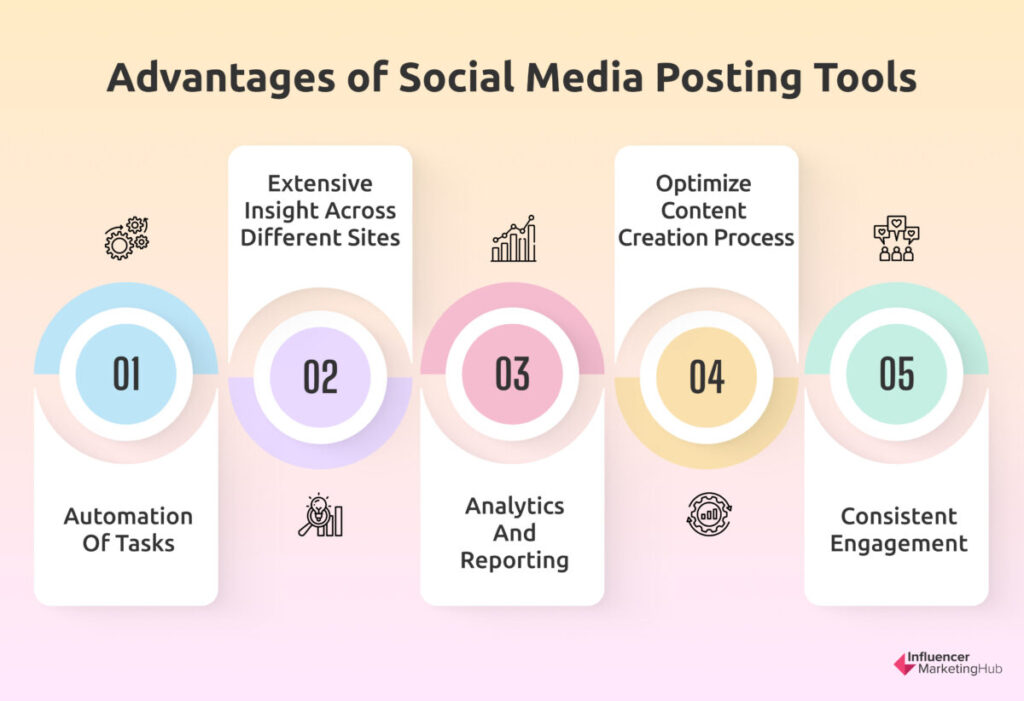 Automation Of Tasks
Social media posting is a far more involved process than simply clicking "publish": managers will often need to coordinate text and visual assets, schedule posts for specific times, and match the right posts for the right campaigns. Social media posting tools can automate most of these processes—if not all.
Extensive Insight Across Different Sites
Many social media posting tools also have detailed dashboards that give users a comprehensive overview of their activities on different social media platforms. This gives them more insight into how their brand is performing online and can make day-to-day post management far easier.
Analytics And Reporting
These tools also usually have in-built analytics that allows you to check the performance of each individual post, not just the performance of your posts overall. With this data, social listening becomes far more integrated into the content creation process. Some tools even outright include social listening features in their platform.
Optimize Content Creation Process
With the use of social media posting tools, you give your brand a single place where all your social media content is stored, drastically reducing the likelihood of missing assets and being able to access reference material on demand for future posts. Some tools go beyond this and even integrate workflows with their platforms to further optimize post creation.
Consistent Engagement
Finally, the automatic publishing of social media posting tools can ensure that your brand will always have a presence on social media. This is crucial to maintain your audience's interest and help with expanding brand awareness to new markets. A consistently engaged audience is far more likely to interact with your brand, even if the initial post was scheduled.
---
Wrapping Up
Social media posting tools have become essential for companies to help keep their online presence alive and well. The capability to engage an audience on different websites—in a way that isn't stale or repetitive—is something that any brand can benefit from, regardless of size.
With the proper use of social media marketing tools, you'll be able to post on demand, schedule posts for important occasions, and otherwise have a handle on your social media presence without too much hassle. By helping make the creation of these posts easier, you can focus on what truly matters: creating better content.