In many ways, Facebook has the most sophisticated social media advertising network. It is also an essential part of many firms' social media strategies, as it can be next-to-impossible to gain organic reach on Facebook if you're a business. Facebook ads can be quite complicated, however, particularly if you want to go into highly detailed targeting. Many firms find it easier to have professional assistance when they choose to advertise on the platform, turning to one of the Facebook ad agencies.
Just as some firms prefer to pay an agency to deliver influencer marketing results, others are happy to leave all their Facebook ads worries to a specialist Facebook ad agency. Some of these agencies have a narrow focus, concentrating solely on social media marketing. Others consider themselves more general and add social media advertising (on Facebook and elsewhere) to a comprehensive roster of advertised activities.
---
Here are 11 ad agencies that include Facebook ads amongst their advertised services:
---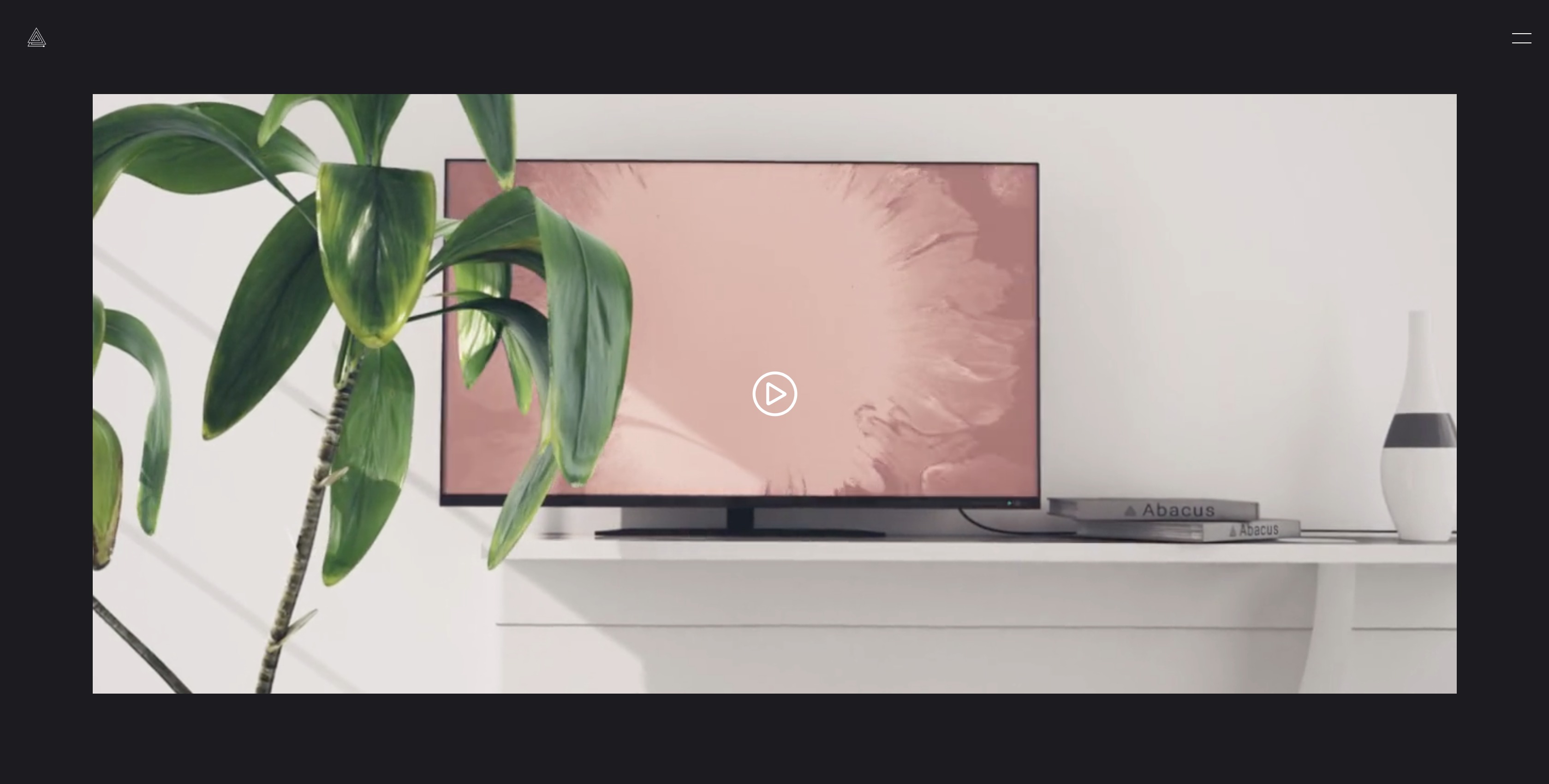 Abacus began life as a Facebook and Instagram Advertising agency specializing in advanced social media performance. Their initial goal was to drive better ROI on their clients' paid social ads. After two years, countless tests, and millions of dollars spent on digital media, they concluded that creative is the most important driver for social growth.
Abacus created Social Design Systems as the core link between the brand and the campaign. Social Design Systems empower advertisers to scale their mobile content by embracing ideas that produce continual high-performing content.
They believe in mobile-first solutions – most Facebook users now use mobile devices to check their Facebook accounts and engagement with others.
They create Social Design Systems - infrastructures for entire libraries of agile digital assets. This provides multiple pieces of content with a cohesive look and feel across all marketing channels. They think in terms of months of content and not just one or two hero videos. This includes tiers of campaign assets, ranging from high-level brand messaging to tactical conversion ads—and everything in between.
---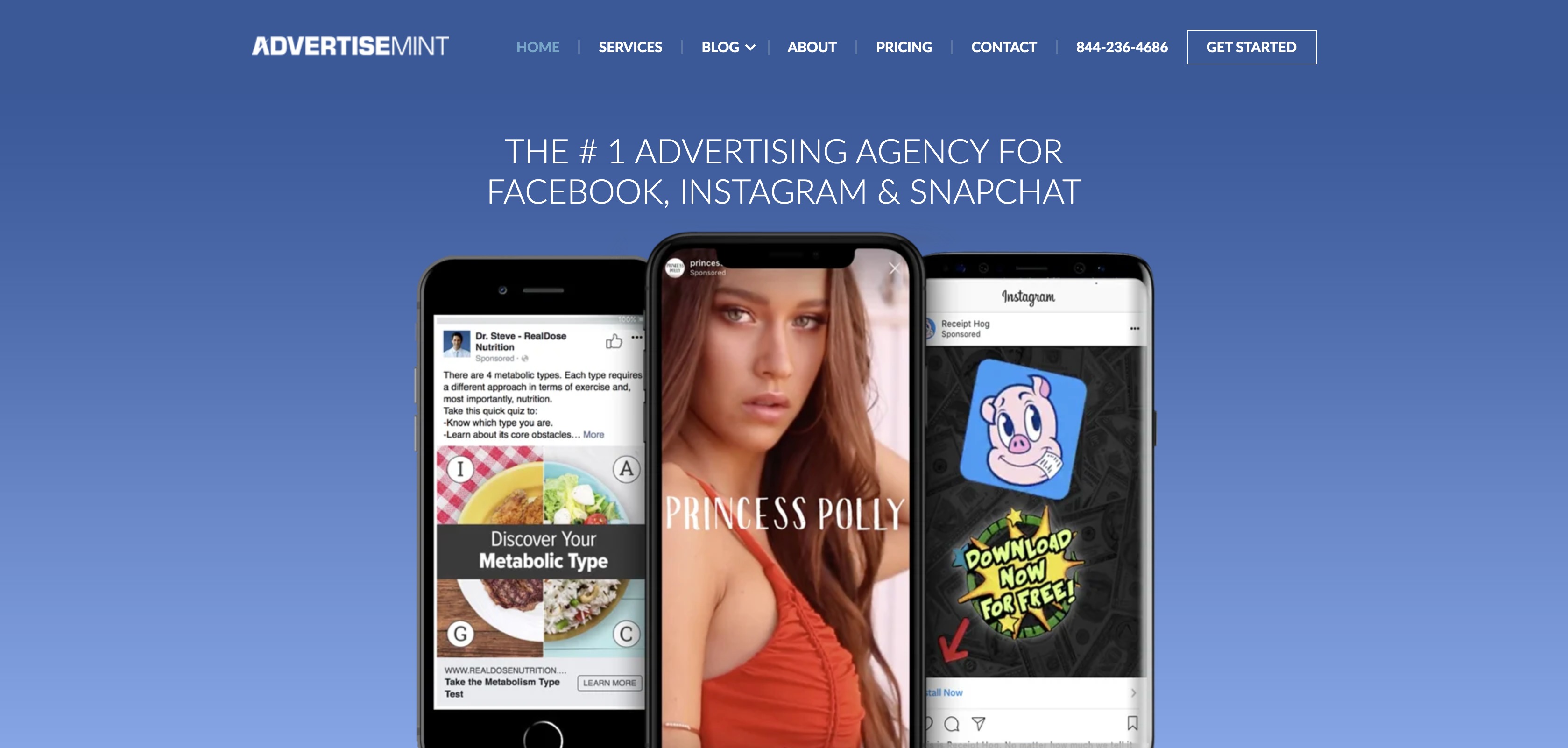 AdvertiseMint claims to be the #1 advertising agency for Facebook, Instagram, and Snapchat. They specialize in Facebook ads management. They generate more leads, customers, app downloads, and sales.
They include well-known brands amongst their clients, including CocaCola, Playboy, and AstraZeneca.
They believe you should advertise on Facebook for its massive user base, affordability, and exceptional ad targeting options. With Facebook targeting, you can serve ads to people according to demographics, connections, interests, custom audiences, and behaviors. You can display ads on the Facebook mobile news feed, desktop news feed, right column, Audience Network, Instant Articles, Messenger App, and Instagram. AdvertiseMint can help you determine which works best for your products and services.
---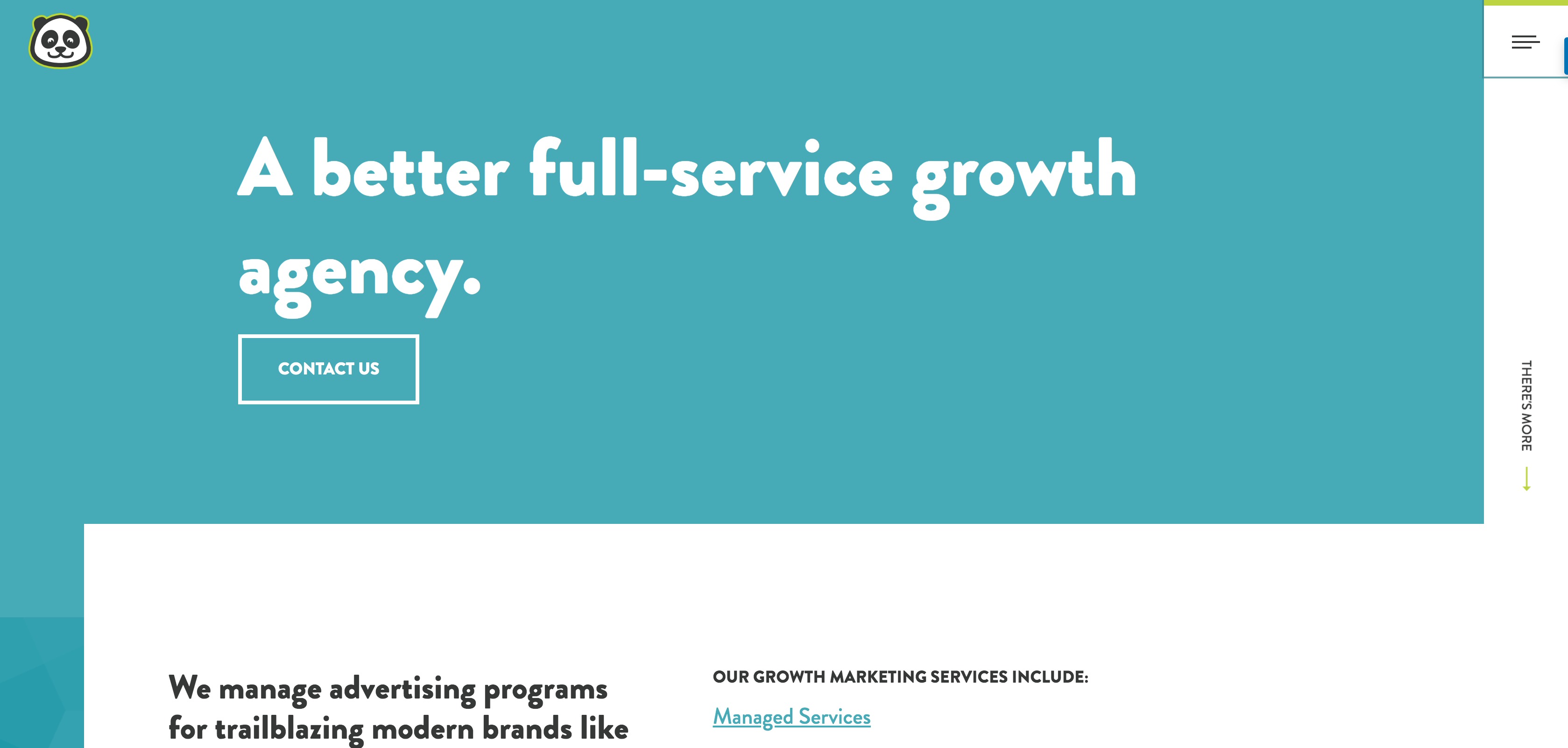 Bamboo describes itself as a full-service growth agency. Their clients are in the direct-to-consumer, mobile, subscriptions, marketplaces, and FinTech sectors. They split their services into managed services, creative services, and strategy services. Their managed services include paid search, which includes Facebook advertising.
Bamboo follows a mobile-first philosophy, and they target Facebook ads specifically for the mobile experience. They optimize all the Facebook ads they create for mobile performance.
Their Facebook services include mobile-first campaign strategy and management, creative production, and customized reporting. They test and optimize Facebook ads, focusing on the ads that achieve the best results.
Bamboo stresses that they are, at their core, growth marketers. This means they utilize an agile framework (small tests, rapid iteration, and scaling what works) to drive compounding improvements over time.
---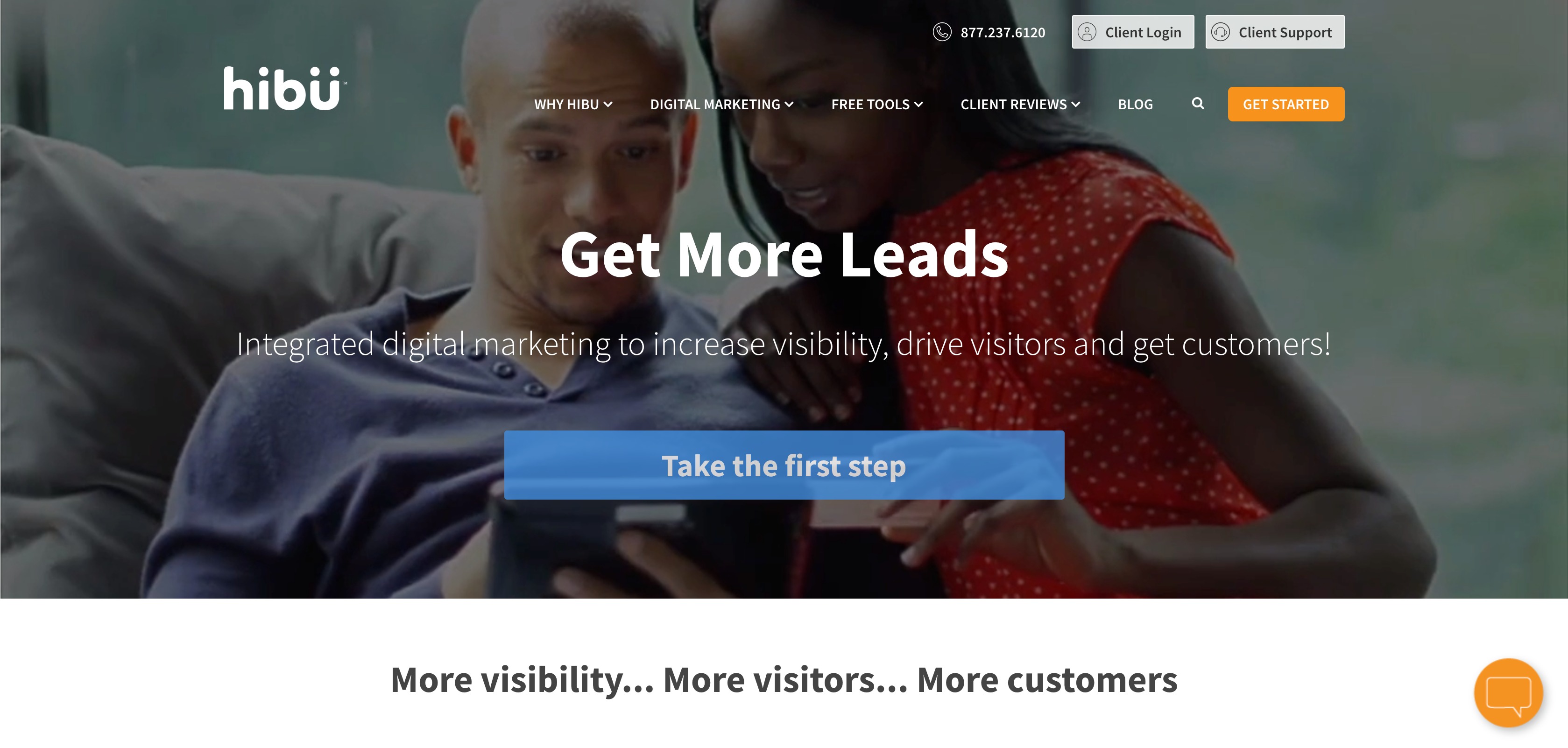 Hibu is a digital media marketing agency, with a strong emphasis on social marketing, including Facebook. They promote that they will set up your Facebook Business Page and carefully craft targeted ads that will keep visitors coming back.
Hibu offers flexible pricing and services, meaning that they are prepared to customize what they offer you to meet your Facebook needs. This means that they are ideal for small businesses who may worry about whether they can justify the expense of an agency.
Hibu provides a dedicated digital specialist who will help create your social marketing plan. They begin with determining your goals for Facebook ads. They then generate ad variations to determine which best help meet your goals. Once your ads go live, Hibu analyses their performance, continuing to optimize the ads throughout the length of the campaign.
---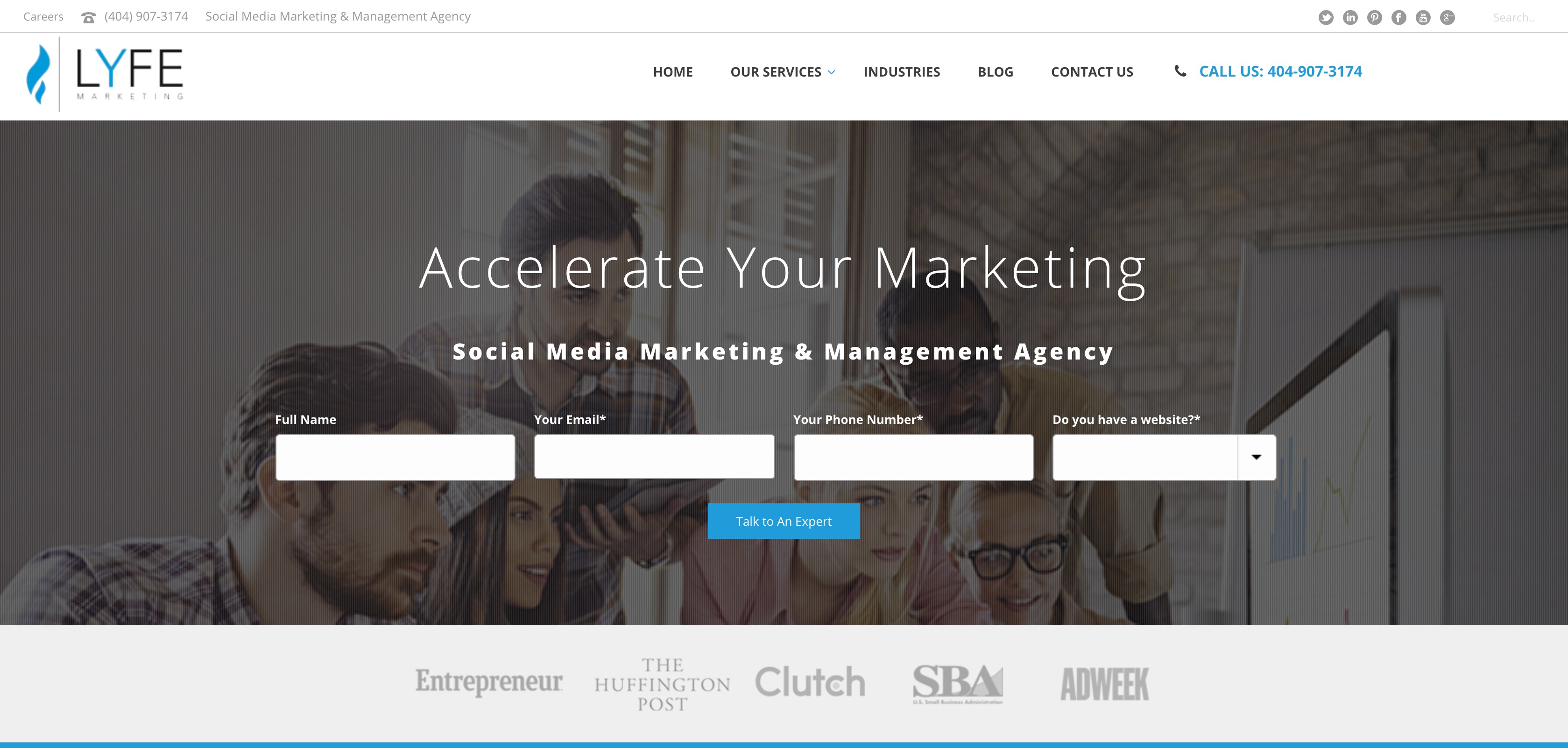 Lyfe marketing specializes as a social media marketing and management agency. They offer social media services, search engine services, and website design services. They create and manage top-performing social media campaigns for businesses. Lyfe Marketing manages social media networks such as Twitter, Facebook, and Instagram on your behalf. They use relevant social media marketing services to help companies to grow and meet their goals.
Their Social Media Marketing Services help your business grow brand awareness, relationships, and website traffic. They recognize that Facebook is the most populous social media platform where many of your very own customers went for advice, images, and reviews before they found you. Updated Facebook pages are imperative when consumers are on the hunt for a new product or service to meet their needs. Making frequent updates your Facebook page is the key to success among the other 50 million business pages on Facebook. If your Facebook Page is flooded with inviting content, engagement with your customers, and positive reviews, then you can believe that your business will rank top in customers' minds over your competitors when they are ready to make a purchase.
Facebook management services are services designed to help you maximize the potential of Facebook marketing without actually having to do the work. Lyfe Marketing believes that when you have an agency do your Facebook Management for you, it opens up doors for you to focus on other parts of your business that need your attention.
Their Facebook Management Services consist of:
Facebook strategy development

Facebook content creation

Facebook page growth

Facebook reporting
---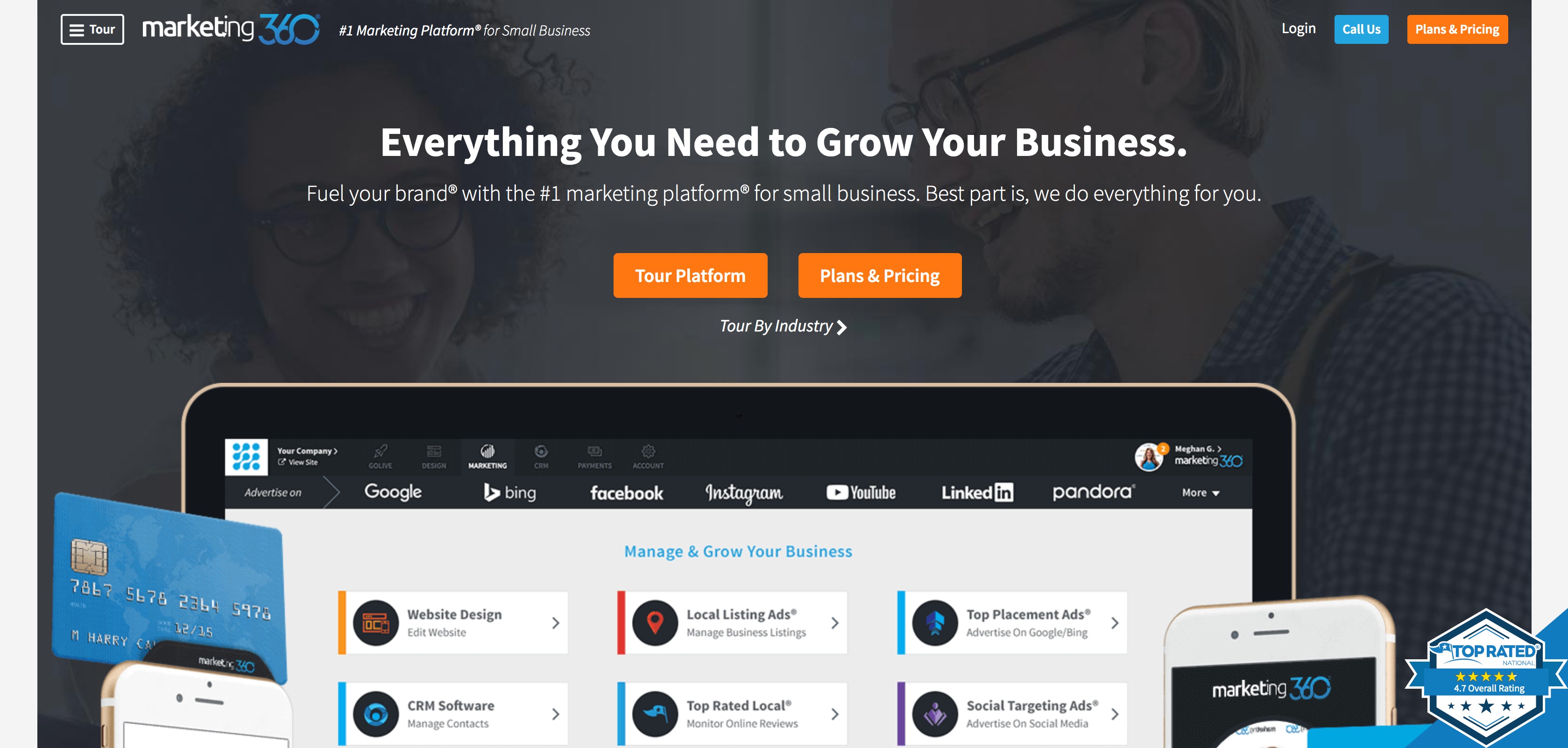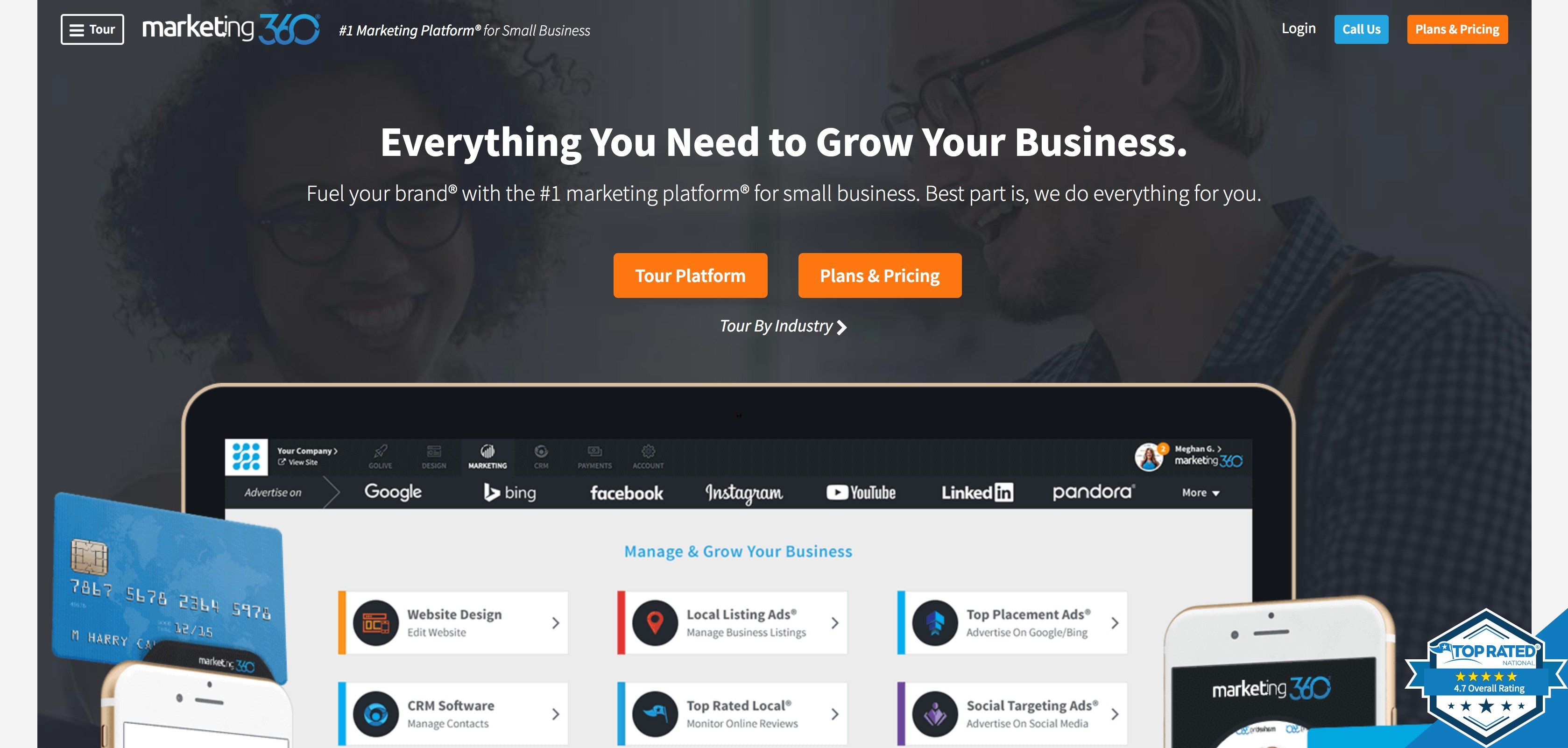 Marketing 360 is a full-service digital marketing agency. It places much emphasis on its marketing platform.
It includes a team who specializes in social media management that covers Facebook, Instagram, Twitter, LinkedIn, Pinterest, Google My Business, Houzz, and YouTube.
They also offer end-to-end management of your Facebook advertising, that utilizes their Social Targeting Ads Platform. You manage your Facebook ads, along with web management, email marketing, short message service (SMS) marketing, and customer relationship marketing (CRM) all from the single platform.
Marketing 360 will provide a dedicated marketing executive to manage your Facebook advertising. You can, of course, monitor the results through the platform. The company has an in-house team who will develop multiple versions of your ads that they will test with different audience segments. The platform uses an algorithm that will direct more of your budget towards performing ads and less towards those less successful.
---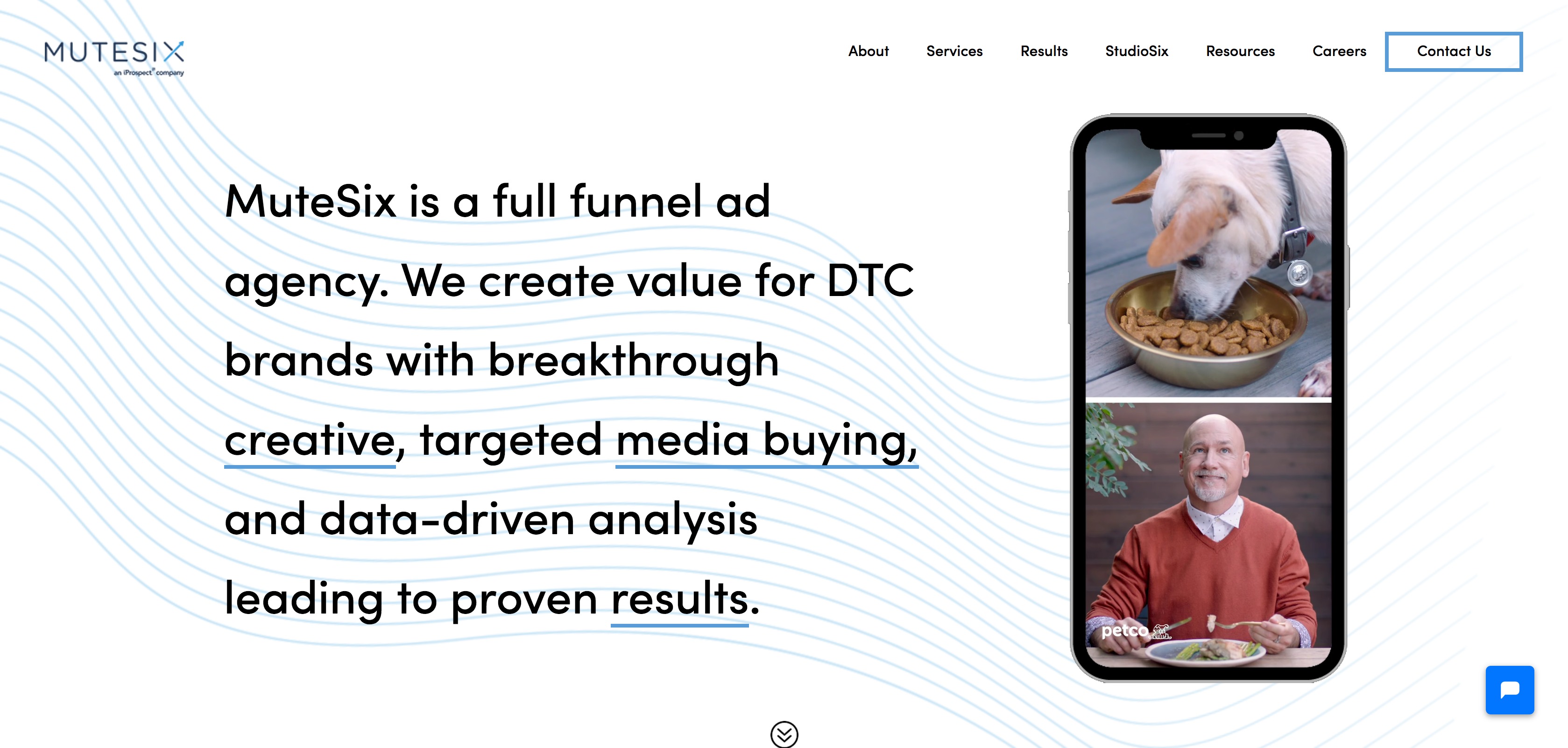 MuteSix is a full-funnel ad agency. They create value for DTC brands with breakthrough creative, targeted media buying, and data-driven analysis leading to proven results.
One of their specialties is Facebook and Instagram advertising. They have a dedicated video studio and a graphic design team. These make them particularly suitable for firms wanting stunning, visually appealing Facebook ads.
MuteSix usually charges 15 percent of your Facebook Advertising expenditure. Their service includes ad production, ad targeting, ad optimization, and performance reports. They can also help you make suitable landing pages for your ads.
They make multiple versions of ads and carry out A/B tests on different audiences. They place a Facebook pixel on your website so they can track sales made as a result of the Facebook ads. You can also use the Facebook Pixel to assist with retargeting.
---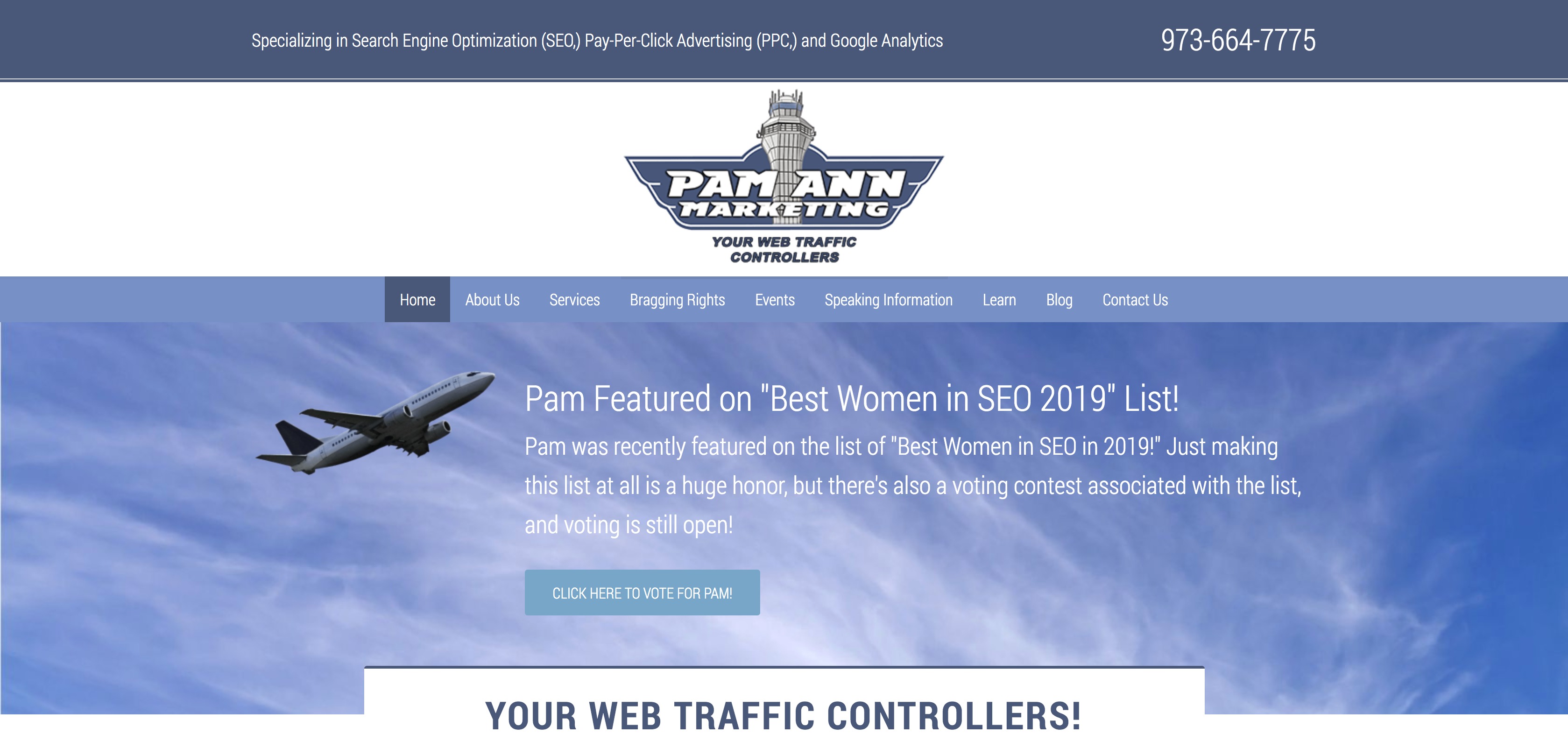 Pam Ann Marketers plays on its name, with flight-based imagery. They describe themselves as "your web traffic controllers," and use an airport control tower as part of their logo. President and Chief Web Traffic Controller is Pam Aungst, MBA, who recently featured in the list of "Best Women in SEO in 2019!"
The company describes itself as specializing in search engine optimization (SEO), pay-per-click advertising (PPC), and Google Analytics. This includes social media advertising, covering Facebook, YouTube, LinkedIn, and Twitter.
In terms of Facebook advertising, Pam Ann Marketing handles campaign set up, ad creation and demographic targeting, refreshing ad creative regularly, and managing bidding and maximizing the use of your budget.
They recognize the importance of matching your Facebook ads to your business goals. They recommend the best use of Facebook ads to achieve your particular business goals.
---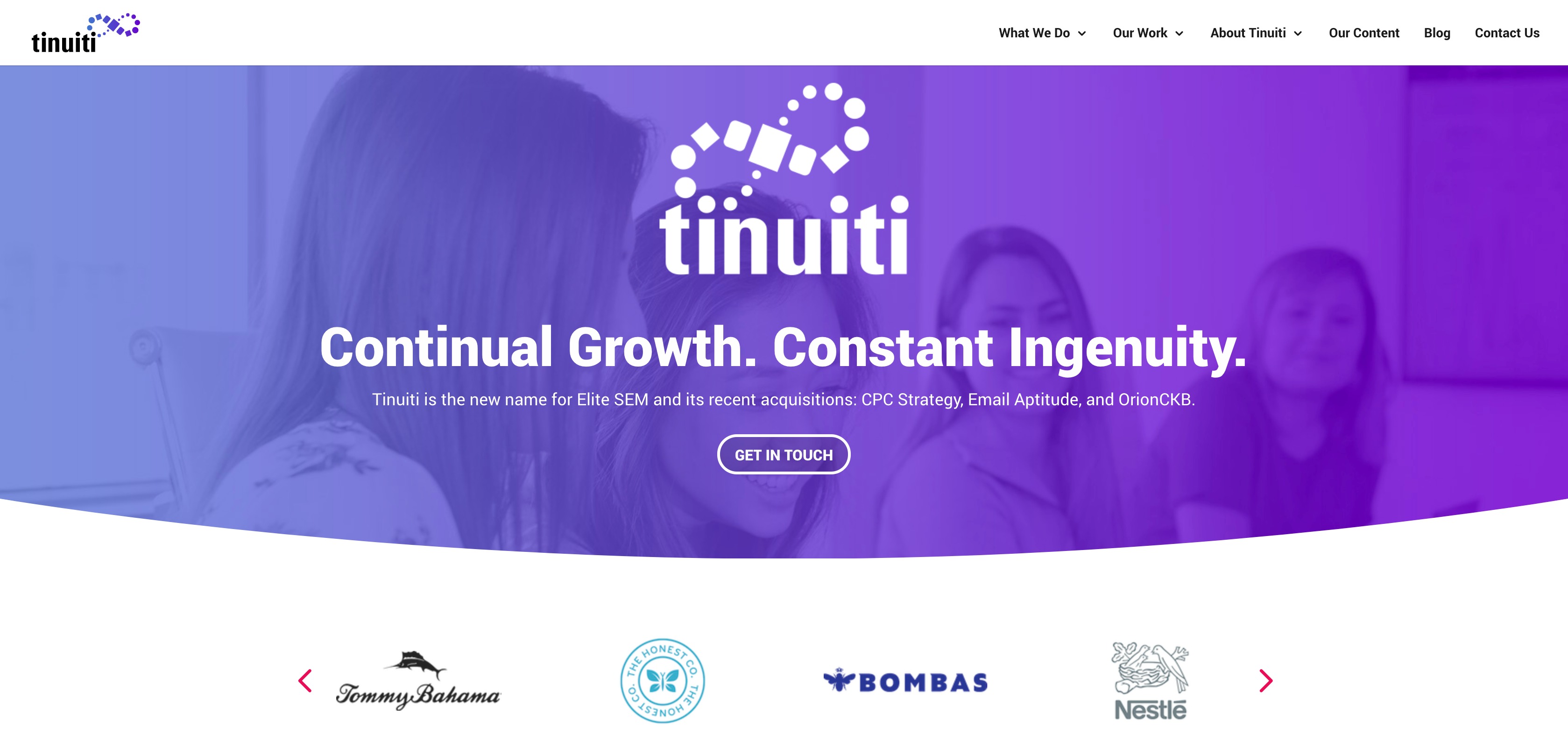 Tinuiti is the result of a recent series of mergers and acquisitions involving Elite SEM, CPC Strategy, Email Aptitude, and OrionCKB. This means that they now offer a wide range of digital marketing solutions. Their main areas of focus are paid media, Amazon services, CRM & email marketing, earned & owned media, and analytics & marketing services. They describe themselves as bringing together the acuity of a consultancy, the creativity of an agency, and the connectivity of an internal team to accelerate your digital growth.
Amongst all this, they include Facebook advertising services. They offer paid social solutions that drive results in lead generation, app downloads, sales, and more. They provide a full-funnel social strategy to align your customers with powerful brand messaging in real-time across social channels, including Facebook, Instagram, Snapchat, Twitter, Linkedin, Pinterest, and more.
Tinuiti works with your B2B or B2C in-house team to scale your business at every stage of the Facebook funnel from reaching new audiences to re-engaging past purchasers. They customize your ad campaign to your goals, your audience, and your vertical to make sure they are capitalizing on every ad dollar.
They enable partnerships with leading technology providers, including Nanigans, Kenshoo, and Smartly for deep data analysis. Based on their findings, they adjust your direct response advertising to drive winning results.
---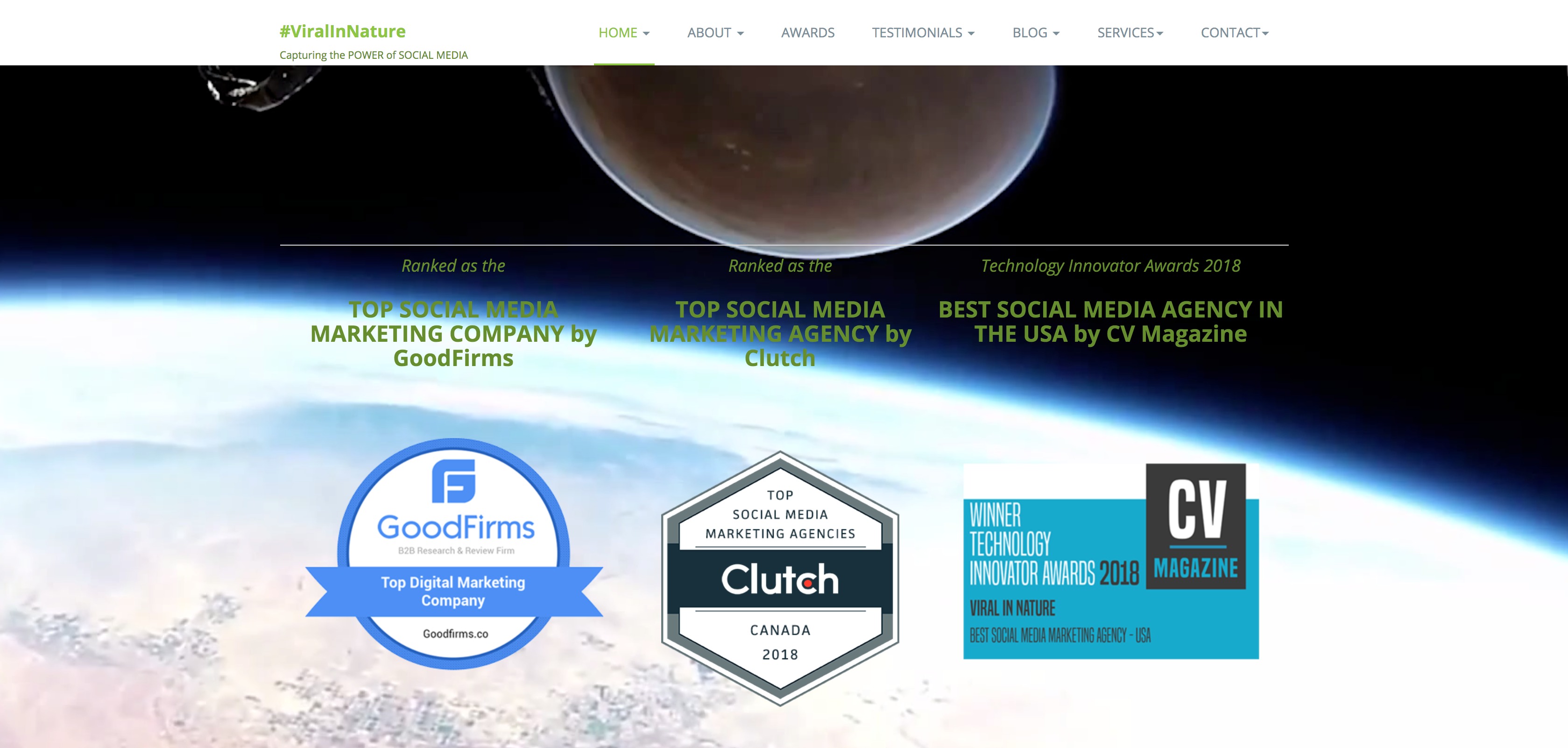 Viral in Nature believes in catching the power of social media. They split their services into web design, social media, and reputation management.
Their social media strategy follows five steps:
Discovery and goal setting – they start with a discovery session where they learn about your business and your goals. They then tailor a social media strategy to achieve your goals.

Content creation – they create content for you with regular photoshoots.

Social media publishing – they work with a wide range of social networks, including of course Facebook

Monitor and engage – they monitor and engage your audience from 9 am - 9 pm MST, seven days a week, 365 days a year. 24-hour monitoring is also optionally available.

Social media advertising management – they provide robust social media paid advertising to go with your organic posting. Their Ad Manager used to work at Facebook in their advertising department.
---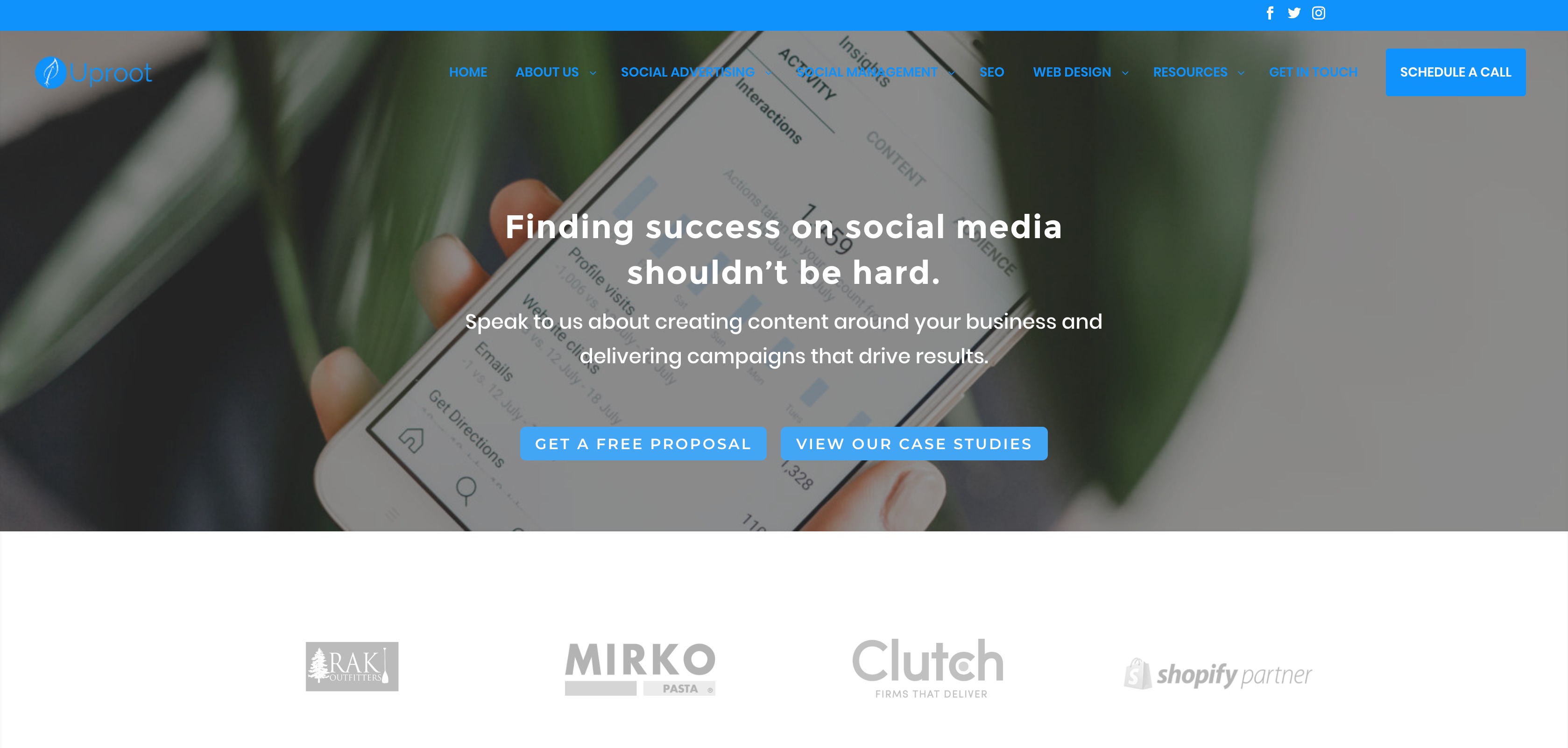 Uproot runs laser-targeted campaigns for your business to connect with Facebook and Instagram users in your target demographic. From researching your customer personas and creating content around your brand to testing proven ad strategies that work, Uproot can help your business find success on social media.
They have a slightly eclectic client base, advertising that they have "helped many real estate agents, chiropractors, surgeons, attorney, and other small businesses find clients online." They have also helped franchises plan content across multiple locations.
They don't just focus on marketing metrics and vanity data. They make sure their goals align with realistic business outcomes.
They have also expanded into using Chatbots for Facebook Messenger to engage and nurture a new audience to become loyal lasting customers.