Advertising Disclosure
Advertising disclosure:
Our partners compensate us. This may influence which products or services we review (also where and how those products appear on the site), this in no way affects our recommendations or the advice we offer. Our reviews are based on years of experience and countless hours of research. Our partners cannot pay us to guarantee favorable reviews of their products or services.
In the heart of Houston, an eclectic mix of advertising agencies has emerged, each bringing its own flavor of creativity, technological prowess, and industry acumen. From traditional media planning to digital strategies underscored by artificial intelligence and virtual reality, these agencies are the torchbearers of Houston's modern advertising revolution.
But as the options multiply, so does the complexity of choice. Which agency is the right fit for your brand? What unique strengths do each of these industry leaders bring to the table? To guide you through this intricate maze, we've delved deep into the world of Houston's advertising giants, presenting an overview that will serve as your compass in this dynamic landscape.
Dive in as we spotlight the 7 best advertising agencies in Housting, their accomplishments, and what makes them stand out in this ever-evolving domain.
---
Best Advertising Agencies in Houston
Top
advertising agencies houston
2024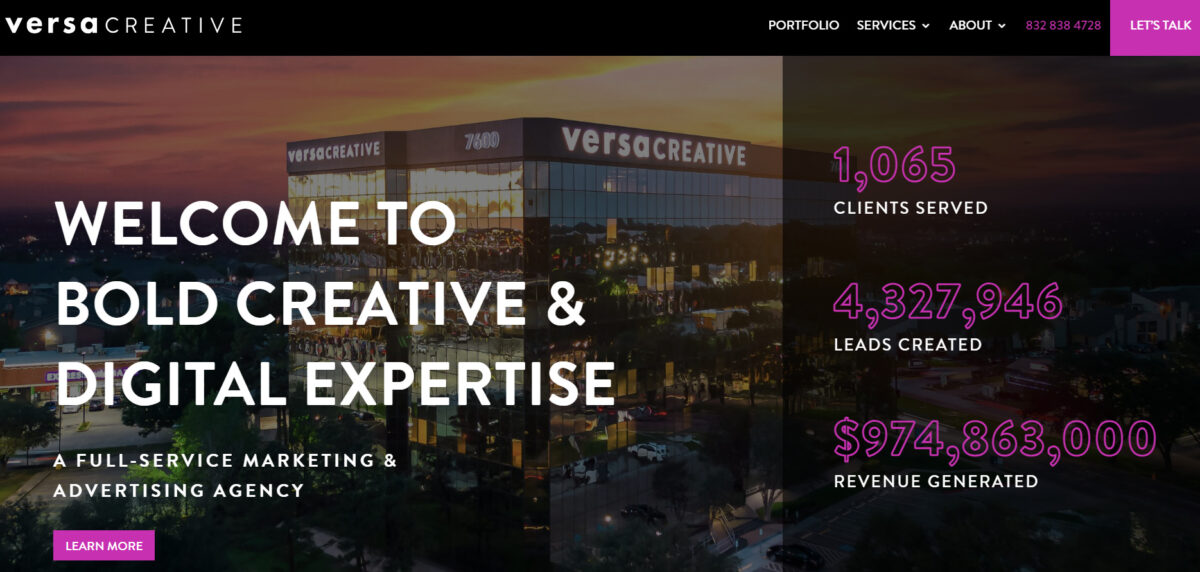 Founded in 2009, Versa Creative has carved a niche for itself as a premier Houston advertising and marketing agency specializing in delivering robust and strategic marketing campaigns. With a decade's worth of experience, they have showcased their prowess in offering a myriad of services, spanning branding, digital services, graphic design, social media marketing, SEO, and PPC.
Building on this diverse array of services, Versa Creative extends its service span from copywriting to videography, photography, and animation. This multifaceted team has earned the agency accolades like Houston's 2019 Best and Brightest, a testament to their progressive and diverse work culture.
With a vast clientele exceeding 1,000 brands, Versa Creative has manifested over 4 million leads and generated over $974 million in revenue. Their notable collaboration with YES Prep encompassed a multifaceted marketing strategy with 25 campuses. They pioneered YES Prep's first-ever email campaign and executed a brand awareness drive, achieving over 1.5 million TV impressions.
---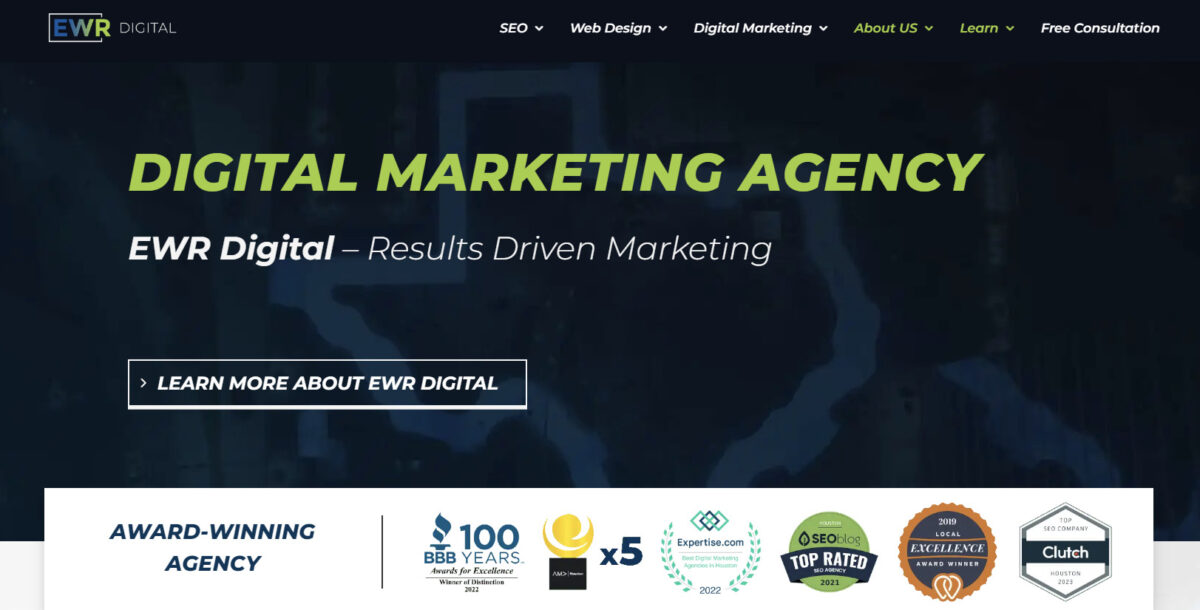 EWR Digital, established in 1999, is one of the premier players in the Houston digital marketing scene. With over two decades of industry experience, they deliver a comprehensive suite of services, from dynamic web designs, brand crafting, SEO, and PPC to top-tier video production. Their acclaimed EWR Digital Growth Methodology utilizes data-driven strategies, ensuring optimal online visibility across various sectors—from legal to healthcare and from financial to eCommerce.
EWR Digital has been recognized by renowned platforms, clinching the BBB Award for Excellence in 2022 and the Expertise Award for the Best Digital Marketing Agency in Houston. Their demonstrated success stories, including digital campaigns and consulting, highlight the measurable impact of their strategies.
With a client-centric approach and a commitment to data-driven strategies, EWR Digital stands out for its proven results. One of their exemplary collaborations was with Red-D-Arc Welderentals. Under EWR Digital's adept strategies, Red-D-Arc witnessed an exceptional uptick in their cold ad leads, which soared by over 90% to more than 200 monthly leads during the initial few months.
---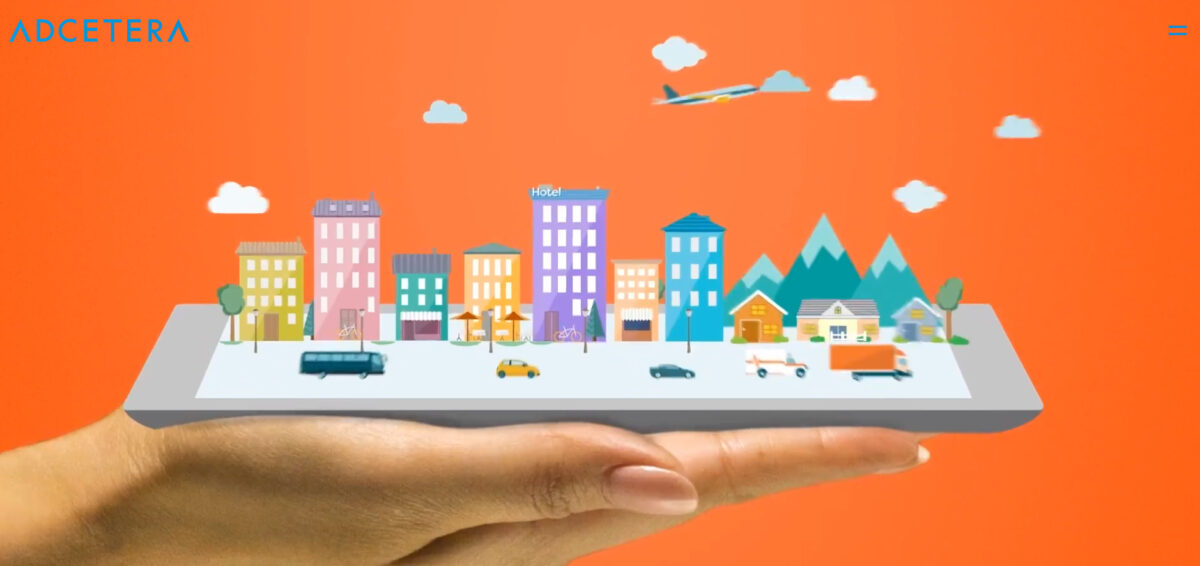 Adcetera is a powerhouse in the advertising domain with a sweeping array of integrated creative services. From foundational pillars such as branding, advertising, and media planning & buying, they stretch their expertise to advanced fields like virtual reality, augmented reality, and artificial intelligence. Prioritizing strategy, innovation, and memorable experiences, they ensure each endeavor, whether content development, design, or interactive motion, truly resonates with audiences.
Launched in 1982, Adcetera's longevity in the business speaks to its adaptability and continuous evolution in an ever-changing advertising ecosystem. Their collaboration with the technology, energy, healthcare, and retail sectors is evidence of their flexibility and vast expertise. A notable mention is their WBENC certification, highlighting their commitment as a woman-owned enterprise, enriching the industry with diverse leadership and perspectives.
Adcetera distinguishes itself by seamlessly integrating conventional advertising approaches with innovative strategies, as evidenced by its groundbreaking "Shell House at SXSW" campaign. Venturing beyond just 2D/3D animations, they curated an immersive experience in Austin, Texas, transforming perceptions and fostering engagement with interactive digital experiences, hands-on displays, and a custom mobile application.
---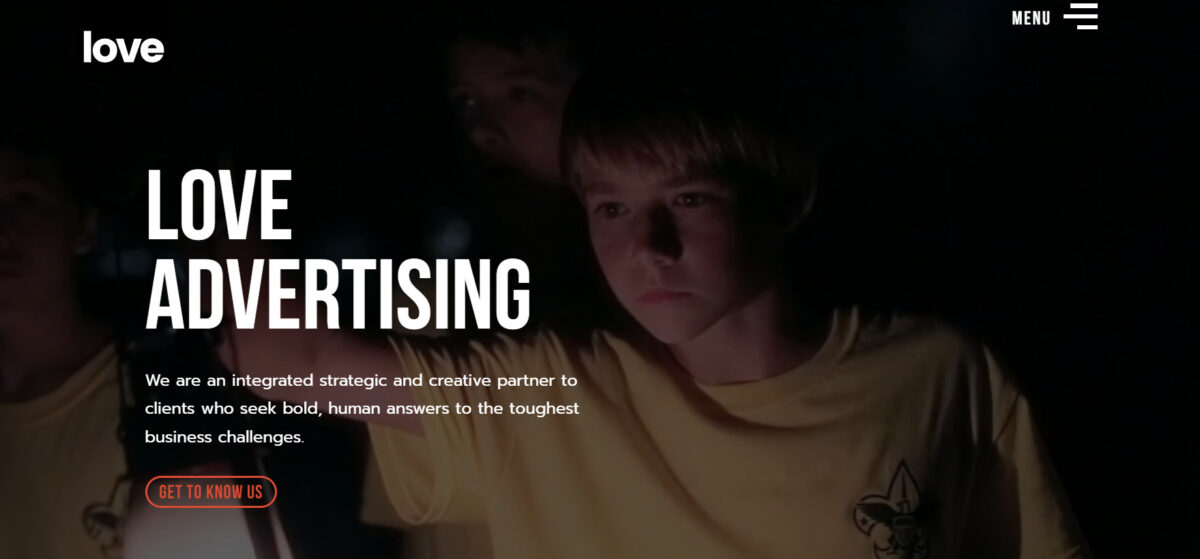 Love Advertising is a well-known full-service agency specializing in digital strategy, media planning & buying, search engine optimization, UX/UI design, and web design. Their 35+ year tenure in Houston advertising witnesses a broad spectrum of campaigns varying from local to international markets, covering sectors from retail, healthcare, automotive, and public awareness to B2B ventures.
As proof of their caliber, Love Advertising recently celebrated milestones at the 2022 American Advertising Awards, showcasing their commitment to excellence and innovation. Whether addressing the requirements of a burgeoning enterprise or an established multinational one, Love Advertising combines unique capabilities and top-tier talent to offer meaningful, measurable solutions to modern business challenges.
Love Advertising champions a human-centric approach, understanding that real people with genuine needs lie at the core of businesses. Their belief is evident in their success stories, where they employ creative strategies to transcend traditional boundaries. For instance, their inventive email campaign for Phillips 66 aimed at increasing brand affinity saw results of 400,000 unique opens and a 25% decrease in the unsubscribe rate.
---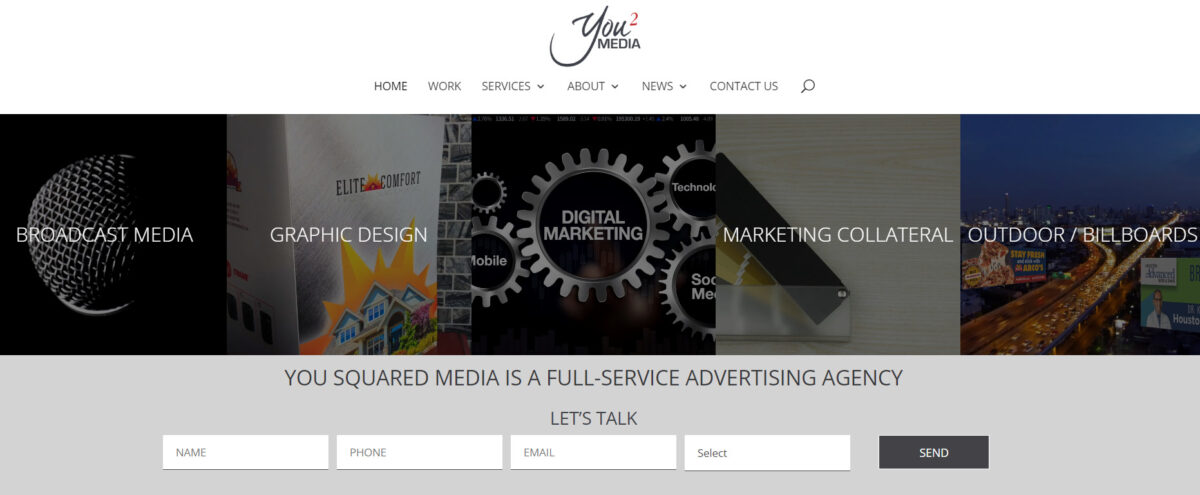 You Squared Media is an innovative social media marketing agency offering a vast array of services. It navigates media placement across broadcast, print, and outdoor avenues, as well as digital marketing, graphic design, web management, commercial production, and more. Their expertise, derived from over 35 years in the business, ensures that advertising isn't a shot in the dark but a precise art grounded in knowledge of the media market.
Proudly heralded as one of Houston's Top 20 Advertising Agencies by The Houston Business Journal, their accolades don't just end there. Their recognition as one of Houston's top 3 Advertising Agencies for consecutive years testifies to their consistent delivery and innovative approach.
You Squared Media's set of works is diverse, including multiple verticals such as automotive, energy, hospitality, medical, and non-profit sectors. Examples of their prowess include synergistic partnerships with clients across these sectors, where their marketing recommendations are always on target and cost-efficient.
---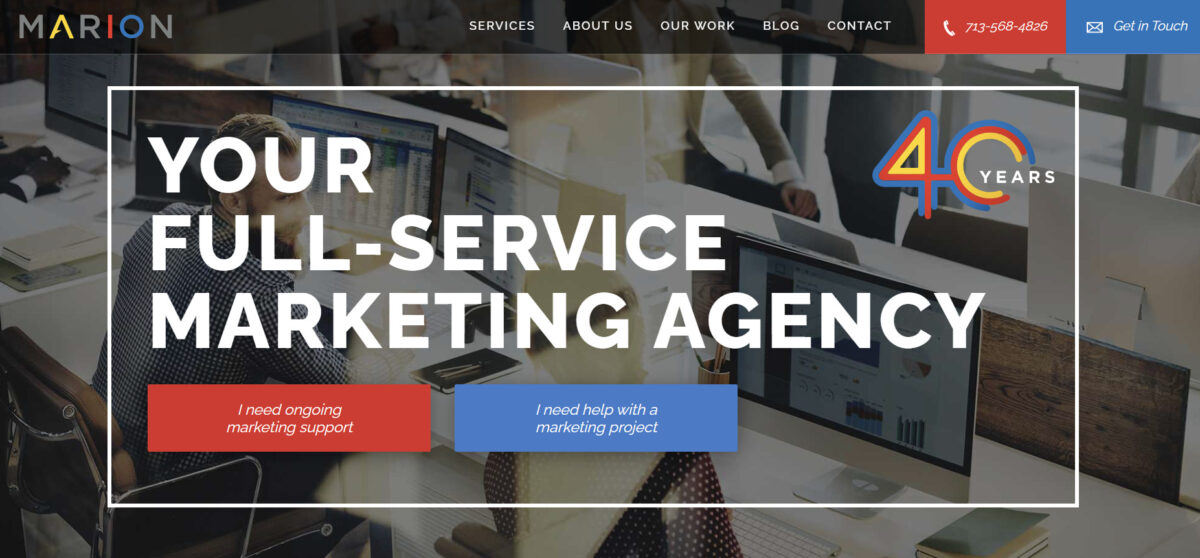 MARION Marketing has solidified its position as an adept marketing strategy agency in Houston since 1981. It offers a multifaceted range of services and excels in digital marketing, graphic design, and traditional marketing, catering to modern business demands. Whether it's elevating a company's online presence through SEO, PPC, and social media strategies or crafting compelling visual narratives via award-winning graphic design tools, MARION delivers with precision.
Strategic alliances with platforms like HubSpot and Google Ads further accentuate MARION's prowess in the industry. A testament to their caliber, the agency's four-decade journey has witnessed the transformation of numerous brands.  With a data-informed approach, MARION not only crafts tailored marketing roadmaps but also ensures periodic refinement, optimizing strategies for the highest ROI.
Their vast collaboration portfolio, spanning diverse sectors from healthcare to construction, reflects their adaptive methodology and their strength in delivering robust solutions. The collaboration with Safety By Design is a prime example of their expertise: a staggering 229% increase in new website visitors and a 368% surge in PPC traffic, clearly showing MARION's impact.
---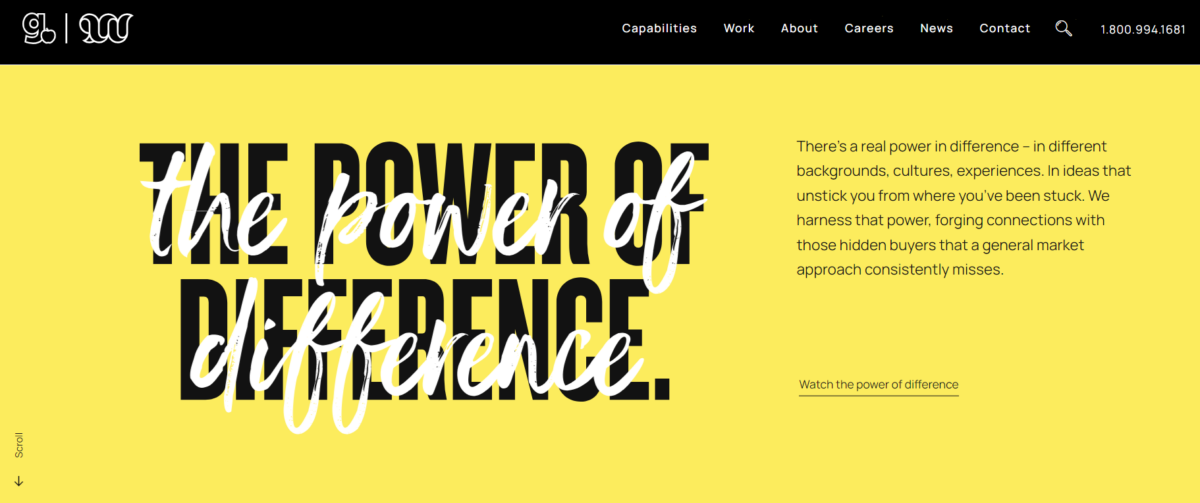 9thWonder is an innovative and independent performance marketing agency with a notable global footprint. Since its inception in 2018, the agency has grown to confine diverse teams spanning offices from Houston to Nha Trang, Vietnam.
Drawing strength from diversity, 9thWonder commits to creating long-lasting impacts for its clients, unearthing unique marketing opportunities that stand resilient against time. Core services offered by 9thWonder encompass a wide spectrum, including media planning and buying, advertising, branding, digital strategy, and market research, with equal emphasis on each to provide holistic marketing solutions.
A testament to their expertise is their successful collaboration with Natrol, which yielded remarkable outcomes, marking a notable footprint with an impressive 200 million impressions. This visibility coincided with a significant 24% year-on-year sales boost for Melatonin. As the campaign's momentum grew, it drew the attention of over 1.3 million viewers, all of whom completed watching the promotional videos.
---
Key Considerations in Choosing the Right Advertising Agency in Houston
When it comes to selecting the right advertising agency in Houston for your brand, there are several key considerations to bear in mind. First and foremost, not all agencies are created equal; they each bring their own unique strengths, specializations, and approaches to the table.
One essential factor to consider is the agency's familiarity with your industry. While many agencies claim to be versatile across various sectors, having prior experience or specialization in your specific industry can be invaluable. This expertise means they're well-acquainted with your field's unique challenges, target audiences, and emerging trends.
Next, you'll want to align the agency's services with your brand's needs. If your primary need is digital marketing, seeking an agency with a robust online marketing team is wise. Conversely, if you have ambitions in traditional media, ensure the agency has a strong track record in that area.
Past performance can often be a reliable indicator of future results. Therefore, don't hesitate to request case studies or examples of previous campaigns, particularly those that align with your objectives. This can provide valuable insights into their strategic approach and the results they can potentially deliver.
Effective communication and collaboration are vital for achieving the best results. Assess the agency's responsiveness, transparency, and willingness to truly understand your brand. Regular updates and open communication channels are clear signs of a reliable and effective partnership.
Budget is another critical factor to consider. While it might be tempting to gravitate toward agencies that have worked with big-name brands, they may not always align with your budgetary constraints. Finding an agency that offers the best value for your investment, striking a balance between quality and cost, is crucial.
Lastly, prioritize agencies that offer customized strategies rather than one-size-fits-all solutions. Recognize that each brand is unique; tailored plans often result in more targeted and effective campaigns.
---
Conclusion
Houston has emerged as a crucible of innovation, talent, and expertise. The city's diverse range of advertising agencies has continually showcased an unwavering commitment to creativity, strategic insight, and the evolution of marketing paradigms.
Whether you are a local startup or a global giant, Houston's advertising realm offers tailored solutions to elevate your brand's narrative. As the city's advertising scene continues its forward momentum, businesses can find a service provider and a strategic partner in these agencies, ensuring mutual growth, success, and innovation in an ever-evolving market.
Frequently Asked Questions
What services do advertising agencies in Houston typically offer?
Advertising agencies in Houston provide a wide range of services, including advertising, media planning and buying, marketing communications, public relations (PR), event organization, and more. They help businesses raise awareness, sell products, and create strong brands.
How can an advertising agency help my business in Houston?
Advertising agencies in Houston can help your business by crafting effective marketing campaigns, optimizing your online presence, enhancing brand visibility, and reaching your target audience through various channels. They tailor strategies to meet your specific goals and needs.
What factors should I consider when choosing an advertising agency in Houston?
When selecting an agency, consider their experience, portfolio, industry expertise, client testimonials, and budget compatibility. Ensure they align with your business values and objectives for the best results.
How much does it cost to hire an advertising agency in Houston?
Costs vary based on your needed services, agency reputation, and project complexity. Many agencies offer customizable packages, so discussing your budget and expectations is essential.
Can I work with an advertising agency remotely, or do I need to be in Houston?
Many advertising agencies in Houston offer remote collaboration options. Your business's location or physical presence in Houston doesn't necessarily limit your ability to work with these agencies.