Advertising Disclosure
Advertising disclosure:
Our partners compensate us. This may influence which products or services we review (also where and how those products appear on the site), this in no way affects our recommendations or the advice we offer. Our reviews are based on years of experience and countless hours of research. Our partners cannot pay us to guarantee favorable reviews of their products or services.
Have you ever wondered what separates successful brands from the rest? It often boils down to the mastery of creative, strategic advertising. In the bustling, competitive business world, selecting the right partner for your advertising needs is crucial. In this comprehensive review, we unveil the Top 9 Advertising Marketing Agencies, shedding light on their innovative strategies, unparalleled creativity, and impactful results. These agencies are not just leaders but pioneers, shaping trends and elevating brands to unprecedented heights. Dive in, and let's explore the artistry and ingenuity that sets them apart.
---
Top Advertising Marketing Agencies
Top
advertising marketing agencies
2024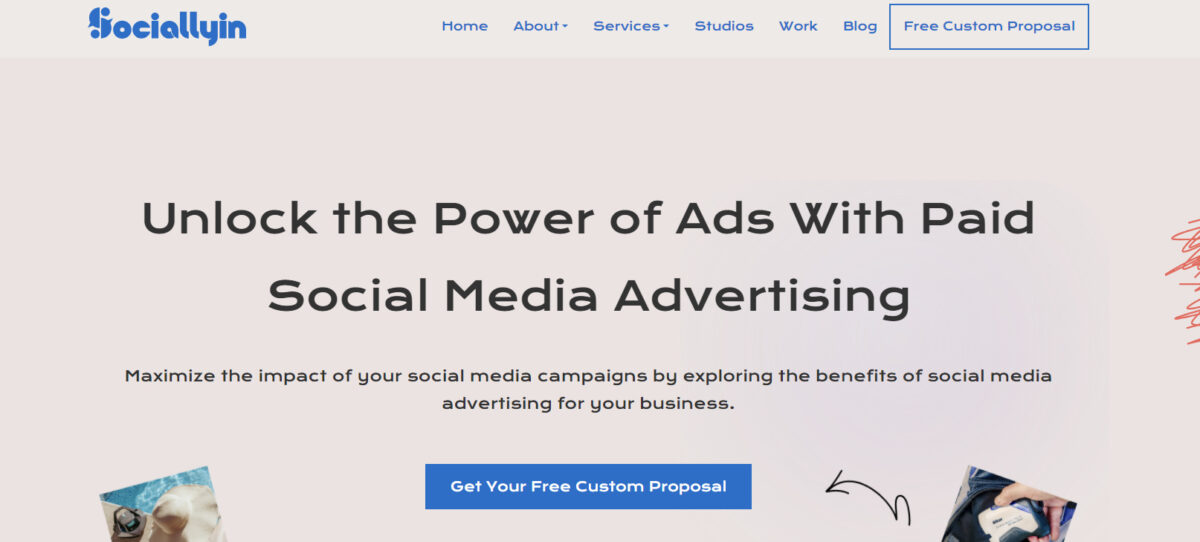 Sociallyin is a stronghold of innovation and efficiency in the competitive landscape of advertising marketing agencies. Specializing in social media advertising, Sociallyin is adept at creating cost-effective, impactful ads that not only reach but resonate with a vast audience. Every ad is a meticulous blend of creativity and strategy, designed to echo the brand's identity and objectives. The agency's commitment to delivering high-quality ads is underscored by their strategic approach, focusing on engaging the target audience effectively rather than a voluminous but ineffective ad spread.
What Distinguishes SociallyIn?
In the realm of targeted advertising, Sociallyin's expertise is unassailable. They have honed the art of precision, ensuring campaigns are finely tuned to engage specific demographics, thus maximizing impact and ROI. Using advanced analytics, Sociallyin crafts campaigns that reflect the audience's online behavior and engagement patterns. The integration of real-time monitoring ensures every conversion, click, and interaction is tracked, providing valuable insights for ongoing optimization. Amidst a sea of advertising agencies, Sociallyin emerges as a beacon of innovation, characterized by its adaptive strategies and commitment to keeping pace with the dynamic trends of social media advertising.
---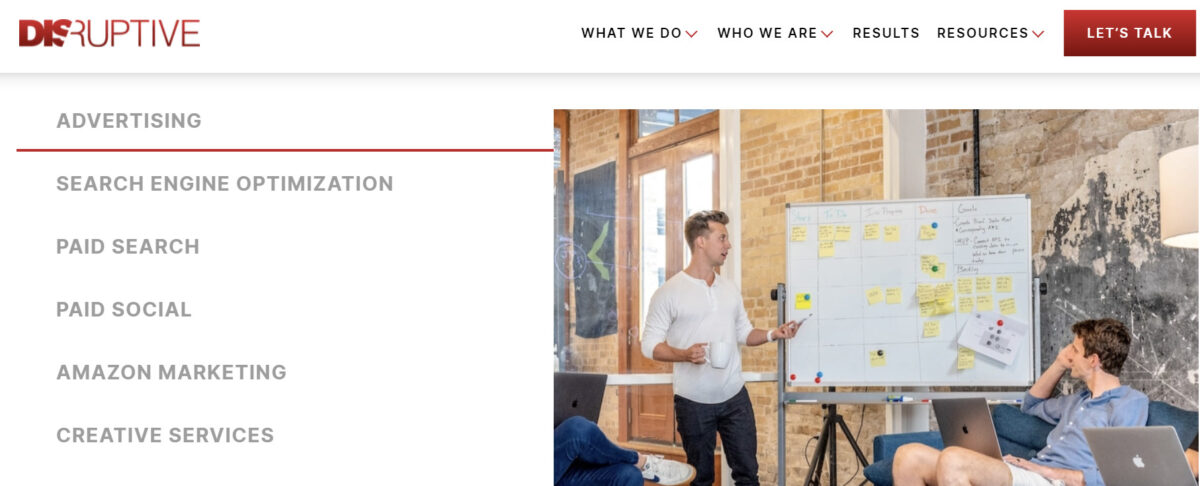 Disruptive Advertising emanates an aura of innovation and efficiency, solidifying its stance in the digital marketing landscape with a specialized focus on delivering bespoke, results-driven solutions. With an adeptness in forging magnetic marketing strategies, Disruptive Advertising is synonymous with transformational growth, underscoring a commitment to transcending conventional boundaries. The agency's distinct approach encompasses a full-funnel marketing strategy, harmonizing an array of platforms and services to unveil solutions tailored to the unique challenges and aspirations of each brand. In the realm of lead generation and eCommerce, Disruptive Advertising emerges as a catalyst for excellence, intertwining innovation with pragmatic solutions to elevate brands from mere visibility to influential market dominance.
What Distinguishes Disruptive Advertising?
Amongst the plethora of services offered, Disruptive Advertising's prowess in PPC and social media advertising is notably prominent. The agency meticulously crafts strategies across diverse platforms, including Google Ads, Facebook, and LinkedIn Ads, encapsulating an ecosystem of targeted, impactful, and engaging campaigns. With over $450 million in annual ad spend managed for clients and recognition as one of America's fastest-growing private companies, the agency's success narrative is eloquently articulated through its tangible results. Disruptive Advertising's commitment to perpetual innovation, strategic adaptability, and measurable outcomes anchors its reputation as a harbinger of transformative digital marketing solutions in a digital realm saturated with transient trends.
---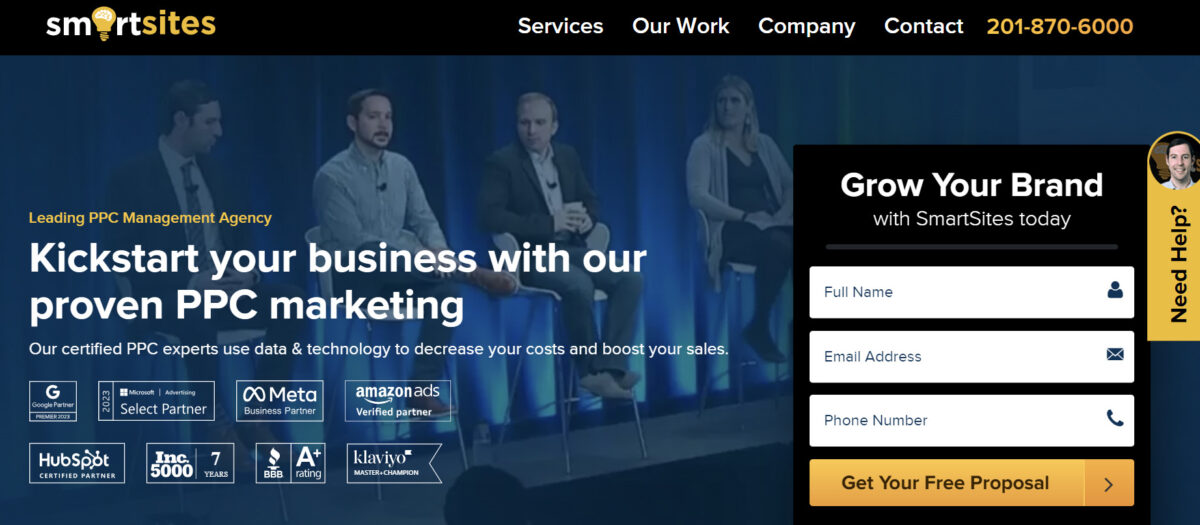 SmartSites prides itself on a harmonious amalgamation of data, technology, and human ingenuity, curating personalized pay-per-click strategies that transcend the conventional. Every campaign orchestrated by SmartSites is deeply rooted in a granular comprehension of the client's unique business landscape, target audience, and overarching objectives. Their array of services, ranging from local to eCommerce PPC, is a testament to their versatility and capability to navigate diverse industrial terrains with precision. Supported by real-time, transparent reporting, clients are equipped with actionable insights, fostering an environment of informed decision-making and strategic evolution.
What Distinguishes SmartSites?
Beyond PPC, SmartSites manifests its proficiency across a spectrum of digital realms, including SEO, email marketing, and social media, offering a holistic digital marketing solution. A testament to their proficiency is encapsulated in client testimonials, highlighting dramatic enhancements in lead generation, traffic influx, and overall business growth. Each campaign is imbued with a blend of advanced bidding strategies, market segmentation, and expert analysis to ensure that clients not only meet but exceed their marketing aspirations. Furthermore, the agency's adeptness in leveraging platforms like Google, Facebook, LinkedIn, and Amazon underscores their multifaceted expertise, positioning them as the quintessential partner for businesses poised for exponential growth.
---

AMP Agency exemplifies the epitome of innovation, precision, and strategic advancement in the world of advertising and marketing. Nestled in the bustling heart of Boston, with branches extending to Los Angeles, San Francisco, New York, and Seattle, AMP Agency is renowned for revolutionizing paid search and paid social strategies. Their mastery is illuminated by the integration of their proprietary Deep Search™ and MomentAware™ technologies, bespoke tools that harness psychographic, demographic, and real-time data, ensuring ads are not just seen but resonate and drive consumer action.
What Distinguishes AMP Agency?
Deep Search and MomentAware distinguish AMP Agency. These technologies amalgamate first and third-party data with real-time signals like inventory and competitor pricing, performing over 600,000 calculations per keyword every day to optimize ad performance. In the realm of paid social, AMP is not just about delivering ads; they are about crafting personalized messages that echo the preferences and behaviors of the target audience. Their robust audience personas, real-time optimization, and meticulous testing strategies underscore a commitment to not just meet but exceed client expectations, aligning ad performance with business goals. Success stories with renowned brands like John Hancock and Princess Cruises underscore AMP's capacity to transform digital landscapes, elevating brand visibility and market impact.
---

Grey has established itself as a paramount force in the global advertising landscape. Their philosophy, rooted in the integration of Cultural Values, emphasizes creating ideas that are not just seen but felt, ensuring an enduring resonance with audiences. In the realm of advertising and communications, each campaign is meticulously crafted to echo across a myriad of platforms, instigating an emotional connection that transcends the ephemeral nature of traditional advertising.
What Distinguishes Grey?
Grey's adeptness extends to specialized sectors, including Health & Wellness and Sustainability. Each campaign in the health sector is a harmonious blend of scientific accuracy and cultural resonance, ensuring engagement across the spectrum of patients and professionals. In Sustainability, Grey champions initiatives that are not just inspirational but instrumental in fostering positive ecological change. Their expertise in Commerce and Design underscores a commitment to enhancing customer experiences, integrating innovative ideas with systematic data applications to personalize and elevate every customer interaction. Being part of the international collective AKQA amplifies Grey's capacity to weave narratives that are not just globally relevant but culturally significant, underscoring their legacy of being "Famously Effective" since 1917.
---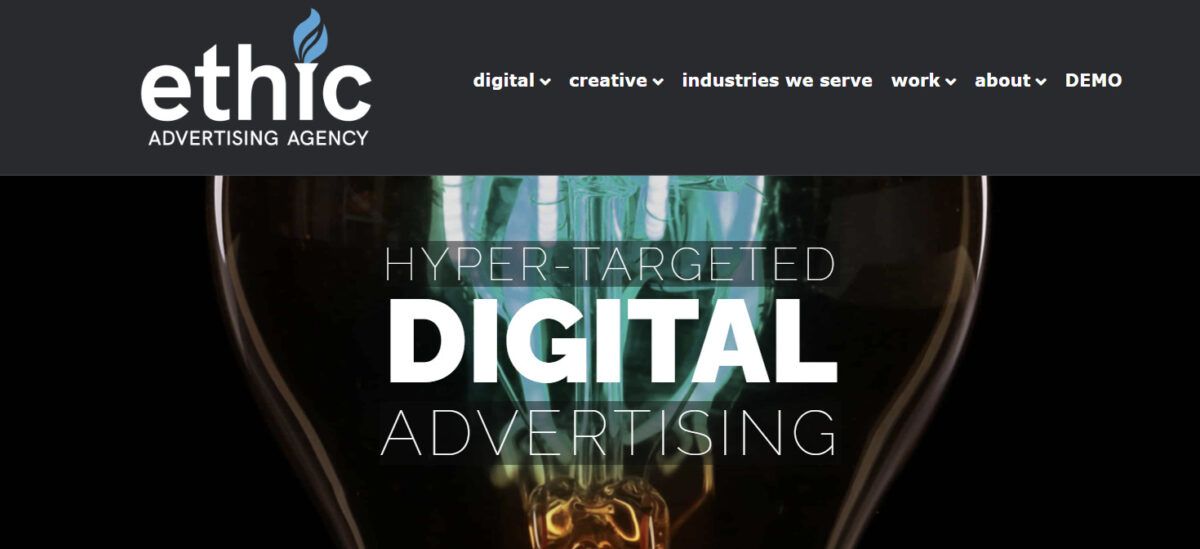 Ethic Advertising Agency is distinguished in the crowded market for its precision in creating highly targeted digital advertising campaigns and creative content that resonates. Their expertise in hyper-targeted digital advertising is accentuated by the utilization of cutting-edge technologies, such as GPS & WiFi tracking, enabling ads to reach ideal audiences based on an extensive array of parameters, including physical location, online behavior, and demographics. This meticulous approach ensures that crafted messages are not just seen but effectively engage the intended audience, optimizing both reach and impact. Moreover, the creative arm of Ethic excels in producing compelling video, audio, animation, and graphic design content, boasting award-winning quality that has consistently translated to a significant uptick in traffic for their clients.
What Distinguishes Ethic Advertising Agency?
Ethic Advertising Agency's comprehensive suite of services encompasses strategic advertising planning, media buying, website development, and branding, establishing it as a one-stop solution for holistic advertising and marketing needs. Each campaign is anchored in well-articulated advertising plans, ensuring messages are strategically positioned for optimal visibility and engagement. Media buying is executed with an emphasis on cost-effectiveness and strategic placement, guaranteeing value for every advertising dollar spent. In the realm of website development and branding, Ethic Advertising Agency extends its creative prowess to ensure businesses not only have an online presence but that their websites and brands stand out with distinction and relevance.
---

Single Grain distinguishes itself as a dynamic paid advertising agency with a concentrated focus on delivering maximized return on investment for each of their clients. They are adept at crafting highly engaging content tailored to target buyer personas, ensuring the advertising not only garners attention but effectively converts engagement into tangible results. Expertise in a multiplicity of platforms, including Facebook, Instagram, Google, and LinkedIn, among others, amplifies their reach, making them a versatile partner for brands aiming to make significant strides in diverse market segments.
What Distinguishes Single Grain?
The inclusion of adept copywriters, designers, and video editors fortifies their capability to cut through the noise and markedly drive down CPAs, marking them as distinguished entities in the field. Moreover, Single Grain's precision in structuring high-converting paid ad campaigns is underscored by their unwavering focus on ROAS. Employing a multifaceted approach that includes competitor analysis, meticulous ad creation, and optimization, the agency goes above and beyond to elevate conversion rates. Their paid search structure is intricate, comprising a brand core, pillars, attributes, and a long tail to maximize non-brand search demand capture. Single Grain's comprehensive auditing of current ad accounts, solution provision, and implementation of in-depth keyword discovery, campaign optimization, and advanced consulting sets them apart.
---

Davis Ad Agency manifests a mastery in harmonizing traditional and digital advertising, underscoring their acumen in crafting impactful campaigns that resonate profoundly with consumers. Boasting a full suite of advertising, digital marketing, and public relations services, the agency has carved out a distinctive niche where creativity and results converge. Davis' strategic orientation is backed by an adept team that meticulously aligns brand objectives with market dynamics, engendering campaigns that are not only evocative but aligned with commercial aspirations. The media specialists within the agency exemplify precision, ensuring each message finds its audience at the opportune moment, enhancing engagement and conversion rates.
What Distinguishes Davisad Agency?
Davis Ad elevates the paradigm, merging concept, copy, and design to forge messages that are not only heard but felt by the audience. Their digital team seamlessly integrates concept, design, strategy, and development to optimize web presence for brands, while the social media specialists ensure active and engaging participation in the vast digital conversations. The public relations wing stands ready to amplify brand narratives, reaching across diverse media landscapes to ensure stories are told, heard, and remembered. Having successfully completed over 1200 projects a year, Davis Ad has a proven track record, evidenced by the satisfaction of its 51 clients, substantiating the agency's claim of turning interest into tangible action. Each campaign is a testament to Davis's unwavering commitment to going beyond the conventional, delivering not just advertisements but experiences that echo the ethos and aspirations of the brands they represent.
---
Miller Ad Agency, headquartered in Dallas, exemplifies an adept fusion of traditional and digital advertising, sculpting bespoke campaigns that captivate audiences and augment conversions. With over 35 years of prolific experience, the agency's oeuvre spans a diverse array of global advertising campaigns, underpinned by proven strategies adept at audience segmentation and budget optimization. Miller's digital marketing service stands as a testament to its capability to proliferate brand presence across platforms and social channels. The agency is committed to enhancing brand reach while ensuring cost efficiency and reputation management. Every initiative is underscored by a strategic approach, incorporating an intricate analysis of customer demographics, sales histories, and competitive market dynamics to tailor advertising campaigns that are not only resonant but also effective.
What Distinguishes Miller Ad Agency?
Traditional advertising remains a forte for Miller, boasting four decades of experience in TV, radio, print, and digital mediums. Each script and ad is meticulously crafted, underscoring the agency's unwavering commitment to augmenting return on investment. Social media outreach constitutes another pillar of Miller's service offering, characterized by strategic expansions into global markets and amplifying customer engagement. Brand awareness is elevated through meticulously crafted strategies that leverage social influencers to engender a vibrant brand buzz. The agency's accolades, including the UpCity Excellence Award in 2019, are indicative of its industry recognition and testament to its consistency in delivering result-oriented advertising solutions.
---
How Do I Choose the Right Advertising Marketing Agency for My Specific Industry?
Choosing the right advertising agency tailored to your specific industry is a vital step in elevating your brand's presence and reaching your target audience effectively. The uniqueness of each industry requires a customized advertising strategy to address its specific needs, challenges, and opportunities. Here's a checklist on choosing the right agency for your industry:
Start by defining your goals and objectives

. What do you aim to achieve through the advertising campaign? It could be enhancing brand awareness, increasing sales, or launching a new product. Clear objectives provide a roadmap for selecting an agency that aligns with your aspirations.

Research is pivotal

. Explore agencies with a proven track record in your industry. Look at their previous campaigns, the creativity invoked, and the results achieved. Agencies with experience in your sector are likely to have a deeper understanding of the market dynamics, audience behavior, and industry trends.

Consider the agency's expertise

. An adept agency should offer a comprehensive suite of services, including digital marketing,

content creation

,

SEO

, and analytics. Evaluate their skills, tools, and technologies to ensure they are equipped to deliver innovative and effective campaigns.

Client testimonials and case studies are invaluable resources

. They provide insights into the agency's professionalism, efficiency, and effectiveness. Pay attention to the challenges encountered during the campaigns and how the agency addressed them.

Lastly,

assess the agency's communication and transparency

. A successful partnership thrives on clear communication, regular updates, and feedback. The agency should be open to discussions, flexible to adapt to changes, and committed to delivering results.
---
Conclusion
The top 9 advertising marketing agencies are distinguished by their innovative approaches, bespoke strategies, and proven track record of enhancing brand visibility and engagement. They demonstrate unparalleled expertise in blending traditional and digital advertising modalities, ensuring campaigns are not only seen but deeply resonate with target audiences.
These agencies are characterized by their adaptability, creativity, and strategic insights, making them the ideal partners for brands seeking to navigate the complexities of the modern advertising landscape and emerge with enhanced visibility, engagement, and ROI. Each agency offers a unique set of services, underpinned by a commitment to innovation, efficacy, and tangible results, marking them as the leading lights in the competitive world of advertising and marketing.
Frequently Asked Questions
What Services Do Advertising Marketing Agencies Typically Offer?
Agencies often provide a range of services, including SEO, content marketing, social media management, PPC advertising, branding, media buying, and analytics to optimize your marketing strategy.
How Long Does It Take to See Results from a Marketing Campaign?
The time to see results can vary. Immediate outcomes are seen in strategies like PPC, while SEO and content marketing often require a few months to show significant results.
Are These Advertising Marketing Agencies Equipped for International Campaigns?
Many top agencies have the resources and expertise to run international campaigns, adapting to different cultures, languages, and market trends to ensure global reach and effectiveness.
How Do Agencies Measure Campaign Success?
Success is measured using various KPIs like website traffic, lead generation, conversion rates, click-through rates, and customer engagement, tailored to the specific goals of each campaign.
Can I Have a Customized Package for My Brand's Advertising Needs?
Absolutely, most agencies offer customized packages to meet your specific needs, goals, and budget, ensuring a tailored approach to achieve optimal results for your brand.