Advertising Disclosure
Advertising disclosure:
Our partners compensate us. This may influence which products or services we review (also where and how those products appear on the site), this in no way affects our recommendations or the advice we offer. Our reviews are based on years of experience and countless hours of research. Our partners cannot pay us to guarantee favorable reviews of their products or services.
What sets apart a remarkable advertising agency from the rest? Is it the innovative strategies, the caliber of clientele, or the consistent delivery of impactful results? In Boston, a city renowned for its rich history and a growing digital economy, advertising agencies are at the forefront of bridging creative prowess with market demands. 
But to truly harness the potential of the sector, businesses should consider hiring Boston-native advertising agencies. As luck would have it, our piece dives into an evaluative exploration of the Top 10 Advertising Agencies in Boston, shedding light on their distinctive approaches and the tangible outcomes they've engendered in the commercial landscape.
---
Top 10 Advertising Agencies in Boston
Top
boston advertising agencies
2024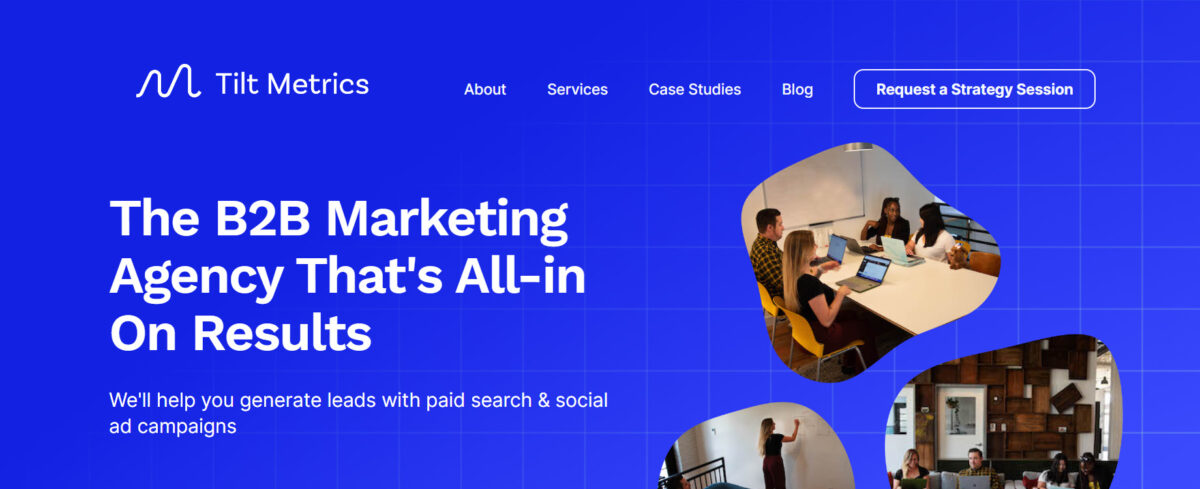 Location: Boston, MA
Min Project Size: $1,000
Employees: 2-9
Tilt Metrics emerges as a paramount entity in the Boston advertising landscape, specializing in amalgamating the intricacies of Paid Media and SEO. Recognizing the multifaceted nature of B2B journeys, the agency crafts a synchronized approach, ensuring a continuous influx of traffic and enhanced conversion rates. Google Ads, Facebook & Instagram Ads, and LinkedIn Ads form the foundational pillars of their advertising modus operandi. Through these pillars, they adeptly position clients' offerings to potential customers, amplifying visibility and engagement. In the intricate dance of B2B advertising, Tilt Metrics demonstrates unmatched prowess, especially for software and B2B tech sectors, seamlessly connecting brands to their ideal market segments.
Why Tilt Metrics Stands Out?
The agency's B2B-focused Search Engine Optimization and Conversion Rate Optimization (CRO) services make it stand out in the competitive landscape. Skillful manipulation of SEO strategies ensures clients rank prominently in Google searches, specifically on conversion-optimized pages. On the other hand, the harmonious integration of CRO magnifies this effect, exemplified by the agency's adeptness at elevating website conversions, effectively doubling lead flows. Sponsorships, another forte, secure prominent placements in "Top 10" lists, augmenting search result dominance in clients' categories. With a robust 90-day lead generation plan, Tilt Metrics underscores its commitment to not just attract but to meticulously cultivate quality leads, reaffirming its position as a luminary in the Boston advertising domain.
---

Location: Boston, MA
Min Project Size: $1,000
Employees: 250-999
AMP Agency epitomizes innovation and precision in the advertising realm, cementing its status as a premier Boston-based advertising entity. The agency's prowess in Paid Search is amplified by its Deep Search™ technology, a bespoke platform that amalgamates first and third-party data, conducting over 600,000 calculations per keyword daily to optimize clients' advertising investments. This approach is bolstered by a distinctive ability to tailor keyword strategies, aligning with evolving consumer search behaviors, including voice-directed searches. The synergy of advanced technology and strategic innovation fosters a personalized advertising experience, ensuring clients' advertisements are not just seen but resonate profoundly with the targeted audience.
Why AMP Agency Stands Out?
The agency distinguishes itself in the Paid Social domain by transcending conventional engagement paradigms. Utilizing extensive personalization tools in conjunction with their proprietary MomentAware™ technology, campaigns are meticulously crafted and optimized in real-time, aligning with the dynamic nature of social platform interactions. A testament to their efficacy is exemplified in bespoke campaigns like #WeRunTogether for John Hancock, intertwining social engagement with tangible business outcomes. 
---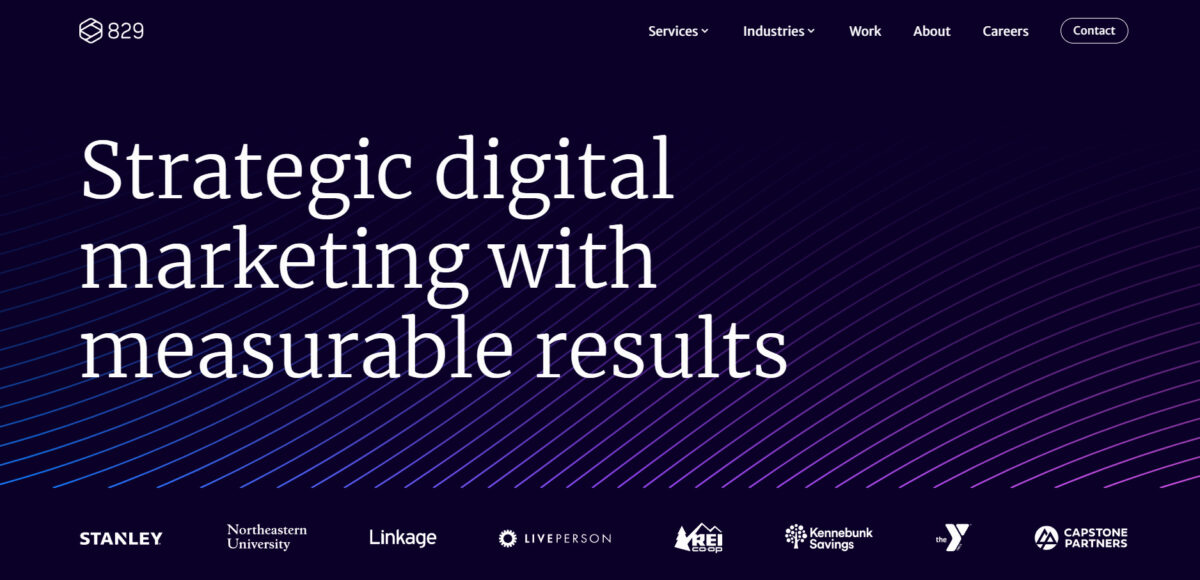 Location: Boston, MA
Min Project Size: Undisclosed
Employees: 101-250
Boston-based 829 Studios is renowned for its meticulously crafted Paid Social and Paid Search strategies. In Paid Social, 829 Studios seamlessly harmonizes audience engagement and brand proliferation. Armed with granular demographic and interest targeting, they are adept at introducing brands to new vistas, ensuring each ad becomes an interaction catalyst for potential customers. Their research-intensive approach pairs each campaign with client objectives. Flexibility is at the core of their ethos, facilitating swift message pivots in tune with market dynamics and current events. Each platform's unique strengths are harnessed, from Facebook to LinkedIn, so ads are optimally placed for maximum impact.
Why 829 Studios Stands Out?
29 Studios showcases an unparalleled proficiency characterized by sophistication and precision with each advertising campaign. Their strategies are woven from robust data-backed insights, offering a panoramic view of the audience's inclinations. User-centric marketing is central to their approach; campaigns are tailored, aligning with each phase of the user's journey. The agency's affiliation as a Premier Google Partner amplifies their capability, granting access to exclusive tools that elevate campaign efficacy. 
---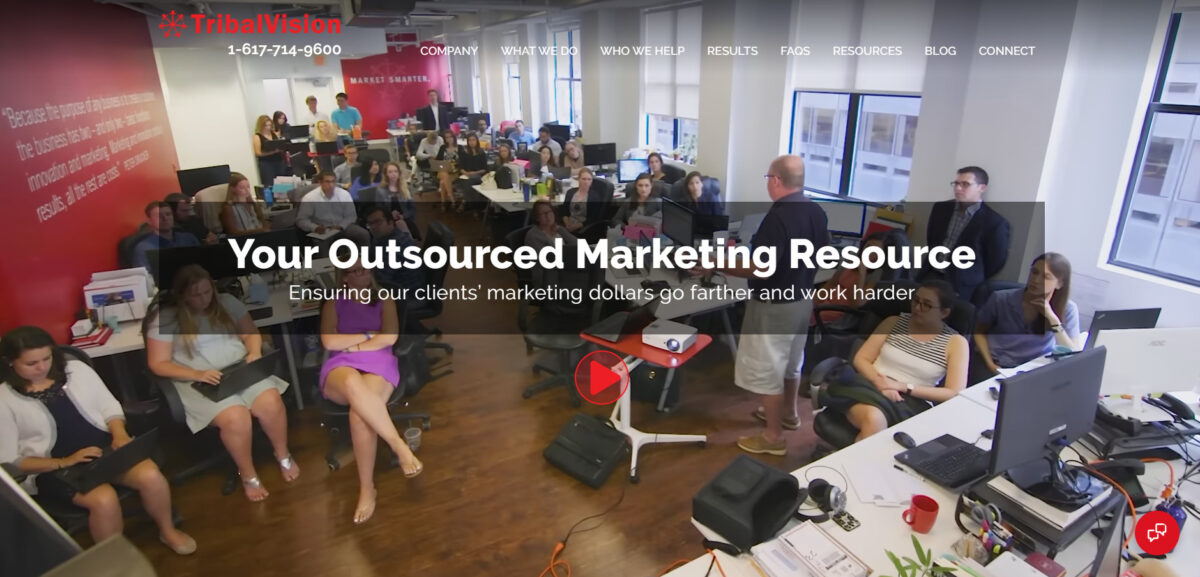 Location: Boston, MA
Min Project Size: $5,000
Employees: 50-249 
Tribal Vision has a core focus on results-driven demand generation. It emerges from the plethora of agencies through its meticulous approach to channeling marketing efforts to yield the most significant impact. A dedication to a holistic strategy, built upon a robust foundation, ensures TribalVision's lead generation stands unparalleled. They eschew the traditional, often underwhelming tactics for a more in-depth, "in the trenches" approach. Each campaign is specifically tailored, embodying a synergy of well-researched strategies and innovative implementations, transcending generic SEO, content marketing, and PPC to actualize optimized conversions and business growth.
Why Tribal Vision Stands Out?
Tribal's Account-Based Marketing (ABM) is one area of excellence. They utilize personalized multi-touchpoint campaigns to target specific accounts, maximizing conversion probabilities. Their social media outreach expertise leverages strategies across various platforms to achieve client-specific objectives. But TribalVision's proficiency also extends to Google optimization, combining organic and paid initiatives to enhance visibility for their clients. On the other hand, innovative strategies like geofencing and sophisticated, segmented email marketing campaigns underscore their commitment to customizing client solutions. All that makes TribalVision a vanguard in Boston's competitive advertising landscape.
---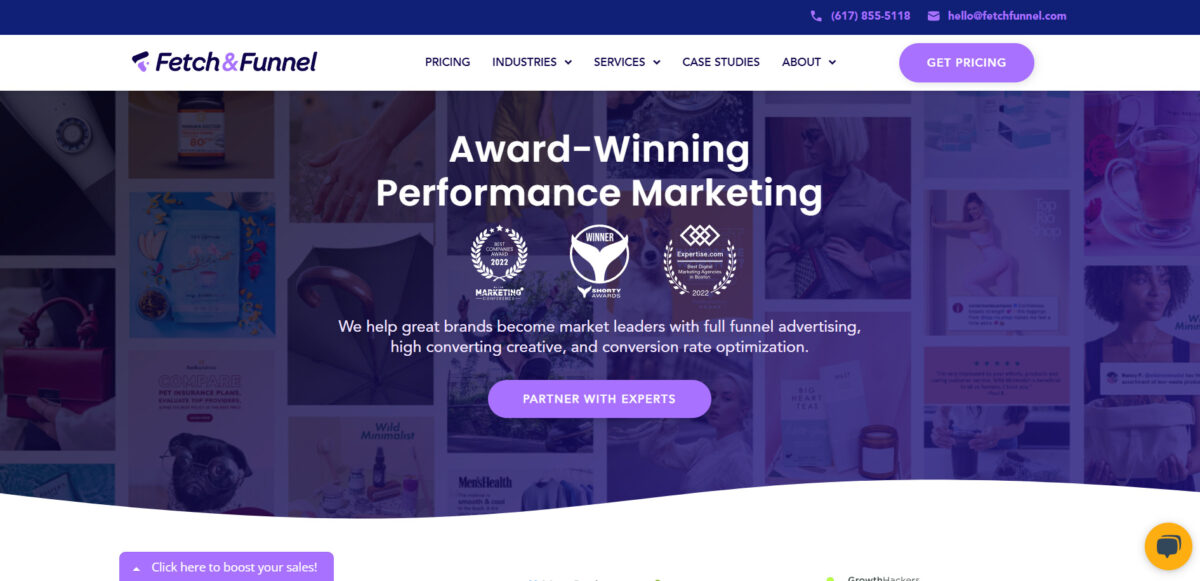 Location: Boston, MA
Min Project Size: $1,000
Employees:  10-49
Fetch Funnel carves a niche in the Boston advertising agency landscape with an eclectic mix of innovative, results-oriented solutions tailored for businesses eyeing exponential growth. With an ethos centered around constructing a seamless customer journey from prospecting to purchase and retention, Fetch Funnel manifests as a sanctuary where strategy, design, and media coalesce. Their full-funnel advertising modus operandi is not just a service but an intricate tapestry of ad strategy, creative content, and conversion rate optimization aimed at echoing the brand's voice while driving engagement and conversions.
Why Fetch Funnel Stands Out?
Performance and creativity are at the core of Fetch Funnel's offerings. This program stands as a bastion of constant evolution, delivering engaging content bolstered by continuous testing and iteration. With a focus on converting traffic into loyal customers, their managed, full-service Conversion Rate Optimization (CRO) program is anchored in a data-driven methodology, encompassing website tests, user-experience enhancements, and behavioral analysis. Every service is a blend of art and science, curated to meet and exceed client expectations, making Fetch Funnel a distinguished entity in the realm of advertising.
---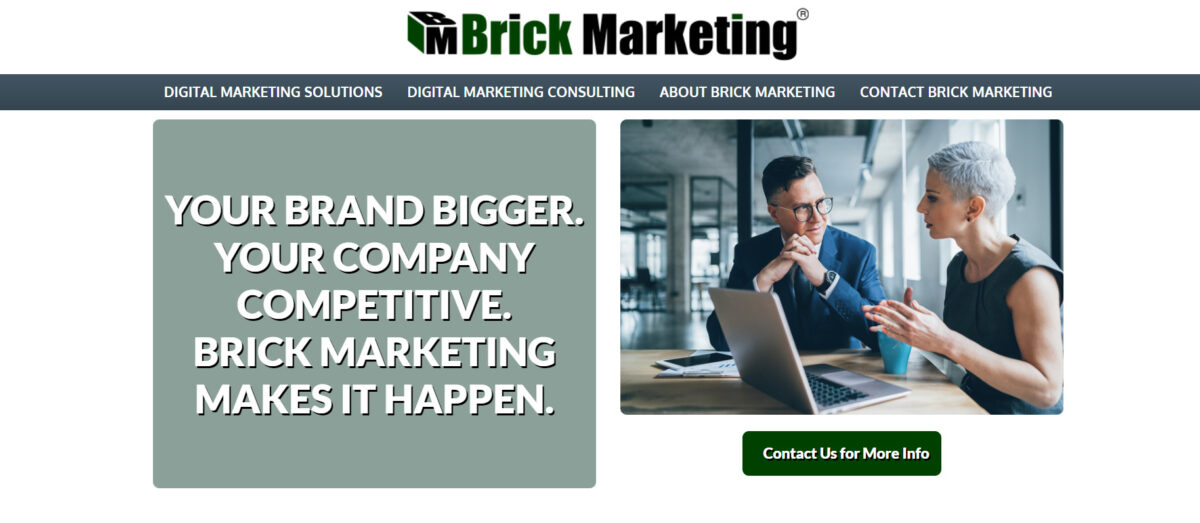 Location: Boston, MA
Min Project Size: $10,000
Employees: 2-9
Brick Marketing is a well-versed advertising agency with a suite of comprehensive digital marketing solutions finely tuned to drive traffic, conversions, and revenue. A meticulous approach characterizes the agency's service delivery, starting with a thorough audit of existing digital ad strategies to identify strengths and areas for enhancement. Every campaign is anchored in profound insights gleaned from a deep understanding of the client's unique offerings, enabling the crafting of bespoke strategies. With a finger firmly on the pulse of competitive and niche opportunities, Brick Marketing is adept at amplifying visibility through expertly researched keywords and meticulously crafted ad copies.
Why Brick Marketing Stands Out?
Precision and adaptability underpin the agency's Pay-Per-Click (PPC) management, where seasoned professionals breathe life into well-articulated strategies. Beyond mere implementation, the commitment to continuous measurement and optimization is palpable, characterized by state-of-the-art tools ensuring client goals are not just met but exceeded. Conversion tracking and ongoing reporting underscore a culture of transparency and collaboration, hallmarks of an agency where client satisfaction is the compass. With additional expertise in SEO management, content marketing, and social media management, Brick Marketing emerges not just as a service provider but as a strategic partner committed to navigating businesses to unprecedented heights of digital prominence and profitability.
---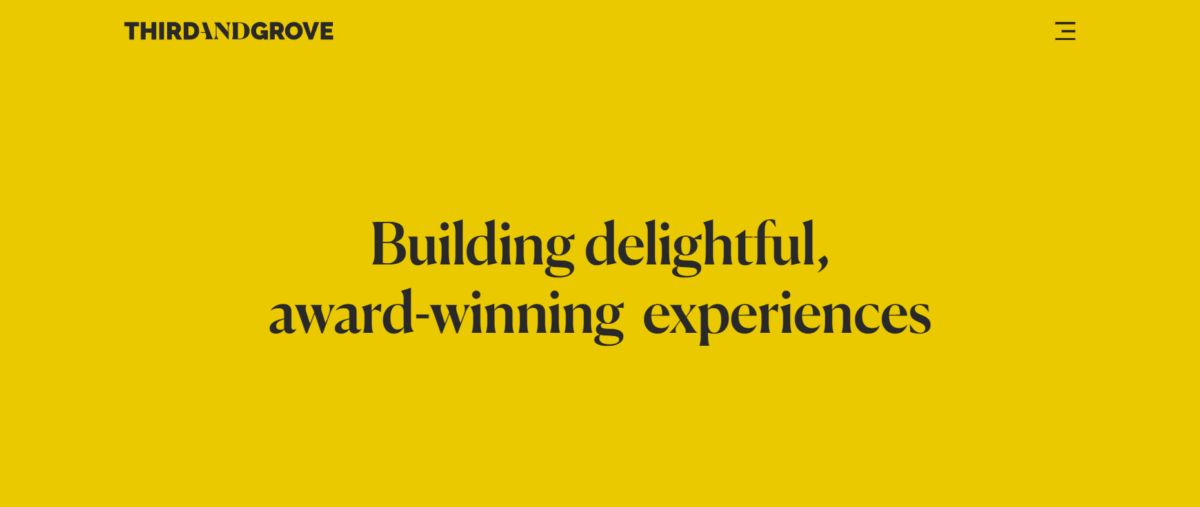 Location: Boston, MA
Min Project Size: $25,000
Employees:  50-249
Third and Grove offers a one-stop solution for brands seeking to seamlessly weave strategy, design, and execution into a compelling narrative that resonates with audiences. The agency's appeal lies in its integrated approach, negating the complexities and inefficiencies of juggling multiple service providers. Clients enjoy the synergy of experts who meld creativity, technology, and data-driven insights to curate marketing campaigns that are not just cohesive but also reflective of a deep understanding of audience dynamics and market trends. Every strategy is tailor-made, mirroring the uniqueness of each brand while addressing its specific challenges and opportunities in the market.
Why Third and Grove Stands Out?
Third and Grove distinguishes itself through its adaptive and innovative stance. The agency does not just respond to trends; it anticipates and shapes them, offering clients a competitive edge. Services such as content marketing, SEO, paid and organic search, social media marketing, and online reputation management are delivered precisely from a balance of artistic ingenuity and analytical rigor. The agency's commitment to delivering human experiences, underscored by its Google Partner Agency certification and partnership with SEMrush, is a testament to its capacity to blend expertise, technology, and creativity, crafting campaigns that resonate and engender brand loyalty.
---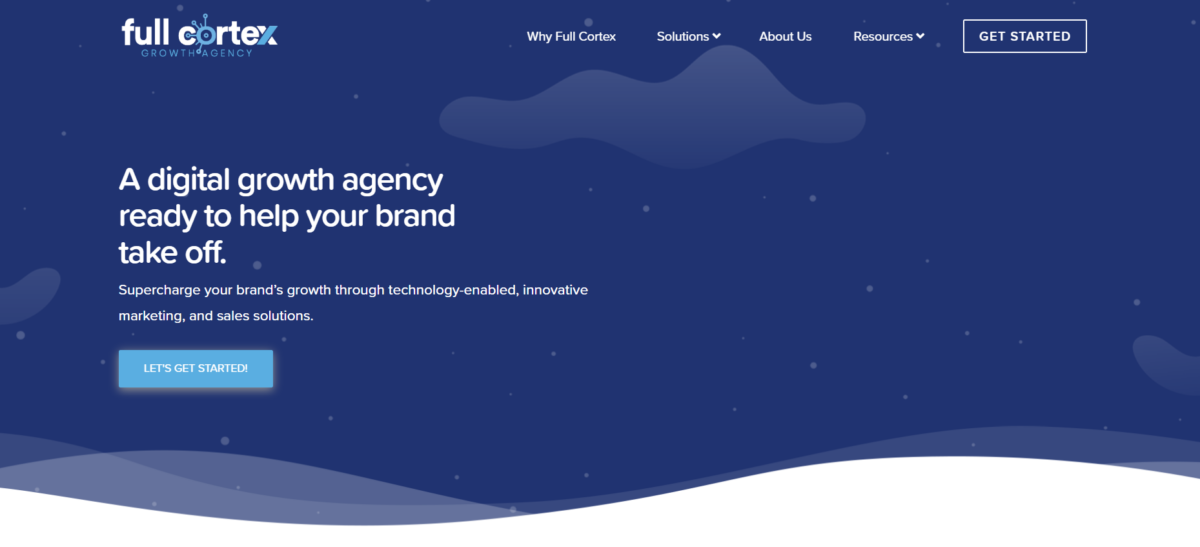 Location: Boston, MA
Min Project Size: $5,000
Employees: 10-49
Full Cortex is renowned for its innovative Growth Marketing Funnels. These are meticulously engineered to transform casual website visitors into qualified leads, ensuring businesses amplify their reach and do so with precision, targeting audiences that resonate with their brand ethos and offerings. Full Cortex's adeptness in campaign testing and optimization ensures that content, channels, and messaging are continually refined to resonate deeply with target personas, thus ensuring maximized engagement and conversion.
Why Full Cortex Stands Out?
The agency's forte lies in their compelling content strategies refined by insights gleaned from paid campaigns. This ensures sustainable and scalable growth, embodying a harmony of immediacy and longevity in delivering results. Hybrid funnels, an amalgamation of paid and organic strategies, underscore Full Cortex's versatility and innovative spirit. The inclusion of video underscores the agency's commitment to leveraging diverse media for enriched audience engagement. Each stage, from attraction to captivation, is executed with a blend of strategic acumen and creative flair, ensuring that clients' brands not only reach their target audiences but also forge meaningful, enduring connections.
---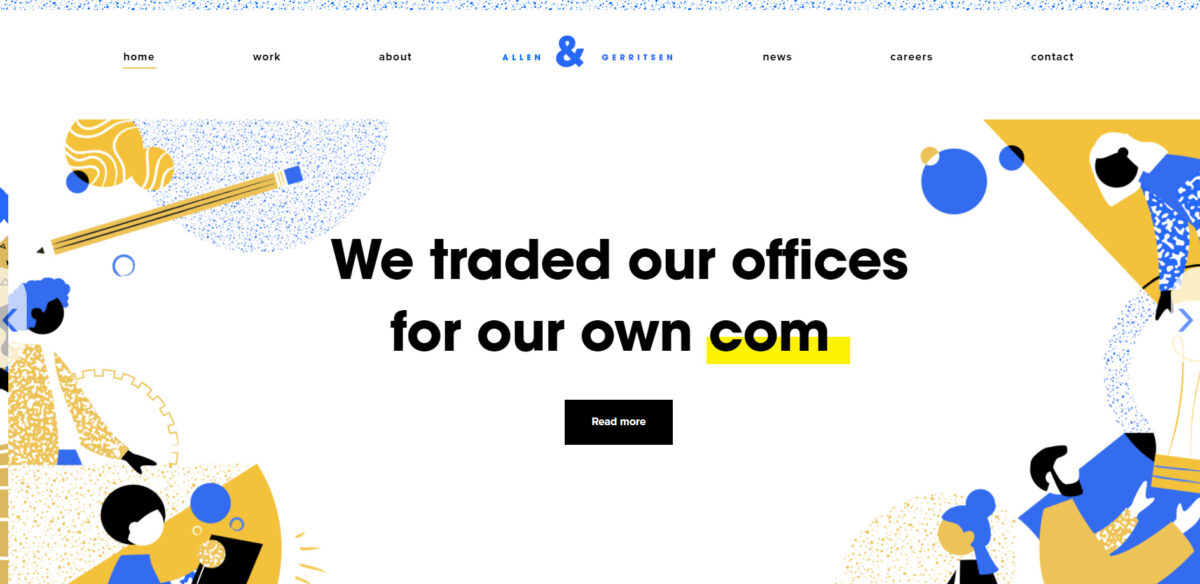 Location: Boston, MA
Min Project Size: $10,000
Employees: 50-249 
Allen & Gerritsen (A&G), a Boston-based advertising agency, exudes a fusion of creativity, strategy, and humanity, positioned at the forefront of driving sustainable results for contemporary brands. With a repertoire that includes communication, customer experience (CX), public relations, media, and analytics, A&G is distinguished by its comprehensive and integrated approach. Their campaigns are meticulously crafted, anchoring on the agency's profound desire to augment brands' presence and impact in ways that transcend conventional advertising, echoing a resonance that elevates lives and experiences.
Why Allen & Gerritsen Stands Out?
The agency's endeavors in stirring new experiences are exemplified in their portfolio, showcasing an adeptness in engaging diverse generations of audiences. Every campaign, from integrated rebrands to eCommerce websites, is a testament to A&G's ability to meld creativity with strategic insight. Their work with brands like Dunkin' underscores a capacity to infuse fresh energy into established identities, ensuring relevancy and vibrancy in a dynamic market landscape. A&G's commitment to imagining the boundless possibilities of 'what could be' situates them as not just an advertising agency but a partner in carving innovative pathways for brands to articulate and realize their most aspirational selves.
---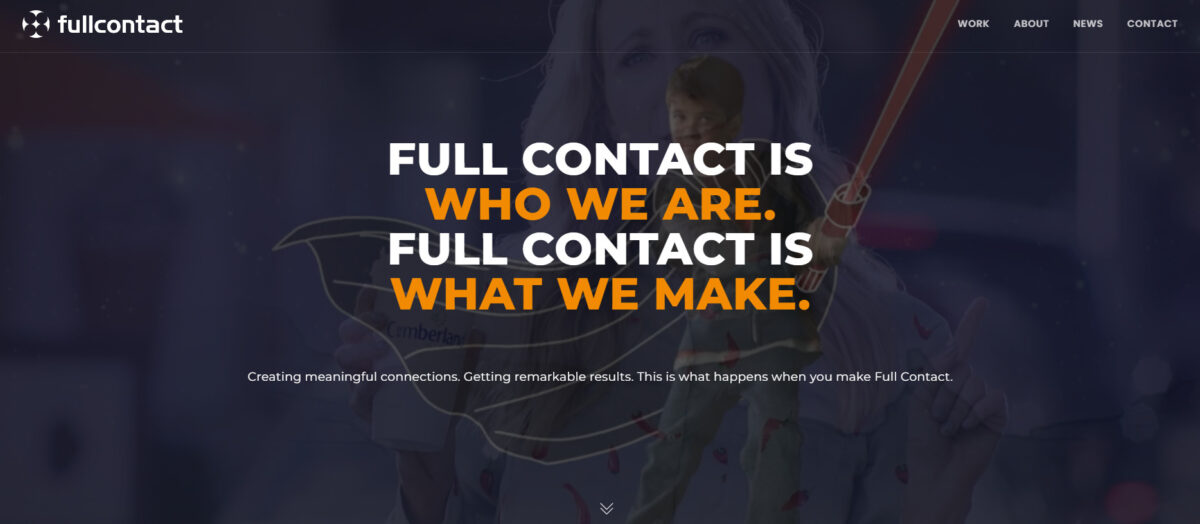 Location: Boston, MA
Min Project Size: $10,000
Employees:  10-49
Full Contact Advertising is a conduit through which brands forge meaningful connections and achieve remarkable results. Nestled in the heart of Boston, the agency has distinguished itself by orchestrating campaigns that transcend conventional advertising paradigms. Their multifaceted approach encompasses an array of services, including research, strategy, brand identity, promotions, and advertising across various mediums. With each project, Full Contact epitomizes the art of amalgamating insightful data, strategic planning, and innovative creativity, yielding campaigns that resonate deeply with target audiences and catalyze brand elevation.
Why Full Contact Advertising Stands Out?
Their portfolio, a rich tapestry of digital, broadcast, and experiential campaigns, is demonstrative of their proficiency and mastery in navigating the complex advertising landscape. Work with notable brands like Cumberland Farms and the Alzheimer's Association underscore Full Contact's adeptness in harnessing the power of diverse advertising tools – from social listening to comprehensive analytics and reporting. Every campaign is meticulously crafted, allowing brands to captivate and engender tangible, impactful results. In a city teeming with advertising agencies, Full Contact emerges as a nexus of innovation, strategy, and results, continually redefining the paradigms of effective brand communication.
---
---
How Do Boston's Advertising Agencies Compare to New York or Los Angeles Agencies?
Boston's advertising landscape has a unique identity that distinctly separates it from the bustling ad scenes of New York and Los Angeles. The city's historical roots have often translated into a more traditional approach to advertising, showcasing a blend of classical and modern marketing strategies. 
Unlike the high-paced, trend-driven advertising markets of New York and Los Angeles, Boston's ad agencies tend to emphasize long-term brand development. The city's ad firms are known for their meticulous planning and strategic foresight, which is evident in the timeless advertising campaigns they create.
Moreover, the community-driven ethos of Boston is reflected in its advertising culture. Agencies here often foster close-knit relationships with local businesses, delivering personalized services that resonate well with the New England audience. This contrasts with the broader, more global-oriented advertising approach often seen in other major cities.
Furthermore, Boston benefits from its proximity to prestigious educational institutions like Harvard and MIT, which foster a culture of innovation and intellectualism in the local advertising scene. This educational influence often leads to data-driven, research-backed advertising strategies, distinguishing Boston's approach from the more creative-centric scenes of New York and Los Angeles.
However, the market size and budget in Boston are generally smaller compared to the advertising behemoths of New York and Los Angeles. The competition for clientele can be fierce, yet it also drives a culture of excellence and innovation among Boston's ad agencies.
---
Conclusion
The spectrum of advertising agencies in Boston encapsulates a rich blend of tradition, innovation, and community-centric ethos. These agencies, with their diversified approaches, have been instrumental in navigating through the challenges posed by the market size, competition, and the evolving digital landscape. Their steadfast commitment to delivering tangible results while fostering close-knit relationships with local businesses significantly contributes to the thriving advertising sector in Boston, which has seen notable growth. 
As they seamlessly blend the classical with the contemporary and strategically adapt to digital transformation and regulatory changes, these agencies are not merely service providers but strategic partners driving brands toward achieving their goals and beyond.
Frequently Asked Questions
How has the digital transformation impacted advertising agencies in Boston?
Digital transformation has significantly expanded the capabilities of Boston's advertising agencies. It's enabled data-driven campaigns, real-time analytics, and personalized marketing, aligning the city's ad scene with modern digital trends.
What role do advertising agencies in Boston play in supporting local businesses and the community?
Boston's advertising agencies play a crucial role in driving local economic growth by helping businesses reach their target audiences effectively. They also often engage in community-focused campaigns promoting social causes.
How are Boston advertising agencies adapting to the changing regulatory environment in advertising?
They are staying updated on regulatory changes, ensuring compliance, and advocating for ethical advertising practices. Training and collaboration with legal experts are also common practices among Boston's agencies.