Advertising Disclosure
Advertising disclosure:
Our partners compensate us. This may influence which products or services we review (also where and how those products appear on the site), this in no way affects our recommendations or the advice we offer. Our reviews are based on years of experience and countless hours of research. Our partners cannot pay us to guarantee favorable reviews of their products or services.
The digital era has significantly transformed the way businesses connect with their audience. In today's highly competitive market, having a strong online presence is no longer an option, but a necessity. As a result, many businesses have turned to internet marketing agencies to help them boost their online visibility and reach potential customers.
Internet marketing agencies provide businesses with a range of digital marketing services, including search engine optimization (SEO), pay-per-click (PPC) advertising, social media marketing, email marketing, content marketing, and more. These agencies are equipped with the necessary expertise, resources, and tools to create and implement effective digital marketing strategies that help businesses achieve their marketing goals.
Internet marketing agencies allow businesses to focus on their core competencies while delegating their digital marketing efforts to experts in the field. By partnering with a reputable agency, businesses can increase their website traffic, generate qualified leads, and ultimately drive sales.
---
Top 9 Internet Marketing Agencies to Bring Traffic and Conversions:
---
Top 9 Internet Marketing Agencies to Bring Traffic and Conversions
Top
internet marketing agencies
2024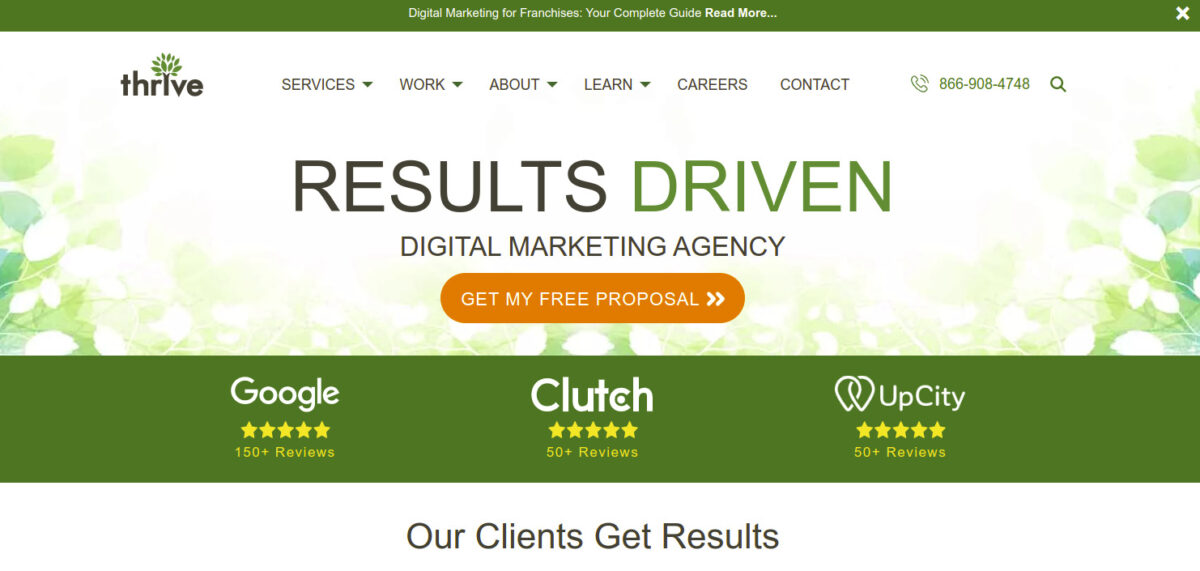 Thrive Internet Marketing Agency is renowned for its custom web design and SEO solutions. With a proven track record of success since 2005, Thrive has served clients across various industries. A notable case study showcases their work with The Farah Law Firm, where they built a responsive WordPress site and employed SEO and PPC strategies to increase online conversions. The impressive results included a 533% increase in site visitors and 360% rise in online leads!
Thrive's team of digital marketing experts ensures clients receive optimal returns on their marketing investment. They emphasize honesty, integrity, and customer-centric approaches. Headquartered in Arlington, Texas, Thrive's capabilities include everything from web design, hosting, to email marketing. They continually stay at the forefront of web design principles and digital marketing best practices.
Working with Thrive, clients can expect a unique, tailor-made strategy for their business, with no cookie-cutter solutions. The agency's core values revolve around relationships and results, ensuring clients receive the best possible outcomes.
Services:
Web Design
SEO
Social Media
PPC
Content Writing
Email Marketing
---

SmartSites is an award-winning digital marketing agency that specializes in driving organic traffic and acquiring more customers for businesses of all sizes. As a Google Premier Partner and Facebook Marketing Partner, SmartSites has a solid reputation for delivering outstanding results. Their track record demonstrates that most of their SEO campaigns double their traffic within six months.
Their SEO services encompass local, eCommerce, and national SEO. With over 80 designers and developers, 500 satisfied clients, and 900 completed websites, SmartSites has established itself as America's #1 rated digital marketing agency.
SmartSites has been recognized with numerous website design awards and has consistently ranked among the fastest-growing companies in the Inc5000 list from 2017 to 2022.
Services:
Web Design
Pay Per Click Advertising
Search Engine Optimization
---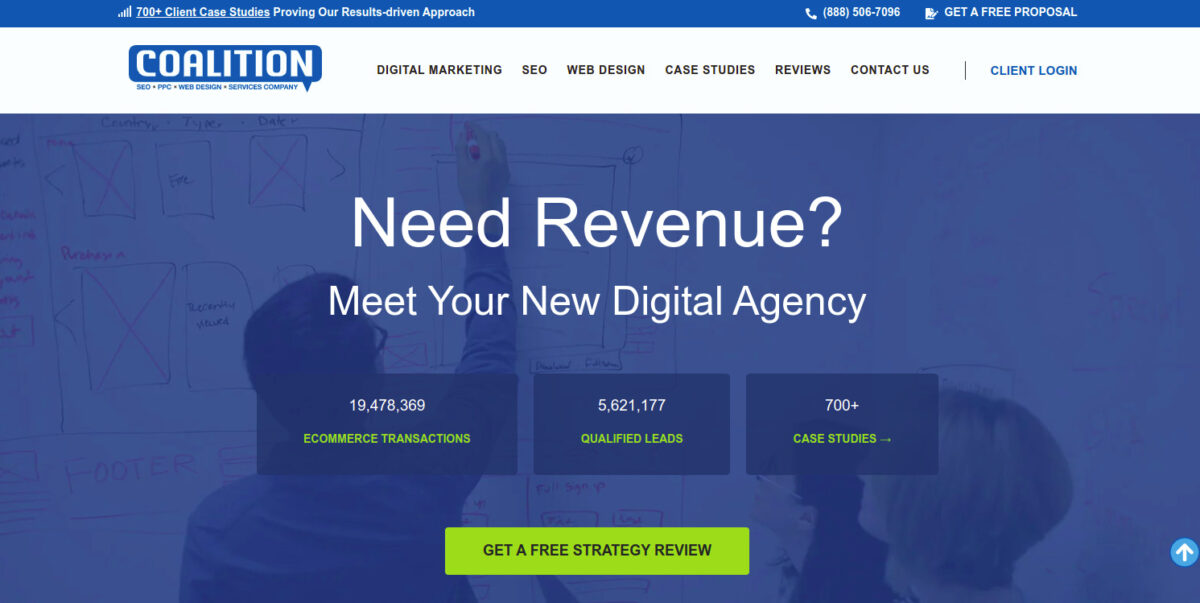 Coalition Technologies is highly recommended digital marketing agency with over 600 successful case studies. Powered by advanced agency software, they offer a wide range of services. Their elite team of over 200 full-time employees from around the world ensures that clients receive the best possible results.
The agency's success is backed by integrations with best-in-class third-party marketing software, advanced tools, and a rigorous recruitment process that allows them to hire only the top 1% of applicants. They also provide their team with advanced university-level digital marketing courses to stay on the cutting edge of the industry.
Coalition Technologies' impressive case studies include an 868% ROI increase for Urban Armor and a 492% increase in organic traffic for Emmer & Oat. Their focus on client success, combined with their extensive digital marketing expertise, positions them as a top choice for businesses seeking to boost their online presence and drive revenue.
Services:
SEO
PPC
Email Marketing
Social Media Marketing
---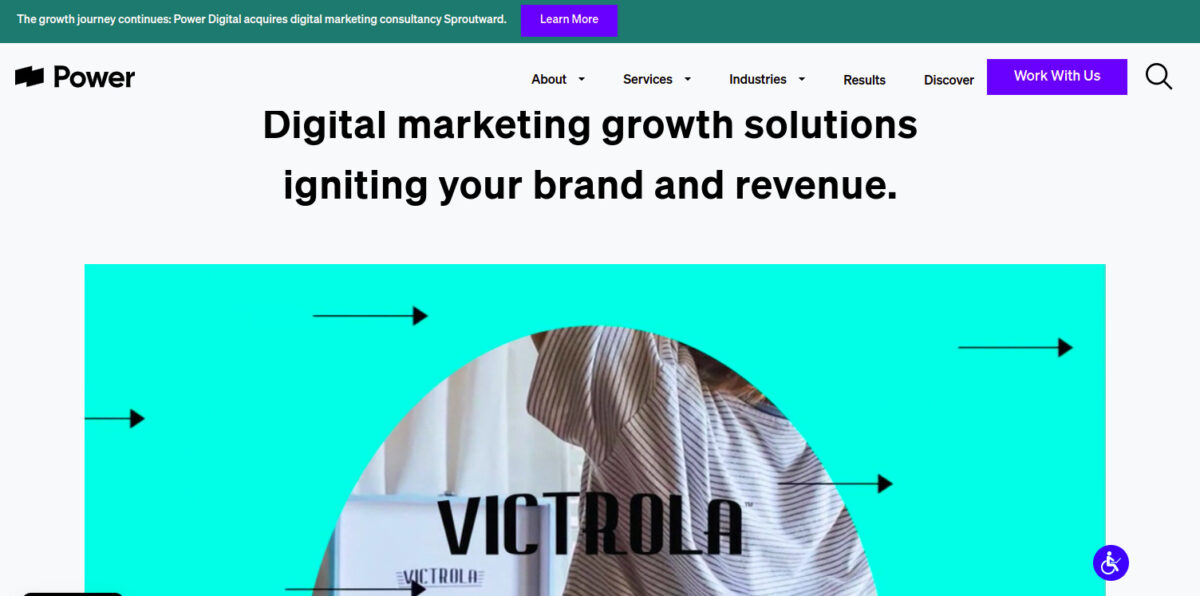 Power Digital is a digital marketing agency that provides full-funnel digital marketing services to help businesses reach their target audience without the overwhelm. Their services include web design and development, digital creative, design and rapid ad creative, diligence (PE/VC), marketing operations, programmatic, and many more.
Power Digital's proprietary technology platform, called nova, provides customized reports for each team member involved and benefit from real-time digital strategy shifts fueled by machine learning.
Brands that work with Power Digital for at least 6 months grow their revenue by an average of 71% YoY, which is 2.4x faster than standard market rates.
Services:
SEO
PR
Social media
Content marketing
CRO
PPC/paid media
Influencer marketing
Affiliate marketing
---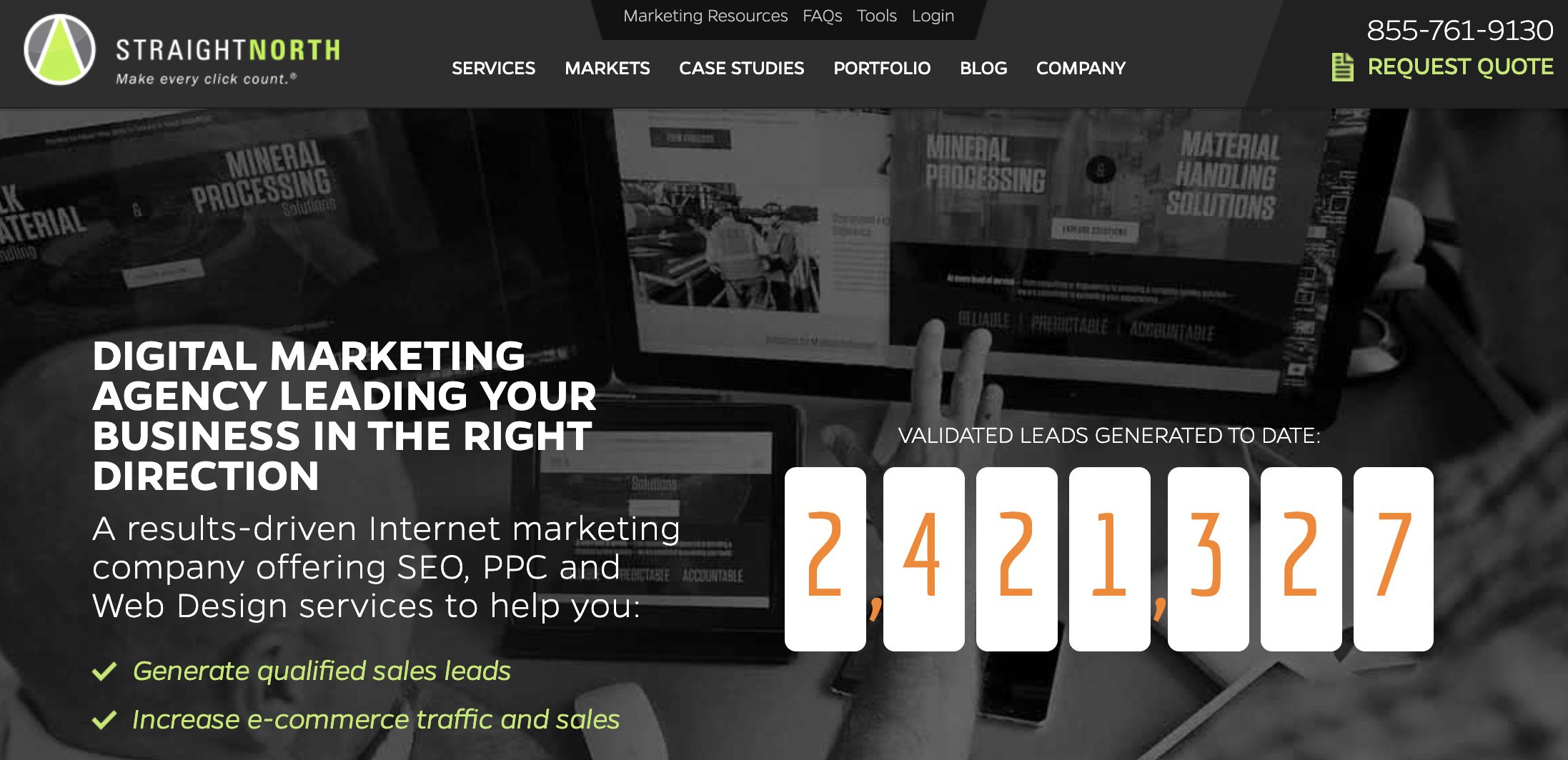 Straight North is a results-driven internet marketing company that creates measurable marketing campaigns that track every click, every call, and every lead, so businesses know that their advertising dollars are working hard to bring them more business.
Straight North's services include specialized lead generation websites, custom responsive websites, quality content created by professional copywriters, improved Google results, SEO, PPC management, display advertising, email marketing, local online marketing specialists, and proprietary lead tracking technology. They build websites on a foundation of SEO best practices, including keyword research and strategy, site map, internal links, content, title tags, and more, to improve businesses' ability to generate high-quality traffic and sales leads.
Services:
Specialized lead generation websites
Content creation
SEO
PPC
Email marketing
---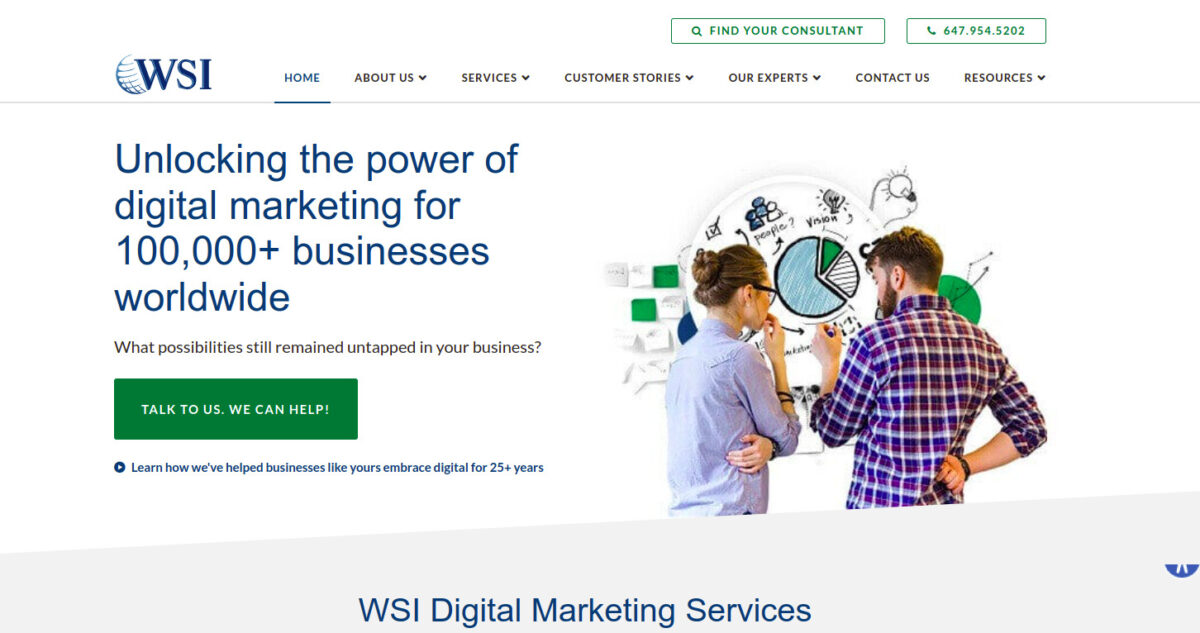 WSI is a global digital marketing agency that has helped over 100,000 businesses worldwide unlock the power of digital marketing for over 25 years. The agency takes a customized approach to digital marketing, taking the time to understand each client's unique business needs and goals. WSI's team of industry experts delivers solutions to help businesses generate more sales leads, build brand awareness, grow their online reputation, and improve an ineffective website.
One of WSI's success stories is Mike Chavez Painting, a local business that partnered with WSI to improve their website design and launch a competitive SEO strategy and content marketing campaign. As a result, the number of targeted visitors to their website increased, and inquiries coming from their website continue to grow year over year. WSI also helped Clínica da Mama "go digital" with their customer acquisition activities, resulting in a significant increase in exam bookings and consultations, which generated a significant revenue boost for the company.
WSI's global presence and experience enable their consultants to tap into the collective brainpower of the WSI network, bringing deep expertise and insights directly to each client's marketing strategy. Their digital strategies are designed with each local market in mind, delivering global insights applied to each client's local business. WSI has been recognized with a WMA WebAward for the Food Industry Standard of Excellence category.
Services:
Lead generation
Brand awareness
Online reputation management
Website design and development
---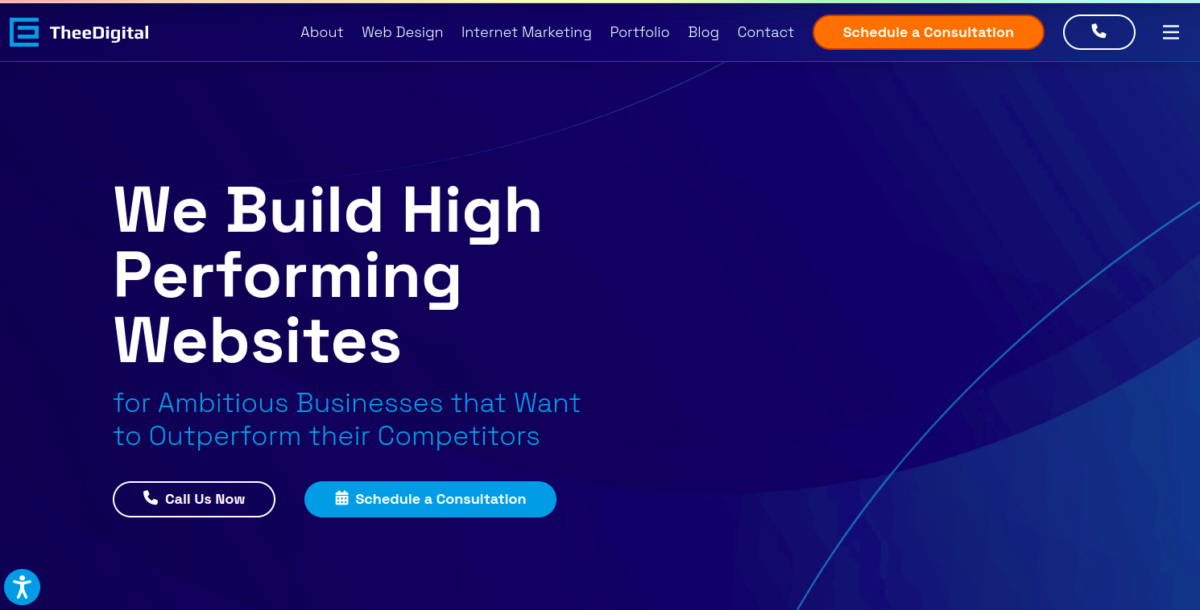 TheeDigital is a digital marketing agency that specializes in enhancing the customer experience, growing online presence, generating high-quality leads, and solving business-level challenges through innovative, creative, and tactful internet marketing campaigns. They offer a full suite of digital marketing services, including search engine optimization (SEO), pay-per-click (PPC) advertising, inbound marketing, reputation management, and many more.
TheeDigital has helped many clients achieve impressive results, such as the Fitzpatrick Firm, LLC, which saw an increase in web traffic, conversions, and time on site after partnering with TheeDigital for WordPress development and SEO marketing. Le Bleu Ultra Pure Water also experienced a dramatic transformation of their website with TheeDigital's custom-designed WordPress website, resulting in increased web traffic and revenue.
TheeDigital's internet marketing team is made up of industry-recognized thought leaders, corporate communications experts, organic search engine optimization gurus, and online paid advertising strategists. As a Premier Google Partner agency, their team members are certified in Google Analytics, Google Ads, and have completed Google Tag Manager training. They also hold Inbound Marketing and Email Marketing certifications from HubSpot.
Services:
SEO
PPC
Social media marketing
Email marketing
Marketing automation
CRO
---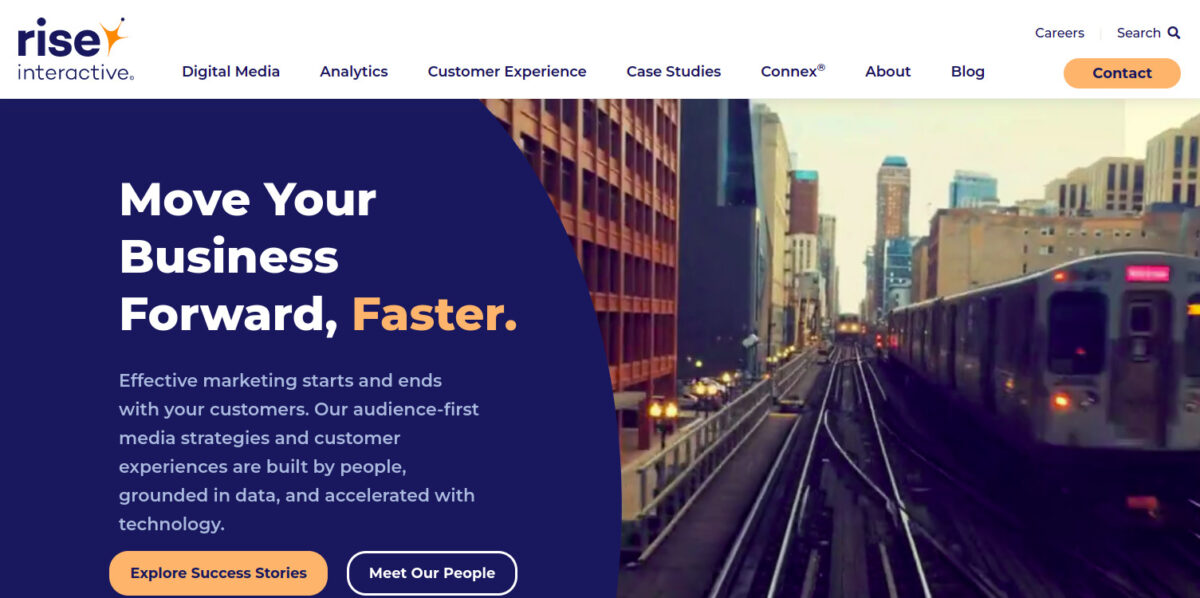 Rise Interactive offers a range of services to help businesses grow faster. Their unique approach to digital marketing focuses on the customer, using data and technology to optimize their clients' campaigns in real-time.
Through their digital media services, Rise Interactive helps businesses reach their target audience at every stage of the purchasing funnel. Their customer experience solutions help brands activate their potential and create engaging experiences for users. Rise Interactive's analytics services provide businesses with granular insight into their performance through cross-channel performance measurement and automation, forecasting, and customer intelligence. Their proprietary technology, Connex®, provides on-demand cross-channel insights, proactive intelligence, and automated optimization.
Rise Interactive has a portfolio of ambitious clients, including Reynolds Consumer Products, ULTA Beauty, Nicklaus Children's Hospital, and American Lung Association. The agency has received industry recognition for their work, including a Forrester Wave™ recognition and awards from the US Search Awards and Search Engine Land.
Services:
Digital Media
Customer Experience
Analytics
---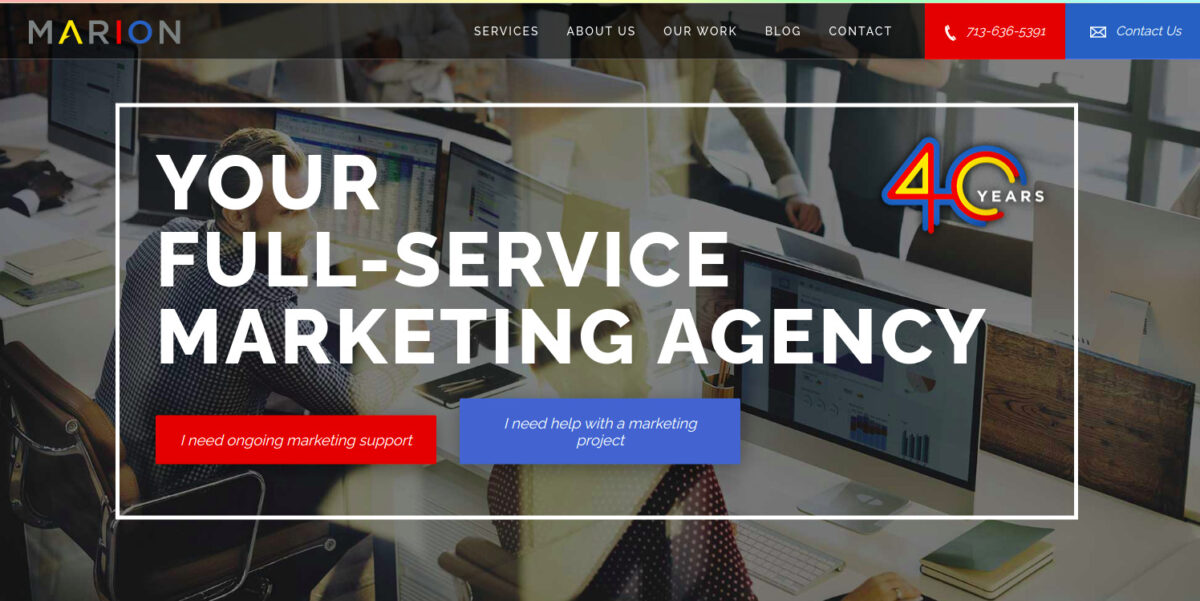 Marion is an online marketing agency that partners with small to mid-sized businesses to manage their entire online presence, from web design and search engine marketing to social media and reputation management. The agency's aim is to unlock the hidden potential of a client's website, ensuring that it's at the heart of their online marketing strategy. Marion's growth-driven websites are built using a best-in-class content management system, performance tested calls-to-action, optimized landing pages, and user-friendly forms.
Marion's online marketing services allow businesses to engage with their target audience where they spend time online. The agency fully manages social media accounts across multiple platforms, ensuring that the target audience finds an authentic and engaging online presence for the business wherever they spend their time. Marion also leverages pay per click campaigns, like Google AdsTM and Bing AdsTM, to ensure that their clients are found in searches right away, and they build search engine optimization strategies that will drive traffic for years to come.
Marion understands that digital marketing has become more than just generating website traffic; it takes great care, knowledge, and attention to detail to generate the right website visitors and turn them into customers. Marion's team of experienced web designers and developers, SEO and search engine marketing specialists, content writers, social media specialists, and digital marketing specialists can help clients create a strategy or supplement their existing strategic needs.
Services:
Website Design and Management
SEO
Pay Per Click
Social Media Marketing
Email Marketing
Content Marketing
Reputation Management
---
---
How to Choose the Perfect Internet Marketing Agency
In the upcoming section, we will explore the top 9 Internet Marketing agencies focusing on their service offerings, data-driven strategies, and the value they provide to their clients. But before we dive into it, we'll offer some tips on how to choose the best agency for your needs, keeping in mind crucial factors such as your marketing goals, industry expertise, and budget.
By following a step-by-step approach, you will be able to make an informed decision and select the ideal agency that will help your business achieve its online marketing objectives.
To choose the perfect agency for your business, it is essential to consider the following factors:
Define your marketing objectives: Clearly outline your marketing goals and desired outcomes for your campaigns. This will help you select an agency that aligns with your specific objectives and has a proven track record of delivering results.
Assess the agency's strengths: As you review the top 9 agencies, consider their core competencies and areas of expertise. This will help you identify the agency that best aligns with your unique requirements and industry.
Examine their team and experience: Take a close look at each agency's team and their collective experience. Ensure that the agency's professionals have the right mix of skills and knowledge to handle your marketing needs effectively.
Review client satisfaction: Look for information on client satisfaction and retention rates for each agency. This can give you insights into their commitment to delivering results and maintaining long-term relationships with clients.
Compare pricing and value for money: As you narrow down your options, consider the pricing structures of each agency and how well they align with your budget. Focus on the value they provide rather than just the cost, and be cautious of agencies with prices that seem too good to be true.
Evaluate their adaptability: An agency that can adapt to your business's changing needs and the dynamic digital landscape is an invaluable partner. Look for indications of flexibility and adaptability in their services and approach.
Prioritize communication and transparency: Effective communication is crucial when working with an agency. Inquire about their preferred communication channels, transparency in their processes, and how they handle reporting and updates.
Frequently Asked Questions
How long does it take to see results from internet marketing?
The timeline for seeing results from internet marketing depends on factors such as the business's industry, the competitiveness of the keywords targeted, and the level of investment in marketing efforts. In general, businesses should expect to see significant results within six to 12 months.
How do internet marketing agencies communicate with their clients?
Internet marketing agencies typically communicate with their clients through regular meetings, emails, and phone calls. Some agencies also offer client portals where clients can access campaign reports and data in real-time.
How do internet marketing agencies tailor their services to different industries?
Top internet marketing agencies have experts who specialize in different industries and understand the unique needs and challenges of businesses in those industries. They tailor their services and strategies accordingly to achieve the best results.
What is the process for working with an internet marketing agency?
The process for working with an internet marketing agency typically involves an initial consultation to discuss the business's goals and needs, followed by the development of a customized marketing strategy and ongoing implementation and optimization of that strategy.