Advertising Disclosure
Advertising disclosure:
Our partners compensate us. This may influence which products or services we review (also where and how those products appear on the site), this in no way affects our recommendations or the advice we offer. Our reviews are based on years of experience and countless hours of research. Our partners cannot pay us to guarantee favorable reviews of their products or services.
Local businesses are racing to the top to be the first option that potential customers see. But, amidst a plethora of options, how do you know which marketing agency will catapult your business to the desired visibility?
The answer lies in an in-depth analysis and comparison, sifting through the masses to identify the cream of the crop. And the best way to achieve that is through local marketing agencies. A recent survey indicated that 97% of shoppers use Google to find local retailers. This gives businesses a unique opportunity to find a suitable agency to harness business success.
In this comprehensive guide, we dissect the strengths, strategies, and unique selling propositions of the leading local marketing agencies. Our stringent criteria for selection are rooted in proven effectiveness, innovative strategies, and a tangible record of boosting client visibility and engagement.
Read further to unveil a curated list tailored to equip you with the insights needed to make an informed decision, ensuring your business not only thrives but dominates the local landscape. 
---
Top Local Marketing Agency Picks
Top
local marketing agencies
2024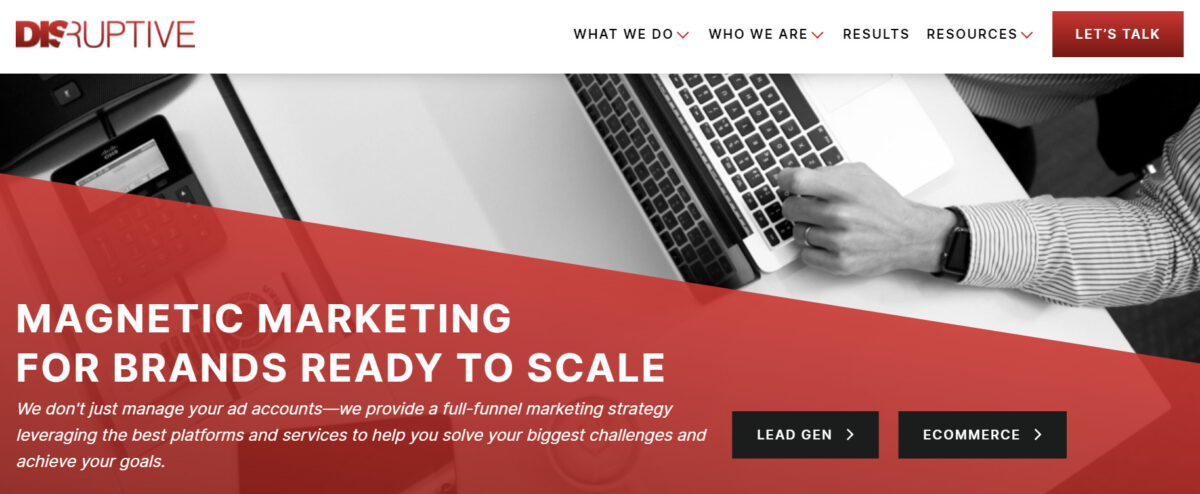 Disruptive Advertising epitomizes the integration of technology and creativity, standing as a paradigm of magnetic marketing tailored for brands poised for exponential local growth. Not confined to mere management of ad accounts, the agency immerses itself in a full-funnel marketing strategy, anchoring its services on the pillars of lead generation and eCommerce. With an array of specialized services, including SEO, Google Ads, social media advertising, and site optimization, Disruptive distinguishes itself by transforming complex marketing paradigms into streamlined, result-oriented processes.
Why Disruptive Stands Out?
At the heart of Disruptive's ethos is the forging of meaningful connections. The agency prides itself on being a local growth partner, seamlessly blending technology and human insight to connect a company's "why" to their target market. Every strategy is meticulously crafted, echoing the distinct needs and aspirations of each client, transforming good businesses into great ones. 
Disruptive is distinguished by its bespoke client engagement model, marked by a comprehensive five-step process that includes discovery, insights provision, marketing level-set, strategy optimization, and growth strategy delineation. The agency is lauded for its ability to unravel and amplify the unique narratives of over 90 long-term clients, backed by a team of 160+ employees dedicated to the mission of empowerment and growth.
Case Study
Case in point, a sporting goods company experienced a staggering 158% increase in monthly revenue under the aegis of Disruptive's innovative approach. This underscores the agency's capability to translate creative strategies into tangible business outcomes.
---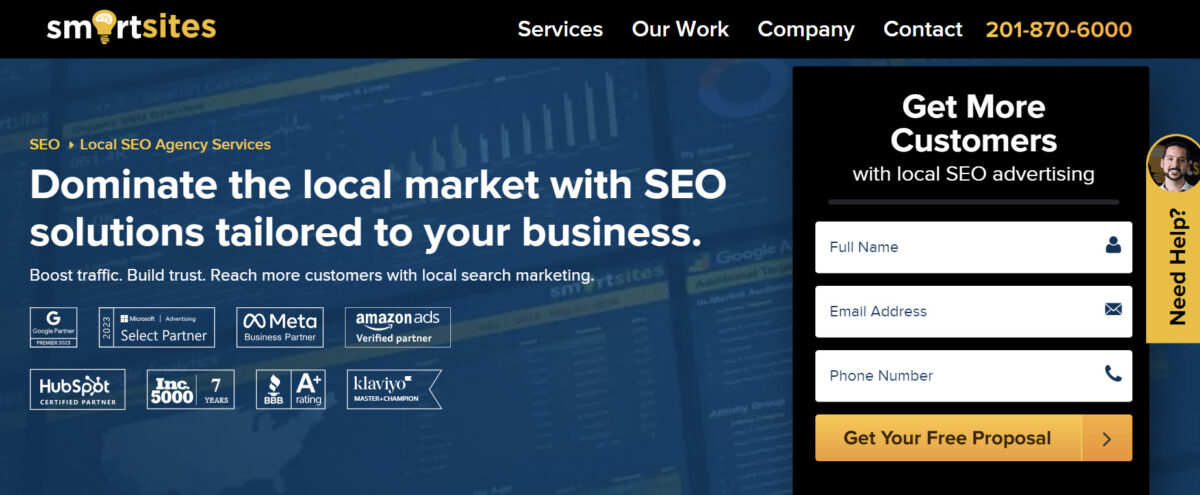 SmartSites offers local SEO services that ensure businesses don't just compete but dominate in local markets. As a revered Google Premier Partner and Microsoft Advertising Select Partner of 2023, the agency is known for tailoring SEO solutions as unique as their businesses. Their prowess is underscored by a holistic approach, promoting increased traffic, building trust, and facilitating extensive local customer reach.
Why SmartSites Stands Out?
The agency boasts an impressive 78% success rate in converting local mobile searches into offline purchases. This is achieved through a combination of strategic ingenuity and tactical execution, embedding location-centric keywords into content and ensuring omnipresence on major map listings.
At SmartSites, tangible growth isn't an aspiration; it's a consistent outcome. Their strategy is both comprehensive and dynamic, characterized by in-depth incorporation of local SEO activities from enhancing online visibility to strengthening brand loyalty amongst the local community.
Case Study
Testimony from the likes of Ethos Spa, which experienced at least a 5-fold return on investment, underscores the agency's capacity to transcend generic SEO implementations. Other case studies, including Sharemoney and Anexio, illuminate the agency's adeptness in attracting more visitors and optimizing website interfaces for enhanced user engagement and SEO. Sharemoney, in particular, extolled SmartSites for laying out a comprehensive marketing plan, combining SEO, content marketing, and link-building that spurred an influx of visitor traffic.
---

Thrive Internet Marketing Agency epitomizes precision and innovation in local SEO, offering tailored strategies that elevate businesses' online visibility within targeted locales. The Texas-based agency demystifies the complexities of local SEO, offering a comprehensive suite of services underscored by transparency and client education. Thrive's approach transcends conventional SEO methodologies, emphasizing conversion-driven strategies that synergize with businesses' unique objectives, thereby fostering tangible growth and revenue augmentation.
Why Thrive Stands Out?
A significant determinant of Thrive's prowess in local SEO is the meticulousness infused into each facet of its service delivery. The agency commences each engagement with an exhaustive website audit, unraveling insights that guide bespoke strategies. Expertise in Google My Business optimization stands as a hallmark, ensuring businesses are not just found but are also perceived credibly by prospective customers. This focus extends to a myriad of other services, including on-page SEO, keyword research, link building, and content creation, each tailored to resonate with the local audience and calibrated for optimal visibility in "near me" and geo-specific search queries.
Case Study
A testament to Thrive's efficacy is illustrated in a case study involving a law firm that experienced a staggering 663.7% surge in search traffic and a 360% increase in online leads. This achievement underscores a confluence of strategic SEO practices, a testament to Thrive's adeptness at morphing businesses into local search juggernauts. Moreover, the agency's recognition by SEOlium for its impressive Google Search results footprint illuminates its capability to navigate the intricate landscape of local SEO.
---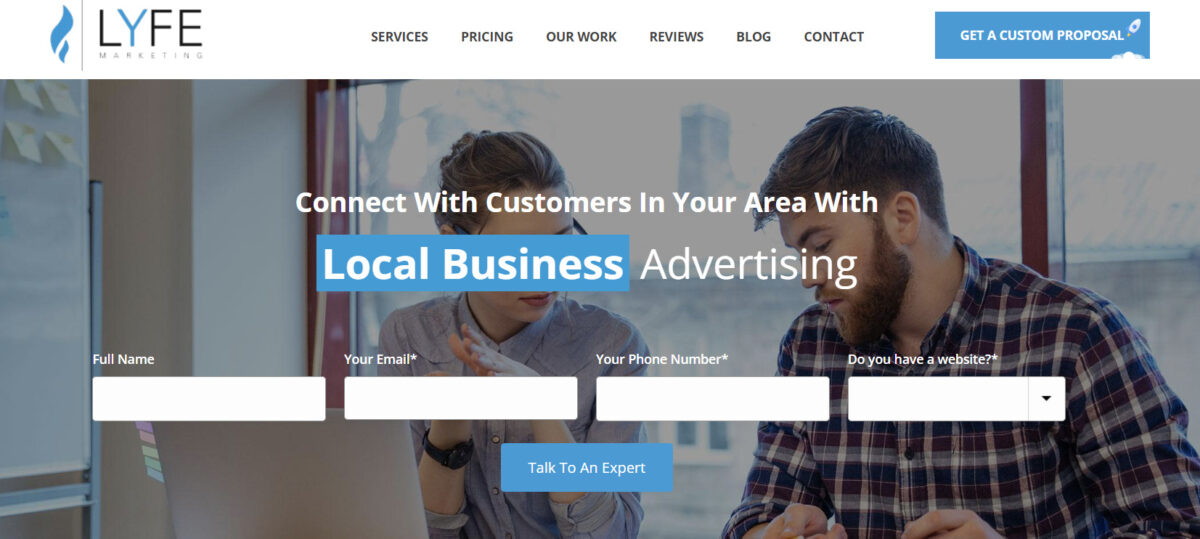 LYFE Marketing stands distinguished in the sphere of local marketing agencies, excelling in crafting strategies that transcend traditional marketing and deliver tangible results. The cornerstone of their service portfolio lies in Local Business Advertising, a powerhouse tool that leverages technology to put small and local businesses on the forefront, akin to their larger counterparts. Their robust techniques are rooted in the practice of harnessing digital platforms to target and engage consumers residing within specific localities, ensuring advertisements are not just seen but also resonate with the intended audience.
Why LYFE Marketing Stands Out?
Precision and personalization are the essence of LYFE Marketing's approach. The agency's adeptness in utilizing localized ads, local SERP features, and referral programs has proven instrumental in optimizing reach and impact. Their advertising strategies are backed by empirical data, with a staggering 97% of consumers seeking local services online. For businesses, this translates into an unrivaled opportunity to connect with potential clients efficiently and effectively.
Central to LYFE's efficacy is the relentless pursuit of innovation and customization. The agency goes beyond generic solutions, offering marketing materials tailored to resonate with specific demographics and geographies. Each strategy is meticulously crafted, drawing insights from an in-depth study and research phase that illuminates the unique needs and preferences of every client's target market. The subsequent ad creation process is spearheaded by specialists adept in graphic design and copywriting, ensuring each ad isn't just visually compelling but also content-rich and engaging.
Case Study
A case in point is their collaboration with The Cord Wrapper, a business that enlisted LYFE to help them increase sales for their products. The partnership was a massive success, resulting in over 100 purchased units for their blender product, managing to surpass their monthly goal target of 80 purchases. LYFE achieved its goals through localized advertisements and social media targeting to identify the right audience to sell to.
---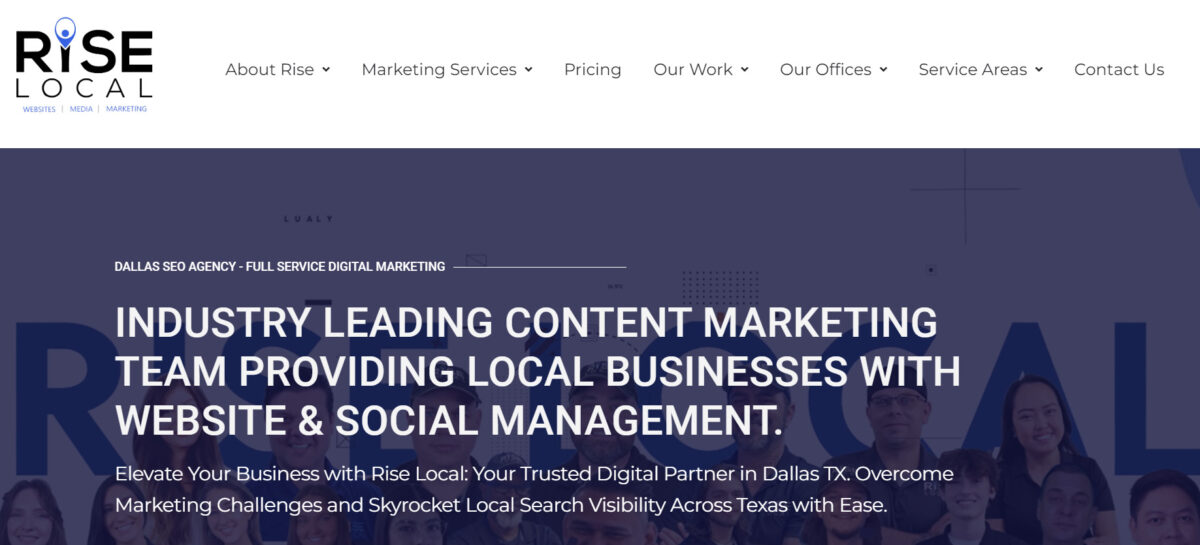 Rise Local's prowess in OTT advertising underscores a commitment to broadening brand reach and engagement. Therefore, businesses seeking to harness the combination of expansive online platforms and local TV advertising should look no further. Rise Local's seasoned media specialists meticulously curate tailored marketing strategies, ensuring brands not only reach their targeted audience but also resonate with them. Harnessing the dual forces of outbound media and online advertising, the agency adeptly amplifies brand awareness, ensuring products and services punctuate the market with undeniable presence and authority.
Why Rise Local Stands Out?
Navigating the evolving landscape of TV advertising, Rise Local is adept at maximizing engagement through Streaming TV advertising. As the consumer landscape diversifies, so does the approach to connecting with varied audience demographics. Rise Local dispels the complexity, offering bespoke solutions that ensure brands infiltrate households, engaging audiences through targeted ad insertions across conventional and streaming platforms. The agency's nuanced understanding of the market ensures adept handling of placements, turning the seeming labyrinth of TV advertising into a streamlined, effective vehicle for brand messaging and engagement.
Case Study
One successful case study is a local restaurant that experienced a significant uplift in visibility and customer engagement. Rise Local's strategic application of SEO, consistency in NAP (Name, Address, Phone Number) across online directories, and an optimized Google Business Profile transformed the restaurant's online presence. Within months, it not only topped local search results but also witnessed a 30% increase in foot traffic.
---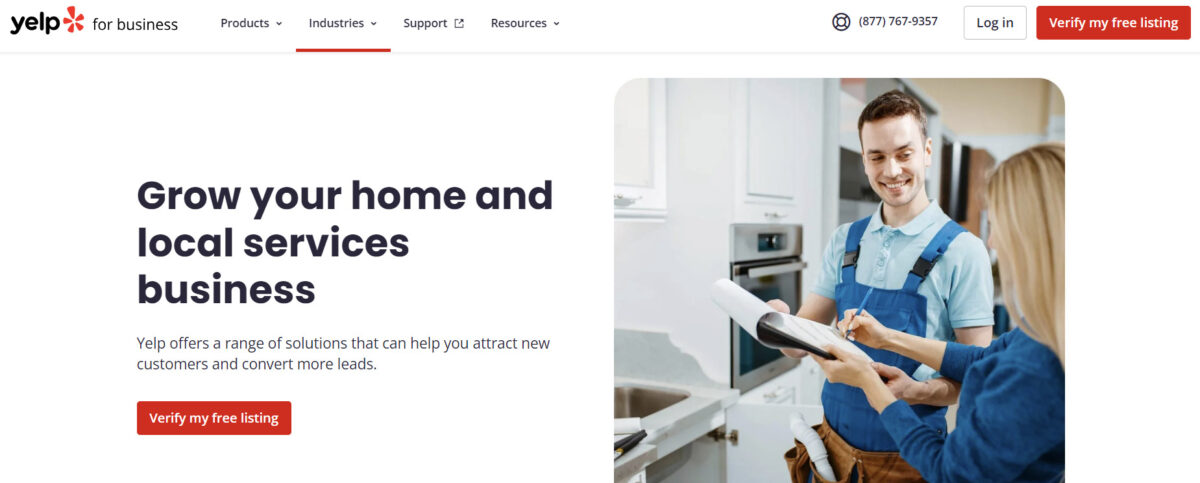 Business Yelp offers customized solutions tailored to amplify the visibility and conversion rates of home and local services businesses. With over two-thirds of its 80+ million monthly visits stemming from affluent individuals, businesses are accorded an invaluable opportunity to engage a demographic poised for spending. Each day, over 60,000 new requests for quotes or consultations underscore Yelp's potency as a nexus between businesses and prospective clients. Their platform's intuitive interface facilitates seamless updates to business information, ensuring potential customers are greeted with the most current and engaging content.
Why Business Yelp Stands Out?
The agency's suite of services is meticulously crafted to empower businesses to stand distinct amidst the competition. Business Yelp facilitates a dynamic interaction between businesses and potential clients. The platform's Page Upgrades feature is emblematic of this, allowing businesses to showcase project photos and descriptions, enhancing visibility in search results, and bolstering traffic conversion with strategically placed call-to-action buttons. Furthermore, the Verified License feature augments trust, showcasing trade licenses prominently, instilling confidence in potential clients and catalyzing engagement.
Case Study
In a case study exemplifying Business Yelp's efficacy, a local plumber experienced a transformative increase in client engagement. Utilizing the platform's nuanced features, the plumber not only enhanced visibility through enriched content and verified licensing but also harnessed Yelp Ads to position the business at the forefront during potential customer searches. This strategic amalgamation of services precipitated a 50% increase in quote requests and consultations, cementing Business Yelp as an indispensable ally for businesses aspiring to transcend the ordinary and capture the attention of a discerning local clientele.
---

Loud Canvas distinguishes itself in the competitive sphere of local marketing with a finely honed acumen in hyperlocal marketing and a suite of diverse services tailored to catapult local businesses into the limelight. The agency recognizes the innate advantage local enterprises possess and amplifies this edge through specialized strategies. Services such as Google My Business Optimization and Management, Premium Yelp Business Listings, and Local Search Engine Optimization are meticulously curated, targeting specific geographical locales and "near me" searches, a domain where Loud Canvas has demonstrated exemplary proficiency.
Why Lound Canvas Stands Out?
Loud Canvas's suite of services extends beyond typical marketing strategies, offering a holistic approach to digital marketing. Local Email Marketing, Local Pay-Per-Click Advertising, and Local Social Media Advertising are executed with precision, ensuring that businesses do not just reach but effectively engage their local audience.
Case Study
One specific case study that underscores the agency's efficacy involves a local restaurant. Through targeted local SEO, hyperlocal marketing, and optimized business listings, Loud Canvas not only amplified the restaurant's online visibility but also significantly augmented foot traffic, affirming the agency's prowess in translating online strategies into real-world results.
---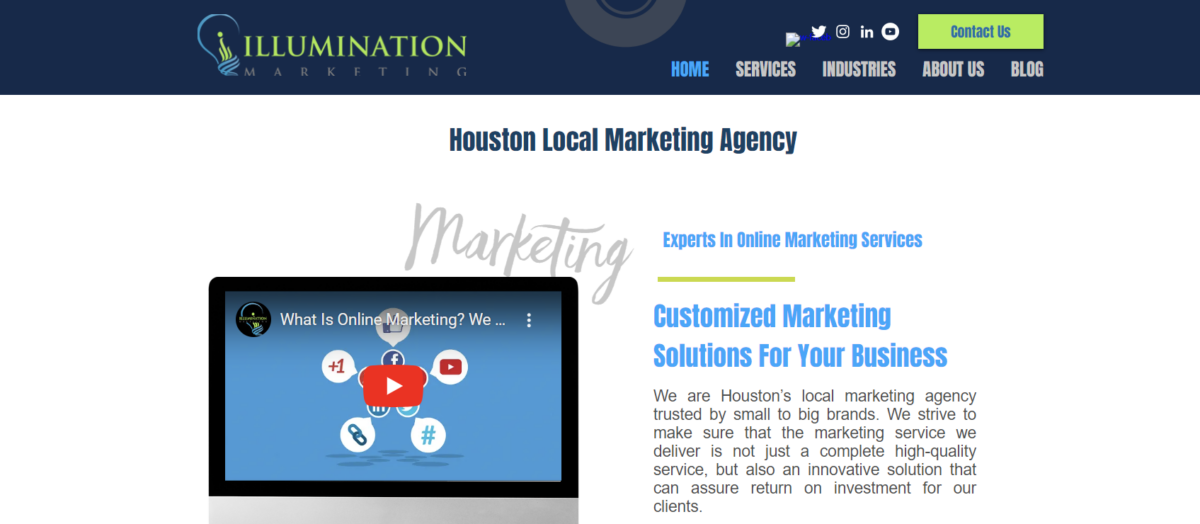 Marketing Illumination stands at the forefront of innovative marketing solutions, offering a suite of services that are not only comprehensive but also tailored to meet the nuanced needs of businesses across Houston. The agency, celebrated for delivering high-quality and complete marketing services, ensures innovation is at the core of every strategy, guaranteeing a return on investment for clients. From extensive SEO packages focused on enhancing online visibility to social media marketing strategies designed to elevate brand influence, each service is a blend of quality and innovation.
Why Marketing Illumination Stands Out?
With a client-first approach, Marketing Illumination prioritizes responsiveness and hands-on interactions, fostering a partnership rooted in growth and mutual development. Boasting over 30 years of combined experience in marketing and having assisted more than 100 clients, the agency's legacy is anchored in success and revenue generation.
The agency's offerings extend to website development, corporate videography, pay-per-click marketing, email marketing, drone video/photo services, and professional logo design, illustrating the diverse and comprehensive nature of their expertise.
Case Study
One notable case study features Randall Clauson, owner of Maintenance Warriors, who attests to a significant increase in leads within just a month of partnering with Marketing Illumination. This quick, tangible return is indicative of the agency's proficiency in implementing strategies that are as effective as they are swift.
---

RevLocal emerges as a pinnacle of trust and efficiency in the realm of local marketing, specializing in optimized Local Services Ads tailored for home service businesses. With a cornerstone of building trust, the agency is distinguished by its Google Guaranteed program approval, a distinguished badge of trust that underscores a business's credibility and quality. Each advertisement is meticulously crafted, aiming not just at visibility but also at fostering a profound sense of trust among prospective customers. The agency's innovative approach ensures clients only pay for genuine leads rather than mere clicks or impressions, epitomizing cost-efficiency.
Why RevLocal Stands Out?
In the bustling space of local marketing, RevLocal has carved a niche, offering personalized digital marketing strategies rooted in a deep understanding of each business's unique needs and objectives. A case in point is their distinct approach to Local Services Ads, ensuring optimal budget utilization and focusing on tangible, measurable results. Each client enjoys a bespoke service characterized by ads that are not just seen but effectively drive engagement, fostering a bridge between businesses and their prospective clients, enhancing lead generation, and ensuring an optimal return on investment.
With RevLocal, businesses are not just getting a service provider but a partner committed to their growth. The agency prides itself on offering a blend of personalized attention, innovation, and result-driven strategies. Their proficiency is further evidenced by multiple certifications, including Google Partner Premier and Local Search Association, underscoring their expertise and commitment to quality.
---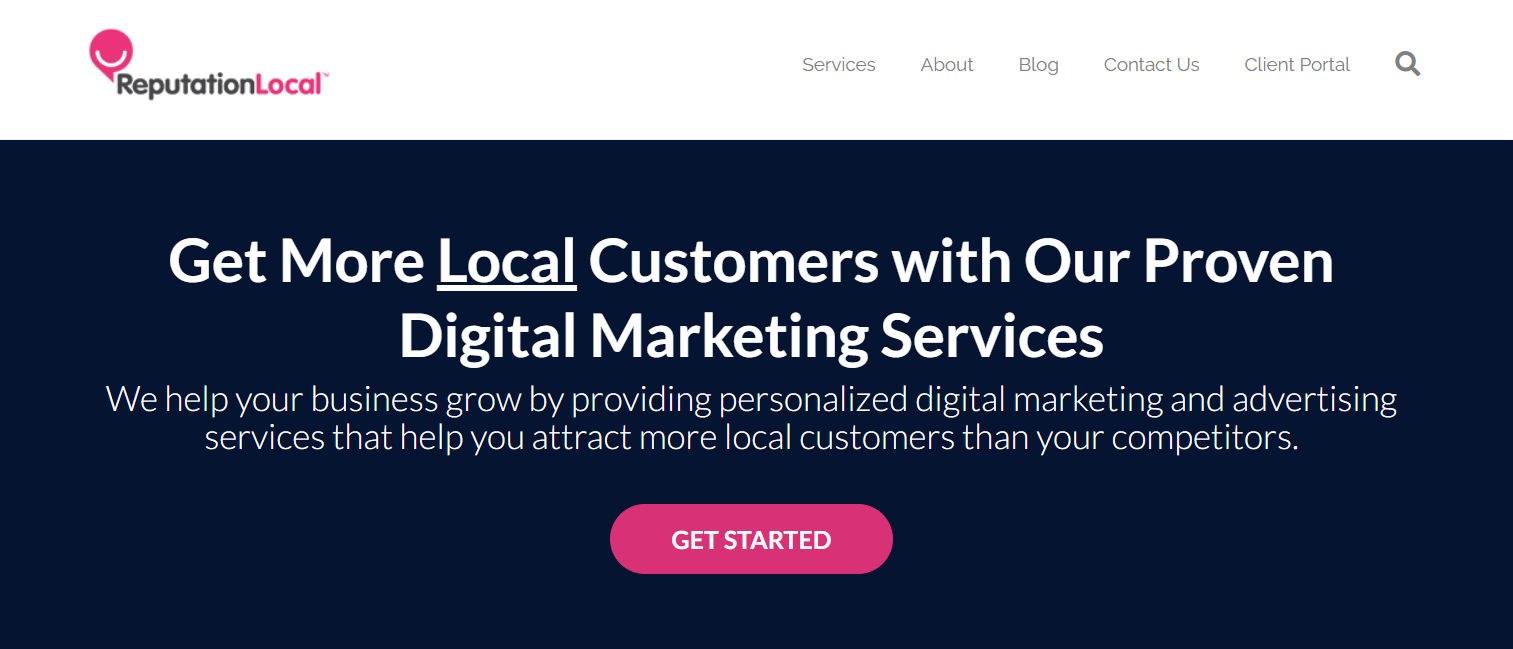 Replocal is renowned for its adeptness in amplifying the online visibility of local businesses. Through a suite of meticulously crafted services, the agency is instrumental in not just enhancing its online presence but doing so with a strategic underpinning that ensures optimal engagement and conversion. Each service, from digital and social media marketing to lead generation, is imbued with a level of sophistication and personalization that caters to the distinct needs and nuances of every business.
Why Replocal Stands Out?
A hallmark of Replocal is its innovative approach to online reputation management, an integral facet that underscores the credibility and reliability of businesses in the digital space. With a tactical integration of building, monitoring, and protecting online reviews, Replocal ensures businesses not only attract but also retain their customer base, fostering loyalty and advocacy. The agency's proficiency in website design further amplifies this, offering responsive, aesthetically appealing, and result-driven websites that resonate with the dynamic needs of the contemporary customer.
In an era where the digital landscape is inundated with myriad businesses vying for visibility and engagement, Replocal distinguishes itself through a blend of innovation, personalization, and results. Each service is a testament to a commitment to not just meet but exceed client expectations, ensuring that every marketing effort translates to tangible business growth. The agency's offering of a comprehensive report to gauge a business's online standing underscores a data-driven approach, so strategies are not just implemented but are continuously optimized for peak performance and results.
---
How Technology and Creativity Power Local Marketing Agencies
The convergence of technology and creativity has become the linchpin of successful marketing campaigns. Local marketing agencies are at the forefront of this amalgamation, leveraging innovative tools and creative prowess to deliver customized, impactful marketing solutions to businesses.
The integration of technology in marketing is not just about the utilization of advanced tools but also about the intelligent application of these resources to craft compelling narratives and interactive experiences. Artificial Intelligence, machine learning, data analytics, and other cutting-edge technologies are being employed to glean actionable insights from data, understand consumer behavior, and predict market trends.
Creativity, on the other hand, is the soul that breathes life into technology. In the realm of local marketing, creativity ensures marketing campaigns are not just seen but also felt, experienced, and remembered. It's about crafting messages that resonate, visuals that captivate, and interactive elements that engage. Creativity ensures that the technological outputs are imbued with emotional and aesthetic elements that connect with the audience.
Local marketing agencies are mastering the art of marrying technology and creativity. They utilize SEO tools to ensure visibility, analytics to tailor strategies, and creative storytelling to connect with the audience. For instance, a local cafe can be marketed through a well-designed website, SEO optimization for local searches, and a creative social media campaign that tells a compelling story of the cafe's ambiance and offerings.
---
Conclusion
Local marketing agencies have emerged as pivotal partners for businesses, melding technology and creativity to craft dynamic, adaptable strategies. They are not merely service providers but strategic allies, ensuring businesses' journeys toward enhanced visibility and growth are both innovative and effective. The agencies' expertise lies in customizing strategies, leveraging SEO, creative storytelling, and data analytics to offer solutions that are not just visible but resonate deeply with target audiences.
The agencies' adept use of technology elevates customer engagement to immersive experiences. These engagements transform from transactional interactions to emotive connections, where businesses' narratives echo the aspirations and needs of their audience. In this evolving digital marketing landscape, the role of these agencies is paramount.
Frequently Asked Questions
How Do Local Marketing Agencies Customize Their Strategies for Different Businesses?
Local marketing agencies conduct thorough market research and business analysis to understand the specific needs, goals, and target audience of each business. By analyzing data and insights, they tailor their marketing strategies, incorporating industry-specific trends, competitive landscapes, and the business's unique selling propositions to create customized plans that drive results.
What Role Does Social Media Play in a Local Marketing Agency's Strategy?
Social media is integral for local marketing, providing a platform to reach, engage, and interact with the local audience. Agencies utilize social platforms to amplify brand visibility, share content, gather insights on customer preferences, and build community relationships, all tailored to boost local presence and drive traffic and conversions.
Can Small Businesses Afford to Hire a Local Marketing Agency?
Many local marketing agencies offer scalable and flexible services tailored to fit various budget constraints. Small businesses can benefit from customized packages that align with their financial capacities, ensuring they can access professional marketing services to enhance their visibility, engagement, and growth without overextending their budgets.